OCPC At Computex – Memory, Peripherals, and Gaming Chairs
While we have known the guys over at OCPC Gaming for some time now, we have still yet to review any of their products. However, when we stopped by their booth, they were more than happy to have a chat with us and show off some of their products! OCPC is not yet a worldwide brand, but with things in the industry hopefully getting back to more of a norm, who knows what could happen in the future.
OCPC Peripherals
On their stand, OCPC had a small range of peripherals including mice and a keyboard. The keyboard is their Zero Compact which comes from their Zero line of keyboards. The lineup currently has 3x variants depending on what size keyboard you would like.
As for the mice, these are all from their MR range and as you can see, there is a combination of wired and wireless mice as they are making sure to offer something for everyone. OCPC is known for its gaming roots and it really shows in their peripheral lineup!
OCPC is also bringing a new headset to the market. This headset is going to be comfortable and should offer some decent sounds for your gaming sessions. There is plenty of padding on the earcups to make sure you stay comfortable even during those long gaming sessions.
Memory
When it comes to memory, OCPC had some of their Pista DDR5 on display as well as some more conventional modules from their Volare Gold Label lineup.
From what we can see on their website, the Pista series comes in 16GB sticks with speeds of 4800-6200MHz. Their 6200MHz kit runs at 1.35v with a base latency of CL32 and they also feature a limited lifetime warranty.
All of the OCPC RAM does come in more than one color so no need to worry if gold is not your thing.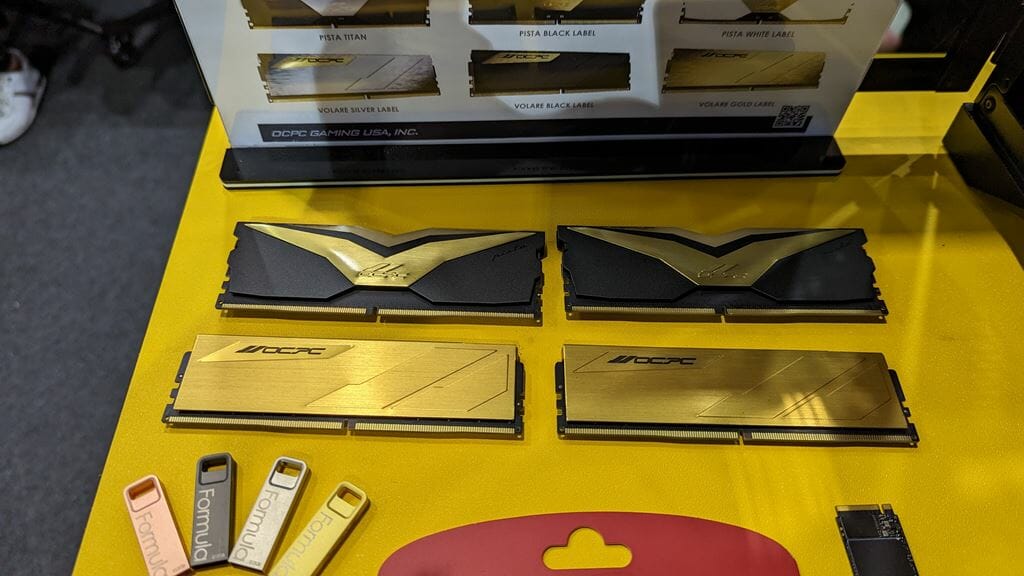 Gaming Chairs
Of course, OCPC had its famous Lotus Gaming Chair on display! Alongside this, they also had some more ergonomic office-type chairs and some children's gaming chairs.
Yes, you heard right. OCPC has children's gaming chairs coming to the market. These are going to be great for kids who want a chair of their own but don't yet need a full-size chair.
This is the first time I have personally seen a child gaming chair of this design in person and have to say, I think these will do really well and will open up a whole new market for gaming chairs!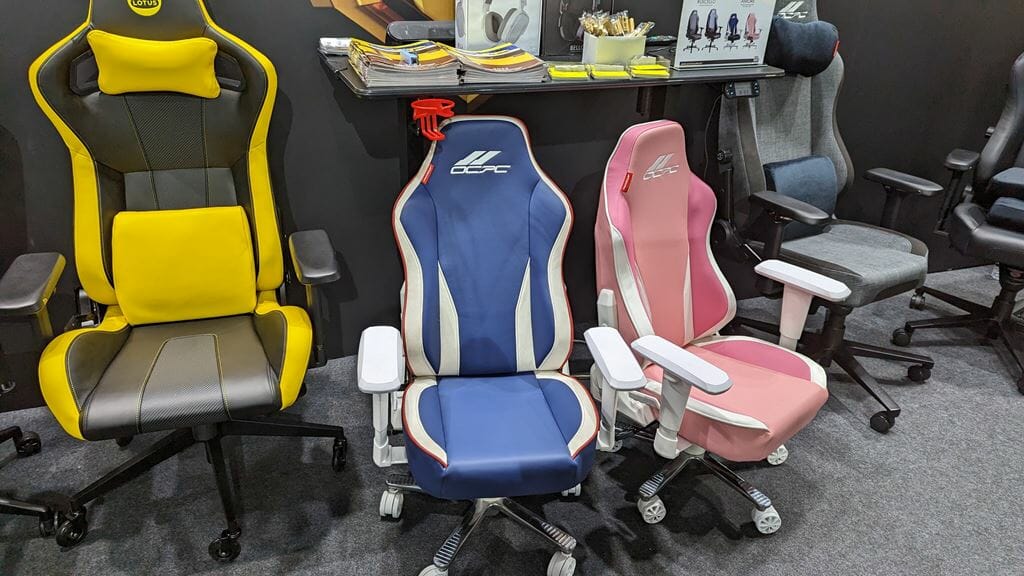 GPU Cooling and Holder
Not too long ago, OCPC released their POLE GPU Cooling and Holding solution. This unique and patent pending product is not only designed to hold your GPU in place to eliminate sag, it is also going to help cool your GPU thanks to a pair of 2500RPM fans.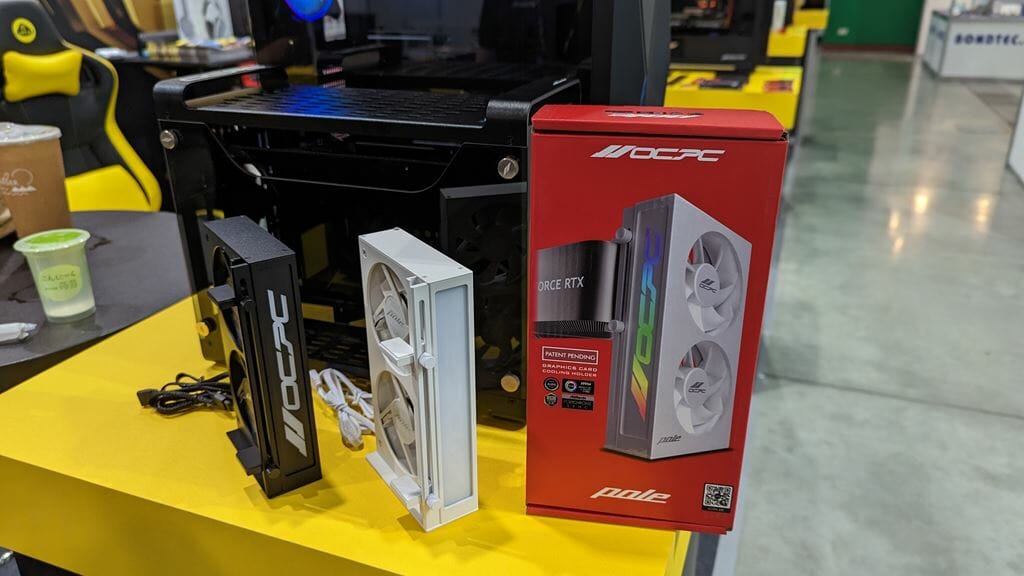 We all know graphics cards are getting bigger and much more power-hungry. The OCPC Pole is the perfect solution to help alleviate some of the stress from both of these problems in one simple design.
The height of the GPU holder bracket can be moved to accommodate more GPUS and builds and the fans will help to pull in extra air for your GPU to cool itself. While we have yet to test one ourselves, it would be interesting to see just how well these work to help reduce GPU temps.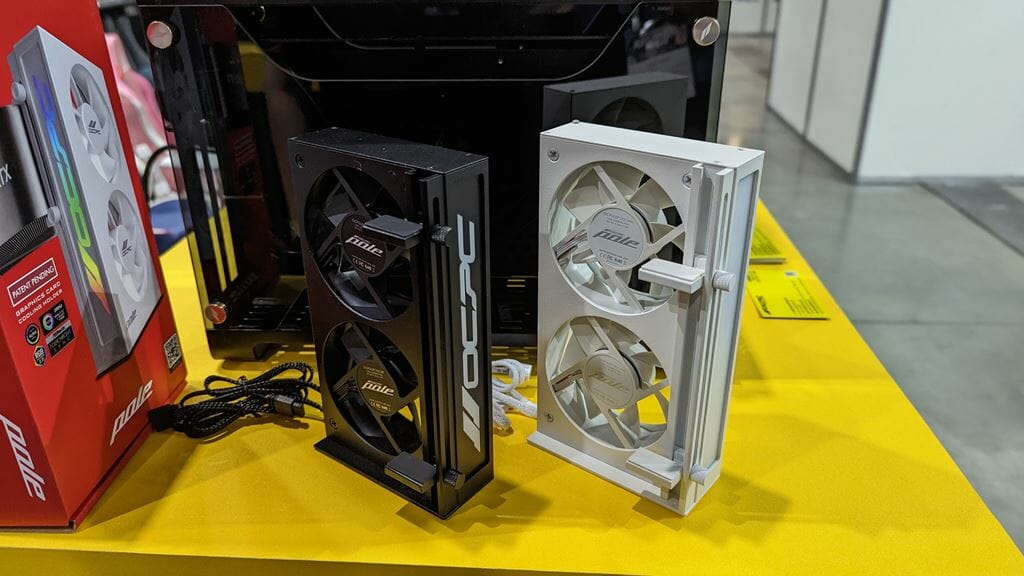 While the OCPC booth was small, they did a great job at showcasing the products they wanted to show off. My only real problem with them is that they are not readily available in the UK. Now, this isn't something I can really hold against them, just something I hope they can overcome in the future as I know they are trying to break into the market. I also know the UK market is a hard one to get into but at the same time, definitely worth it. If OCPC can keep bringing this level of products to the market, there really is no reason why they won't be able to extend their reach in the coming years.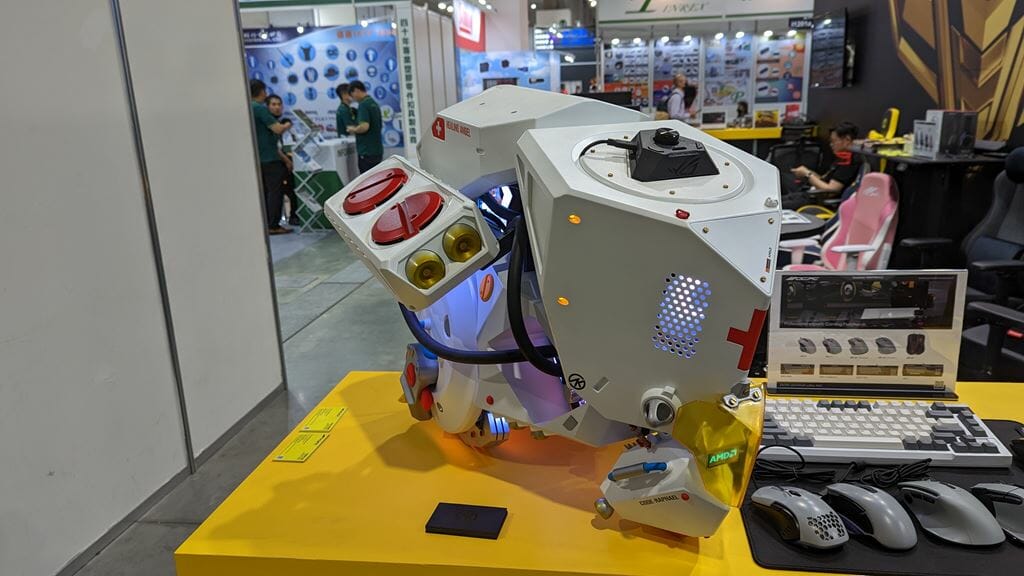 Please make sure to check for more of our Computex coverage in our EVENT COVERAGE which will be coming in the next couple of days!