THE DREAM OF ADDRESSABLE DIGITAL RGB
Highlights:
– addressable Digital-RGB-LEDs
– Backplate included
– changeable terminal
– full cover cooler
– patented screw plugs which are flush with the cooler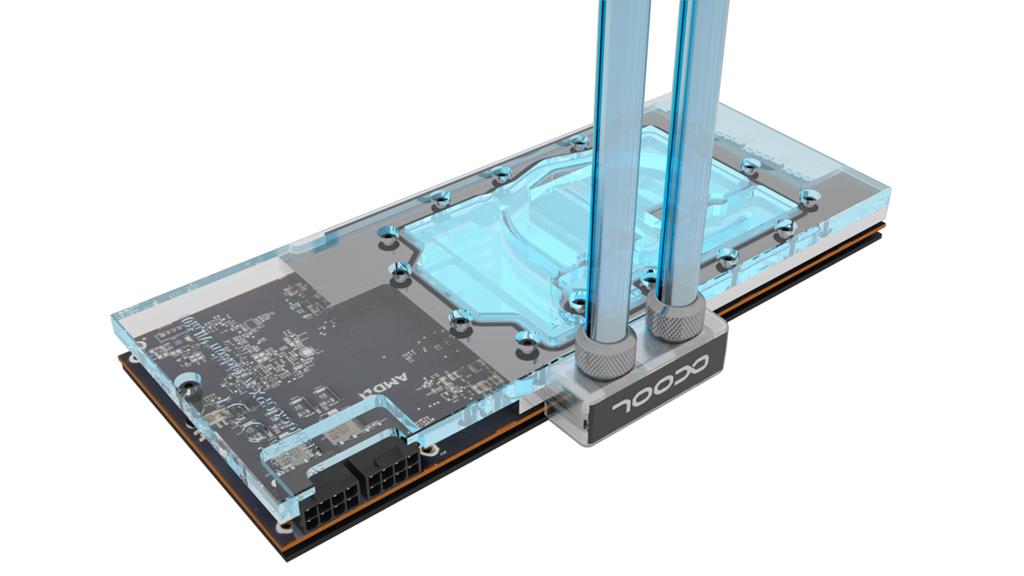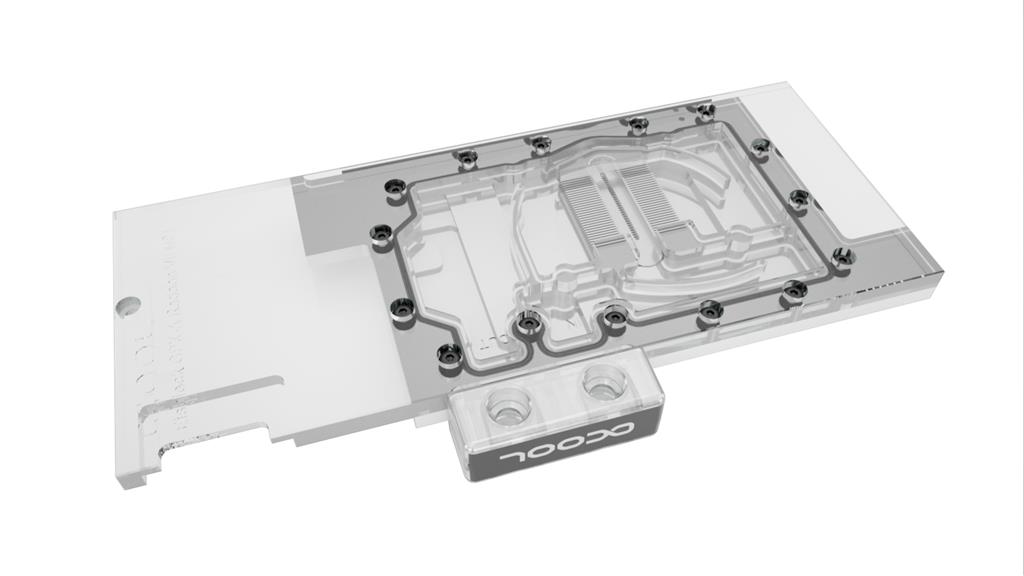 The Eisblock GPX Plexi Light cooler comes from Alphacool's high-end series and perfectly reflects Alphacool's philosophy. High performance, outstanding aesthetics, and the latest technology are all bundled together to create a fantastic cooler.
The Alphacool Plexi Light graphics cards water cooler is characterized by several design features. The clear Plexiglas allows you to see the water flow. The cooling block is made of solid copper, and is then completely nickel-plated. The generous water flow covers all important components of the graphics card. Not only the GPU, but also the voltage converters, the V-Ram and other components that generate heat are actively cooled with water.
The backplate is included with this cooler. The puristic clean design knows how to please, but it also offers a practical use. The back of the graphics card is protected by the backplate. In addition, it also contributes to an increase in cooling performance. The heat conducting pads are positioned at the decisive points, which dissipate further heat via the backplate.
The connection terminal is a special feature and currently unique in the watercooling market. Alphacool is the only manufacturer not to rely on Plexiglass, but on the much harder, more resistant, transparent nylon. This means that stress cracks caused by overtightened connections are a thing of the past.
The terminal can also be exchanged for an alternative terminal that allows the connections to be mounted vertically. Of course, the alternative terminal is included in the box so you can choose which you use for yourself at no extra cost. In addition, the patented locking screws do not protrude but are flush with the terminal. This underlines the noble design of the ice block GPX Plexi Light cooler.
Fans of colour fireworks will get their money's worth with the Alphacool Eisblock Plexi Light. Alphacool positions an addressable digital RGB LED strip spanning the entire width of the cooler. This illuminates the entire cooler completely and in a unique way. Each LED can be controlled individually. With the matching aRGB controller for addressable digital RGB LEDs you can create beautiful and unique effects.
Alternatively, the addressable digital RGB LEDs can also be controlled via various motherboards that offer appropriate headers. These include the ASUS Aurora Sync, Biostar VIVID LED DJ, Gigabyte RGB Fusion and MSI Mystic controllers.The only thing to consider here is the connection variant. The Alphacool Eisblock Plexi Light has a female connector. You may need a female to male adapter plug for your motherboard.
The Eisblock GPX Plexi Light cooler is a beautiful and an outstanding performing waterblock which will certainly give you a lot of pleasure. Since Alphacool also offers various custom designs, please check the following link to find the right one for your graphics card: https://www.hwconfig.com/waterblock-finder

Compatibility:
– ASRock Phantom Gaming X Radeon VII 16G (90- GA1100-00UANW)
– PowerColor Radeon VII (AXVII 16GBHBM2-3DH)
– ASUS Radeon VII-16G (90YV0CY0-U0NA00)
– Sapphire Radeon VII (21291-01-40G)
– MSI Radeon VII 16G, 16GB HBM2, HDMI, 3x DP (V803-883R)
– XFX Radeon VII 16GB HBM2 (RX-VEGMA3FD6)
– Gigabyte Radeon VII HBM2 16G (GV-RVEGA20-16GD-B)