Feature Overview
PixArt PMW3360 Optical Sensor
OLED Display
Customizable Tactile Alerts
Reinforced left and right switches
Modular sensor and backplates
Customizable in SteelSeries 3 Engine
SteelSeries is a very well-known brand in the PC Gaming market. Manufacturing some amazing peripherals, of which we have seen the likes of the Siberia 800 headset, Rival 300 Mouse and the Apex M500 and M800 Mechanical Keyboards. Combining these peripherals in any sort will give you a top-notch gaming setup. The Siberia 800 are one of the best wireless gaming headsets and if the Rival 700 follows in the 300's footsteps, it is bound to be a top of the line Gaming Mouse. When it comes to gaming, SteelSeries knows everyone has their own styles hence whey they offer a wide variety of each type of peripheral. Notice the M500 and M800 Apex keyboards, one is a standard no-frills gaming keyboard with great performance and the other features a load of extra features that some gamers crave. Whether you prefer more standard peripherals or want something will all the bells and whistles, SteelSeries has you covered.
All the bells and whistles, this is where the Rival 700 enters the arena. This mouse is not only designed to offer the best in performance, it also has an OLED, Tactile Feedback option and some other amazing features. The Rival 700 features an ergonomic right-handed designed and has a couple of RGB LEDs that can easily be customised VIA the SteelSeries Engine software. Coming with a Pixart 3360 Optical sensor out of the box, the Rival 700 is here for business! Before we give it all away, let's take a look at the proper specifications of the mouse and get a closer look at it.
Specifications
Design
Shape
Ergonomic, Right-Handed
Grip Style
Palm, Claw, and Fingertip
SteelSeries Switches
Rated for 30 Million Clicks
Short Cable Length (non-braided)
1m, 3.28 ft
Long Cable Length (braided)
2m, 6.5 ft
Sensor
Sensor Name
PixArt PMW3360
Polling Rate
1 ms (1000 Hz)
Zero Hardware Acceleration
Customization Options
Gamesense Support
OLED Display Customization
Tactile Alert Customization
SteelSeries Engine Support
Onboard Profile Settings
Programmable Buttons
Acceleration Customization
Deceleration Customization
Multiple CPI Options
Color Options
16.8 Million
Swappable Pixart 9800 Laser Sensor
View Product
Swappable Rival 700 Top Cover Pack
View Product
Printable 3-D Nameplate
Starting with the box and on the front, there is a bit going on. Front and centre is a large image of the mouse and around this, we can see some of the features it has. Also, in the bottom right, we can see that the Rival 700 is compatible with mouse Windows and Mac PC's.
Flipping the box over and having a look at the back and SteelSeries goes into a bit more detail on some of the special features the Rival 700 has to offer. Here they make mentioned of the easily swappable cable, cover plate and even the optical sensor can be swapped out if need be.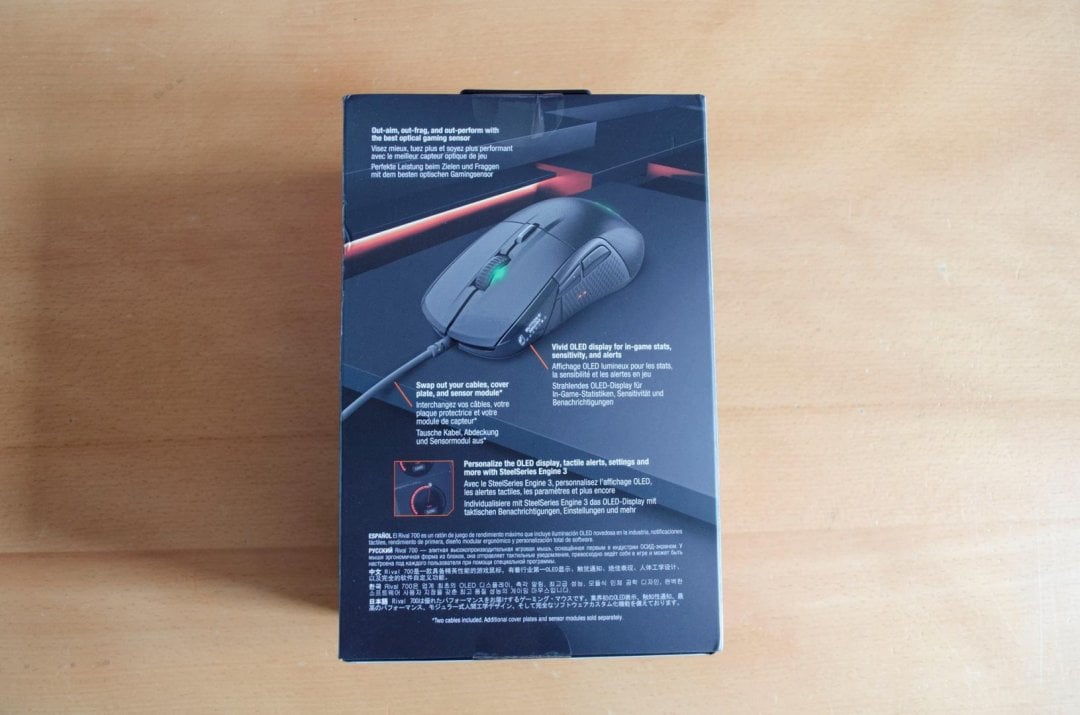 Taking the outer sleeve off and getting a look at the inner box, we see it has the SteelSeries logo and Rival 700 branding on it.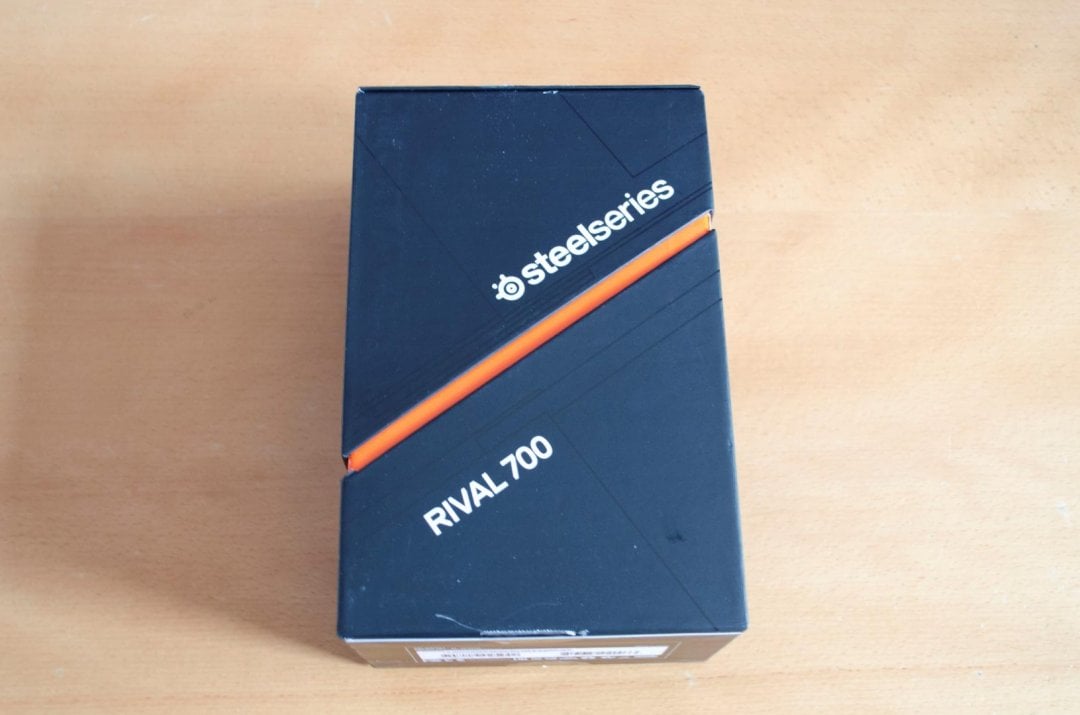 The lid for the inner box flips open and inside it reveals the mouse along with the accessories box.
Inside the box are the mouse and a pair of USB cables.
The Rival 700 features an all black design except for a couple key areas. Being a staple in the community, SteelSeries knows not only what gamers want but also what they need. The sides of the mouse are covered in grips to help make sure the mouse doesn't slip during the heat of battle. Under the hood, the Rival 700 is packing special SteelSeries switches that are rated for 30 Million clicks, which, even for most professional gamers should last a long time.
The mouse 1 and 2 buttons are quite plain, which is good for a number of reasons. Below, we can also see the nice grip on the scroll wheel and the thin yet long DPI switch. Being able to change DPI/CPI on the fly is something all gaming mice these days offer and it sure is a welcome feature.
On the left side of the mouse, we have a pair of buttons towards the middle. These buttons by default are set to be forward/backwards buttons in Windows which can help to easily navigate through web pages or folders. However, they can also be customised to do other things. Below these, you will notice a couple of small orange spots. While there is no real mention of these anywhere that I can find, they seem to help with the tactile feedback, at least in my testing it felt as if I could feel the feedback coming from them as well.
The Tactile feedback is one of the big selling points and features of the Rival 700. SteelSeries says "The mouse is no longer merely an input device; gamers can now feel in‐game events, aiding them in critical decision‐making. Customize every aspect of the alerts from intensity to vibration patterns." So, as you can see, this can be a great tool for serious gamers or those just looking to track a certain stat while gaming. Either way, it sure is fun to play with and offers a whole new level of gaming customization.
Flipping the mouse over onto its back and we can get a look at the sensor. As mentioned, the sensor can be changed with an individually purchased sensor. Should the Pixart Optical 3360 not be to your liking, you can also by the Pixart Laser 9800 sensor for around £26 and it only takes removing a couple of screws to swap it in.
Keeping the innovation and customizability options going, the Rival 300 also offers removable and changeable nameplates and backplates. Not only can you change these out, for the nameplates you can also 3D Print your own with easy to download files from SteelSeries. CLICK HERE to automatically start the download of the files needed.
As mentioned, the Rival 700 features an OLED display that can be used for a number of things. As you will see below, I chose to add our Logo and my Surname to mine. To do so, you just need to make a 128x36px image in black and white and upload it VIA the SteelSeries Engine.
You can have the OLED display either a white or black background with the opposite colour text and while I didn't try it out, there are also GIFs you can download as well, giving you further customization. You can also use the OLED screen to show certain in-game stats.
The Rival 700 is fully RGB and features 2 individually controlled zones. The SteelSeries Logo on the butt of the mouse and the illumination from the scroll wheel can be easy setup VIA the software and can be set to a number of colours.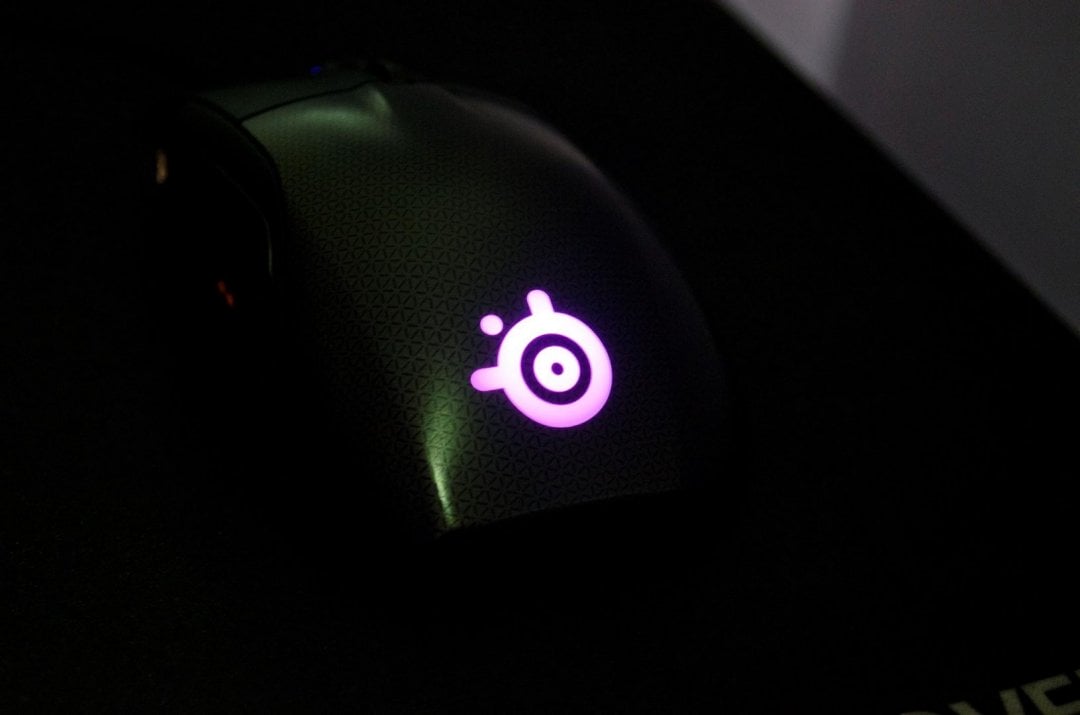 Users looking to get the mouse out of their mouse will want to download the SteelSeries engine software. Through this software, you will be able to customise everyone on the Rival 700 from the button binds, to the DPI and RGB settings. Using the software you'll also be able to manage the tactile feedback, acceleration, polling rate and even the angle snapping. While it sounds like a lot, it's all fairly straightforward and it's quite easy to find which options are which in the software.
As mentioned, to add you own design to the OLED screen you just simply upload a 128x36px image VIA the software and that's it! Pretty easy right?
There is no denying that the Rival 700 comes with some pretty impressive features such as the OLED screen and Tactile Feedback just to name a couple. Aside from this, it comes with a hot-swappable Sensor should you not like the Pixart 3360 Optical one it comes with as standard. To make sure it fits in with today's standards, there are a couple of RGB LED zones that are easily customised VIA the SteeSeriesEngine software. All in all, the Rival 700 looks top-notch on paper and even better in person but does it perform as well as it looks? There's only one way to find out, so let's get to it!
Performance
For the performance part of this review, all our testing was done on the standard Pixart 3360 Optical sensor. As some of you will know, I am primarily an FPS gamer and being a big Quake fan, I made use of a couple of Quake Champions Beta weekends during my testing of the Rival 700. Quake Champions is a very fast paced shooter based game and for those familiar with it, the bunny hopping surely can make things insanely fast. Bunny hopping is a way of jumping that makes your character go much faster than standard walking and one issue is if you jump past someone, you have to quickly swipe your mouse across the desk to turn around and in doing so, you need it to be accurate. The Rival 700 was more than up to the task was more than up to this task, even when using the Rail Gun which is a one-shot weapon that needs precision to use. During all my time in  Quake Champions, I didn't notice any issues with the mouse at all, once I had my desired DPI it was always on point. To make sure I made the most of the sensor, I went ahead and loaded up some CS:GO which is a much slower based FPS game that relies more on direct precision rather than speed. Again, the Rival 700 didn't let me down whether it was the accuracy of the sensor of the response from the buttons, the Rival 700 always made sure I got the jump on my enemies.
Design
This is where I personally feel the Rival 700 shines. The design is rather simple, even though it has some highly innovative features. Looking at the outside, it features an ergonomic right-handed design, rubber grips on the side and an OLED display. The OLED display is one of a kind and can be used for everything from showing off your own logo/gamer tag or even showing in-game stats. Popping the hood and we have hot-swappable Pixart sensors in either Optical or Laser variants and SteelSeries own switches that are said to last up to 30 million clicks. While the Laser sensor has to be purchased separately, it is still a great feature to have. Let us also not forget about the changeable nameplate and baseplate. Speaking of the nameplate, users can even 3D print their own using the files found right on the SteelSeries website. SteelSeries have designed the Rival 700 to be highly customizable and it is warmly welcomed.
Value
The price wasn't what I expected it to be, it was a bit lower in all honesty. Available for around £70 here in the U.K. I was sure at first that this mouse was going to cost around £100! One thing I always try to do or rather try not to do is look at the price of peripherals before I review them. I don't like to let the price have any effect on my opinions on a product so as I did with the Rival 700, I normally don't check it until I am ready to start writing. For £70 you are getting a top performing mouse that looks and feels good, has some amazing customization and is back by SteelSeries who we all know are very serious about creating great gaming based products.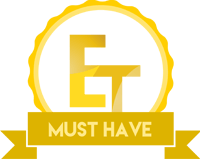 Many thanks to SteelSeries for sending in a sample of their Rival 700 for todays review!