Thermaltake's Computex 2023 Booth – Memory, Cases, Cooling, DIY, and more!
As you can imagine, Thermaltake had a massive booth with a wide range of products featured on it! They had everything from Power Supplies, Memory, Cases, Coolers, Customer Water Cooling gear, custom builds, and even a bike!
Thermaltake has one of the widest varieties of products for almost any company we deal with! It seems that in 2023, the only products they don't offer are CPUs, GPUs, and motherboards.
P.S. Word on the interwebs is that they are also do to release their own monitor soon. More details to come on that as we receive them.
Memory
Thermaltake has been making memory for a good couple of years now. Both their Toughram D5 and XG D5 were on display.
The standard D5 comes in various colors to match the color schemes of their cases, coolers, and more so you can have proper color themes built.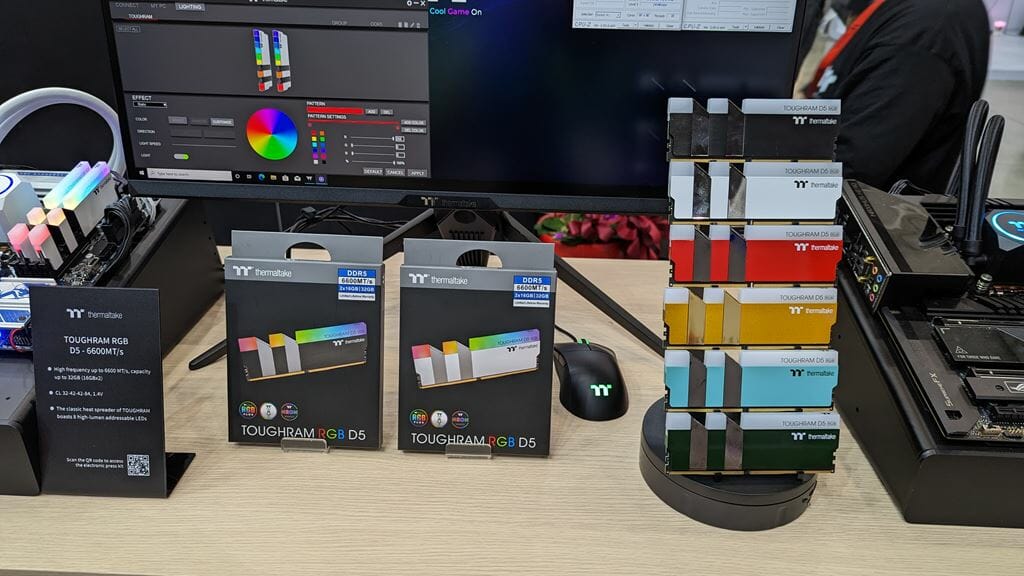 There is no denying that their XG D5 looks absolutely amazing and it would be so hard to pick which variant to use in a build. Hopefully, one day soon we will be able to get out hands on some of this amazing RAM to show you not only how good it looks buts to also show its overclocking potential.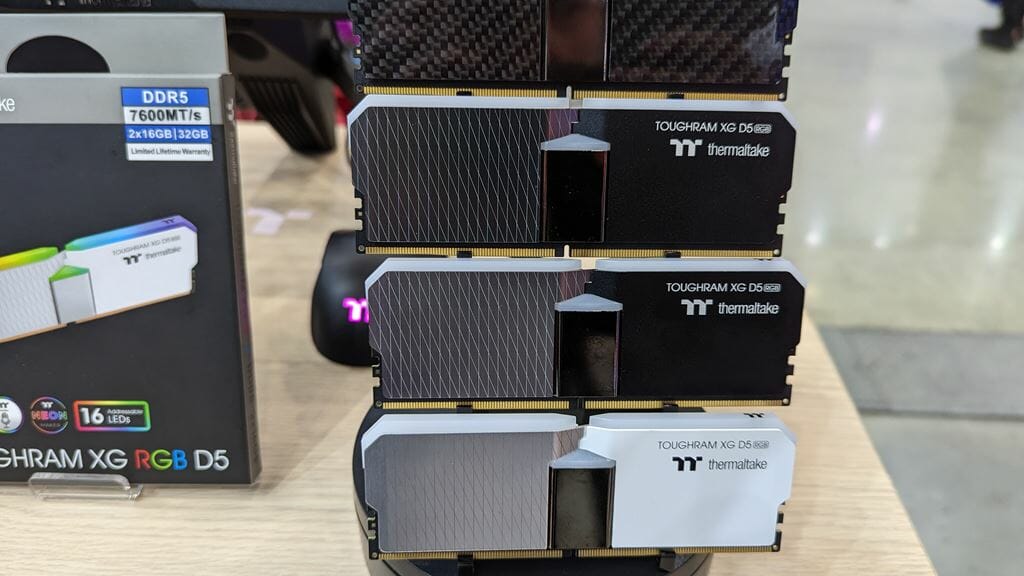 I mean, just look at how amazing it looks! Think we may need to ask for a kit of each until we can make our minds up!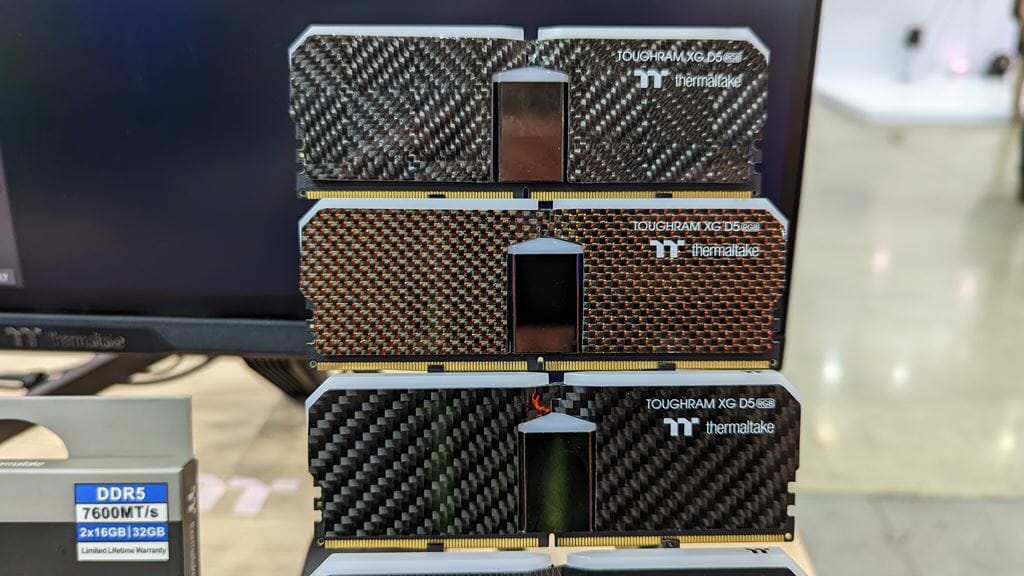 The TOUGHRAM XG D5 comes in speeds up to 7600MT/s with kits coming in up to 32GB (2x16GB).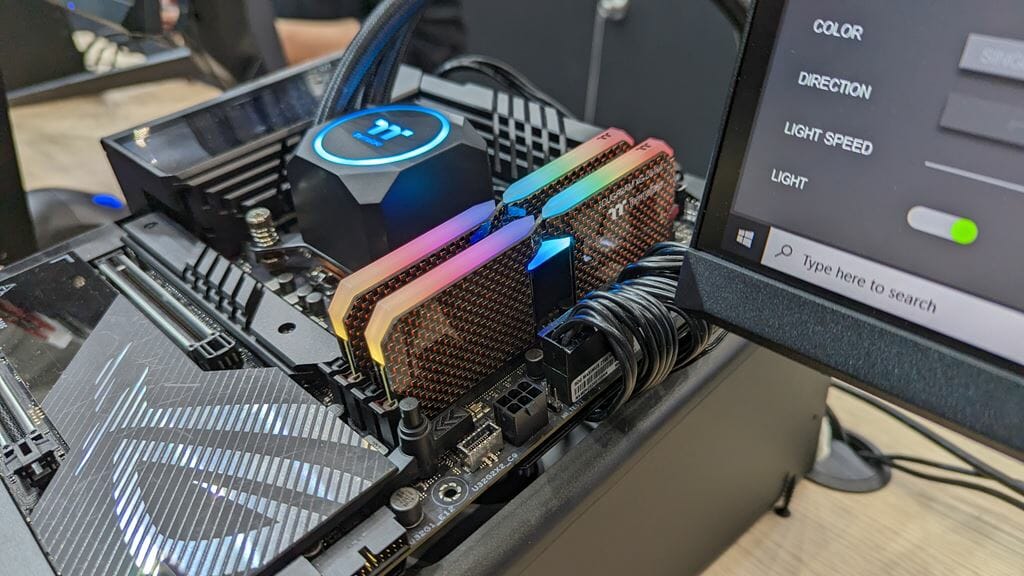 Power Supplies
We also got a chance to see a wide range of power supplies that Thermaltake had to offer! Yes, not only do they have a lot of different products, they also have a lot of different products within the same ranges!
If you fancy a white PSU, the TOUGHPOWER GF A3 SNOW could be just what you're looking for. The standard (non-white) version comes in sizes of up to 1200W but I am not sure if the white does. However, we can see in the image below that the white comes in up to 1050W if nothing else.
These are also 80PLUS Gold Rated and ATX 3.0 compatible.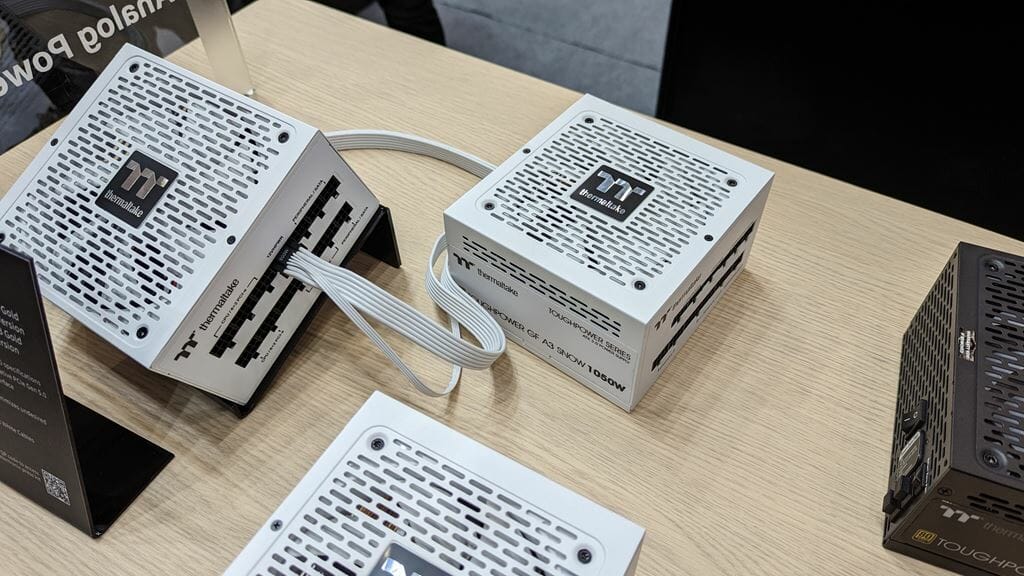 We can also see the TOUGHPOWER GF3 ARGB Gold PSU and the GF A3 Gold.
We know it can be confusing to choose the best option sometimes so if you find yourself stuck, pop into our Discord and we are more than happy to help you!
The TOUGHPOWER GF3 Gold PSUs come in up to 1650W so will be more than enough to power most standard systems with ease!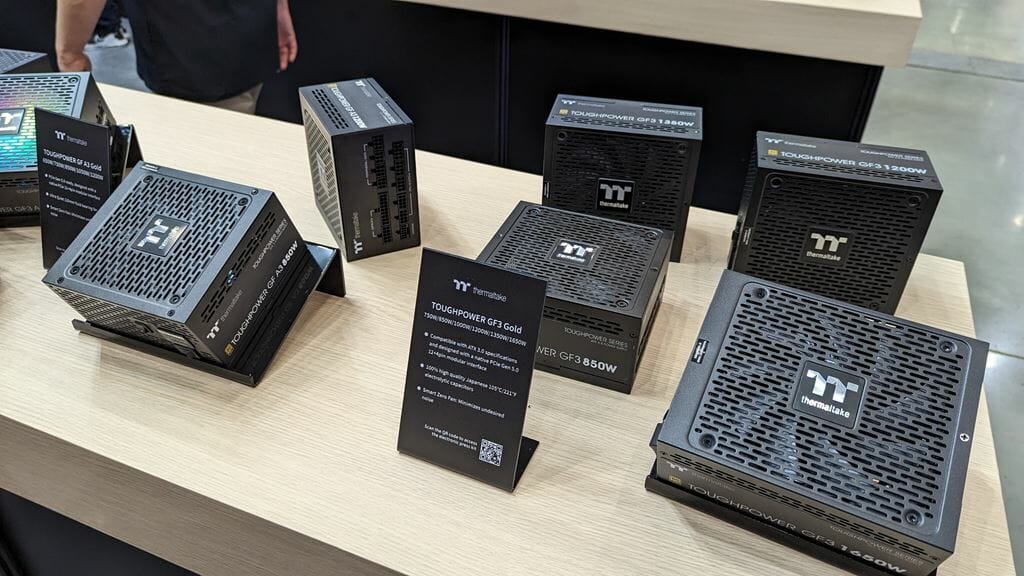 For that that don't know, the main difference between the PF3 and the GF3 is the first letter stands for gold or platinum which is the 80PLUS rating the PSU will carry.
SFX Power Supplies are becoming more powerful than ever before.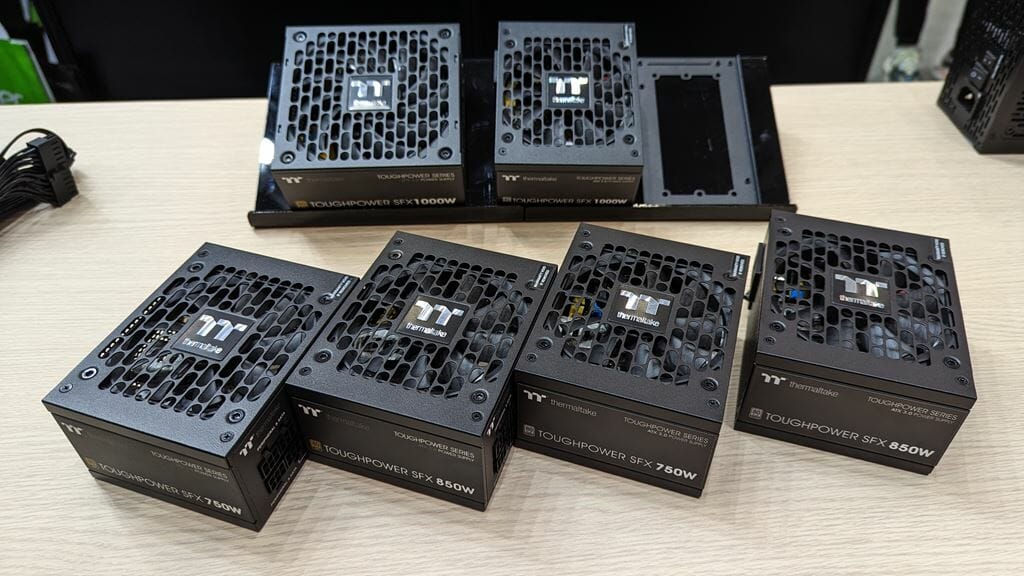 They are also still ridiculously tiny! Considering this one is about the same size as my hand, it's hard to imagine them having so much power.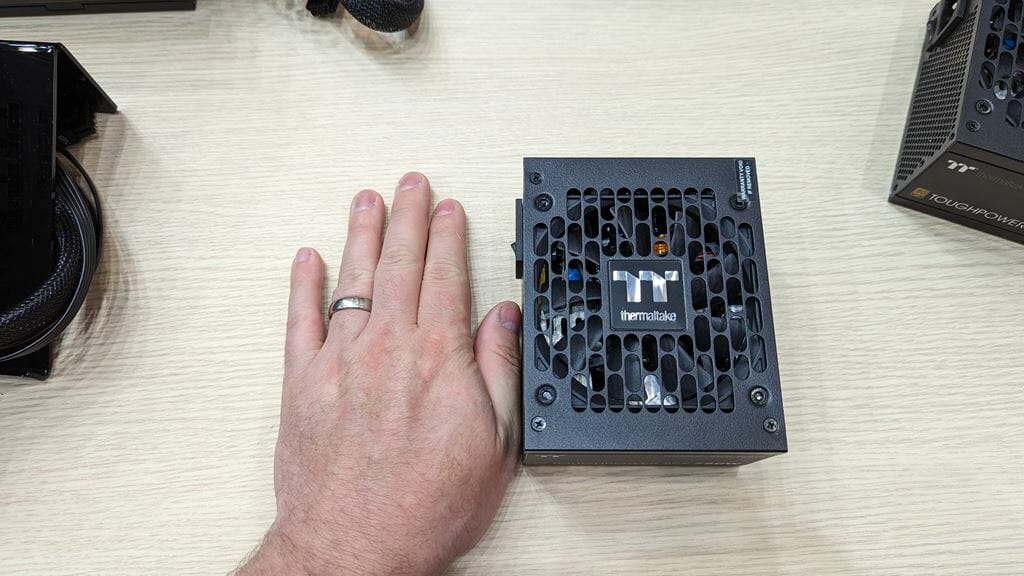 The Smart BM3 Bronze PSU is a semi-modular PSU that comes in 550W/650W/750W.  The Semi-modular nature means that the main power cables are attached to the PSU and the GPU, Peripheral, and SATA power cables are modular.
All the cables for the BM3 are flat as well except for the 24-pin power connector which is completely understandable.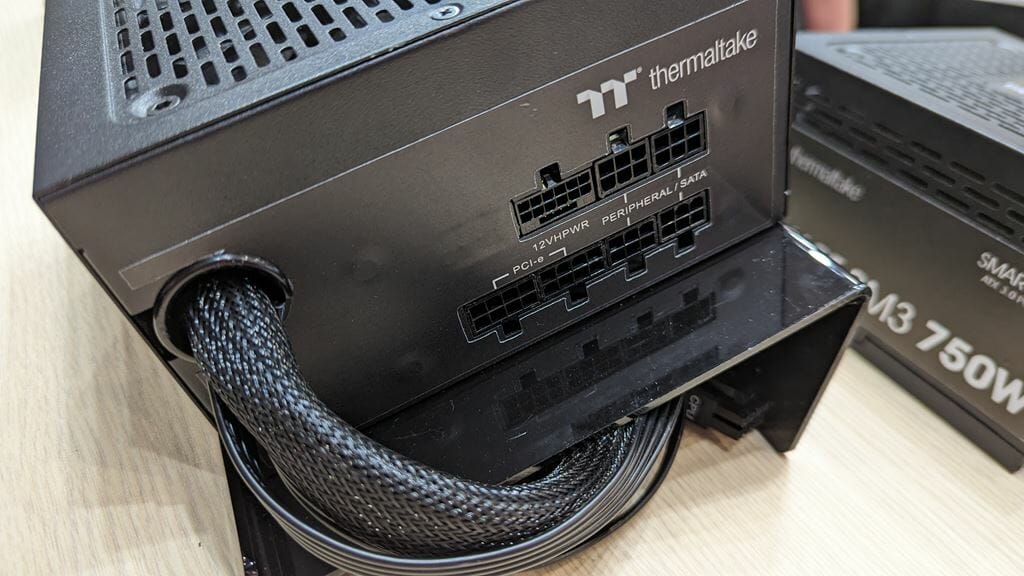 AIO Coolers
Thermaltake had a wide range of AIO coolers on display as well. It really is hard to believe that a single company is pushing so many different AIOs at the same time, but they are.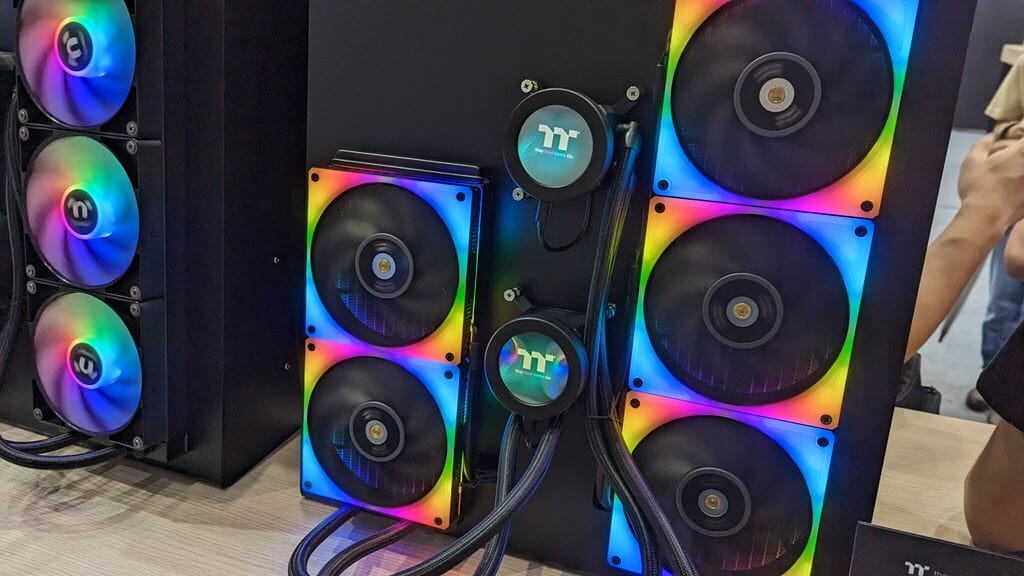 TH V2 Ultra Series come in 240mm/280mm/360mm/420mm giving users the upgrade options they need for their AIO. Of course, not everyone will be able to mount a 420mm AIO into their case but for those who can, just think of all that cooling goodness.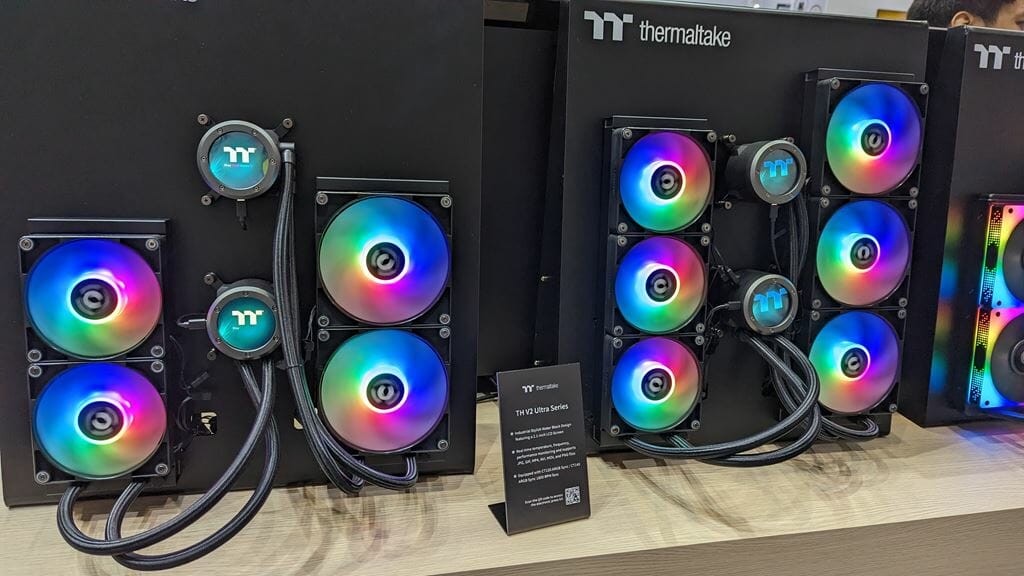 The TOUGHLIQUID Ultra series comes in similar sizes to the TH V2 Ultra series but instead, uses the TOUGHFANs.
We can also notice the housing around the screen is a tad bit different as well!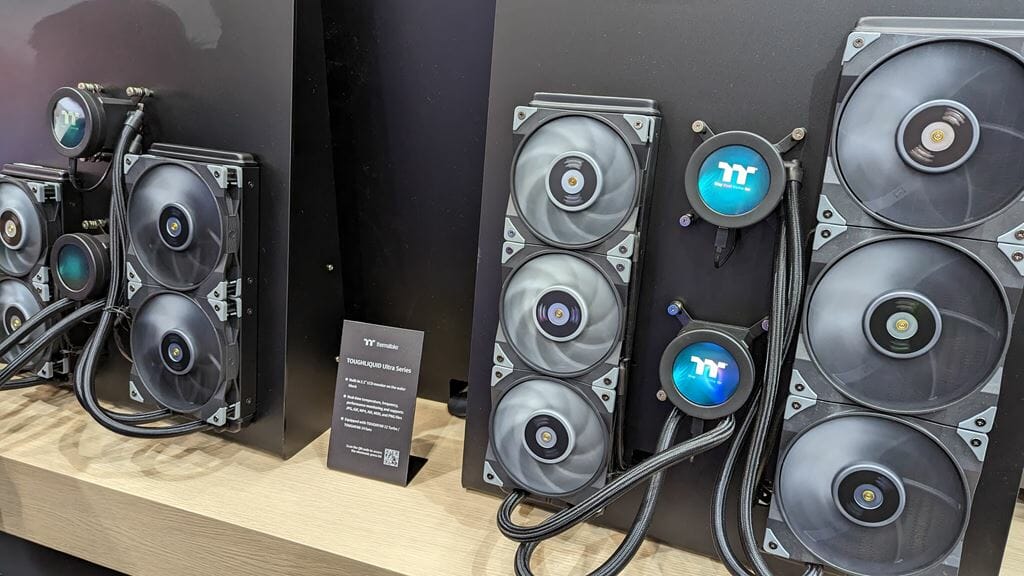 The TH420 ARGB Sync as pictured on the right offers some amazing performance at a more friendly price. Currently, the white variant is available on Amazon UK for £143.05.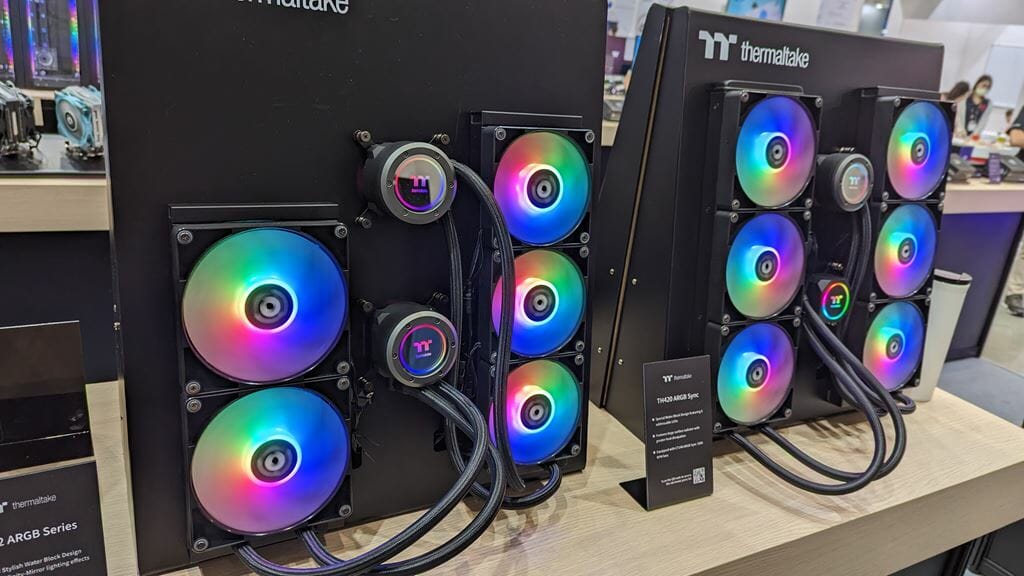 The TOUGHLIQUID series again has some of those unique colors we have seen across the Thermaltake booth that are going to match some other products in their lineup to perfection!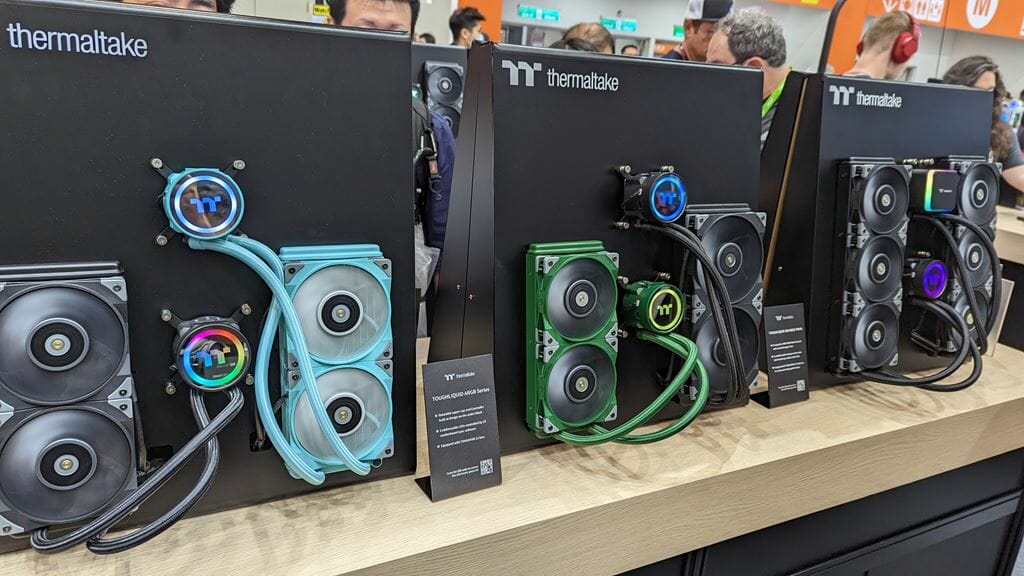 This is one of the current Flagship PC Cases from Thermaltake and it is easy to see why once you get hands-on with it.
The CTE 750 supports E-ATX motherboards and up to 420mm AIOs in the front panel. What's better is that it does all of this without looking overly cramped inside, still leaving plenty of room for a clean build.
As you can see, the SNOW version has a different front panel to the standard black version.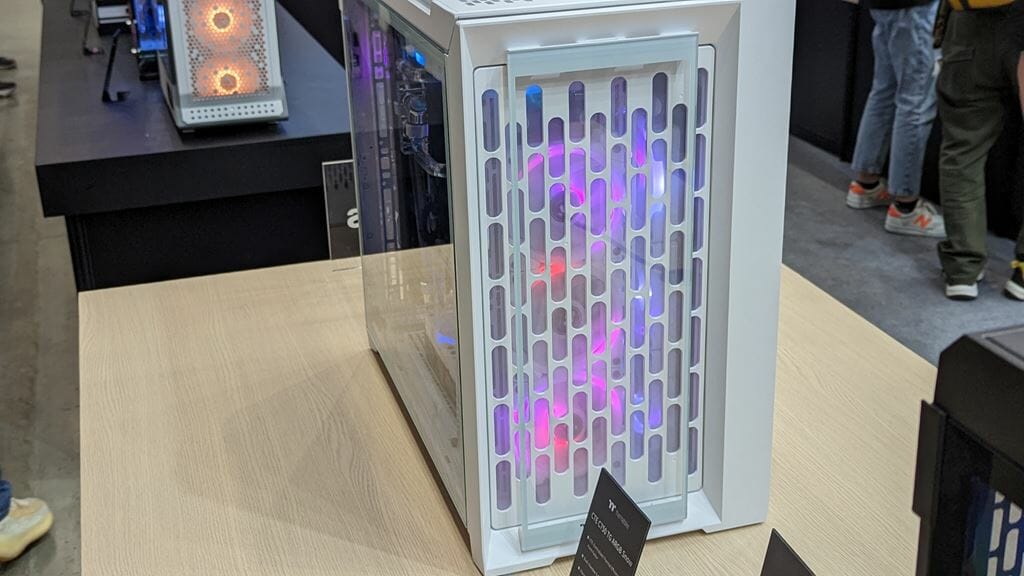 Of course, the front panels are easily removed which allows you to install your fans/rad in the front. To make things easier, the fan mounting actually comes out as well and be moved from side to side offering users precise control of its location to help with their airflow.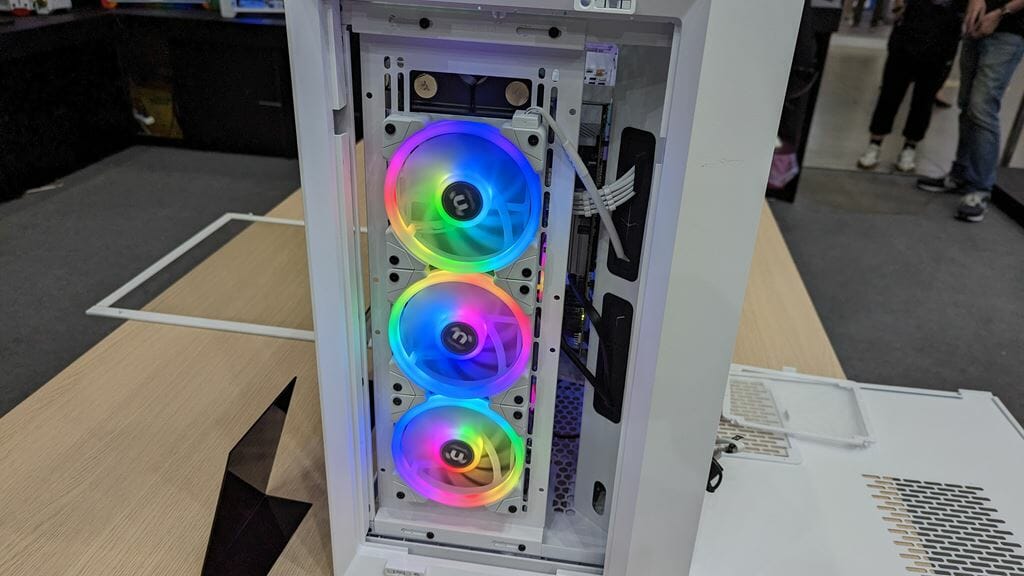 Another unique point is the way the motherboard is rotated and all of the rear IO ports on the motherboard are within the case itself. This just further allows you to have the best-looking build possible.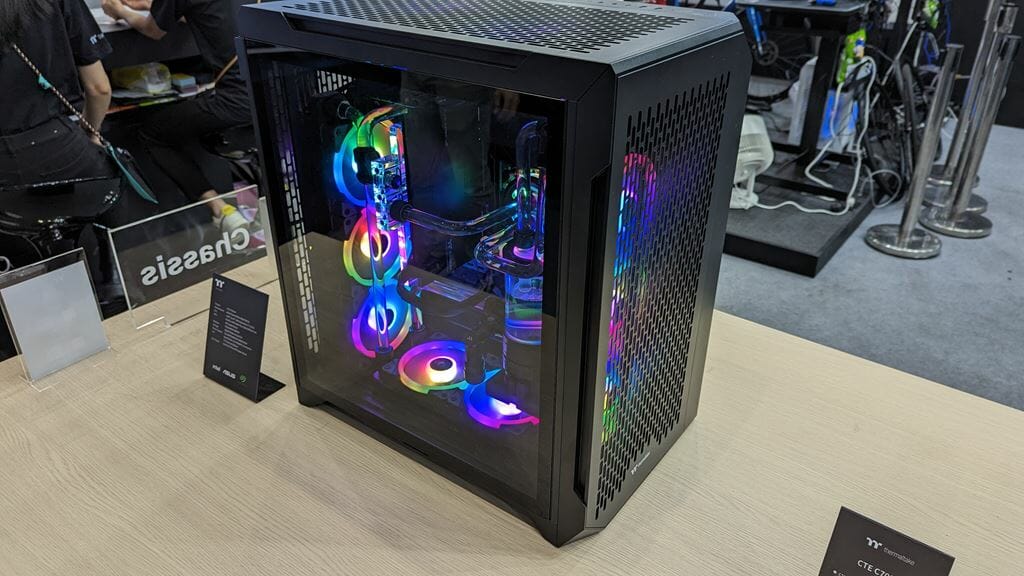 The top panel also comes off and has a full-cover mesh panel underneath. This is going to help prevent dust from getting into the system,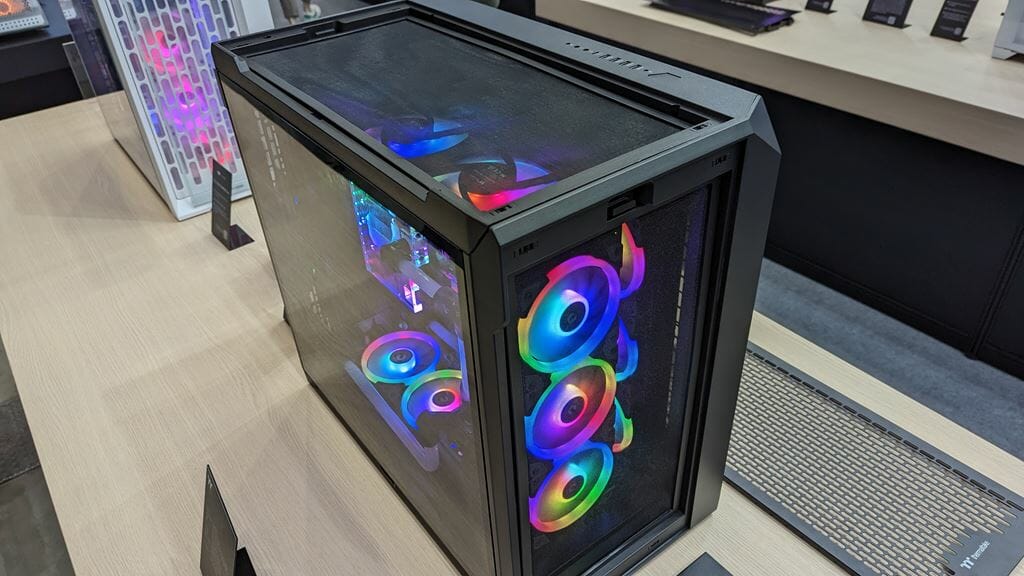 The mesh panel can be removed for easy access to the inside of the PC and so you can clean it easier. You can simply run it underwater if need be just be sure to let it dry properly before putting it back on the case.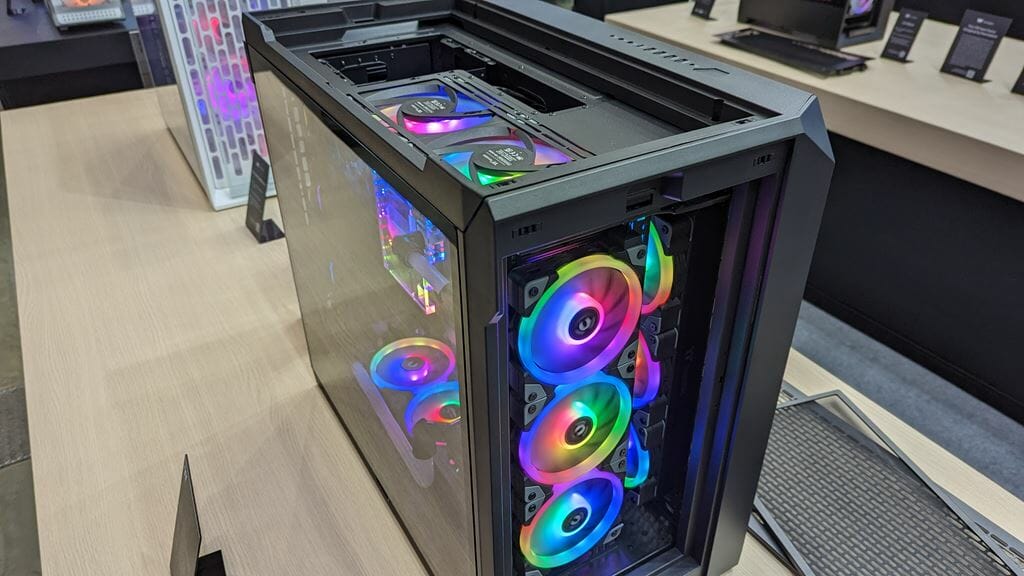 One thing is for sure, the CTE 750 can handle an insane amount of hardware and cooling components. One would almost say the possibilities are endless.
Fans
Two of the biggest improvements to fans in the past years are combined on the new SWAFANs from Thermaltake.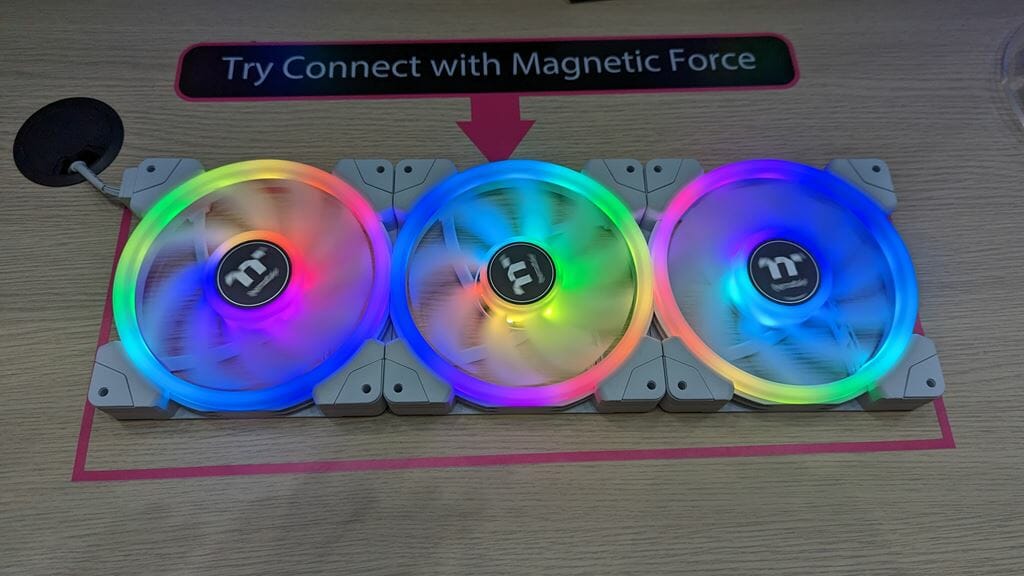 1st) Instead of each fan having multiple cables for power and RGB, they are now connected by magnets. Yes, a simple magnet that when connected in the right order will power the fan and also allow you to control the ARGB/RGB lighting.
It really is as simple as connecting them together or pulling them apart, there are no gimmicks to it and they are quite strong.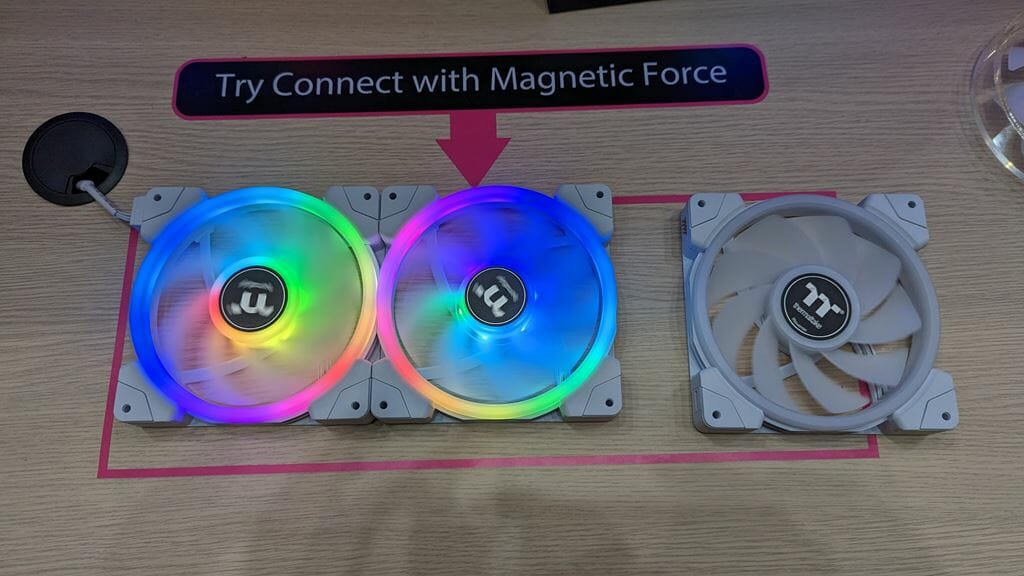 2nd) swappable fan blades! Yes, long gone are the days of having to swap fans around if you want them to blow air in the other direction. Now you can simply take the old blade off and put a new one on that offers different airflow.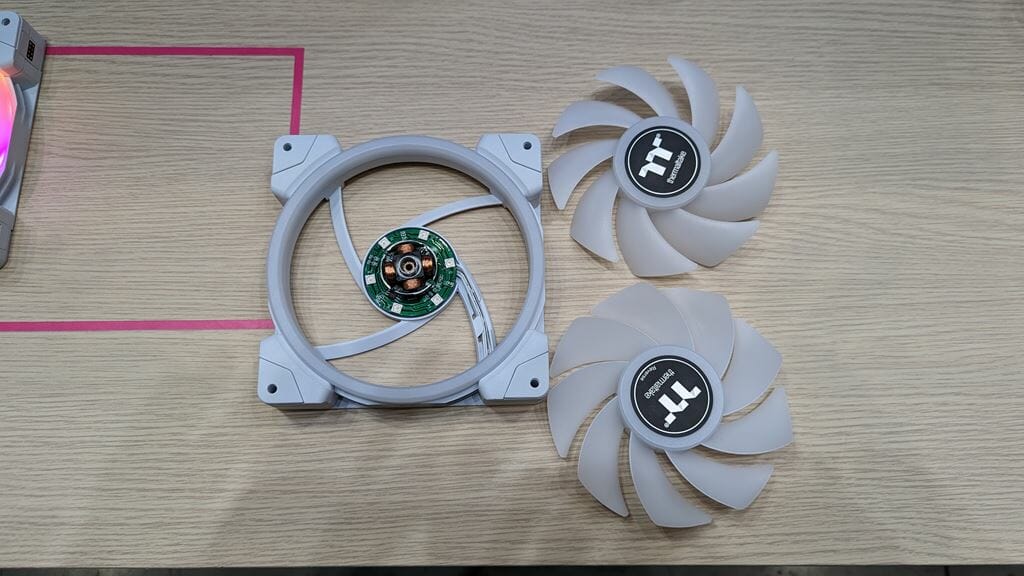 This also means that you no longer have to look at the backside of the fan in builds depending on the fan orientation. Now, you can see the fan in all its glory at all times!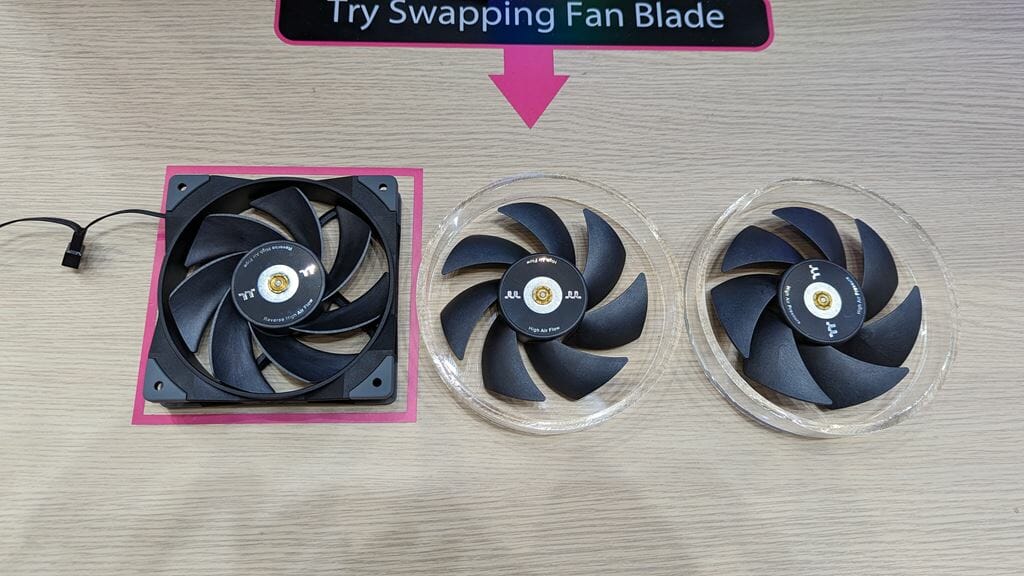 CERES 300 PC Case
The CERES 300 TG is a mid-tower chassis that comes with two CT140 ARG fans and support for an ATX motherboard.
While much smaller than the previous CTE 750 we have seen, it still has plenty of room for a nice-looking build inside.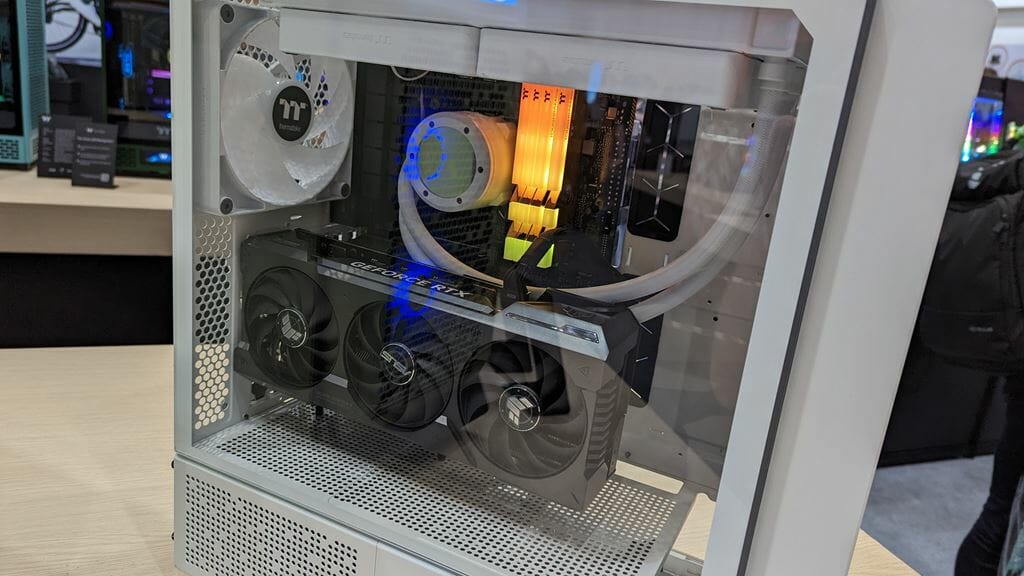 Also, most of the sides are perforated to allow for the best airflow possible to help keep all your components cool.
The Tower 200 PC Case
The new Tower 200 PC Case comes in multiple colors including their new matcha green.
The Tower 200 is a mini-ITX case that comes with two pre-installed CT140 fans and has room for an RTX 4090 amoung other things. You can also buy a separate 3.9″ LCD display for the bottom which is fully customizable.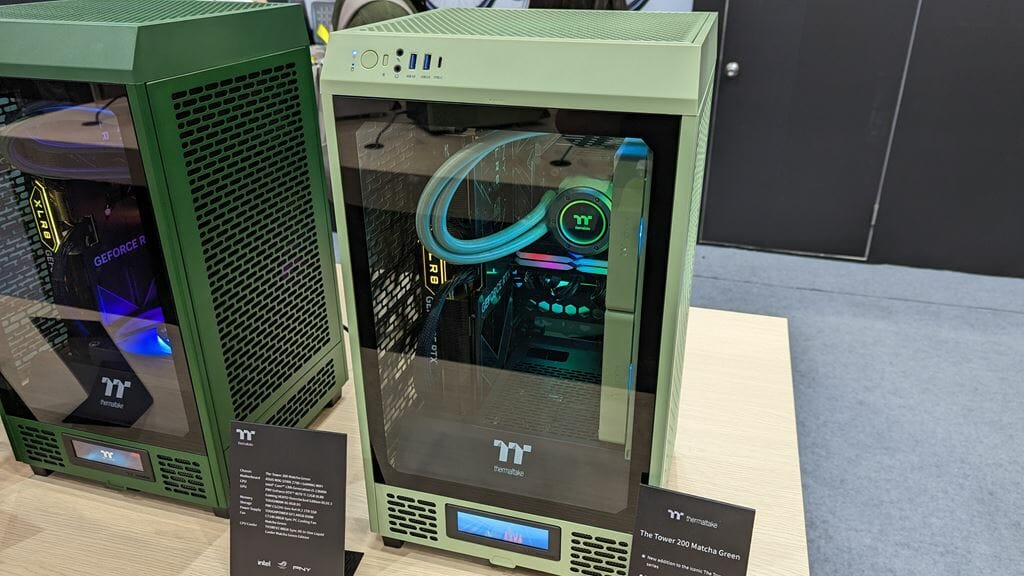 All of the sides come off rather easily as we are seeing from most cases these days. This is going to allow you to have access right where you need it when building your PC.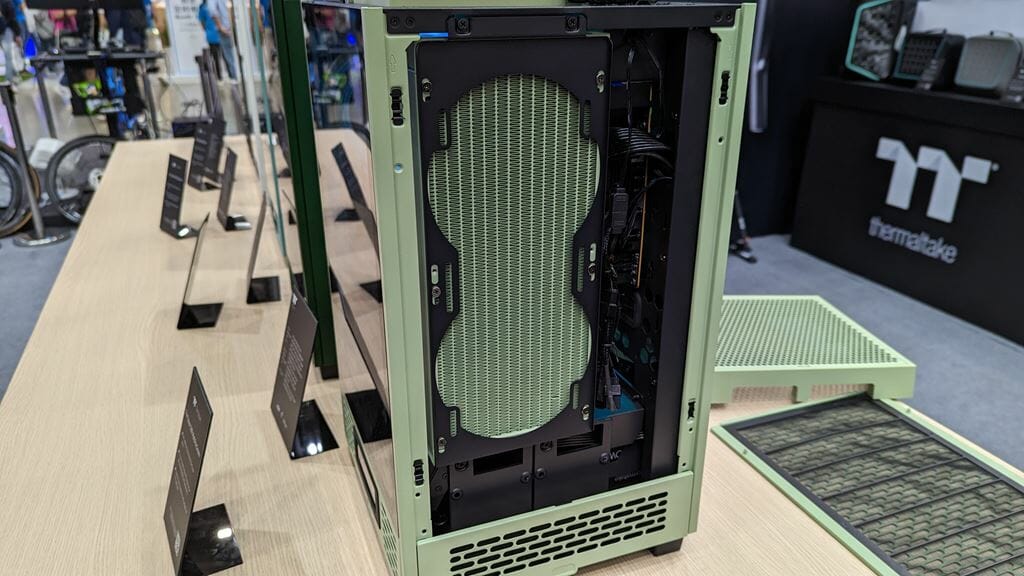 Even the top pops right off revealing one of the pre-installed fans and the front IO.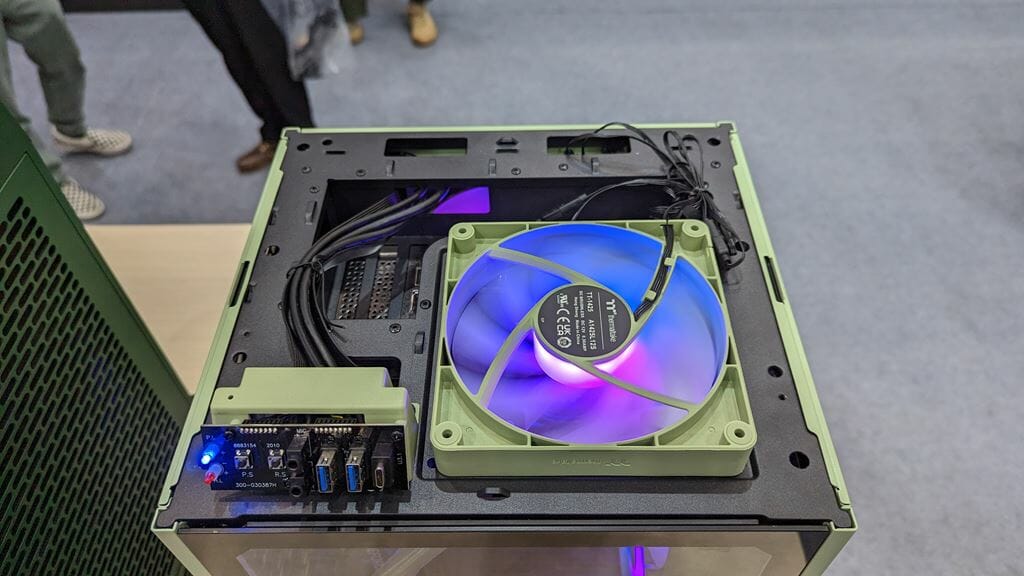 The front IO has a USB C port, 2x USB 3.2 ports, audio ports, and power and reset buttons.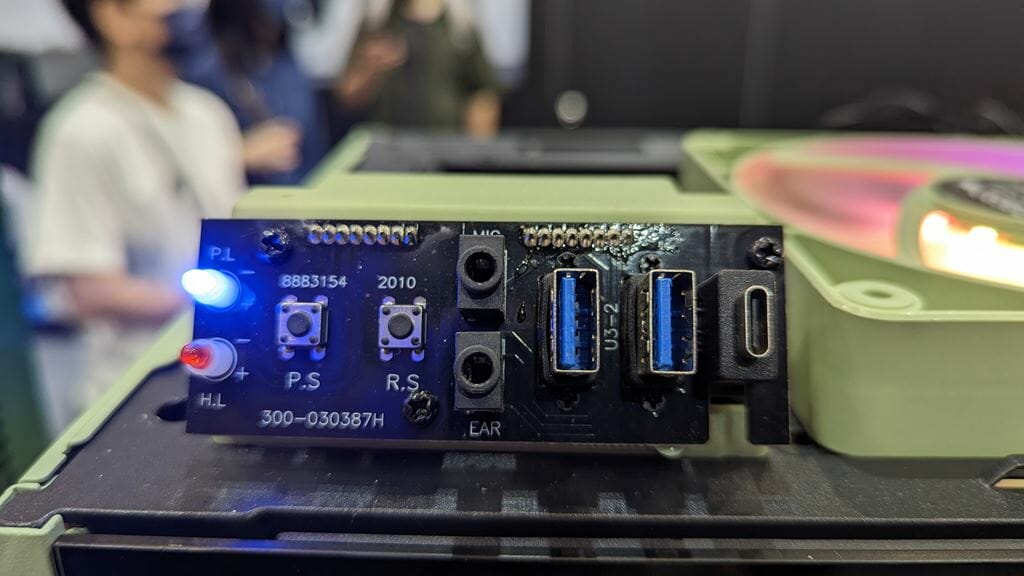 DIY and Custom Water Cooling Products
This is where things start to get really fun! I can't remember the name of this case but just look at how massive it is and all of the gear it has inside! There is no denying Thermaltake are stepping up their LCS game!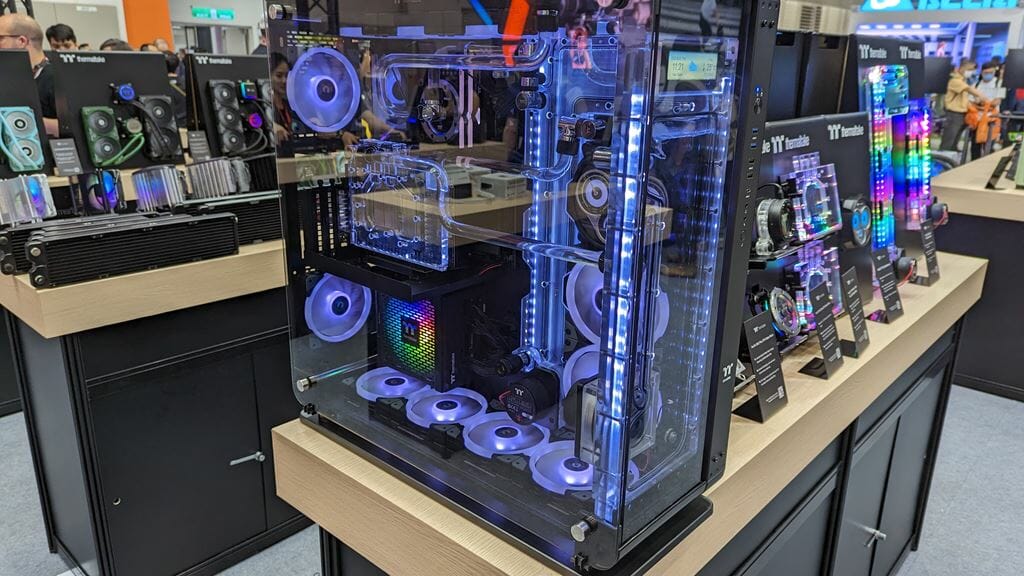 Thermaltake makes a few custom distros for a couple of their cases.
The Pacific TF3 LCS Dashboard is reminiscent of a car dash and will measure the ambient temp of your build, the coolant temp, and pressure! It may not be to everyone's liking but it is definitely unique and will display some pretty important information.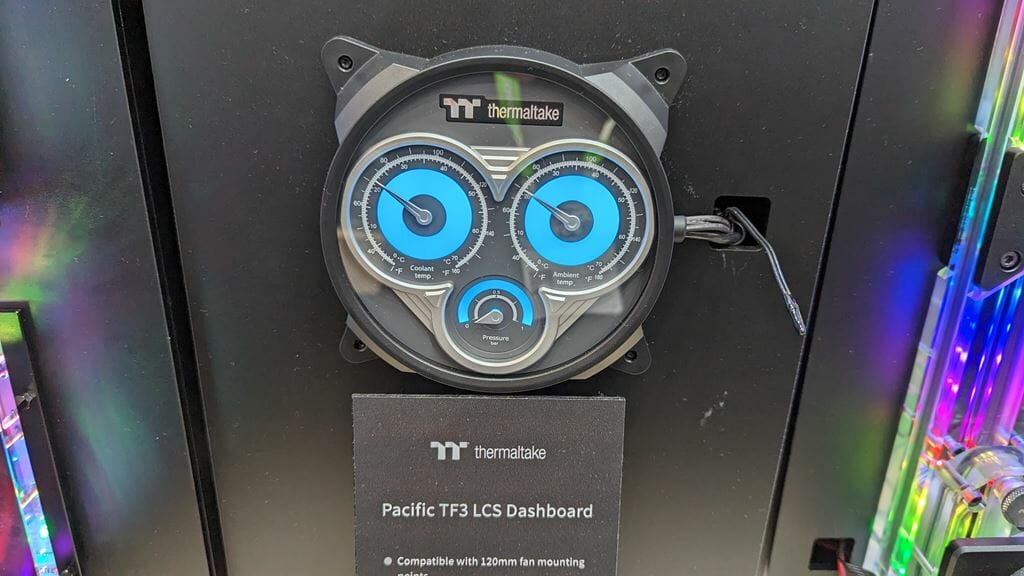 While they may not have a massive lineup of them, Thermaltake does offer custom GPU blocks for some graphics cards as well so you can add them to your custom loop!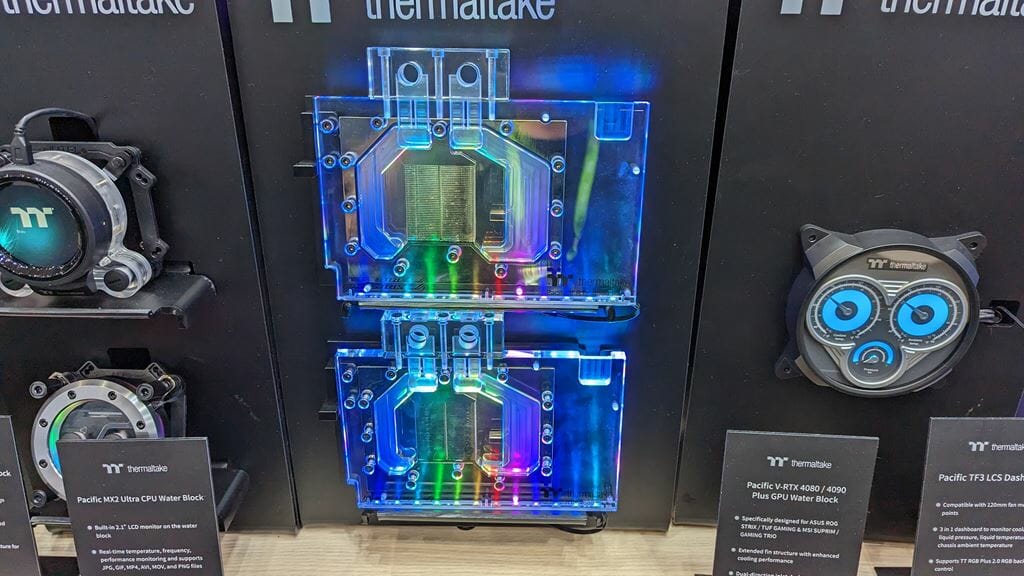 Choice is everything these days and as such, Thermaltake had four different CPU Cooling blocks on display at Computex 2023. From your standard blocks to one that has an LCD screen in it, Thermaltake is covering all bases.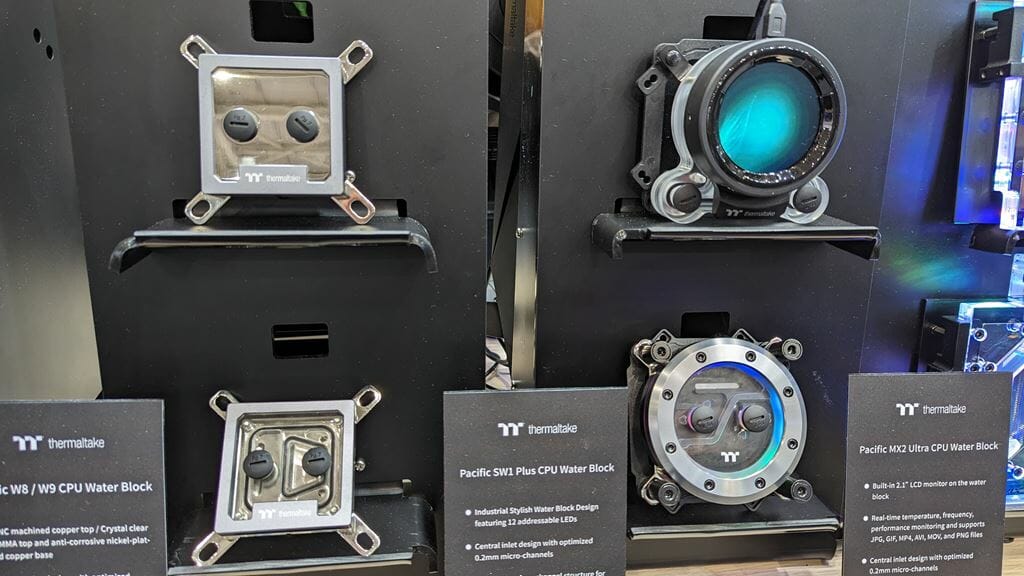 Of course, when it comes to custom liquid cooling, any good company must have some radiators as well. Their Pacific lineup of rads comes in different sizes and thicknesses depending on what you need.
Thermaltakes' new Pacific SF Fittings are looking rather nice. They offer most of the standard fittings one would need for a new custom loop and come in three colors as seen below.
Last but not least, they had a few different reservoirs on display as well. As you can see they have ARGB lighting and come in three different capacities of 250/300/400ML.
It is safe to say that when it comes to liquid cooling, Thermaltake has all of the major bases covered!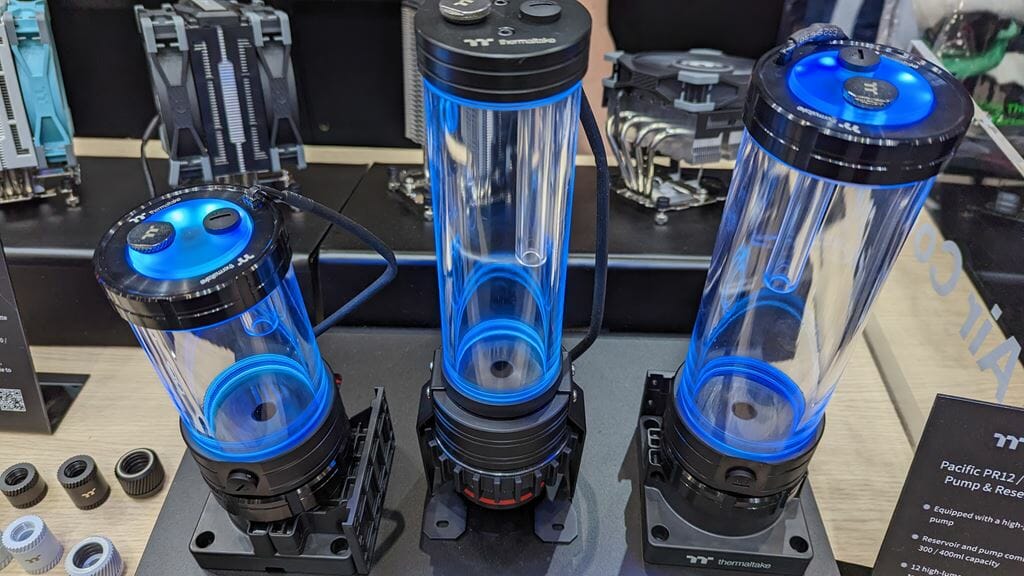 Final Words
Thermaltake had an absolutely ridiculous amount of products on display at Computex 2023, so much in fact that we didn't manage to cover them all, just the main ones! Everything from cases to power supplied and cooling gear, they have you covered. Thermaltake is really on the forefront of customization as well and a lot of their components come in different colors as a result of this!
Please make sure to check for more of our Computex coverage in our EVENT COVERAGE which will be coming in the next couple of days!