Introduction
The ever so daunting task of picking a new power supply can be quite overwhelming to those not in the know. How many watts do you need? What 80PLUS rating is best? There is so much info to consider when buying what is probably one of the most overlooked yet important parts of your new build. Even more so now that companies like Thermaltake are adding RGB to their PSUs. Does RGB help my power supply? What does RGB do for a power supply? Well, rest assured that RGB is purely for aesthetic purpose and will not affect the performance of your new power supply in any way!
Today, we are taking a look at Thermaltake's Smart RGB 600W Power Supply. The Smart RGB comes with an RGB fan as the name would suggest and features and 80PLUS efficiency rating. Thermaltake's current rang of power supplies spans across many different models. While more choice is always good when is it too much? Well, I'll let you decide that but the way I see it, the more products companies bring out the better for us consumers. Before we get into the closer look. let me also tell you the Smart RGB PSUs come backed with a 5-year warranty and at their current prices, that's massive.
Specifications
| | |
| --- | --- |
| P/N | PS-SPR-0600NHFAWx-1 |
| WATTS | 600W |
| RGB FAN | Yes |
| FORM FACTOR | ATX |
| MODEL | SPR-600AH2NK-1 |
| TYPE | Intel ATX 12V 2.3 |
| MAX. OUTPUT CAPACITY | 600W |
| COLOR | Black |
| PFC (POWER FACTOR CORRECTION) | Active PFC |
| POWER GOOD SIGNAL | 100-500 msec |
| HOLD UP TIME | 16msec (minimum) within 60% load |
| INPUT CURRENT | 10A max |
| INPUT FREQUENCY RANGE | 50 Hz – 60 Hz |
| INPUT VOLTAGE | 100Vac – 240Vac |
| OPERATING TEMPERATURE | 5℃ to +40℃ |
| OPERATING HUMIDITY | 20% to 85%,non-condensing |
| STORAGE TEMPERATURE | -40 ℃ to +55 ℃ |
| STORAGE HUMIDITY | 10% to 95%, non-condensing |
| COOLING SYSTEM | 120mm Fan: 1800 R.P.M. ± 10% |
| EFFICIENCY | 82-86% efficiency @ 20-100% load |
| MTBF | 100,000 hrs minimum |
| SAFETY APPROVAL | CE/CB/TUV/ UL/ FCC/ EAC |
| PROTECTION | OVP, OPP, SCP |
Closer Look
Thermaltake's packaging has a distinct look these days. While it may vary from product to product, there is no denying that you could easily remove the Thermaltake logo from the SMART RGB and still know who the manufacturer was. In true Thermaltake fashion, we have a nice image of the PSU on the front of the box as well as some of the main features the SMART RGB has to offer.

On the back of the box, we can see more of the technical information. Here we can see what connectors it has and also an efficiency chart. This chart shows us that at 100% load is when the SMART RGB is less efficient but even then it is still operating at an 82.5% efficiency. For such a power supply, this is great to see and more than enough to be trusted with almost any build that would require the rated wattage from this power supply.

Inside the box, things are packaged nice and neat. The SMART RGB itself is bubble wrapped with the manuals on top of it and to the right, the power cord is almost separately bagged up.

The bottom of the PSU has a nice ventilated area that reveals the fan inside. Not only does this fan help keep things cool, but it also features some RGB lighting.

Both sides are similar and have the Thermaltake logo and model of the PSU. More and more cases are now allowing users to show off their PSUs so watch for manufacturers to pay a bit more attention to this area in the near future.

The RGB lighting is controlled by a button on the PSU itself. This button is located on the back next to the Main in plug and the power switch. Allowing users manual control of the lighting is nice as it means no need for extra software to control it.

This is designed to be a more budget-friendly power supply and the cables represent this. However, this should have more than enough connections for most standard builds and features the following:
1x Main Power 20+4 Pin
1x ATX 12v 4+4 Pin
6x SATA
2x PCI-E 6+2 Pin
3x Molex
1x FDD


Using the button on the back of the power supply allows users easy access to change the colour of the fan whenever they want. The lighting looks amazing and pics just don't do it justice. This will surely add a nice under glow to your PC depending on the case being used.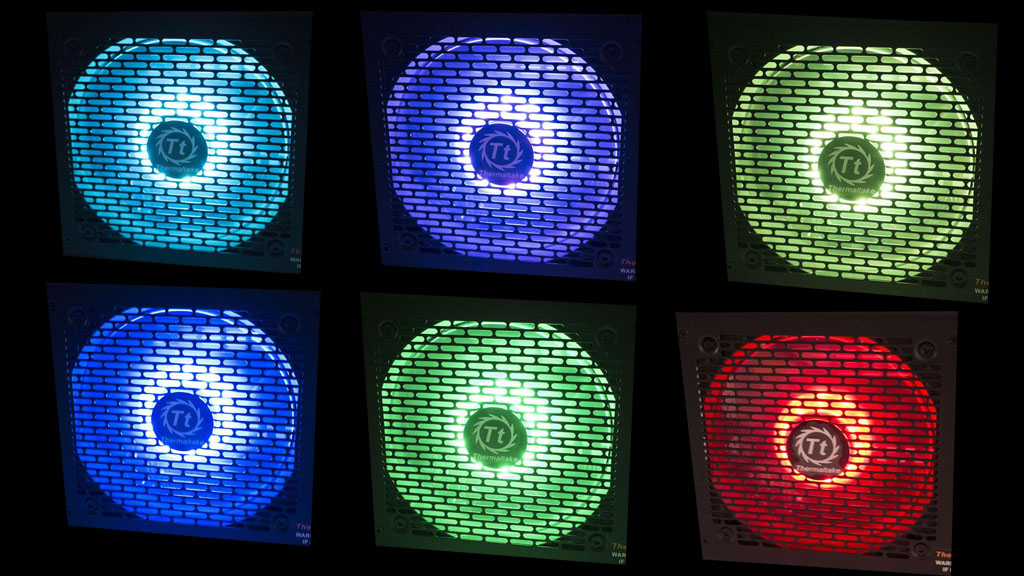 Performance and Testing
While we don't have a proper load tester, as always, we do try to put power supplies through their paces as best possible. To do so, we test it during PC idle times, gaming and also while using synthetic benchmarks to push our system to its limits. During all of our testing, we use a combination of a multi metre and software base monitoring software to check the results. The SMART RGB 600W PSU was more than up to the challenge and in all of our testing, the results for the 12/5.5/3.3V rails were all well within their expected ranges at both idle and load tests.
Conclusion
Performance
In the minimal testing we can do, the SMART RGB 600W passed with flying colours. While I couldn't measure for ripple in the lines, the rest of the testing we do provides good insight into real-world usage. I used the SMART RGB 600W for a good couple of weeks daily and never once had any issues with it. It was more than capable of powering a 3700x and RX580 for any task I could throw at it from gaming to running FurMark and Prime 95. All in all, I am confident in the performance quality of this PSU.
Design
Alongside some good performance, the SMART RGB series of power supplies also offers RGB lighting. While some may see this as a bit pointless for a power supply, some will enjoy a bit of extra lighting in their build. Depending on your case, the extra lighting might not make a noticeable difference but with case manufacturers, especially Thermaltake focusing on allowing users to show off their precious hardware, it shouldn't be hard to get a case to show off this bad boy in.
Value
Coming in around £50 here in the U.K. at the time of review, this is a tad more expensive than some of the other 600W power supplies. With this being said, it's worth remembering that not only does it feature RGB lighting, it also has an 80PLUS rating and comes back by a 5-YEAR warranty. If you break things down as I do, that's less than £10/Year which is less than £1/month. For less then £1/month you can get yourself a great performing and looking power supply. Can't complain at that!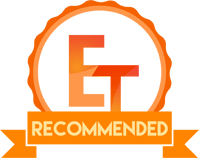 Many thanks to Thermaltake for sending in a sample of their SMART RGB 600W Power Supply.