Introduction
Product: Matrexx 55 ADD RGB
Following on from our last review on their Baronkase Liquid, today, we will be taking a look at the Deepcool Matrexx 55 ADD RGB. The Matrexx 55 ADD RGB is a very budget-friendly case that has some great features for its price. Coming with support for up to E-ATX motherboards and dual tempered glass panels, the Matrexx 55 ADD RGB is all set to allow you to show off your new build. While it doesn't come with any pre-installed fans, this will be a big part of the appeal for some users. Being designed for users to add their own RGB with ease, it'll allow you to use the fans you want. Deepcool has done a great job at making a name for themselves over the last few years and is known for generally offering good performing products at reasonable prices. With that being said, let's jump into the Closer Look and see what the Matrexx 55 ADD RGB has to offer.
Matrexx 55 ADD RGB Specifications
| | |
| --- | --- |
| Motherboards | E-ATX/ATX/Micro ATX/Mini-ITX |
| Case Type | Middle Tower |
| Materials | ABS+SPCC+Tempered Glass |
| Product Dimensions (L×W×H) | 440×210×480mm |
| Net Weight | 6.97 kg |
| Gross Weight | 8.01 kg |
| 5.25″ Drive Bays | 0 |
| 3.5″/2.5″ Drive Bays | 2 |
| 2.5″ Drive Bays | 2+2 |
| I/O Ports | 1×USB3.0/2×USB2.0/1×Audio(HD)/1×Mic,1×RGB Button |
| Expansion Slots | 7 |
| Power Supply Type | ATX PS2 (maximum length: 170mm) |
| Cable Management | 23mm Clearance |
| CPU Cooler Height Limit | 168mm |
| VGA Length Limit | 370mm |
| Cooling Fans Support | Pre-installed: None. Optional: Rear: 1×120mm; Front: 3×120mm/ 3×140mm; Top: 2×120mm/2×140mm |
| Liquid Cooler Support | Front: 120/140/240/280/360mm radiator; Top: 120/140/240/280mm radiator; Rear: 120mm radiator |
| Carton Dimension (L×W×H) | 523×277×514mm |
| EAN | 6933412713692 |
| P/N | DP-ATX-MATREXX55-AR |
Closer Look
The Matrexx 55 ADD RGB comes in both black and white variants. The front features a tempered glass panel that spans across the whole case from top to bottom and about 3/4 of the width. To the right of this, is an RGB Strip which is the only pre-installed RGB in the whole case! This isn't a bad thing, just don't buy this case thinking it's going to be decked out with RGB as that won't happen. The Matrexx 55 ADD RGB is designed for users to add their own RGB.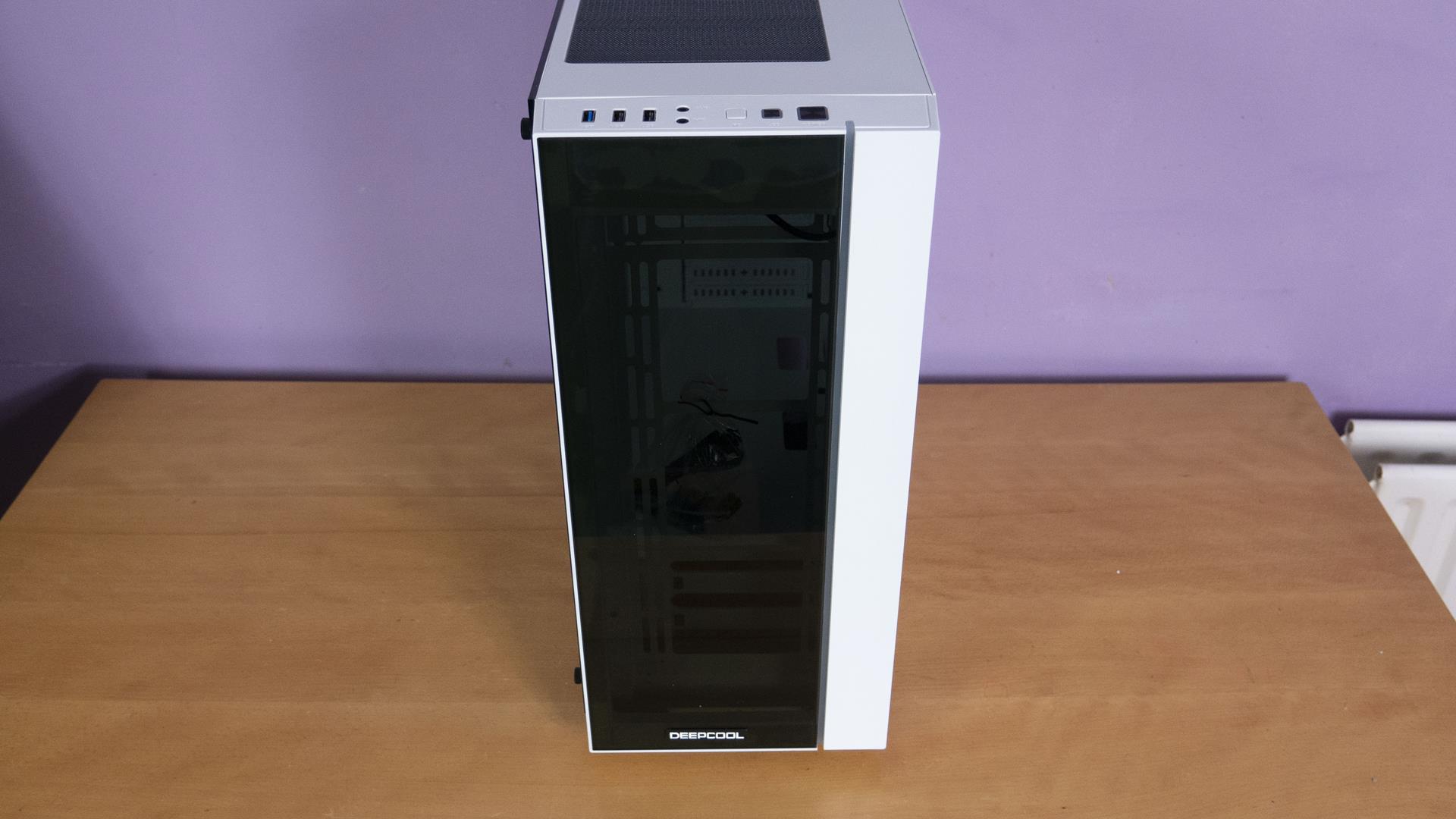 The front IO is located on the top of the case and featured 1x USB 3.0, 2x USB 2.0, audio/mic inputs and Reset/RGB/Power buttons. Being able to control the RGB from the simple touch of a button on the case means those with older systems that don't have RGB motherboard headers will still be able to make the most of their RGB.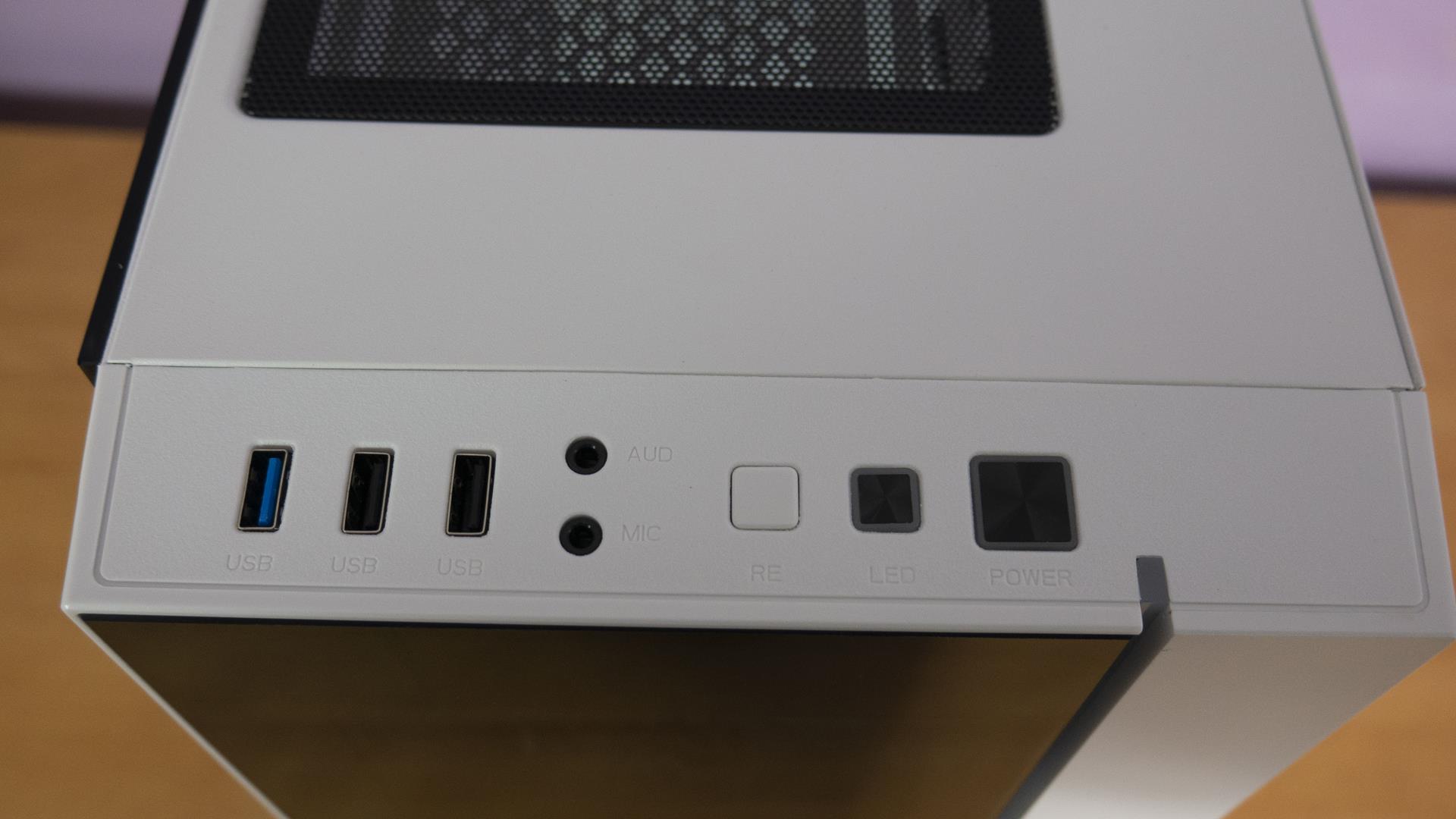 There is also nice ventilation with a magnetic dust filter on the top of the case. This will help allow for better airflow and you can even install some extra fans or an AIO CPU cooler here.
The main side of the case has a full-size tempered glass panel. This is almost standard in most cases these days and allows users to show off all their beloved hardware inside. This is great, especially for those who will use this case to its full potential and kit it out with loads of RGB.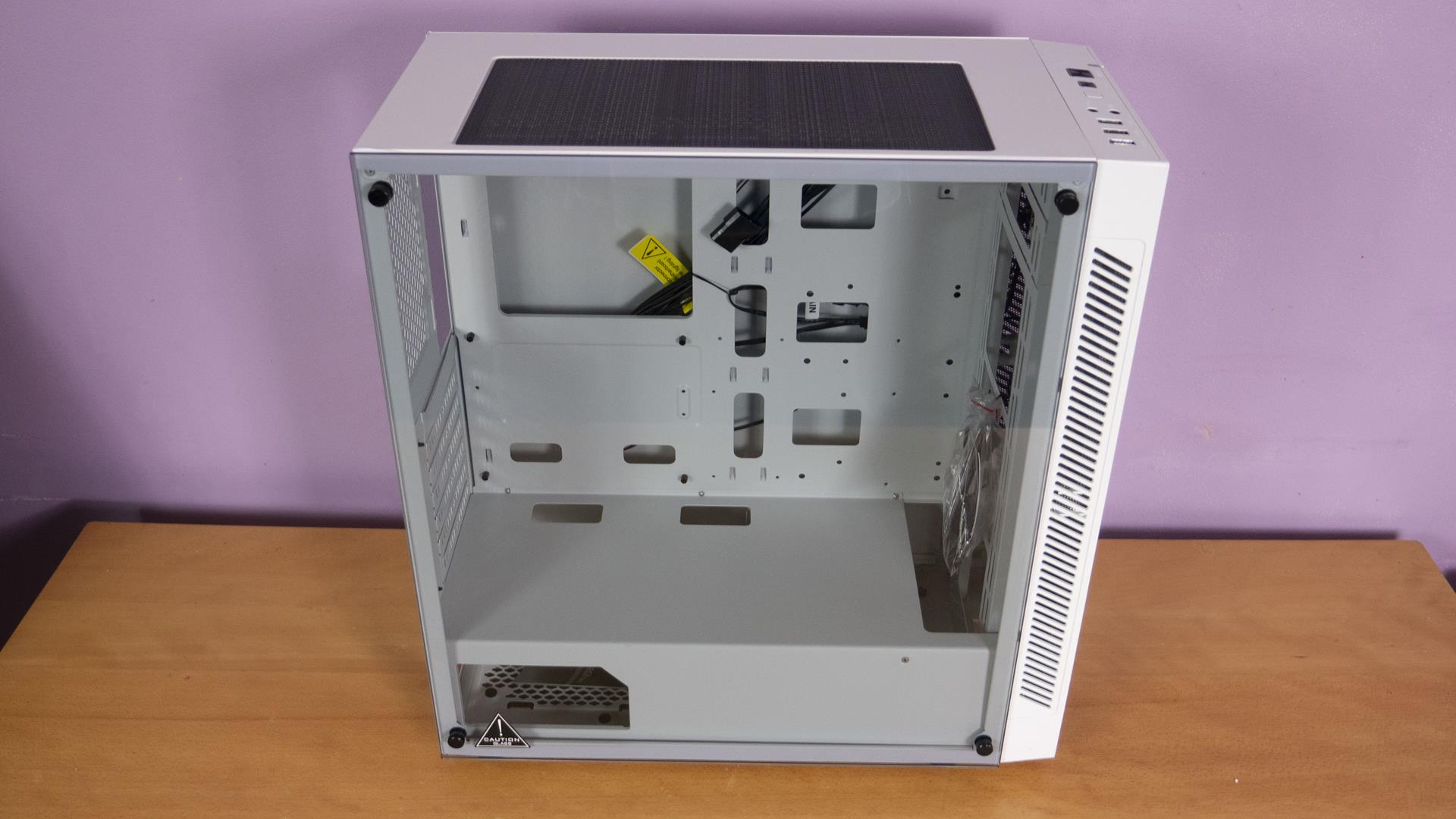 Around to the back, we have the standard set of things back here. There are the motherboard and PSU cutouts, a rear-fan mount and 7x PCI expansion bays.
The secondary side panel is plain as can be. However, looking at the Matrexx 55 ADD RGB from this angle and we can see a bit of extra ventilation for the front panel. This will allow whatever fans you install in the front to pull in a bit more air for better cooling performance.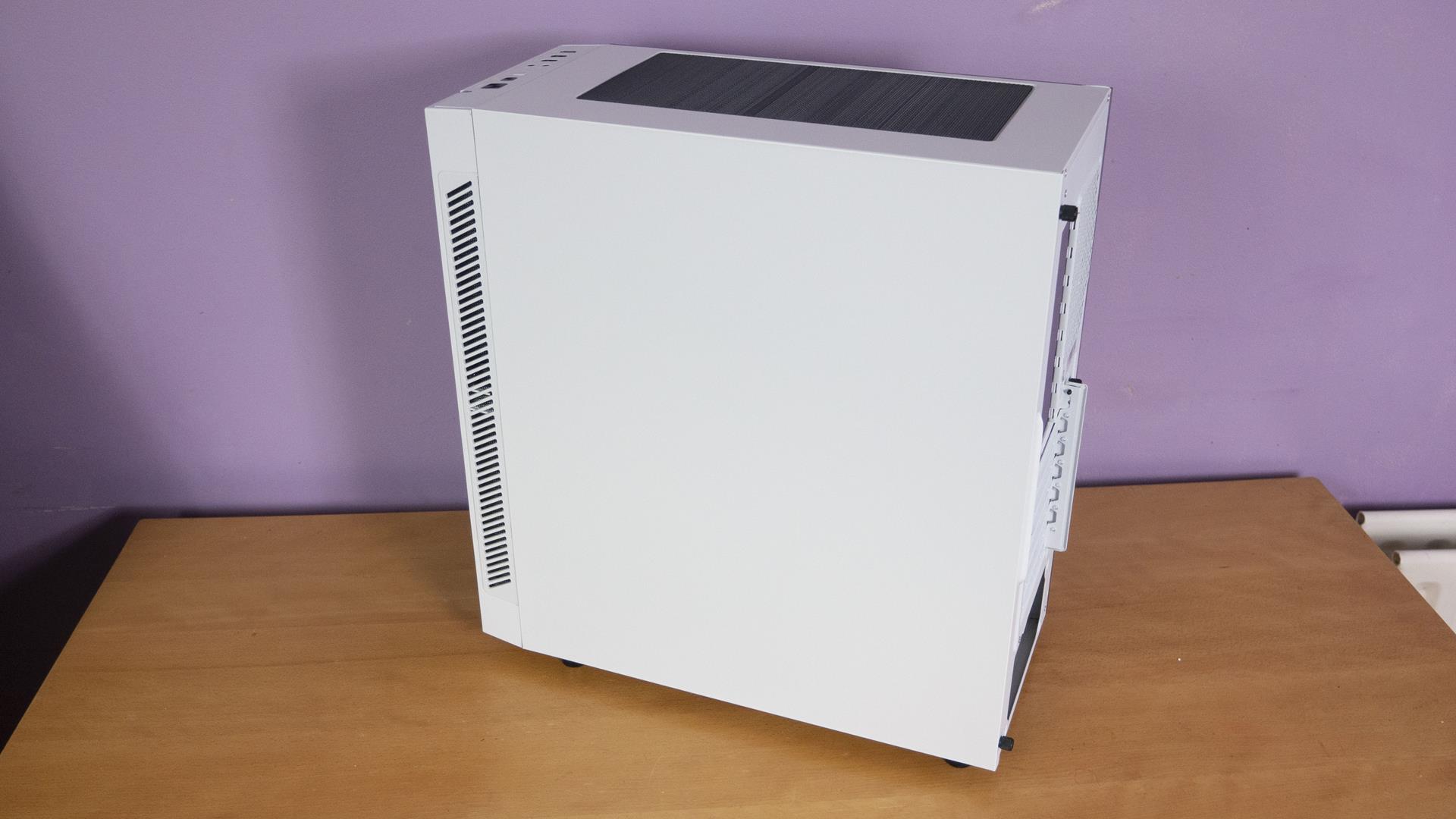 Working our way to the inside of the case and you can now see that in the front, you can fit up to 3x 140mm fans for maximum cooling performance. Make sure they are RGB to help go with the overall purpose of the case!
Taking our first proper look inside the case and we can see there is plenty of passthrough for cables and wires. There is also a fairly nice-sized cutout for easy CPU cooler so you hopefully shouldn't have to take the motherboard out to swap CPU coolers once you have your system installed. You will notice that there are a few motherboard risers already installed, but you may still need to install a couple more yourself depending on the form factor of motherboard you are using. Deepcool has made sure to include a few of these in the accessory pack that comes with the case. The PSU shroud has a couple of holes on the top side to pass through cables for the bottom of the motherboard. The Shroud also has a nice cutout to allow you to show off your PSU.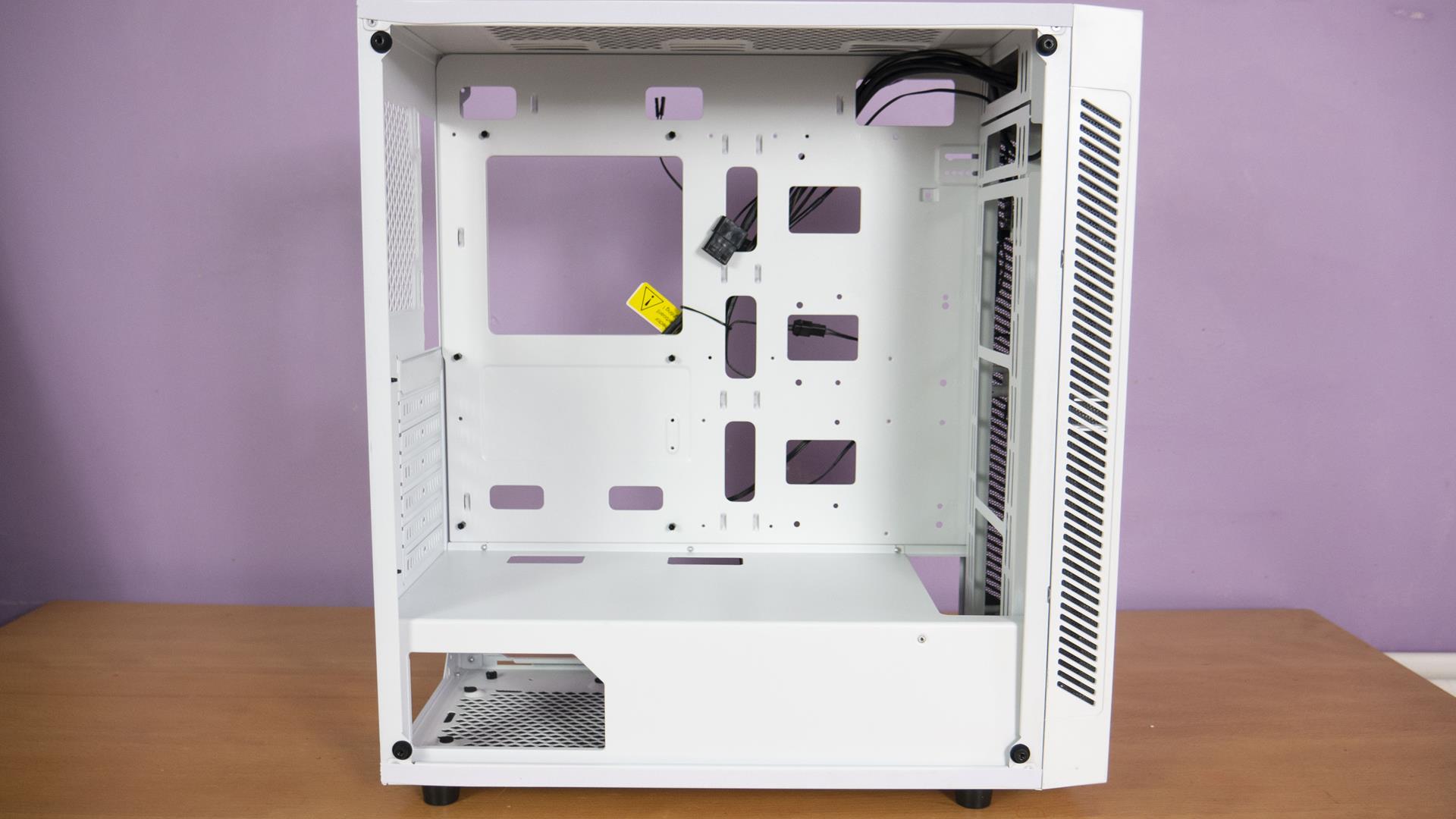 More RGB means more cables! Deepcool has made sure that there is enough room on the backside of the motherboard tray to route these cables. There isn't a whole lot going on here but we can see a few good places we can attach zip ties to the case to help route the cables in the direction we want. There is also a pair of HDD mounts towards the front of the case so we can make sure our drives are hid out of site which also means the extra wires will be hidden out of sight.
Final Build
Deepcool Matrexx 55 ADD RGB
Deepcool MF 120 fans
Deepcool Captain 240 PRO AIO Cooler
Asus Strix x370 Motherboard
Asus Strix RX 580 GPU
Building in the Matrexx 55 ADD RGB was an overall pleasant experience. One thing I liked was not having to remove any pre-installed fans to install the MF120 fans. This helped save me a little bit of time and also meant that I didn't have any spare fans to store after the build was complete. During the build, I didn't run into any issues and there was plenty of cable management options to make sure the build looked clean once finished. The included ADD RGB options were easy to figure out and let me connect the Captain 240 Pro and MF 120 fans in no time to the cases RGB button. The RGB effects were brilliant and the LED bar on the front of the case tied in perfectly with the MF 120 fans and allowed for some pretty cool looking effects. As you will see in the photos below, there was more than enough room for all components of a fairly standard build without their being too much room. What I mean is that this case is designed well for your standard build, IE using an AIO CPU Cooler and a single GPU. There was still a bit left over after this but not so much room as to make it look the case is half empty. The added size and space will be just enough to help improve airflow and allow for better thermals which is great!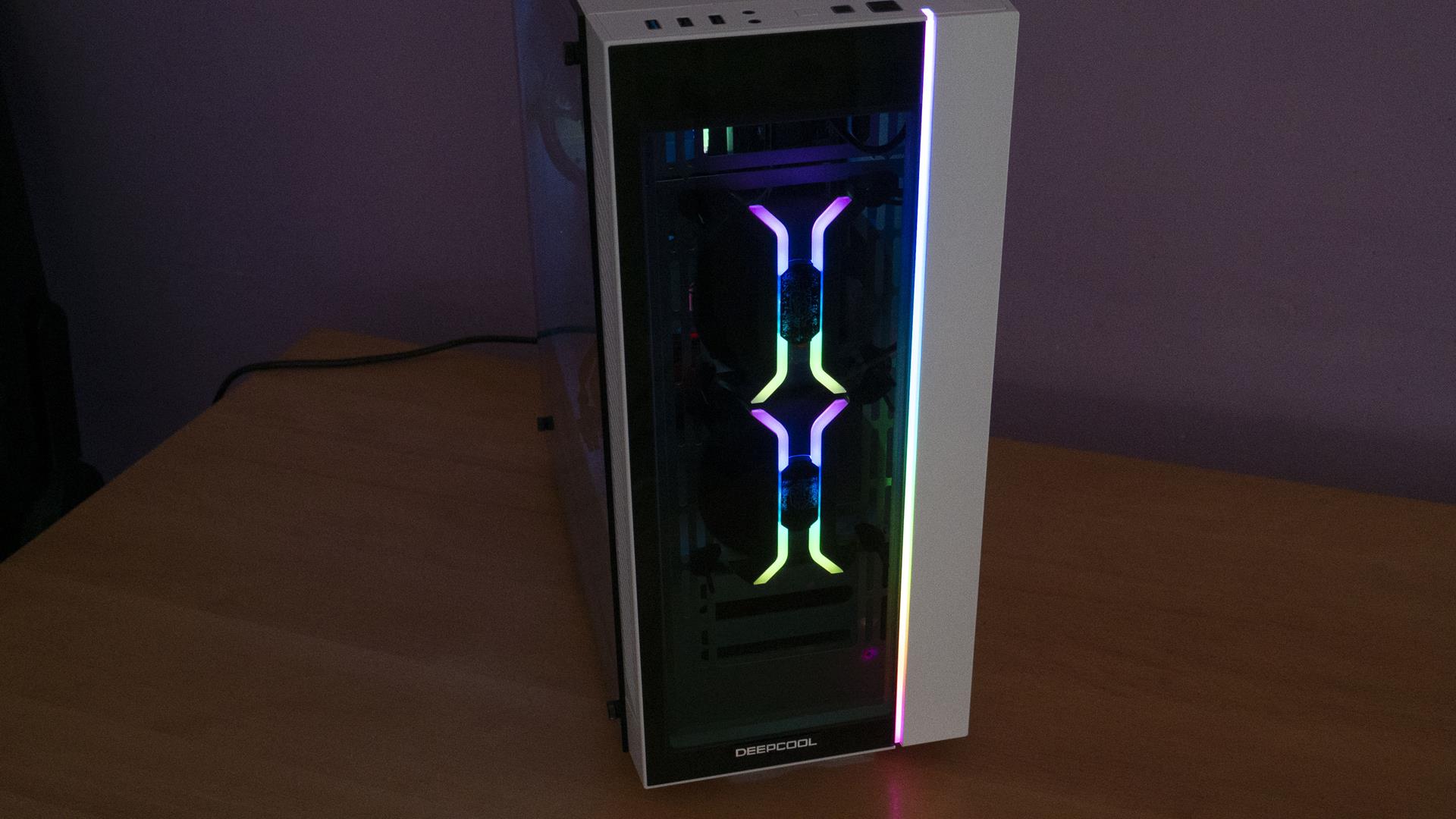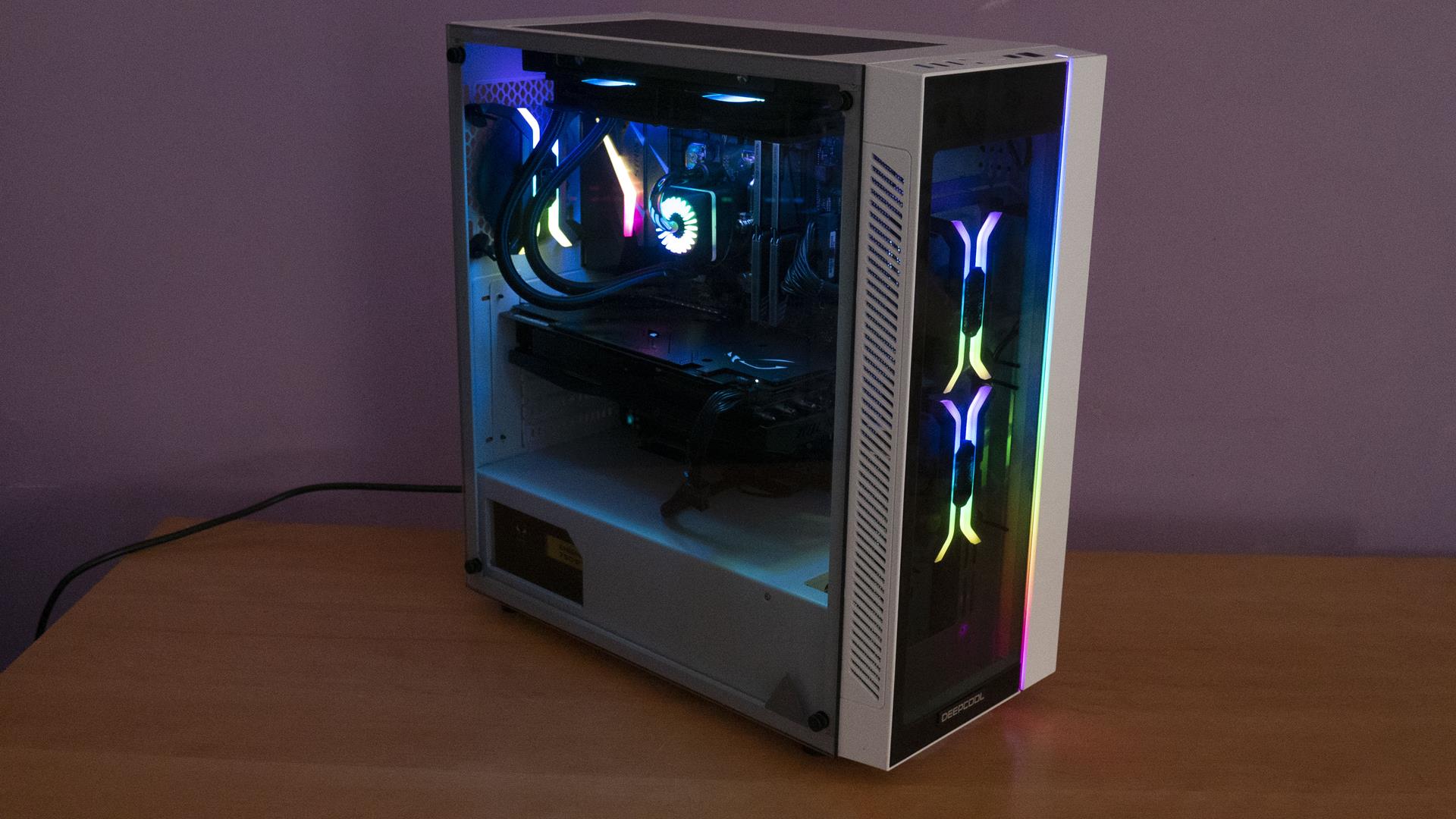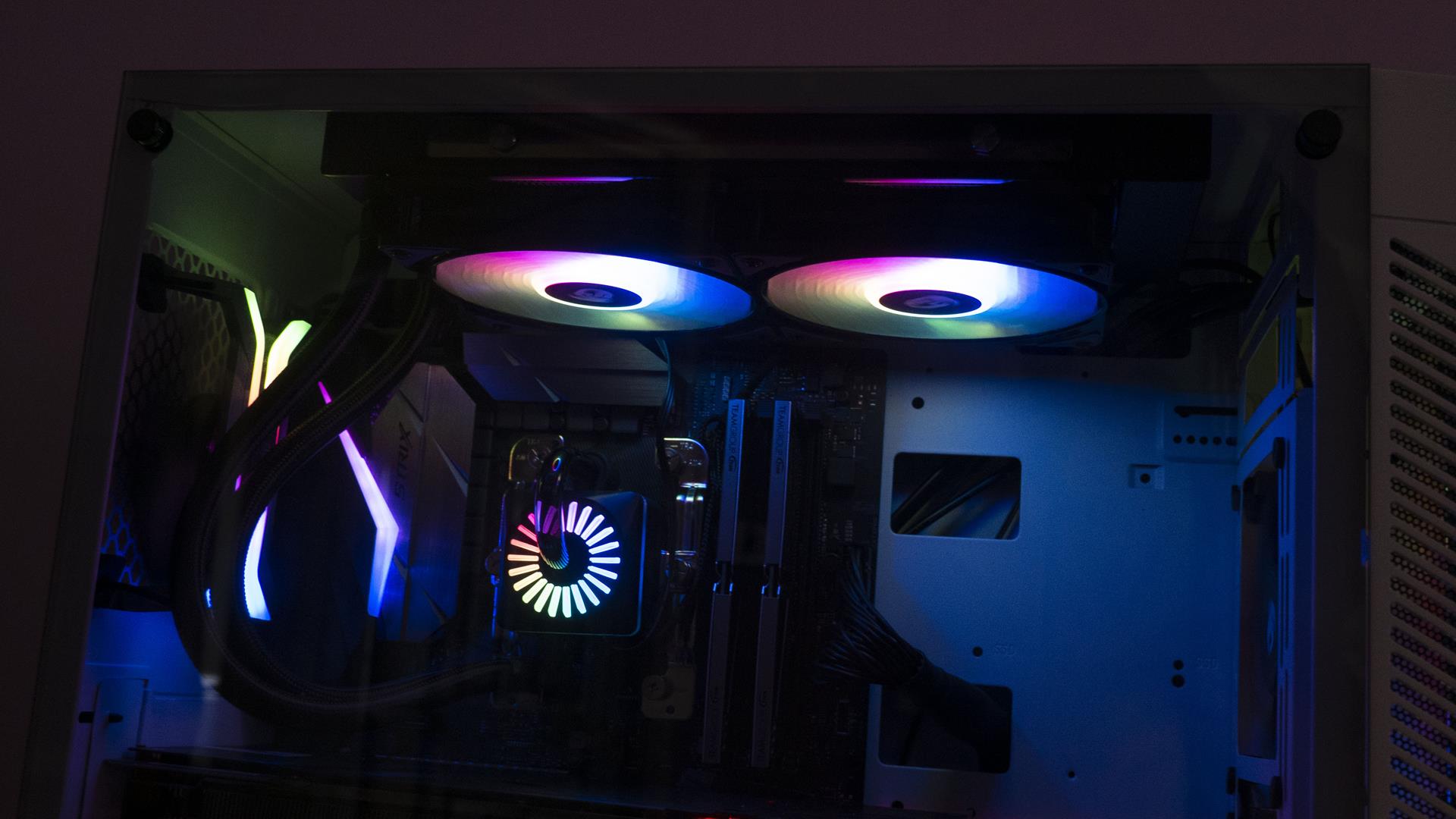 Video Review
Conclusion
Performance and Design
The Matrexx 55 ADD RGB has a lot to offer for a MID Tower Case. When it comes to the performance and design, you really can't fault it at this price range! There is plenty enough room for most standard builds and can easily accommodate up to 2 GPUs on a full-size ATX motherboard with an AIO CPU Cooler. There is plenty of passthrough for cable management and cable tie points on the backside of the motherboard tray. The PSU Shroud was well thought out as it shows off your PSU and has been cut back towards the front to allow for the installation of fans and radiators. The PSU also hides the HDD bay which is quite nice as no one wants to see those chunky old boys in the main part of their case. It's worth mentioning again this case does not come with any fans pre-installed and this is quite nice. Not only does it help to keep the price down but means when you go to build in it, you can start with your fans and not have to remove any old stock fans, this is a massive plus in my book.
Value
Now, this is where things take off! Coming in at just £45 here in the UK from SCAN, this case offers an unparalleled value for money. Boasting 2x tempered glass panels and plenty of room for an amazing system, you sure are getting your monies worth. Let us also not forget about the ADD RGB features and that front RGB LED strip on the case that helps to set things off! Deepcool have done something special here and gave consumers a ridiculously affordable case that looks amazing and lets users customize their build just how they want it!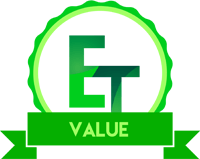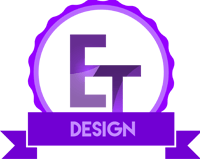 Many thanks to Deepcool for sending in a sample of their Matrexx 55 ADD RGB for this review.