Introduction
The Thermaltake TOUGHPOWER GF3 1200W PSU is a Modular 80 PLUS Gold, ATX 3.0 / PCIe 5.0 single rail power supply that should be more than enough power for most Gaming PCs. When building or buying a new PC, the power supply is one thing you don't want to cheap out on. Considering this is going to power up all your other components, it is better to go with a well-known high-rated PSU.
This power supply is designed to power some of the most powerful Gaming PCs and workstations alike. Yes, that is a lot of power but nothing that the GF3 range can't handle, especially as the one we are looking at today is 1200W. While it is designed to with newer hardware and graphics cards in mind, it can still power older hardware so worry not if you haven't completed all of your upgrades yet.
The TOUGHPOWER GF3 Power Supply is currently available from SCAN UK for £199.99 at the time of review. Click Here to purchase. 
TOUGHPOWER GF3 Specs
TOUGHPOWER GF3 Closer Look
Packaging
Taking a quick peak inside the box and we can see everything is very well protected.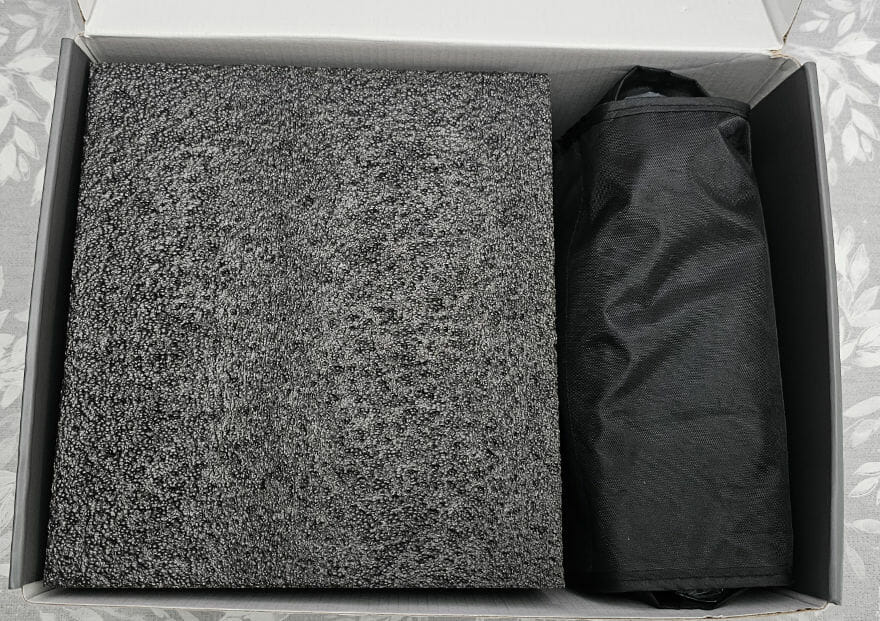 The GF3 power supply itself comes in a sleeve which is then pretty much fully covered on all sides with protective foam. This will ensure the PSU gets to you with no damage! While this is the norm now, I can still remember when PSUs were just thrown in a box and shipped with no real protection at all!
The cables come in a plastic bag which then comes inside a black portable carry bag. There is not too much worry of the cables getting damaged but it is still nice to see that they are packaged nicely.
Cables
There are more than enough cables to power your system, we have the following:
ATX connector 20+4 pin (600mm)
1
1
16AWG
No
8-pin EPS12V (700mm)
1
1
16AWG
No
4+4 pin EPS12V (700mm)
1
1
16AWG
No
6+2 pin PCIe (500mm+150mm)
2
4
16-18AWG
No
12+4 pin PCIe (600mm) (600W)
1
1
16-24AWG
No
SATA (500mm+150mm+150mm+150mm)
3
12
18AWG
No
4-pin Molex (500mm+150mm+150mm+150mm)
1
4
18AWG
No
FDD Adapter (100mm)
PSU Unit
The TOIUGHPOWER Gf3 features a 135mm fluid-bearing fan that is fully protected with a covering. This grill also has more than enough holes in it to allow for the PSU to pull in air to keep the internal components cool and running as intended.
As always, the fan grill is easily removed by taking out a couple of screws. However, we don't recommend doing this unless you are 100% positive about what you are doing as you could easily damage something.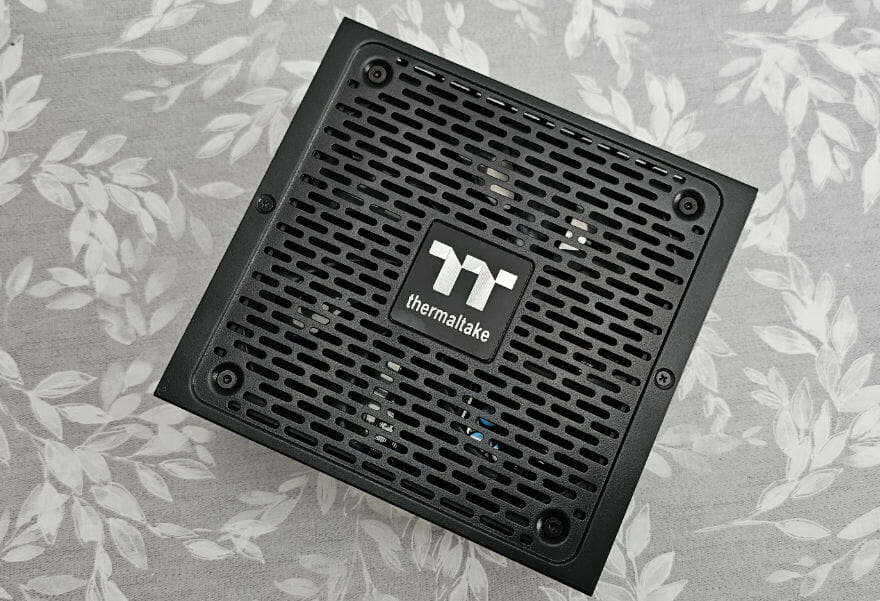 As we saw, there are several cables and of course, they need to be plugged in somewhere! Now, as you can see in the below image, everything is labeled properly and as all connectors are different, you really shouldn't have any issues connecting things.
All cables are also labeled on their plastic connectors and generally will only fit where they are designed to.
Around the other side of the GF3 and we have the mains cable input and power switch. There is also a Smart Zero Fan which will make the fan stay still and not spin at all unless the PSU load hits 30% or above. This will help with noise and increase the longevity of the fan which is a nice bonus.
Both sides of the TOUGHPWER GF3 1200W feature the same writing on them. This is a bit more writing than I would care for personally. I don't mind a bit of branding, but generally speaking, just the company name would be more than sufficient here. There is no need for putting the model/series twice – it's a bit redundant.
As always, we have this lovely sticker with all the technical details on it. There used to be a time when this was on the side of the PSU for everyone to see. Now, it is on the top and in most cases, will not be visible in your standard PC build.
However, this has one thing on it we've not yet seen. The TOUGHPOWER GF3 series of PSUs come backed with a 10-year warranty. This is nuts and means this PSU will be able to be used for multiple upgrades for years after you first buy it.
Well played Thermaltake, well played.
Final Thoughts on the TOUGHPOWER GF3 1200W PSU
Currently available for £199.99 from SCAN UK and backed by a 10-year warranty, the GF3 series of PSU from Thermaltake has a lot to offer. While we don't have a load tester, I have used the TOUGHPOWER GF3 1200W PSU for a couple of weeks now and ran my normal tests on it. I have a small PSU tester that measures the voltages at idle and lets me know if they are within their given standard, and they were. Aside from this, I do check some software to make sure everything seems OK.
For me, the main selling point of this power supply is going to be the 10-year warranty. Most companies don't offer such warranties on any products, let alone a power supply. This ultimately means that Thermaltake has the utmost faith in their GF3 series and while things can happen, they hopefully shouldn't. However, if they do, you have one of the industry's best warranty periods in place.
The rather simplistic design is also refreshing to see. Too many times now we are having RGB thrown down our throats or some random and crazy design. Now and again, it is nice to see something simple and plain that will fit in with most other products without having to worry too much about a color scheme or any of that!
Pros
+ ATX 3.0
+ PCIe 5.0
+ Great Quality
+ Fully Modular
+ 10-year warranty
Cons
– None we can see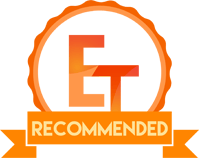 The TOUGHPOWER Gf3 1200W Power Supply is going to be a great option for any PC Build. It offers all of the connections you will need including 12VHPWR and is backed by a 10