Introduction
Tt eSPORTS is a well-known peripheral maker, especially in the Eastern Esports scene. They are a sub-company of Thermaltake and as such, have a worldwide presence. They have a number of headquarters across the world so they can best help their customers, this also allows them to sell their products worldwide. While it can be debated that not all their products are designed with the Western market in mind, there is no denying the impact they have had in the West in recent years. Not only do they make some great peripherals, they also support and sponsor Esports teams and events.
Today I am going to be taking a look at a crowd favourite, the POSEIDON Z. The POSEIDON Z comes in a number of flavours and today we will be taking a look at the version with brown Kailh switches (To see what other types of POSEIDON Z are available, CLICK HERE). The Kailh switches are used in place of Cherry MX switches and are generally a more value-friendly switch though they still offer that great mechanical feel and performance.
Specifications
| | |
| --- | --- |
| COLOR | BLACK |
| NO. OF MACRO KEYS | N/A |
| NO. OF GAME PROFILES | N/A |
| GRAPHICAL UI | NO |
| WEIGHT | 995 GRAMS |
| GOLD-PLATED USB | X |
| DIMENSION | 440 X 133 X 37MM(L X W X H) |
| INTERFACE | USB |
| MEMBRANE, MECHANICAL, PLUNGER | MECHANICAL BROWN |
| ON-BOARD FAN DEVICE | NO |
| ANTI-GHOSTING KEYS | 100% ANTI-GHOSTING WITH 104 KEY ROLLOVER ON USB |
| ON-BOARD MEMORY SIZE | N/A |
| POLLING RATE | 1000 HZ |
| BACK-LIGHT | YES, FULL BACK-LIGHT |
| WRIST REST | NONE |
| ON-BOARD AUDIO JACKS | NO |
| SMART CABLE MANAGEMENT | O |
| USB CABLE DETACHABLE | X |
| MULTIMEDIA KEYS | 7 |
| ON-BOARD USB PORT | X |
| KEYSTROKE LIFECYCLE | 50 MILLION |
| CABLE LENGTH | 1.8M |
Video Review
Closer Look
The POSEIDON Z is all black with laser etched keys that will allow for the backlit to shine through when activated. They keyboard has a nice weight to it and just feels like a quality product and one that will be able to withstand some of those long gaming sessions. The POSEIDON Z always features Anti-Ghosting so you can hit combinations of keys at the same time with no issues. Using the FN + F keys, users will have quick access to important media features and will also be able to control the brightness of the backlighting.
As it features mechanical switches, you can swap out some of the keycaps in place of the Tt eSPORTS Metal Keycaps (For more info, CLICK HERE). You could also essentially use any custom keycap that is compatible with mechanical switches, but as Tt eSPORTS have their own, why not use them!
As mentioned, the POSEIDON Z uses Kailh mechanical switches and comes in either brown or blue switches.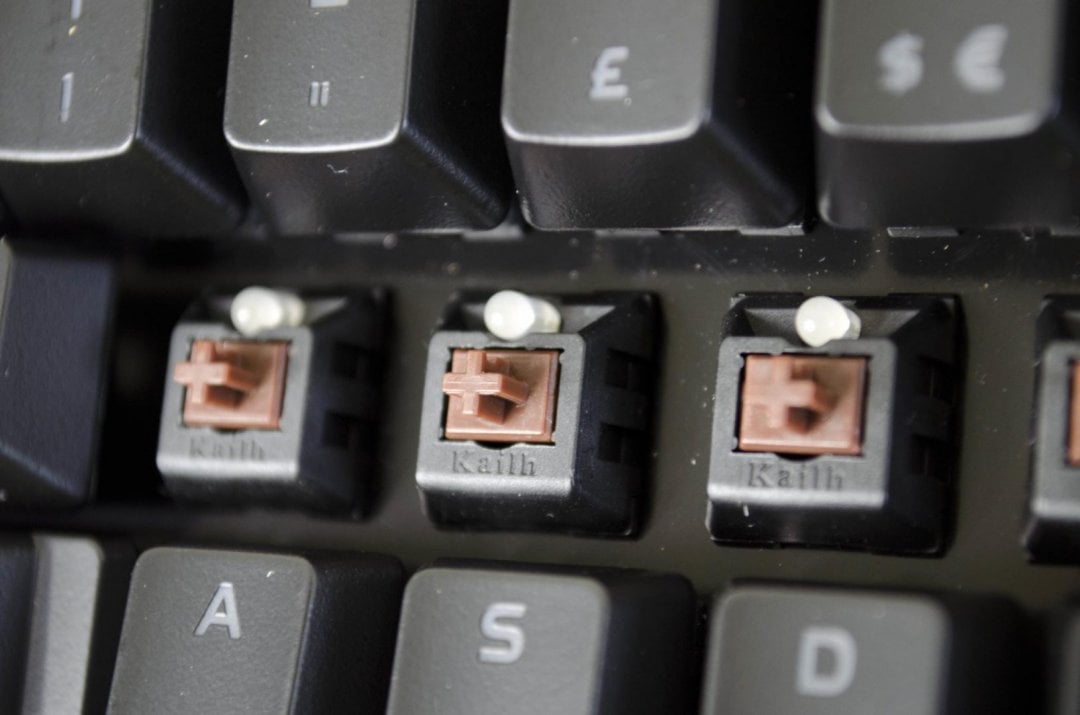 One of my favourite features is the windows key lock button located on the upper right-hand side of the POSEIDON Z. Hit this bad boy to lock the windows key so when you hit it, nothing happens. This is a must have for gaming keyboards as hitting the windows key during a game can minimize the game window and ultimately cost you the battle.
On the bottom side of the keyboard, users will notice a cable pass-thru caddy, which will allow them to direct the USB cable to one side or the other. There are also some anti-slip rubber pads and a pair of risers. Flipping up the risers will raise the top of the keyboard and can offer a more ergonomic feel to it. This is especially helpful for those like me, who do a lot of typing and not just gaming!
The POSEIDON Z features a blue backlight that has 4 levels of brightness, or, can even be turned completely off. As this is just a single colour backlight, there are no fancy features or anything, just a brightness control.
Performance
Overall, the POSEIDON Z offered great performance in all aspects of testing. While there was a little break in period for me to get used to it, VS using my normal keyboard which features Red Cherry MX Switches, it wasn't too bad. I used it for a while playing various games and even typed a couple of reviews on it, including this one so I could go ahead and get a good feel for it.
Gaming Performance
Gaming was probably the easier of the two tasks to get used to as I didn't need to get a feel for the whole keyboard, just the keys I was using in-game. I am primarily an FPS player and as such, I tested the POSEIDON Z in a number of scenarios across of a few of my favourite games. The games I use are Battlefield 4, CS:GO, Quake Live, Dirty Bomb and a bit of Call of Duty. The reason I use these games is, while they are all FPS, they are different types of gameplay allow me to get a feel for peripherals in slow, medium and fast paced scenarios.
They POSEIDON Z proved to be a great asset in all games, but I was most impressed with the performance in Quake Live. When playing QL, I play Rocket/Clan Arena and everything is ridiculously fast paced thanks to bunny hoping and grenade/rocket jumping. The POSEIDON Z felt so smooth and responsive thanks to the earlier actuation of the switches being used. I actually feel in Quake Live, it may have performed a bit better for my needs than my normal keyboard, which costs twice as much.
When it came to the other games, the quicker actuation wasn't always in my favour and while this could be down to not being 100% used to the keyboard during testing, I thought I would bring it up. While playing games like CS:GO and sniping in Battlefield 4, sometimes I was a bit antsy and would hit a key to move or jump a bit earlier than I wanted. This was due to not needing as much force to actuate the switch, which can be a good or bad thing depending on preference and what you are used to. The longer I used the POSEIDON Z the more comfortable I got with it and really feel I could overcome this slight issue.
General Performance
Using the POSEIDON Z with brown switches for everyday tasks was great! Typing on it was surprisingly nice after the general break in period. The keys have a nice feel to them and are not too hard to actuate which is nice. They also seem to go back their original position after being pressed quite smoothly. As mentioned, I am typing this review on the keyboard and typed up another shorter one to see how it would fair for a long period of just typing. All in all, everything went well and the only thing I can imagine that may not be to some peoples liking is the fact that it does not come with a palm rest as standard. Aside from that, which will be down to the individual user's preference, I really just cannot fault it at all.
For those of you worried about the noise typing on the POSEIDON Z will create, the brown switches are rather nice as they are not too loud, though definitely still audible. However, the blue switch variant will be significantly louder and will offer a more click sound to it. The brown switches aren't too bad at all though I must say when using the space bar, it does sound a bit hollowed out when you hit it compared to the other keys.
To monitor the noise output and compare the normal keys to the spacebar, I broke out my trusty dB meter and did some typing. On average, the standard keys were coming in around 68.2 dBA while the space bar was topping out at around 71.7 dBA. Now this will be different depending how hard you type. Myself, I tend to slam my thumb down on the space bar a bit, especially once I get in the groove. As mentioned the noise output will change depending on the individual user and this was more of a bit of fun than anything.
Final Thoughts
The time has come to sum it all about and let you know how I felt about the POSEIDON Z with brown switches if it wasn't already clear enough for you.
Let's go ahead and get the price out of the way! The POSEIDON Z can be had for £64.99 at Scan.co.uk or for £68.99 at Amazon.co.uk, so not a massive difference there. For the price, I feel the POSEIDON Z offers great performance and considering it comes with a 5 YEAR WARRANTY, you simply can't go wrong! Mechanical keyboards are becoming more popular and a lot of companies are hoping on board and making their own versions. Tt eSPORTS have created a nice mid-range solution here with their POSEIDON Z and it is definitely a worthwhile purchase, heck, the 5-year warranty has to be worth a few good £££ all on its own.
In terms of performance, the POSEIDON Z shine through and really do leave a lasting impression on me. While it took some time to get used to and there was a little problem with me getting a bit antsy and hitting keys earlier than I wanted, it was an overall good experience. The earlier actuation on this keyboard really can help your gaming and typing once you get used to it as there is also no need to mash the keys to make sure they've been pressed, nice gentle strokes will do the job. As mentioned I played a number of games using the POSEIDON Z and was thoroughly impressed with it, especially given its price range.
If you are in the market for a new keyboard and want something a bit better than the norm, but don't want to spend upwards of £100, then the Tt eSPORTS POSEIDON Z is definitely worth a look. It offers great performance at a decent price and again, that 5-year warranty, if nothing else, should give you a bit of faith in the quality it has to offer as well.
When it comes down to it, the simplicity of the POSEIDON Z has allowed Tt eSPORTS to create an amazing keyboard and not charge the moon for it.