Introduction
Today, we are taking a look at another Thermaltake Product by way of the Floe DX 360 AIO CPU Cooler. In our last Thermaltake review, we looked at their GX1 600w PSU and were quite happy with it. The Floe DX is one of the latest coolers to hit Thermaltakes line up and should offer some good cooling performance as well as a pleasing aesthetic. As the name would suggest, this is a 360mm AIO cooler and as such, comes with 3x 120mm addressable Riing Duo RGB fans. While there is no denying that the RGB will catch your eye, does the Floe DX offer good performance as well? There's only one way to find out, but first, let's take a closer look at the Flox DX 360 itself!
Specifications
P/N
CL-W256-PL12SW-A
Pump
Rated Voltage :12 V / 5V
Rated Current :325 mA / 0.4A
Motor Speed: 3600 R.P.M
Water Block
Material: Copper
Fan
Dimension:120 x 120 x 25 mm
Speed:500 ~ 1500 RPM
Noise Level:19 ~ 23.9 dB-A
Rated Voltage:12 V
Max. Air Flow:42.45 CFM
Max. Pressure:1.45 mm-H2O
Connector:9 pin
Tube
Length:400 mm
Material: Rubber
Radiator
Dimension:270x 120 x 27 mm
Compatibility
Intel LGA 2066/2011-3/20112066/2011-3/2011/1366/1156/1155/1151/1150
AMD AM4/FM2/FM1/AM3+/AM3/AM2+/AM2
Closer Look
Taking a quick look at the box and there is a good bit of info on both the front and back. On the front, we can see a nice image of the cooler itself front and centre. We can also see the Floe DX 360 is compatible with AM4 and LGA 2066 as well as most other Intel and AMD sockets. The Floe DX 360 uses TT's RGB PLUS software but can also be controlled by the likes of Razer Chroma and Amazon Alex. In the bottom left, we can see a small image of TT's RGB Plus software so we can see how easy it will be to control the RGB on the pump and fans.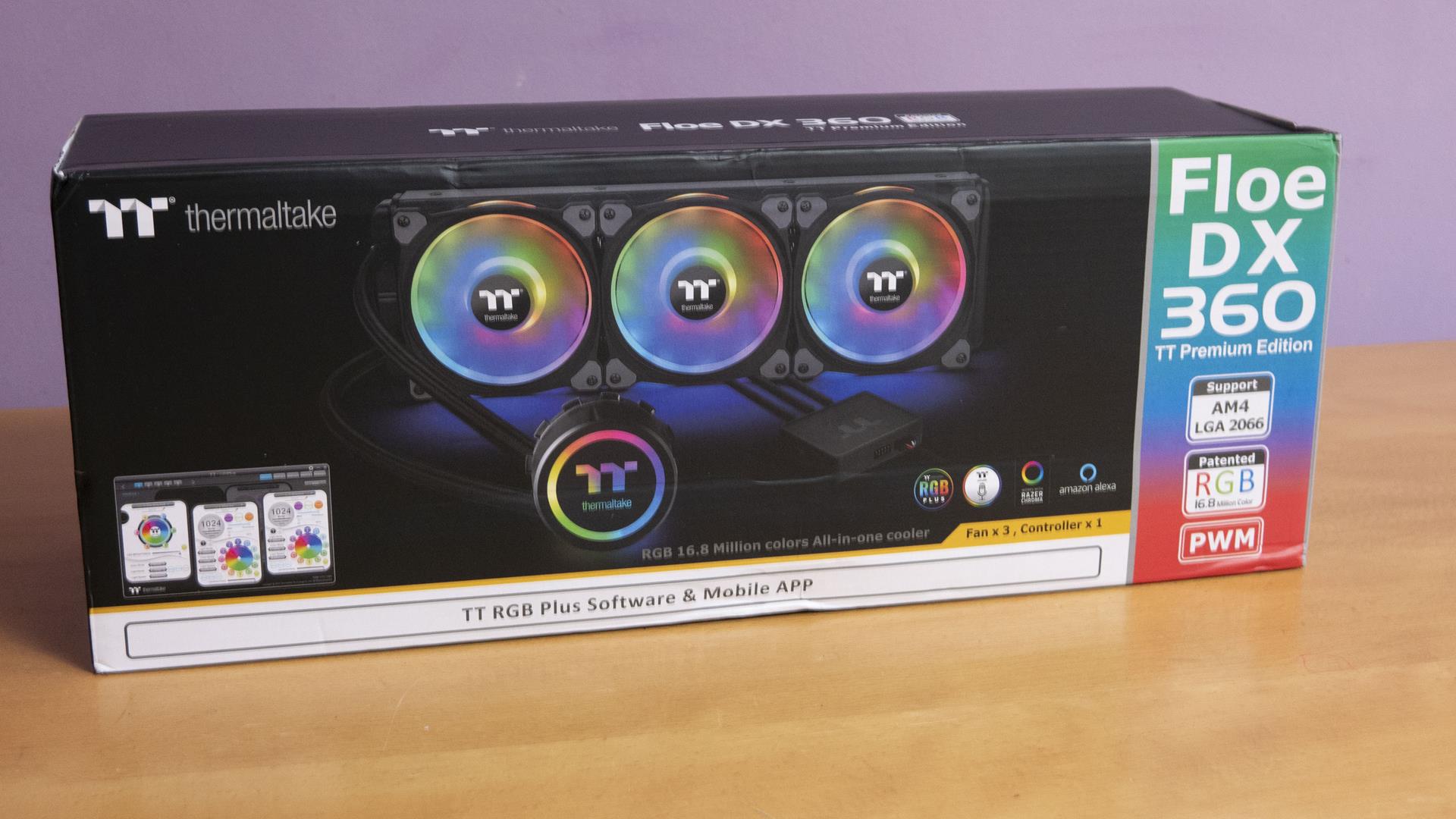 On to the back of the box and there is a bit more in-depth information here. We can see a features list, some appearance images so we can get a look at how everything will look and then there is a more detailed look at the TT RGB PLUS Software and a couple of the RGB modes that can be set.
Getting everything out of the box and as you can see, it does come well packaged. Not only is everything packed nice and tight to ensure it doesn't move around and get damaged, but everything also has its own protection to further help make sure it gets to you in the best condition possible.
Taking it all out and getting our first proper look, we have the radiator/pump combo, 3x 120mm Riing Duo fans, controller box and all the mounting hardware we need to install this on most AMD and Intel sockets.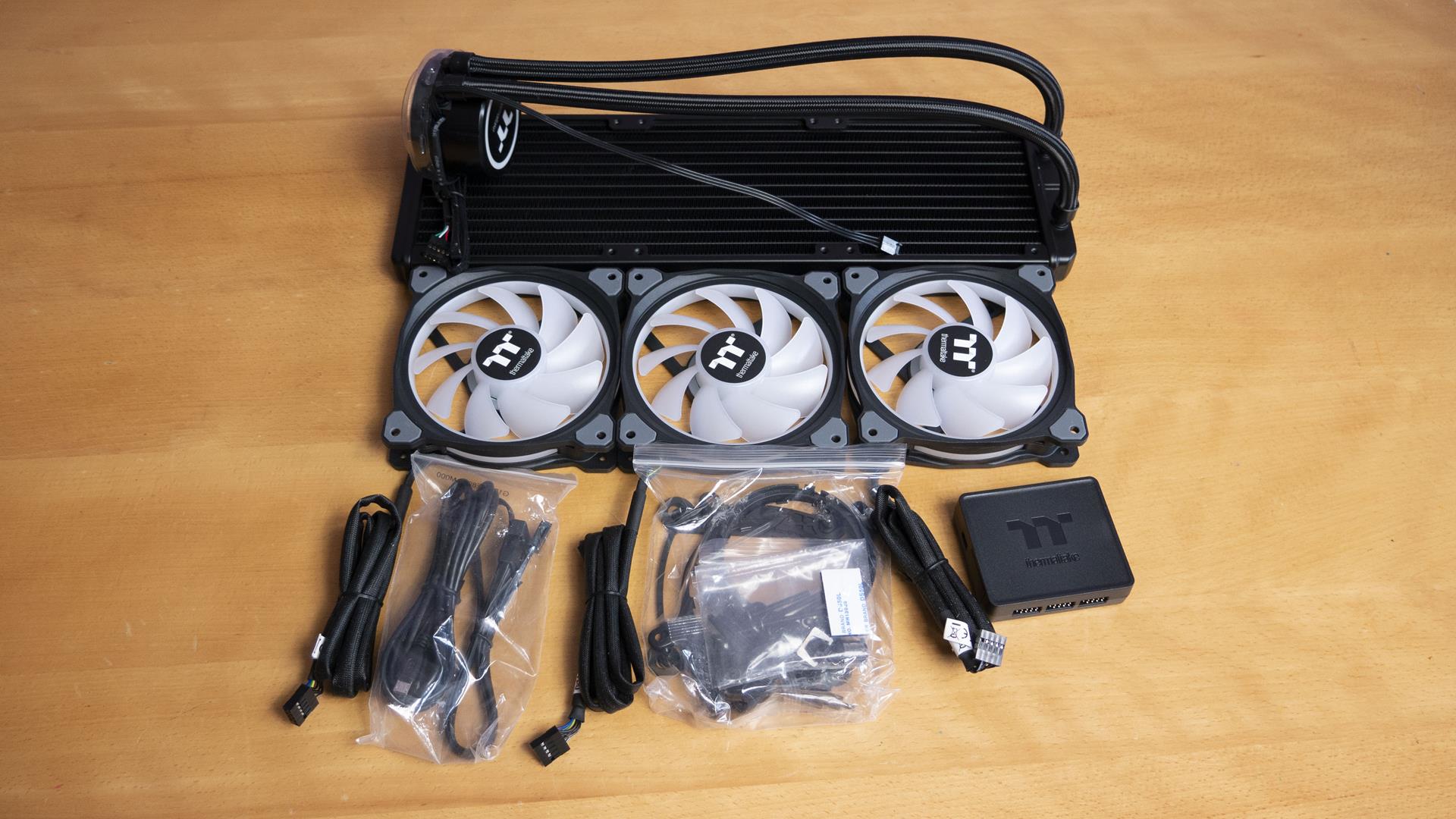 Installing this on AMD sockets is much easier, as is the case with most coolers. Either way, all the mounting hardware is here so that you can install the Floe DX 360 securely.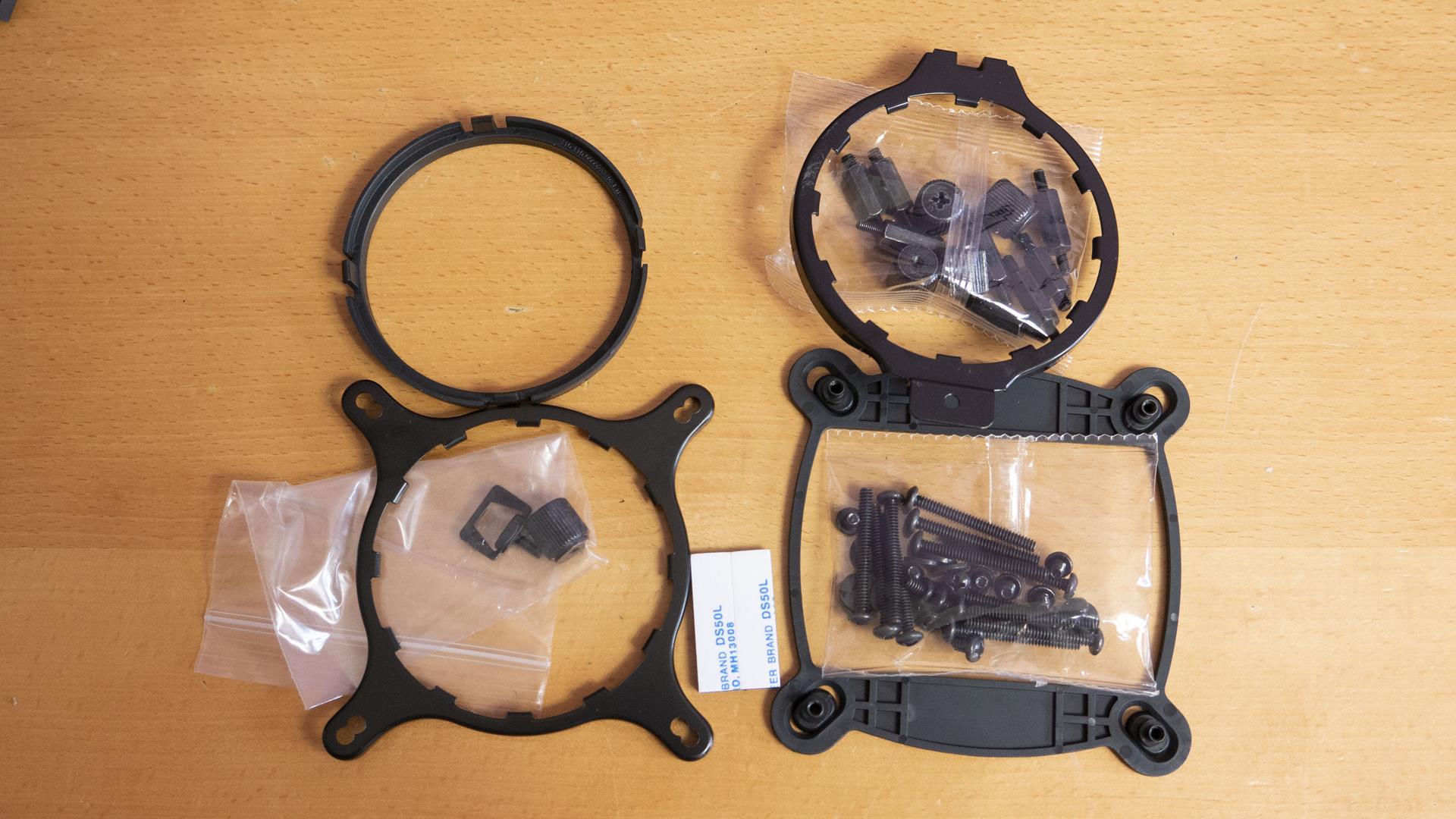 The controller is powered by a single MOLEX connection. You will also want to connect the controller to one of your motherboards USB ports. The included USB cable can connect to 2x controllers, allowing you to go for a full push/pull configuration as each controller only has 5x fan/RGB ports.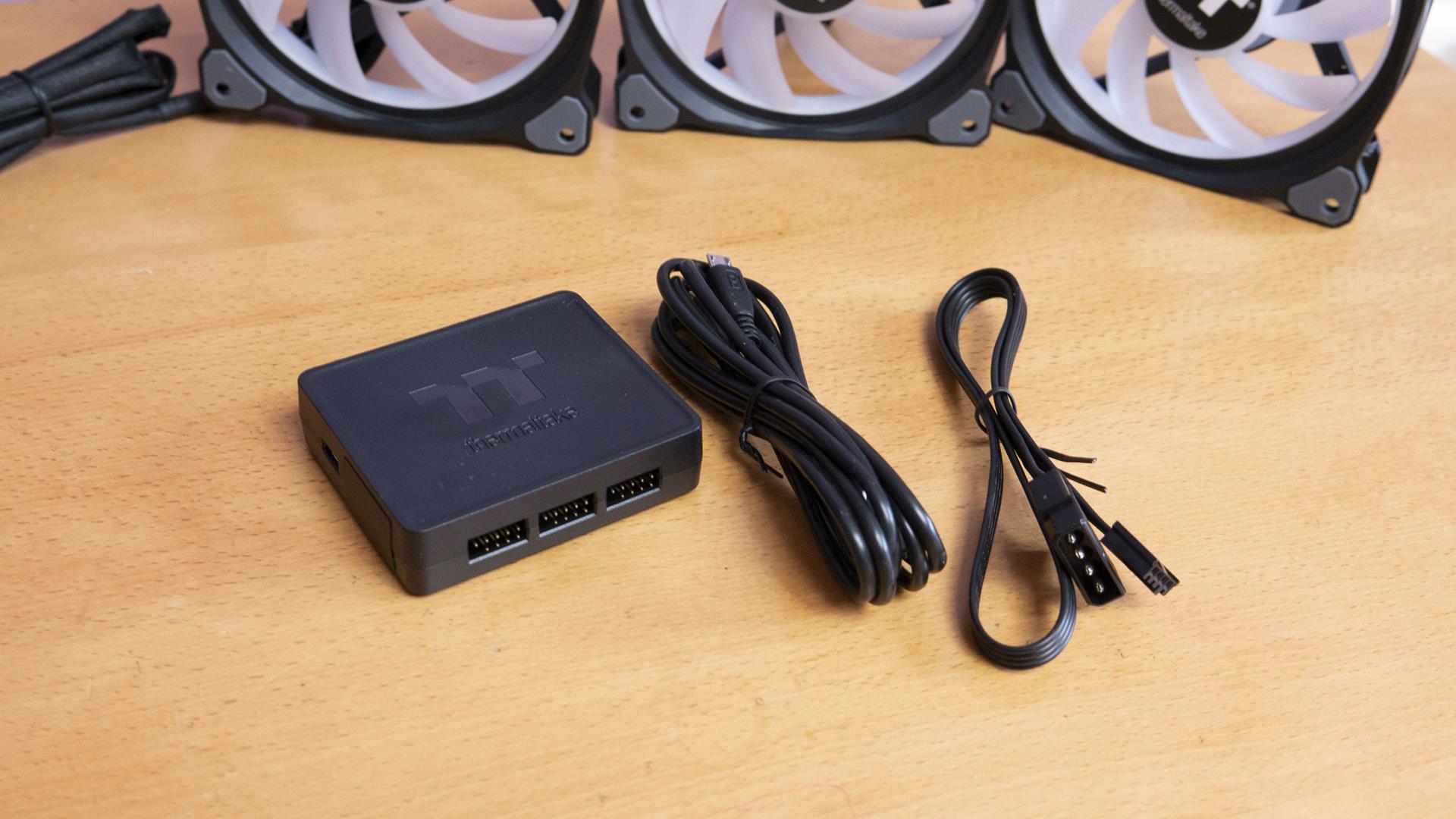 The top of the pump features a nice TT Premium logo and is RGB.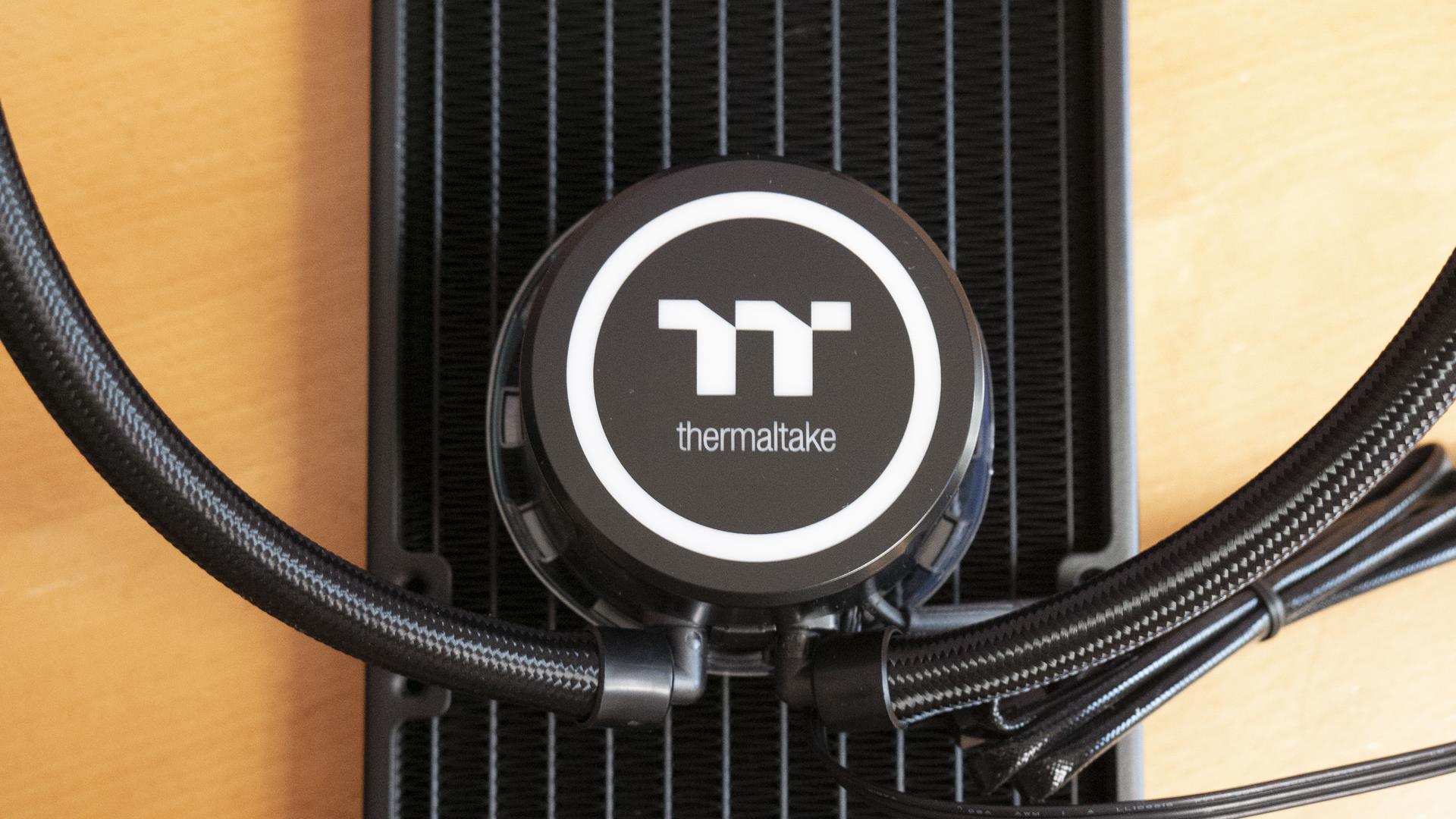 The radiator has a good fin density and should offer optimal cooling performance when cooling your system.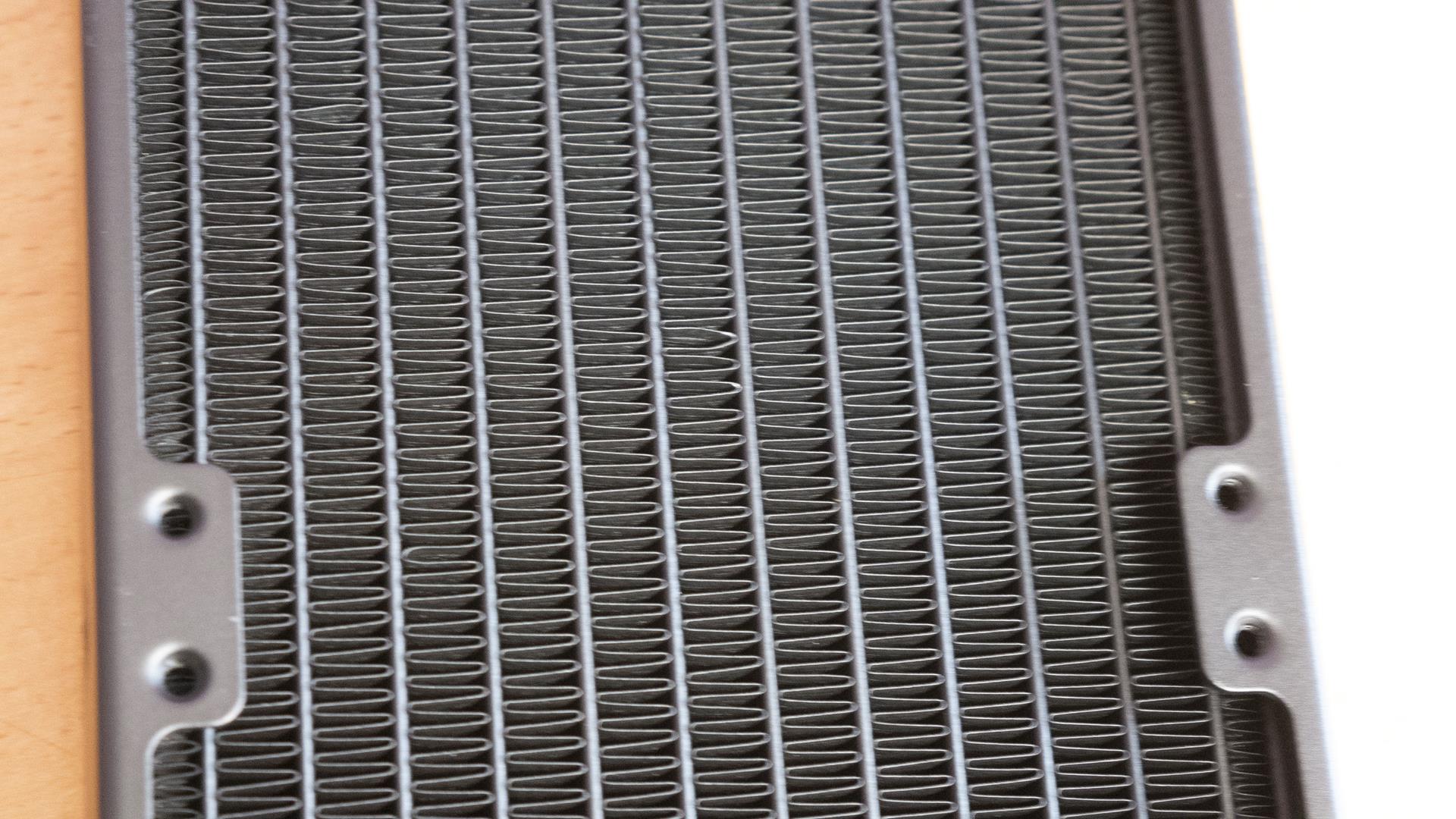 The sides of the radiator are a bit plain and boring. While it would have been nice to see some sort of design or RGB goodness here, it is easily understandable that they likely didn't add any to try and help keep the price down. Maybe in the future, they will offer an updated model with something on the sides, who knows!
The hoses connecting the pump to the radiator have a nice braided cable over them. One of the things I noticed is that on the connections on both ends, the hoses will turn a bit so that you can move them just enough to get them installed just how you want without having to worry about breaking anything.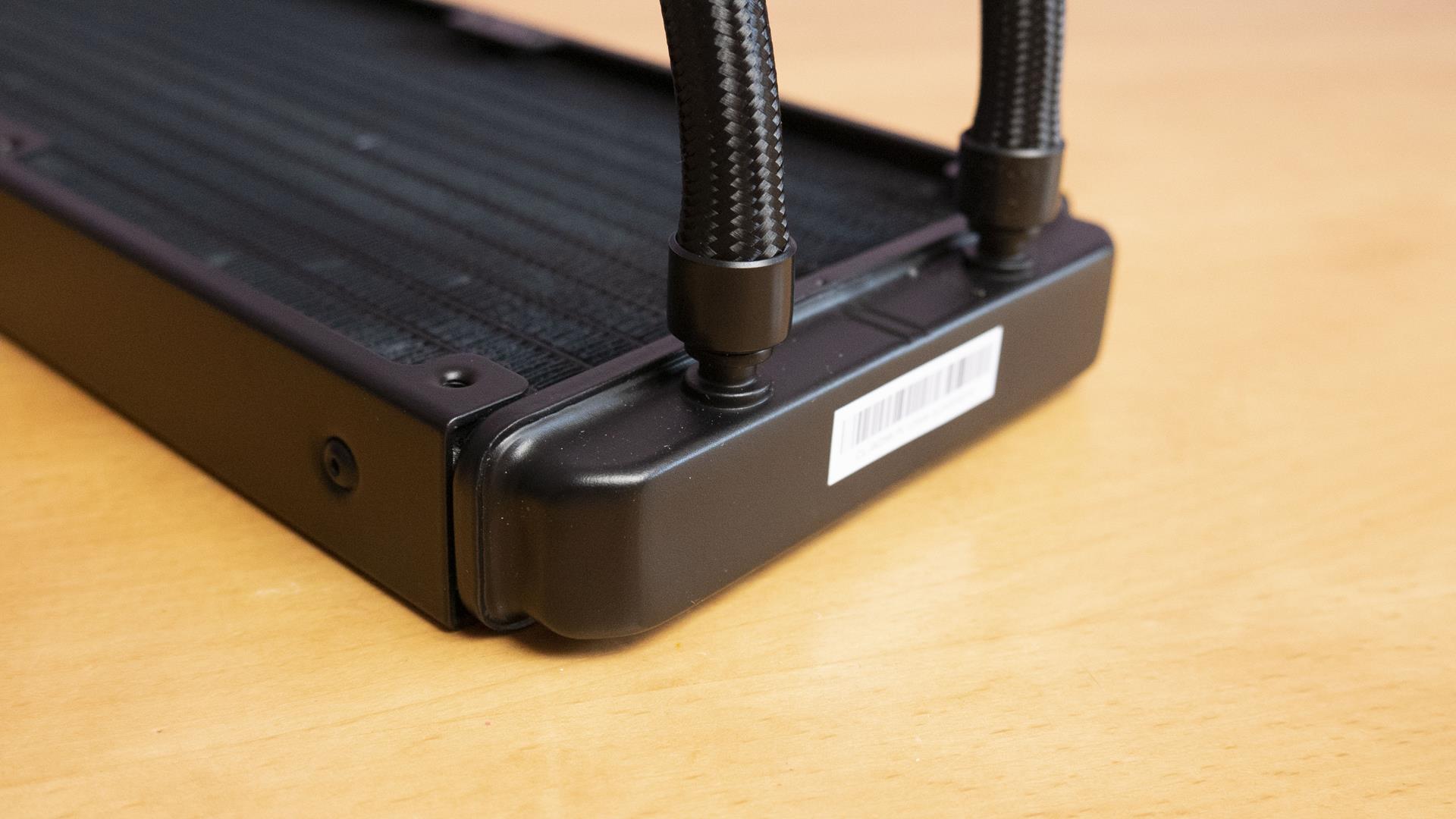 The Riing Duo fans feature 16.8 million colour RGB customization. They are also PWM fans and feature a unique 9-blade design to help improve their airflow and make them more efficient. The Riing Duo's have anti-vibration mounting and are some of the quietest fans I've used in some time! With the PC at my feet, during normal usage, I can hear the fans or the great pump!
RGB Lighting
While it is hard to capture the true essence of RGB in photos, I have taken a couple to show you anyways. There are several preset and customizable modes that can be controlled VIA the TT RGB PLUS Software. One thing is definite, the RGB effects are nice and vibrant and will help light up your case and show off your components. The LEDs are easy controlled and can also be set to static colours if you're not a fan of the rainbow!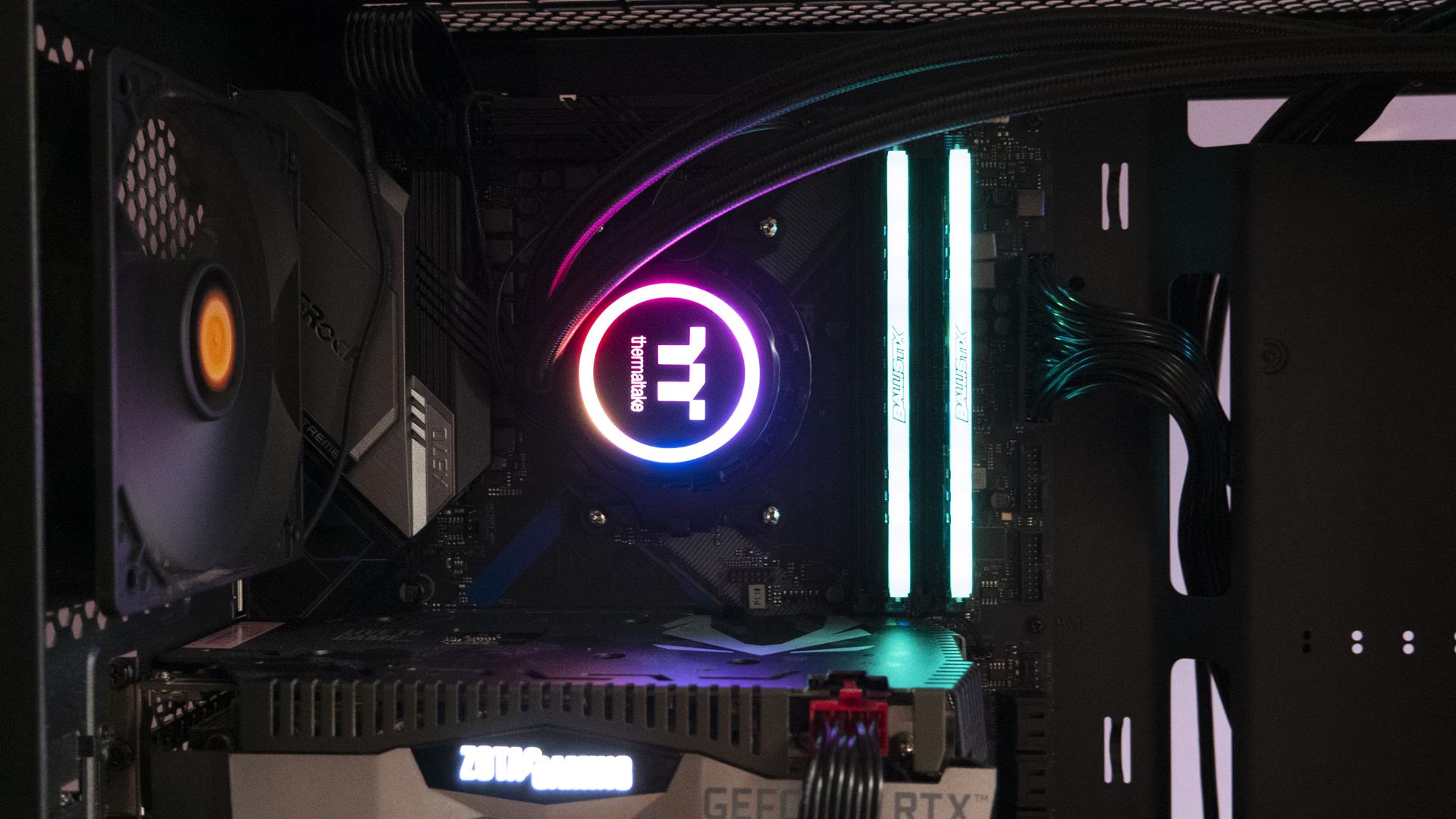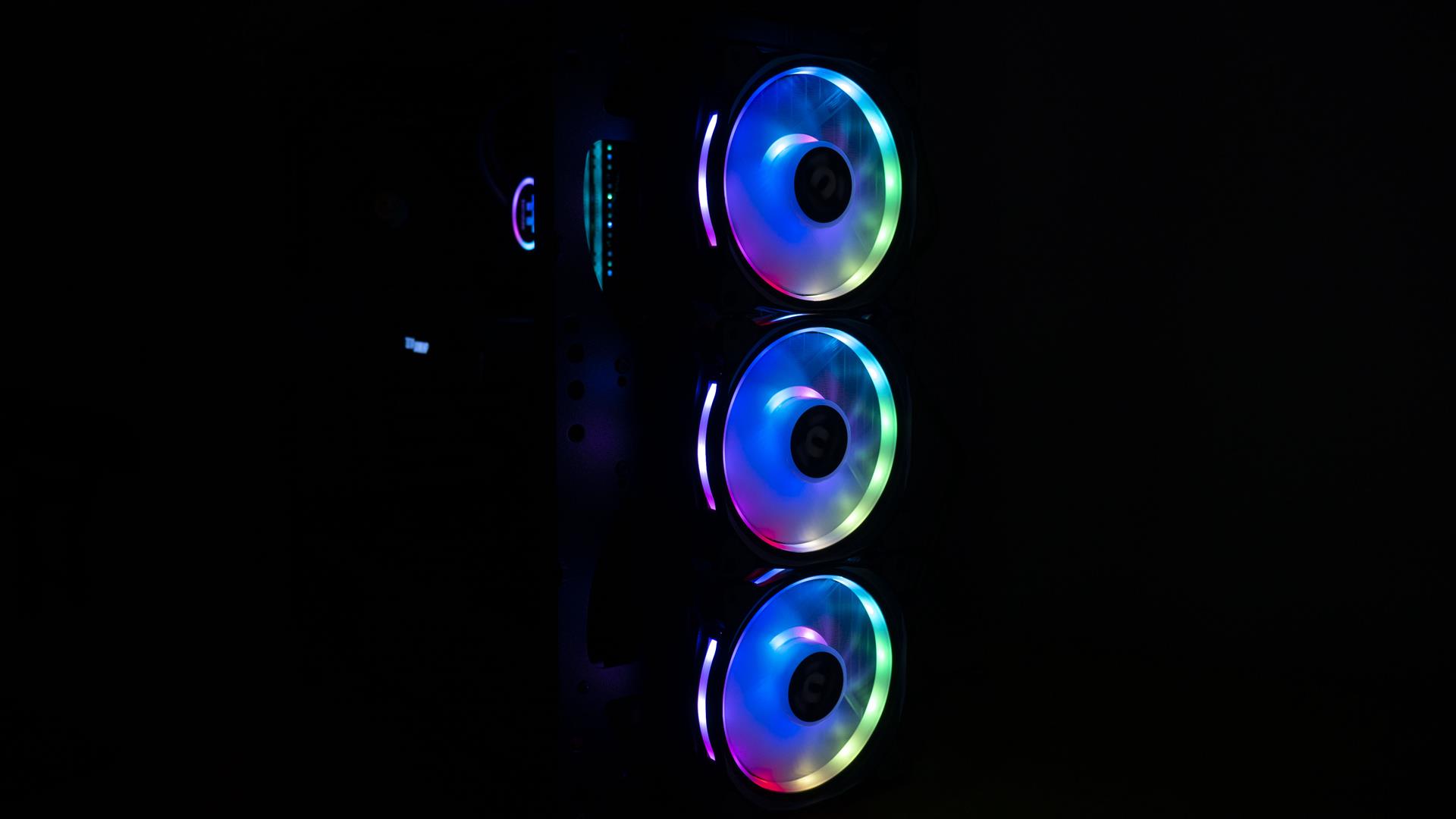 TT RGB Plus Software
The TT RGB Plus Software is easy to use and can be downloaded from the Thermaltake website. The software offers an easy way to customize and control your RGB. As you can see in the image below, each individual fan or RGB zone can be controlled independently so you could essentially set a different mode to each fan should you want to. Aside from controlling the mode, you can also control the colour, speed and brightness of each fan as well. The software is so easy to use it won't take you long to get your fans customized to your own individual preference.
Temp Results
This is the first cooler we have tested on our next X570 and 3700x test bench. As such, we have no comparison results yet but will do soon. However, we have been testing coolers for a number of years and can judge the results accordingly.
Test System
ASRock x570 Extreme 4 Motherboard
AMD R7 3700x CPU @ 4.1GHz
16GB Crucial Ballistix Tactical Tracer DDR4 3000MHz
ADATA XPG SX8000 PCIe M.2 512GB SSD
Results
The 3700x is known to run a bit hot! However, the Floe DX 360 keep it fairly cool at stock speeds while idling. When idling the Temps we saw were 28/29c with an ambient room temp of 24c. This is actually quite good and seems to be a lot lower than what a lot of people were reporting online. As you can see in the image below, the Core Temp program is outputting minimum temp of 28c. Having a look online and a lot of people were posting mid-high 30's for their 3700x temps. The difference was those users were not using the Floe DX 360 to cool their CPU so this tells me it is doing one heck of a job.
Now for the fun part, full load! When using Prime 95 to max out our CPU, the max temp we saw after 30min was 82c. While this seems a bit high, it is still under the maximum temp recommended. While you likely wouldn't want to use your CPU at the temp for prolonged periods of times, most useage will not stress your CPU as much as Prime 95 does, hence why we use. In gaming, the highest temps I noticed were around 71/72C which is much better.
Overall, while the 3700x does run hot, this is down to the CPU and the Floe DX does a good job at keeping it as cool as possible.
Conclusion
Performance
There is no denying that the 3700x is a bit of a beast to tame when it comes to temps. The Floe DX 360 did its best and I am happy with the results. While I have mentioned, this is the first cooler we have tested on our 3700x, the general consensus online is that they do run hot and normally a bit hotter than what we saw here today. During normal usage and gameplay, we were hitting the low 70's. When we used prime 95 this jumped up to 82c which is quite the difference. While this is still an acceptable temp, it's a bit higher than what I would care to run it at 24/7. Luckily I don't run Prime 95 all day and night! Idle temps and general web browsing/office use were fine. Using the PC for normal stuff like Facebook and web browsing showed the temps in the low-mid 30s. Given the CPU on hand and what we can find online, this is more than acceptable and I am actually quite pleased with this result.
Design
There is more to the design than just the RGB, but let's start there first just for fun. The Pump top and Riing Duo fans have some amazing RGB effects. Not only is there plenty of customization, but the LEDs are also quite vibrant and will easily light up the inside of your case. Overall the Floe DX 360 looks very impressive from an aesthetic point of view. To help keep things cool, Thermaltake has used a reliable pump as their website puts it with a copper base plate for heat dissipation. These combined with the high-density of fins in the radiator do offer some pretty impressive cooling performance and really do the job they've set out to.
Value
This is going to be what kills it for most! Coming in at around £220 at the time of review, we are starting to get into custom loop water cooling prices. Those who are comfortable with a custom loop may want to look into this but those who aren't may find the Floe DX 360 to be just what they need. Considering a 3x pack of Riing Duo fans will run you about £100 on their own, this helps to put things into perspective. While this is still probably one of the more expensive 360mm AIO coolers out there, it does a good job and will fit in nicely with most builds. Users looking to take on the full experience of the TT RGB PLUS Ecosystem will be happy with what the Floe DX 360 has to offer both performance and design-wise, even if the price is a bit higher than we would hope for.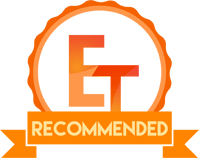 Thanks to Thermaltake for sending in a sample of their Flow DX 360 TT Premium Edition AIO CPU Cooler for this review!