The World's Most Powerful Dual System Computer, Featuring a Triple Stack of NVIDIA's Flagship TITAN RTX Graphics Cards and Three Custom Acrylic Water-cooling Loops.
A pioneer in innovation, system customisation and world-record breaking Overclocks. 8Pack has been creating revolutionary gaming systems for the last decade. Working directly with NVIDIA, Intel and ASUS ROG he's proud to present the Orion X2, a dual system configuration that not only features the most premium selection of enthusiast grade hardware, but offers something that's completely game changing in terms of raw performance.
The Orion X2 has two systems both of which are built inside a single bespoke Phanteks Elite Full Tower. It features both an E-ATX and ITX dual system build with Intel's 18 core i7-7980XE, 8 core i7-9700K and three NVIDIA RTX TITANs. All of which are overclocked and water-cooled by 8Pack for the world's most poweful dual system, the Orion X2.
Avaliable at Overclockers UK starting at £32,999.99
The Orion X2 Primary Workstation:
– Intel I9-7890XE 18 core, 36 thread processor watercooled and overclocked to a minimum of 4.6GHz.
– Two water cooled NVIDIA RTX Titan's with 24GB GDDR6 VRAM connected via NV-Link, with options include a third TITAN RTX.
– 128GB 8PACK Edition 3200MHz DDR4 RAM
– 2 TB Samsung 970 EVO M.2 SSD Primary Storage Device
– 2 TB Samsung 970 EVO M.2 SSD Secondary Storage Device
– 14 TB Iron Wolf Pro NAS 7200RPM 256MB Cache HDD
– 2000W 80Plus Platinum 8Pack Edition Super Flower Leadex Power supply
– Windows 10 Professional pre-installed
The Orion X2 Secondary System:
– Intel I7-9700K Watercooled and Overclocked by 8Pack to a minimum of 5.1GHz with options to upgrade to I9-9900K at 5.0GHz
– NVIDIA TITAN RTX 24GB GDDR6 Graphics card watercooled and overclocked, with options to exchange for 2080Ti
– 16GB 8Pack Edition 4000MHz DDR4 RAM
– 2 x 2TB Samsung 970 Evo M.2 SSDs configured in RAID 0 as the primary storage device
– 14 TB Iron Wolf Pro NAS 7200RPM 256MB Cache HDD
– Windows 10 Professional pre-installed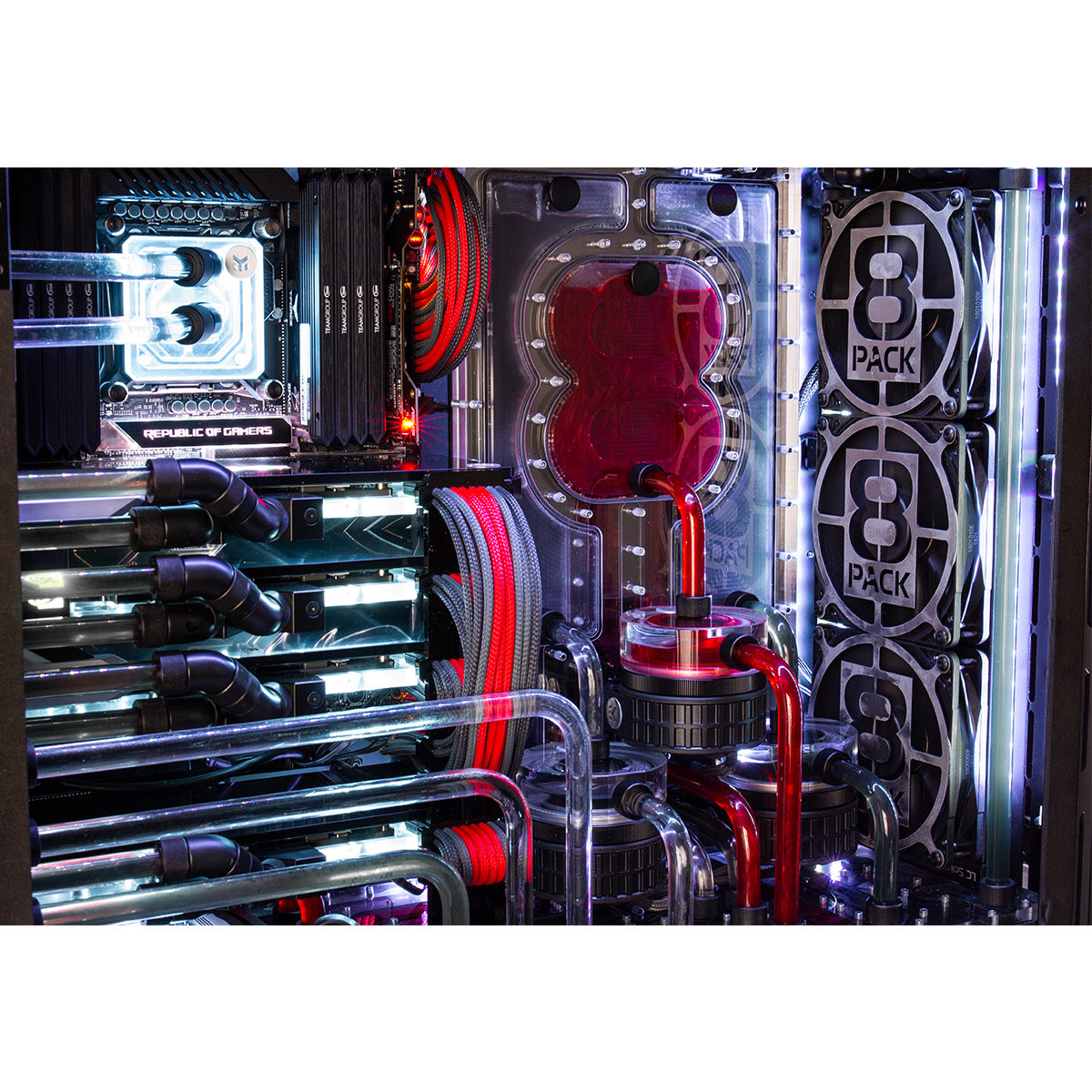 The Orion X2's Primary System – A True Workhorse That Offers No Compromise.
When it comes to extreme performance, there's only one place to start and that's with one of Intel's eighteen core i9-7980XE processors. This processor is hand-picked and overclocked by 8Pack himself to a minimum of 4.6GHz; this ensures only the most premium silicone makes the cut.
The i9-7980XE is mounted on a flagship ASUS ROG Rampage Omega X299, a motherboard that's been tailor made for performance overclocking. Alongside this you'll find 128GB of "8PACK EDITION" TeamGroup 3200MHz DDR4 RAM. This has been designed from the ground up by 8Pack himself to include custom heatsinks and Samsung B die; making it perfect for both performance and stability.
The Orion X2's primary system offers not one, but two state of the art water cooled NVIDIA RTX TITAN 24GB graphic cards. These are connected via NV-Link which enables scaling of memory and performance to meet the demands of even the largest visual computing workloads. Optional configurations allow for a maximum of three water cooled NVIDIA RTX TITAN cards which can be run independently for unmatched computational/rendering operations.
When it comes to storage solutions, the Orion X2 packs 2 x 2TB Samsung 970 Evo M.2 NVMe SSDs, that act as both primary and secondary storage devices. In addition to SSD storage, there's also a 14TB Seagate Iron Wolf Pro, a HDD drive built for a 300TB/Year workload rate and complete with Seagate's 2 year data recovery service.
Orion X2's Secondary System – because we don't believe in 'work or play'
The Orion X2 isn't just an incredible workstation, but also integrates an additional ITX gaming system, this is perfect for multi-tasking or 4K gaming without impacting primary system performance. This dual system configuration can all found in a bespoke Phanteks Elite Full Tower, upgraded from stock to incorporate the many modifications required for the Orion X2 hardware.
Powered by Intel's latest i7-9700K, this 8 core, 8 thread processor is water-cooled and overclocked by 8Pack to a minimum of 5.1GHz. Should you feel the need for even more processing power, there's the option to exchange this for an 8 core, 16 thread i9-9900K overclocked to 5.0GHz.
Mounted to a custom designed acrylic back-plate is an ASUS ROG Strix Z390I gaming motherboard. Slotted into it's PCIe lane is a dedicated, watercooled and overclocked NVIDIA TITAN RTX. Although should you be feeling modest, there is of course the option for swap it for an NVIDIA RTX 2080 Ti 11GB. The motherboard is finally completed with 16GB of "8Pack Edition" TeamGroup 4000MHz DRR4 RAM.
When it comes to storage, the secondary system comes with a matching pair of 2TB Samsung 970 Evo M.2 SSDs in a RAID 0 configuration. There's an additional 14 TB Seagate Ironwolf Pro HDD for all your media needs, designed for a 300TB/year workload rate and complete with Seagate's 2 year data recovery plan.
Featuring a Triple Watercooling Loop Complete With Custom Acrylic Pass-Through Plates and Branded Reservoirs for a Show-Piece System Like no Other.
When utilising industry leading hardware, combined with a world-class overclock, you require a cooling configuration far above and beyond the capabilities of any off-the-shelf solution. The Orion X2 has the most complex and efficient custom watercooling system we've ever created including: 4 EK reservoirs, 3 additional acrylic reservoirs, 4 custom acrylic pass-through plates, 3 pumps, 5 metres of hard-piping and over 8 litres of coolant.
These come together to form three water-cooling loops that can be recognised by their grey, silver and red mayhem fluid. The liquid coolants are distributed throughout the dual system setup via a series of custom acrylic pass through plates. These are designed not only to reduce visible hard-tubing, but allow integration of branded acrylic reservoirs located to the right of the motherboard. They increase coolant capacity and provide an impressive visual testament to the engineering feats required to build the Orion X2.
The triple reservoir is designed in the shape of the 8Pack logo, with each of the coolants cascading down to their individual EK rev pumps, located just below. All three water-cooling loops are managed by their own dedicated Aquaero 6. This controls flow rate of each loop as well as highlighting important information such as system temperature via an LCD screen.
Watercooling that's Designed and Detailed for That Premium Finish.
The Orion X2 houses a total of 4 radiators to cool it's dual system set-up, the first of which is a top mounted 480mm radiator, located just behind the signed and numbered 8Pack Edition plaque. This 480mm radiator is dedicated to cooling it's overclocked intel I9-9780XE.
Just behind the front panel of the Orion X2, you'll find an additional 360mm front-mounted radiator dedicated to cooling the primary system's EK RTX TITAN water blocks. This radiator comes complete with custom manufactured 8Pack laser-cut aluminum fan covers.
Comprehensive Cooling for The Secondary System
Underneath the primary compartment of the Phanteks Enthoo Elite, you'll find two additional radiators that support the secondary gaming system. This loop comprises of a 480mm radiator which cools the overclocked I7-9700K and an additional 360mm radiator for the dedicated TITAN RTX graphics card. These feed back up into the custom acrylic pass through plates, around the water-cooling loop and finally back into the 8Pack branded acrylic reservoir.
Hidden in the lower compartment, you will also find the specially designed 2000W 80Plus Platinum 8Pack Edition Super Flower Leadex power supply, which powers both the primary and secondary system.
Hand Braided and Colour Coordinated Cables, for That Final Touch.
The Orion X2 utilises only the finest braided PEXON cables which use an incredible 200 meters of wire and sleeving. It takes the team over 40 hours to precisely handcraft and sleeve each individual cable so it can be routed perfectly without any excess. This is cabling without compromise and helps to complete the small details that go into making the Orion X2 a truly masterful system.
Avaliable at Overclockers UK from £32,999.99
TECHNICAL DETAILS (PRIMARY SYSTEM):
Specially customised Phanteks Elite Full-Tower with integrated reservoirs and 8Pack logos
Cool interior with LED lighting, cable sleeving and coloured liquid coolant
Custom watercooling with EKWB components and three independent custom loops
Custom OC & water cooled Intel Core i9-7980XE (Skylake-E) with 18 Cores (36 Threads!!), 24.75 MB L3 Cache and OC @ min. 4.6 GHz
ASUS ROG Rampage 6 Extreme Omega Mainboard (E-ATX) with Intel X299 chipset and LGA 2066/li>
Two water cooled NVIDIA RTX Titan with 24GB GDDR6 VRAM connected in NV-Link for incredible gaming graphical performance, or three water cooled NVIDIA RTX Titan run independently for computational/rendering operation.
Faster and more efficient DDR4-RAM with 128 GB capacity and 3200 MHz clock frequency or 64GB running at 3600MHz
2TB Samsung 970 Evo NVMe-SSD as the primary storage device
2TB Samsung 970 Evo NVMe-SSD as the secondary data storage
Huge 14 TB Seagate HDD for tertiary data storage
2000 Watt Super Flower Leadex 8Pack Edition Power supply with extreme performance & 8Plus Platinum efficiency
Perfectly applied Thermal Grizzly Hydronaut thermal compound
Additional: Comes with Windows 10 Professional pre-installed
TECHNICAL DETAILS (SECONDARY SYSTEM):
Custom water cooled Intel Core i7-9700K (Coffee Lake) with 8 cores, 12 MB L3 Cache, and overclocked to at least 5.0 GHz.
Or Intel Core i9-9900K, 8 Core, 16 Thread Overclocked to at least 4.8GHz
ASUS ROG Strix Z390I Gaming Motherboard (Mini-ITX)
Rapid DDR4-RAM with 16GB capacity at an unbelievable 4000 MHz clock frequency
Exceptional graphics card: NVIDIA RTX Titan with 24GB GDDR6 VRAM
Two lightning-quick and reliable Samsung 970 Evo M.2 NVMe SSDs with 2TB, configured in RAID 0 as the primary storage devices
A huge 14 TB capacity Samsung HDD for secondary storage
Additional: Comes with Windows 10 Professional pre-installed