The 8Pack OrionX heralds a new vision in what a desktop PC can be. There is no other like it – in both form and function – wielding many proprietary design features, creating a unique and dominant yet elegant monster of a rig.
"I wanted to create a truly jaw dropping system which would be a world leader in both aesthetics and performance." – Ian '8Pack' Parry
Focus points of the OrionX:
An irresponsible level of power – The OrionX is the current end game. Only the fastest components are used, regardless of cost. Even with only this mindset, we still didn't think the OrionX housed enough power… so we added another system inside. Within the innards of the Phanteks Enthoo Elite (originally conceived solely for this project) are not one but two desktop systems, one using the enthusiast's workstation X99 platform, and the other using the latest Intel high-end platform Z270 (Kaby Lake). 'Golden Chips' are used for both platforms, resulting in a 4.4GHz (minimum) 6950X and a 5.1GHz (minimum) 7700K.
The most complex water cooling in a desktop system ever. The OrionX uses not one, not two, but three fully-custom watercooling loops to keep all of the hardware temperatures in check. Despite the amount of water cooling, the loops have been designed in such a way that each component is kept at the lowest possible temperatures. This is all thanks to the expertly designed passthrough plates which are fitted along the rear, front, and mid-plate panels of the chassis.
Ridiculous level of attention and praise at latest tech and gaming events. The 8Pack OrionX was showcased at Computex 2016 in Taiwan, Gamescom 2016 in Germany, and CES 2017 in Las Vegas, garnering an overflow of attention from all attendees including press and other tech exhibitors. It's easy to see why, with the OrionX being a masterpiece in PC design and modifications.
Two full ultimate-end PC systems in one. Two individual systems – working separately from one another – are housed in the OrionX. They are accessible and usable at the same time thanks to the godly Super Flower Leadex '8Pack Edition' 2000W PSU located at the base of the tower. One system can be used for a heavy rendering session, while you play your favourite game / work on a separate project on the other without it breaking a sweat. No limits!
Ambitious cooling:
With all of its glorious hardware, puts out a ton of heat so we needed the best of the best water cooling hardware to match the level of the insane specification. We wanted each system's main components to have separate water cooling loops so as to be able to dynamically control the fans and pumps on each loop to keep noise down and temperatures fully in check. Ensuring that load on one loop did not affect the other hardware's cooling capacity and hence stability. This is what inspired the three loop design. Optimum cooling for all hardware and ultimate control.
To connect up these loops we knew we would have to do some pretty insane tubing. But it was our idea inspired by the 8Pack Asteroid PC but this time – to a much more ambitious level – we would use pass-through plates made from polished acrylic to route the fluid around the walls and mid-plate of the case. Within these pass-through plates the fluid travels on several levels to create the ultimate look when illuminated. We have also added branding to the plates with the CPU loop travelling through an 8Pack logo in the IO side of the case and the ITX system fluid passing through an 8Pack logo which has been incorporated into the front of the case. The IO side of the case has never been used to carry fluid this way in any retail PC before. We have gone a step further, straight out of the gate by having a two layer pass-through allowing the GPU loop to run above the CPU loop. The GPU's being fed from the side instead of the usual underneath and the liquid appearing to zigzag across them.
8Pack OrionX full specification:
X99 Primary System
Processor Intel Core™ i7 6950X overclocked to at least 4.4GHz
Motherboard Asus Rampage V ED 10 Intel X99
Memory Corsair Dominator Platinum 64GB (8 x 8GB) at 2666MHz
Graphics 3 NVIDIA Titan X Pascal GPUs in Tri-SLI config with quad option available. Overclocked to 2000MHz+
Primary SSD Intel 750 1.2TB PCI-E NVMe SSD (watercooled)
Secondary SSDs 2 Samsung 850 Pro 1TB SSDs in RAID 0 (2TB & double the speed)
HDD Storage Seagate Barracuda 10TB HDD
Z270 Secondary System
Processor Intel Core™ i7 7700K overclocked to at least 5.1GHz
Motherboard Asus ROG Strix Z270I Gaming
Memory Corsair Dominator Platinum 16GB (2 x 8GB) at 3200MHz
Graphics NVIDIA Titan X Pascal GPU
Primary SSDs 2 Samsung 960 Polaris 512GB NVME M.2 in RAID 0 (1TB & double the speed)
HDD Storage Seagate Barracuda 10TB HDD
Both processors and chipsets are cooled by their own individual water cooling loops, with the GPUs cooled on their own uber-tier watercooling loop too. ALL of this is contained within the Phanteks Enthoo Elite ultimate chassis and powered by the relentless Super Flower Leadex 2000W '8Pack Edition' power supply.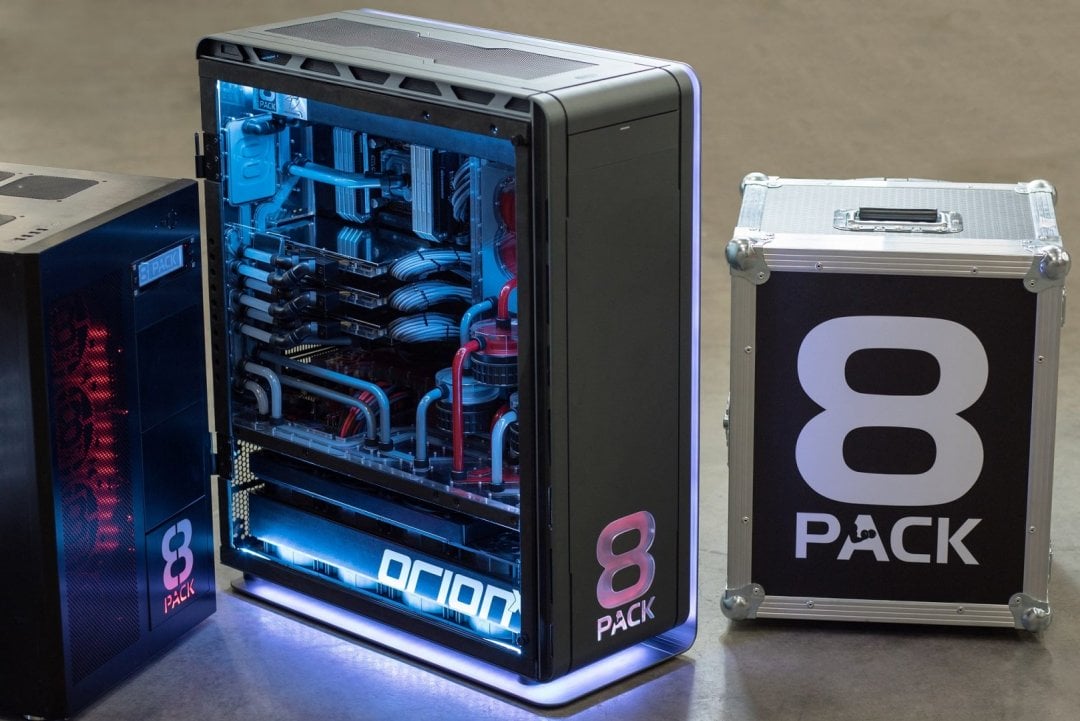 Link:
https://www.overclockers.co.uk/orionx
About Overclockers UK:
Overclockers UK offers only the best in hardware components and systems. With a close relationship to all major brands in the industry, Overclockers UK manages to offer unique, finely tuned hardware-bundles along with immediate availability of the hottest components to its UK customers. With an extensive range of fully customisable systems, Overclockers UK are able to utilise their extensive know-how of the market and products, to create the fastest high performance systems geared toward the enthusiast user. Further information about Overclockers UK can be found here: www.overclockers.co.uk