ADATA is a Taiwanese memory and storage company who strives to provide excellent products to its customers. They have come a long way since starting in 2001 and now have a much wider range of products that they offer. They offer most types of storage from Flash, USB, Memory Cards to Internal and External SSDs as well as some top-notch DRAM Modules. ADATA has also formed XPG which is geared towards providing products for Gamer's, Esports pros and tech enthusiasts alike. Providing specific products for different audiences is always a good thing, especially in the PC market as a lot of us require more than your standard user would need. For instance, gaming and enthusiasts will want the best of the best while your average everyday user may be more inclined to save a bit of money for something that offers similar performance. Either way, ADATA has you covered!
Today I will be taking a look at the XPG SX8000 PCIe M.2 SSD with 512GB of storage space. Utilizing PCIe lanes allows the SX8000 to offer faster speeds than that of a tradition SSD that will use the standard SATA connection. With that being said, it's worth noting there is a lot to consider when going for an M.2 SSD. Things like PCIe lanes on your CPU and making sure you even have an M.2 port on your Laptop/PC are the main two that come to mind. Even if your motherboard supports it, you'll need to look into the specifications as sometimes it may render SATA ports and other features useless and not allow you to use them due to the PCIe lane restrictions on your CPU or motherboard.
Specifications
Capacity
 128GB / 256GB / 512GB / 1TB
Form Factor
 M.2 2280
NAND Flash
 3D MLC
Controller
 SMI
Dimensions (L x W x H)
  22 x 80 x 3.5mm
Weight
 8g / 0.28oz
Interface
 PCIe Gen3x4
Performance(Max)
read 2500MB/s, write 1100MB/s
Maximum 4K random read/write IOPS: up to 160K/140K
*Performance may vary based on SSD capacity, host hardware and software, operating system, and other system variables
Operating temperature
 0°C – 70°C
Storage temperature
 -40°C – 85°C
Shock resistance
 1500G/0.5ms
MTBF
  2,000,000 hours
Warranty
 5 years
Closer Look
The front of the box is quite eye-catching. Here, we can see a nice image of the SX8000 alongside some of the more important information which lets us know we have a  512GB NVMe PCIe Gen3x4 M.2 2280 SSD that features a 3D NAND! If that isn't a mouthful to try and say out loud, I don't know what is. Never the less, these are some pretty impressive specs on paper so hopefully, it will live up to the hype.
There is a bit more info on the back and we can now see this drive comes with a 5-year warranty which should give users a massive peace of mind.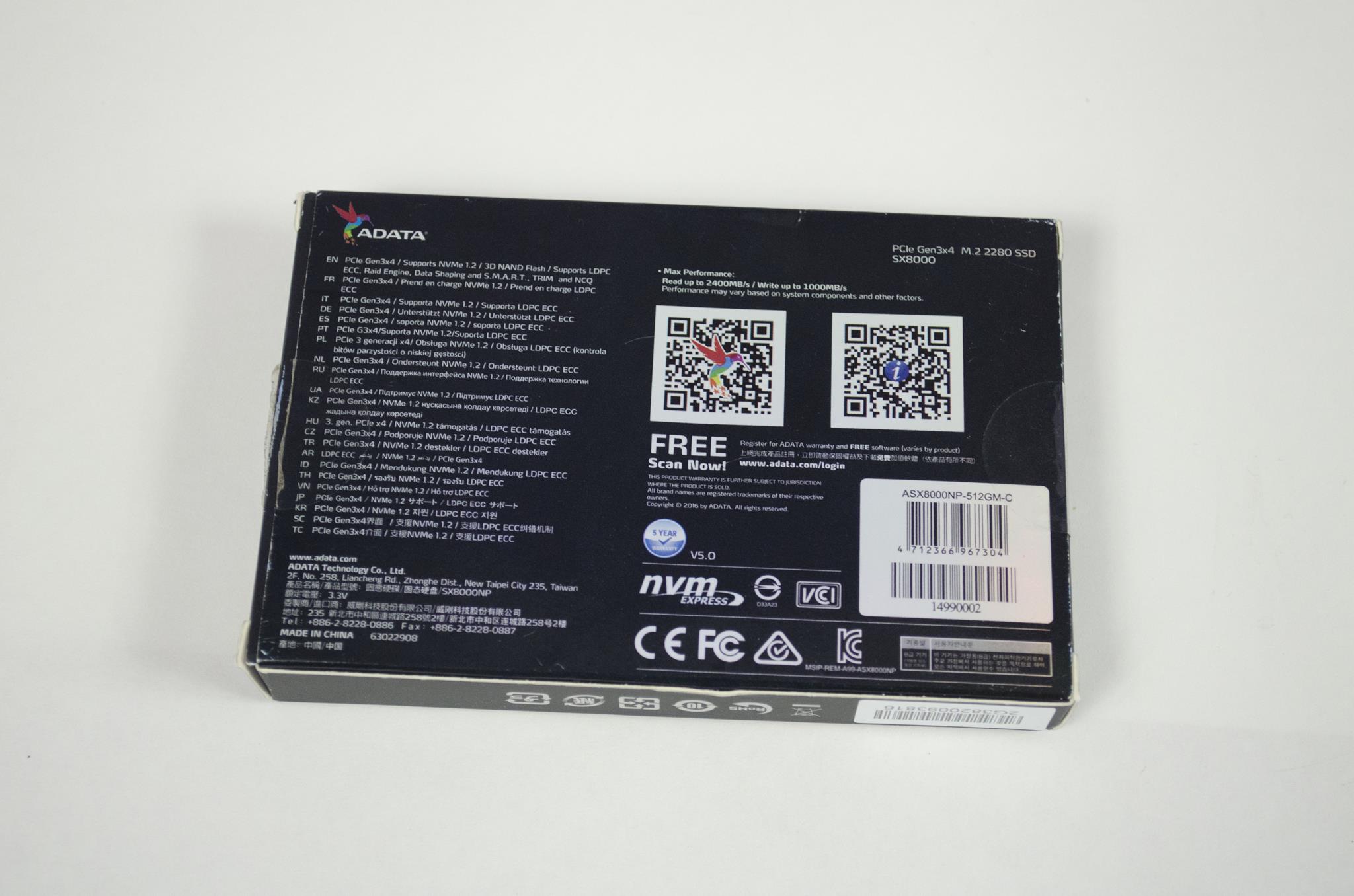 Getting this bad boy out of the box and it still amazes me what they can do with such a small drive. For those who haven't seen one of these in person, they are tiny when compared to a normal hard drive of incased SSD. Here we can also see the SM2260G controller and one of the Nanya DRAM modules.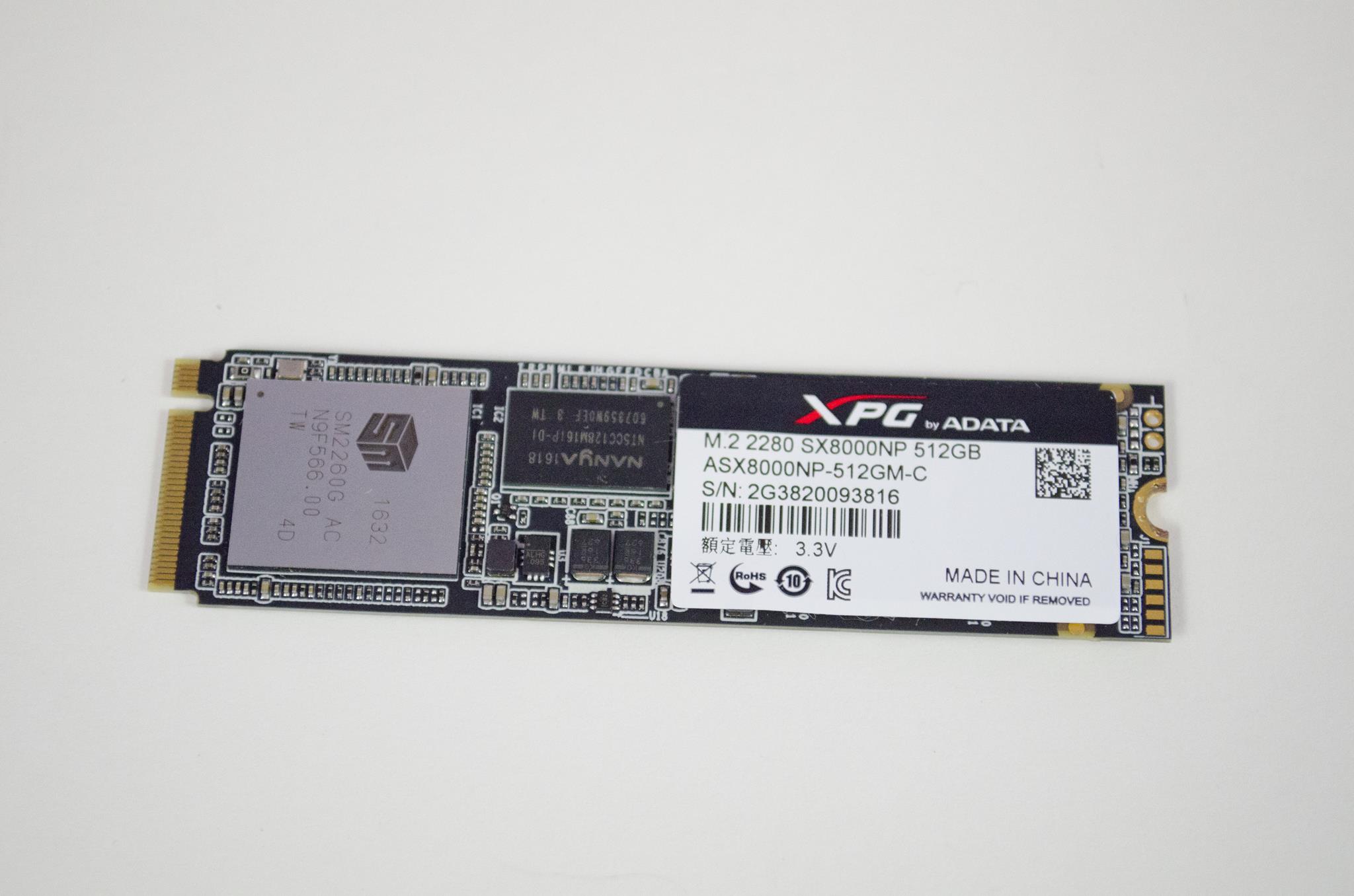 On to the other side of the drive and we can see the MICRON based storage chips. While comprised of components from a few different manufacturers, ADATA has done good with using reputable and trusted manufacturers for the chips they've used on the SX8000 SSD.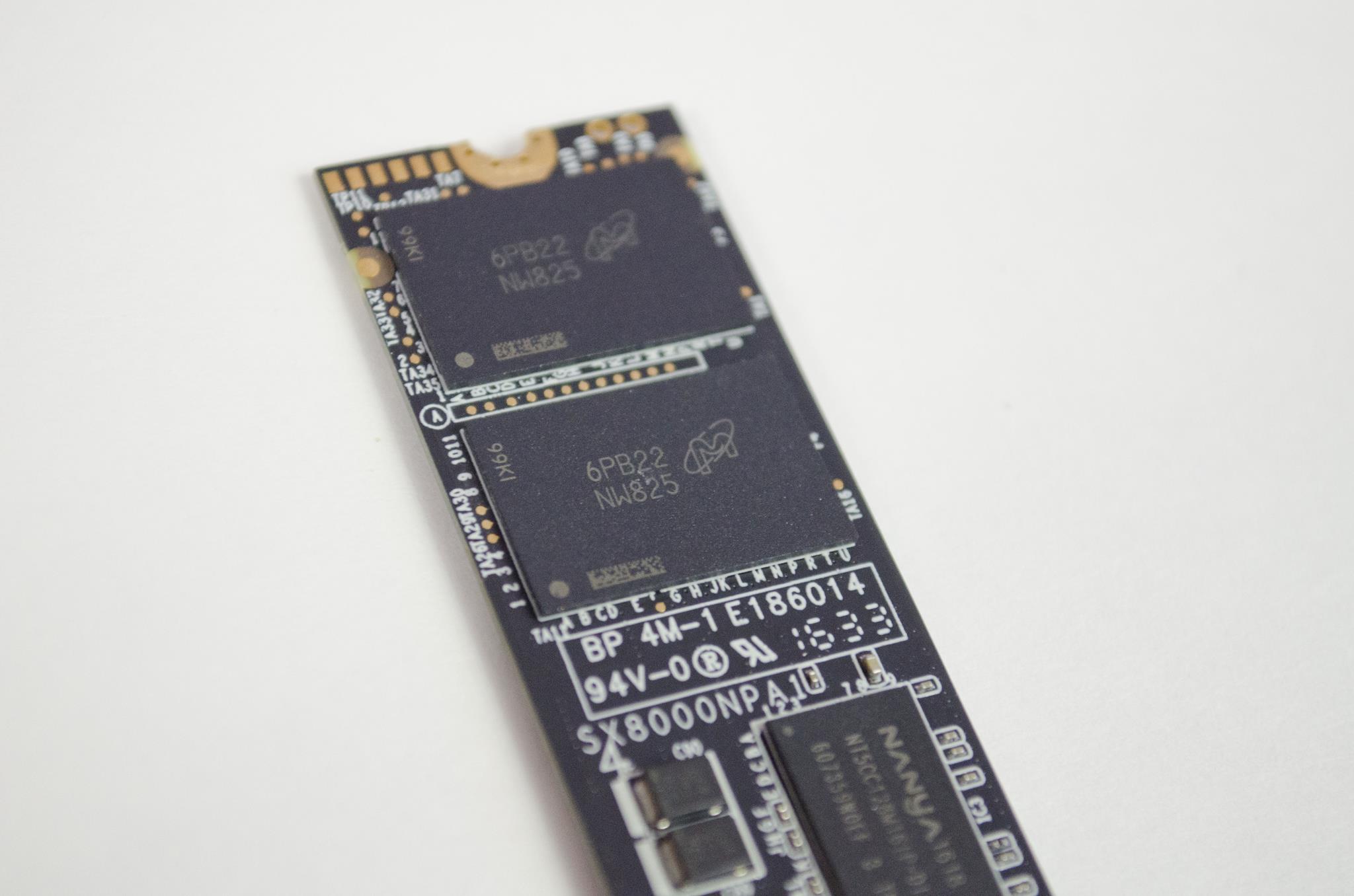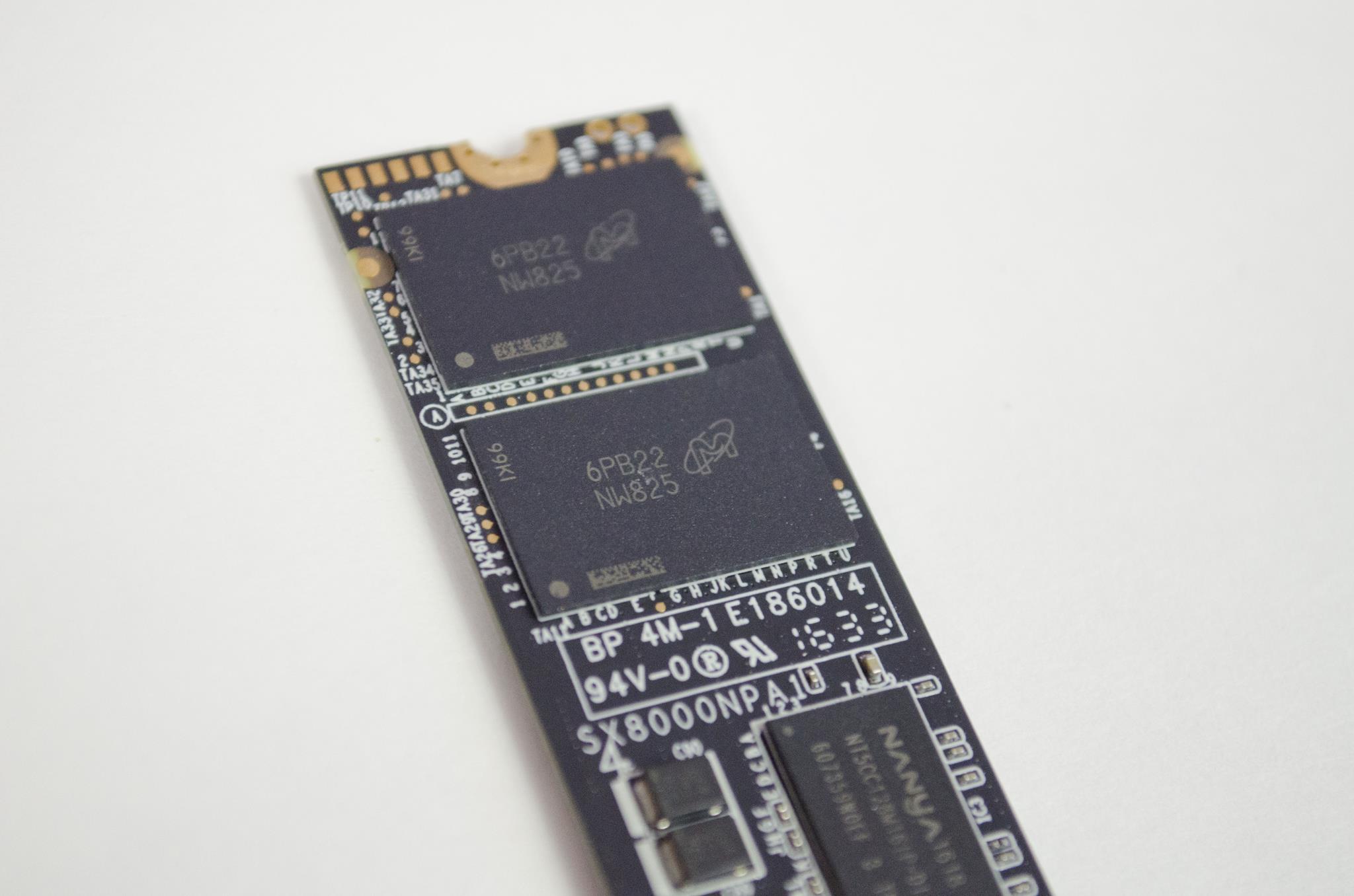 We can also see another of the NANYA1618 DRAM modules on this side.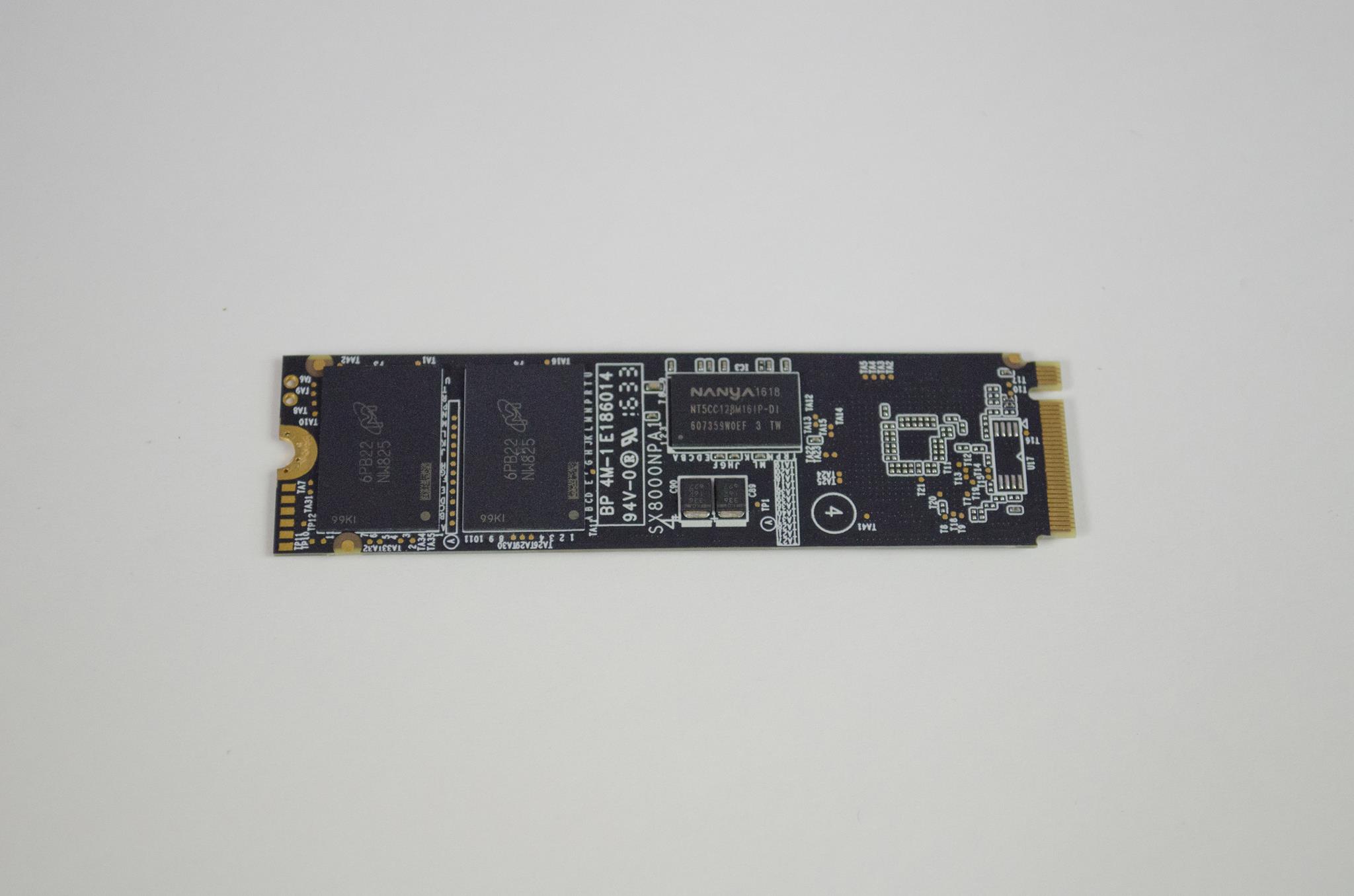 Once installed it almost gets lost. Well, once you put in a GPU it may very well be lost behind it. Not being able to see the SX8000 is fine with me as while it is a decent looking M.2 drive, I just want the power it has to offer! Speaking of power, let's see some of the speeds it hit in our benchmarking tests!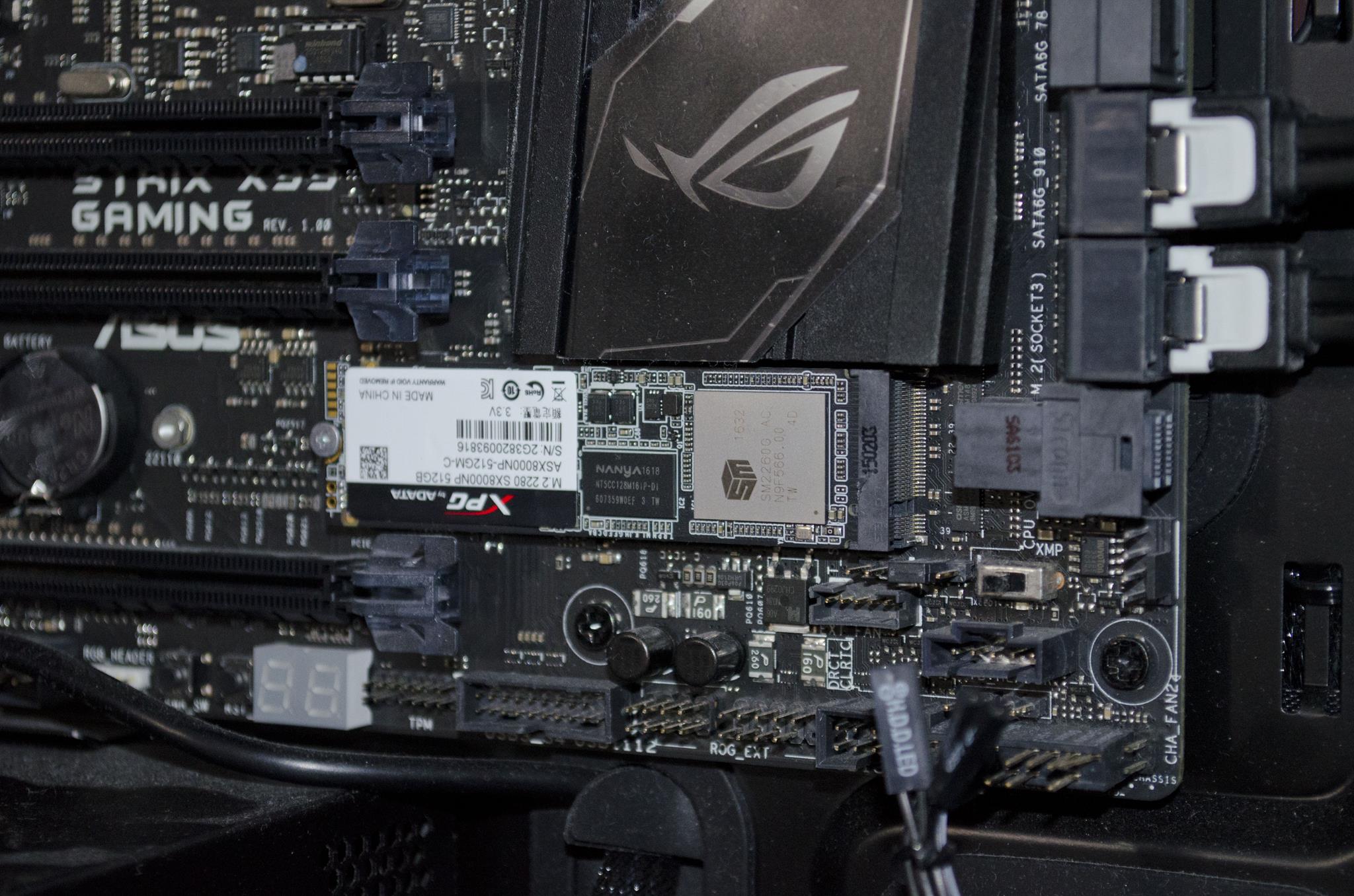 Performance Benchmarks
Anvil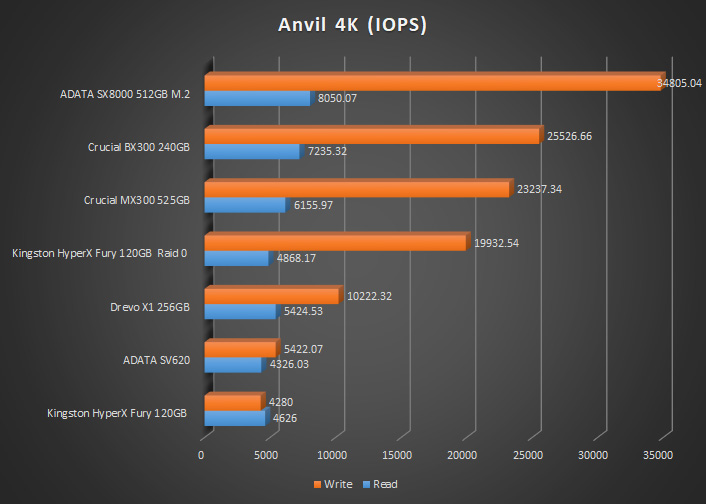 AS SSD
CrystalDiskMark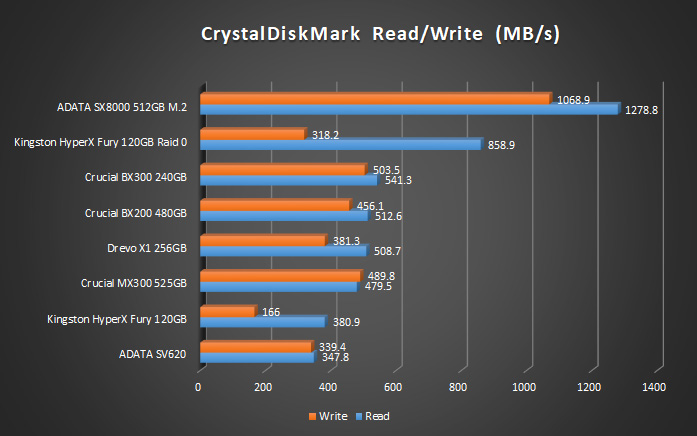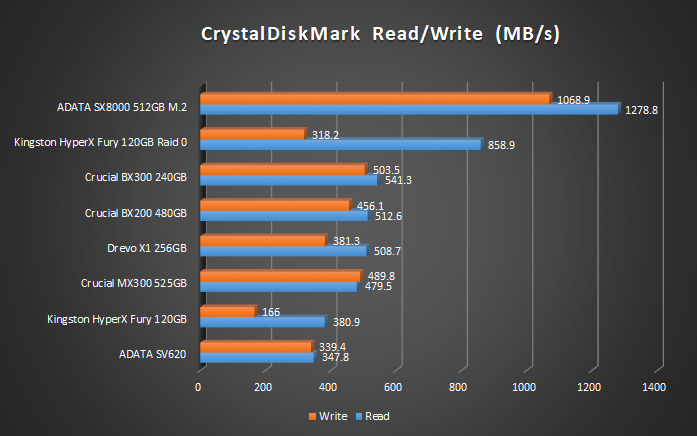 Conclusion
Performance and Design
It should come as no real surprise that this is the fastest drive we have tested here at Enos Tech. This comes from it being the only M.2 NVMe based drive we have reviewed here at Enos Tech. While the performance numbers may look good on our charts, the SX8000 actually offers pretty middle of the road performance when compared to other NVMe SSDs. However, this may be where the price steps in but will look at that in a second. This drive features a nicely sized DRAM Cache, SLC Caching and a 3D MLC NAND Flash so it is definitely comprised of quality components and has some good features going for it. The SX8000 may not have the best performance as far as NVMe drives go (a quick google search will prove this) but it does have plenty of features and good solid performance. One thing I can say about the SX8000 is that the performance was always similar, there was never any big jumps/dips in any of the benchmark results during my testing. Overall, the performance may be a little lacklustre, but it's consistent and the SX8000 does have some pretty good features!
Value
Coming in at around £166 here in the U.K. at the time of review, this is what makes this drive a worthy purchase. Comparing to other NVMe SSDs and it comes in a good few £££ cheaper than the competition. So, while it may not have the top of the range performance, at least it doesn't also come with the top of the range price tag. If you are looking for more than standard M.2 speeds but don't want to pay out for the higher-end NVMe SSDs, then the ADATA SX8000 is a good solid contender!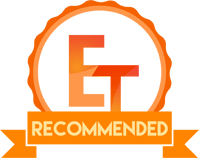 Many thanks to ADATA for sending in the SX8000 for this review.