Storage and security, two things that should seamlessly go together but often don't. Many people may not even realise just how big an issue security really is for their files. For instance, some people use the 'Cloud', which at the end of the day, is just another computer sitting in a remote location that loads of different people connect to and store their files on. Have you seriously look at the security measures companies take when offering you said 'Cloud' storage space? I bet most haven't and it really is through no fault of their own. Most people aren't told that they need to be aware of such issues so they literally just don't think about it, it never crosses their minds until it is too late. With more and more scammers and hackers out there than ever, now is the time to protect your own files!
This is where the good people over at iStorage come in. They offer some amazing storage devices that are not only fast, but also feature top-grade encryption to help keep your drives secure. Today we will be taking a look at the diskAshur SSD PRO which offers Military grade encryption** and an inbuilt keypad. The Drive is also FIPS 140-2 Level 2 Certified*. The diskAshur PRO SSD also comes with some other great features such as auto luck and self-destruct pin, it can be reset as many times as needed, has a wear-proof keypad and, of course, comes with an integrated USB 3.0 cable so you never have to go looking for the cable. All in all, it definitely seems like a very secure drive as it does boast both technologies used by the US government and military.
*FIPS 140-2 Level 2 Certified
The iStorage diskAshur Pro SSD certification is the cryptography standard required by the US federal government for protection of sensitive data. It covers 11 areas of its cryptographic security system, including physical security, cryptographic key management and design integrity.
**Military Grade Encryption
Featuring XTS-AES 256-bit hardware encryption, the diskAshur Pro SSD seamlessly encrypts all data on the drive in real-time, keeping your data safe even if the hard drive is removed from its enclosure.
The diskAshur PRO SSD comes inside a nice handy little carrying pouch inside the box. While it does feature a wear proof keypad, it's always best to cover it up and not chance your luck so kudos to iStorage for including the carry pouch.
The drive itself is black and features a nice keypad on the front side. The buttons are all a bit raised so you will be able to feel when they are pressed. To get things set up and working, you will first need to input your own pin, but we'll go over that in the next section.  Above the numbered keypad are 3 indicator LED lights that will let you know what is going on.
On the backside are 4x rubber non-slip feet should you decide you want to set it on your desk, it shouldn't move around on you. Here is also the technical info included the full Part and serial numbers. We can also see the FIPS Level 2 certification is mentioned here as well as the URL to the iStorage website.
As mentioned, the diskAshur SSD comes with an integrated USB 3.0 but should you not find this long enough, iStorage have also included an extender cable so you should have enough length to make use of the drive in most any situation.
Setting up the diskAshur SSD PRO is very straight forward, just make sure you follow the instructions properly as there are some strict requirements, especially for your PIN.
While security and encryption are the main reasons one would buy the diskAshur PRO SSD, users will still want to make sure it offers decent speeds. I personally would have like to of seen a bit better speeds from the device though even the website doesn't list actual read and write speeds. Looking at the site, it just says transfer rates up to 5 Gbps over USB 3.0, which is frankly very vague and misleading. The results below are taken from my X99 test system which also features an i7 5820K and 16GB of 2400MHz DDR4 RAM, the same system I testing the iStorage dataShur PRO 8GB USB on, in fact, the same exact USB 3.0 port was used in both tests.
While I would have personally liked to of seen better speeds, I can say this, they are much faster than the dataShur 8GB, which is to be expected. The below benchmarks should also be taken with a grain of salt as real world performance certainly differs from these. For my real world tests, I transferred a 6.5GB file to and from the diskAshur PRO SSD using a standard SSD, Samsung 840 EVO SSD and a Corsair USB 3.0 drive.Transferring from theSamsung 840 SSD to the diskAshur SSD PRO gave a solid 150MB/s transfer while transferring from the diskAshur PRO SSD to the Samsung 840 started off at 180MB/s but then dropped to a steady 90MB/s for most of the transfer. 3
While there was a bit of loss in performance from the real world testing, I was expecting this and it really isn't all that bad. Again, users will most likely be buying this drive for it's encryption, not to have the best transfer speeds around.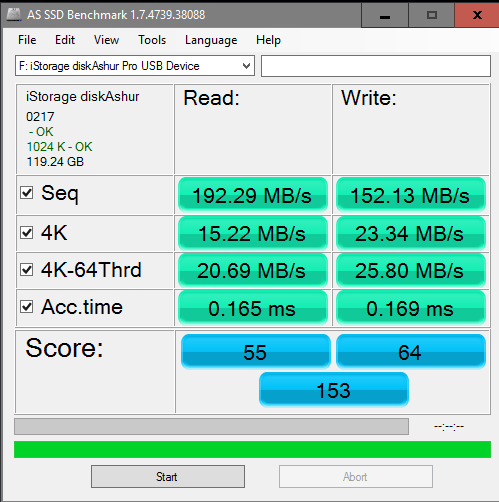 I've had a great time testing the iStorage datAshur SSD PRO out and while I wouldn't even begin to know how to try and crack the encryption if I wanted too, I am happy with it. The fact is, a lot of people may not fully understand the encryption level and security this drive has to offer and that's ok. If users are interested in a drive of the sort, I am sure they will do some research and see that it is fairly priced for what it has to offer.
Performance
The overall read and write speeds could have been a bit better, especially when it came to real world performance. However, they speeds are still acceptable and given the other features of the drive, I am willing to overlook the speed a bit.The real money maker for this drive is the 256-bit Military Grade XTS-AES Hardware Encryption. This is what actually encrypts your data in real time as it is added to the drive. That handy feature there is worth its weight in gold and when combined with the auto lock feature, you will know that your files are safe and secure.
Design
From a build quality point of view, the datAshur PRO SSD is solid and well built. It features a wear proof casing and keypad that will help it stand the test of time. From a technical standpoint, the datAshur PRO SSD is truly amazing as it features military grade 256-bit XTS-AES encryption as well as being FIPS 140-2 IL2 certified. iStorage definitely took their time when designing this drive and it shows.
Value
Well, this is where things do get a bit out of my reach. When doing research, the drive seems to be competitively priced but I personally can not give insight into the value. My opinion is that you get what you pay for and with the datAshur PRO SSD, you are getting a device that offers top-grade security and encryption, probably more than what most civilians actually need. If you really need this type of encryption and security, I am sure you are going to be willing to pay for it.
I am going to give the datAshur PRO SSD our must have award as while some of it may be a bit over my head if you really need the best of the best encryption wise, this seems to be a top drive from a civilian point of view. Anything better than this may require some sort of military grade clearance.
Thanks to iStorage for sending in today's review sample.