With Core Storm and Core Wind, Alphacool offers new complete water cooling kits that include all components for building a performance-oriented CPU cooling system. With the included mounting hardware, the CPU cooler is compatible with popular mainstream sockets from AMD and Intel. Even AMD's newest AM5 socket can be water-cooled with the Core Wind or Core Storm sets without any difficulties.
The sets are not only aimed at beginners, but also at enthusiasts. The selected components are optimally matched and come from Alphacool's DIY program. Thanks to the included quick-connect coupling, the loop can be easily expanded with additional components such as radiators, GPU coolers or sensors without having to drain or rebuild the water loop.
The choice of materials for all metals (radiator, cooler base, connectors) is still uncompromisingly based on copper and brass, which not only enables performance-oriented CPU cooling, but also guarantees longevity. The fans and CPU cooler also feature brilliant aRGB lighting. The digitally addressable LEDs provide plenty of options for outstanding illumination of the entire water loop. All cables (aRGB, PWM) and controllers needed to use & control the pump, fan and aRGB lighting are included. The accessory package also includes important tools such as hose cutter, filling aid, ATX 24-pin jumper and SubZero thermal paste. Thus, the construction of the custom loop can be started "out-of-the-box" immediately.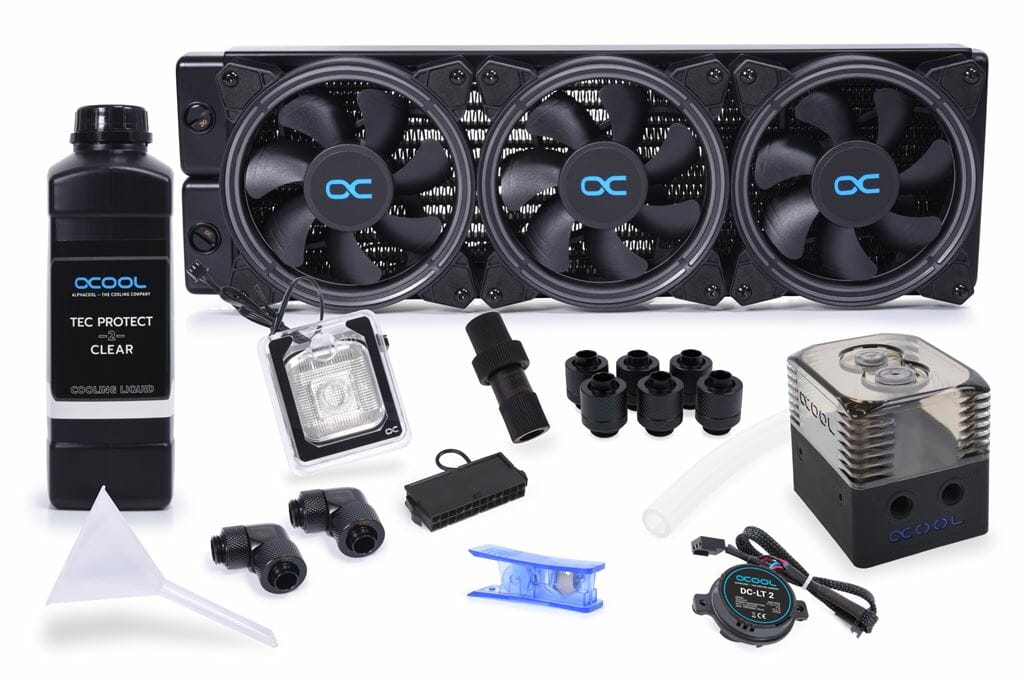 Features Alphacool Core Wind ST30 water cooling set
– Eisblock Aurora XP³ Light CPU-Cooler
– Eisstation DC-LT Reservoir & DC-LT 2 Pump
– NexXxoS ST30 240mm/360mm Full Copper Radiator V.2
– Eiszyklon Aurora LUX PRO Digital RGB fans
– 13/10mm AlphaTube HF & G1/4″ Eiszapfen fittings
Features Alphacool Core Storm ST30 water cooling set
– Eisblock XPX Aurora CPU-Cooler
– Core 100 Aurora Reservoir & VPP Apex Pump
– NexXxoS ST30 240mm/360mm/420mm Full Copper Radiator V.2
– Rise Aurora 120mm/140mm fans
– 13/10mm AlphaTube HF & G1/4″ Eiszapfen fittings
Compatibility:
Intel: 1056 / 1155 / 1150 / 1151 / 1200 / 1700 / 2011 / 2011-3 / 2066
AMD: AM2 / AM2+ / AM3 / AM3+ / AM4 / AM5
shop offer
>>> Alphacool Core Storm & Wind water cooling sets
(MSRP 249,98€ – 429,98€)