Introduction
Manufacturer: AOC
Product Page: Q27G2U
Purchase: £309.99 At the time of Review on Amazon UK
AOC has been kind enough to sponsor us with one of their Q27G2U Gaming Monitors. Today, I will be taking a look at it and letting you know just how I feel about it! I have been using this monitor for a couple of months now and coming from a 32″ 1440P 60Hz, I have to say it is quite the upgrade. While the size is a bit smaller than I am used to, this also makes it easier to focus on everything happening on screen at one time. The Q27G2U has a plethora of features that are going to help you take your gaming to the next level. The 144Hz refresh rate is probably going to be the one that sticks out the most. However, things such as Adaptive Sync, 1Ms response time and the QHD display are all going to make your gaming experience much more immense.
Specifications
Screen detail
Screen size (inch)
27 inch
Response Time (MPRT)
1 ms
Sync Technology
FreeSync Premium
Active Screen Area (HxW)
596.736(H)mm x 335.664(V)mm mm
Viewing angle (CR10)
178/178 º
Display Colours
16.7 Million
Weight without stand
4.1 kg
Scanning Frequency
VGA/DP1.2/HDMI2.0 : 30 -160KHz (H) VGA : 50 -146 Hz (V) DP1.2/HDMI2.0 :48-146Hz (V)
Adobe RGB Coverage (%)
90
OSD languages
EN, FR , ES, PT, DE, IT, NL, SE, FI, PL ,CZ, RU, KR, CN (T), CN (S), JP
Connections
Signal Input
HDMI 2.0 x 2, DisplayPort 1.2 x 1
Audio output
Headphone-out (3,5mm)
Ergonomics
Swivel
­30° ±2° ~ 30° ±2° °
Tilt
­3.5° ±1.5° ~ 21.5° ±1.5° °
Height Adjust Amount
130mm
Power
Powersource
100 – 240V 50/60Hz
power consumption On (Energystar)
32 watt
power consumption Off (Energystar)
0.3 watt
power consumption Standby (Energystar)
0.5 watt
Dimensions
Product dimensions excl base
612.5 W x 365.8H x 46.6D mm
Product Dimensions (incl base)
612.5W x (398.6~528.6)H x 227.4D mm mm
Packaging Dimensions (L x W x H)
730W x 187D x 520H mm mm
Net Weight (excluding package)
5.2 Kg
Gross Weight (including package)
7.53 Kg
Closer Look
If the box it comes in doesn't give away the fact this is a gaming monitor, I don't know what will! A real shame it doesn't come with an included game that features the characters on the box, but that would just be asking too much now wouldn't it? Either way, we can also see this monitor has a 144Hz refresh rate and adaptive sync technologies included.
Opening the box up and on the inner flaps, we have instructions on how to unpackaged and even assemble the monitor in the best way possible. The shown method will make sure it is done right and will also ensure there are no scratches or any damage to the monitor while inserting the stand.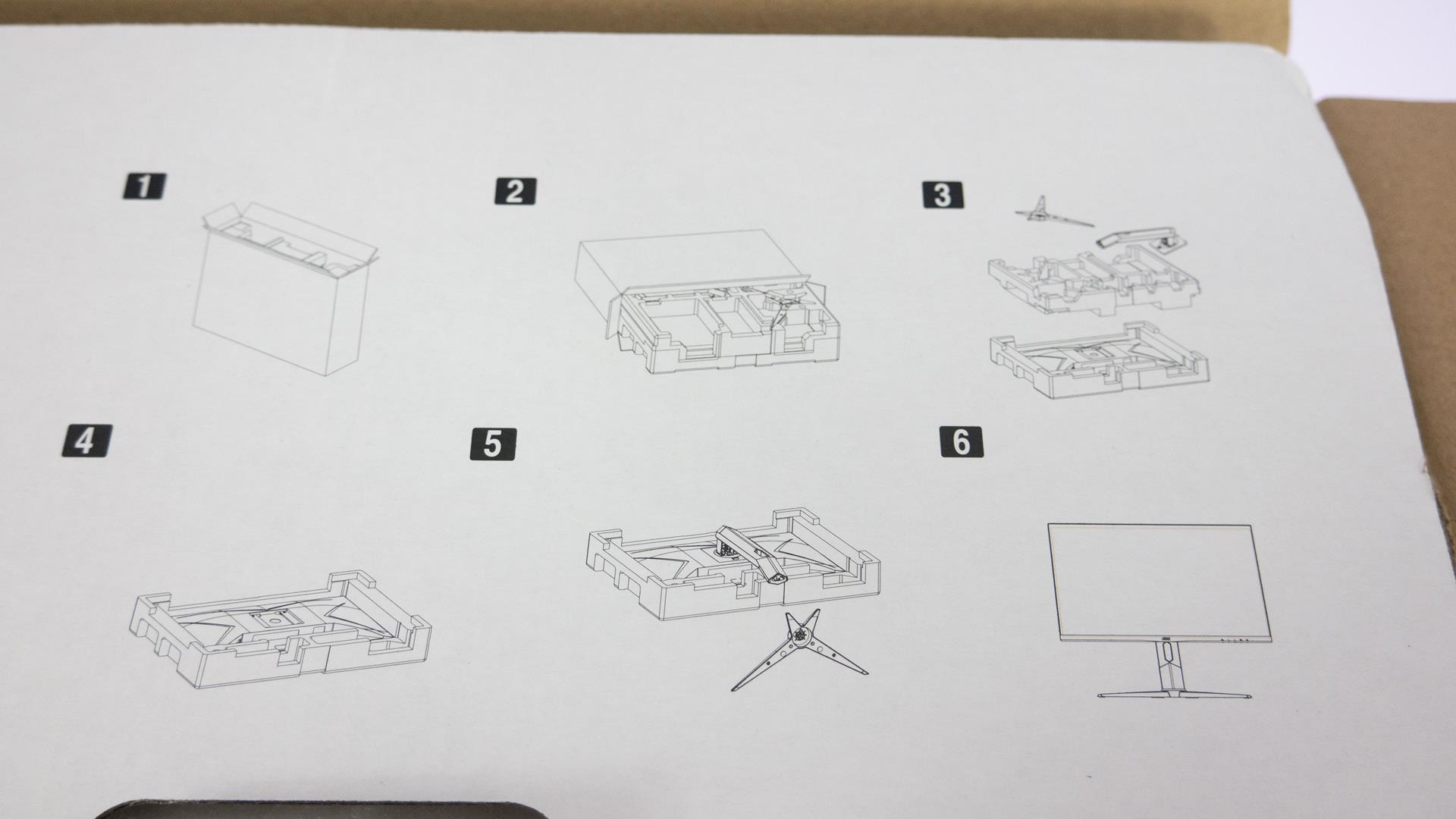 There are also a couple of images on how to make sure it is set up and ready to be powered on. This also shows us it has a 130mm up/down movement and can be tilted from -5° to 23° for the best viewing angle possible.
Inside the box, we have a few cables the include, HDMI, DP and a power cable and power pack. There are also some instructions and a CD to make sure you can get this all up and running as easy as possible. The quicker the can get the Q27G2U up and running, the better!
The Q27G2U come in 3 main pieces and is quite easy to put together. Simply insert the arm into the base then you will insert the arm into the back of the monitor and you will be good to go. Remember you may want to keep the screen in the styrofoam packaging while doing this to help avoid causing any damage to it.
Once you have inserted the arm onto the base, there is a small thumbscrew on the base you need to tighten to make sure they stay connected.
The back of the monitor has some nice ventilation and red accenting. While you won't see this area most of the time, it is still nice to see a bit of thought put into the design of it. While monitors don't get overly hot, it is still nice to see a decent ventilation area to let out what heat does come from the Q27G2U.
On to the backside of the panel itself and we have the all-important serial number sticker. This also gives us the product/model No, manufactured date and some the power rating. While most will hopefully not need this, it's always good to have handy just in case.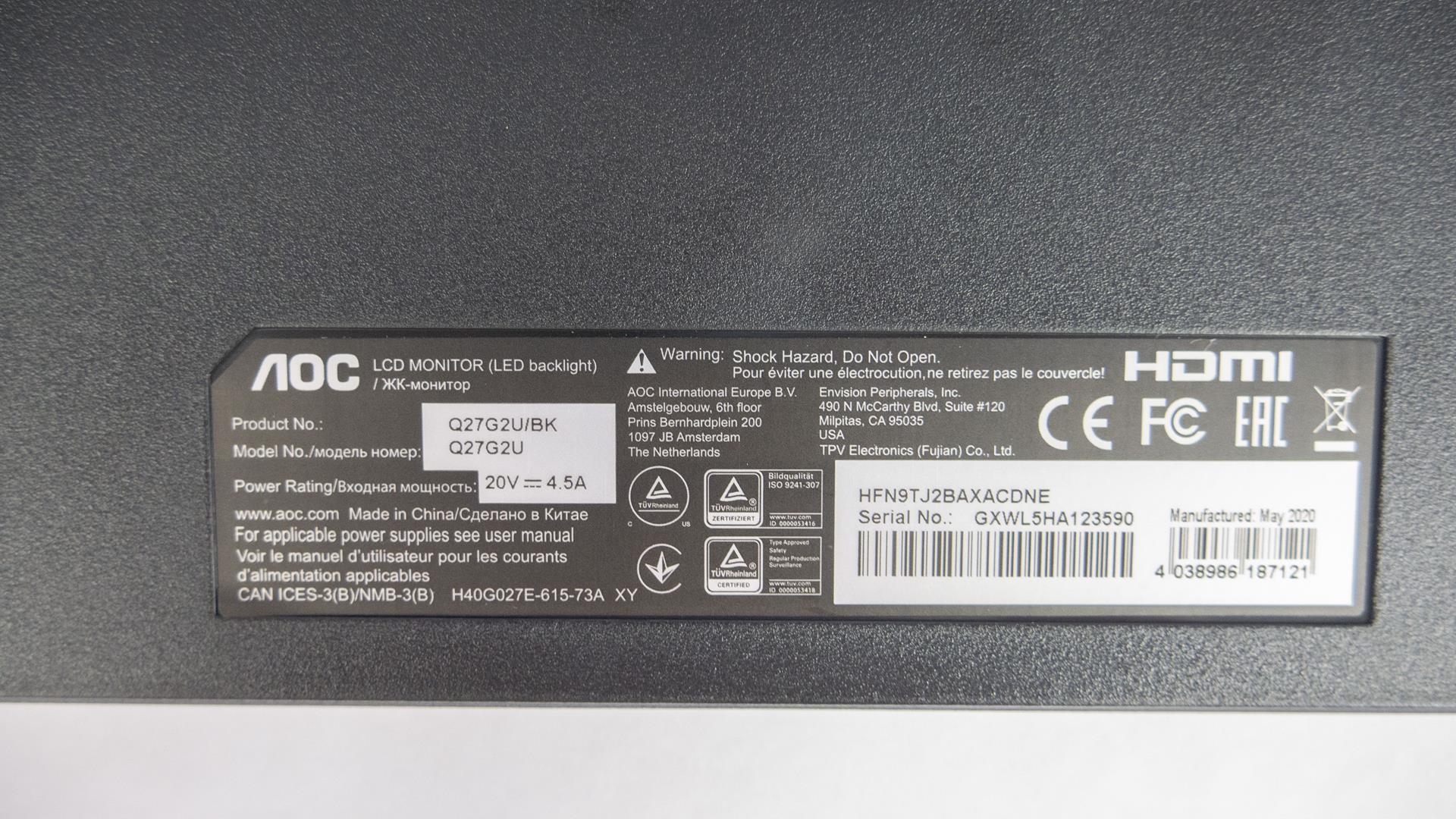 There are several ports on the Q27G2U monitor. There are 4x USB3.0 ports, 2x HDMI 2.0 and 1X DP 1.2 ports. This will allow you to connect many devices straight to the monitor so you can make the most of it.
There is also a headphone out jack and the port for the power cable.
Display settings aside, another one of the main features of the Q27G2U is it's viewing angles. Not only does it feature a good range of motion to swivel and/or tilt the screen, but you can also adjust the height or even turn it completely to one side and put it in portrait mode. While most people won't be looking to put a gaming panel into portrait mode, it is a handy feature for those who also use their gaming rig for work, or for those who want a multi-monitor setup and to use it as a secondary screen. All of these smalls movements will also mean that you can get the monitor into your exact desired position with ease.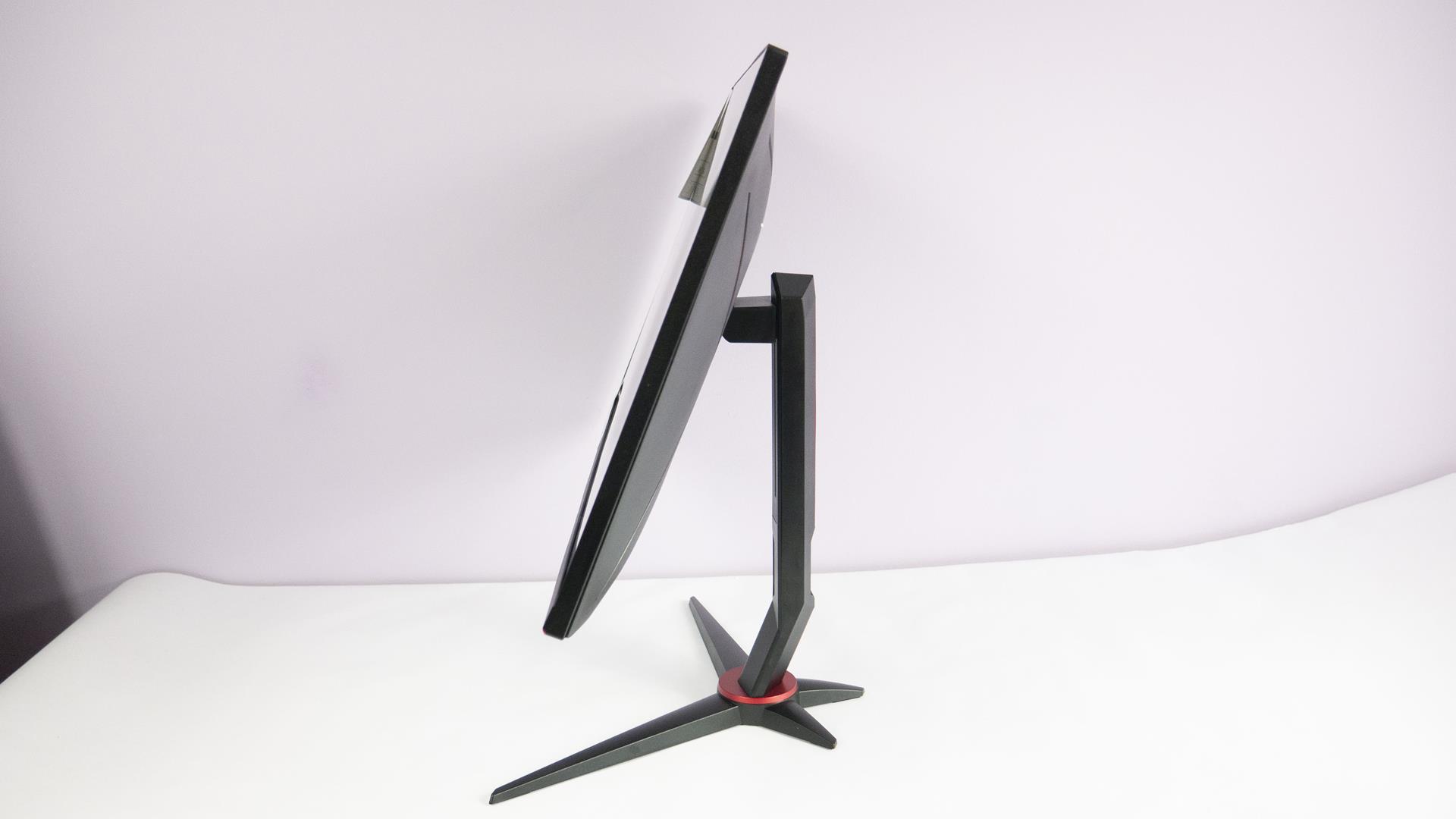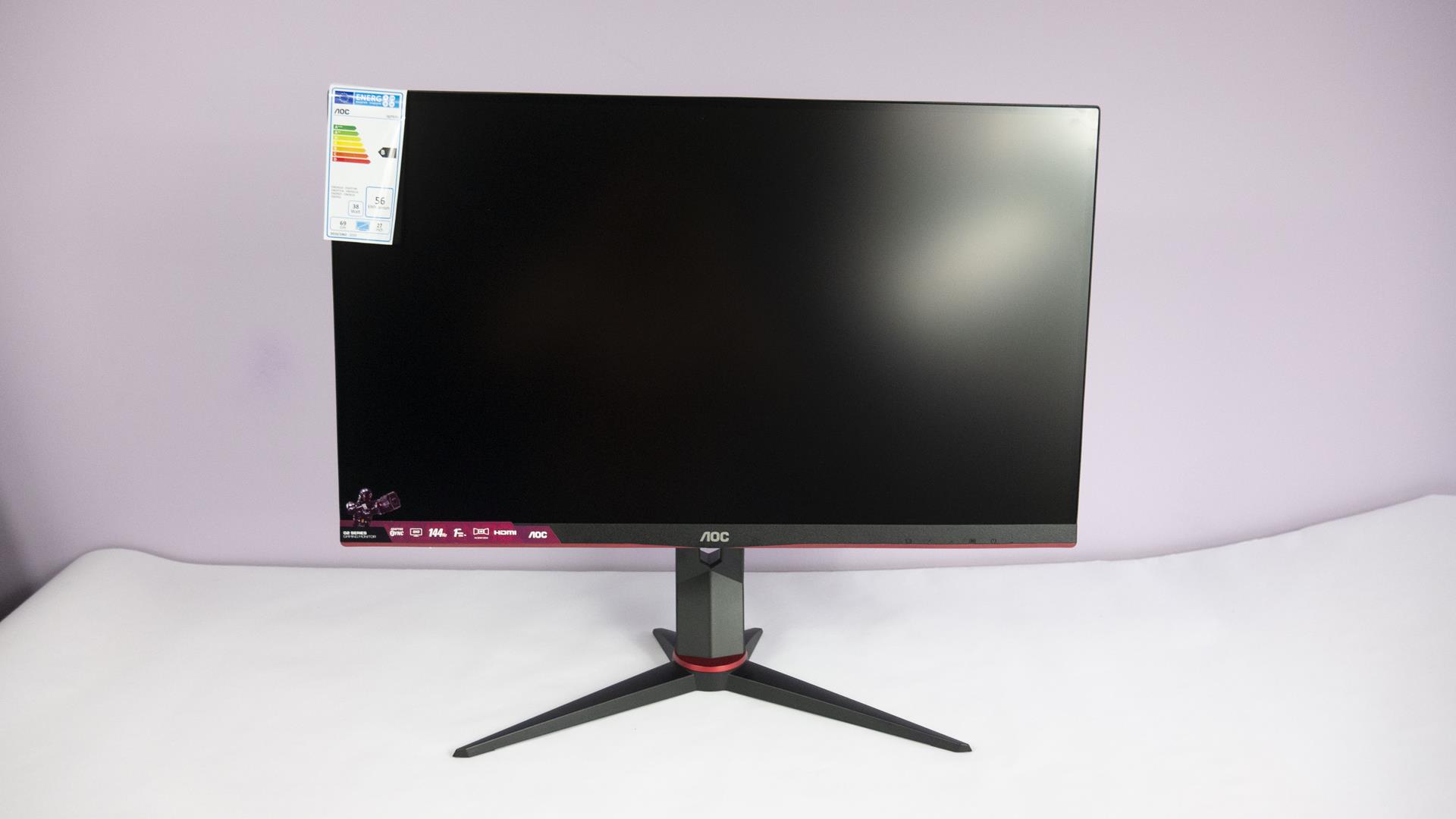 Gaming
When it comes to gaming on the Q27G2U you are in for a treat! I personally try to primarily stick to FPS games and the Q27G2U was definitely up for the task. Coming from a 32″ 1440P 60Hz monitor, I could instantly tell the difference once I was in-game. The gameplay is much smoother and it even felt like my reaction time was quicker, which I know it wasn't so must be down to the 144Hz display. If you've never tried a 144Hz monitor, I suggest you do and if you can, make sure it is the Q27G2U you try out! The smoothness really is something else and will have you questioning how you ever played on 60Hz. Alongside the 144Hz refresh rate, the 1MS response time really helps make this a great monitor and will help you feel like you've got the advantage over your opponent.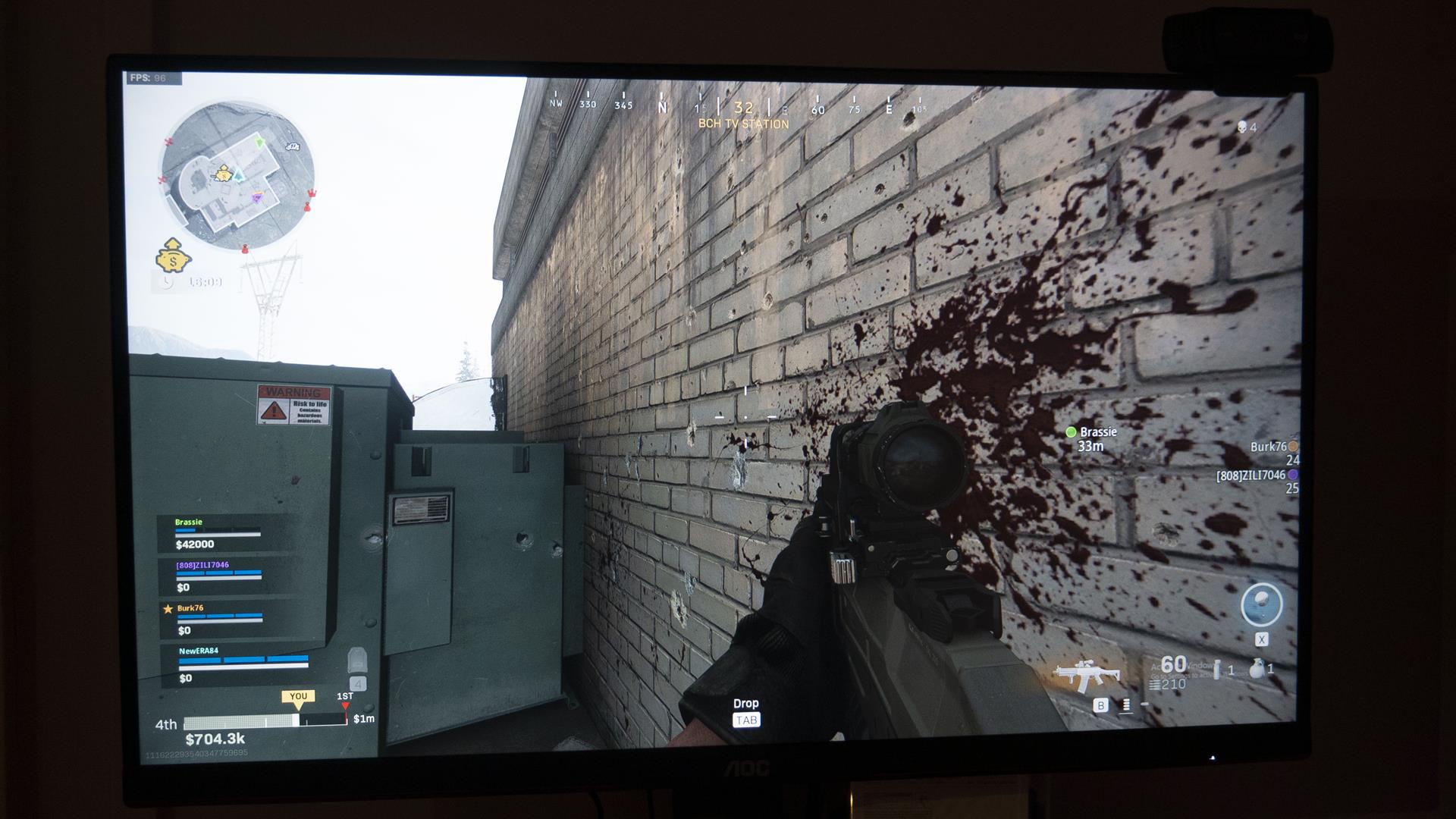 Final Thoughts
Performance and Design
AOC has really hit a home run with their Q27G2U monitor. The Q27G2U comes packed full of all the features that gamers need in a sleek, almost bezel-less offering. The 27″ QHD display features a widescreen 16:9 aspect ratio offering maximum viewing pleasure. Combine this with the gaming features (144Hz/1ms/FreeSync) and you have one heck of a monitor on your hands. When it comes to FPS gaming, the Q27G2U is brilliant and will have you wanting to game into the early hours of the morning. While your significant other may not appreciate what it has to offer, you will be quite pleased with the immersive gaming experience that it has to offer. To top things off, it not only performs well but also looks amazing. The minimalistic stand means it won't take up too much of your desk area which is a bonus. Throw the ridiculously tiny bezel into the mix and you have one great looking piece of kit. If you're after a monitor that looks as good as it performs, the Q27G2U is definitely one to check out.
Value
Coming in at around £310 at the time of the review, the Q27G2U offers great value for the money. A lot of similar monitors from other brands are a bit more expensive which works out well for AOC. AOC is one of the top names in the monitor industry so there is nothing to worry about if their monitors are a bit cheaper in price. For the £310 price tag, this monitor offers some great features including FreeSync, 144Hz refresh rate and a 1ms response time amongst others. The 27″ screen size and almost non-existent bezel only help to make this one of the better monitors around the price on the market today.
"When all is said and done, the Q27G2U ticks all the boxes for us. It offers great performance and design at a reasonable price. If you are looking to take your gaming experience to the next level, this very well may just be the monitor you are looking for!"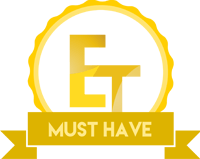 Many thanks to AOC for sending in this sample of the Q27G2U 27 Inch Gaming Monitor for this review!