As always, the beginning of the year is one host to one of the biggest Technology Events across the world. The Consumer Electronics Show (CES) has companies from all over the world, big and small come together and show off what they have to offer for the year ahead. This includes everything from PC Gaming to Electric Cards, Wearable Tech, and much, much more! As you can imagine, companies like ASUS utilize this event to show off some amazing products and we got to take a look at what they had to offer this year.
ASUS and many companies do opt to go for their own suite rather than having a booth on the show floor. We got to take a little tour of their suite and they had some amazing current and upcoming products on display.
ASUS ProArt
The ProArt range of products is aimed at professionals who need to get the most from their hardware. From monitors to motherboards and even full custom PC builds, the ProArt is really pushing the envelope for those with a passion for creativity.
On display, ASUS had their ProArt Display PA279CRV which is a 27-inch 4K monitor which is Calman verified and factory calibrated to Delta e < 2 color accuracy and 99% DCI-P3 gamut.
Powering this amazing display was the ProArt Station PD5 which comes with up to an Intel 13th Gen I9 Processor and NVIDIA RTX 40 series or RTX A4000 graphics.
While these aren't generally the type of products we would review, we do hope to branch out in the future and start covering much more than just 'PC Gaming' products! Also, there is no denying that there is some serious hardware on display on the ProArt displays!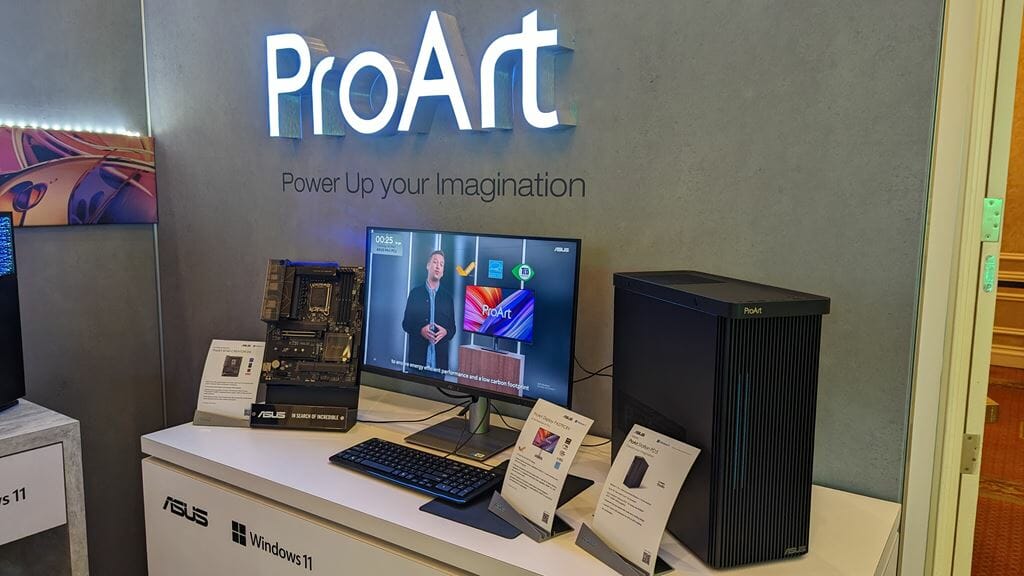 The ProArt range even has its own dedicated motherboard range! The ProArt B760-Creator D4 is the powerhouse behind the amazing system on display above. This motherboard has been crafted especially with creators in mind and has most of the features needed to take your content to the next level.
There were a few ASUS TUF Range of products on display as well but it seems the only one I can find the images for is the TUF GAMING H770-PRO WIFI motherboard which is designed for the LGA 1700 socket and Intels 13th Generation of CPUs.
ASUS Peripherals on Display at CES 2023
ASUS had several peripherals on display at their suite! Here we will take a look at some of the ones that caught our eye!
The ROG FALCHION ACE is a compact keyboard designed for pure gaming. It comes packing factory pre-lubed ROG NX Mechanical Switches and comes in both black and white variants.
The Keyboard Everyone Is Talking About
The ROG AZOTH is going to be a keyboard for both enthusiasts and gamers alike.  It has a mini OLED display, how swappable factory-lubed ROG NX switches, and even comes with a switch lube starter kit! This keyboard isn't going to be for the faint of heart but for those who want a little something extra, this is it! P.S. we are going to try and get a review sample of this so make sure to look for that in the future if we can pull it off!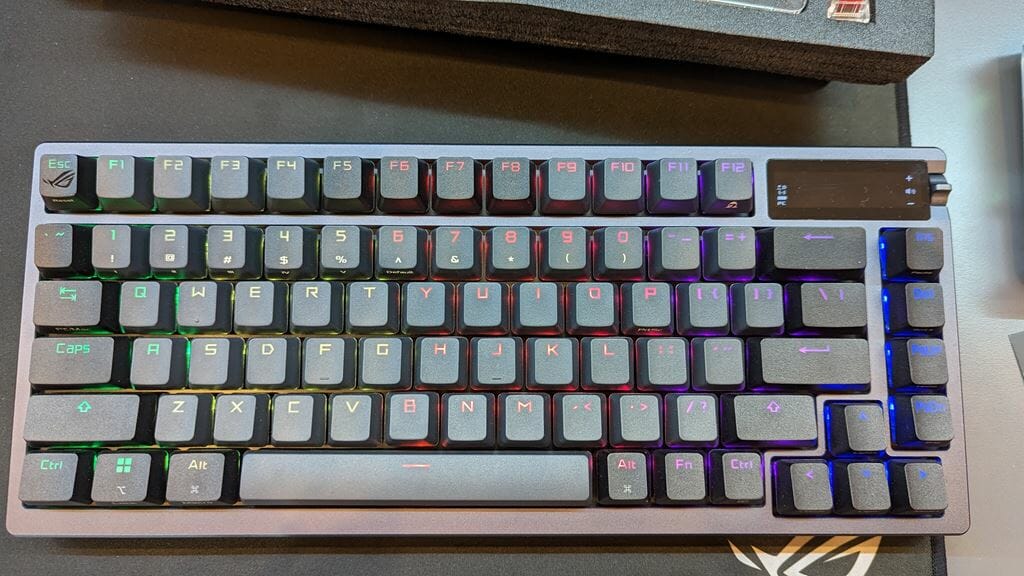 The Rog Raikiri Pro is an XBOX-style controller designed for those games where a controller comes in handy. While we love our Keyboard and mice, a nice controller to go along with it for the likes of Rocket League and driving games is a good touch. Again, we are going to see if we can get a review sample of this ASAP!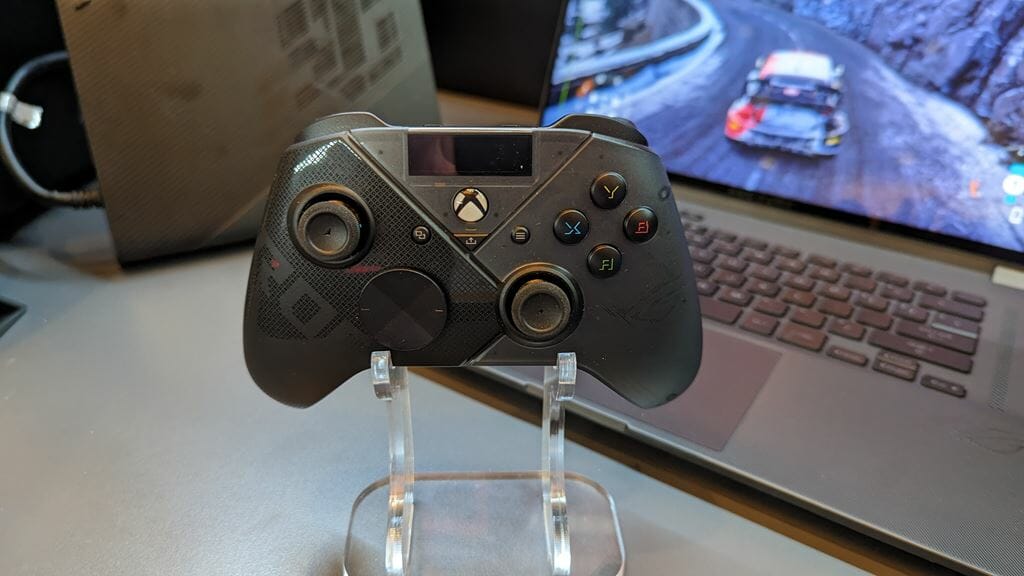 The ROG XG MOBILE is an external laptop GPU designed to help give you that extra GPU power when needed. This is great for those who may not want a full PC but need a bit of extra power when at home or the office. Compatible laptops will connect to it with ease and when not needed, simply unplug it from your laptop and keep on the move.
Of course, ASUS has its monitors there and the ROG SWIFT OLED PG27AQDM is an absolute beast! This is the world's first 1400P OLED Gaming Monitor and features a 240Hz display! The fun doesn't end there though as this monitor is packed full of amazing specs to take your gaming and production needs to the next level.
The ROG DELTA S ANIMATE features a Customizable AniMe Matrix display and comes packing a hi-fi ESS 9281 Quad DAC! Gaming headsets are taking a bit leap in both terms of aesthetics and functionality!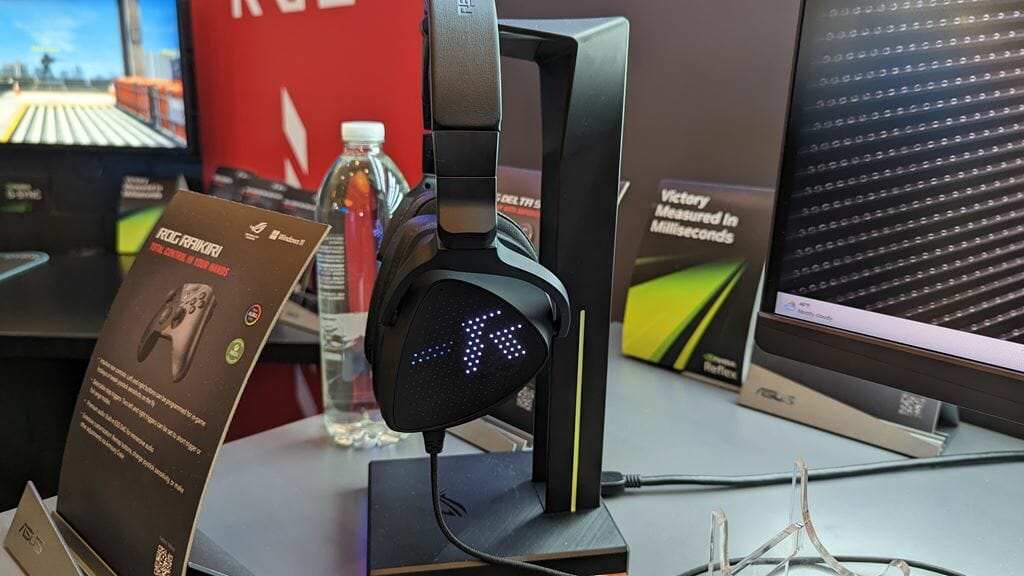 ASUS also had the ROG STRIX G18, ROG ZEPHYRUS G14, and ROG FLOW Z13 on display! While some of these may be quite compact, they all pack a nice punch and have some very impressive hardware inside them.
Normally I wouldn't photobomb my own selfies but while I was waiting to take a look at the nice product, I had some time on my hands as someone else was filming their coverage of it. While I didn't introduce myself, I did see Paul's Hardware at a few of the suites at CES and here I can be seen waiting for him to finish up his coverage on the ROG DESTRIER ERGO GAMING CHAIR. 
While there are some concerns around gaming chairs and if they are worth it or not, ASUS had done a great job at making sure their DESTRIER ERGO chair will at least stand out from the rest! It seems to have all the functions you would want from an ergonomic gaming chair and is taking it a step above and beyond what normal gaming chairs have to offer.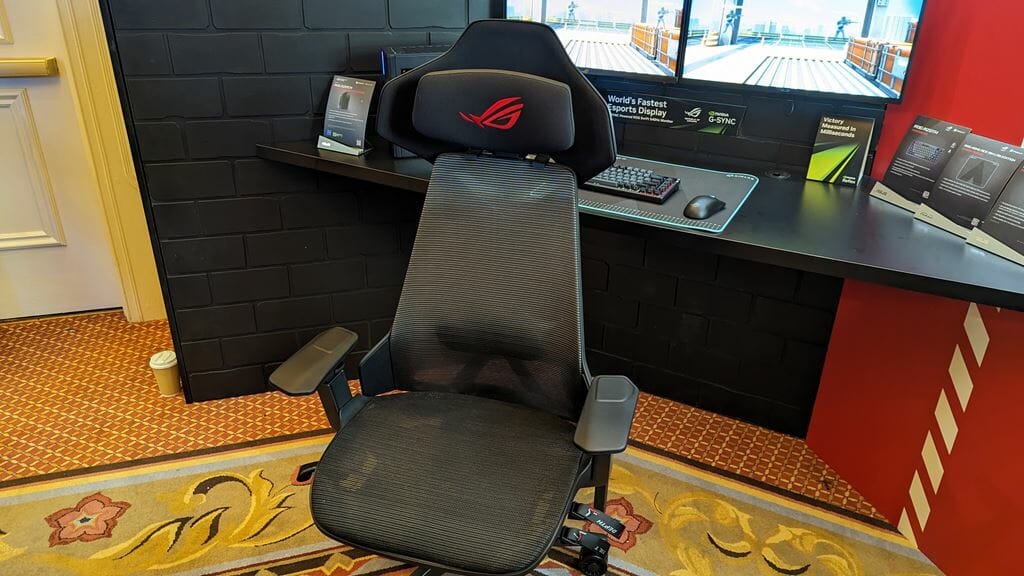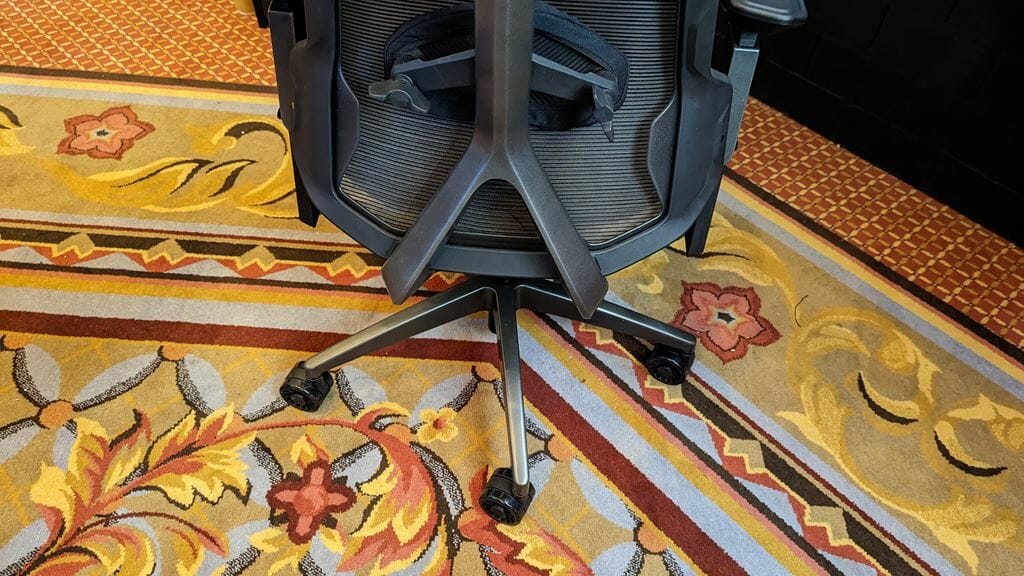 There were many other products on display and probably the most exciting of which was the ROG Swift Pro PG248QP which features a ridiculous 540HZ display! Yes, 540HZ display on a monitor is now coming and while this may seem silly to some, expect this to be a go-to monitor for those who are involved in professional esports!
The ASUS suite definitely had some amazing products on display and we can't wait to start bringing you some more on hands reviews of some of the products we have covered in this article! Many thanks to ASUS for showing us around their suite and giving us the rundown on what they have coming for 2023!