Beijing – DeepCool, a global brand in designing and manufacturing high-performance computer components for enthusiasts worldwide, announces the launch of a new series of all-in-one (AIO) liquid coolers that provides exceptional cooling performance the LS520 SE and LS720 SE. Featuring a mirror-plated top cover and aluminum pump design with vibrant A-RGB lighting, perfectly balanced FE120 A-RGB fans and DeepCool's 4th Generation water pump for exceptional cooling performance. 
Advanced Heat Dissipation with Radiant Reflections and a Metal Pump Design
The LS SE series is built on DeepCool's new 4th Generation water pump design that maximizes cooling performance. The new pump features an improved microchannel layout for optimal coolant flow, a powerful 3-phase motor of up to 3100RPM and a thick solid copper base. The pump features an infinity mirror-plated pump face with vibrant ARGB lighting for a captivating visual effect. The one-of-a-kind aluminium metal pump block features a smooth finish for a premium aesthetic.
High-Performance Fans with Vibrant A-RGB Lighting 
Designed with precision, the high-performance DeepCool FE120 fans maximize airflow and static pressure while keeping noise low due to a dynamic PWM range of 500~2250 RPM. The included FE120 fans feature 85.85CFM of airflow and 3.27 mmAq of static pressure. Optional L.S.P (low-noise adapter cables) are included for end-users that prefer lower-noise operation. With the use of the included low-noise adapter cables, the PWM range is limited to 500~1600 RPM and therefore noise is reduced, offering the end-user the best of both worlds. Easily synchronize lighting across your entire system through the 5V A-RGB header and supported motherboard software.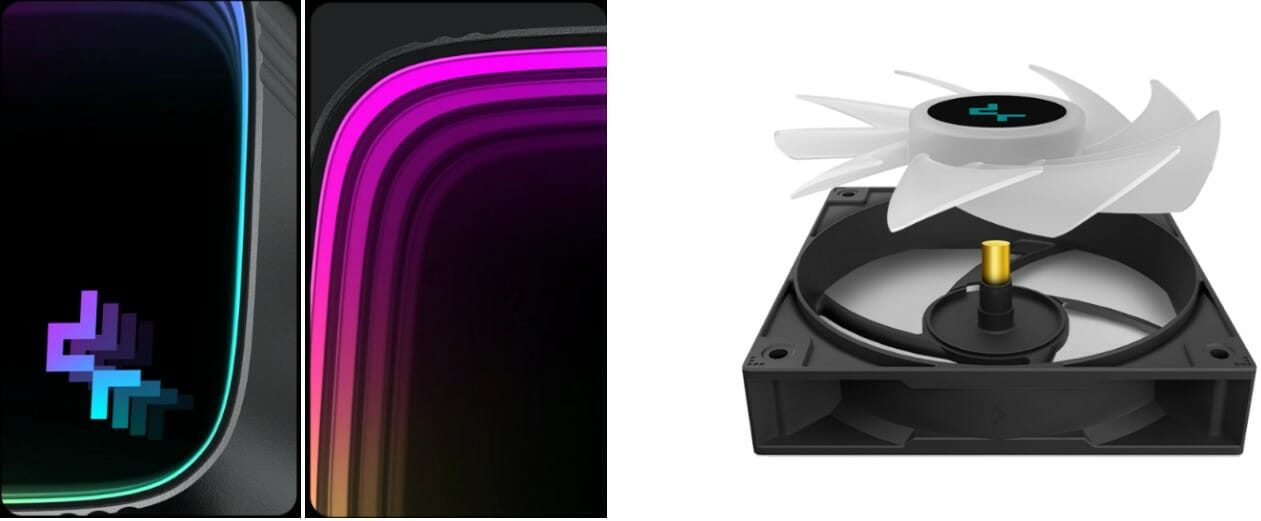 Excellent Compatibility and Easy Installation 
Installation is quick and easy with sturdy mounting brackets, ensuring that the liquid cooler is securely mounted on multiple platforms supporting the latest sockets from both Intel and AMD.
Specifications
LS520 SE
LS720 SE
Socket Compatibility

Intel: LGA1700/1200/1151/1150/1155

AMD: AM5/AM4

Radiator Dimensions

282×120×27mm

402×120×27mm

Radiator Material

Aluminum

Net Weight

1346g

1659g

Tube Length

410mm

Pump Dimensions

85×73×55mm

Pump Speed

3100 RPM±10%

Pump Noise

19 dB(A)

Fan Dimensions

120×120×25mm

Fan Speed

500-2250 RPM±10% (500-1600 RPM±10% with L.S.P)

Fan Airflow

85.85 CFM (60.85 CFM with L.S.P)

Fan Air Pressure

3.27 mmAq (1.65 mmAq with L.S.P)

Fan Noise

32.9 dB(A) (≤28.2 dB(A) with L.S.P)

Fan Bearing Type

Hydro Bearing

Pump Lighting
Addressable RGB 
Lighting Control

M/B with 5V ADD-RGB Header

Warranty 

5 Years
Pricing, Availability and Warranty 
LS520 SE
LS720 SE

MSRP Incl. VAT (

€

)

€99.99 – 104.99

€114.99 – 119.99

MSRP Incl. VAT (

£

)

£84.99 – 89.99

£94.99 – 99.99
The LS520 SE & LS720 SE will be available in January 2023 
The LS SE Series will be available from selected reseller [240mm LS520 SE]  [360mm LS720 SE]  
The LS SE Series all-in-one liquid coolers are backed by a five-year warranty.
Product Page
For more information, please visit the LS520 SE & LS720 SE product page
High-Resolution Product Images: [240mm LS520 SE]  [360mm LS720 SE] 
High-Resolution: DeepCool Official Logo 
About DeepCool
Established in 1996, DeepCool is a global brand in designing and manufacturing high-performance computer components for enthusiasts worldwide that includes CPU coolers, PC cases, Power Supplies, Peripherals and more. With a strong background in independent research and development, DeepCool continues to provide high quality products, premium customer service, and incredible value to our dedicated customers.