Introduction
We are finally starting to see a small decline in the price of storage based products. For instance, back in November 2017, we took a look at the Crucial BX300 240GB SSD which was £80.39 at the time of review. Today, we are looking at the Crucial MX500 500GB which is coming in around £83 at the moment. So, for the difference of £3, you can get a drive that is twice the size! This is amazing to finally see and has been long awaited. With the recent drop in prices, more people should be able to upgrade to some sort of SSD to enjoy much faster load times across operating systems, programs and even games! Also, as SSDs have no moving parts they can offer a bit more longevity over.
The MX500 is one of the latest SSDs from Crucial and comes in both M.2 and standard SATA variants. Today, we will be taking a look at the 500GB SATA version which boasts read speeds of up to 560MB/s and write speeds of up to 510MB/s. Coming in at just £83 here in the UK at the time of review is absolutely amazing and if the performance can live up to the respected specifications, this could be a great upgrade option for many people. Without giving too much away, let's take a quick look at the specifications and jump into the closer look.
Specifications
| | |
| --- | --- |
| Form Factor | 2.5-inch internal SSD |
| Total Capacity | 500GB |
| Warranty | Limited 5-year |
| Specs | 500GB 2.5-inch internal SSD • SATA 6.0Gb/s • 560 MB/s Read, 510 MB/s Write |
| Series | MX500 |
| Product Line | Client SSD |
| Interface | SATA 6.0Gb/s |
| Device Type | Internal Solid State Drive |
| Unit Height | 7.0mm |
| Form Factor | 2.5-inch (7mm) |
| Package Content | 2.5-inch 7mm SSD SATA 6Gb/s, 7mm to 9.5mm spacer, Acronis® True Image™ for Crucial cloning software and installation instructions |
Closer Look
Getting our first look at the SSD and it follows the design of most other recent Crucial SSDs. It comes in a silver casing and has a big sticker on the topside to let you know what series it is.
On the bottom is a sticker that includes the model and SSD type alongside the size. We can also see the part/serial numbers here as well should the need for an RMA claim arise, these will come in handy being so easily accessible.
The model we are looking at today is a standard SATA 2.5″ SSD and should fit in most Laptops and PCs that are currently available.
The MX500 is designed to replace the previous MX300 SSD. The NAND Controller is a Silicon Motion SM2258 and the main difference between the two SSDs lies in the 3D TLC NAND. Where the MX300 featured a 32-layer 3D TLC NAND, the MX500 features a 64-layer 3D TLC NAND. The MX500 also features a 512MB DDR3L-1866 cache to help ensure those faster read/write speeds.
As you will see in the below images, everything is on a single side of the PCB on the MX500.
Test System
Windows 10 with all the latest updates
Intel i7 5820K
ASUS STRIX X99
ASUS STRIX RX 480 8GB
16GB Ballistix Sport Elite 3200Mhz 4x4GB
be quiet! Pure Power 10 600W
be quiet! Pure Base 600
Benchmarks
Anvil
AS SSD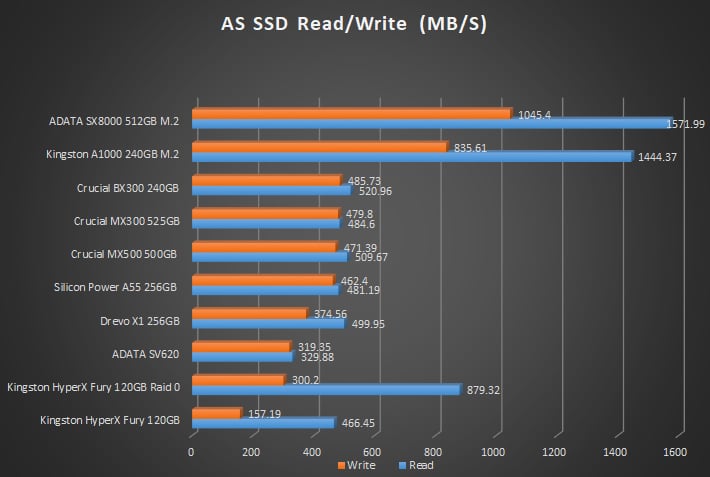 CrystalDiskMark
Conclusion
Performance and Design
Given the price of the drive the speeds we achieved were fairly good. However, on our test system, we weren't able to achieve the specified speed given by Crucial. This just means Crucial uses a much different testing scenario to carry out the testing on their drives which is expected. What I would personally like to take note of is the difference in speeds between the MX300 and the MX500. Looking back at the benchmark results and we can see in most of our testing, the MX500 prevailed and came out on top. The 64-layer 3D TLC NAND has most certainly offered a boost in performance which is really what we wanted to see from the MX500. In CrystalDiskMark we were able to achieve a read speed of 531.1MB/s and write speed of 492MB/s. The speeds we were able to hit aren't too far of off what Crucial has specified and are well within perfectly acceptable results in my opinion. Design wise, Crucial have upped the layers in their 3D TLC NAND as we've seen and the MX500 is also comprised of Micron components which are tried and tested and have proved to offer longevity and durability.
Value
Now, this is where things really get fun! Currently coming in at around £83 here in the UK, this drive offers a great performance to price ratio! At this price, the MX500 will make a great boot drive to add a bit more life to a new or old PC. Those looking to speed up their gaming a bit may also take advantage of the price as this would most certainly make an excellent games drive.
When all is said and done, the Crucial MX500 500GB SSD offers good performance in a highly-affordable drive. Crucial has done a great job here and I would highly recommend this to anyone looking for a new SSD!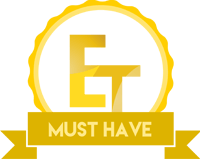 Many thanks to Crucial for supplying a sample of their MX500 SSD.