Bridging Languages Seamlessly: The Fluentalk T1 Mini Experience
Today, we are taking a look at the Fluentalk T1 mini Translator device. This device is going to allow you to translate languages in a few easy-to-use ways. Whether chatting on the go or looking to translate text from a photo, the Fluentalk T1 Mini is the perfect handheld device for you.
In the world of handheld translators, the Fluentalk T1 Mini stands out as a remarkable innovation. This compact device isn't just about translating languages; it's about connecting people across linguistic barriers.
Pricing: The T1 Mini is available in the UK direct from Fluentalk for £122.14 – CLICK HERE to purchase. In the US it can be purchased on Amazon.com for $127.49.
Pros:
Versatile Translation Capabilities: Supports 40 languages and 93 accents, making it a global companion.
Offline Translation: Offers translation between English and several major languages like Chinese, Japanese, and Spanish, even without an internet connection.
Instant Translation: Equipped with advanced Streaming ASR Technology for translations within 1 second, akin to reading subtitles.
Various Modes for Different Needs: Features one-click translation, listen mode, chat translation, and photo translation, catering to diverse scenarios​​​​​​.
High Accuracy: Up to 95% accuracy with EDC Noise Reduction Algorithm, ensuring clear translations even in noisy environments.
Impressive Technical Specs: The first to integrate a 12nm high-performance quad-core CPU, offering exceptional computing power and voice recognition.
Extended Connectivity: Comes with 2 years of free mobile data globally, connecting to over 200 wireless network operators.
Cons:
Limited Continuous Usage: The device offers a continuous translation time of only 3.5 hours, which might be restrictive for prolonged usage.
Size and Weight: While compact, its dimensions and weight might be a concern for users looking for ultra-lightweight devices.
Fluentalk T1 Handheld Translator Device Specifications
Continuous Translation Time
Wireless Network Technology
Dimension
4.59×2.30×0.01 in (116.8×58.6×11.2mm)
Weight
0.25 lb (115g)
Closer Look
The front of the box features a nice image of the T1 mini itself and lists some of its more prominent features.
On the back of the box, we can see some more of the features of the T1 mini translator device. It boasts a 95% accuracy and also gives you access to 13 language pairs offline
Getting everything out of the box and there is a quick start guide, a charging cable, a lanyard, and of course, the T1 mini translator itself.
While the device is small and will fit in your pocket with ease, it has a good weight to it and doesn't seem to fragile. I mean, I wouldn't suggest dropping it or anything, but it should survive a few bumps and knocks.
On the bottom of the T1 mini, we have two holes to connect the lanyard, the USB-C charging port, and the mic. As mentioned, the mic will allow us to translate almost anything we say in real time to a number of languages.
On the back is a small camera. This is going to allow you to take photos and have the text on the photos translated into a different language.
On the top, there is another mic which will come in handy when translating chats as the T1 mini will be able to better hear all participants. We also have a speaker and a power button on the top of the device as well.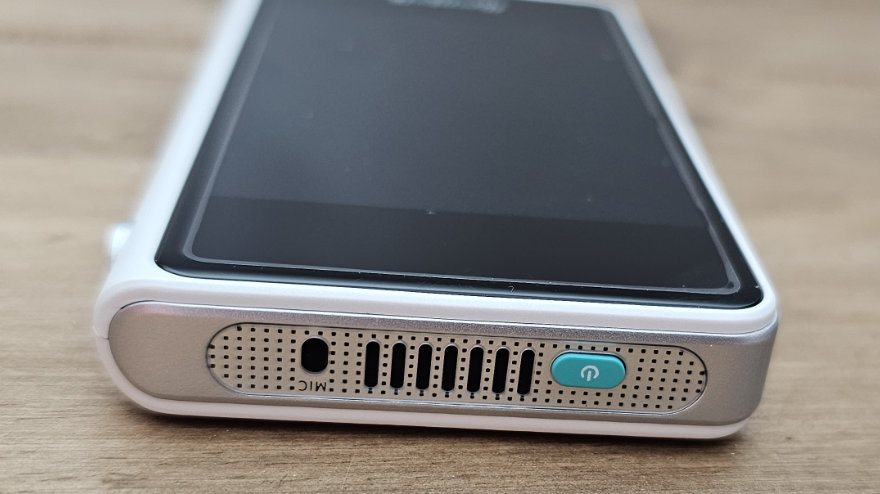 On the side, we have our push-to-talk button. This will allow you to speak in your native language and then have the device playback your words in another language. It will also have the text on the screen for both chosen languages as well so you can ready it to make sure it captured what you wanted to say perfectly.
Of course, a device of this nature such as the T1 mini would not be completed without a pair of volume buttons.
There are a number of settings which are all easily managed from the device itself. Choosing your WiFi network and brightness settings only take a matter of seconds.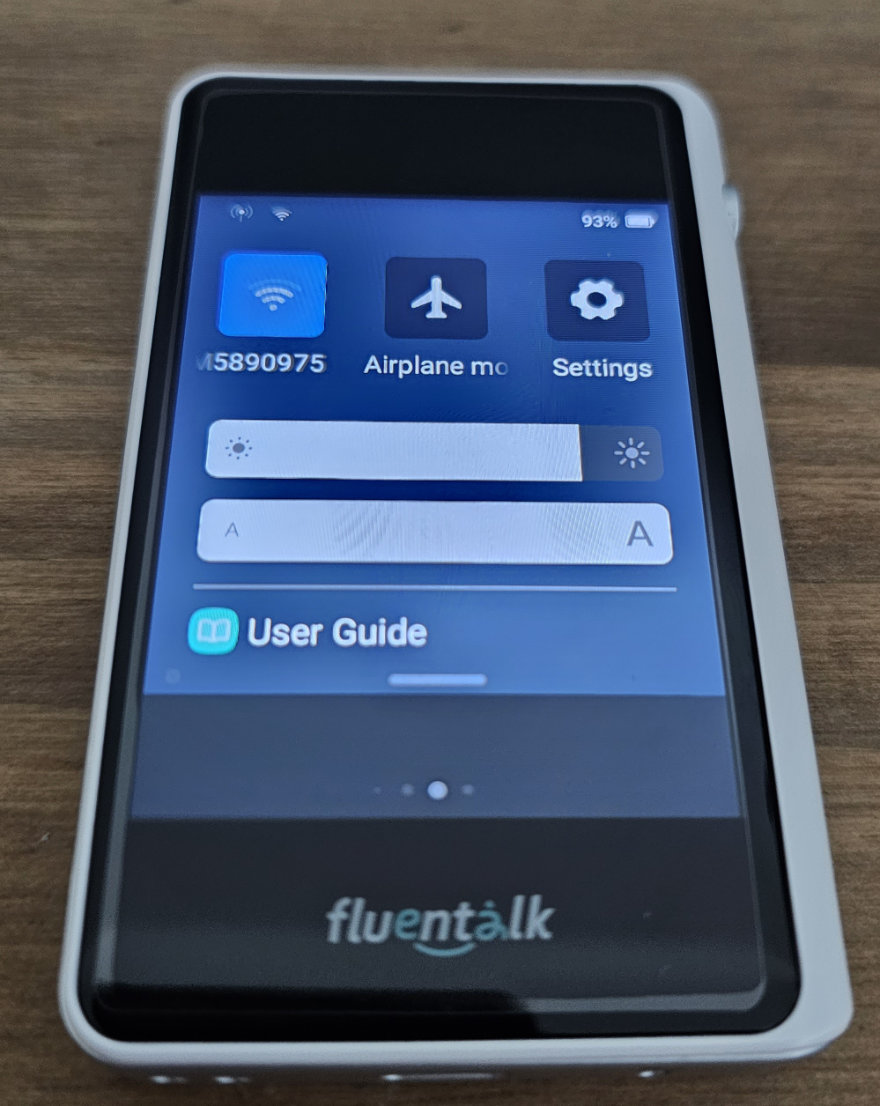 At anytime, you can check the storage space and free some up if need be.
You can even change the system language, check for updates, and find more info on your T1 translator right in the settings.
While the camera is not designed for taking photos, it is more than adequate for taking images of written text and translating them into another language.