Manufacturer: Kingston
Product Page: A1000
Purchase: £72.70 at the time of review from CCL
Storage is a very important aspect of any new PC build or even upgrade. With so many types of storage now available, how do we know which is best? A lot of people will know SSDs are king, but which ones? There are SATA 2/3, M.2, PCIe and even NVMe so it can easily get confusing if you're not in the know. Today, we are going to take a look at an M.2 NVMe drive from the holds at Kingston. They have sent in their new A1000 which is a shot at a more budget-friendly NVMe drive. M.2 drives as a whole are great as they can be connected to compatible motherboards without the need for any cables and they are generally twice as fast as a standard SATA SSD. The A1000 we are looking at today offers read speeds of up to 1500MB/s and write speeds of up to 1000MB/s which is sure to add a nice little boost to any PC or laptop. The A1000 comes with a limited 5-year warranty for peace of mind and with that being said, let's just into our closer look and find out if the A1000 is a worthy purchase or not.
Closer Look
As we are starting to see this become more regular, the packaging for the A1000 is very minimal. It comes in a plastic casing with a small bit of tape around it to make sure it doesn't come apart and allow the drive to fall out.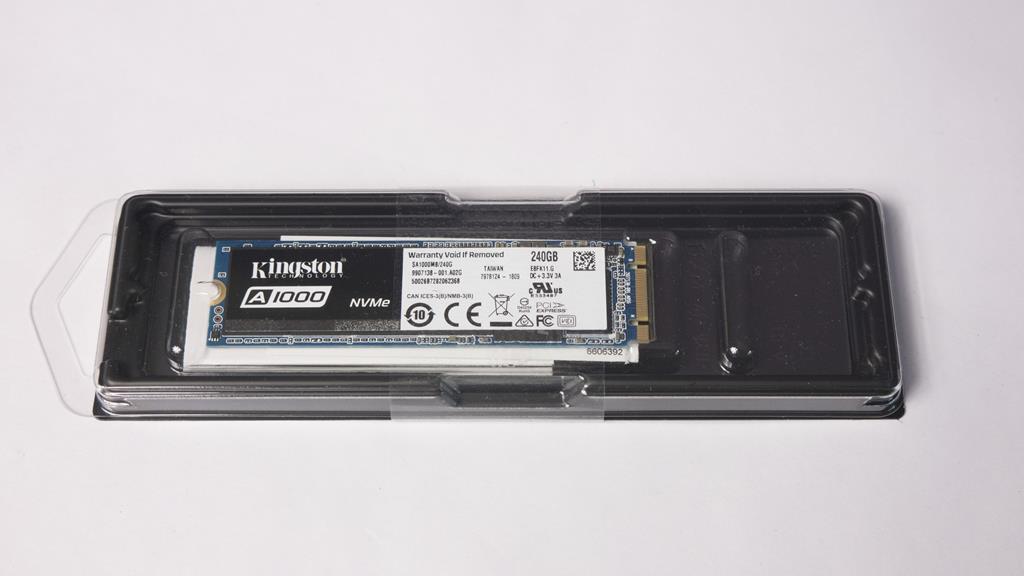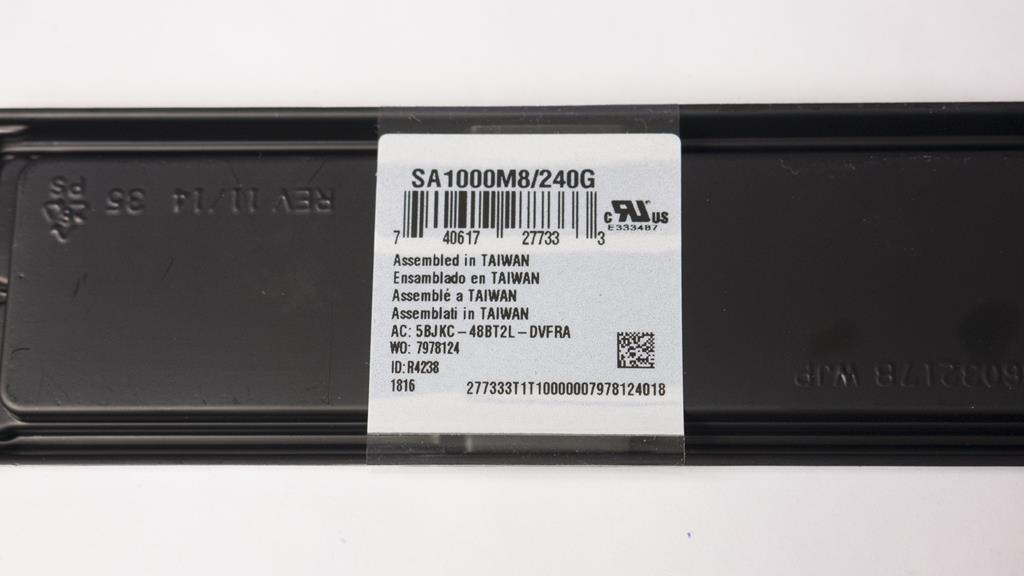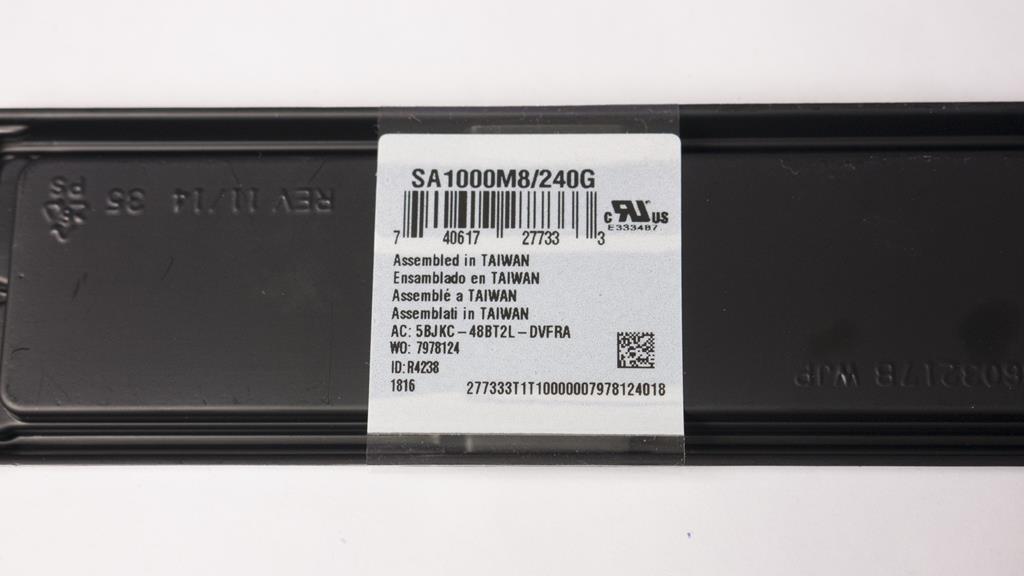 Inside the packaging, under the A1000 drive are a small getting started manual and a key for Acronis True Image HD Software which you can use to clone your SSD, backup or even recover it.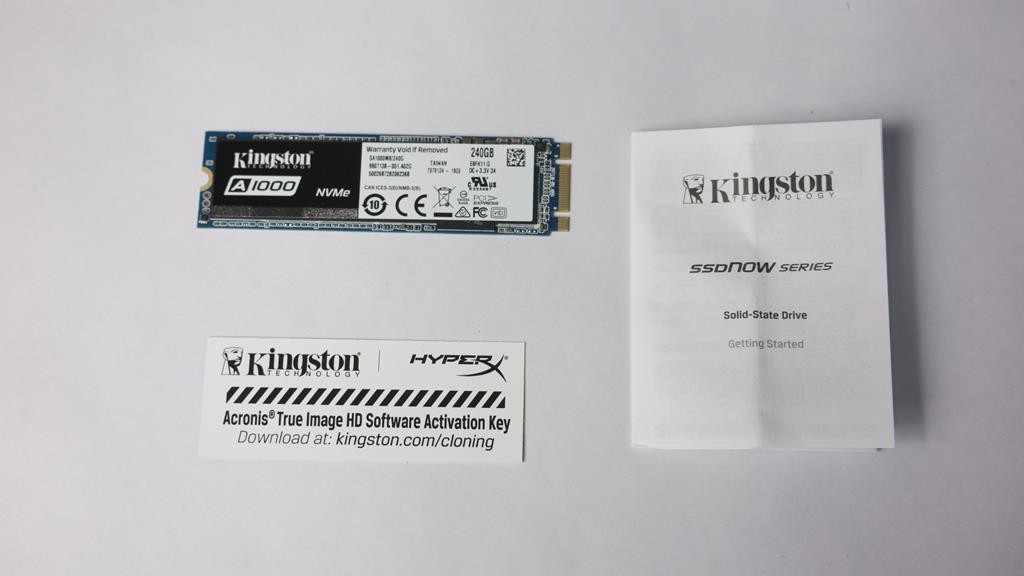 Looking at the drive and these are quite small if you haven't seen one in person before. There is a warranty void if removed sticker which also has some other information on it. Here we can see that we definitely have a Kingston A1000 NVMe drive and that the capacity is 240GB. There are also part numbers and serial numbers should the need for an RMA arise. This sticker also covers all the chips on the A1000 which is a bit of a bummer as the reverse side is blank!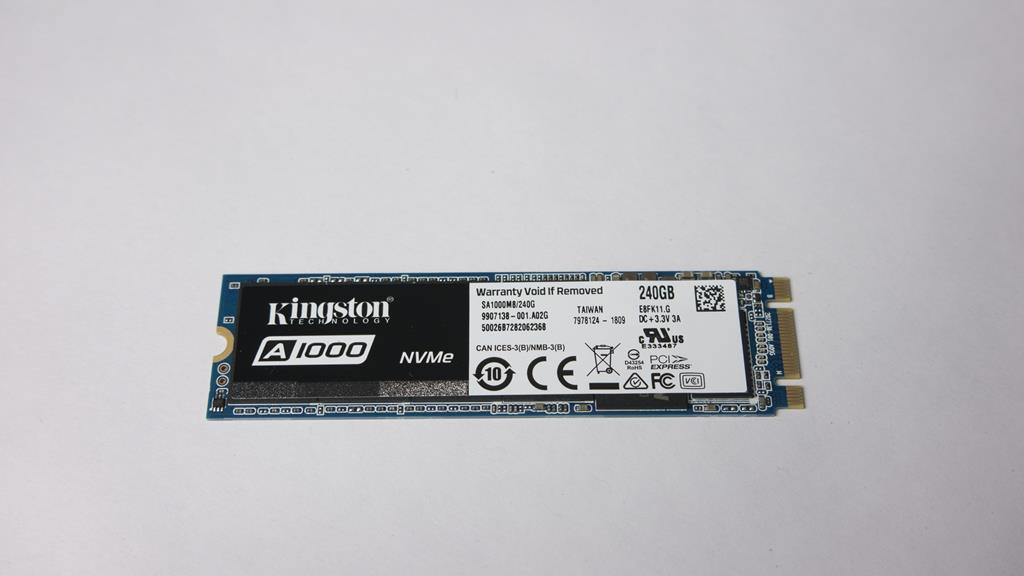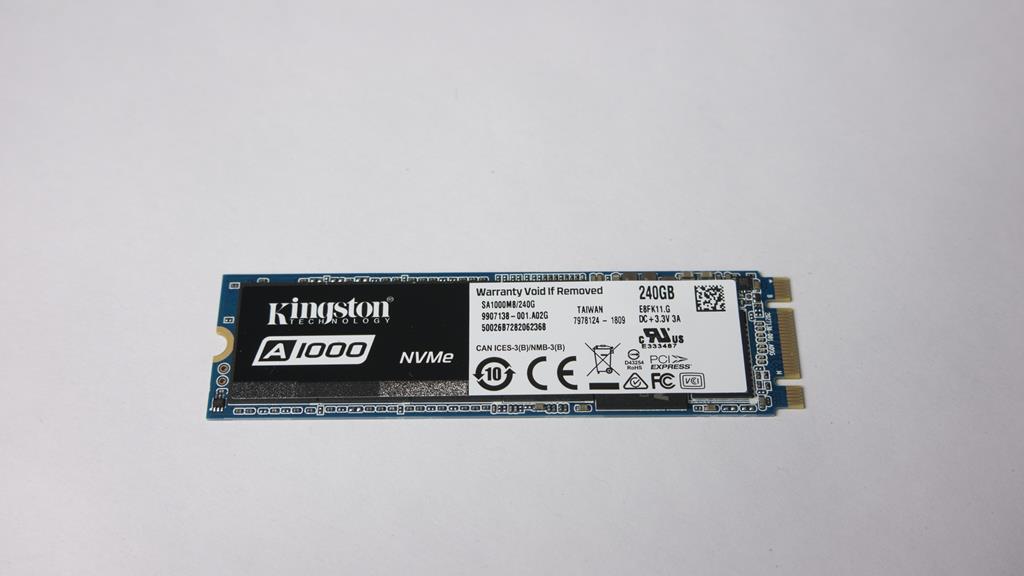 As mentioned, nothing to see on this side at all except for a blue PCB. Would've made sense to me to put the sticker on this side and allow users to view the Storage and Controller chips but I am sure there is a reason why they have done it this way. While I love blue, it would be nice to see this of had a black PCB on it as would allow it to fit in better aesthetically with a wider range of builds.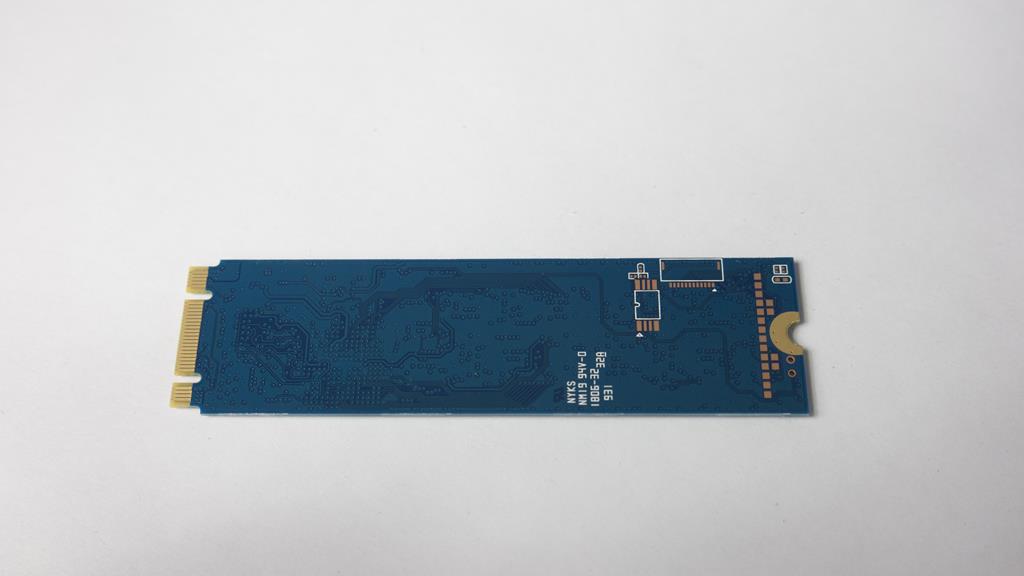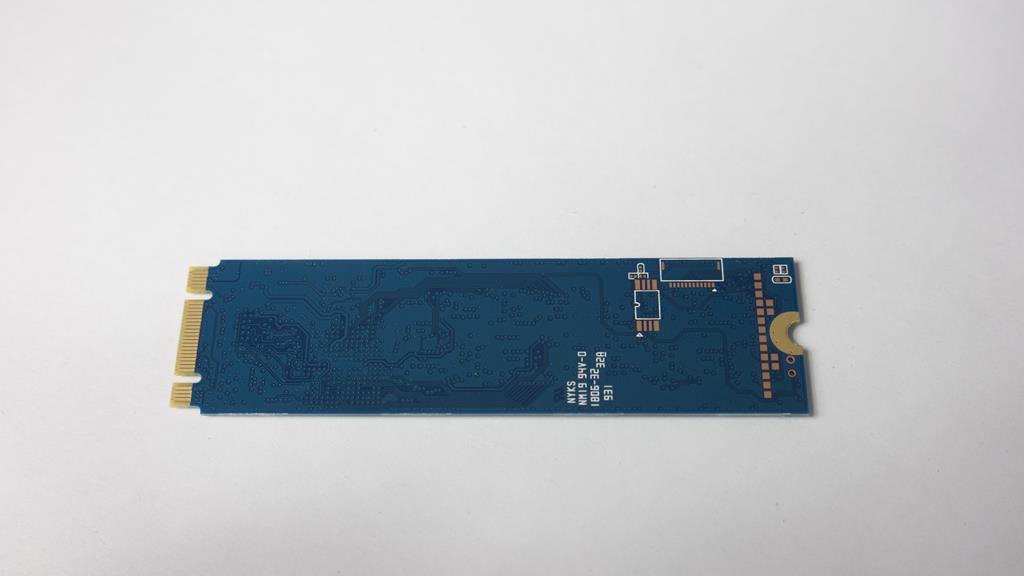 The A1000 comes with a Phison E8 controller and a 3D TLC NAND. While all capacities of this drive are rated to give 1500MB/s read speeds, the 240GB model on hand is only rated for 800MBs write speeds, which is still pretty fast. The is a 2280 M.2 which simply means it's 22mm wide and 80mm long.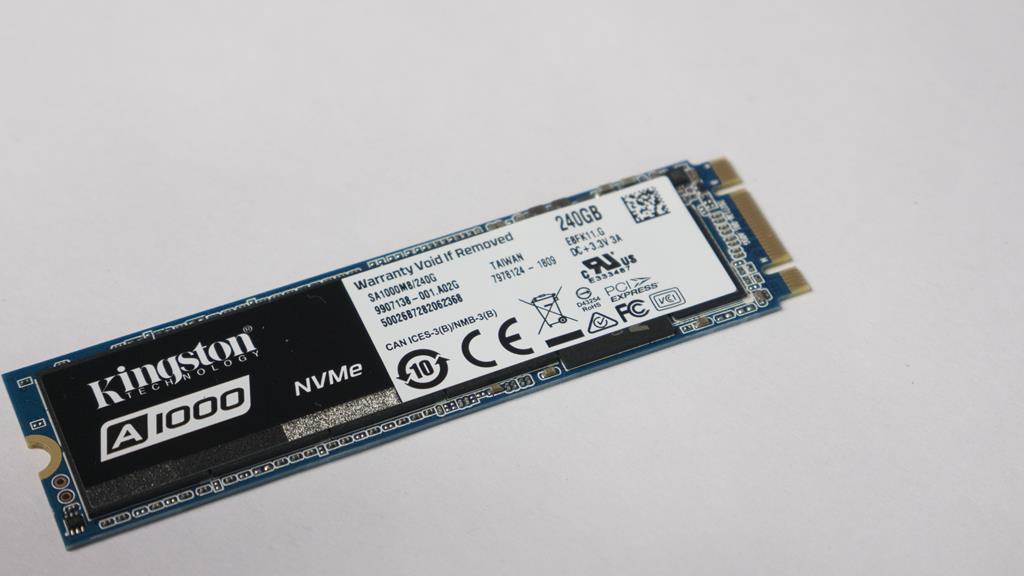 With 240, 480 and 960GB models available there is sure to be something for everyone. as we saw, the 240GB comes in at around £73 here in the U.K. which is a good price for what is on offer. The A1000 is a PCIe NVMe™ Gen 3.0 x2 2280 M.2 SSD. Being PCIe will help to save some of the SATA slots on your motherboard should it support and be able to utilize a PCIe SSD.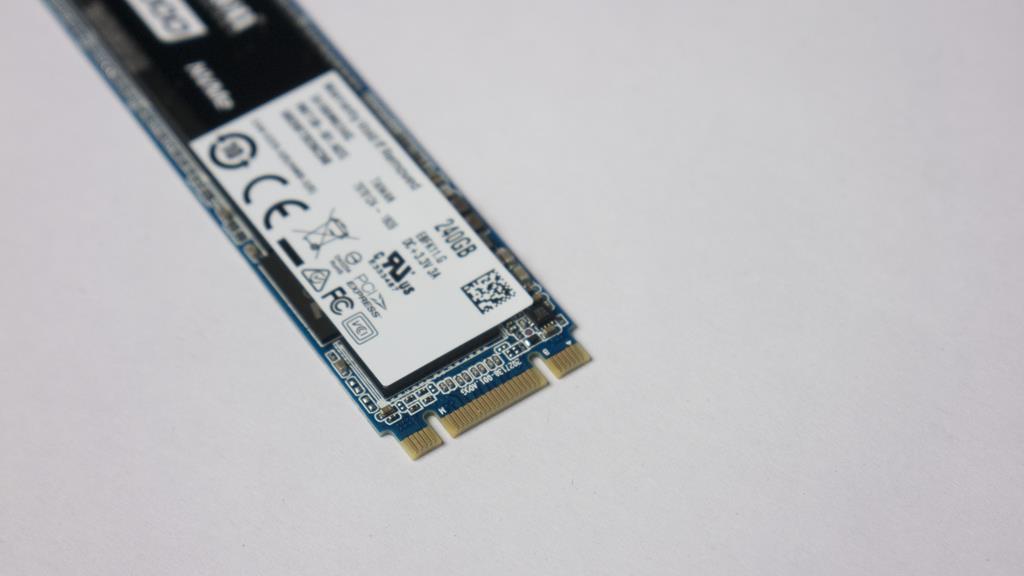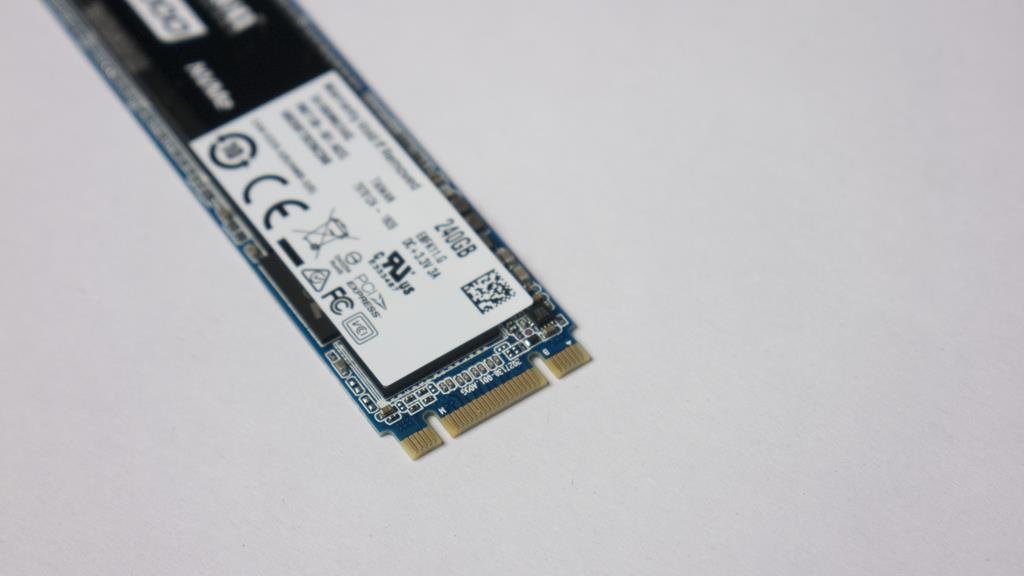 Test System
Windows 10 with all the latest updates
Intel i7 5820K
ASUS STRIX X99
ASUS STRIX RX 480 8GB
16GB Ballistix Sport Elite 3200Mhz 4x4GB
be quiet! Pure Power 10 600W
be quiet! Pure Base 600
Benchmarks
Anvil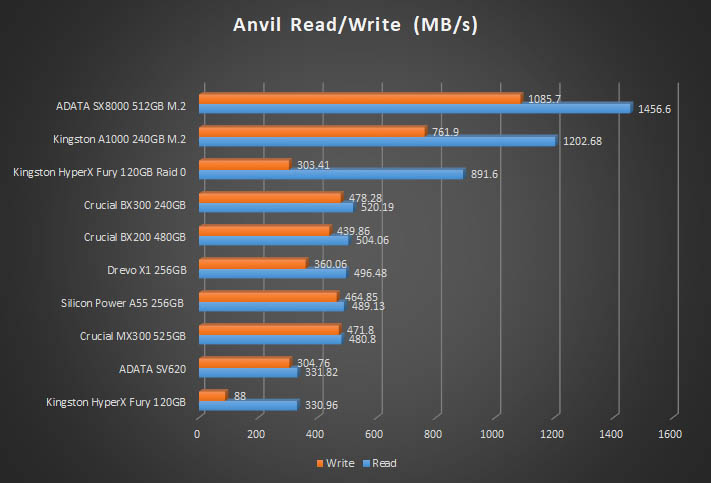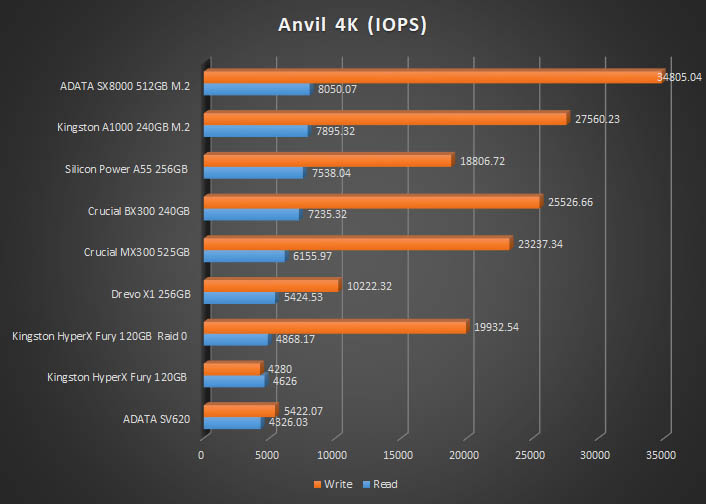 AS SSD
CrystalDiskMark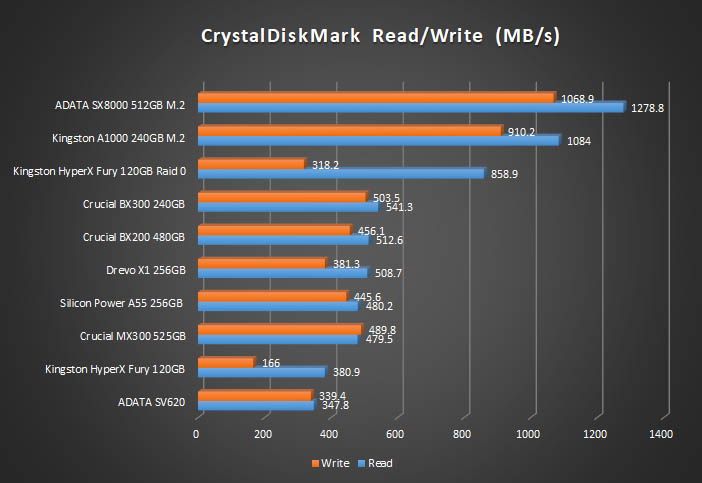 Conclusion
Performance and Design
The A1000 offers some pretty impressive performance for what it is and we managed to just about hit the rated speeds. While we could get better than the rated write speeds, we fell a bit short of the rated read. Topping out at 1444MB/s when the rated speed is 1500MB/s really isn't the end of the world though. Having run these test multiple times on different days, the results were always very familiar which is great to see. Consistency is always an added bonus, especially at these types of speeds. The 4-Channel Phison E8 controller and 3D NAND flash are a good combination for offering decent speeds. Looking back at our benchmark results and we can see the A1000 drive only gets beat out by another M.2 drive that has twice the capacity so no real surprises there. Bigger drives generally always perform a bit better and it would've been nice to test a larger A1000 but we're thankful for the 240GB model we had. Overall the drive performed as we would hope and this is surely in part due to the design and choosing of the components that this drive is comprised of.
Value
Coming in just shy of £73 here in the U.K. at the time of review, this drive offers a very attractive price point. While other companies are now starting to offer similar drives for near prices, Kingston is definitely a name we know and can trust. Let us also just remember that this drive comes with a 5-year warranty on it for peace of mind. If you are currently shopping around for a bit of extra storage and can accommodate a M.2 drive in your build, you will definitely want to check out the A1000 which we had on review here today.  For the price, you are getting a great performing drive that comes backed with a great warranty to ensure you can make the most of it for years to come!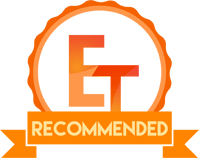 Many thanks to Kingston for sending in one of the A1000 NVMe SSD for review.