When it comes to the world of storage, there are so many options in 2015! Do you need internal, external, or would you rather use the cloud? If you want to manage things yourself and go the internal route, are you using a PC or laptop? Do you need an SSD or HDD? It all sounds a lot more complicated than it needs to be though there is a mass of options available for you to choose from. Personally, I would recommend a healthy mix of an SSD for your Operating System and favourite programs and games, then a standard HDD for storing all your movies and music on, especially if you don't move them around much.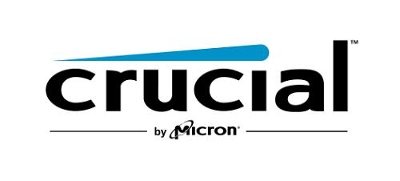 Today I will be taking a look at the Crucial BX100 250GB SSD which comes with a price tag of £63.39 on Amazon UK at the time of review. The 250GB variant of the BX100 boasts a 535 MB/s Read and 370 MB/s speed which is fairly impressive. One thing to take note of, generally speaking, the bigger the size of the SSD, the faster it will be. It is a standard 2.5″ form factor and is based on a standard SATA3 6.0Gb/s connection. Coming with a 3-year warranty, it will be nice to see how well this SSD holds up, but first let's take a closer looks at the specifications and SSD itself.
Product Specifications
Brand
Crucial
Form Factor
2.5-inch internal SSD
Capacity
250GB
Warranty
Limited 3-year
Specs
Crucial BX100 250GB SATA 6Gbps 2.5″ Internal SSD • 535 MB/s Read / 370 MB/s Write
Series
BX100
Product Line
Crucial SSD
Interface
SATA 6.0Gb/s
Device Type
Internal Solid State Drive
Unit Heigth
7mm
Form Factor
2.5-inch (7mm)
Package Content
2.5″ (7 mm) SSD 7 mm – 9.5 mm spacer; Acronis® True Image™ HD software certificate for free data transfer
As this is an SSD, the packaging is rather small and simple! Crucial have still done a good job making it look nice as to grab any potential customers attention. On the front, we can see the size of the drive down in the bottom left, as well as the model towards the top right corner. On the back, we have a list of what is in the box, which is simply the SSD and a 7.5mm to 9.0mm spacer as well as an indication of where to go should we need help installing it.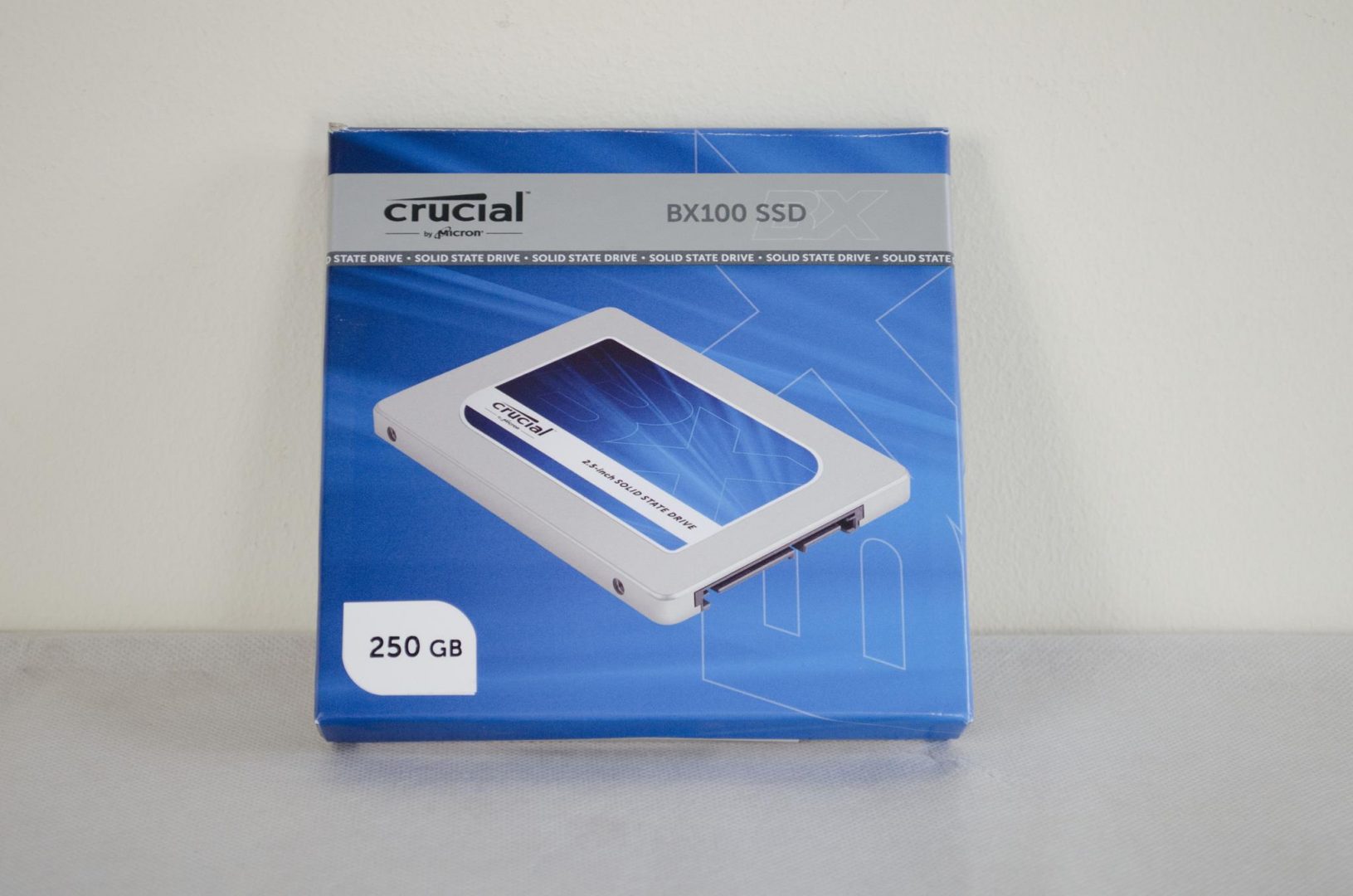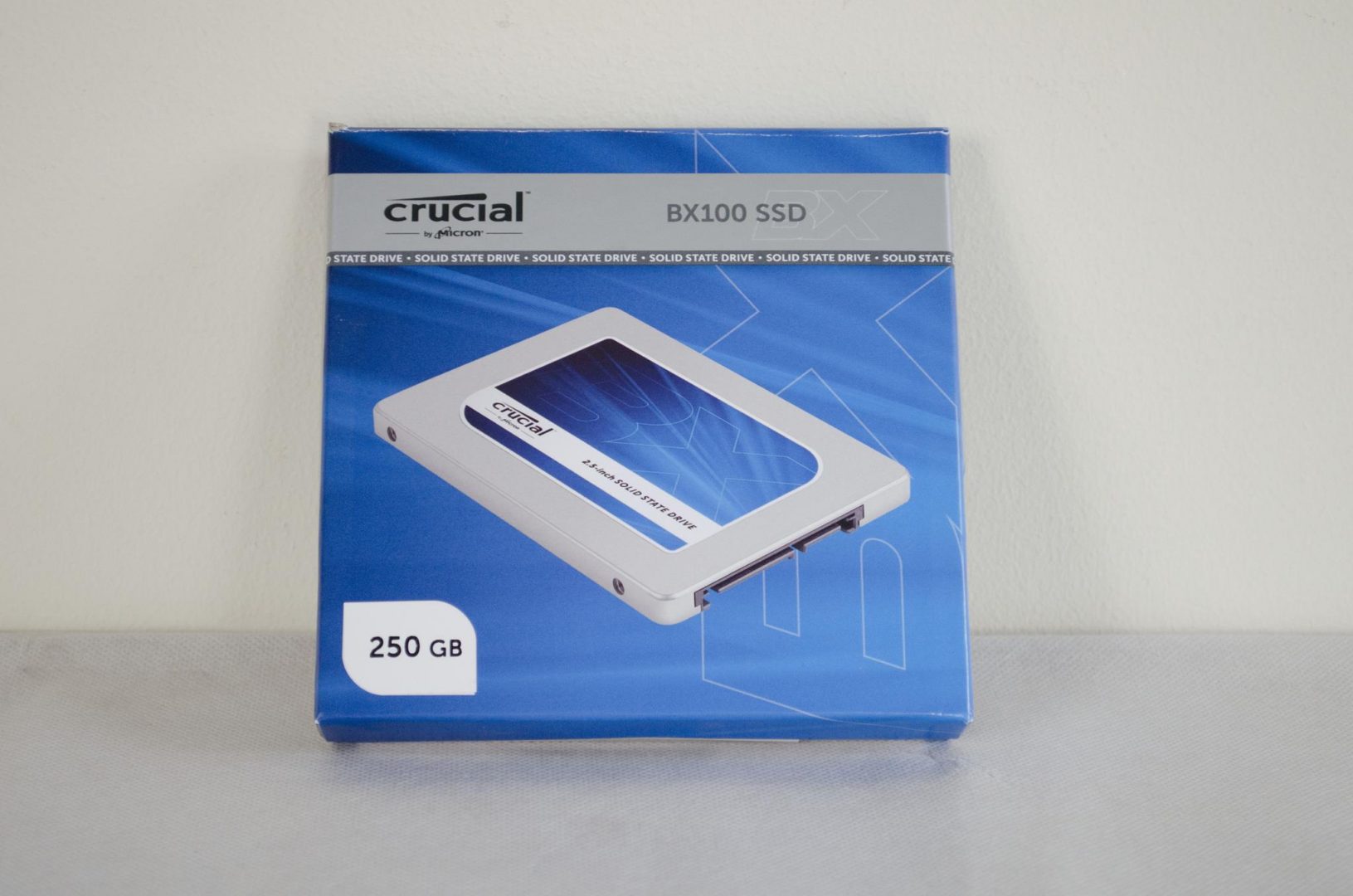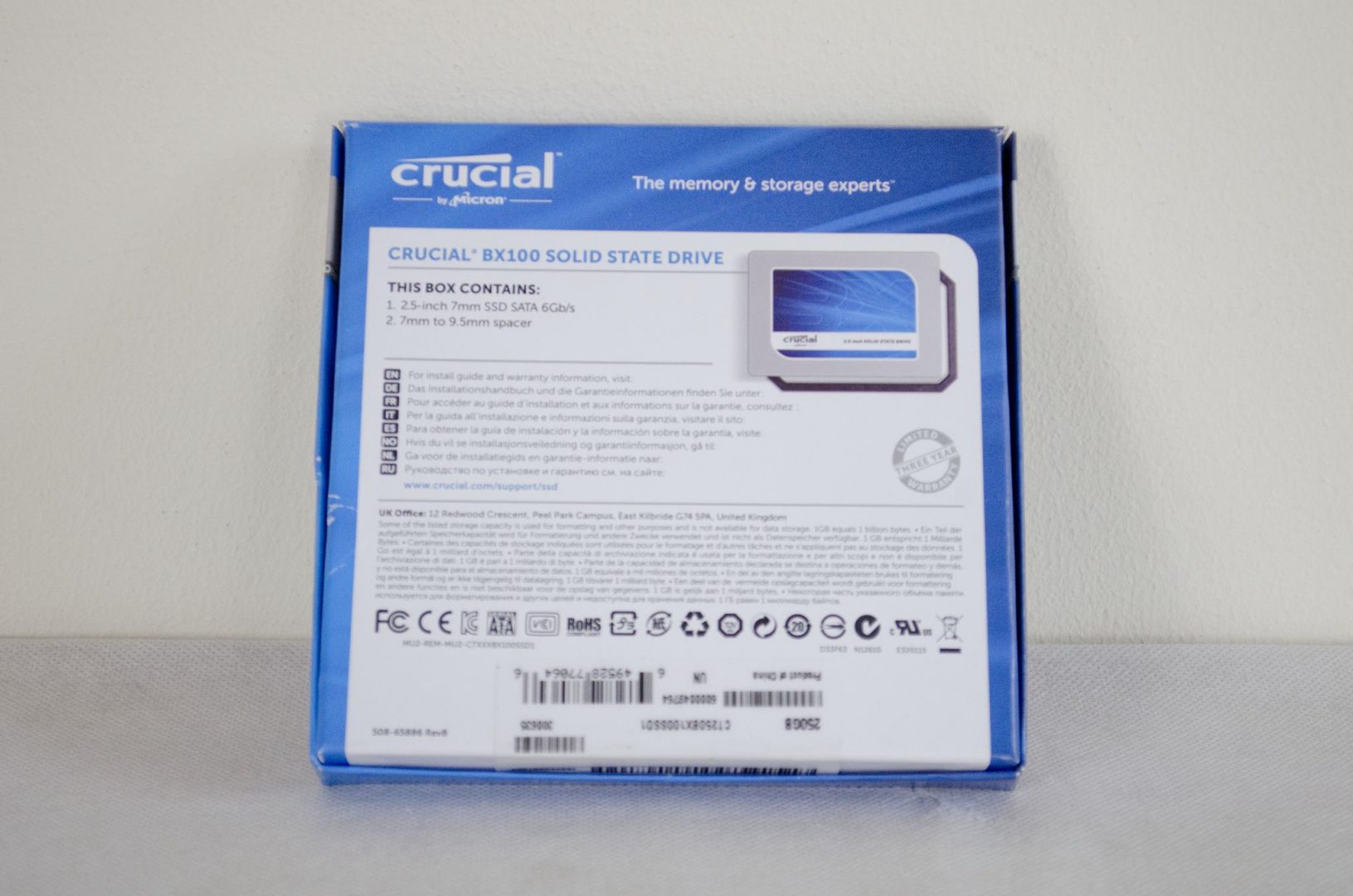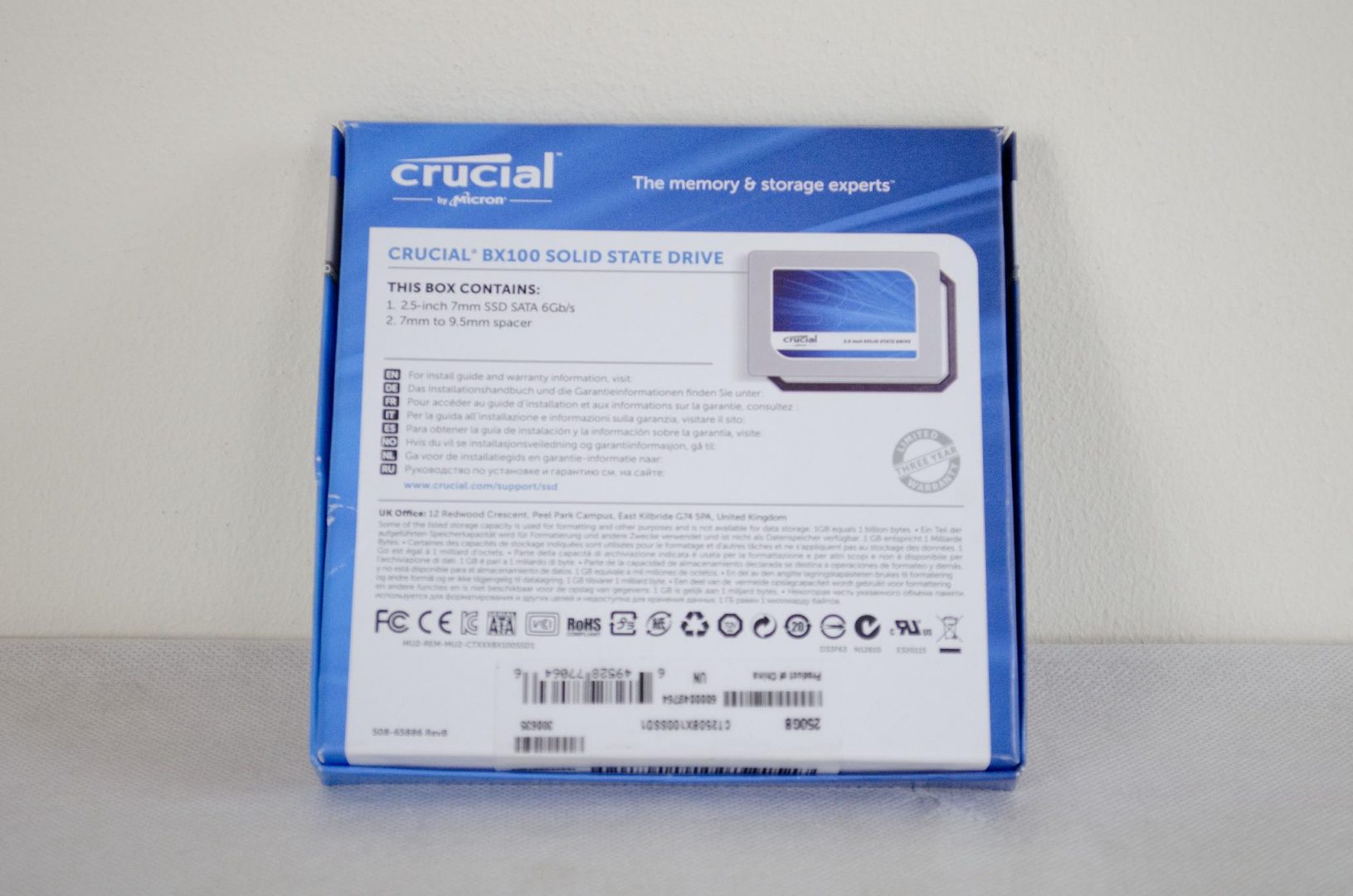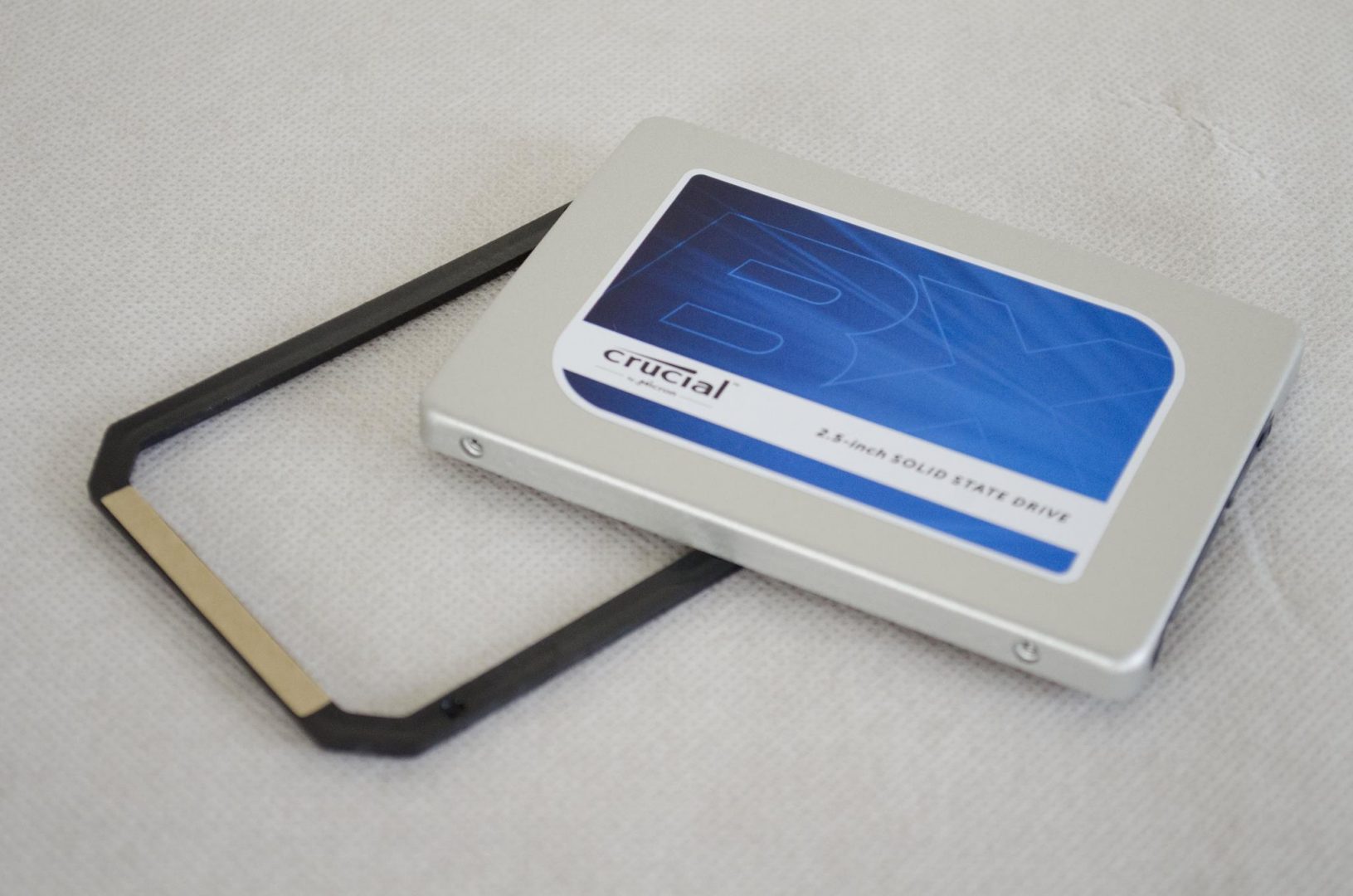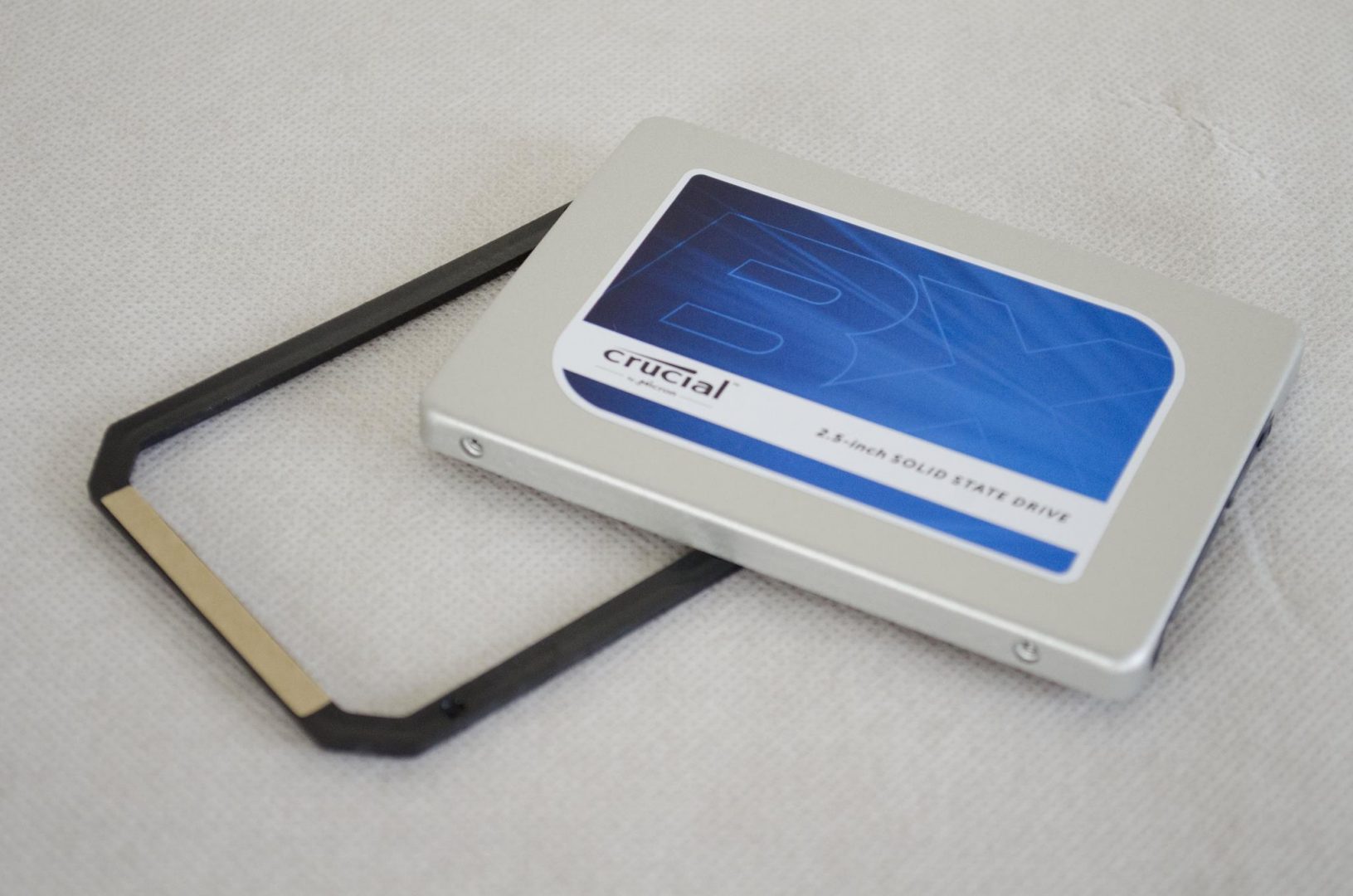 While I didn't have time to open up the SSD and get the proper specifications, you can guarantee Micron have used their own memory and controller in the BX100 and as such, I know the quality is top-notch. I have had previous BX100 SSD's and never an issue with them, just due to time constraints I didn't have time to properly inspect and photograph this one.
The driver itself is a nice silver colour with a blue sticker on the front which is reminiscent of the box. On the back side of the drive are all the model, part and serial numbers that hopefully most people will never need, but in the case of an RMA, they are there.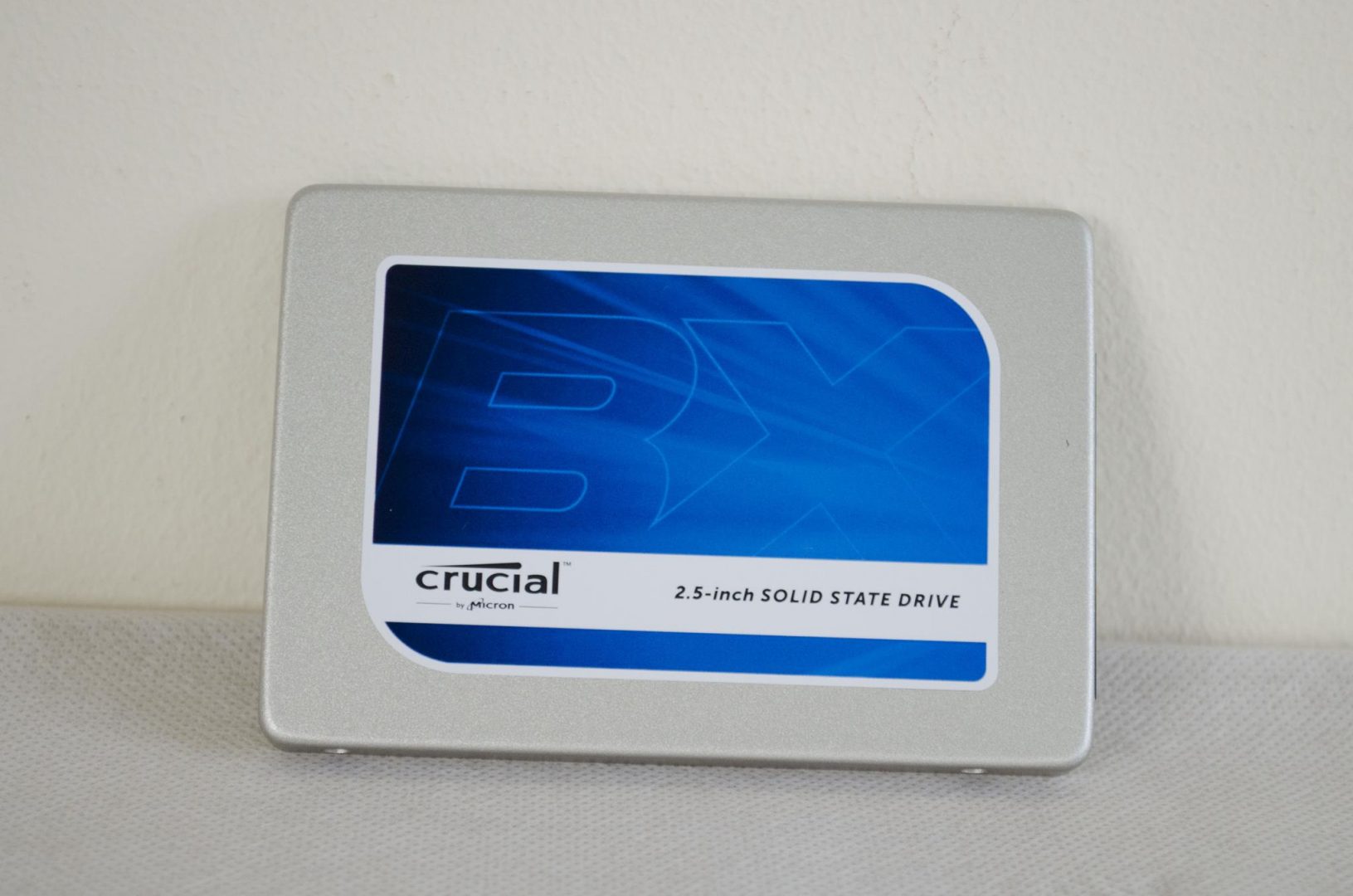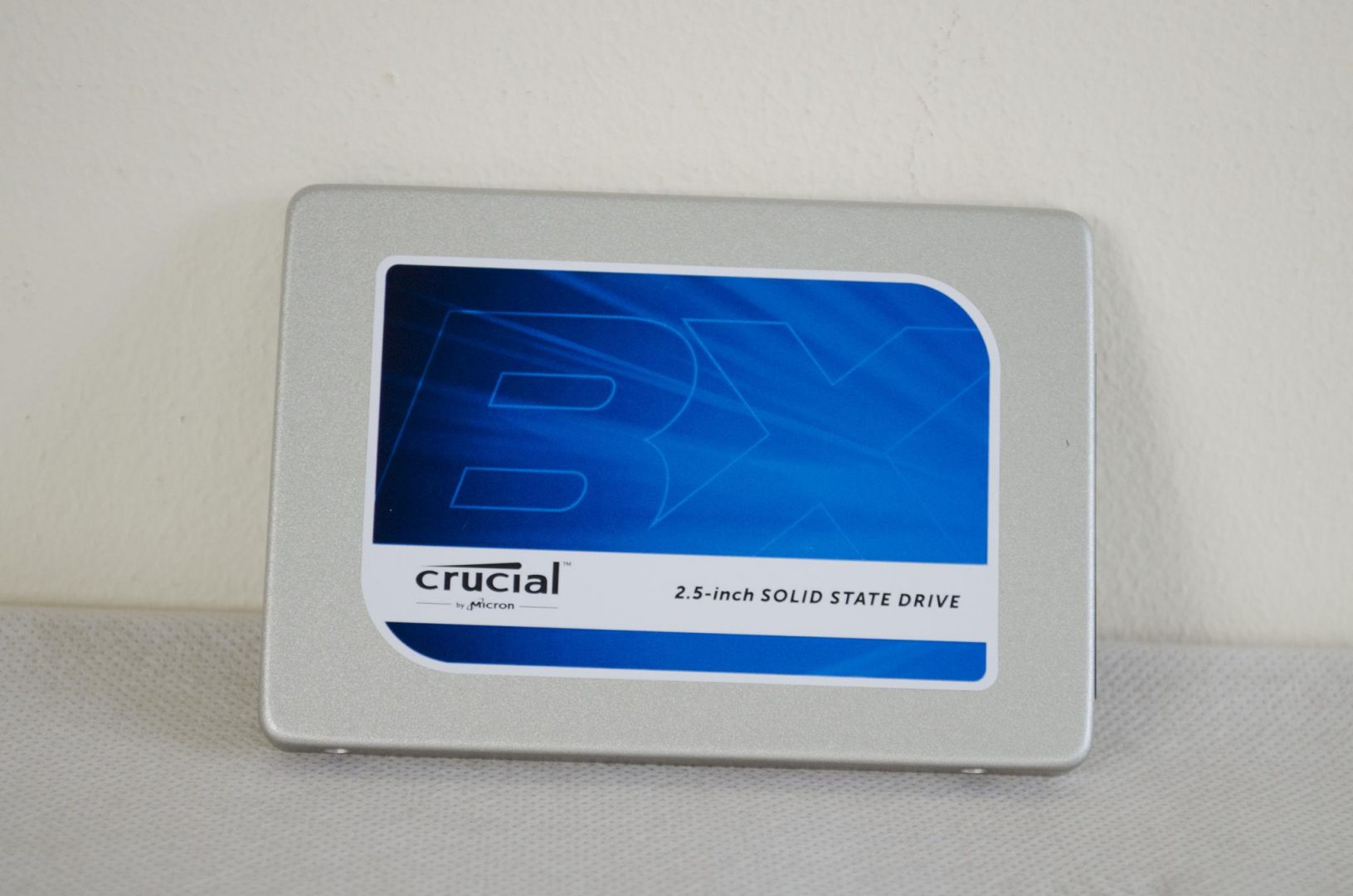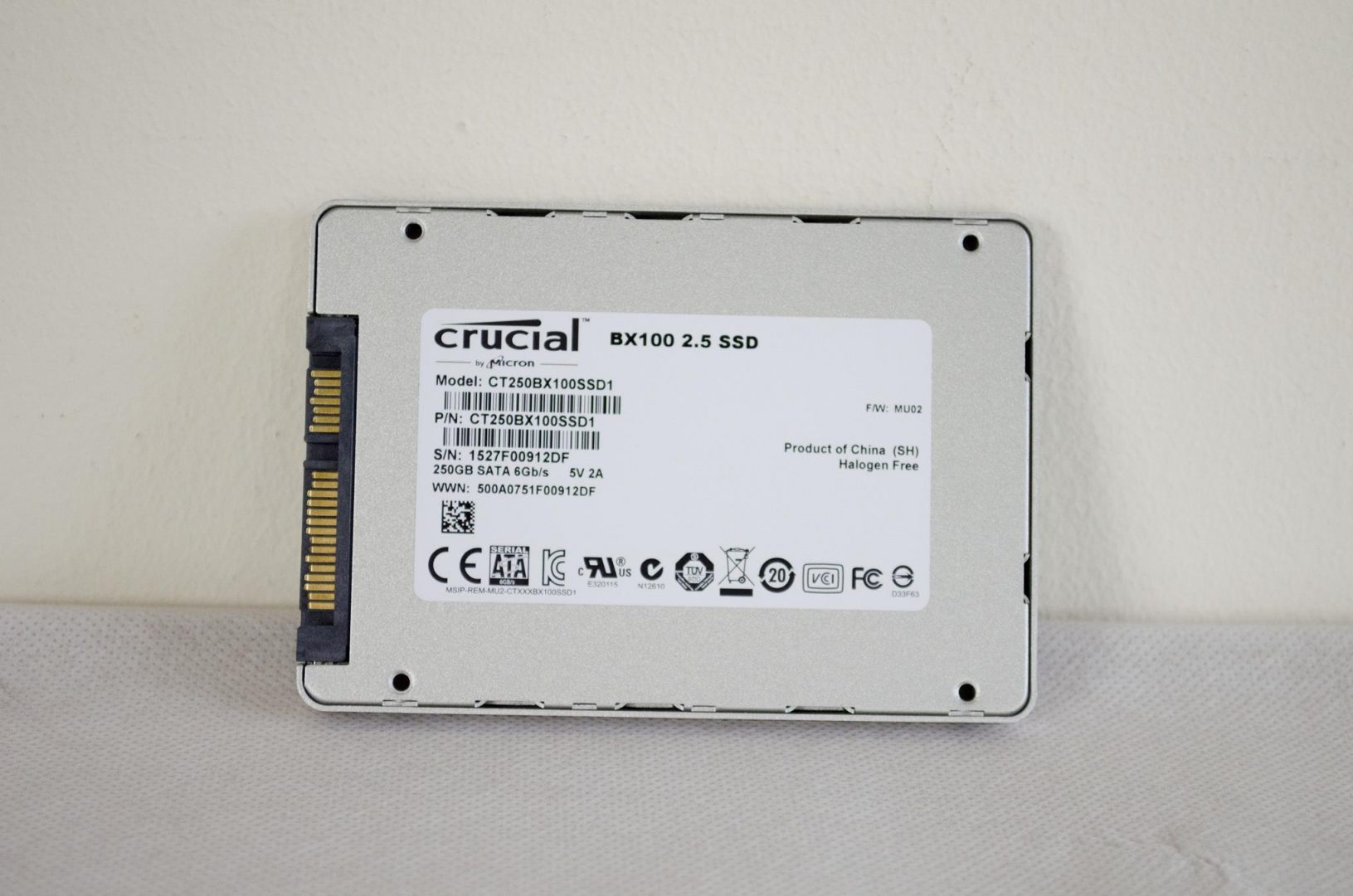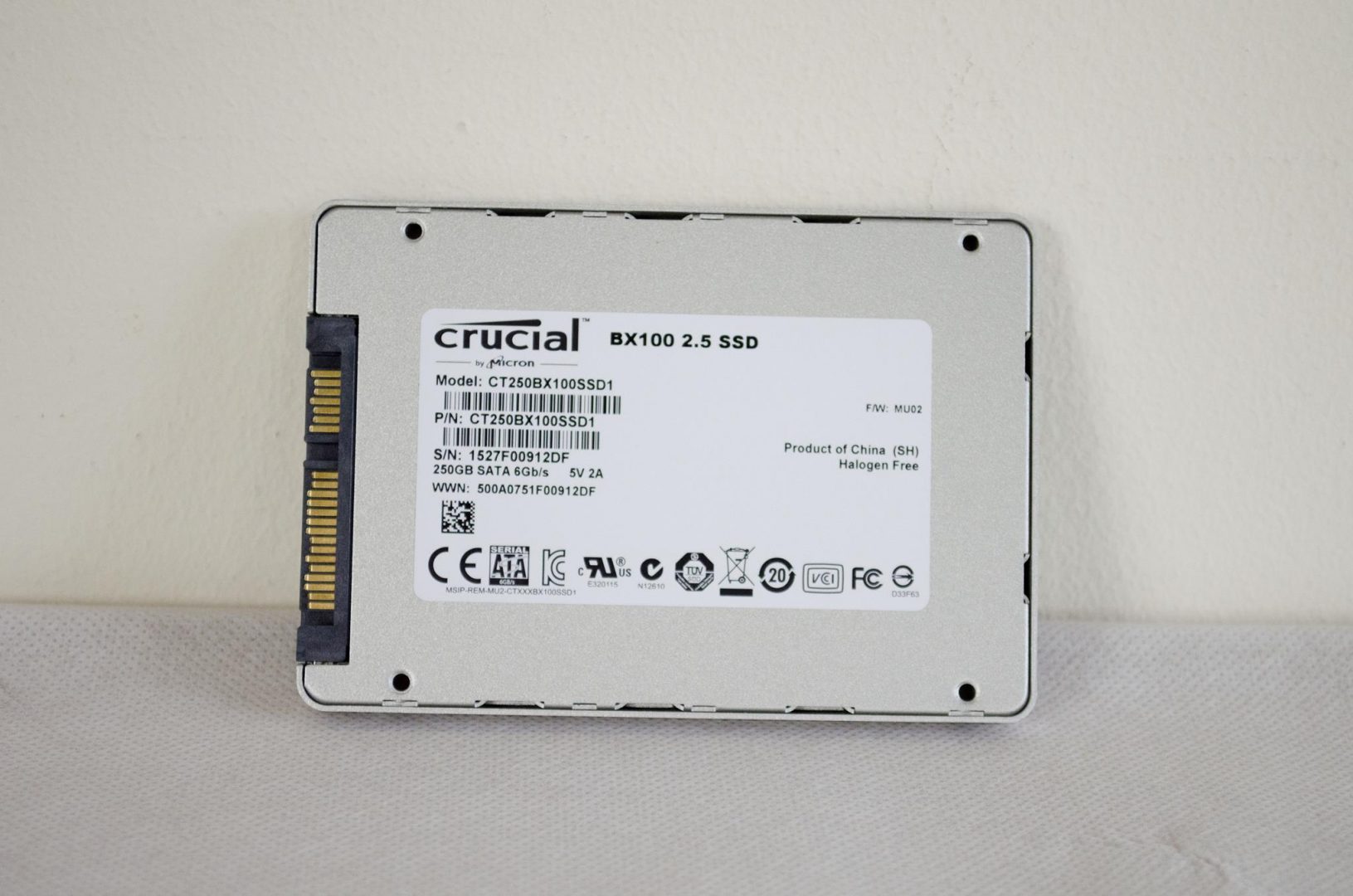 Test System and Performance
Test System
Motherboard – ASRock Z97 PRO3
CPU – Intel Core I5 4690K
RAM – AVEXIR Core Blue Series 1600MHz 2x4GB
Graphics – Gigabyte GTX 970 Windforce 3x
Power Supply – EVGA NEX650G
Benchmarks
To test the performance, I ran a few of the more standard benchmark programs used for testing storage devices.
AS SSD – Test the sequential or random read/write

performance

without using the cache. AS SSD Benchmark reads/writes a 1 GByte file as well as randomly chosen 4K blocks. Additionally, it performs the tests using 1 or 64 threads and it determines the SSD's access time.
Anvil – Anvil's Storage Utilities is a powerful tool that was designed in order to provide you with a simple means of assessing the read and writer performance of your Solid State Drive or Hard Disk Drive.The benchmark tool helps you monitor and check the response time of your unit as well as view the system information collected using Windows Management Instrumentation (WMI).
ATTO – As the industry's leading provider of high-performance storage & network connectivity products, ATTO has created a widely-accepted Disk Benchmark freeware utility to help measure storage system performance. As one of the top tools utilized in the industry, Disk Benchmark identifies performance in hard drives, solid state drives, RAID arrays as well as the host connection to attached storage. Top drive manufacturers, like Hitachi, build and test every drive using the ATTO Disk Benchmark.
CrystalDiskMark – Another benchmark program designed to measure the read and write speeds of storage drives.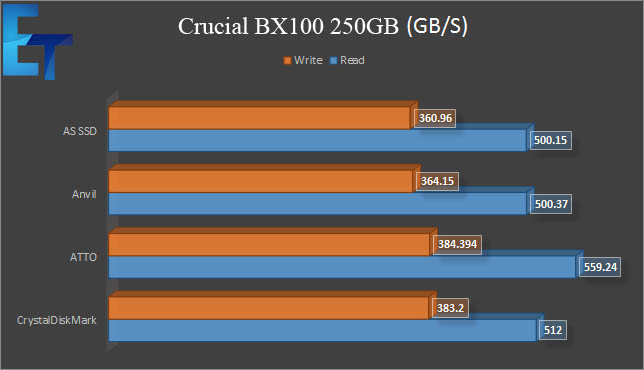 Unfortunately, at this time I don't have any other SSD benchmarks to compare this to for my site though I have tested various SSD's and can give you my full opinion on this one here today.
When it comes to performance, one thing to remember is that results may vary depending on the test system used. However, VIA all my testing, I was able to hit both the stated read and write speeds for the BX100 in at least one program. I know some people may be looking back at the write speeds thinking they are a bit slow, but it is worth remembering this is the 250GB version of the BX100. The 500GB and 1TB feature a faster 450MB/s write speeds. All in all, I was able to hit the stated speeds so there is really not too much that can be said about the standard read and write performance.
On to the design and well, it's an SSD, there's not a whole lot going on with it aesthetically though it does look quite nice with the blue and silver styling. As mentioned, I didn't have time to open it up and get all the proper details to speak on it from an engineering design point. However, what I can tell you is that the drive is designed to last and it comes with an MTBF rating of 1.5 million hours, were as Crucial claim a standard hard drive only has a 0.6 million rating. It's also worth noting that Micron is one of the largest flash based storage manufacturers in the world, which should offer a bit of a piece of mind.
Taking a quick look around Amazon UK and the Crucial BX100 is right in the middle of the price war, there are a few cheaper and a few more expensive drives out there. This is excellent as the performance offered by the other drives isn't noticeably better and while some may come with a bit longer warranty, the 3-year warranty on the Crucial BX100 is decent. All in all, you are paying for a drive that performs well and comes with a decent warranty for just under £65.