Introduction
SECUREDATA was started in 2007 in Los Angeles, CA as a LAB data recovery and forensics provider with the mission to become the most secure and sole source for customers to protect, backup, repair, recover and analyze their digital data. Over the years they have expanded their cleanrooms and drop-off locations in North America to meet their growing base of customers and the demands that come with growth. By 2015 SECUREDATA has transitioned and grown to the point of being a one-stop solution for all data recovery and security needs.
Today SECUREDATA has sent over the SecureUSB BT 16GB, a compact and heavily encrypted on the hardware level USB stick. The SecureUSB BT is just like its bigger brother the SecureDrive BT 1TB SSD we recently took a look at, feature-packed and fast enough for its purpose. On modern USB3.0 interfaces, I was achieving upwards of 70mbps write and 156mbps read which is the main thing I am worried about when using a USB stick type device. How fast can I get my files on there and move to the next system I need to be at.
The SecureUSB BT comes remote management ready via a separate subscription-based service which can be purchased for $24.95 per device per year. The Remote Management features allow set Admins remote access to drives, including User Accounts, GeoFencing, TimeFencing and handy Remote Wipe features using a Web Portal, without any software installed on the Host Machine.
Features
FIPS 140-2 Level 3 Complaint Design, AES 256-bit Hardware Encryption
Wireless Unlock via Mobile App. 2 Factor Authentication via Text
IP57 Rated. Dust and Water Resistant
No software, OS Independent (Works on and with any OS)
Unique Password Recovery features via Text
Remote Data Wipe if device lost or stolen
Read Only Mode, Device Stem Away Autolock
Malware Protection: Preloaded with USB Antivirus
Benefits and Differentiators
4GB, 8GB, 16GB, 32GB, 64GB and 128GB options
FIPS 140-2 Level 3: In-Process
Awards: Red Dot 2019 Award Winner | CES 2019 Innovation Award Honoree
Remote Management Ready – Learn More
Convenient Unlocking Options – TouchID, FaceID, Face Recognition, Fingerprints (iOS & Android)
Password Recovery, 2FA, Remote Wipe
Hardware Encryption – AES256-bit XTS
OS Independent. Works across and with any OS and Devices
Secure Wireless User Authentication via Mobile Phone / DataLock® App (iOS/Android)
Useful Locking Step-Away Option
Admin/User Mode, Read-Only Mode, Time Out Auto-Lock
3 Year Limited Warranty
Specifications
Closer Look
This time instead of a slightly larger plastic container containing your drive the SecureUSB BT comes in the pretty much what all USB sticks come in a plastic clamshell package. The front shows a few keywords SECURITY|BACKUP|ANTIVIRUS as well as along the bottom you see several icons showing features of the device. The back of the package has the Three easy steps setup guide, as well as your system requirements which again is very lite meaning its OS Independent, list of benefits and company info.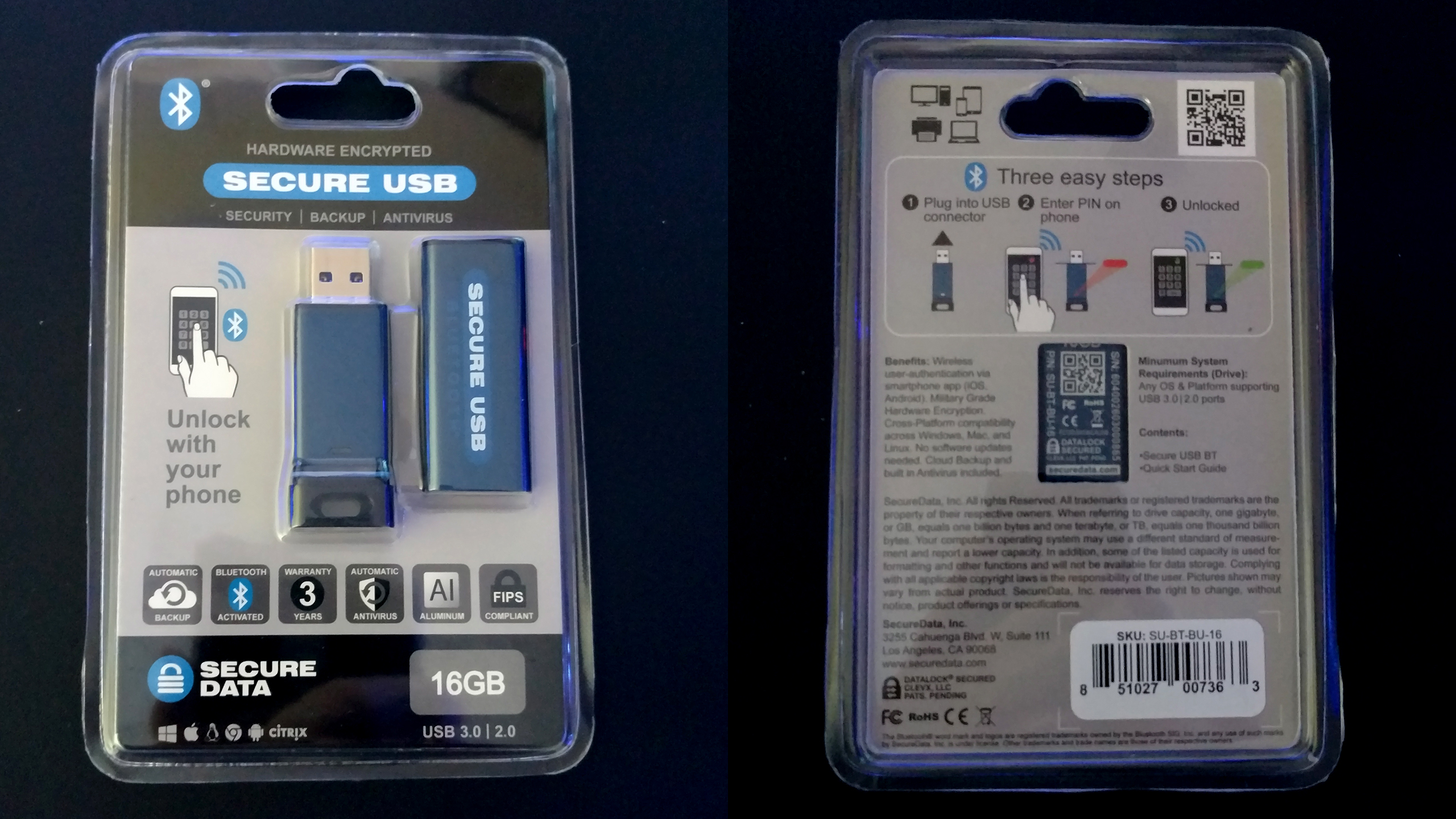 Again SECUREDATA is providing a quality feeling product. I have had a few really nice drives made out of Aluminum and dense hard plastics, but the SecureUSB BT comes made metal in and out and a full enclosure with rubber seal. So no fears of moving around campus during a storm.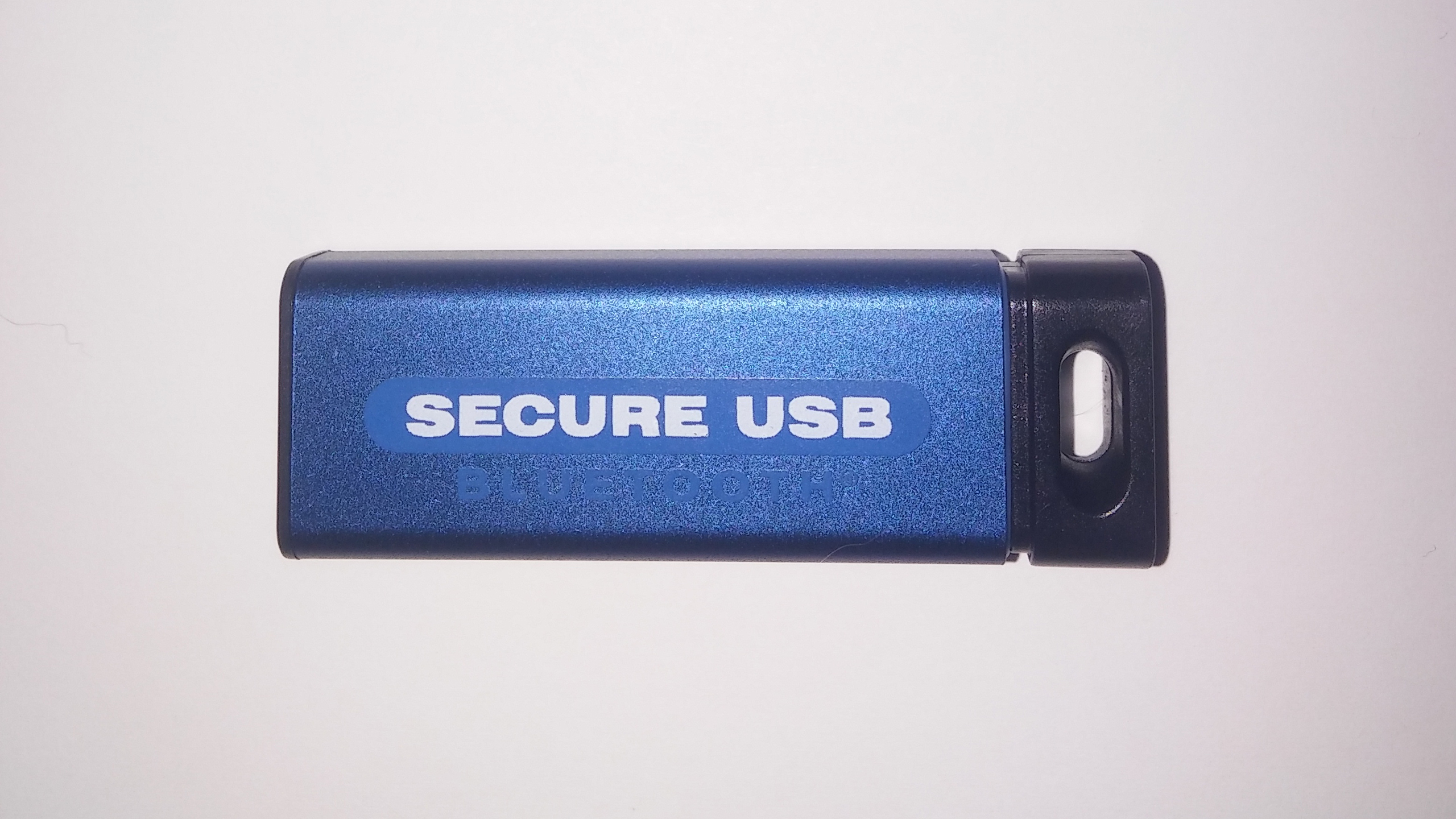 The back of the USB stick is pretty basic with no major identifiers or anything like that.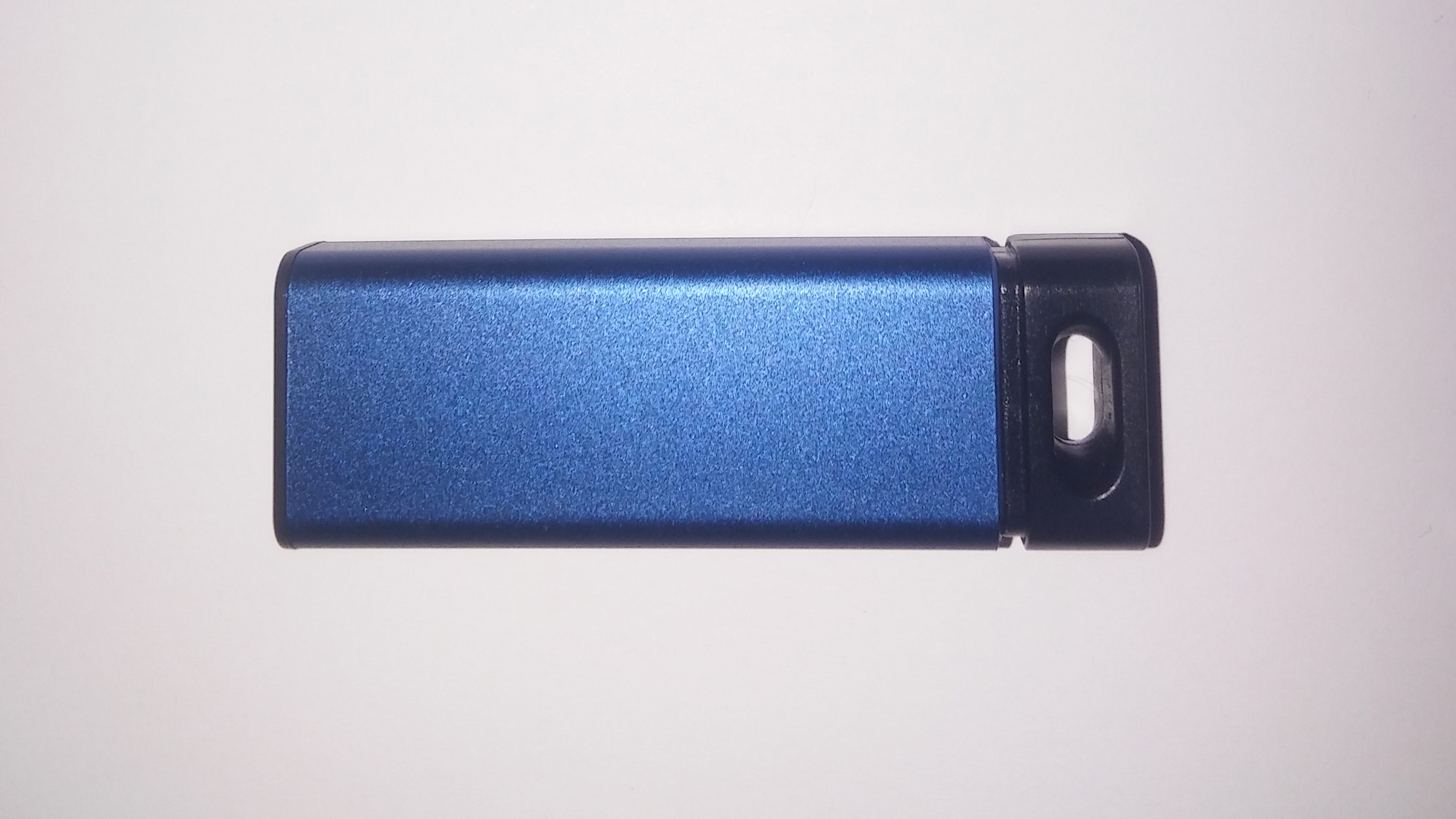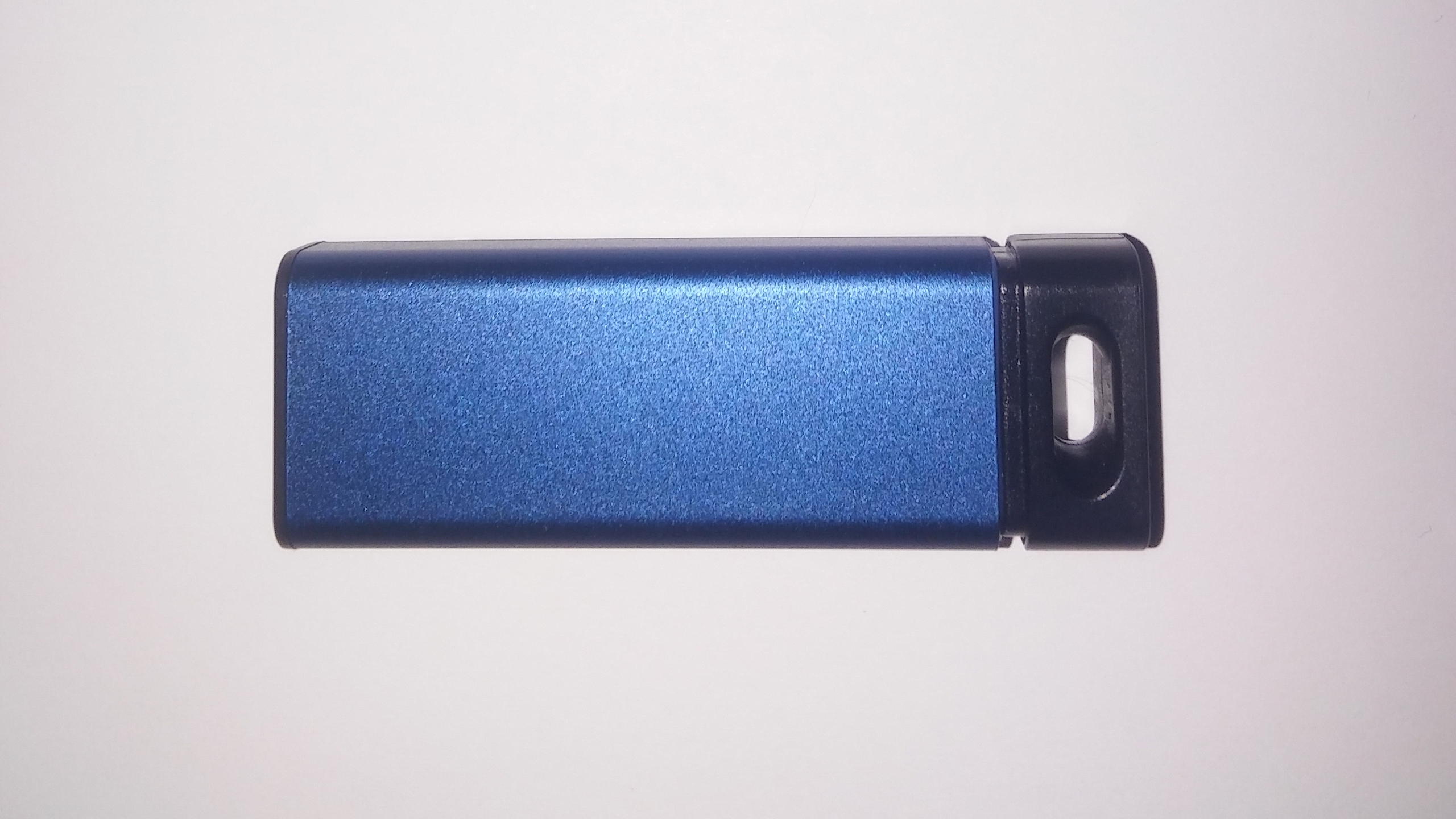 Pulling the USB stick out of its sealed protective case reveals the top side with the indicator light and a little blue rubber seal to help protect the drive from potential water damage.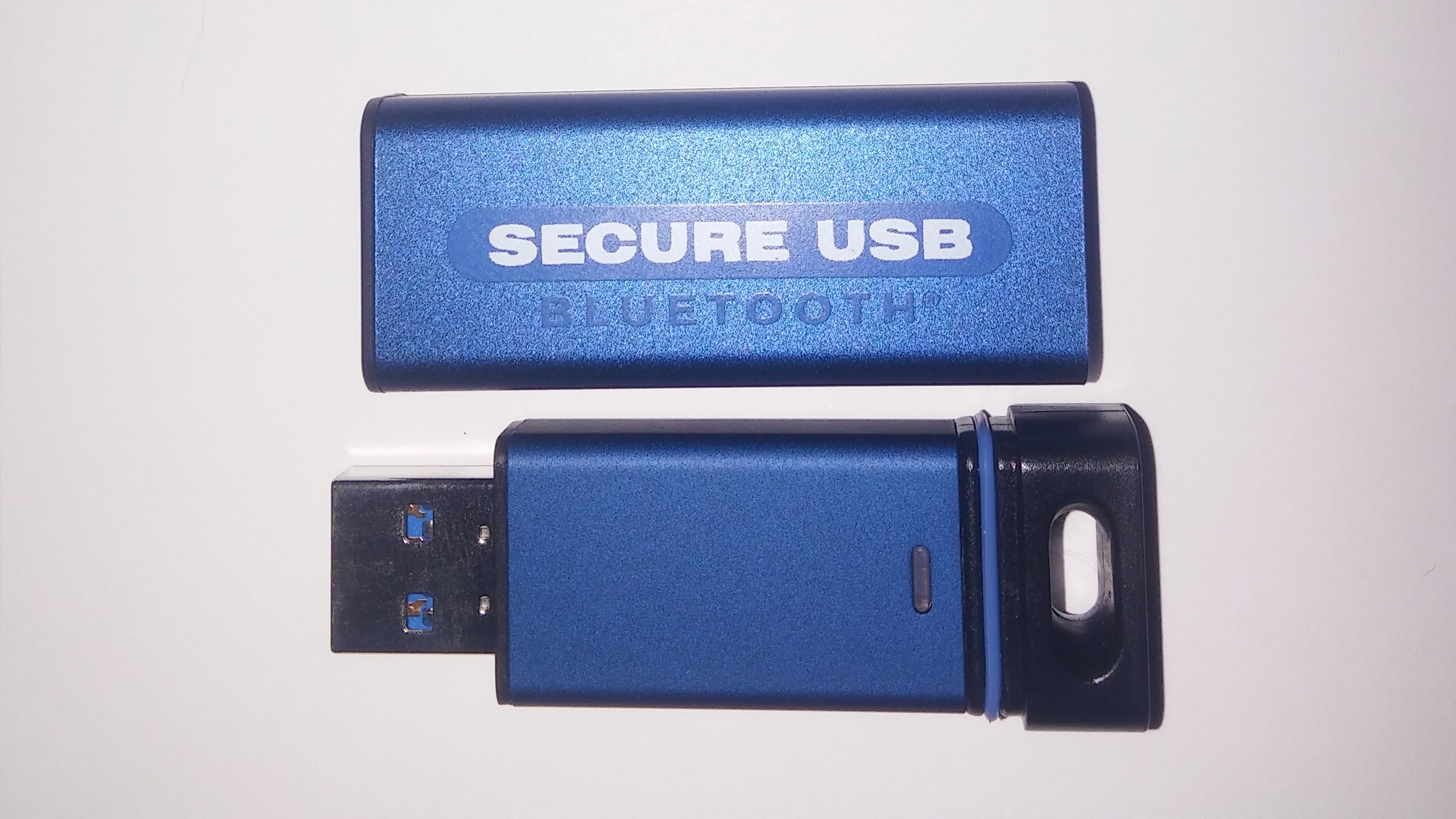 A view of what the side of the USB Stick looks like again void of any markings.
USB3.0/3.1 is the connection used here. Officially launched in July 2013, USB 3.1 has a maximum potential transfer rate of 10 gigabits per second (Gbps).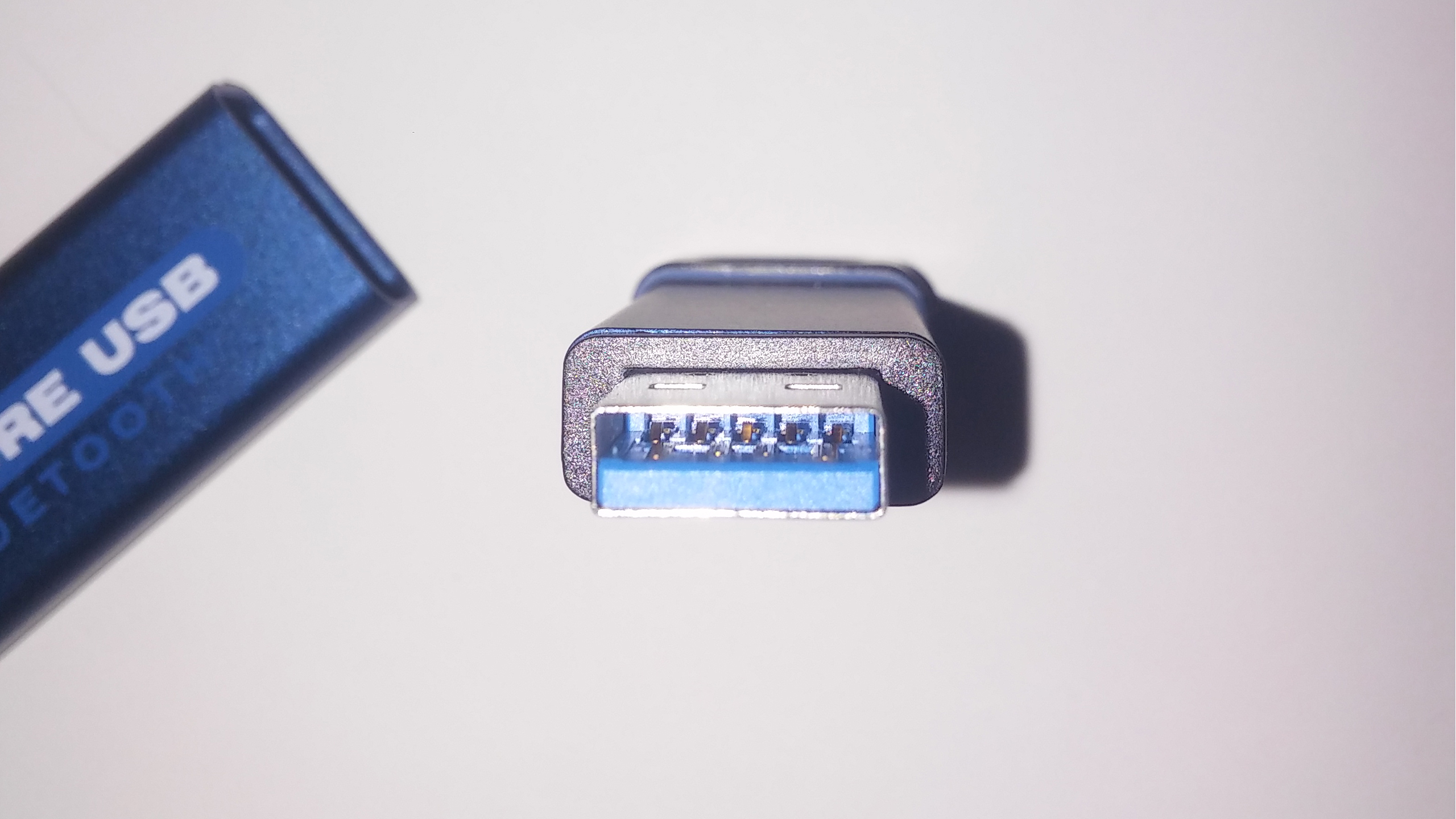 Here is where we see the important data on the back of the USB stick itself. Here you will find the Serial Number (S/N:) and the products security key on the insertable part of the USB stick. These are important and because the connection part of a USB stick can be worn its best to note down the 8 numbers there they are super important to your access and use of the device.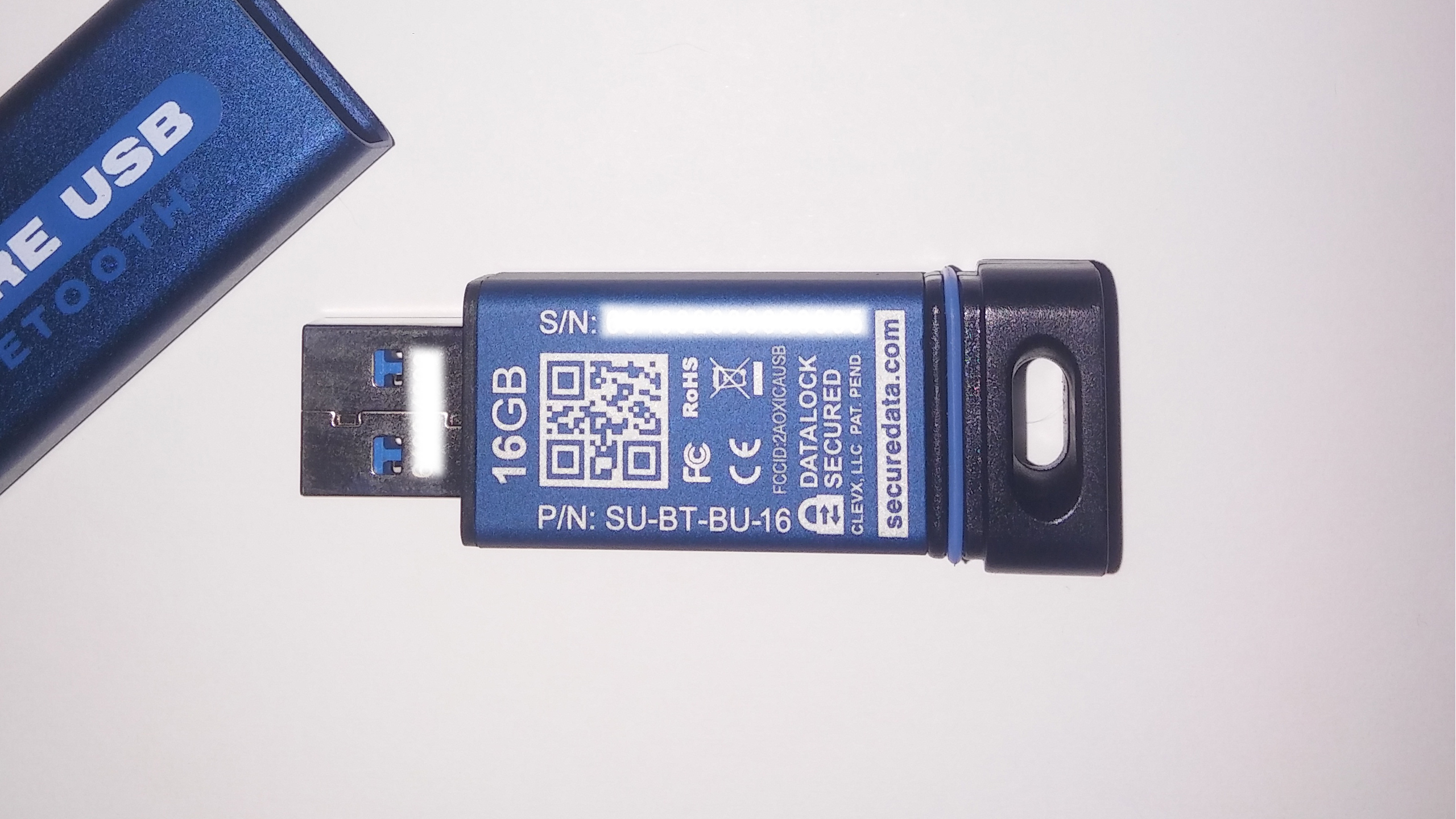 Encryption
Unlike the SecureDrive BT there are no lock indicators on this device. This time around its a blue and red light to indicate differences between locked or unlocked. The main indication your drive will be unlocked and ready to use is in the App you use to unlock the device, there you will have a red lock when it is locked and a green unhinged one when the USB stick is unlocked.
The SecureUSB BT features FIPS 140-2 Level 3 encryption, the details of which can be found here.
In short and copied from the above-linked page "the FIPS 140-2 Level 3 standard specifies the security requirements that will be satisfied by a cryptographic module utilized within a security system protecting sensitive but unclassified information (hereafter referred to as sensitive information). The standard provides four increasing, qualitative levels of security: Level 1, Level 2, Level 3, and Level 4. These levels are intended to cover the wide range of potential applications and environments in which cryptographic modules may be employed. The security requirements cover areas related to the secure design and implementation of a cryptographic module. These areas include cryptographic module specification, cryptographic module ports, and interfaces; roles, services, and authentication; finite state model; physical security; operational environment; cryptographic key management; electromagnetic interference/electromagnetic compatibility (EMI/EMC); self-tests; design assurance; and mitigation of other attacks. This standard supersedes FIPS 140-1, Security Requirements for Cryptographic Modules, in 
Software
The app software provided for the SECUREDRIVE BT is designed by ClevX, LLC and they have 2 that I fully tested for the SecureDrive BT review already. The DataLock app itself is completely free and comes with remote wipe, 2-factor authentication, password reset options as well as fingerprint and face recognition and more. The DataLock RM app is $24.95 per drive per year and comes with geo-fencing and time fencing abilities.
With the SecureUSB BT I used only the DataLock App since it is more than efficient at setting up and using any of SECUREDATA's BT devices for your basic encryption user. The DataLock app by ClevX, LLC is the main experience most users will have with this drive and it leaves one feeling like they are dabbling in the future with features such as unlocking and locking their drive from their phone with a simple code, as well as such things like remote wiping, two-factor authentication, and password recovery.
DataLock App Downloads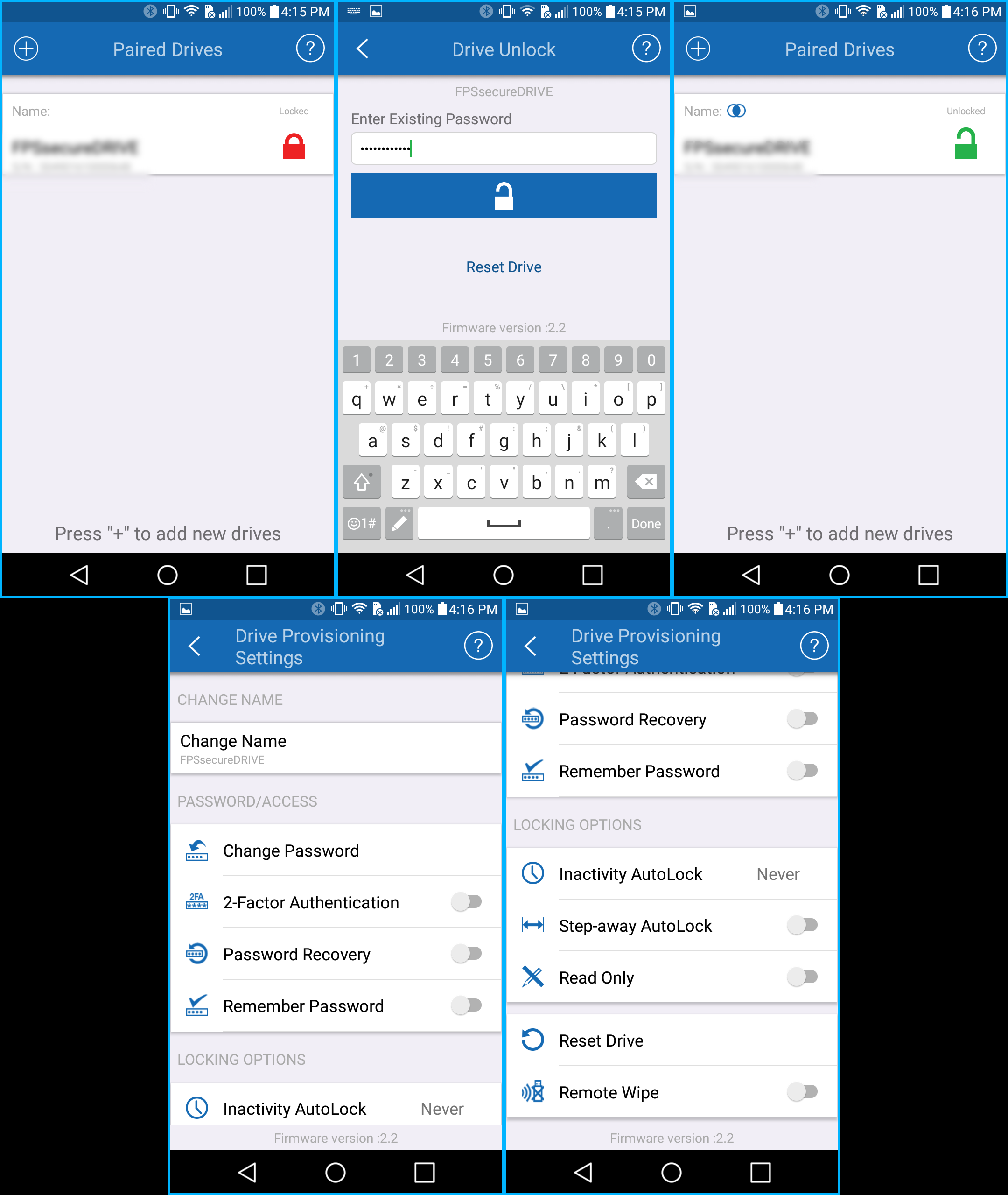 Final Thoughts
Performance
I really thought that this time around SecureData would not be able to give me a decent file transfer experience, but that just was not true. Even though these are still slow speeds in today's standard this is a different type of memory storage (Embedded Multimedia Card (eMMC)) used here than what's found in more typical USB drives (Flash Memory). eMMC storage is typically used as the primary storage for portable devices like phones and tablets.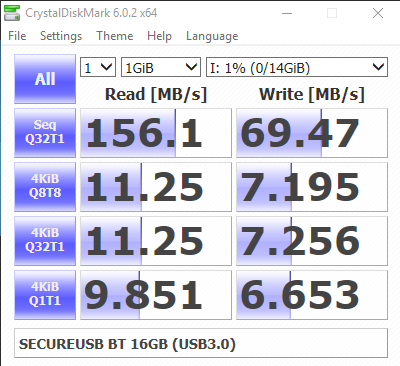 I do not have more than my 32GB Sandisk that is set up in Fat32 as an OS setup drive with all my base drivers, and other software I need when setting up a personal system. So I do not have anything to compare the SecureUSB BT to but none the less here is a basic benchmark screen to show the speeds I was able to hit. In day to day use, it was utilized for a massage business to transfer documents from the main home system to the office laptop. In this regard, the drive performed perfectly. We were able to safely transfer sensitive medical documents without the fear, that if we left the drive behind we would be sharing our client's sensitive medical data.
Design
SecureData has the design down with their devices. So far the SecureUSB BT, SecureDrive BT, and SecureDrive KP were all made with a nice blue or black Aluminum encasing. The LEDs used on the devices across the board are soft and not over bright. You are given plenty of very clear indicators and solid clear instructions as to what each one means and on the general operation of their devices. The software provided for SecureData Bluetooth devices gives you a lot of features for free, and even more for a $25 subscription per device per year.
Value
A USB drive coming in at $119 these days for a 16GB can be rather daunting when you can grab any old 16GB for around $10, but those USB drives will typically be much slower than the SecureUSB BT and well not touting military-grade encryption. 16GB of storage is not a whole lot in today's market either, but it is very useful for document and photography types of media. 16GB of storage like this can store up to an estimated 7,600 photos, 3,800 songs, or 30 videos. So I can easily see this product handily landing in the pockets of anyone needing a financial document storage device to a student or researcher for that matter wanting to keep their work safe. This kind of encrypted device is more for quick moving around the office, from your dorm to class, or even on a long trip where you might only need a few documents and do not want to carry a bulkier portable drive like the SecureDrive BT.
The SecureUSB BT is very well made, coming with a rubber seal so water and spill damage when the drive is closed is basically a non-existent worry. Coupled with the feature-packed software suite and military-grade encryption. The SecureUSB BT is most definitely worth the asking price if you are in need of a smaller less pricey encrypted storage option, like the more professional-grade SecureDrive BT and KP models that can come with a much larger solid-state drive giving much faster speeds.
I can recommend the SecureUSB BT to anyone needing to handle sensitive documents, photos, and even audio like a track on its way from musician to publisher. It is small, secure and well made with a list of features and awards behind it.
I want to thank SecureData for sending over the sample.