Storage, Motherboards, Graphics Cards, Peripherals, and Laptops.
As you can imagine, MSI had an abundance of its products on display at Computex 2023. They had one of the larger booths that we look around and must say, I think it is time we get some MSI products in for review soon here at Enos Tech.
Storage
Up first we saw their SPATIUM M480 PRO PCIe 4.0 NVMe M.2 2TB Drive. This drive boasts speeds of up to 7,400 MB/s read and 7,000 MB/s write.
To the right of that is the SPATIUM M570 PCIe 5.0 NVMe M.2 HS which has speeds of up to 10,000 MB/s read and write!
Anyone would be lucky to have either of these drives in their system but that M570 is absolutely insnae!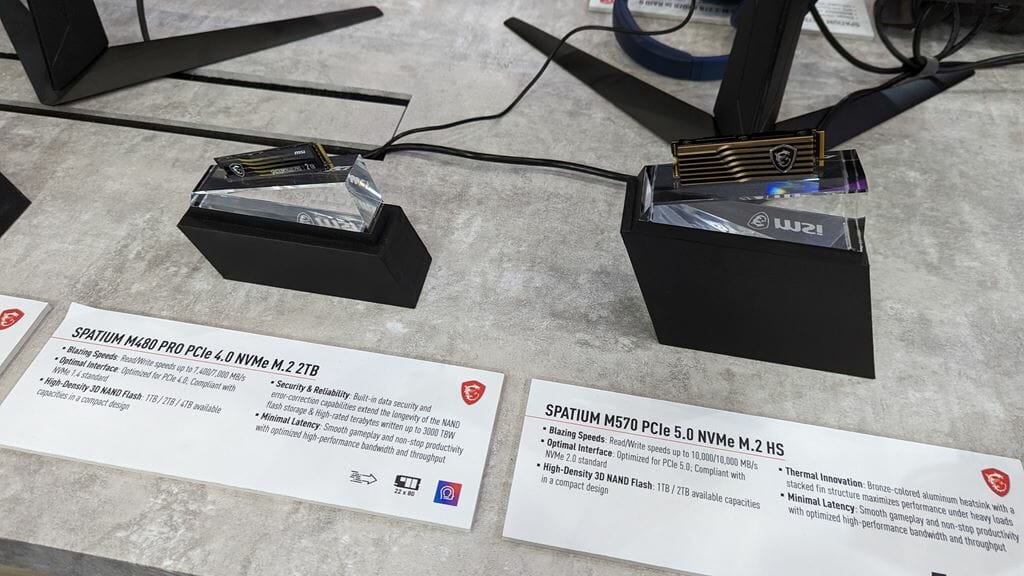 They even had the SPATIUM M570 on display, showing off the speeds it could achieve.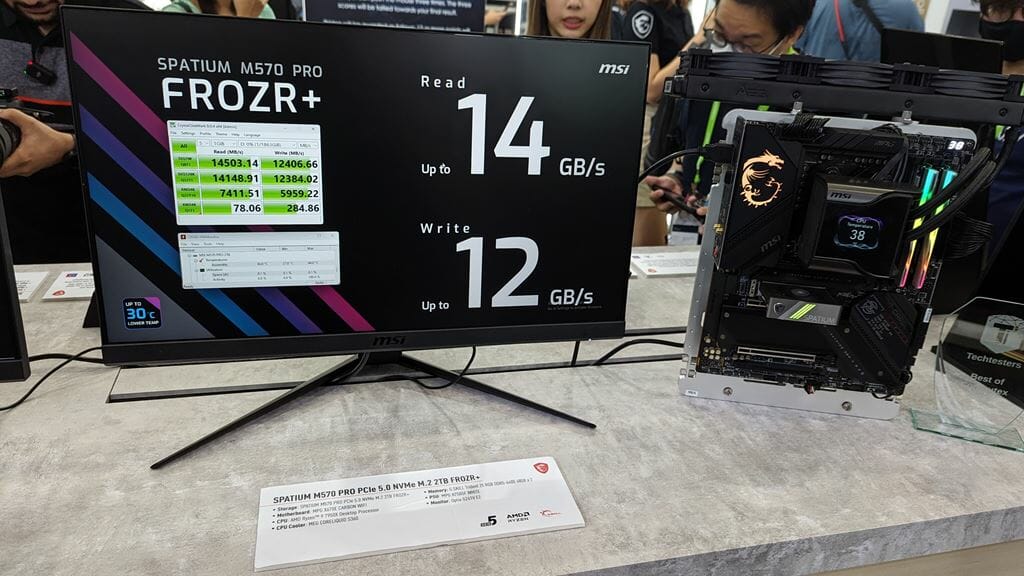 However, all that speed comes at a cost and that cost is heat! This massive heatsink and fan will do the job to cool things down but do you have the room for something like this in your build? Will be interesting to see over the course of time how companies combat these heat issues. One would hope that they find a way to do it without these massive heatsinks.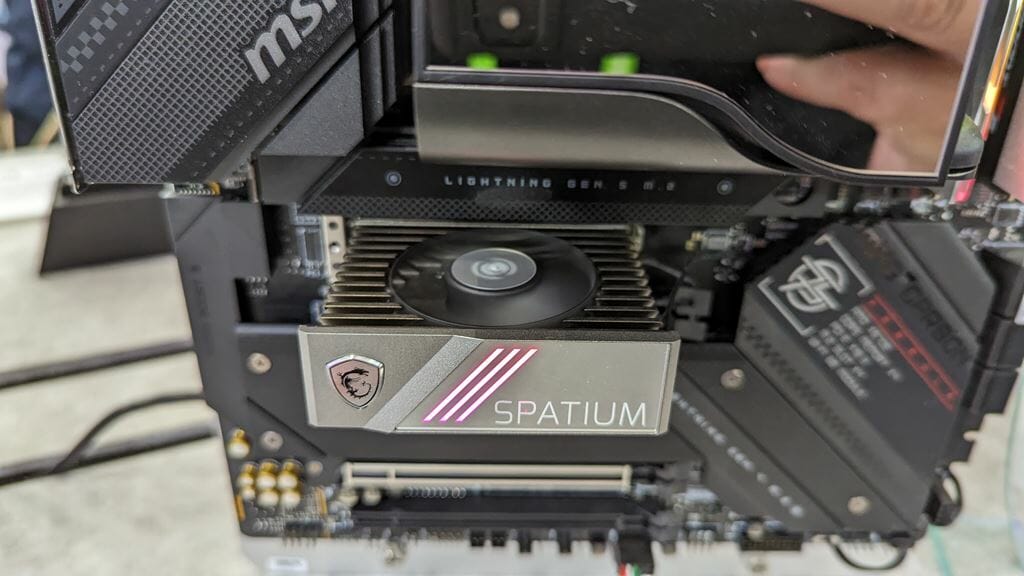 For those that want an SSD but maybe don't need the top-of-the-line products, there is the SPATIUM S270 SATA and SPATIUM M450 NVMe SSDs.
These SSDs will be more budget-friendly but will still offer improved speeds over your standard hard drives.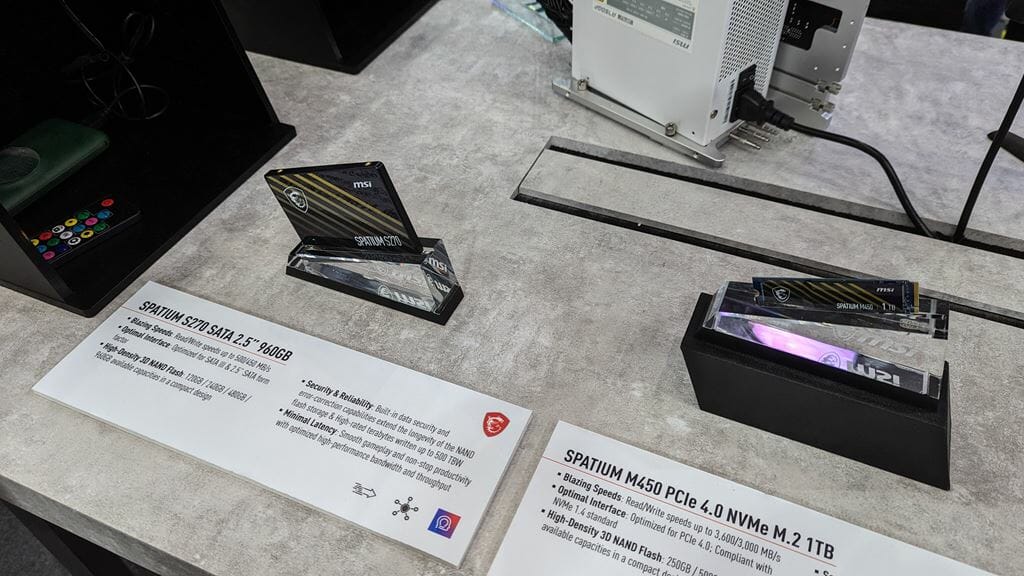 Motherboards
While it seems we lost some of the pictures, MSI had a nice wall showcasing some of their motherboards and accompanying products that would fit in well with them.
They had a MAG series display that had a couple of boards alongside an AIO and even a PSU from the mag lineup of products.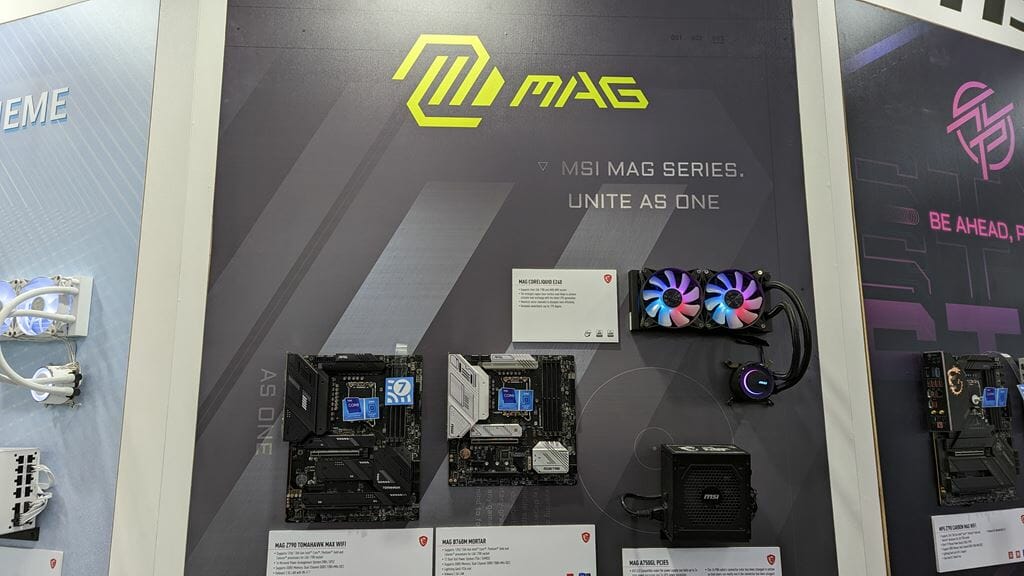 Just below, they also had a couple of MAG series builds on display so you could also see what the finished product would look like.
Well played MSI, well played!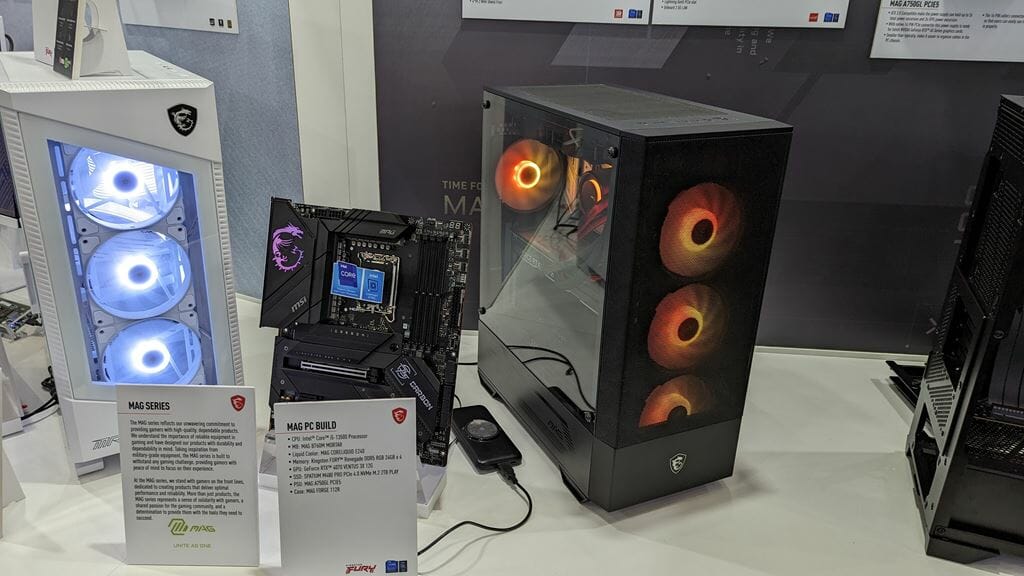 Graphics Cards
MSI had a load of GPUs on display and even had one on display where you could see the actual size of the heatsink next to the full GPU itself.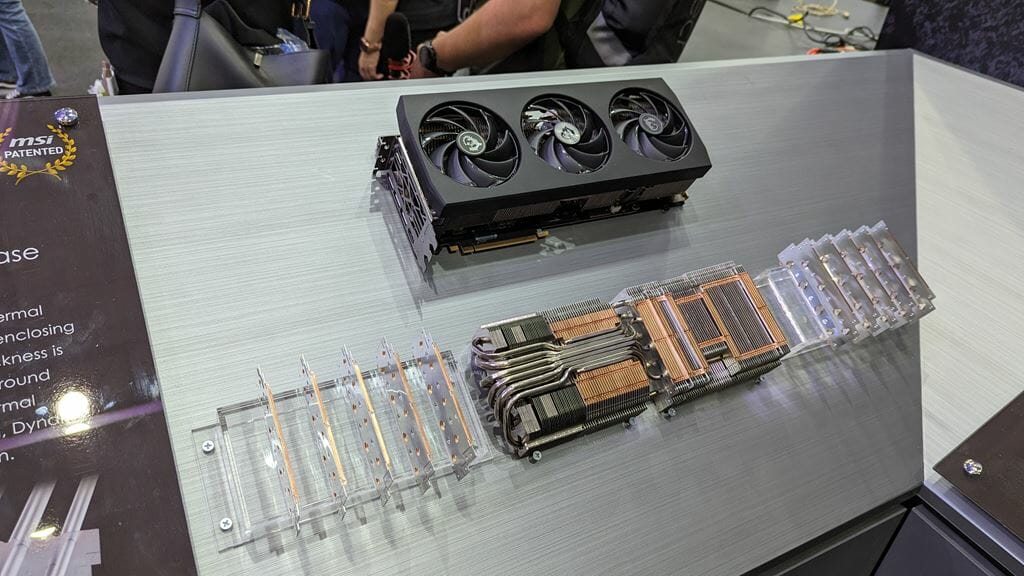 They also had one of their top-of-the-line SUPRIM cards on display that comes with its own AIO to cool it.
Everything from the 4060 Ti Gaming X Trio to the 4090 SUPRIM Liquid X and 4090 Gaming TRIO was on display. As you can see, there are a few different styles of air coolers and something available for almost any budget.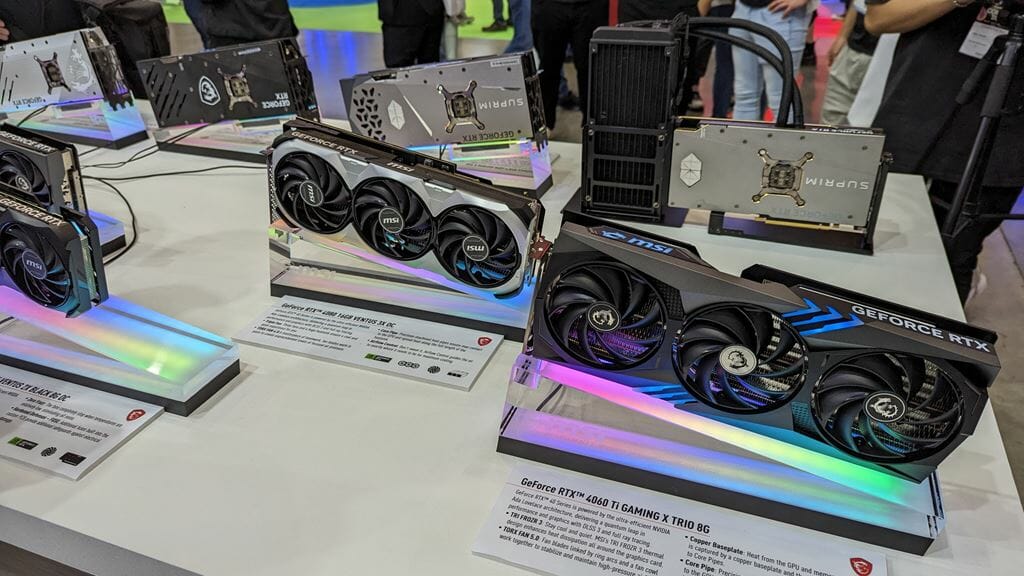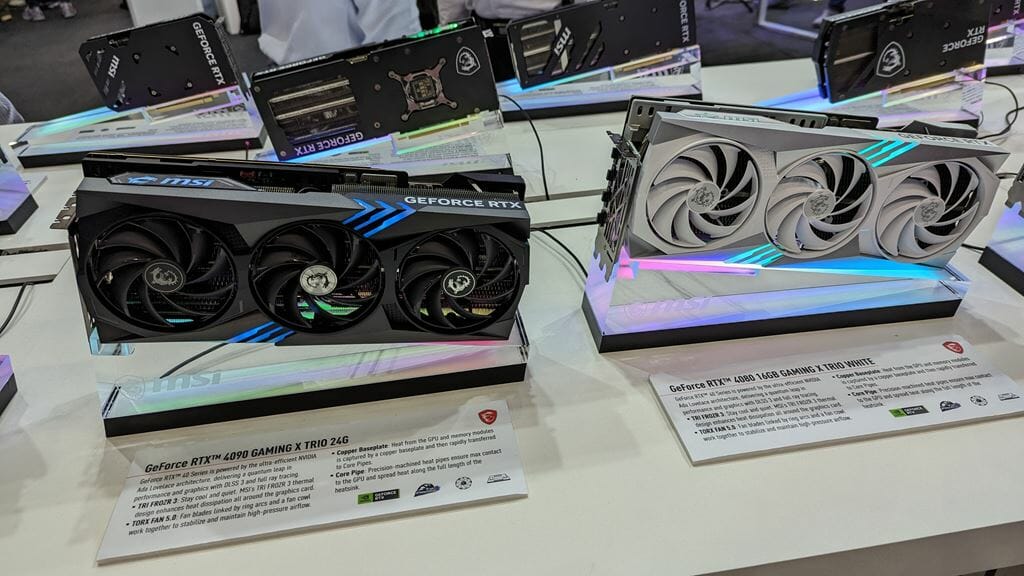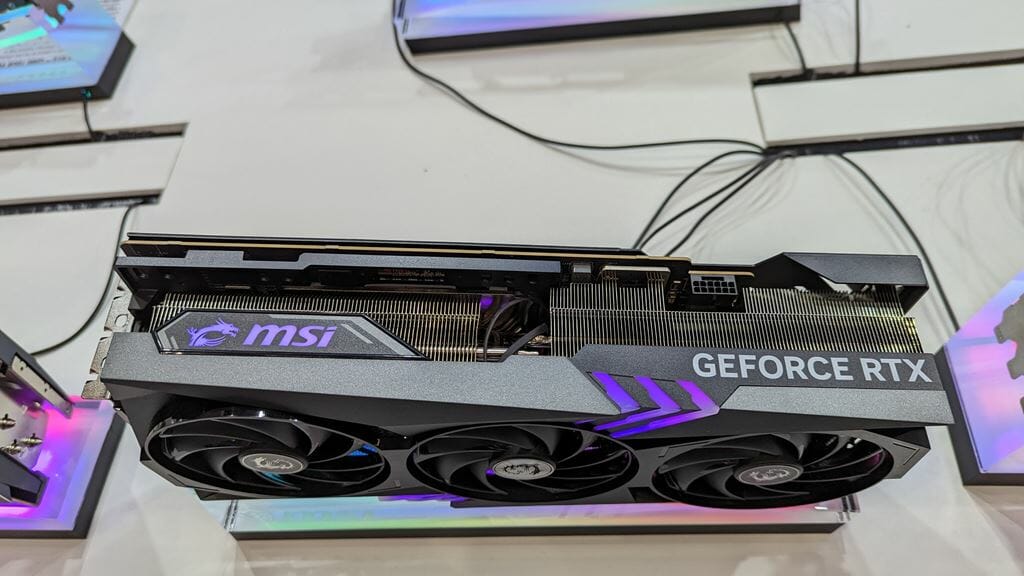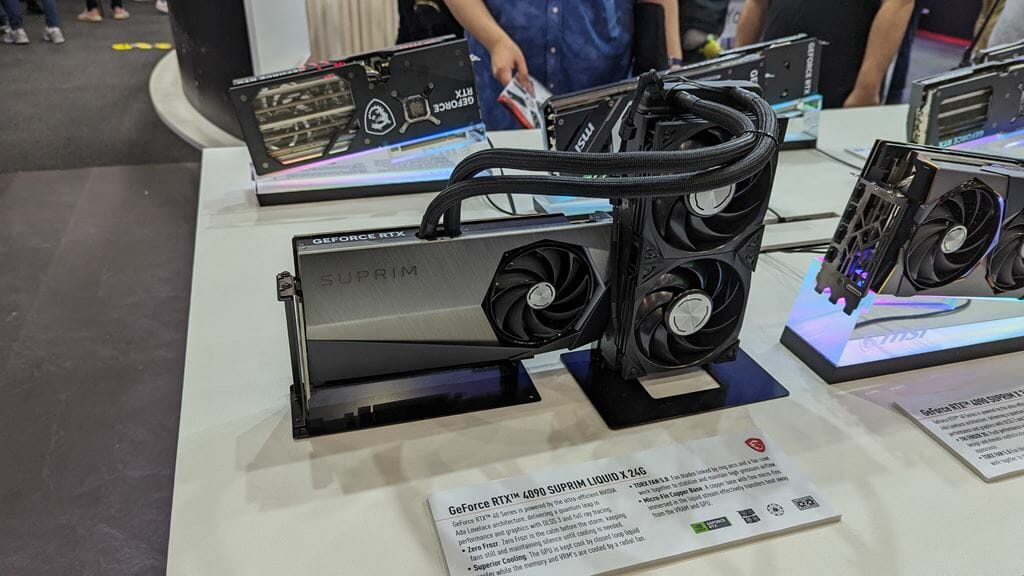 Networking
MSI also had some networking products on display such as their AXE6600 WiFi 6e Tri-Band Router and the AXE5400 WiFi USB adapter.
With internet speeds getting better all the time, it is nice to see companies keeping up with the demand and making products that can handle all of the speed.
Peripherals
One of the big issues when it comes to Mice is that everyone's grip and hand size are different. Now, it's impossible to make a mouse for everyone but MSI has done a great job at offering a few different varieties so hopefully, everyone can find something they like.
Below, you will see various mice from their Clutch lineup including the GM 31 and GM51.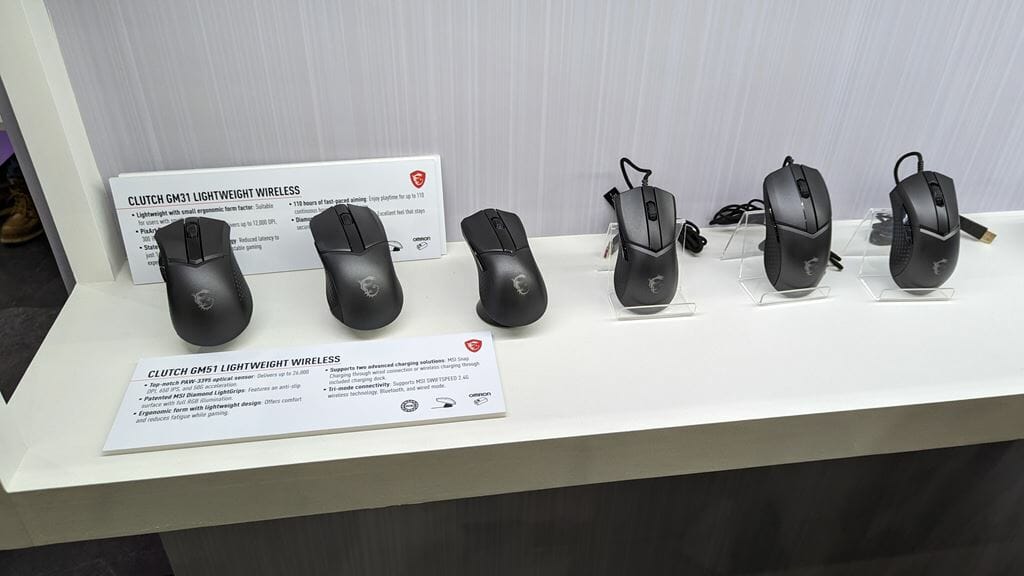 They also had a variety of headsets on display. However we forgot to get their model names, sorry. (We have learned from our mistakes and will do better next time around)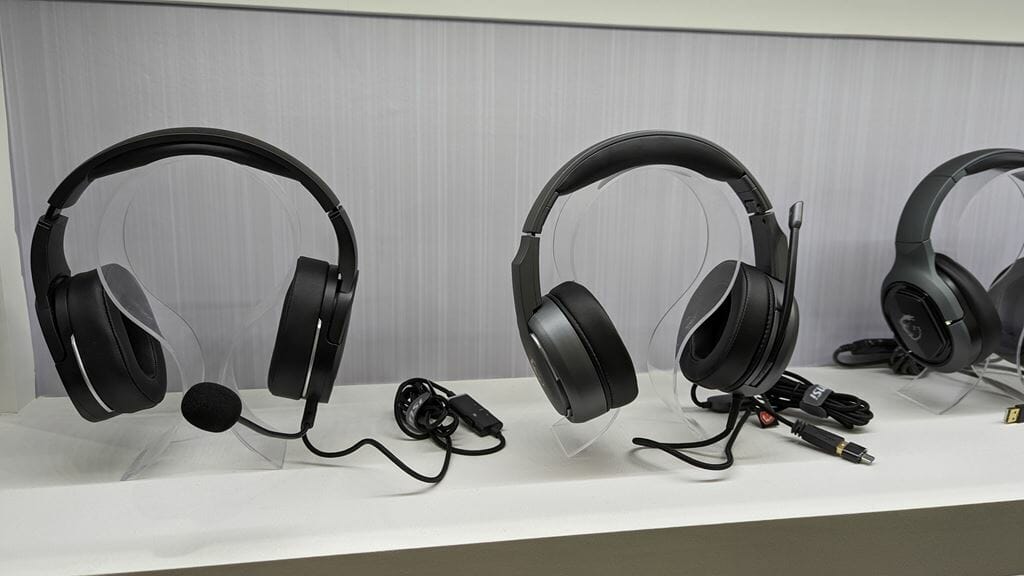 They also had some impressive keyboards on display. Hopefully, we will be able to get some in for review in the near future. I always love reviewing peripherals. It may or may not have something to do with using it as an excuse to play games while testing them.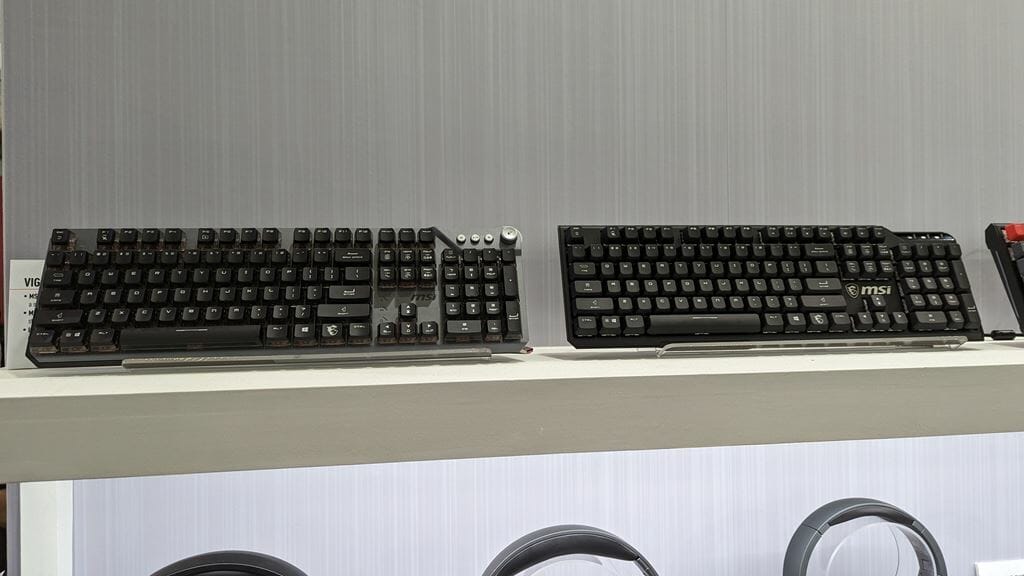 As we are also starting to see, a lot of companies are coming out with their own controllers. While I am primarily an FPS gamer, it is nice to have a decent controller around.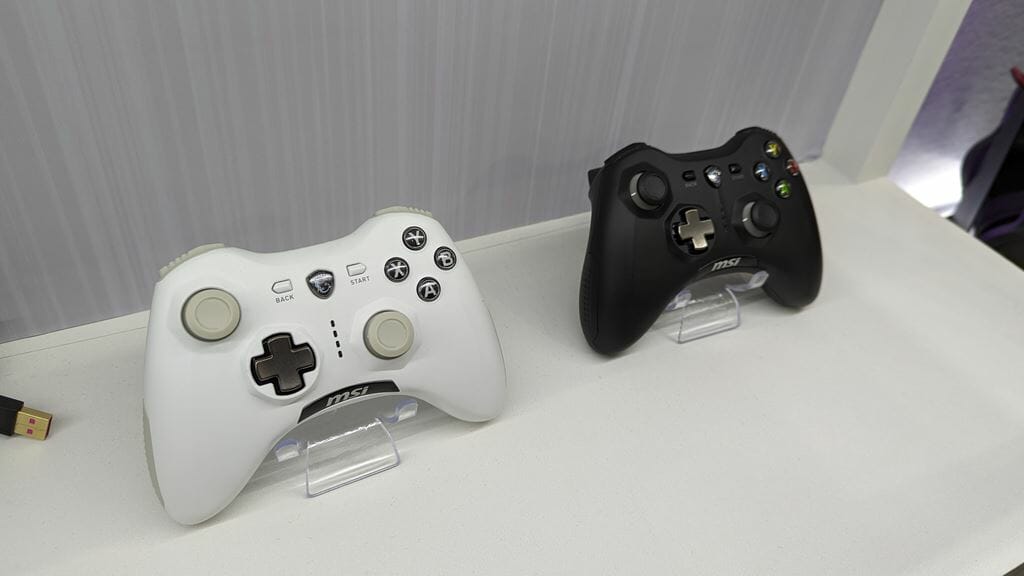 Power Supplies
MSI is one of the companies that pretty much has a whole ecosystem of products now. You can literally just about make a whole PC build by only using MSI products.
So with that said, of course, they had to show off some of their PCIe5 PSUs, and below we can see the MEG Ai1300P which of course, is ATX 3.0 compatible.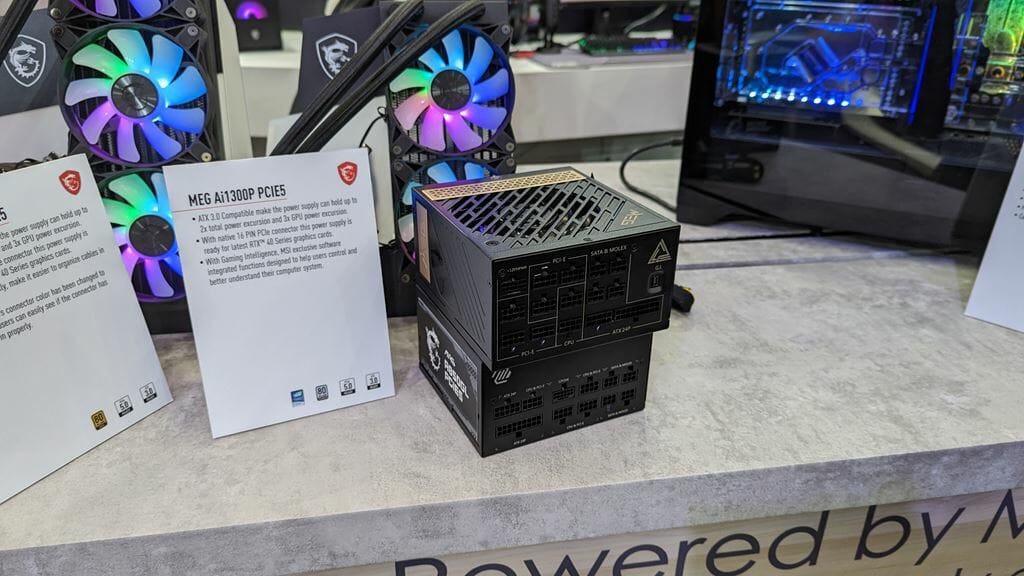 Laptops
While we have yet to really cover Laptops here at Enos Tech, this is something we are looking into and will hopefully be covering soon.
Laptops are getting more and more powerful while still remaining sleek and slim. The Alpha 17 C7V features a Ryzen 9 7945X CPU and comes with up to an NVIDIA RTX 4070.
As you can see, it must be quite good as it managed to pick up a Best in Show Award from our friends over at Trusted Reviews!

Please make sure to check for more of our Computex coverage in our EVENT COVERAGE which will be coming in the next couple of days!