ASRock at Computex 2023 – Mods, Motherboards, Graphics Cards, and more!
Mods
ASRock had some amazing mods on display at Computex 2023. ARKY was in full effect and while I forgot who made this one, there is no denying that it is rather cool! I absolutely loved seeing all the different mods across all the booths and as you can see, got a bit caught up in admiring them!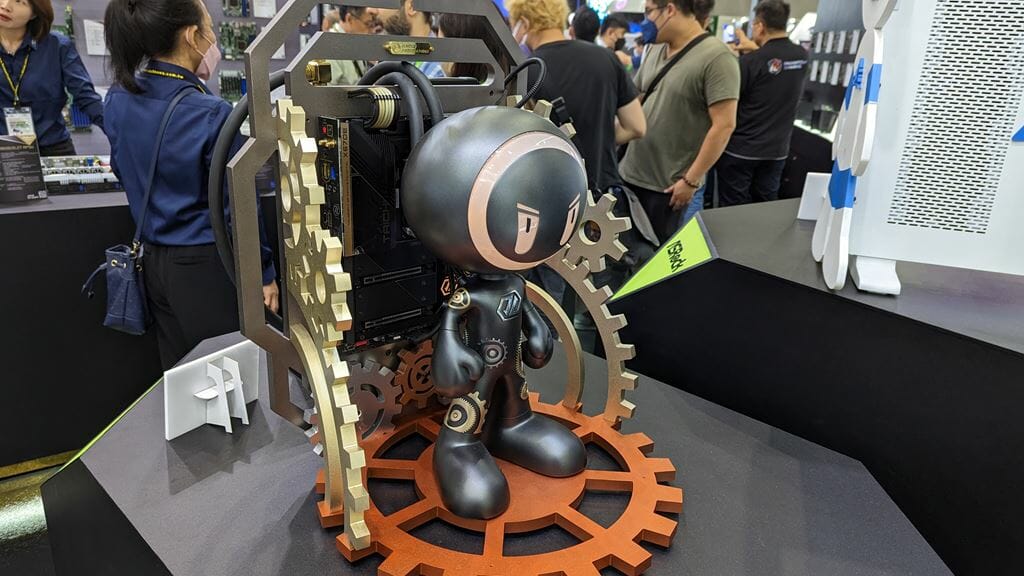 Another MOD on the ASRock booth! This time, as you can see I got the modder info below it! These were absolutely amazing to see and I really wish I had taken a few more photos.
Motherboards
ASRock has really been stepping it up lately when it comes to their motherboards. They were also showing off a Blazing Quad M.2 card which has support for up to 4x Gen5 x4 128Gb/s M.2 SSDs.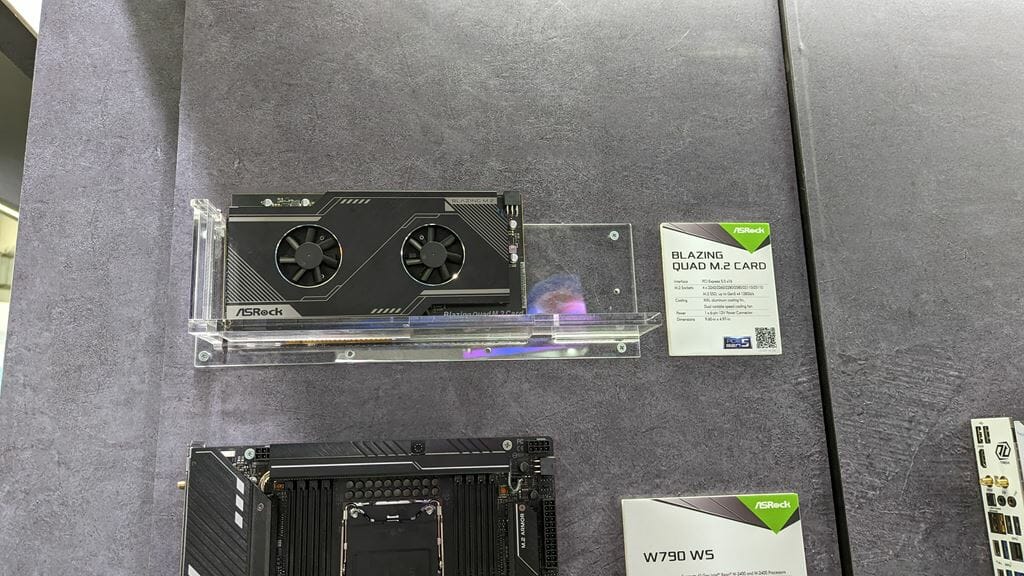 They also had their W7900 WS (Work Station) board on display. This bad boy has 8x slots for RAM, 4x PCIe 5.0 slots, and much more for those who need all of the power!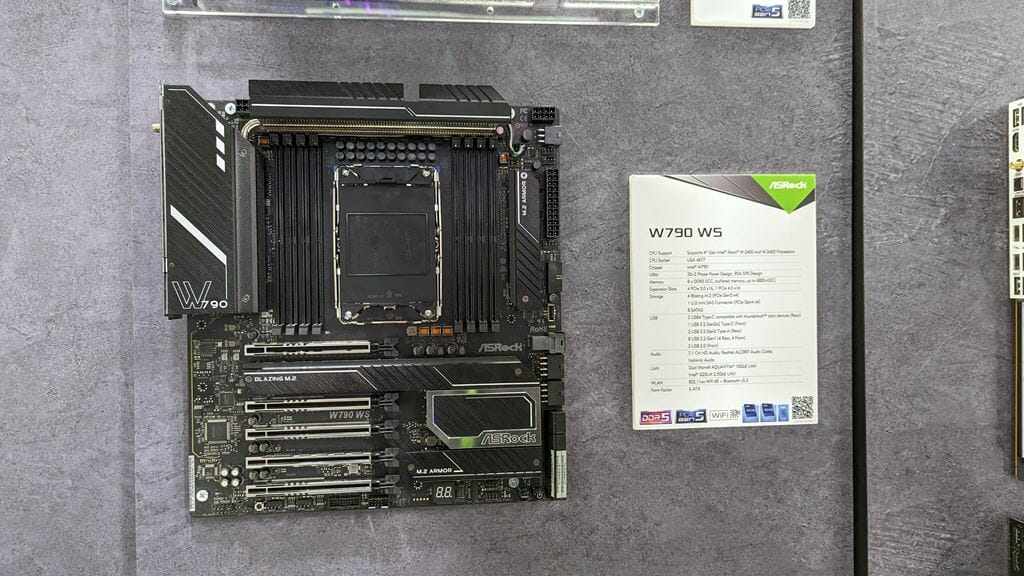 For your more consumer based boards, they had their Z790 Taichi Carrara on display. This supports Intels 12th and 13th Gen chips, DDR5, and has PCIe 5.0 slots as well. It can support 1x Blazing M.2 (PCie5) and 4x Hyper M.2 PCIe4)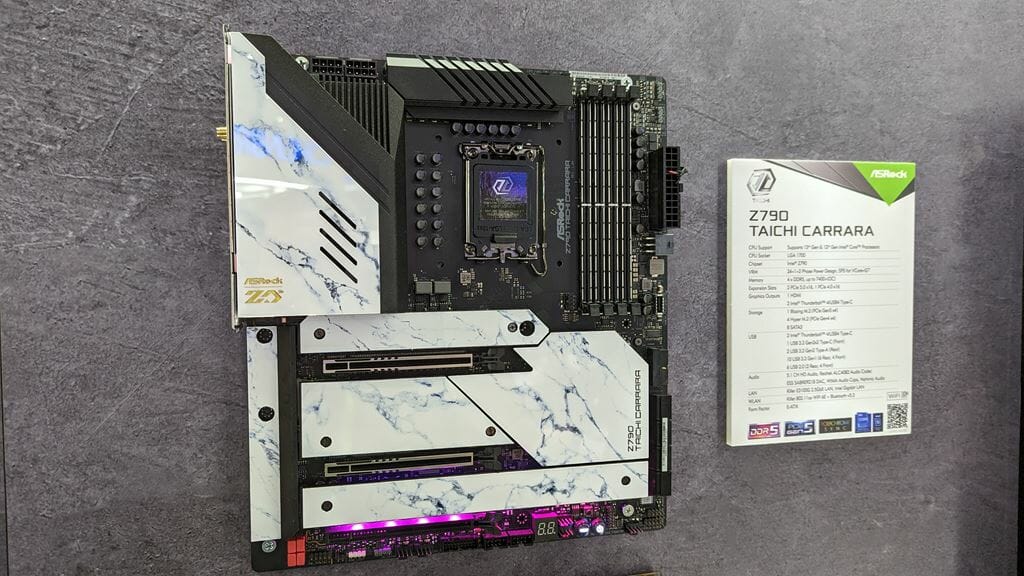 Another Z790 board by way of their standard Taichi model. This one comes with a 24+1+2 Power Phase Design, PCIe 5.0 support, DDR5, and more!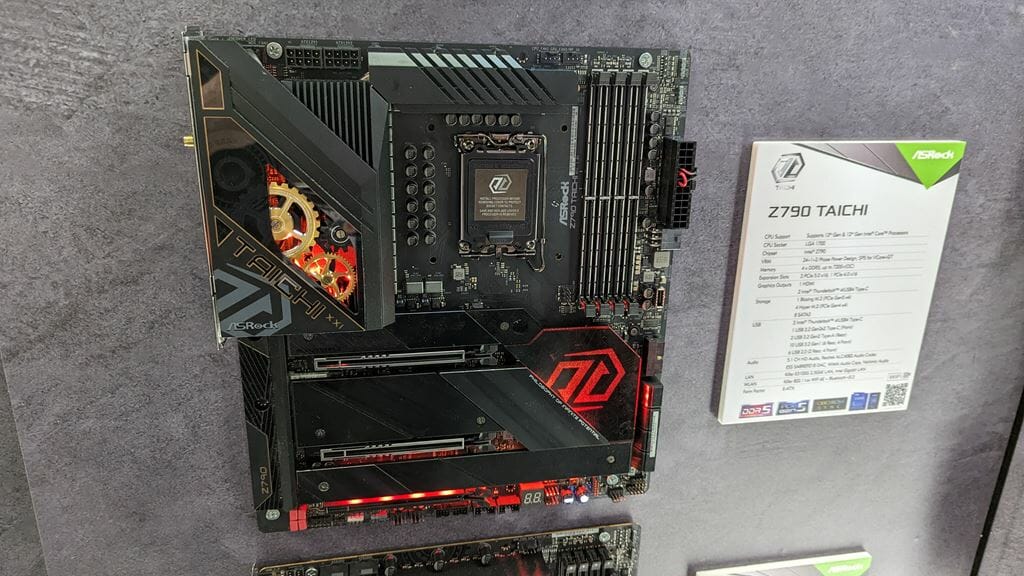 ASRock has been stepping out there a bit and creating some unique boards as well. Below we can see their Z790 Livemixer which has all of the Z790 features you would expect but in a very unique aesthetic.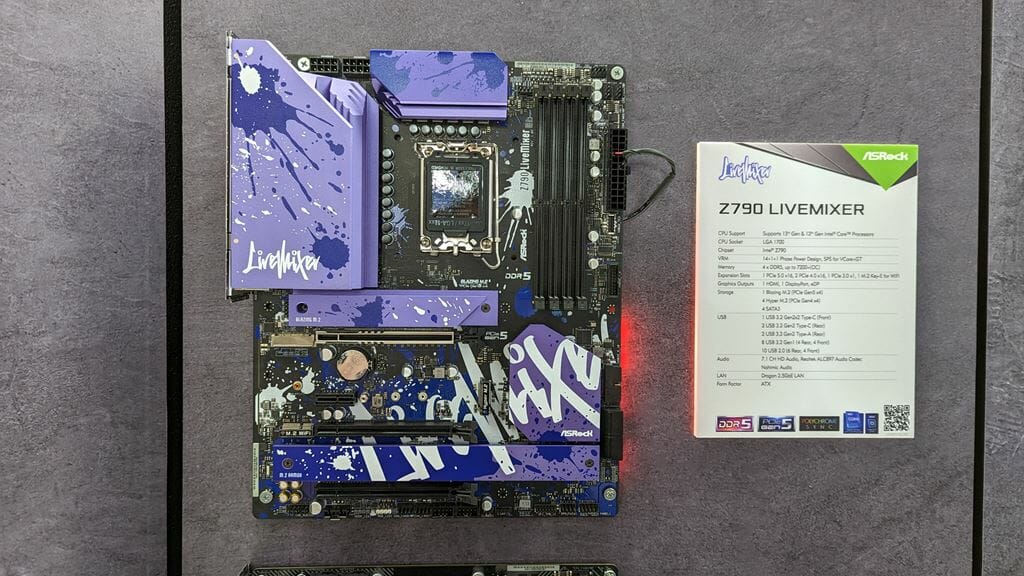 Another highly unique board – The Z790 PC Sonic and yes, as the name would suggest this design is based on Sonic The Hedgehog! I really can't wait for some nostalgic feels and to see some impressive Sonic PC Mods in the near future.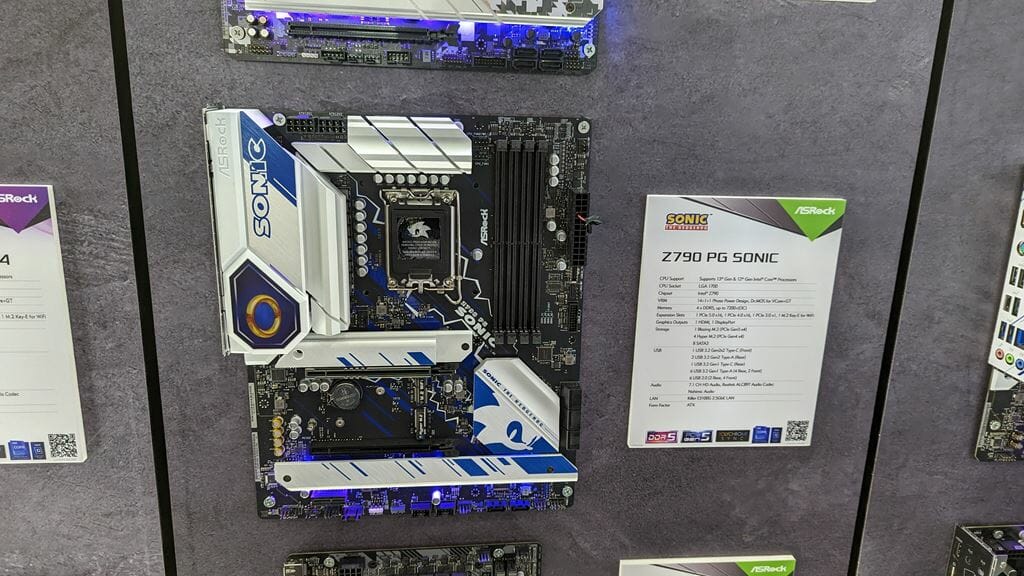 Monitor
Did you know ASRock made monitors? Well, they do and their PG32UMF comes packed with a 32″ 4K Ultra HD screen that has a 144Hz refresh rate, 1ms response time and is both Freesyne and G-Sync compatible.
Graphics Cards
It looks as if ASRock is really ready to up its Graphics Card offerings. They had a number of impressive GPUs on display.
Up first their custom water-cooled AMD Radeon RX 7900 XTX AQUA 24GB OC. Those lucky enough to get their hands on one of these will love the way it looks and I would also imagine it has some very impressive performance.
They also had an air-cooled 7900 XTX on display with their Taichi 24GB OC Model. Again, a massively powered GPU but this time with 3 fans to allow almost anyone to make use of the power the 7900 XTX has to offer.
Below we have the Phantom Gaming 16GB OC 6950XT and below, the Steel Legend 8GB OC 6650 XT. Each GPU looks slightly different than the next but they all seem to have a bit of RGB except for the Challenger series GPUs.
Here we have the RX 7600 Challenger 8GB OC, RX 680 XT Phantom Gaming 16GB OC, and the RX 6600 Challenger D 8GB.
Hopefully in the near future, we will be able to get some of these GPUs in for testing so we can share or results with everyone. Until then, we hope you have enjoyed the images of them from Computex 2023.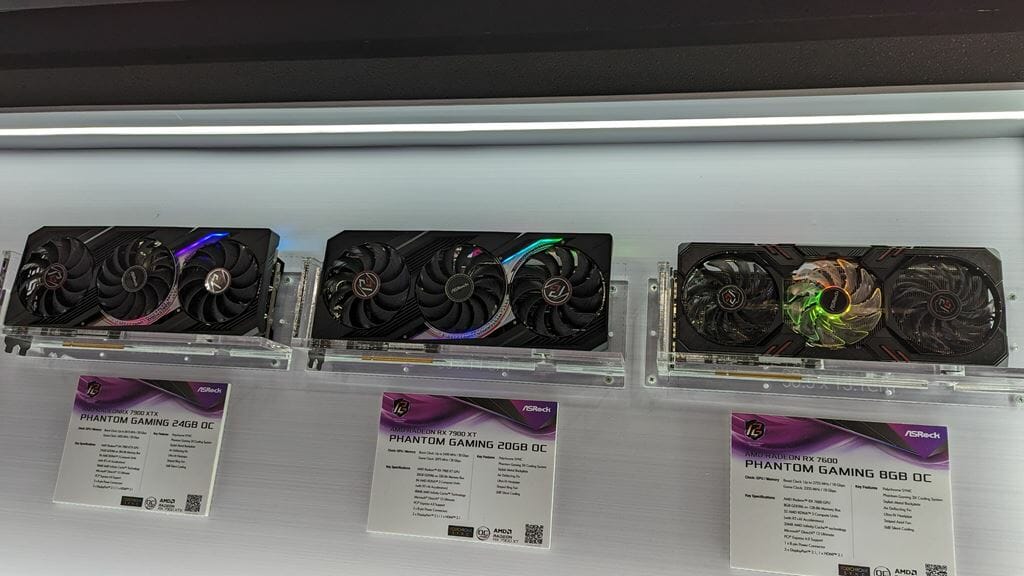 Please make sure to check for more of our Computex coverage in our EVENT COVERAGE which will be coming in the next couple of days!