Introduction
Manufacturer: NZXT
Product Page: HUE 2 Lighting Kit V2
Purchase: $109.99 at the time of review NZXT.com
NZXT is a company that really needs no introduction these days, they stand behind their Mission Statement "We relentlessly evolve products and services of the highest quality to make extraordinary gaming experiences achievable and fun." NZXT likes to foster a community full of passion that is willing to look further into what gaming can really be as an experience.
On the renewed version of the HUE 2 NZXT has taken some extra care on a few key points that were griped about with the previous version which is awesome. It shows that NZXT is willing to listen to their community to bring a product to the table that its customers will want to buy. Now that is more important to most of us than anything else, a company proving they care what their consumer base wants and desires for their hard-earned dollars.
Key Feature Improvements
Stronger Adhesive – To ensure better adhesion to the incredible array of monitors in the market today, we've added a stronger, thicker adhesive to the RGB LED strips. This should help compensate for the different materials, textures, finishes found across monitors.

Ultra-wide Monitor Support – Again based on user-feedback, NZXT modified the LED strip configuration for the 21"-25" kit to support 34"-35" UltraWide format monitors.

Improved display algorithm – NZXT also updated the algorithm used for defining the RGB values from the edges of your screen to provide improved color fidelity from the LED strips. Just be sure to be using CAM v3.7.5 or higher.

Also, NZXT is providing upgrade kits for people who bought the first gen kit. They can request a free kit containing the replacement adhesive strips, cleaning wipes, and L-shaped corner brackets by contacting our Customer Service team at nzxt.com. Valid proof-of-purchase is required.
Specifications and Compatibility

Closer Look
The front of the bright box has a photo of a monitor with the HUE 2 V2 Ambient Kit showcased on the back with a purple ambient which is NZXTs main goto color, along with the product branding and HUE 2 in very large lettering.
The back of the box is loaded with information and photos of not only the product but the software and an image of what the lighting can look like once installed and running. There is a list of system requirements and specifications. You will need a free USB2.0 port and Windows 10 running the most current and stable version to use CAMs features for the HUE 2 V2 Lighting Kit. I did experience issues with CAM when I initially installed the HUE 2 V2 and CAM software. This was because I was running the beta version of Windows 10 Pro and something Microsoft was doing with the OS was not playing nice with any compatible version of the CAM software specifically and only with the HUE 2 V2, the rest of CAM was still functioning oddly enough. YAY Windows. . .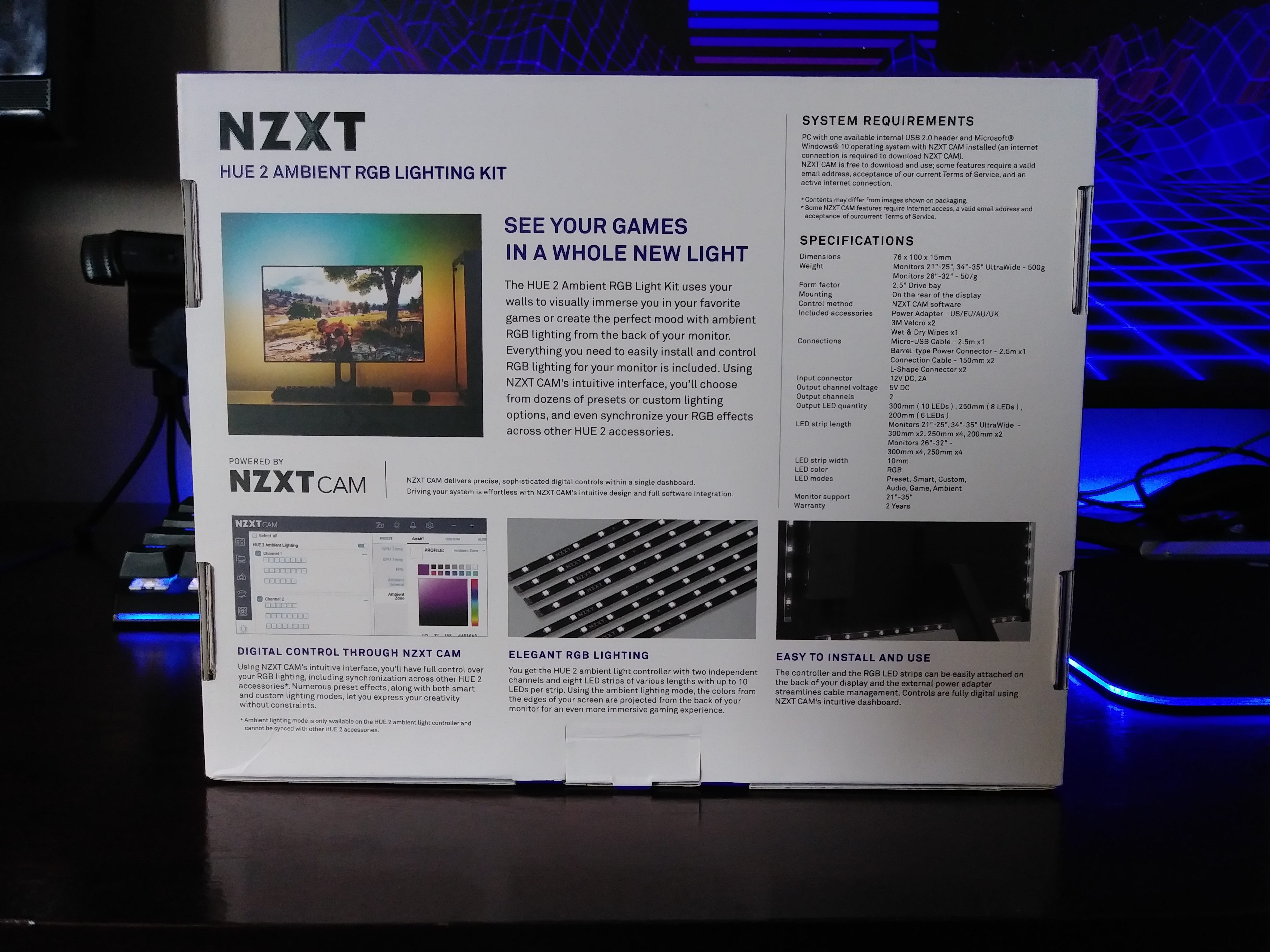 Unboxing
Talk about peeling layers, everything was tucked away and unboxing was like treasure hunting. Each piece was packed tightly away in its own little space.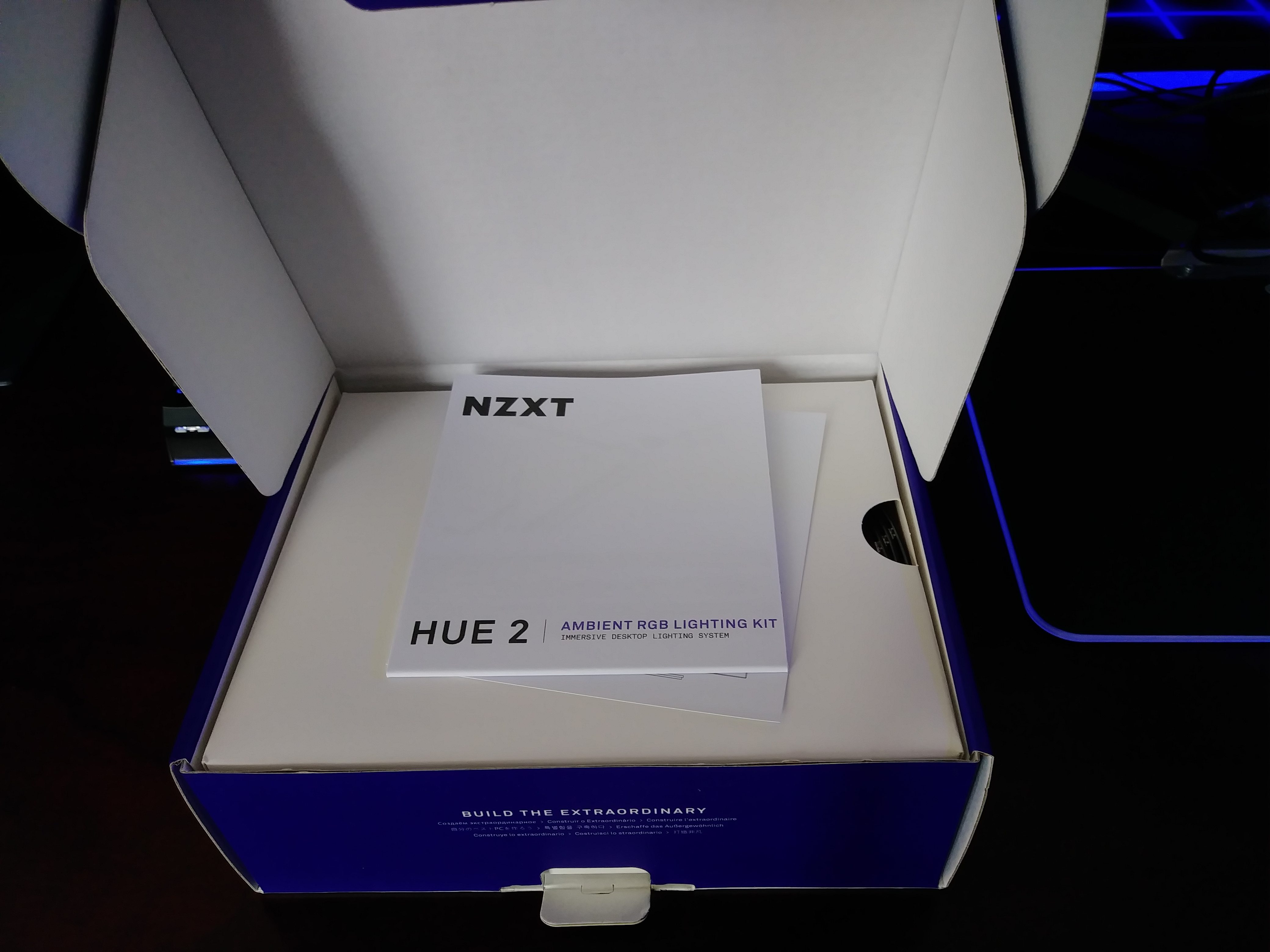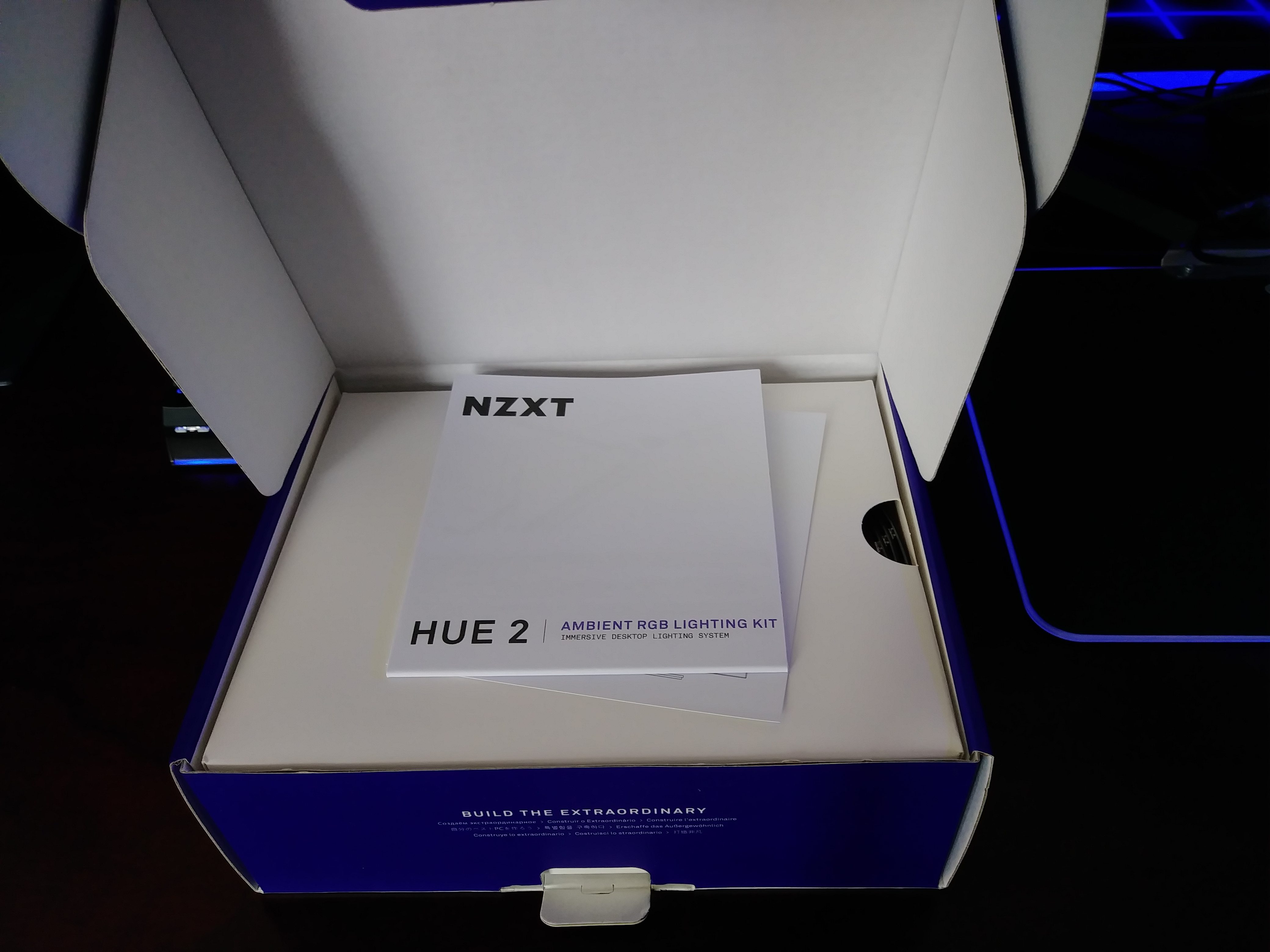 Here we get our first look at the HUE 2 V2 Ambient controller that holds all the RGB magic.
It looks like NZXT has thought of quite a few people here with the number of connectors and quick connect power adapter. This was neat to get to see I haven't personally handled other countries power adapters before.
Included parts and accessories are shown here. NZXT has conveniently included both Wet and Dry Cleaning Wipes as well as everything else you will need to connect the components and attach them to your monitor.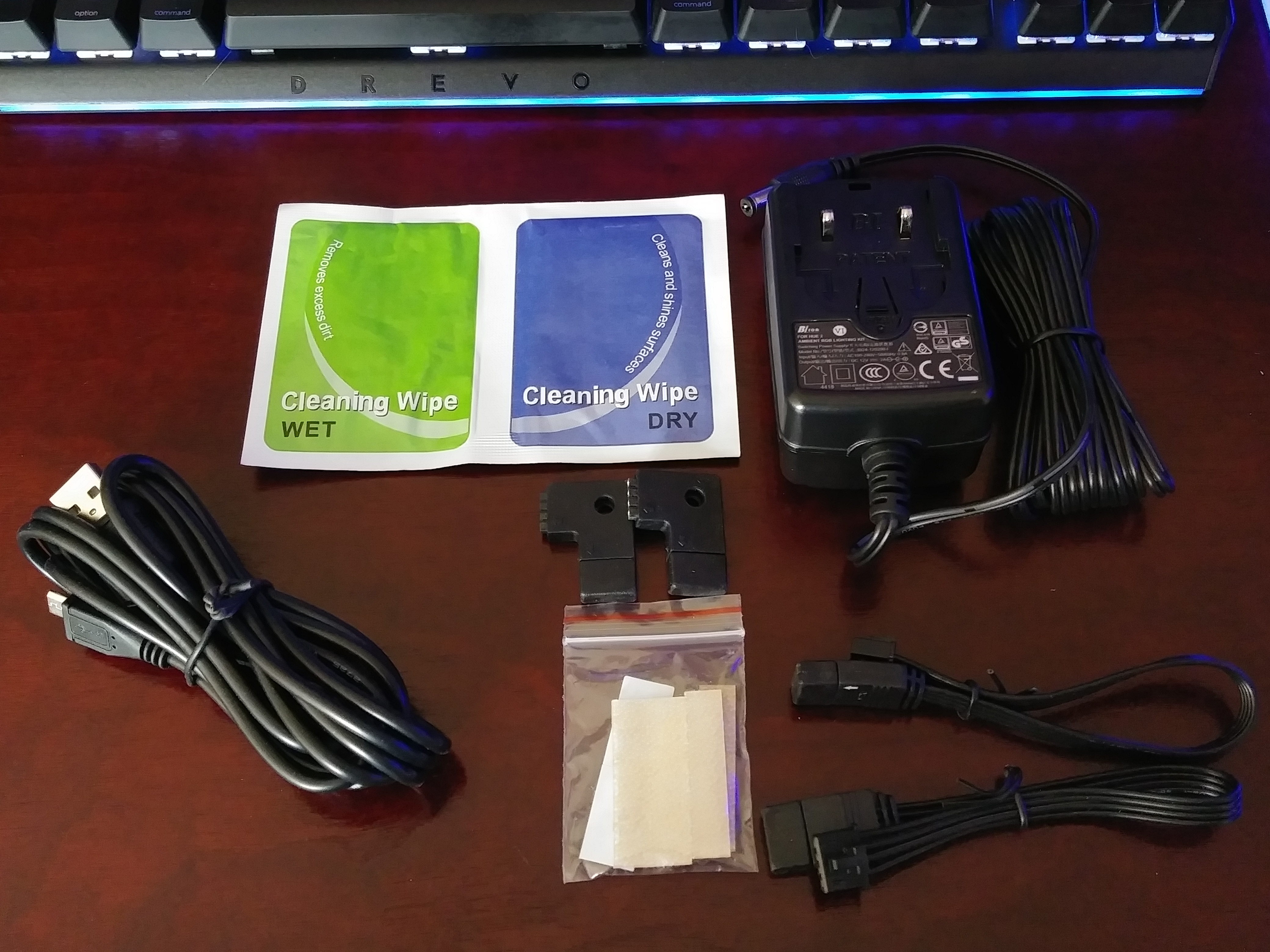 Here you will see the controller and its IO as well as the eight RGB strips included in my kit. There are two RGB Output Channels which can control a bunch of lights individually or in sync, literally your imagination is the ceiling with this device.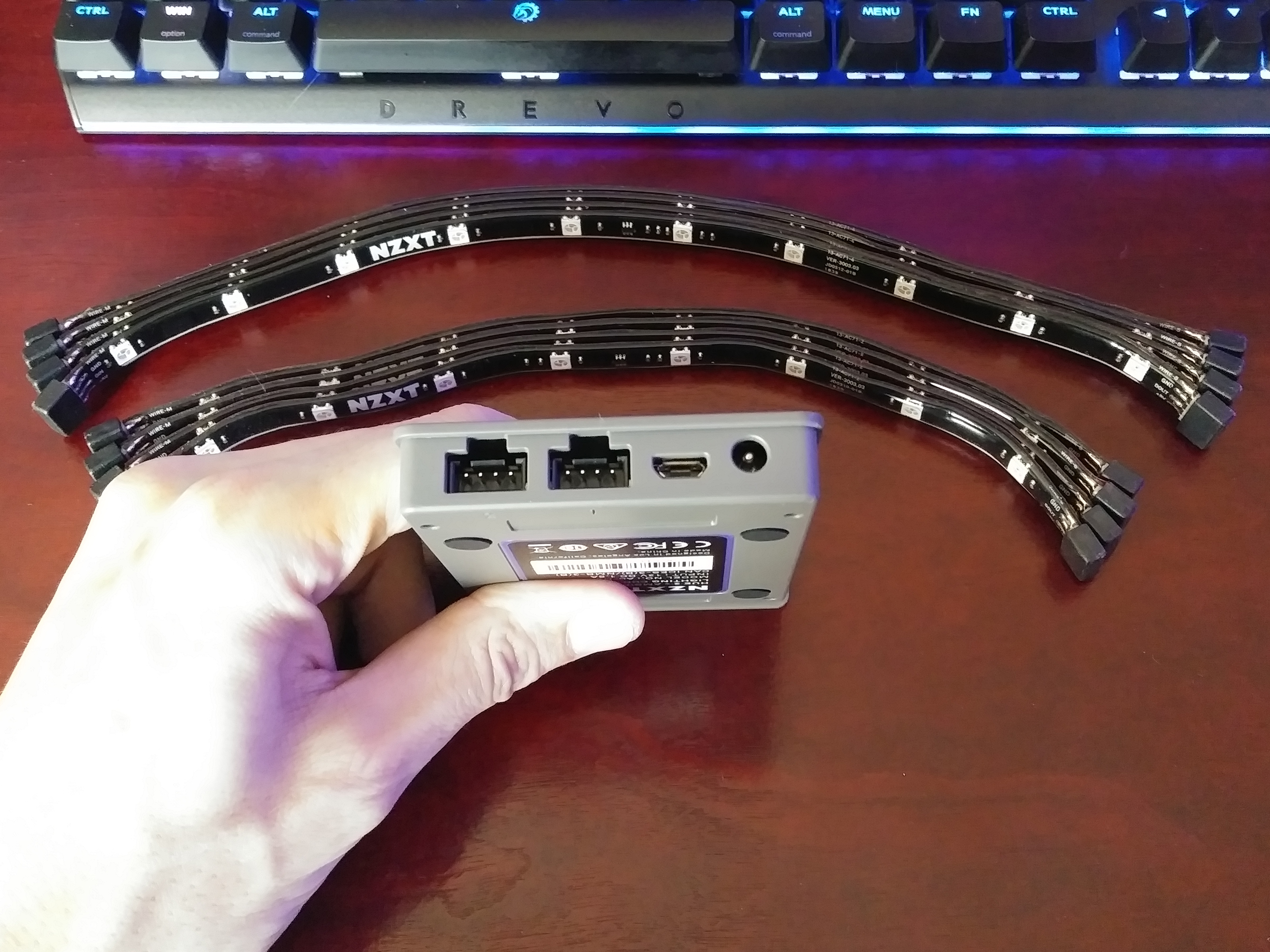 Putting it all together
Getting things set up was really easy, NZXT has laid all you need out on their included manul. Once I had my monitor size figured I just needed to find the strips that match that set up for using both RGB channels.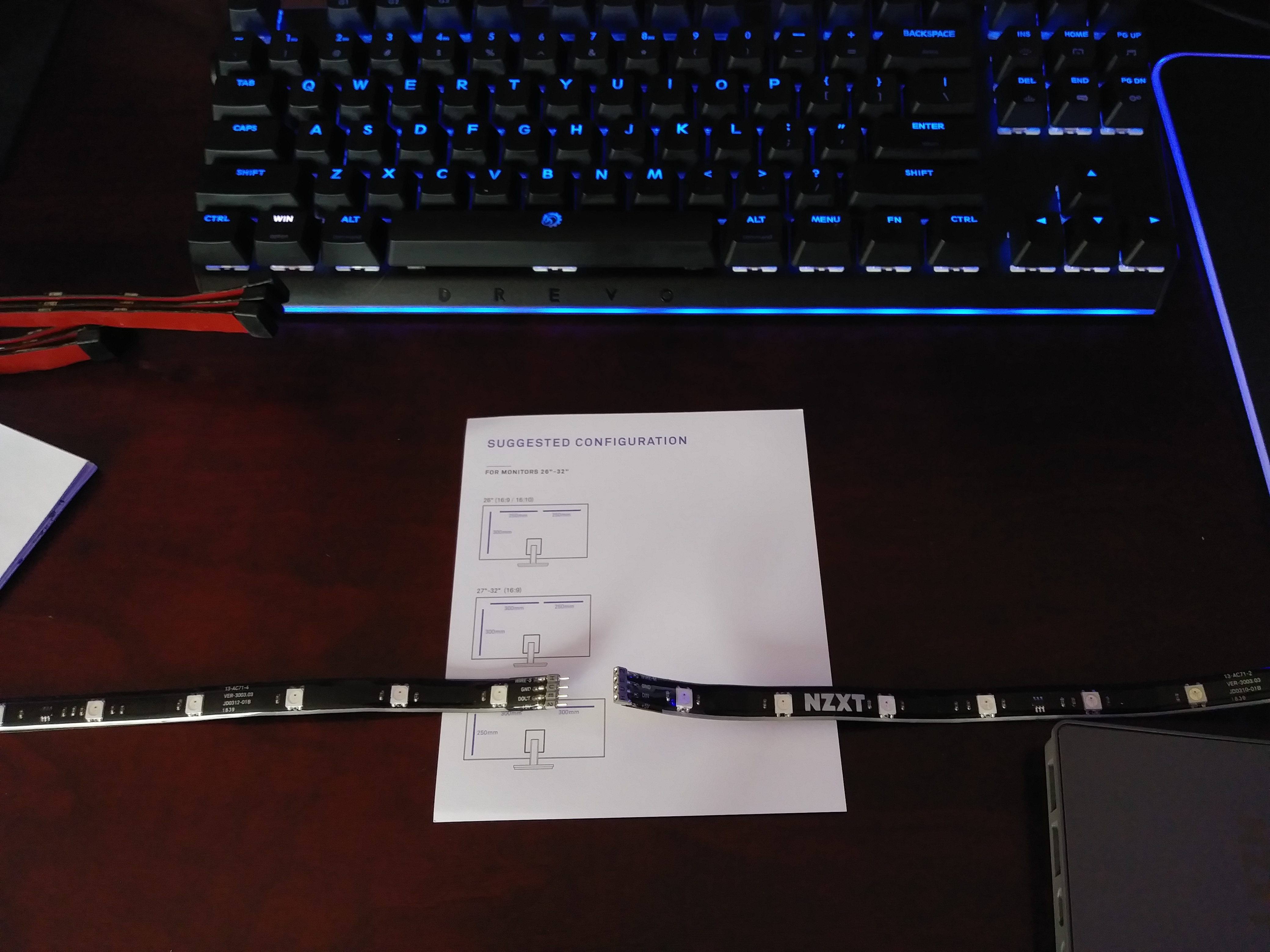 Once you have all your RGB strips figured out you can start connecting them. Making sure that the +5v is going to the +5v on the next strip and so on until the series of 3 are chained together.
Here you can see the back side of one of the two the L-connectors NZXT includes in the kit. The same thing applies as to the straight strips just make sure that the +5v is going to the +5v on the connectors opposite side as you can see below. Addressable RGB strips work differently than regular RGB strips. Plugging them in backward will not result in some fun and off colors, I do not know exactly what will happen but nothing worth trying can come from it I am sure.
Here is the final product on the back of my Viotek GFT27DB a 27″ panel. I made a small mistake and put the strip that's on the left/top part of the monitor a bit to far from the left edge there but other than that installation was really easy to follow and get set up. The 3mm double sided tape NZXT is using here is more than strong enough to hold, showing no signs of wear or weakening.
A look at the final product from the front using the "Starry Night" Preset.
Software
NZXT's CAM software is a neat little package, even with no NZXT stuffs installed you can use it to get info on your system thermals and loads really easy with this software. Once you have the software opened up (you can see mine below in night mode which is controlled on the top little sun icon) you will see the main CAM page and that's info about your system. Clicking the little sun icon on the bottom of the left bar takes you to your RGB settings. From there you can go into all kinds of settings custom and preset. NZXT really has packed their controller full of fun effects and ideas that they are constantly building on.
Final Thoughts
Performance
Being that this is an RGB Ambient kit it has one purpose and that's to look good without being too bright and have plenty of effects. I think NZXT has delivered that and much more. The RGB strips themselves are not too bright even when set to white mode, I really like the implementation of the Smart Ambient mode. It was really surprised when I set Ambient up and opened a white box on the screen and drag it around the edges watching the light follow my box around the screen!
Design
It seems NZXT has upped their game here with the V2 of the HUE 2 Lighting Kit, the adhesive is really strong and the strips are of a really nice quality with a black PCB design to help them not stick out on the back of a black monitor. There are also magnets I discovered in the strips as well so yea with imagination you can do all kinds of stuff with NZXTs line of RGB kits as a modder. The controller as well felt really nice the only real gripe I have is the velcro used to attach the controller to the back of your monitor takes a little more pressure than I am comfortable putting on such a small space on my panel. With that said nothing bad happened and nothing was ruined its just a personal thing, I tend to be more gentle than needed with my hardware.
Value
This is where the HUE 2 Lighting Kit V2 straddles the fence some. Coming in at a cool $109.99 makes the kit a bit hard to swallow. NZXT really has put some solid time into the design and production of the HUE 2 Lighting Kit. The level of software development that it takes to design this kind of stuff is not cheap. There are a lot of RGB effects out there, personally having used ASUS AURA Sync and RGB Fusion daily for my GPU and Case RGB Strips, Fans and Pump header I can say that those have way fewer features in the software, granted they are not addressable either like the HUE 2 Kit where you can control up to 40 individual RGB lights per channel. If you are looking for the max bling on your desk then the NZXT HUE 2 Lighting Kit V2 is for you. Personally, I find the price tag fair for the quality of the kit along with the feature set that NZXT has laid out for you to play with. This is by far the most immersive RGB set-up I have had the pleasure to play with.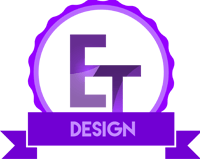 I want to thank NZXT for sending over their HUE 2 Lighting Kit V2 for review.