Introduction
Manufacturer: OCPC
Product Page: OCPC M.2 NVMe PCIe 512GB XTREME
Purchase: $89.99 at the time of review from Product Page
OCPC provides a variety of PC gaming products, ranging from powerful, high-end Graphics Cards, SSD's, Memory and Peripherals. You can find most of what you need when building your own system. OCPC not only cares about high-quality but take into consideration today's gamer style and desire for an excellent looking system.
OCPC stands for "Over Clock PC Gaming", and their mission is to provide over the top attributes, performance, and style to their products. Gaming is more than the in-game experience, it is a lifestyle! OCPC will advance products to evoke the feeling and character of our gamers.
Today I have the pleasure of testing my first NMVe M.2 from OCPC, the OCPC M.2 PCIe NVMe 512GB XTREME. Like I said this is my first hands-on look at an NVMe M.2, up to this point I have used loads of SATA SSDs and a couple SATA M.2's. So this will be a real speed treat in the storage department for sure. Let us dive in!
Specifications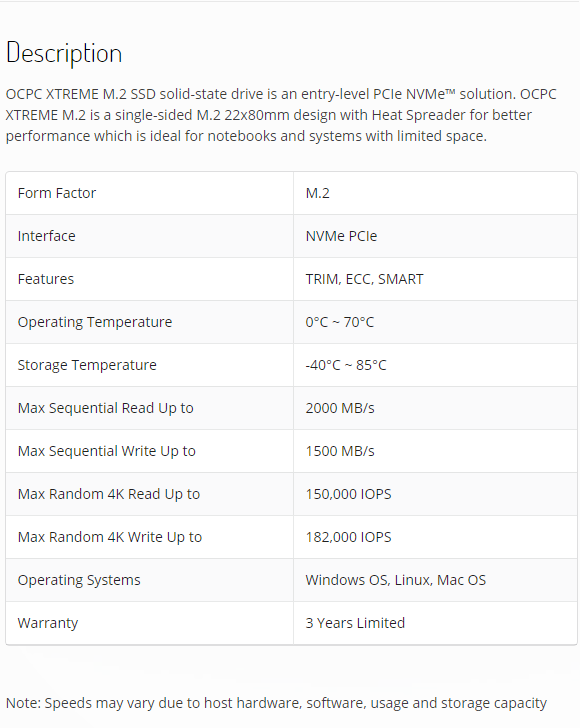 What isn't listed in the spec sheet is the controller and memory used on this drive. Thankfully I was able to get a direct answer on the controller in use, which is the SM2263XT. The SM2263XT is a PCIe Gen3 x4 NVMe 1.3 | 4-CH | No DRAM controller built on the TFBGA288 package. The memory in use is generally either of Micron or Sandisk manufacture. I do not as of now have the proper tools on hand to remove and reapply the heatsink so will have to check on this at a later date (will revisit this in the future and update if anything else significant is found).
Closer Look
Here on the front of the box, OCPC gets straight to the point which is nice to see. No massively overdone box branding leading to nothing useful in terms of product information. You know exactly what you are looking at, an SSD M.2 PCIe storage device.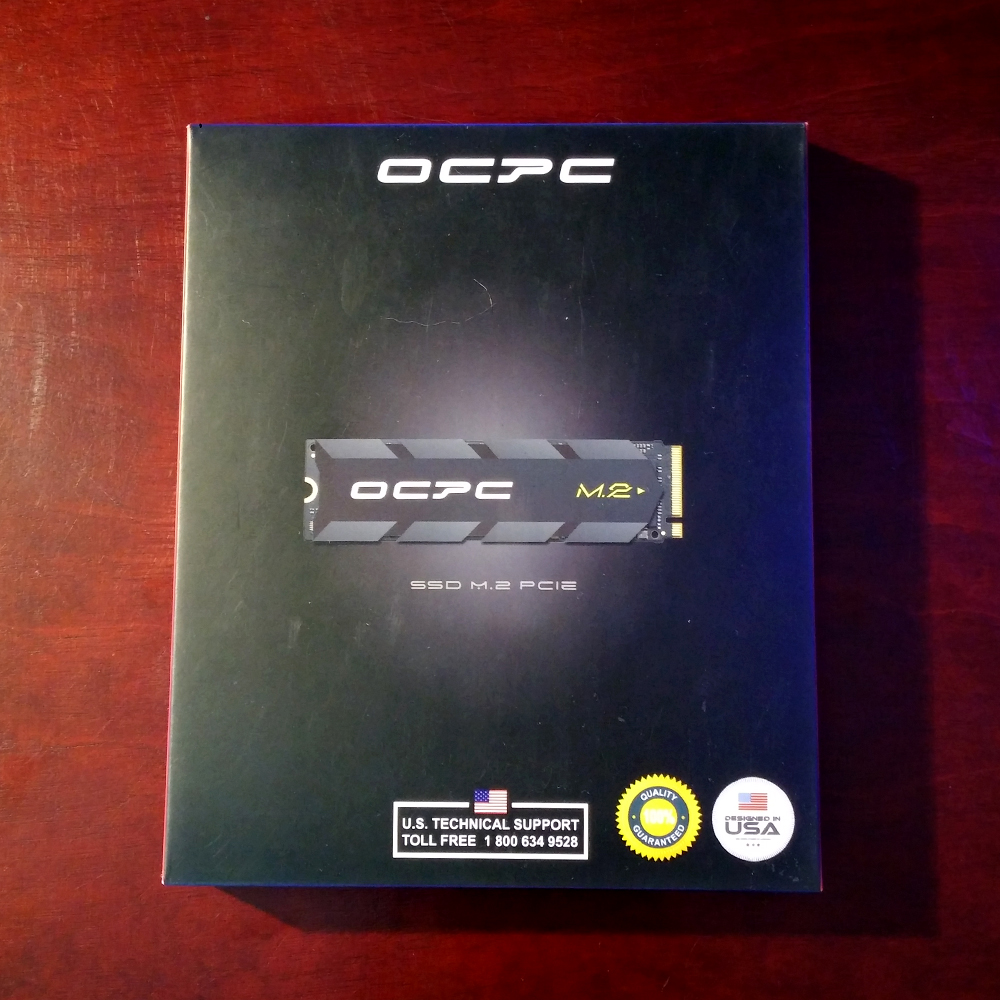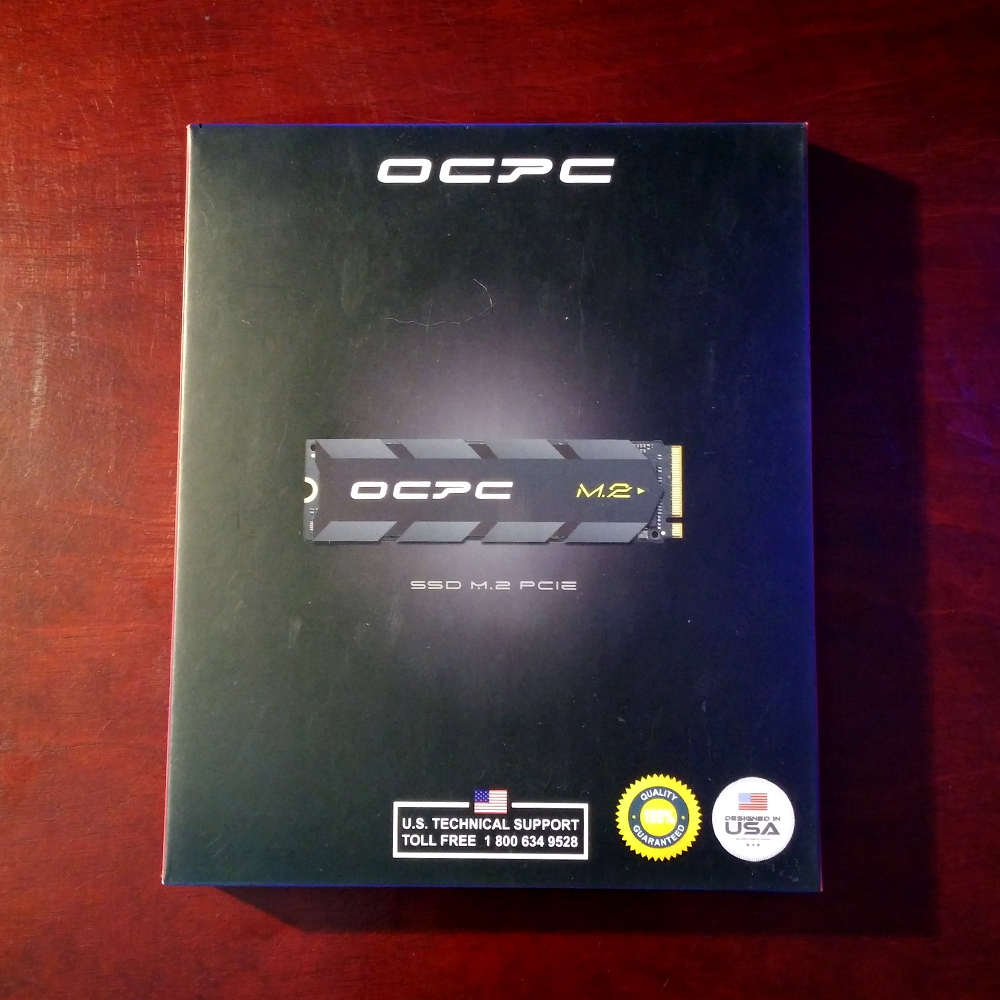 The back of the box hits a few more details including use case as well as Specifications. One thing I will note here is the lack of what kind of NVMe you are buying. In this case its a PCIe Gen3 x4 NVMe 1.3 with no DRAM. Now where this isn't going to mean a whole lot to all users, enthusiast and professionals do very much care about these details. A similar PCIe Gen3 x4 NVMe 1.3 M.2 using a slightly different controller containing DRAM will get you almost double the speed on the same Gen3 interface. Making this specific storage device an entry-level device, this in no way means its a bad or even slow drive. Just that it is not the absolute fastest NVMe M.2 you can snag.
 Something I do want to note here is that the back of the box specs and product page specs are a bit off. The product page sports a Max Read 2000MB/s and Write 1500MB/s whereas the package says a Max of 1800MB/s Read and 900MB/s Write. I am achieving up to and even faster than the products spec page ratings in some cases and double the speed rated on the back of the box.
The response from my contact at OCPC from the screenshot below, "Thank you for the opportunity to respond! The packaging is the same for all capacities. OCPC decided to go with lower specifications on the packaging to accommodate for the smaller capacity versions that may not hit the higher speeds."
This is commendable, instead of OCPC taking the chance to brand for each box and ride the line with their performance claims. They err on the safe side for their product line among its varying capacities, leaving the more accurate and detailed specs on the products direct page.
Here in this little pullout clamshell cardboard and foam insert, we get our first look at the OCPC M.2 PCIe NVMe 512GB XTREME itself. Nicely tucked away under a foam lid you will see your M.2 heat spreader face up.
Taking the OCPC M.2 out of the box reveals a black PCB topped with a heat spreader on the top side, or if you will the side you will see in a desktop build, or when installing it in a laptop.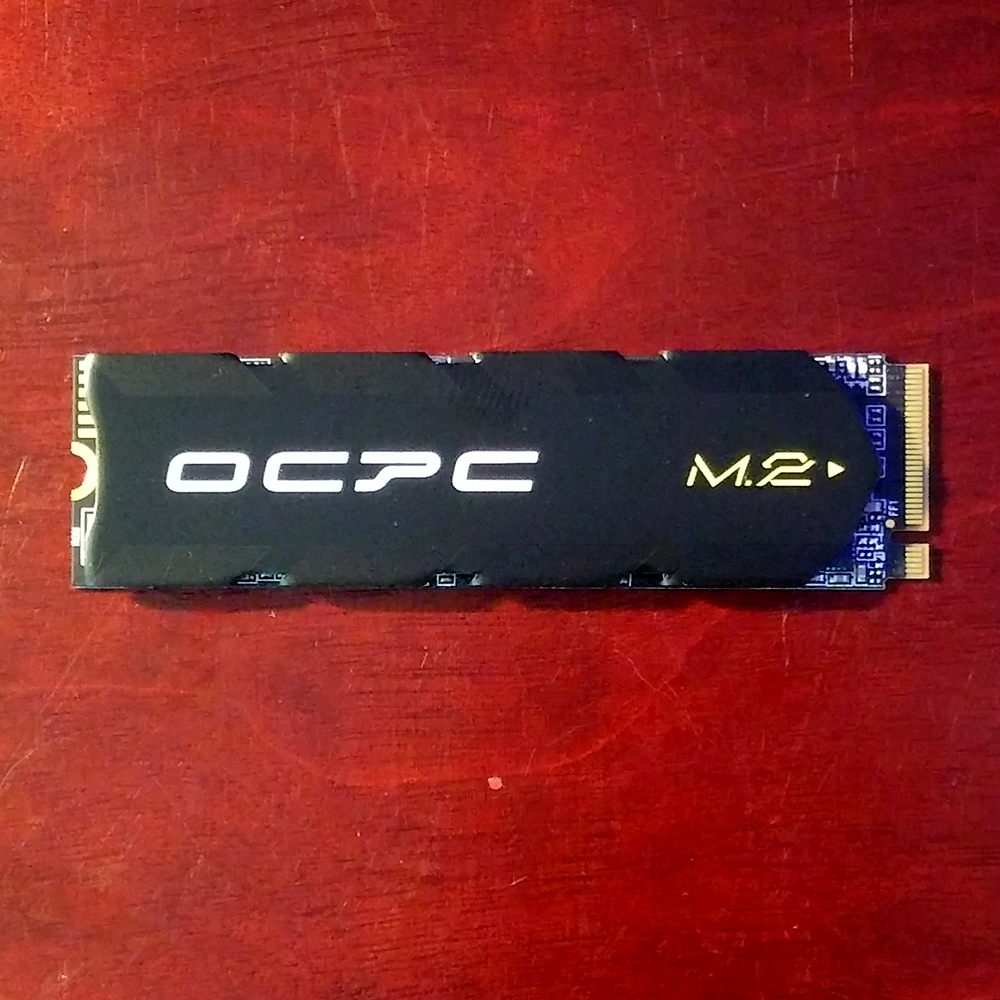 Flipping the M.2 over shows just a sticker with Part and Serial numbers as well as the Silicon Motion SM2263XT controller used on the device and was confirmed by manufacture before I spotted this tag.
Conclusion
Performance
This is why NVMe drives are considered in the first place speed, and that is exactly what OCPC delivers here with this M.2. Granted these speeds are a bit short of what more premium M.2's can do with some DRAM on the controller. That, however, is no reason to not consider this drive. The OCPC M.2 PCIe NVMe 512GB XTREME is plenty fast as an operating system boot drive and or gaming drive.
Using the drive for just games saw them loading noticeably faster, with the drive operating at 32C idle and up to 55C peak when loading and playing games. Where when the M.2 is utilized as a boot drive I went from a 13s from BIOS Post to desktop, to a 9s boot time. The drive under boot drive conditions idled at 45C and when playing a game or running other applications peaked at 66C.
The only time I was able to achieve thermal throttling on the drive was when running it as a boot drive, playing PUBG or other intensive games, while Streaming with Streamlabs OBS on the same drive. Then and only then would the drive reach the rated max operating temp of 70C and it would throttle some. Never was this noticeable, having zero noticeable impact on gameplay or stream.
With all the above said here is how the OCPC M.2 PCIe NVMe 512GB XTREME stacks up against a few SATA SSDs the more typical SSD that general users are used to hearing about and seeing at this point. Basically, no SATA6 SSD is going to have any chance of playing ball in the same court as an M.2 with or without DRAM to help the drive out.  Sorry but as this is my first NVMe M.2 review I have nothing to toss in the ring to challenge these speeds!
Test System Specs
CPU: R7 1700 @ 3.8GHz
Mobo: ASUS Strix B350-F (BIOS: 5008)
MEM: G.Skill Trident Z RGB 2x8GB CL16 3000
OS: Windows 10 Pro (1809)
Design
I am a fan of Black and Dark Greys for my PCB components. OCPC has delivered here with both a black PCB and a matching heat spreader with nice and clean branding. Not only does the drive look nice in a glass panel build but the heat spreader is functional, for I have no doubt that in future testing once it is removed the drive will thermal throttle without a doubt. So in design OCPC has done a great job in my eyes.
Value
The value of an M.2 is hard to argue these days. For years I argued against my gaming friends spending on them since outside the basic load time of a game they would not really benefit from the extra cost. At ($0.175 x 512GB =  $89.60 (rough estimate)) it is no longer an argument of you are paying too much for your storage, to one more along the lines of what M.2 are you using? The OCPC M.2 PCIe NVMe 512GB XTREME is offering blazing fast speeds for the price. Not only is it fast but it looks good while doing it, with a sleek heat spreader on the top instead of a sticker or bare chips!
For all of these reasons, I can strongly recommend the OCPC M.2 PCIe NVMe 512GB XTREME for your desktop or laptop, either as a main/boot drive or as a secondary gaming drive. For the price of this NVMe M.2, the speed coupled with the looks of the heat spreader you get are very competitive in today's market.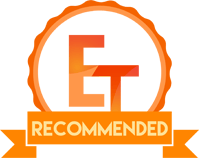 I want to thank OCPC for sending over the review sample.