Introduction
When it comes to building a new PC or upgrading an old one, storage can be one of the easier options to speeds things up a bit! Today, Patriot has been kind enough to send over their Viper VPN100 PCIe M.2 for us to take a look at. We are seeing more and more M.2 drives on the market as they are being more widely used than they were even just a couple of years ago. NVMe drives can offer blistering fast speeds across PCIe 4.0 which, in turn, should help to make PCIe 3.0 drives a bit cheaper. Cheaper Gen 3 drives mean you can get more storage for less money and as we are seeing, making the need to add a standard spinning hard drive to your PC almost obsolete. While I still think we are a ways off from getting rid of HDDs, we are seeing more and more SSDs and for those enthusiasts and gamers. Bigger size SSDs offer much better performance and longevity over standard HDDs so as prices drop, they become much more viable.
Packaging
The box is definitely going to grab your attention should you be in an actual brick and mortar store. There is a decent image of the drive in the middle as we see with most PC components these days, a red border and we can see the model at the top. There is a small sticker stating the '256GB' size we have received and just above this, read and write speeds. Now, one thing that has kind of set me off is the state read and write speeds as they are incorrect for this drive. Patriot has stated the maximum read and write speeds for the VPN100 PCIe M.2 SSD. However, as we have the 256GB model, our speeds won't be quite as good so this can be a bit misleading! As it is on the box for this size, it makes it look like the 256GB should be able to hit these speeds and it can't you would need the larger capacity drives if you want to reach these speeds. The speeds for the 256GB VPN100 should be up to Read 3,000MB/s and Write 1,000 MB/s. While this means the read isn't far off, there is a whopping 2,000MB/s difference in write speeds which could really upset consumers if they are unaware or not as clued up when it comes to storage drives as some are.
Again, on to the back and we have the incorrect speeds for this drive stated! I know companies want to save money and not have a load of different packages for products with small differences such as sizes. However, if they are going to have different specifications maybe they should list them all as the packaging for the 256GB Patriot Viper VPN100 M.2 PCIe SSD is misleading and there is no getting around that!

You can open the front cover and get an actual look at the exact drive you will be purchasing. Again, we see the wrong speeds stated and this really makes it look like the drive you have is going to hit these speeds and it just isn't going to happen!
So, forget what the packaging has to say! The image below has the correct specs for the 256GB VPN100 M.2 PCIe SSD that we have on hand!
VPN100 Closer Look
The Viper VPN100 comes with a heatsink already installed! While this isn't necessary in most cases for Gen 3 drives, it does add a more rugged look and feel to things! The heatsink is all black and has a nice shape to it with a VIPER logo smack dab in the middle of it. The thing to consider here will be does your motherboard allow for a M.2 with a heatsink? A lot of motherboards have their own include heatsinks/shields on them so you may have to remove the heatsink on the VPN100 to install it properly on your board. Or, if you prefer the VPN100 heatsink, you may just leave the included one with your motherboard off. Either way, the decision is yours and the included heatsink on the VPN100 does look much better than the standard blue PCB that you would see in its place if removed.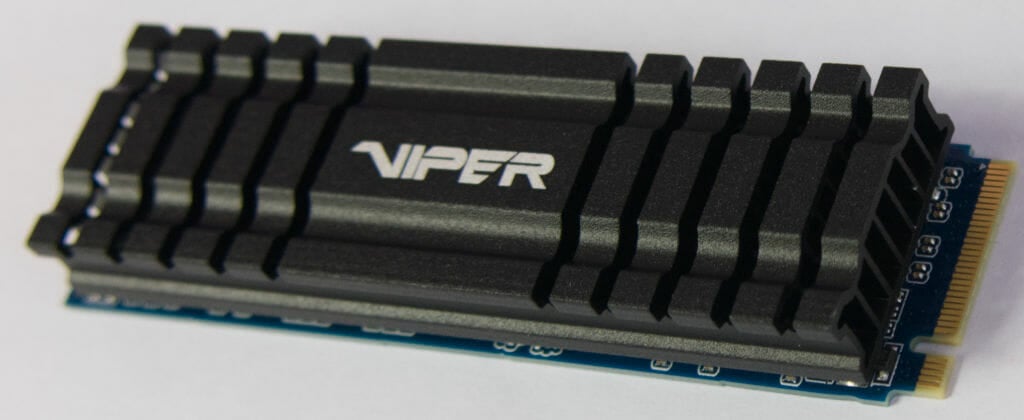 On the backside and we have a pair of stickers here. This isn't an issue as this will be the side facing the motherboard so once installed, you won't see them. One sticker is for warranty purposes while the other has information on the drive itself.
M.2 SSDs are quite boring to photo for the most part. Not a lot that we can show off really but for fun, we took a pick through the heatsink included on the VPN100. This pic is nothing more than a bit of fun and to add another pic to the review so it's not as boring! When it comes to heatsinks on Gen3 M.2's or M.2 drives in general, do you like them or not? Let us know in the comments below what your preferences are when it comes to pre-installed heatsinks on M.2 drives!
VPN100 Testing
All storage testing benchmarks will offer different results, that is why we try and use a few of them to really show what the drive offers. The 256GB Patriot Viper VPN100 PCIe M.2 SSD managed to hit its stated read and write speeds in CrystalDiskMark, even if only just! In As SSD and Anvil, the read speeds weren't as good and were a bit shy of the mark but the write speed was right where it should be, mostly. Overall the VPN100 looks to perform as it should in benchmarks so I am happy with it.
CrystalDiskMark
AS SSD
Anvil Storage Utilities
Final Thoughts
Coming in at £39.48 here in the UK from Ebuyer at the time of review, or $52.99 from Amazon.com in America, the Viper VPN100 is a good NVMe M.2 SSD for those who don't need loads of space. Combine these prices with a 3-year warranty and you really can't go wrong if you need a small boot drive to maybe upgrade your system current HDD or SATA SSD. The pricing is around where we would expect to see it, albeit a tad bit more expensive than some other drives however the price increase is minimal in most cases. If you are looking to stay with Patriot products in your build, the couple of extra pounds is well spent and it does come with a heatsink even if it's not really needed.
While I personally would've loved to have seen it without a heatsink on it and saved a couple of bucks, it really isn't a massive deal. The heatsink does add a bit of an aesthetical flair to things and does look quite nice but for a Gen3 drive, it really isn't required. Aside from this, the performance was on point and we managed to surpass the stated read/write speeds in CDM which is generally the case as we have seen with most SSDs that we test. Boasting 3,000MB/s read and 1,000MB/s write speeds are still quite fast, especially if you are coming from a standard HDD or SSD. Those making the jump to their first NVMe M.2 drive will love the additional speeds they achieve and those super-fast boot-up times!
The only issue I have with the VPN100 is the packaging as the speeds stated on it are for the bigger and faster drives. This makes it seem as if the 256GB variant will hit these speeds and as we have seen now, it won't at all! However, once you find the correct speeds, it has no problem hitting those and the VPN100 series as a whole is quite nice! The maximum speeds of the Viper VPN100 series are 3,450MB/s Read and 3,000MB/s write on the bigger drives which is quite impressive and will be more than most will ever need! It was a shame we didn't get to test a bigger drive out but is fine as from what we have seen from the little brother, we have no issues with believing the bigger drives will hit their rated speeds as well.
If you are in the market for a new M.2 SSD and are not sure about things, Patriot is a brand you can trust and their VPN100 SSD performs well and is priced equally as well and will make a great addition to any system.
Many thanks to Patriot for sending in a sample of their VPN100 PCIe M.2 SSD.