Introduction
Raijintek has been hitting the market hard with some amazing water cooling products lately. Today, we will be taking a look at the ACHERON 360. This is a 360mm Distro Plate which also comes with the option to have a D5 pump or not. While some of you may not have enough space for a 360mm version, worry not as it does also come in a 240mm variant. This is just one of the recent products Raijintek has brought to the market for the DIY water cooling enthusiast. Alongside the individual components to build a complete water cooling loop, Raijintek also offer kits such as the  Scylla Pro which come with everything you need right in the box to make a complete loop! While Raijintek isn't new to the water cooling scene they may not currently be one of the bigger names but if they keep going the way they are, it won't be long before they are.
Following on from our review of their FORKIS Pro RBW CPU Water Block, we are really trying to showcase what Raijintek can do in the custom DIY water cooling sector. Both the Forkis and ACHERON went into a build we did in their PAEAN Premium case which we will also soon be reviewing. Yes, not only do they make some great water cooling gear, but they also make the cases to put it and all your other hardware in! Raijintek is definitely on a mission and as with all major companies right now, if they can make it through the current hardships caused by Covid, they will soon be a force to be reckoned with.
Specifications
Product Name
ACHERON 360 RBW
ACHERON 360 D5 EVO RBW
Product Number
0R40B00195
0R40B00196
Dimension [W×H×D]
120×360×34 mm
120×360×96 mm
Weight [Block+Pump+Radiator]
1475g
1910g
Material
Aluminum + PMMA (Crystal clear)
Aluminum + PMMA (Crystal clear)
Coolant Capacity
220ml
220ml
Screw Threads
G 1/4″
G 1/4″
Closer Look
In what is likely an effort to help keep costs down, Raijintek has opted to have the same packaging for both models of the ACHERON 360 with both the EVO and non-EVO models listed on the front. While there is a small box to tick to say which one is inside, it's always a good idea to have a little peak if you can before purchasing, just in case. As you can see, there is a nice image of each model of the ACHERON 360 RBW on the front of the box and boy, do they look nice.
The ACHERON 360 looks to have two separate chambers but they are actually connected by the pump so the liquid will flow from one, through the pump and into the other. To make sure it stays together and as tight as possible, there are black metal brackets on each side that hold the two pieces of the distro plate tightly together. Even without its RGB lighting it looks quite nice and should you have some nice coloured liquid flowing through, even better!
As mentioned, the ACHERON 360 RBW comes with or without a pump and we personally requested the version with a pump for this build/review. The pump comes pre-attached to the distro plate right out of the box so no extra steps are required to make use of it. The pump has two wires coming from it, one FAN header and one SATA power connector, the ACHERON 360 also has a third wire for the RGB LED strip. The best thing about it? You can use the ACHERON 360 RBW in any case that has space for a 360mm AIO, it's not just limited to being used in Raijintek cases. This is quite nice as a lot of distro plates are custom made for certain cases so the odds of reusing them when you change cases aren't all that great.
PUMP Specifications
Bearing typeCeramic BearingMaximum Head4 meterMaximum Discharge1500 L/HMaximum Pressure50 PSILife Expectance50,000 hrsNoise Level30 dBA [Max.]SpeedP1 : 1,800 RPM
P2 : 2,500 RPM
P3 : 3,300 RPM
P4 : 4,000 RPM
P5 : 4,800 RPMVoltage RatingDC12VInput Current1.8A ±10%Connector2606-H-03P [-12V/+12V] /SATA header
This little snowflake looking thing is going to be your flow sensor. Basically, as the fluid is moving around, this should turn to indicate that all is well and the fluid is moving as it should. However, should this stop you may need to check your pump is working or that it is on a high enough setting to move the fluid around the ACHERON 360 and your system as needed.
There are plenty of the G1/4″ threads on the ACHERON 360 RBW. In fact, there are five in total. The three on the bigger chamber will be used to have the fluid come into the ACHERON from the rest of the loop, fill your loop up to get things going and the bottom one can be used as an easily accessible drain port for maintenance or when it is time to switch components. On the smaller chamber, you will have two ports, either of which can be used as an outport to pass the fluid through to the next component in your water cooling loop.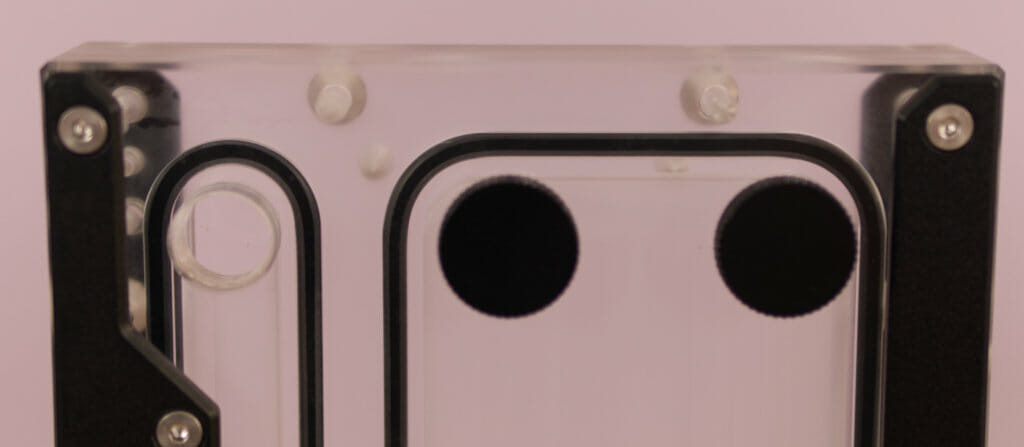 As you can see it fits in Raijinteks PAEAN PREMIUM case with ease and as mentioned, will fit in almost any case with support for 360MM AIOs in this orientation. The black brackets on the side also allow for it to fit in quite nicely with your build with or without the RGB LEDs on which is nice as not everyone is a fan of RGB.
However, if you are like us and love a bit of RGB you will be happy to see it once it is all lit up! It looks absolutely amazing and will definitely ensure that your PC looks the best it can and will definitely be a good talking piece should it be somewhere where others can see it.
We may be a bit biased but when it is lit up in blue it looks absolutely stunning!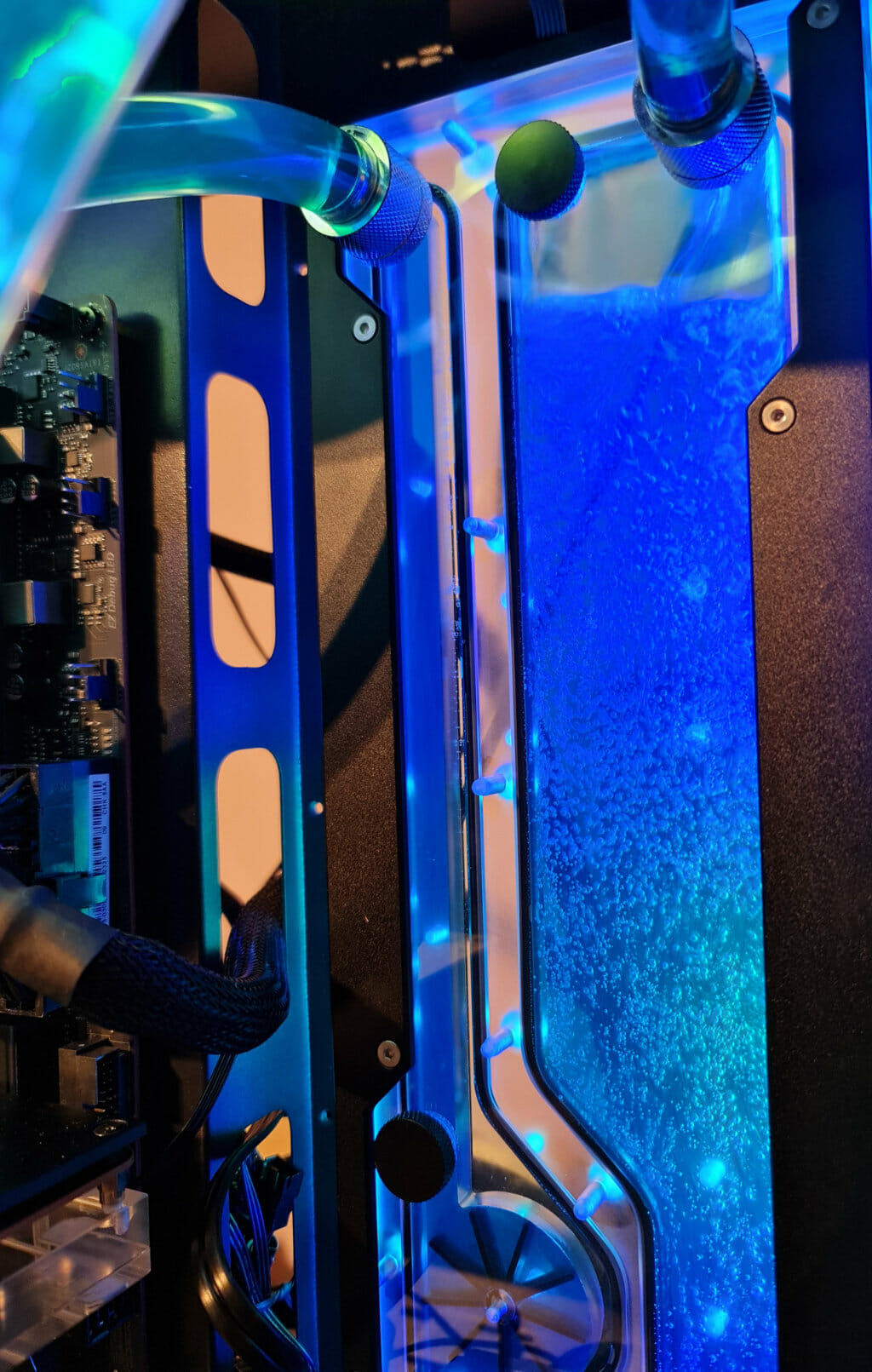 Raijintek has done a great job making sure your next build can look absolutely amazing and what's even better, it's all quite easy to do! As you can see, the PAEAN case is quite nice, the FORKIS RBW looks great cooling the CPU and the ACHERON 360 RBW we are looking at just adds that final touch to finishing things off! Raijintek is here to remind people that building a custom loop DIY water cooling PC doesn't have to be hard or overly expensive for no reason!
Final Words
Currently coming in at £219.95 at the time of review from Overclockers UK, the ACHERON 360 D5 EVO RBW combines both a distro plate and pump into one tidy little unit. Those who aren't looking to use the included pump can buy the standard model for £129.95. Both models look great and will no doubt add a special touch to your next water cooler PC. They could even be a nice upgrade or addition to your current PC if you have room for one. If you can't fit the 360mm variant, don't worry as they also come in a 240mm version, which, of course, is also a tad bit cheaper. Raijintek has surely made sure to offer something for almost everyone with their ACHERON distro plates and I myself will also be looking to get a 240mm version for future builds. The ACHERON 360 RBW is definitely a great way to incorporate more water cooling gear into your PC. The pump is also quite powerful as while we didn't have the biggest loop in the world, the fluid was flowing quite nice and did an excellent job of keeping our CPU and GPU nicely cooled.
Using the ACHERON distro plates will allow you to add more fluid into your loop, which, in turn, should allow for a bit better temps. Basically, the fluid in the loop will have more area to dissipate to and will also have further to travel so should cool down more and if you didn't have an ACHERON in your loop. While it is definitely a more niche product, it is well worth considering if you are on the loop out for something to add to your loop and PC that will not allow help from an aesthetic standpoint but should also help the overall performance as well, even if only slightly.
When all is said and done it will likely come down to budget constraints on whether or not the ACHERON 360 RBW is a viable option. All I can say that is if you can swing it, it is well worth the asking price and as mentioned can be used in any case that has a similar 360mm fan mount!