Introduction
If you're not a fan of Thermaltake, you must hate all that they have been doing of late. They offer some of the best look AIO CPU Coolers, Cases, Fans and now even Memory. Thermaltake is making big waves in the Industry with no signs of slowing down. Even if you are not a fan, of all their cool offerings, you can't deny the fact that a bit of competition is a good thing and Thermaltake is competition with a lot of companies these days. In recent years, Thermaltake has made a big focus on Gamers, Tech Enthusiasts and those who like to customize and water cool their PCs. Today, we will be taking a look at the Thermaltake Riing Quad 14 Radiator fan. These fans come in a 3-pack and are a great replacement for those of you who may have a 420mm RAD and are looking for some new fans. Whether you want fans that offer an aesthetic appeal or some added performance, the Riing Quads could be a very good option. I could go on about Thermaltake all day but let's get to what we all came here for, the review and closer look at what the Riing Quads have to offer.
Specification
More Information

| | |
| --- | --- |
| P/N | CL-F089-PL14SW-A |
| FAN DIMENSION | 140 x 140 x 25 mm |
| INTERFACE | USB 2.0 connectors (9 Pin) |
| SYSTEM COMPATIBILITY | Windows 7 / 8 / 8.1 / 10 |
| FAN STARTED VOLTAGE | 9.0 V |
| FAN RATED VOLTAGE | 12 V & 5V |
| RATED CURRENT | 12V- 0.12 A , 5v – 0.9A (Fan*1) |
| RATED VOLTAGE | |
| POWER INPUT | 12V – 4.32 W . 5V – 13.5 W (Fan*3) |
| FAN SPEED | 500 ~ 1400 R.P.M |
| MAX. AIR PRESSURE | 1.71 mm-H2O |
| MAX AIR FLOW | 60.17 CFM |
| NOISE | 26.1 dB-A |
| BEARING TYPE | Hydraulic Bearing |
| LIFE EXPECTATION | 40,000 hrs,25℃ |
| WEIGHT | 238 g (Fan*1) |
Closer Look
Thermaltake has a very distinct packaging for their fans these days. If you've seen the packaging for any of their newer fans, you will be able to spot them from a mile away. My guess is that is exactly what they want as to create better brand awareness and if so, they have definitely been successful!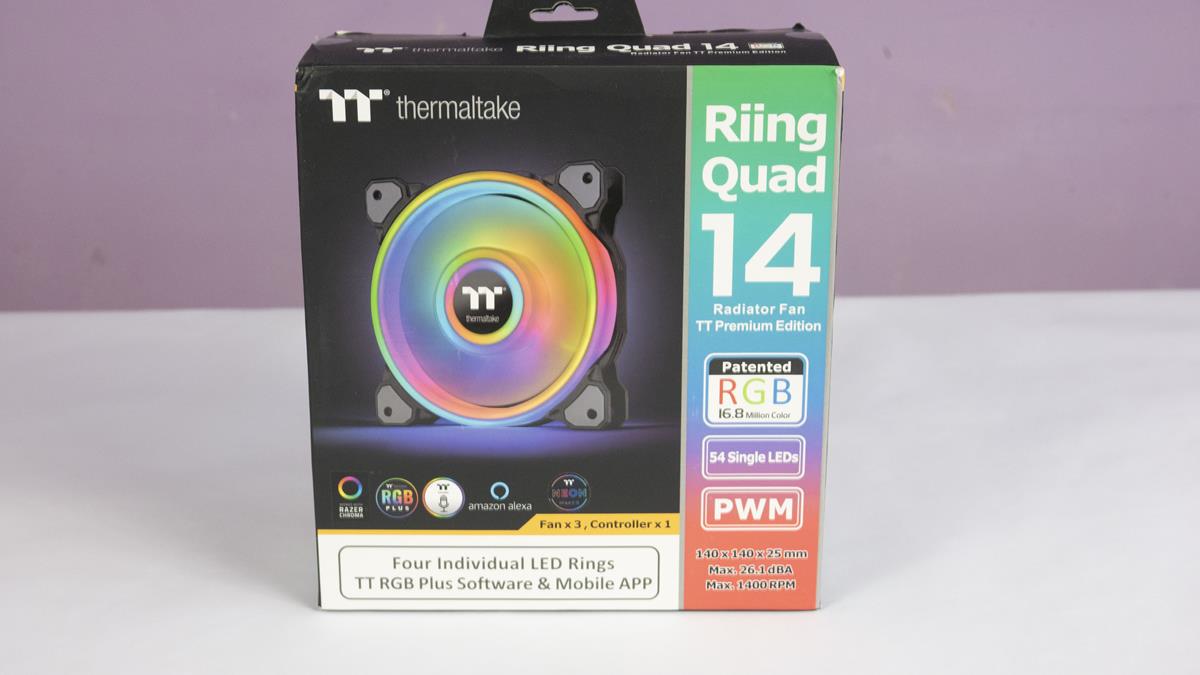 Thermaltake like to pack the outside of their boxes with loads of information so you can make a properly informed decision before you purchase. On the back, we have a features list, full specifications and even a look at the software functionality.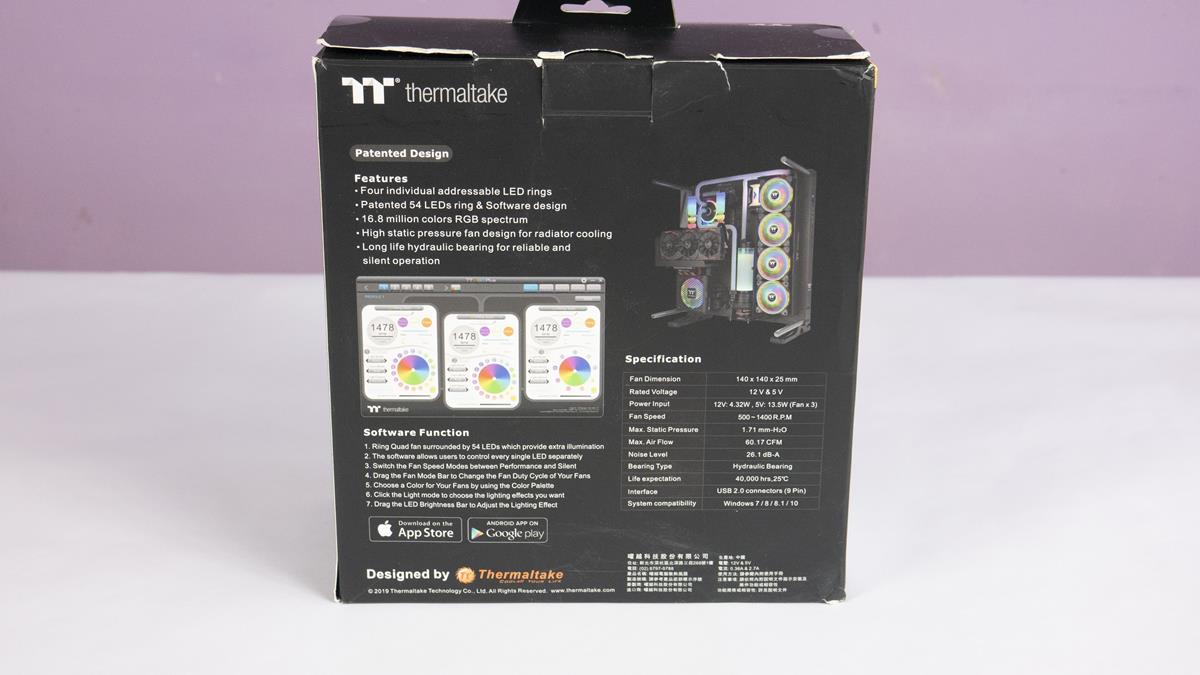 Want a little sneak at a couple of the easy to use preset modes? Just look at one of the sides!
The other side has some info in a few different languages. Kind of pointless if you ask me as it doesn't seem to cover much, but at least it's not just blank I suppose!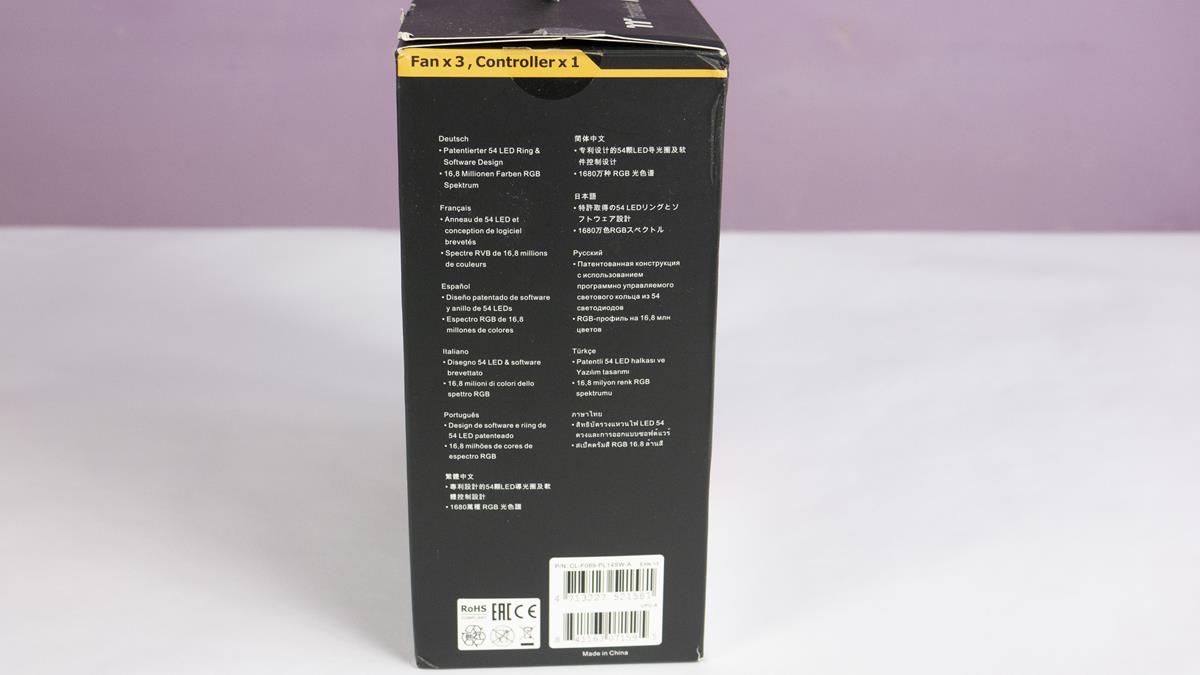 The Riing Quad fans feature 4x separate LED rings with a total of 54 LEDs which can all be customized individually or in groups. This leaves users with endless options to make the most of these fans and have them fit in with almost any build you could imagine.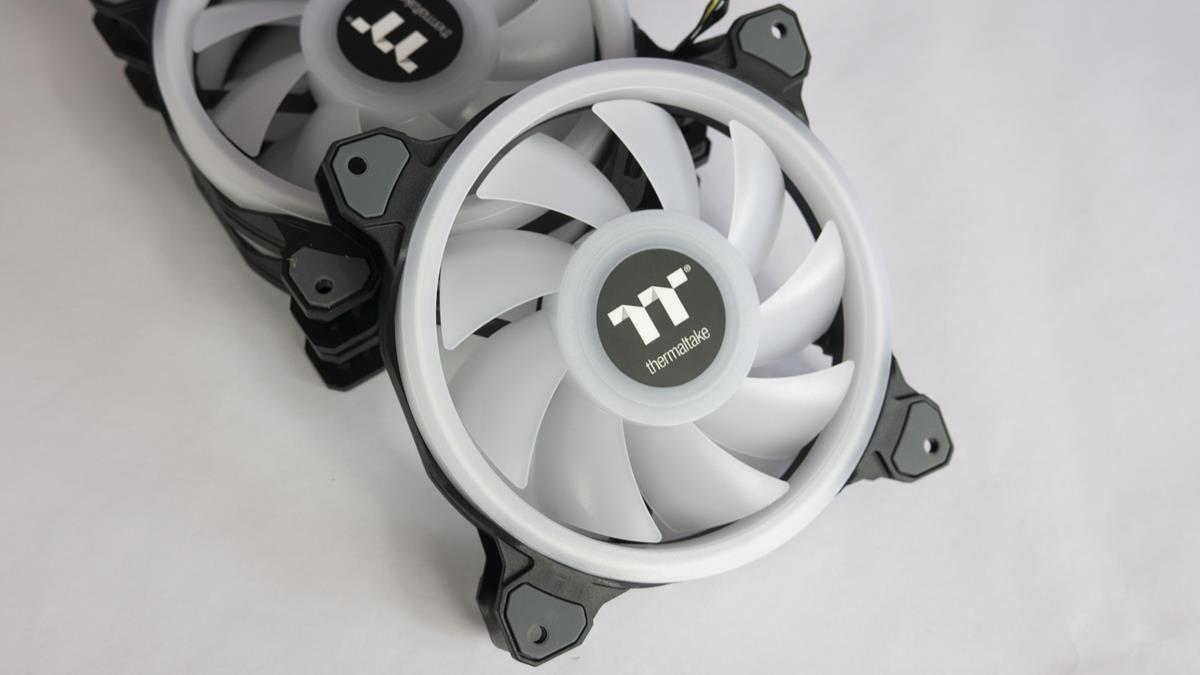 They come with the anti-vibration rubbers already installed. These are going to help reduce noise and are a great feature to come with as standard. A lot of fans still don't come with anti-vibration measures, or, if they do, you have to install them yourselves.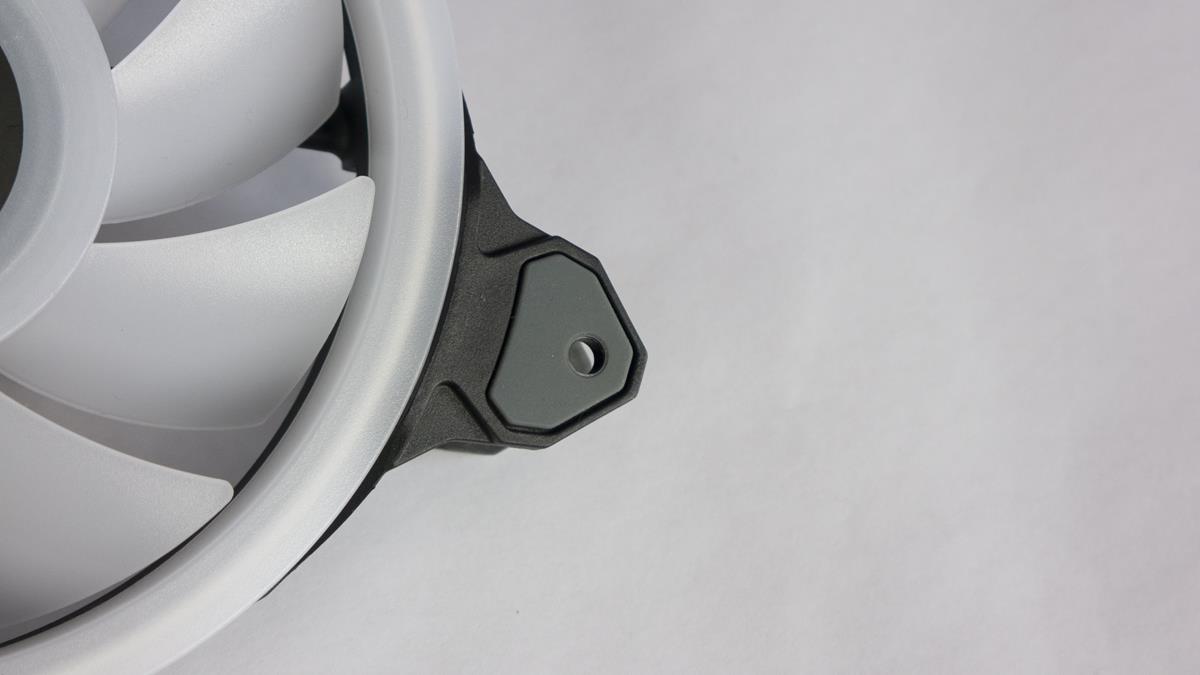 Trying to hide some of the long cable that comes with these fans? Well, you can wrap the wire around the fan then hid it in these little slots behind the screws.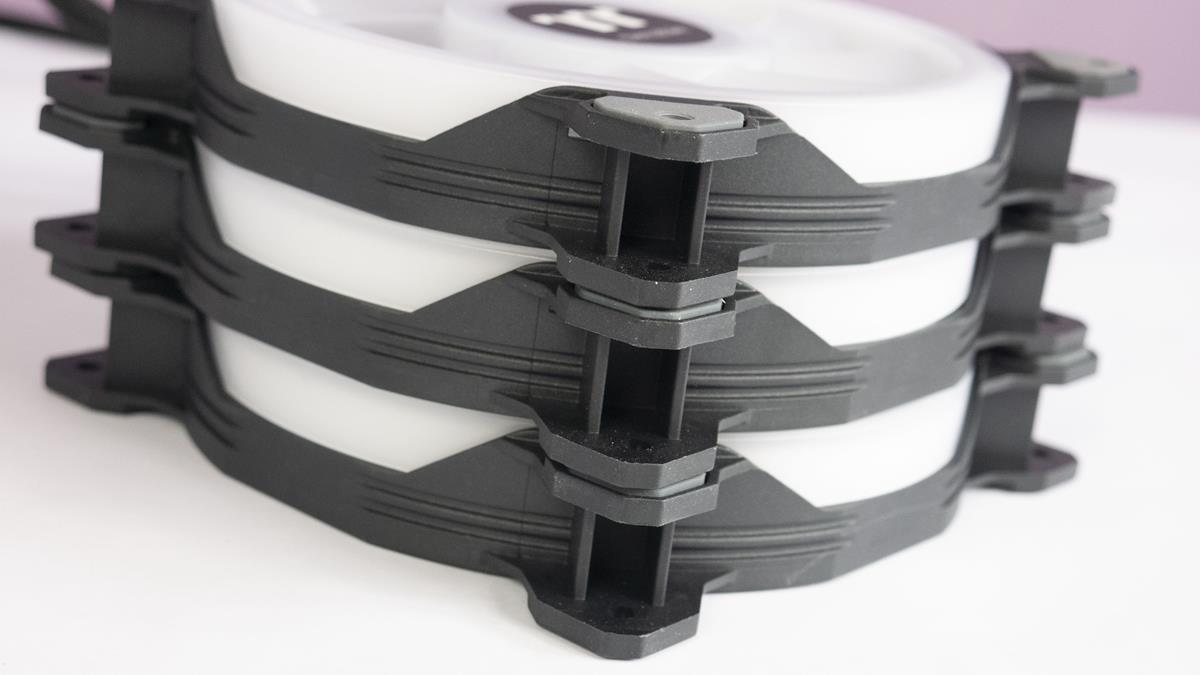 Not a whole lot going on around the back of the fans, same as most fans these days. Just a bit of info that won't matter to most.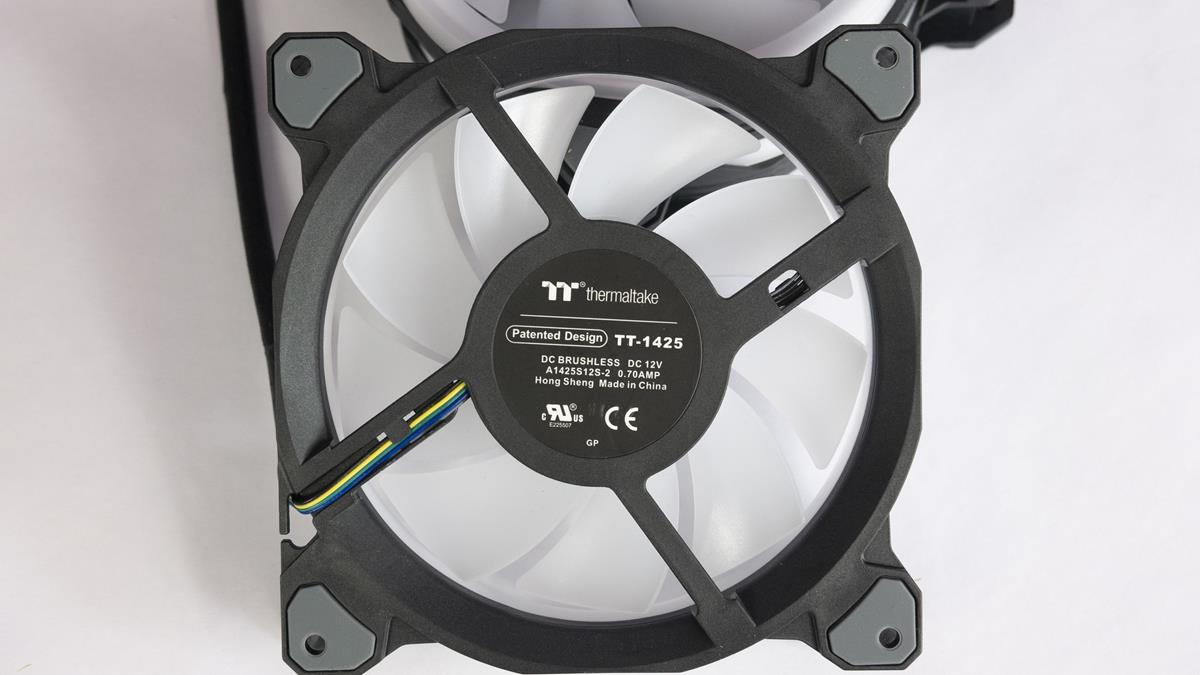 Inside the box, you will find everything you need to get things up and running. The included control box can power up to 5x fans at once. You can connect 2x controllers through 1x USB cable which connects to your motherboard so you can power up to 10x fans at the same time! Each Controller also needs a Molex connection for power.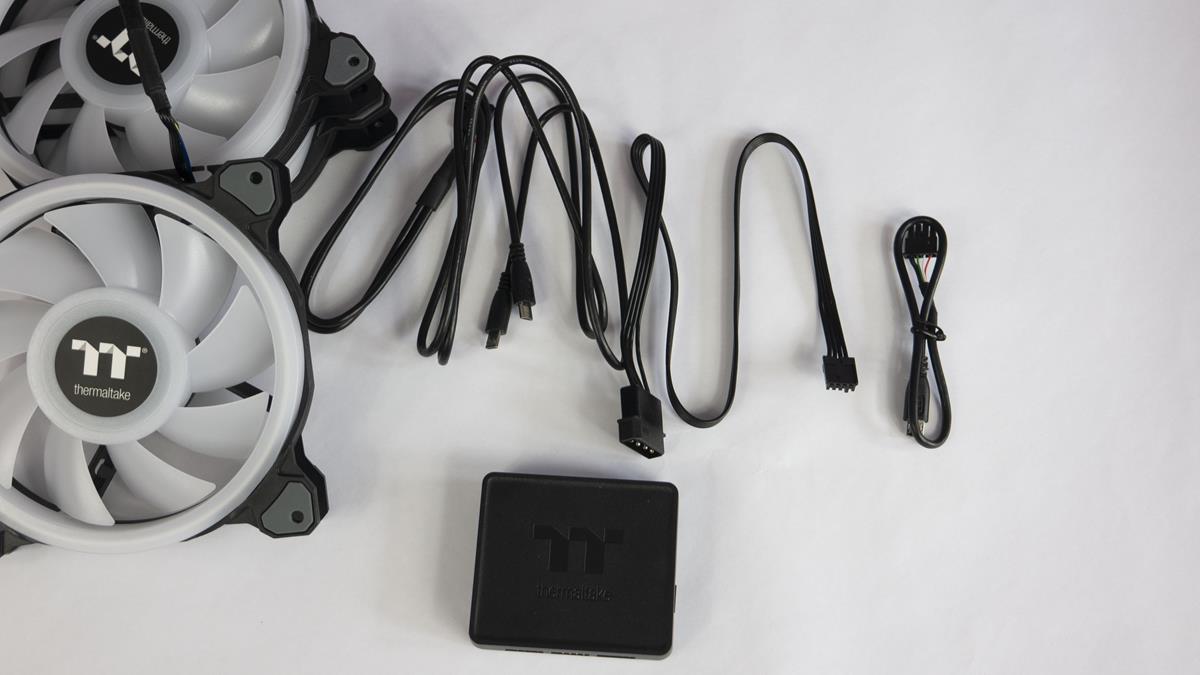 The fans connect to the controller with a port similar to a USB port on a motherboard. On this side, there are 3x connections as you can see and on the other side, there are another 2x.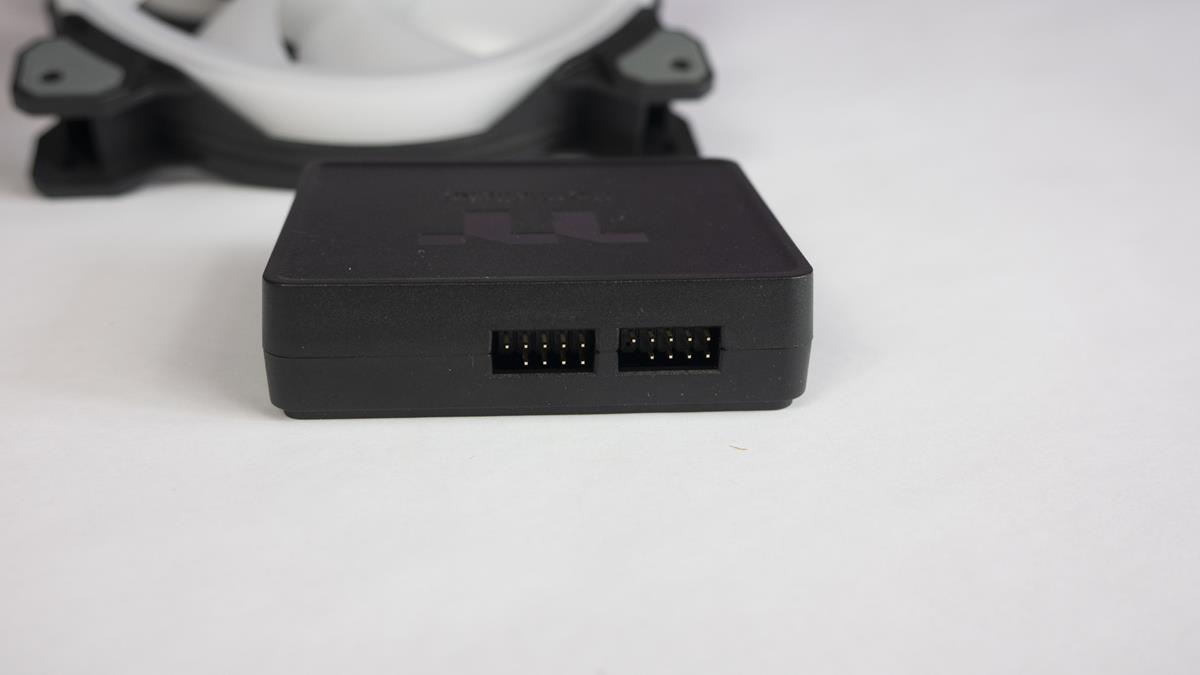 The port on the left is the USB port to connect the controller to your motherboard. The one of the right is used so you can daisy chain controllers together.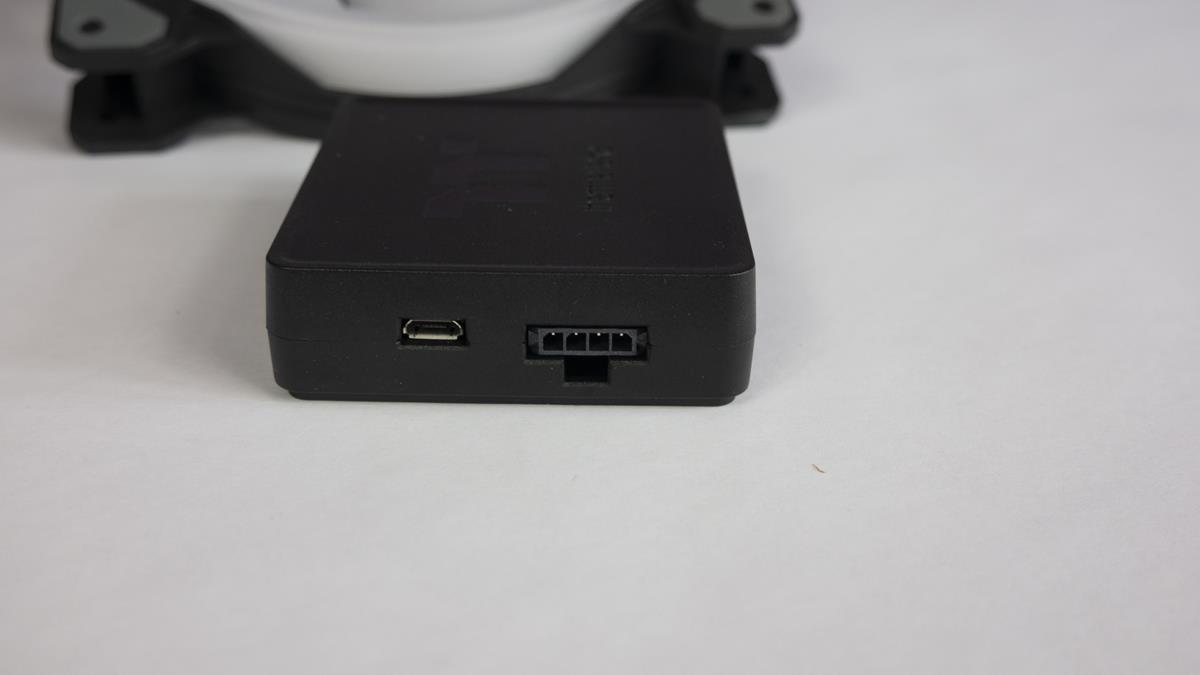 The connection is used to connect the Molex cable so you power everything up from a single Molex. The fans connect directly to the controller via a single cable and then the controller powers them and their RGB lighting.
RGB Effects
While it is hard to show the effects in photos, just know these fans look amazing and the customization options are incredible. Whether you are using the preset modes are making your own effects. you won't be let down. The Riing Quads have to be some of, if not, the best looking RGB fans on the market at the moment. The colours and 4x rings allow these fans to offer features that no others can. Below is just a few images of what can be done!
If you want to see more of what they have to offer, see the Thermaltake video on them below!
Final Thoughts
The Riing Quad fans are something special. They offer some amazing customizability and look amazing! However, all this comes at a price. A price of around £140 at the moment for just 3x fans! While this is ridiculously expensive, they offer something you will not get elsewhere and if you want your build to stick out, these will do the trick. As mentioned earlier, Thermaltake has a focus on Modders and Water Coolers who generally spend LOADS of money on all their parts as they want the best of the best. These fans just are not for your everyday gamer or PC user and the price tag reflects this, but so does the performance and what they have to offer.
These fans also move a great amount of air while not being overly loud. Now, with that being said, most any fan running at full speed is going to emit some noise, and when you have 3x of them, it's a bit louder. The Riing Quads aren't annoyingly loud though even at full speed. These are ideal for radiators as they are designed with static pressure in mind so they will be able to push a good amount of air through the radiator they are attached too. While they are not designed to be your standard airflow case fans, they could also do a fair job at this as well if you were looking to use the same fans throughout your entire build.
There's no denying that these fans won't be for everyone but if this is your type of thing, you surely can't go wrong. While the price tag may make some people cry, they are worth it. If you're looking for the best of the best, you have certainly found a worthy contender with the Riing Quad Radiator fans!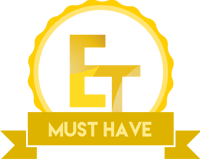 Many thanks to Thermaltake for sending in a sample of their Riing Quad Radiator Fans!