PC cooling is at the heart of the PC Master Race. When it comes to longevity of the hardware particularly the heart and the mind of any PC that is CPU, users tend to invest in a good cooling solution. These days there are a variety of coolers falling in particularly four broad categories:
Air Coolers
Hybrid Coolers
Custom Loop
There are pros and cons of each type. Most of the air coolers tend to be bulky and taking up much space. This puts pressure on the motherboard's PCB and may put pressure on the CPU as well. Skylake was one of the examples where many damaged CPUs were reported due to the sheer weight of the cooler. Not to mention the compatibility issues of the air coolers with RAM, first PCIe slot and the chassis itself. AIO/Hybrids/Custom Loop would clear that space around the CPU socket but many users avoid them for the leakage risk.
While the market for the coolers may seem saturated, it is surprising to find more competitive offerings from the old players and new players alike. Recently, during CES 2017, EVGA, a well-known Nvidia's AIB partner has announced their AIO coolers for CPU. EKWB is known for its top-notch, quality components in liquid cooling under the custom loop. The company introduced their unique AIO in 2015.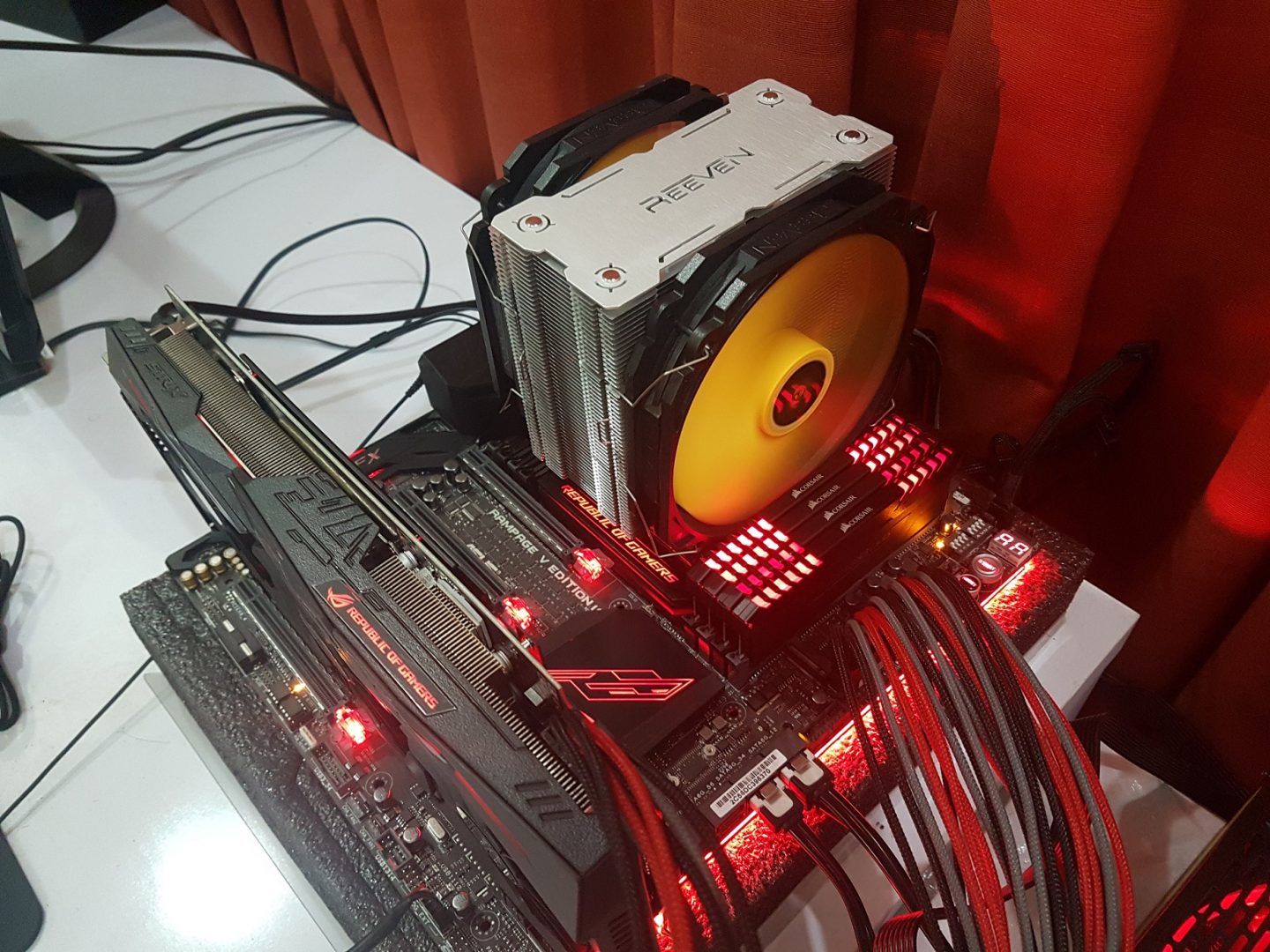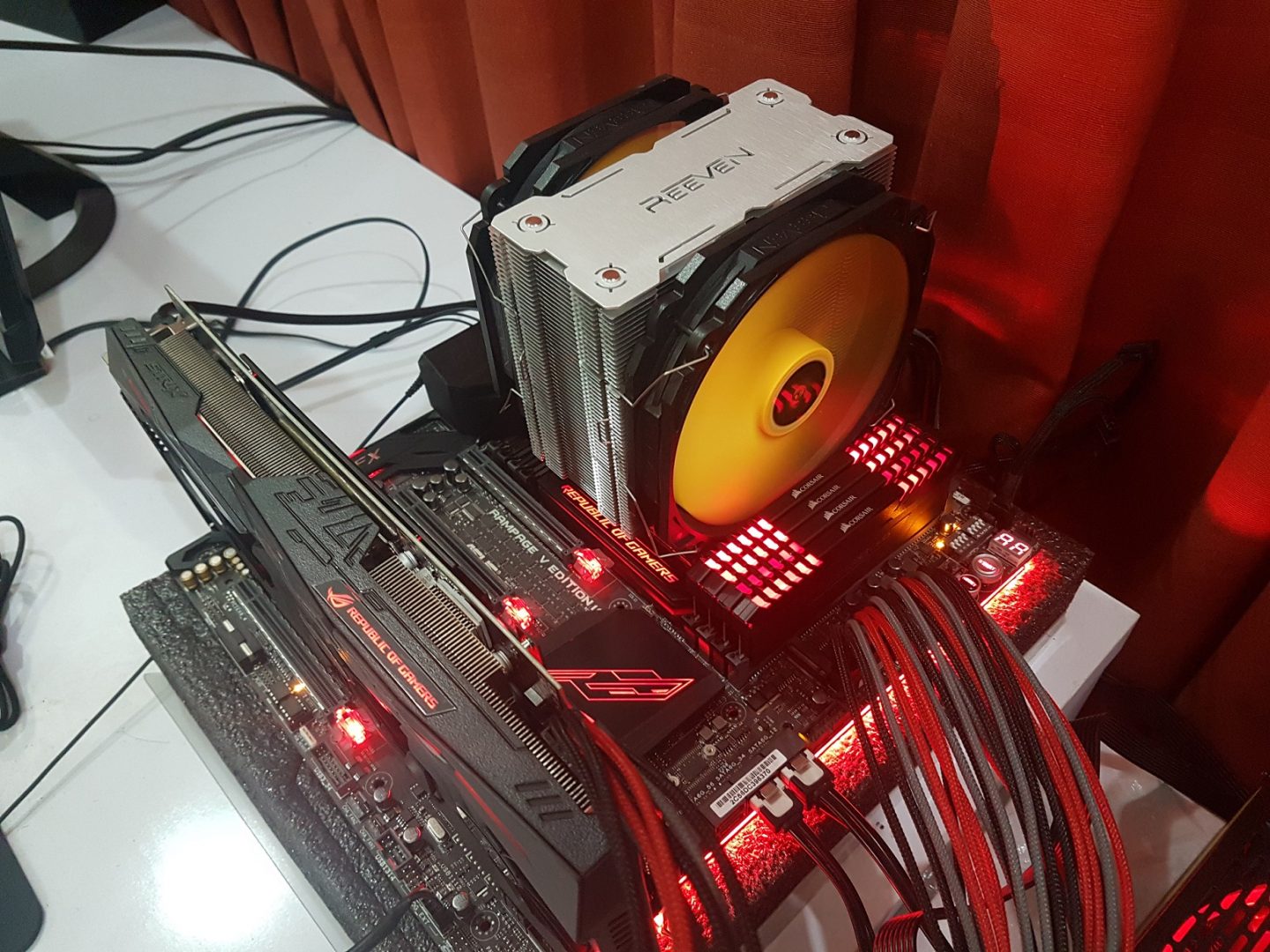 Today we will be reviewing the Ouranos RC-1401 CPU cooler from REEVEN. As the name indicates, this cooler is their high-end solution for enthusiast cooling under single tower category. REEVEN was established with a simple concept in mind: creating "Perfect user experience" in the computer market. It all started at a small office in Taiwan back in 2009, with a group of experienced and passionate engineers. Today, REEVEN is one of the most well-known suppliers of high performing computer components, holding numerous top-grade reviews and ratings. REEVEN stays true to founders' ideas of creating and designing products with Profession, Quality, and Value, and always being open to ideas and suggestions from the customers.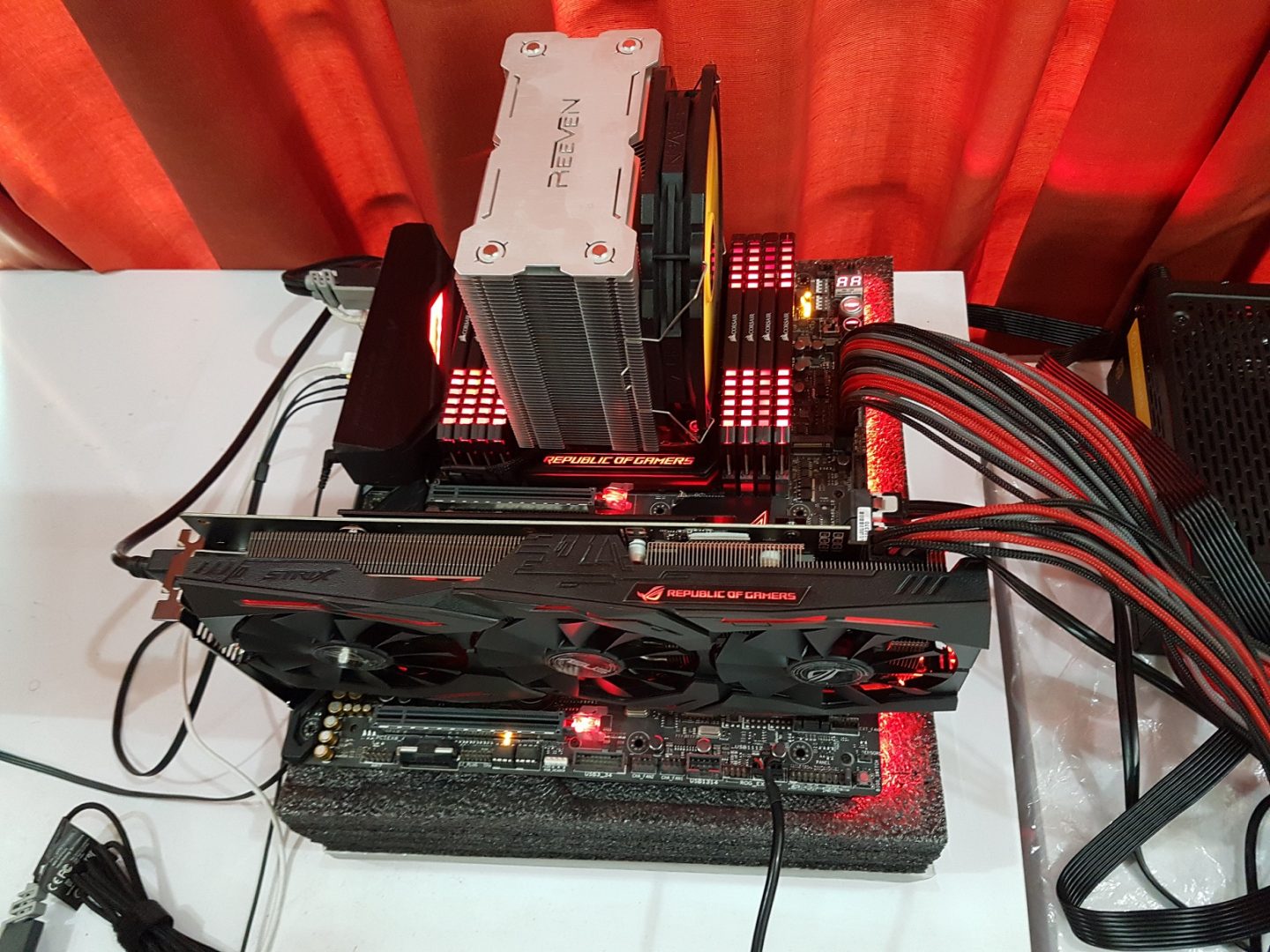 Specifications
Heatsink
Dimension (with fan)
143 x 161 x 95 mm (W x H x D)
Weight (with fan)
1030 g
Heat Pipes
6 nickel plated heat pipes. Two of 8mm, Four of 6mm
Fin-Pieces
56 including top designed
Base
Copper Base nickel plated
RAM Compatibility
Zero RAM Interference (on LGA 115x)
Fan
Dimension
140 x 140 x 25 mm (L x W x H)
Rated Speed
300 – 1700 (300 – 1300) RPM
Noise Level
5.8 – 36.4 (5.8 – 24.7)dBA
Air Flow
16.3 – 92.4 (16.3 – 69.9) CFM
Static Pressure
0.002 – 0.0091 (0.002 – 0.048) inchH2O
Motherboard Compatibility based on socket
Intel : 1150 / 1151 / 1155 / 1156 / 1136 / 2011/ 2011-V3

AMD : AM2 / AM2+ / AM3 / AM3+ / FM1 / FM2 / FM2+
The cooler comes in a colorful cardboard box. The front side of the packing box has the cooler picture printed on it along with the model no and name printed on top of it. Reeven logo is printed on the top right side. Cooler's compatibility with Haswell CPUs is printed on the bottom left side. Reeven colors are black and yellow and product colors and packing box colors signify them. There is a greenish background overall on the packing box.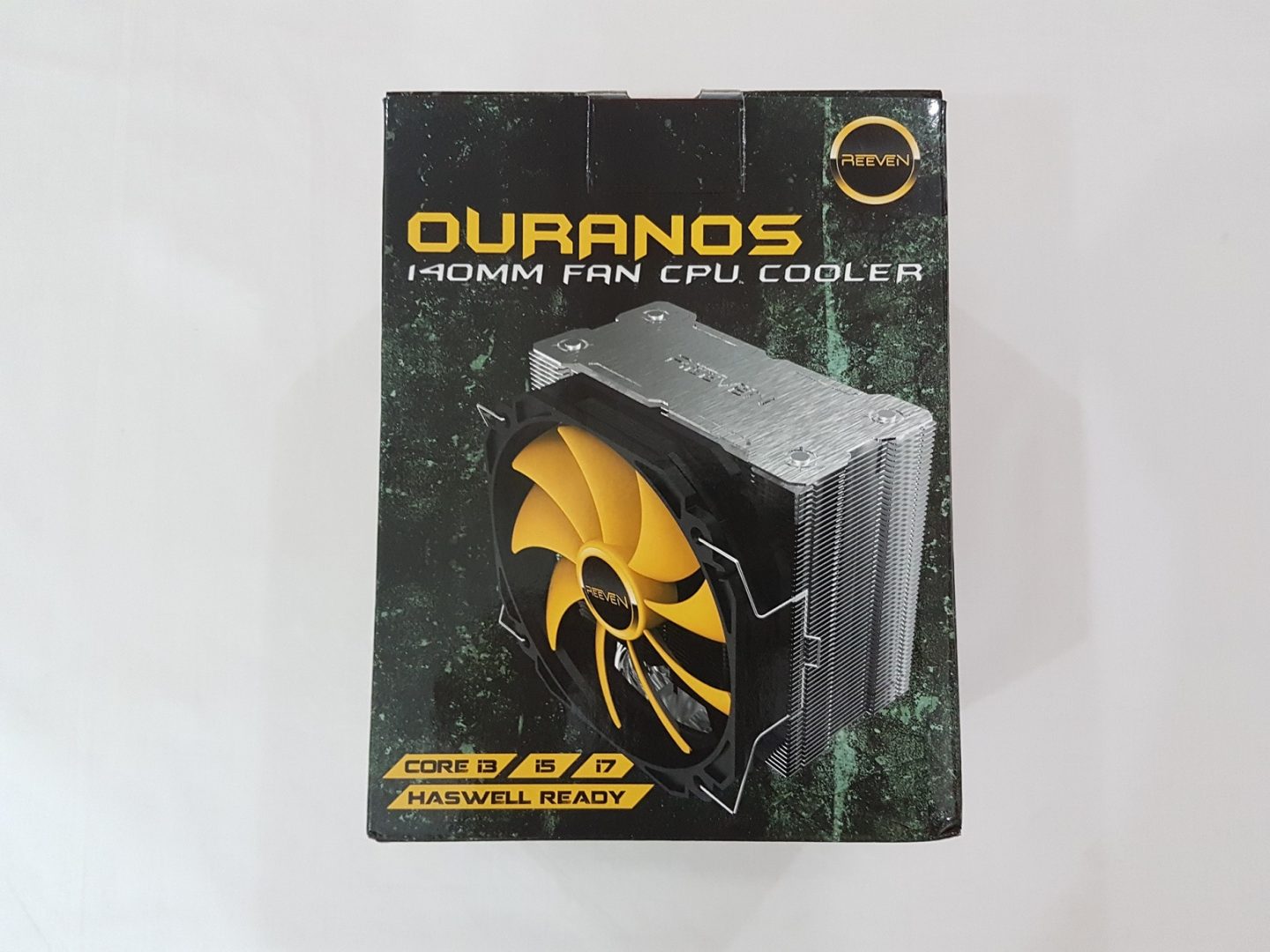 On the back side of the packing box, Cooler's salient specs are printed in 8 languages along with the country of manufacturing. Reeven's website and contact email address are printed on the bottom left side. Info labels are printed on the bottom right side.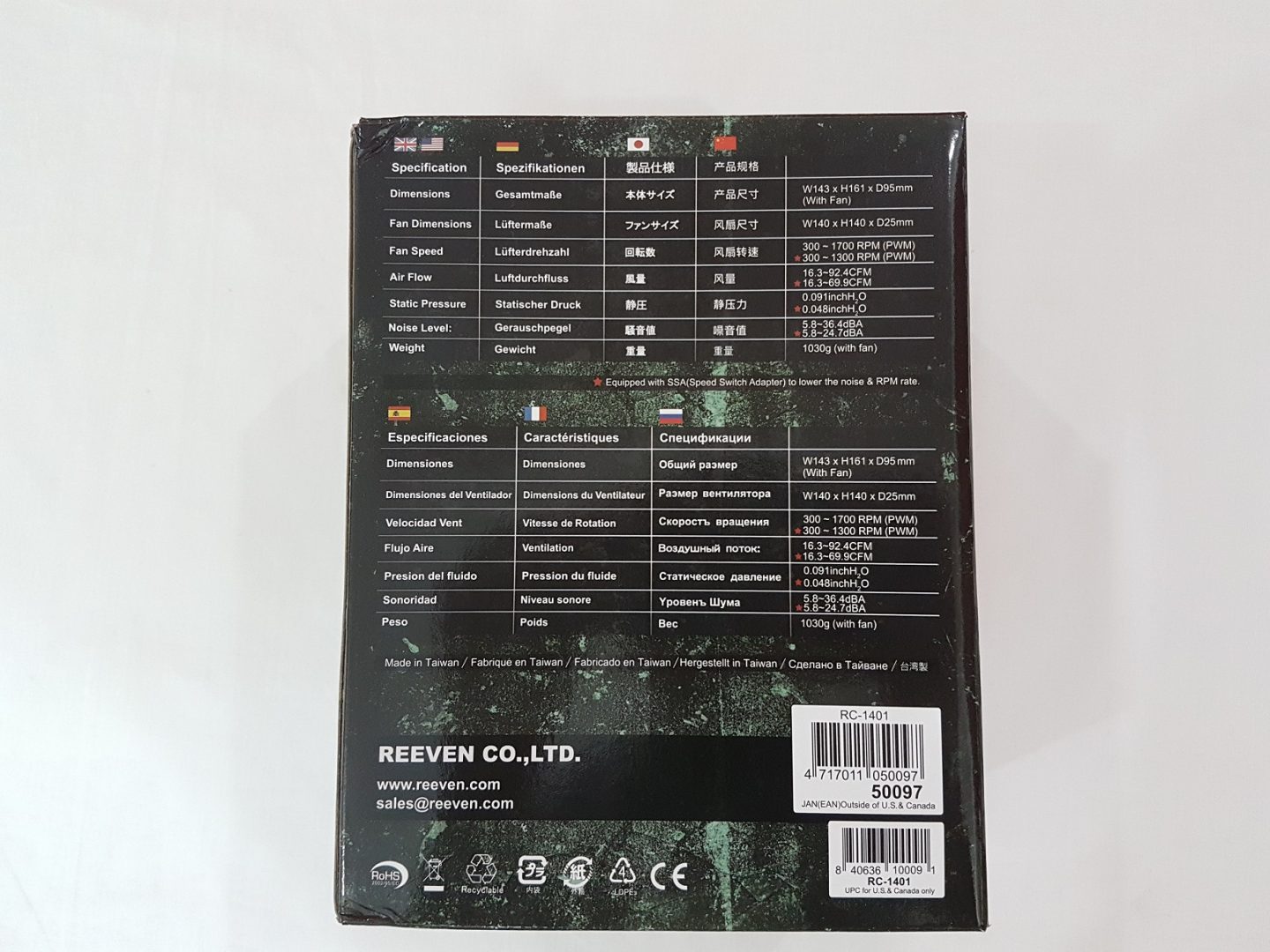 The right side of the packing box has the diagrams of the cooler showing its dimensions along with the airflow direction of the fan. Important instructions are printed in two languages. Cooler's model is printed on the top left side.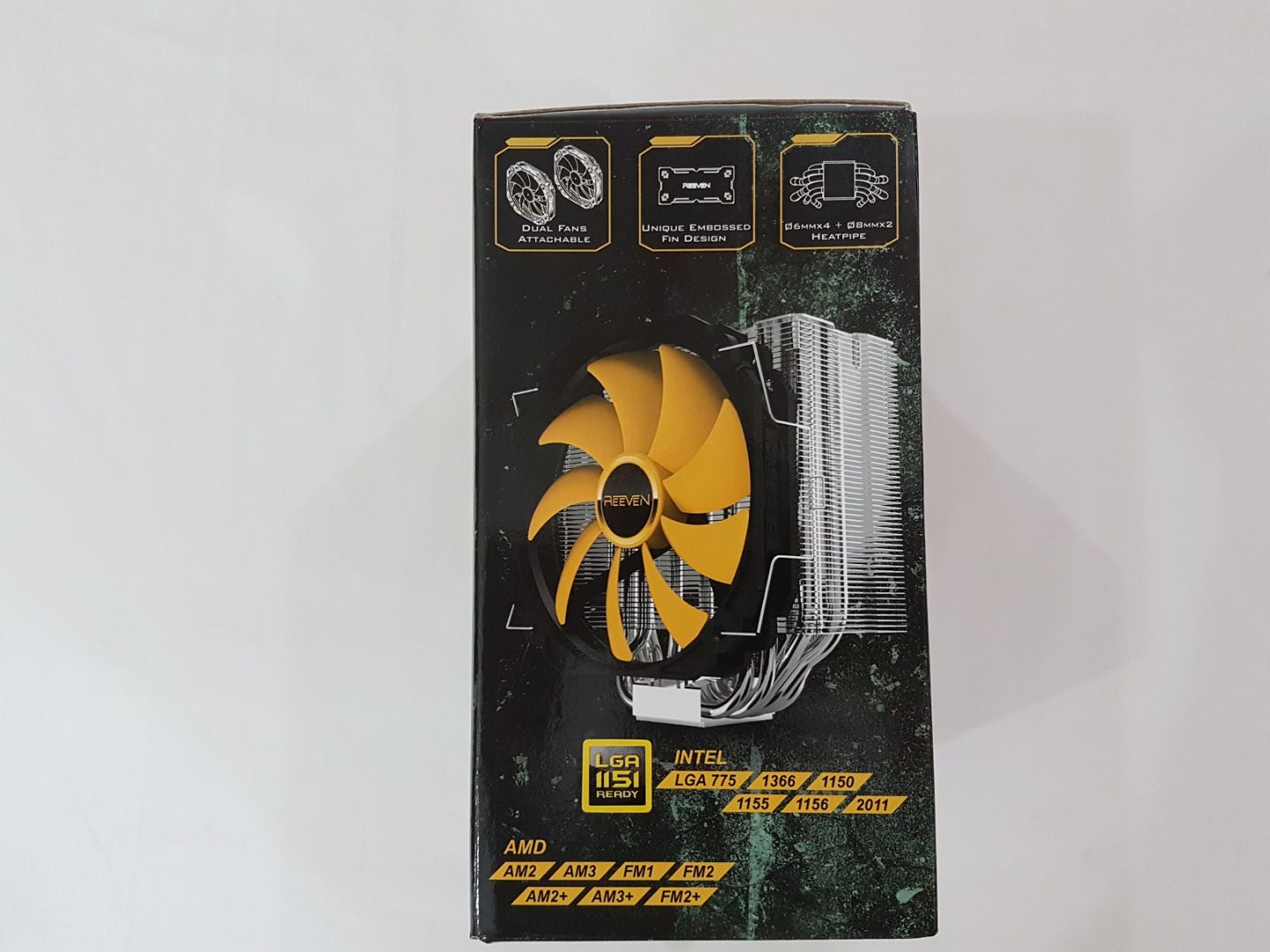 The left side of the packing box has the cooler picture printed in the middle section. Dual Fan support, Embossed Fin design, and heat pipe information are printed on the top. Socket compatibilities are printed on the bottom section for Intel and AMD.
Opening the box would reveal accessories container box on the top side placed over the cooler itself.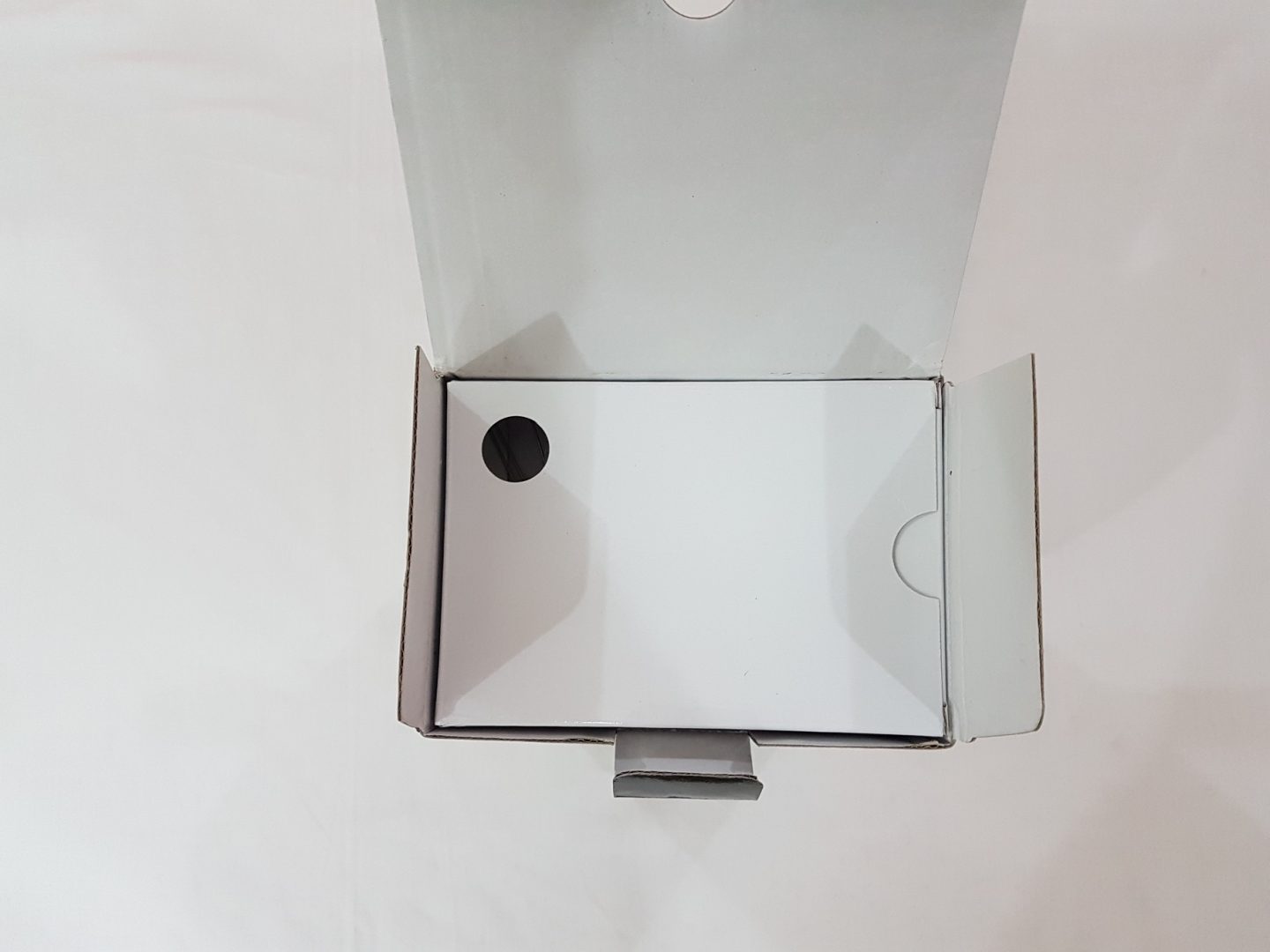 Removing the accessory box would reveal the cooler and the fan contents.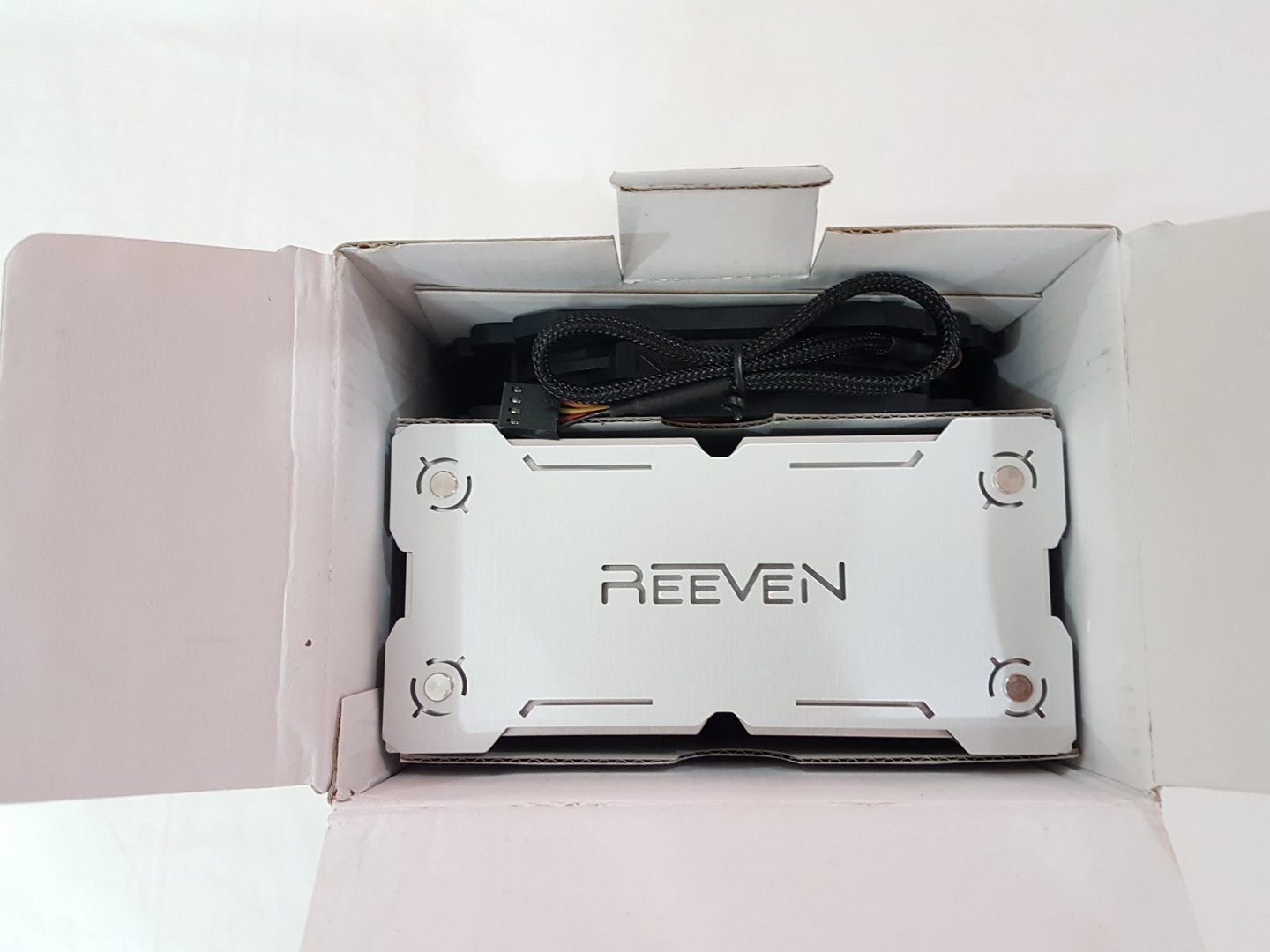 Accessories
Reeven has included a plethora of accessories with the cooler ranging from mounting plates to manual to screws etc. Everything user could need is provided.
Accessories include:
4 Fan Clips
1 Mounting Bracket
1 Mounting Bar
LGA775 Spacer
4 Thumb Screws for LGA 2011 / 2011-V3
1 Backplate for Intel (other than LGA 2011 / 2011-V3) and AMD sockets
4 Backplate Bolts
4 Silicon Washers
1 SAA Cable (Speed Switch Adapter)
4 Spacers
4 Nuts
2 Screws for Mounting Bar
1 Wrench
Thermal Grease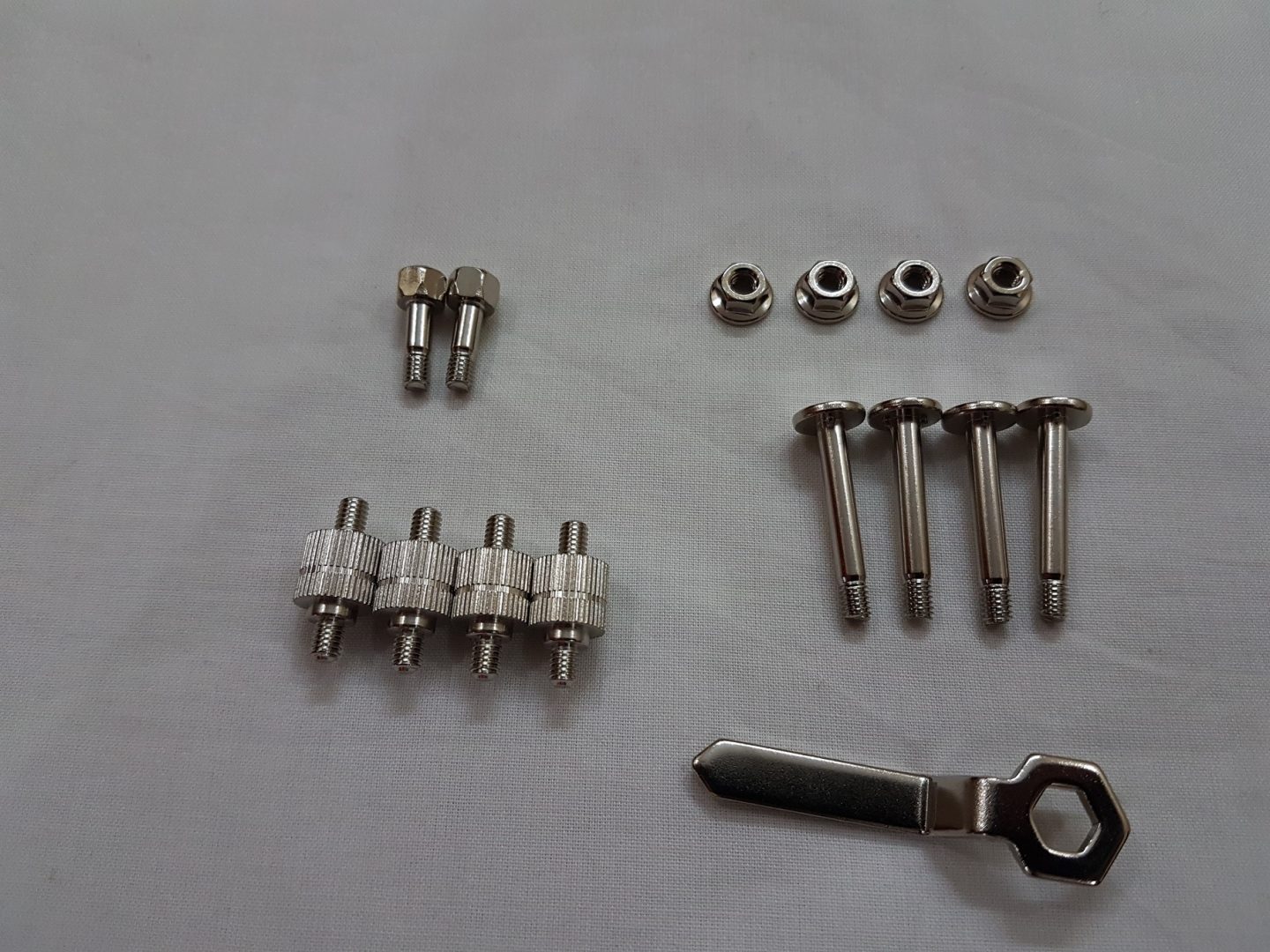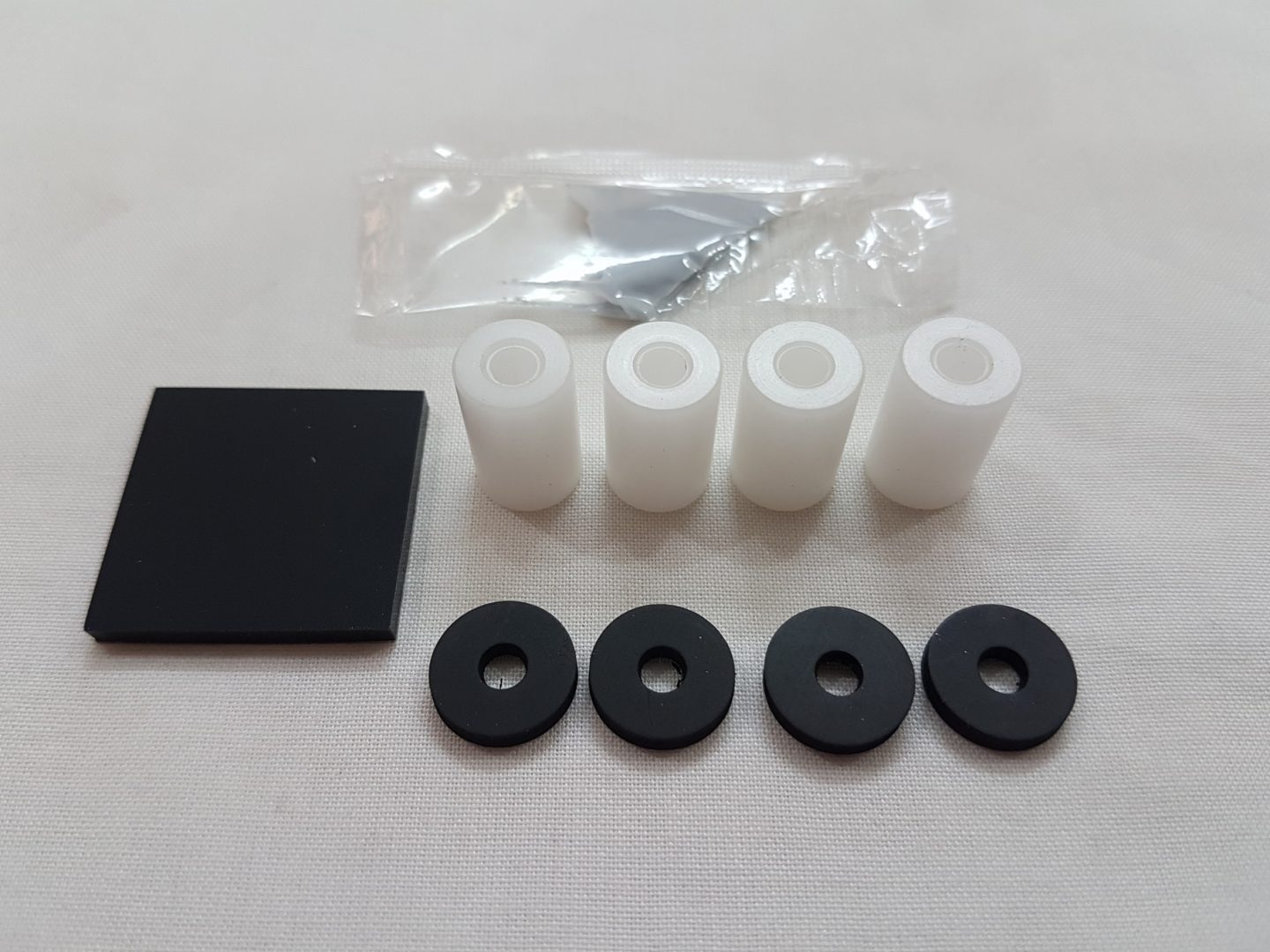 Closer look on the Cooler
Reeven Ouranos RC-1401 is a single tower having dimensions of 161 H x 143 W x 95 D in mm. The cooler has a monochromatic tone to it which is quite appealing and top fin plate is implemented differently as compared to the other offerings in the market. Top side is what would be visible once installed in a chassis. REEVEN is embossed on the fin in the middle. There are 4 screw type pipes on the four edges of the plate for heat dissipation. Note the grooves on all four edges. These are air pass through passages. Clearly, Reeven did not leave any detail unattended, all this with yet very attractive and polished top plate design.
There are 56 fins which are dense enough to ensure effective heat dissipation. The cooler has total 6 heat pipes coming out of the copper base with nickel plating. Two of the heat pipes are each 8mm thick while other four heat pipes are each 6mm thick. Reeven has implemented heat sink displacement effectively as 6 heat pipes coming out of the base and going in the heat sink are in nonlinear fashion. This helps to ensure that heat pipes made maximum contact with the fin stack at different places such as to ensure that maximum surface area is used for heat dissipation. This is definitely a smart design.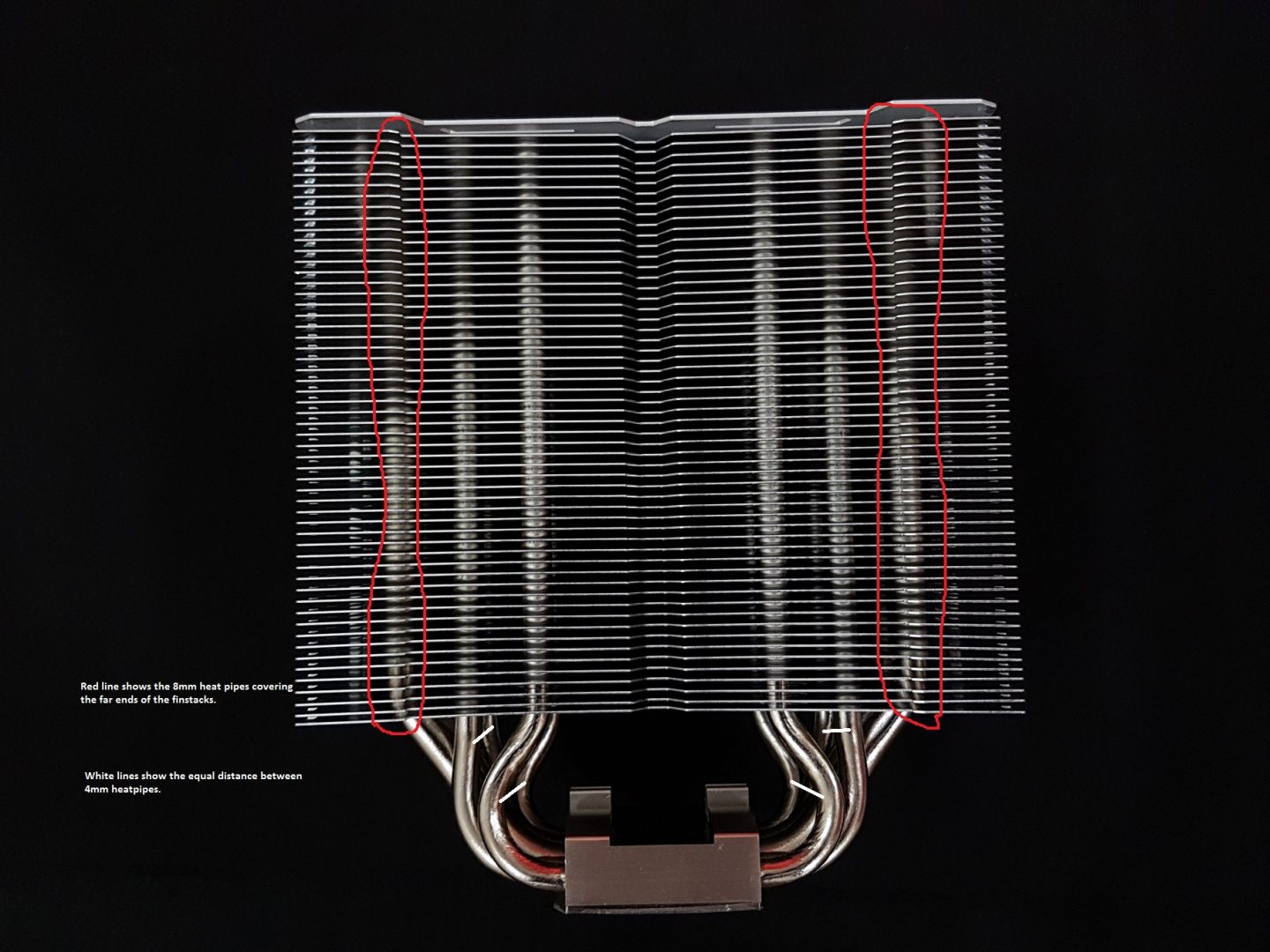 Notice the pattern of heat pipes displacement while going in the heat sink. Both 8mm heat pipes on each side extend to the far end sides of the fin stack in equal distance between them. Whereas four 6mm heat pipes on each side extend to the near to the center of the fin stack. This is to ensure the even coverage across all the fins to maximize the effective heat dissipation.
Bottom shows the large nickel plated copper base with 6 heat pipes on both sides coming out of the base. A warning label is printed on the protective sheet informing the user to remove this label before mounting the cooler. Heat pipes are soldered right into the base. The base is implemented in two parts. The bottom section is a base plate with heat pipes coming out of it and there is a large size block on top of the base plate. Heat pipes are sandwiched between both parts. Dimensions of the copper base are 38.1mm x 12.7mm x 44.45mm (W x H x D) approx.
The cooler is designed in an offset manner on the bottom side. This is done to ensure the zero RAM incompatibility hence a peace of mind for the users but this is definitely not the case on our X99 system having two DIMM banks, should the dual fan configuration is desired by the user. But for Intel's LGA 115x/1366 sockets and all AMD sockets, this is definitely not a concern. This is yet another design element which Reeven has done with almost perfection.
The cooler is supplied with one ColdWing 14 fan which is 140mm or 14cm. It is a ring type implementation, not a square one. The fun part is that fan is designed in such a manner that its mounting is implemented on 120mm fan design which ensures further compatibility and flexible installation as it can be mounted on any 120mm fan mount in the chassis as well.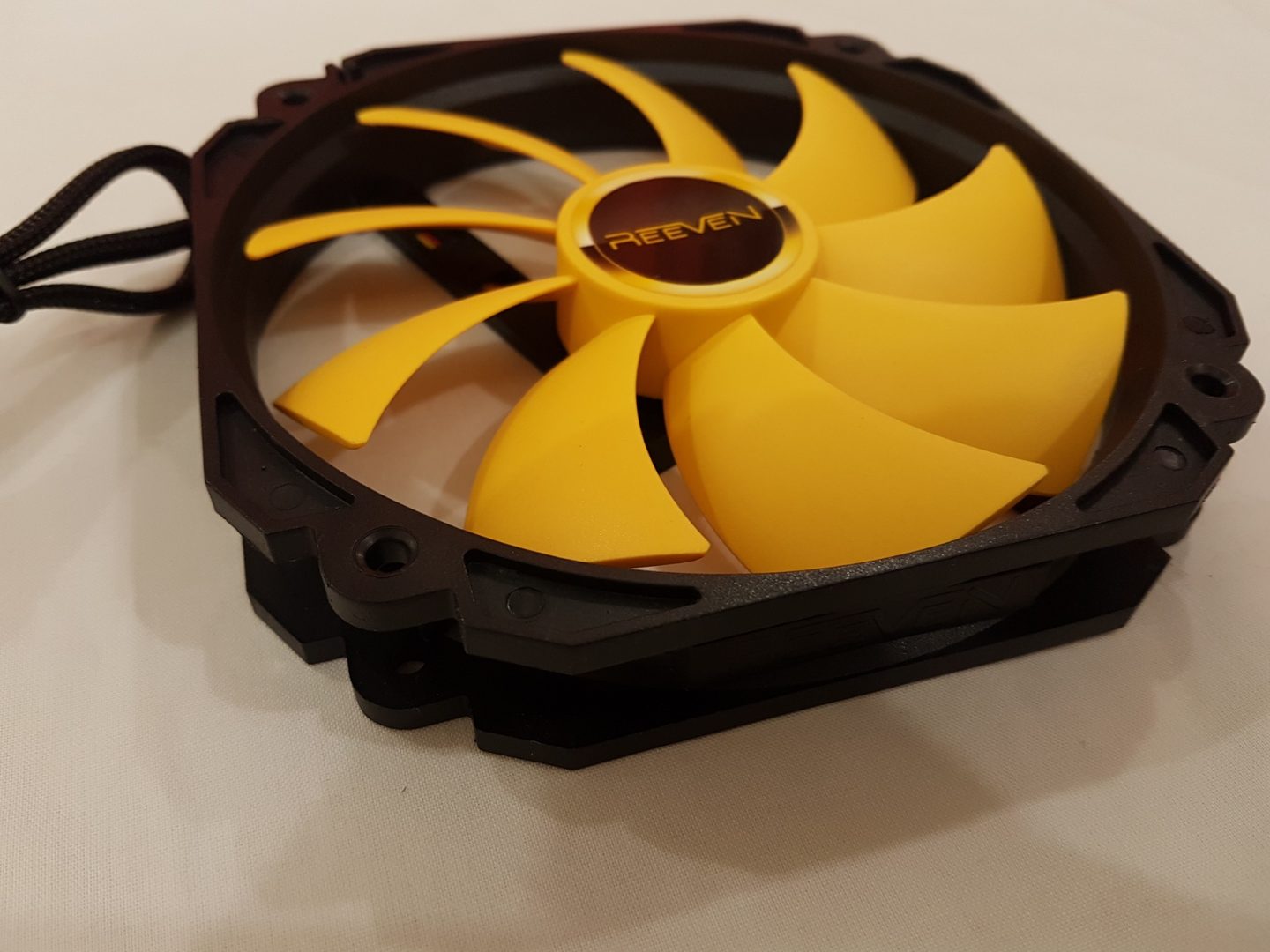 The fan has sleeve bearing with part no RM1425S17B-P. It operates on 12V and takes 0.25Amps. There are 9 fan blades painted in Reeven's traditional yellow color while the frame is in black color. Though it looks pleasant but looks are subjective and this color scheme can be a serious consideration for colored theme builds as it is not suitable to all color builds. They are suitable for yellow/black or black only based color themes. The power cable of the fan is approx 12 inches long and is fully sleeved which does look good but my personal preference is non-sleeved flat cables. No complaint there but only a personal preference. Please note that power cable length on stand alone ColdWing 14 fan is approx 19.6 inch.
Arrow indicator marks are not that visible on the fans and need to be located to identify the airflow direction and fan blade movement direction. These arrows are marked on the side where fan power cable is coming out. Horizontal arrow is showing the air flow direction whereas the vertical arrow is showing the direction of fan blade movement.
SSA stands for Speed Switch Adapter and it is practically an LNA i.e Low Noise Adapter cable. It helps ensure the quiet operations yet optimal cooling performance. In our testing with PWM cable and PWM header taking charge of the control, we never really feel any need of using this cable. This is quite remarkable how Reeven has designed their products with performance and quietness in mind.
To test the cooler, X99 platform was used. Asus Rampage V Edition 10 based on socket LGA 2011-V3 was used. On this socket, there is no need to install the backplate but for AMD and Intel LGA 115x/1366 sockets, backplate would be required. We started with thermal paste. Cooler Master MakerGel Nano Ultra was used to ensure the standardization among all coolers on our test bench. Pea size method was used. The paste was even spread using applicator on the IHS of the CPU (Intel 6850k).
Next, the 4 thumb screws were installed in the pre-drilled holes of the motherboard.
Next, mounting plate was placed on the screws. Take care while installing the mounting bar. The cooler can be mounted vertically or horizontally subject to clearance from the top of the PC Chassis and the first PCIe slot. Cooler's width is 143mm which made is needless for vertical mount. We installed the cooler in the horizontal orientation.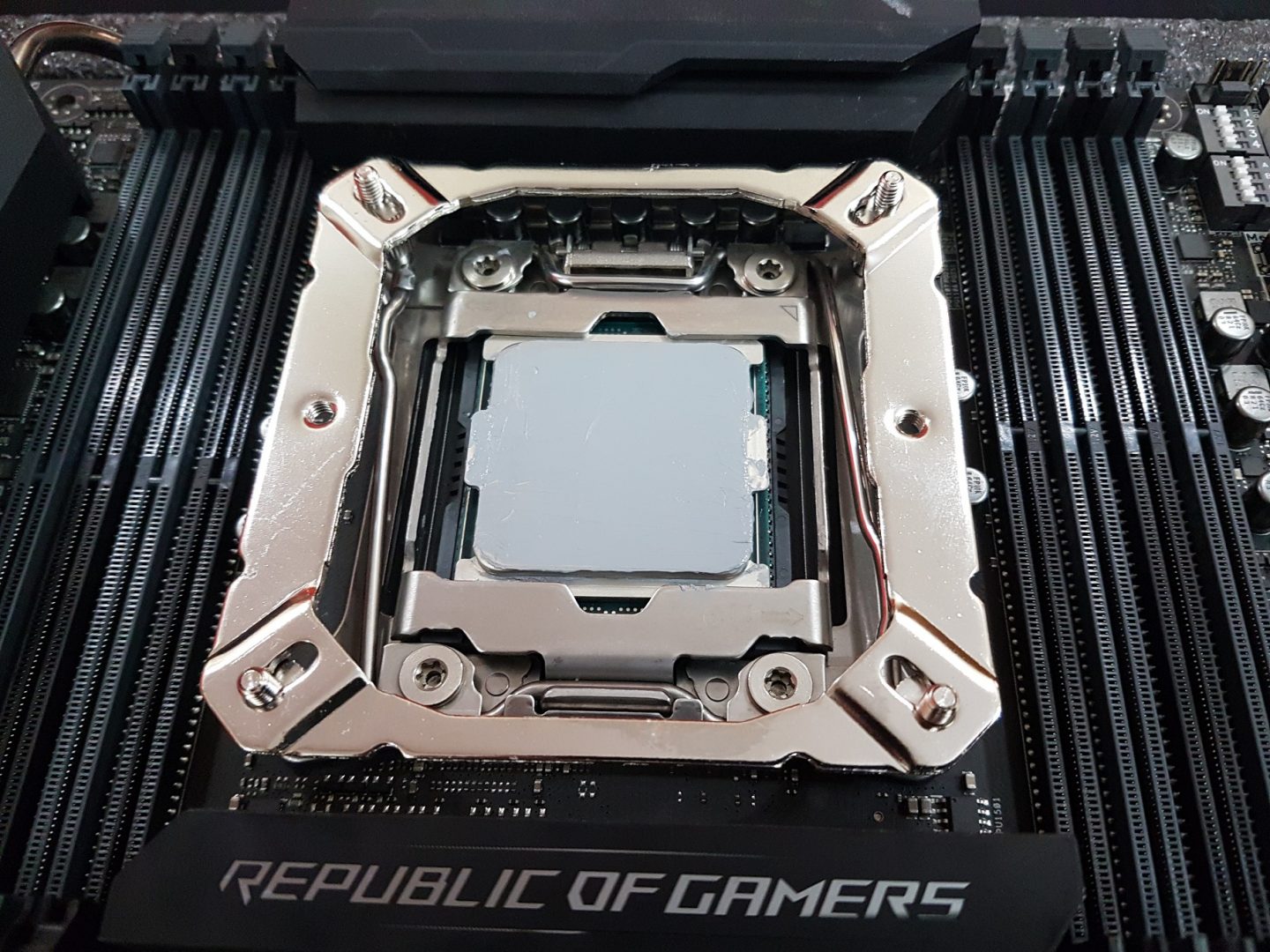 Next, 4x nuts were put on the top of each thumb screw above the mounting bar and use supplied wrench to tighten them to the end of the torque.
The inner side of the cooler base has mounting support for the mounting plate. Place the mounting plate such that its raised edges fit inside the grooved area on the inner side of the base. See the picture for reference. Printed REEVEN on the mounting plate should be on the top.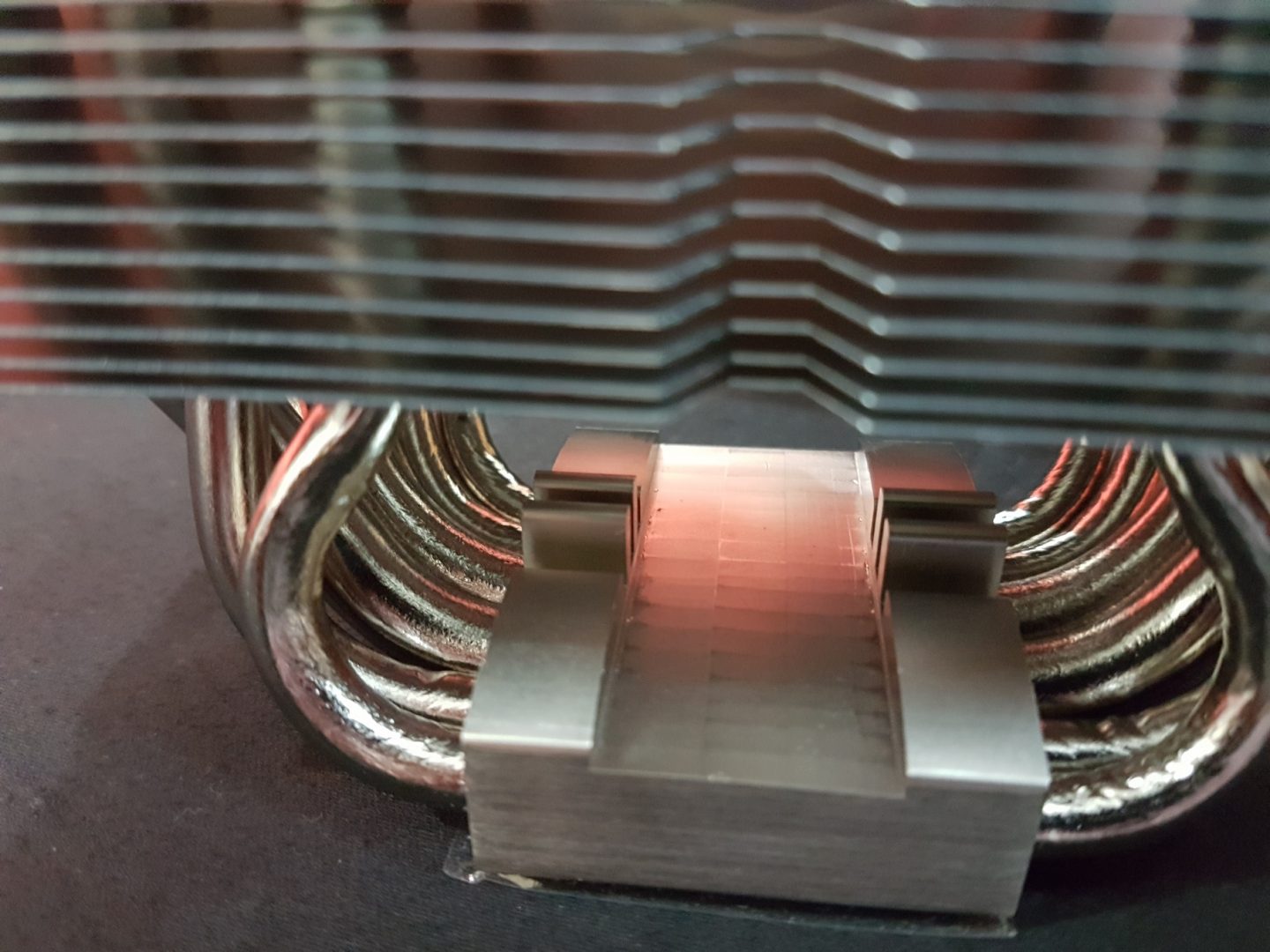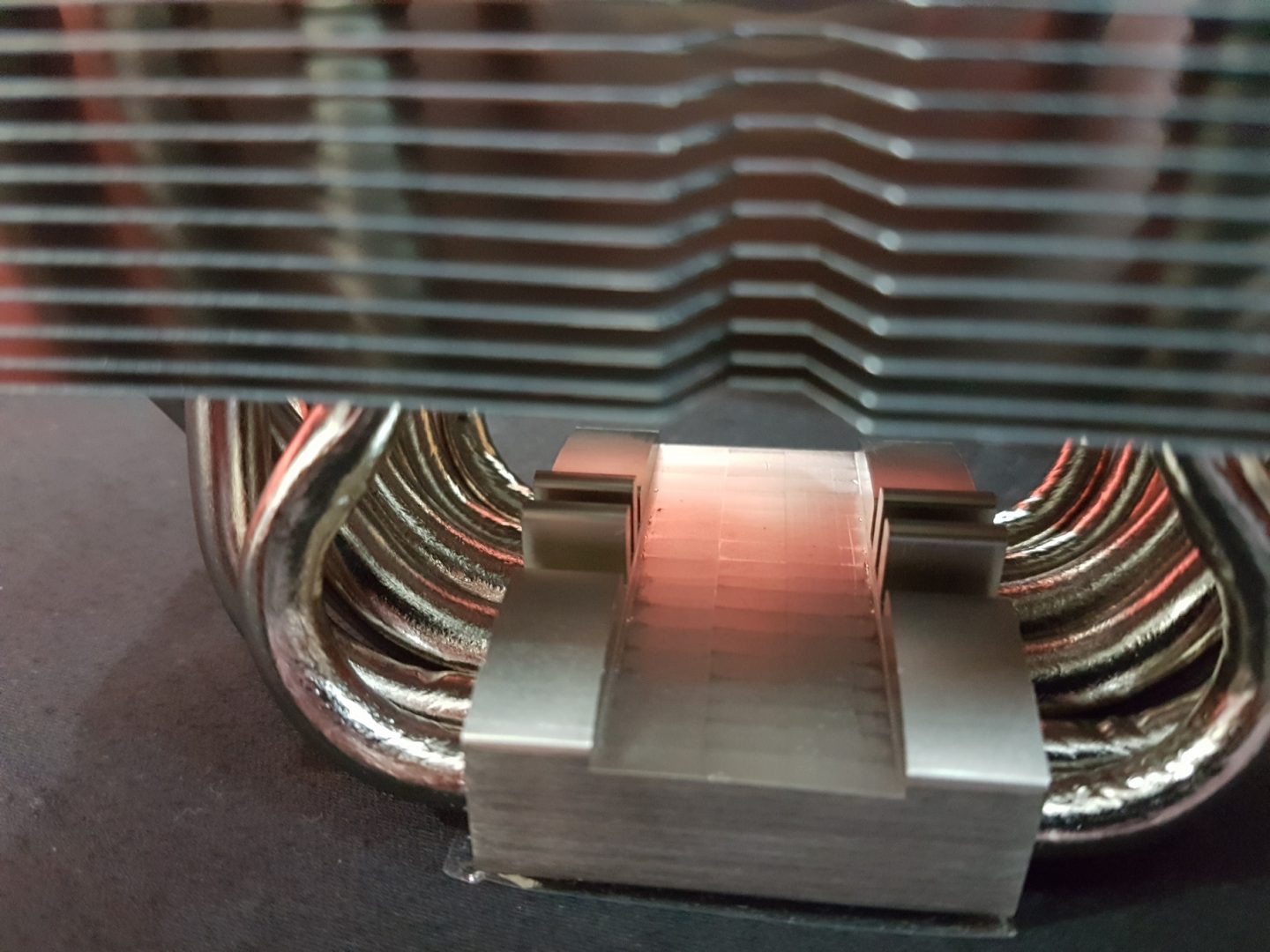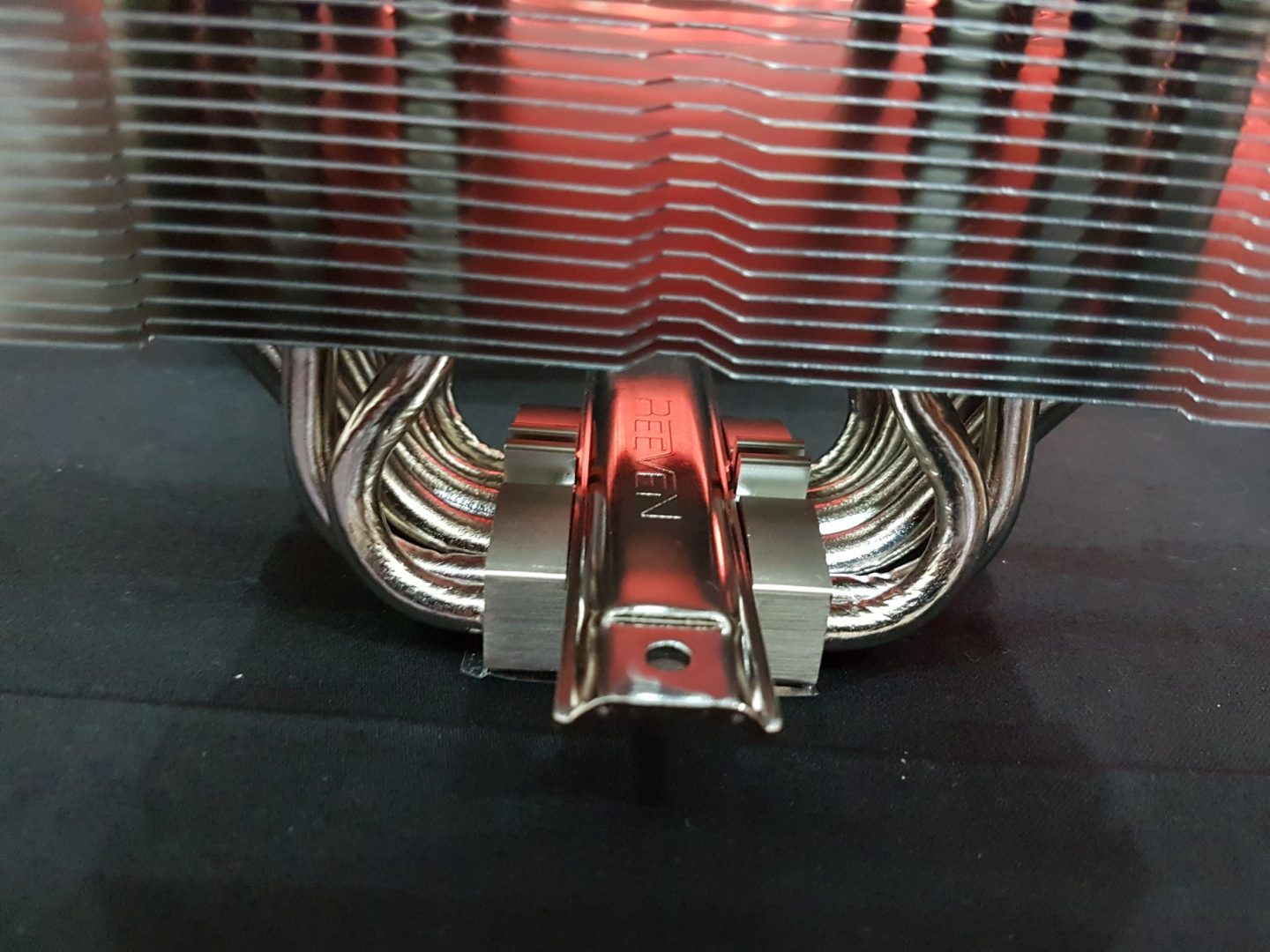 Next, place the cooler on the top of the CPU such that screw holes on the mounting bar align with the mounting plate. Use the two supplied screws for mounting bar to secure install the cooler. Don't screw fully from one side rather use few torques at a time on both sides and maintain pressure on the center of the mounting bar otherwise cooler can be installed incorrectly and thermal performance could suffer. Supplied screws are not spring loaded.
Compatibility and Clearance
Before we dig in the test bench and results, we would like to share few words on the compatibility of this cooler with the RAM and first PCIe slot.
Cooler's height is 161mm with a fan. Users would need to check the specs on the chassis to see if the cooler can be fitted inside that chassis. For example, Corsair 780T has clearance for CPU cooler up to 200mm height. Corsair 570X has a clearance of up to 170mm height. Phanteks Enthoo Evolv ATX has clearance up to 194mm. All these chassis can accommodate this cooler easily. Now take NZXT S340 Elite. It has a clearance of up to 161mm which can make this cooler a tight fit.
Clearance with first PCIe Lane
The cooler has clearance for the first PCIe lane. Though it may seem a tight fit but there is no such clearance issue with this cooler for first PCIe lane. Asus Strix Rx 480 was installed in the first slot no compatibility issues was observed.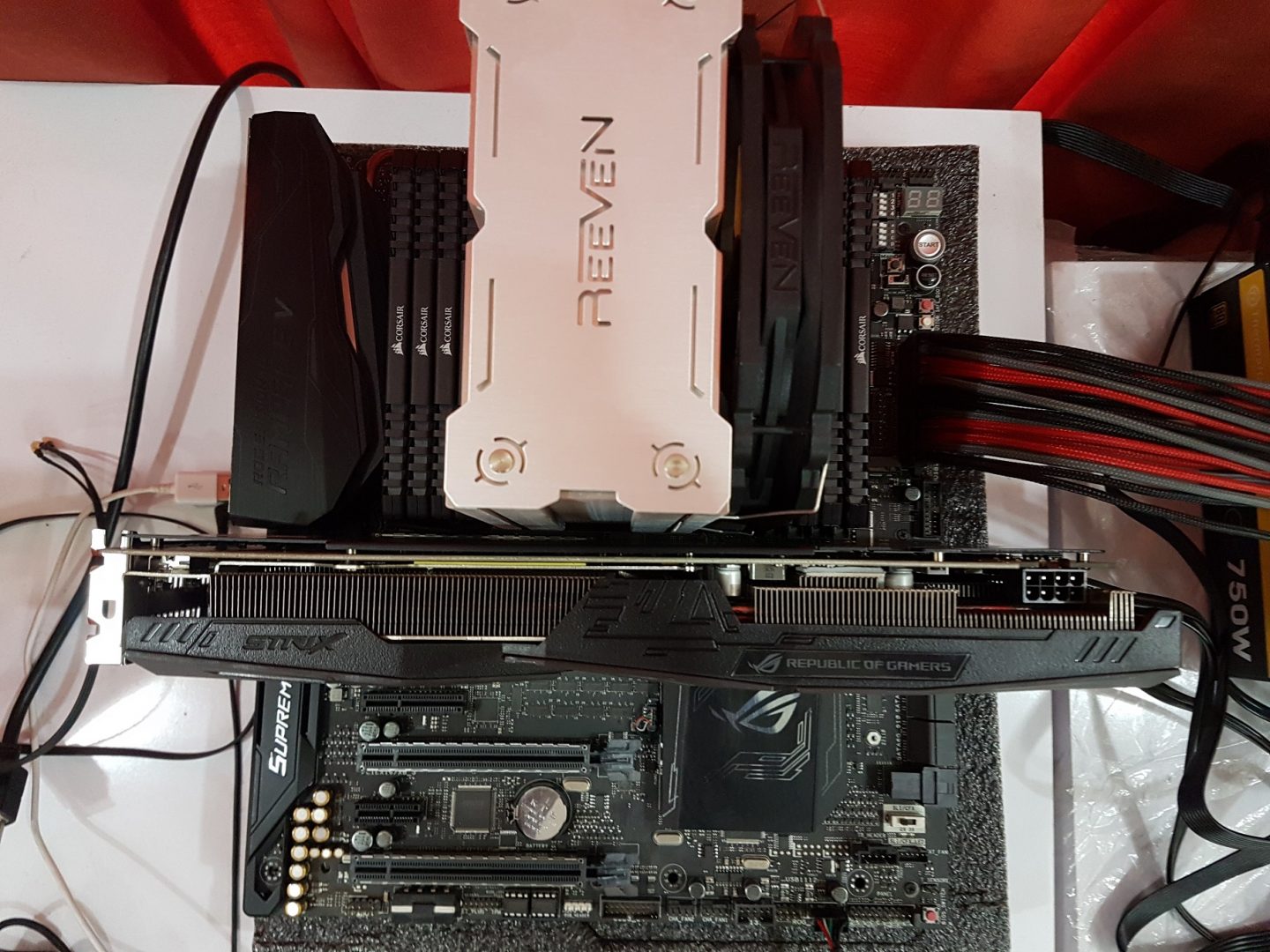 Clearance with DIMM Slots
This cooler has zero RAM Incompatibility thanks to its offset design implementation. This is true for Intel's LGA 115x/1366 sockets and AMD's sockets. We have tested the cooler on LGA 2011-V3 socket which has quad channel memory configuration or two DIMM banks. While we did not face any problem with regard to RAM incompatibility on the right side DIMM slots same was not true for the left side.
We tested the cooler with Corsair Vengeance Red LED 8x8GB DDR4 RAM. This RAM has the height of 49mm while its width is 7.5mm. So, while testing the cooler in Push/Pull setup, the second fan had to be mounted approx 15mm above its normal position to make it work with this RAM. This RAM is not as high a profile as that of Dominator Platinum from Corsair having massive 64mm height.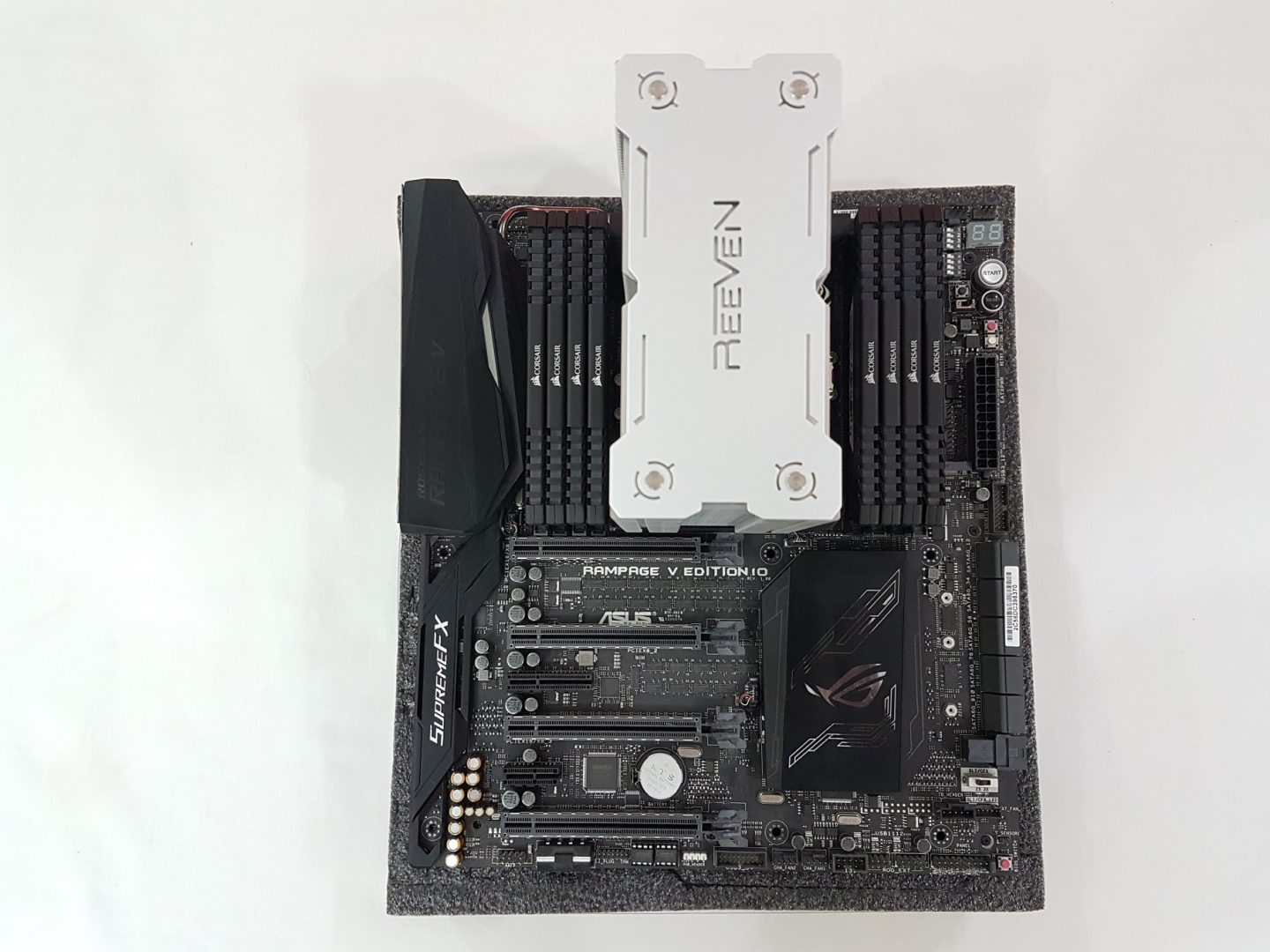 Adding this 15mm to the cooler's overall height will give us 176 mm of total height to deal with in Push/Pull setup on X99. Even Corsair 570X will not be able to handle this much height. Just a point of caution for the readers.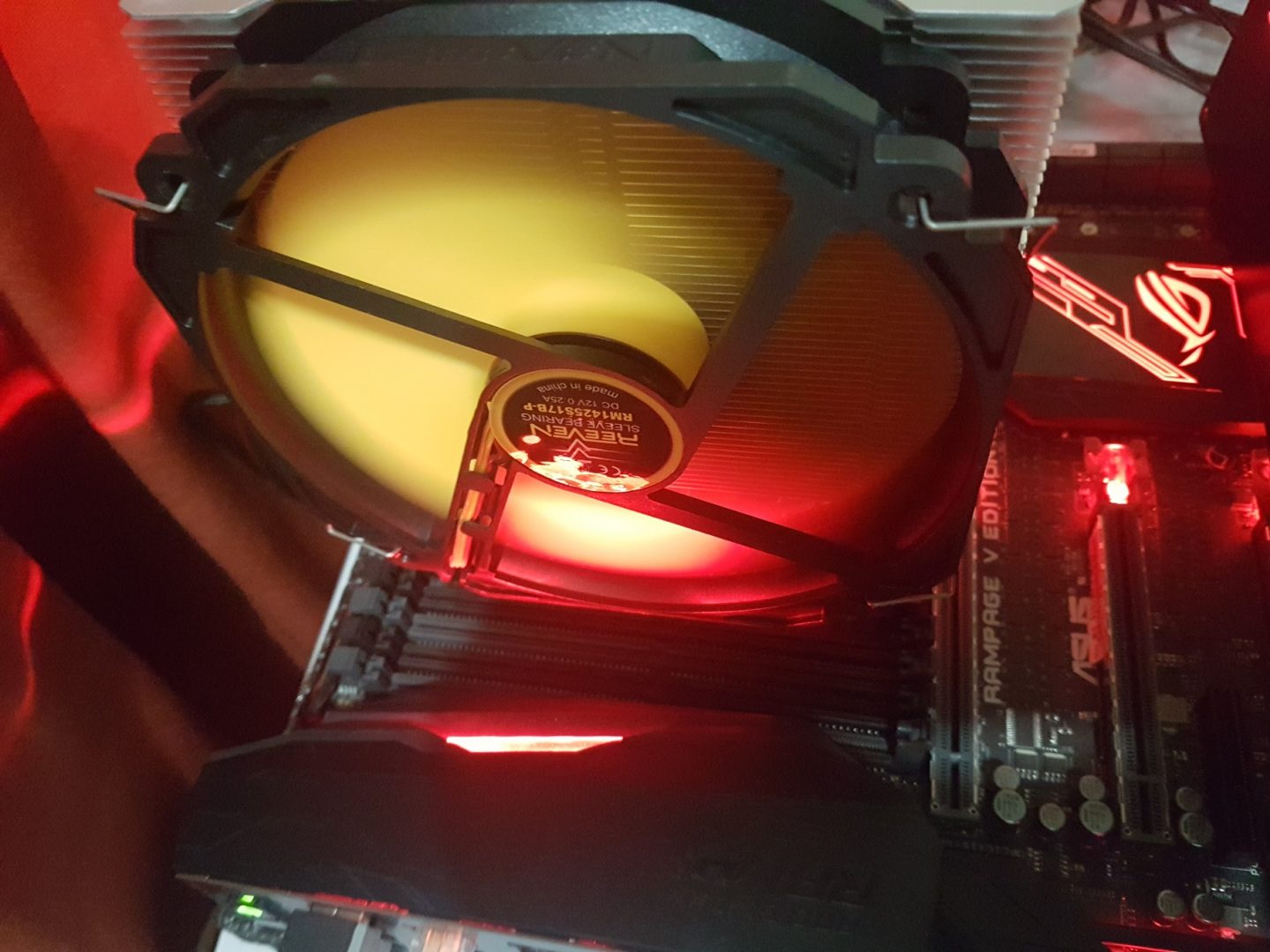 Bear in mind that this limitation comes only on X99/X79 platforms in dual fans configuration otherwise, there is zero RAM incompatibility.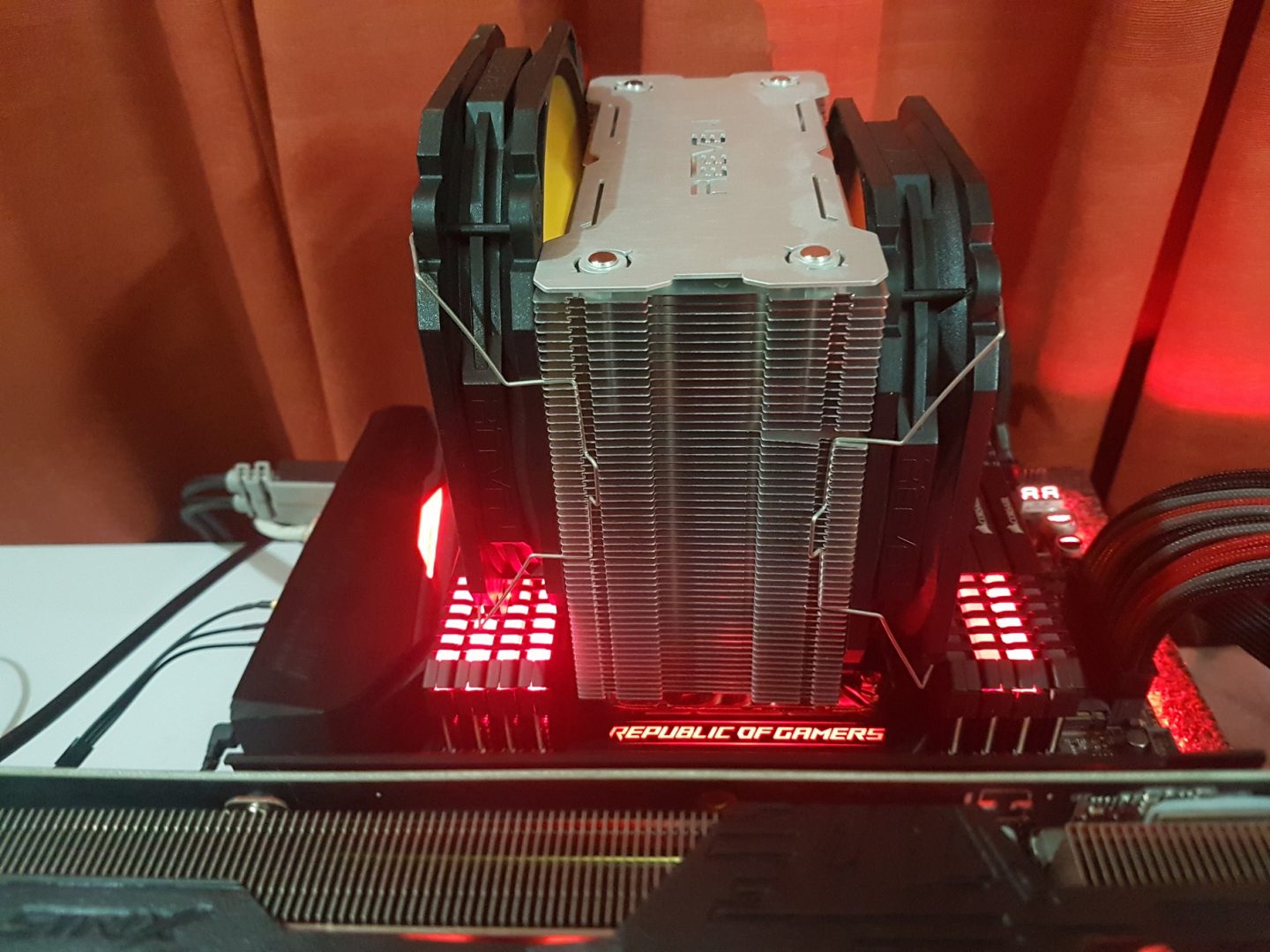 Test System and Methodology
Test System
Following test bench was used for testing this cooler: 
Asus Rampage V Edition 10
Intel i7 6850k
Corsair Vengeance RED 4x8GB @ 2666MHz
Asus Strix Rx 480
Samsung 840 EVO 250GB SSD
WD Black 6TB
Thermaltake ToughPower DPS-G RGB 750W PSU
Following coolers were used for comparison:
Corsair H100i V2
Noctua NH-U14S [Single Tower, Single Fan]
Cryorig R1 Ultimate
Cooler Master MasterGel Maker Nano Ultra was used during all tests.
Following software were used for the testing and monitoring.
Asus Real Bench v 2.44
Real Temp GT v 3.70
Testing was done on Microsoft Windows 10 x64 Pro edition.
Battlefield 1 was used to record temps while gaming.
Methodology
Ambient temp of 20C was maintained with delta correction of +/-1C. All reported temps are in degree Celsius. Below is the table for the settings used:
| | | |
| --- | --- | --- |
| | Stock | Overclocked |
| VCore | 1.136 | 1.360 |
| Frequency | 3.6 with 3.8 Boost | 4.40 |
| XMP | Yes | Yes |
| Manual VCore | Yes | Yes |
CPU core voltage was set to manual to avoid the voltage spikes and to ensure the standardization among all tests for better calibration of the data. Fans were set at PWM with Turbo mode and were left at PWM mode to control them as per the load. No custom fan curve or max RPM were used in all tests. Each cooler was tested on stock settings for 30 minutes stress run to take the temps readings. Minimum and Maximum values were recorded from the software. With overclocked CPU, the stress test was run three times on each cooler for 15 minutes duration with 30 minutes interval between each run to ensure that components cool down sufficiently before next run. This was important to take the near accurate readings of the temps. DRAM voltages were fixed as well.
Corsair H100i V2's pump was set on High-Performance mode during all tests. Fans were not connected with the unit. Fans on H100i V2 were connected on the motherboard's PWM header which was used for other coolers as well during complete testing. Temps during gaming were also recorded with overclocked CPU for each cooler.
Fingers crossed! Here are the results.
First off with the test run on stock settings, minimum temps on all coolers were 22C except Noctua NH-U14S which was one degree higher with 23C. A good performance there. Reeven Ouranos RC-1401 did max temp of 50C with the single fan which was 2 degrees higher than Noctua NH-U14S. With dual fans, Reeven Ouranos RC-1401 did 46C max which is 2 degrees less than Noctua NH-U14S. We are primarily focusing on both single towers coolers here. There is a delta of 4C between single fan and double fan configuration which is a good thermal achievement.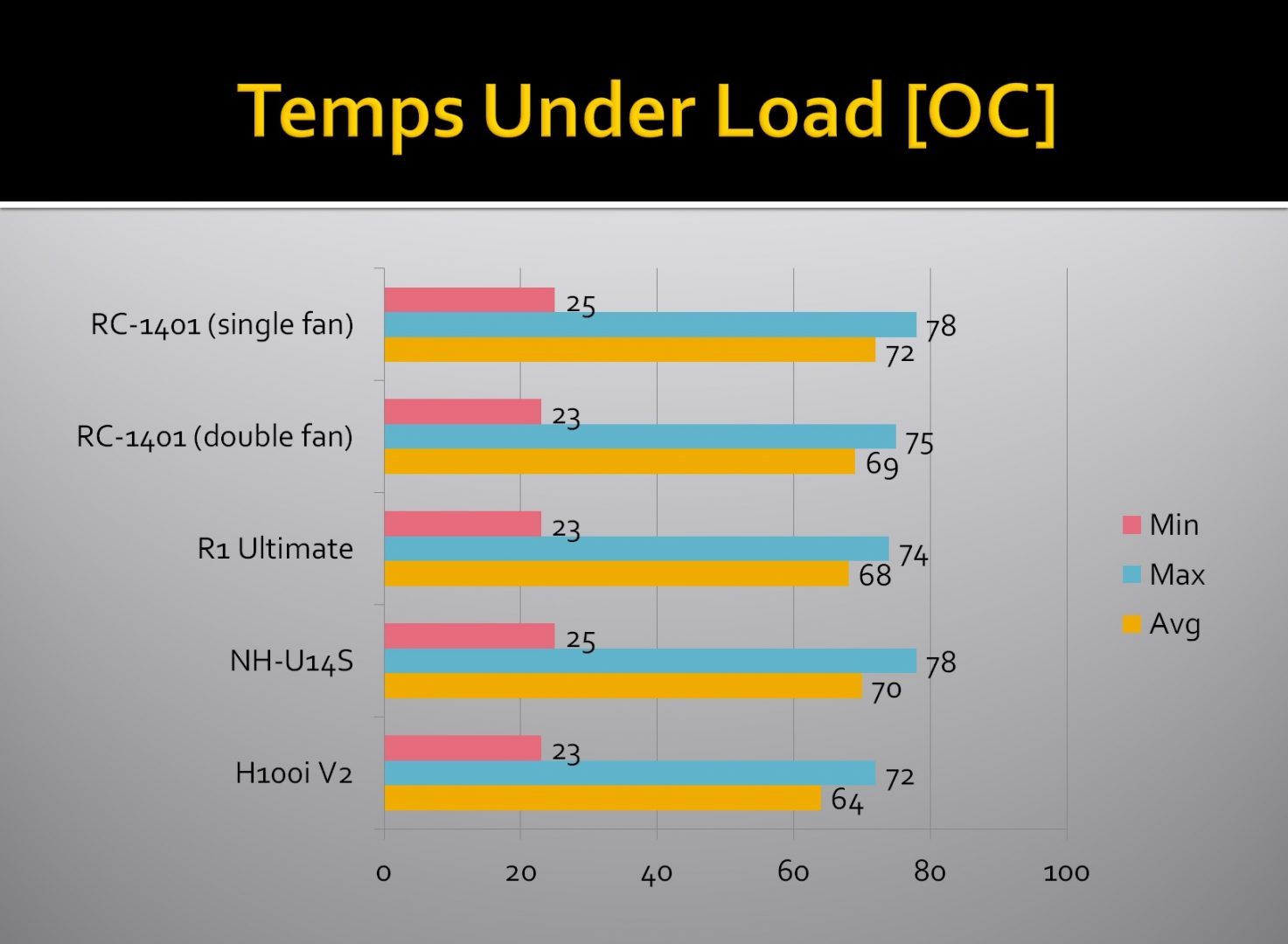 Next up is the result of stress test when CPU was overclocked to 4.40 GHz at 1.360 manual VCore. This is where this cooler shines and matches the more expensive Noctua NH-U14S in thermal performance. Minimum temps on both coolers with the single fan were 25C. With dual fans, Reeven Ouranos RC-1401 was 23C.
Under load, both coolers maxed at 78C with the single fan. Average temps on Reeven Ouranos RC-1401 were 2 degrees above Noctua NH-U14S. With Dual fan configuration, Reeven Ouranos RC-1401 maxed at 75C which is a damn good performance as it was just 1 degree above the dual tower Cryorig R1 Ultimate yet being more cost effective. Average temps were 69C on Reeven Ouranos RC-1401.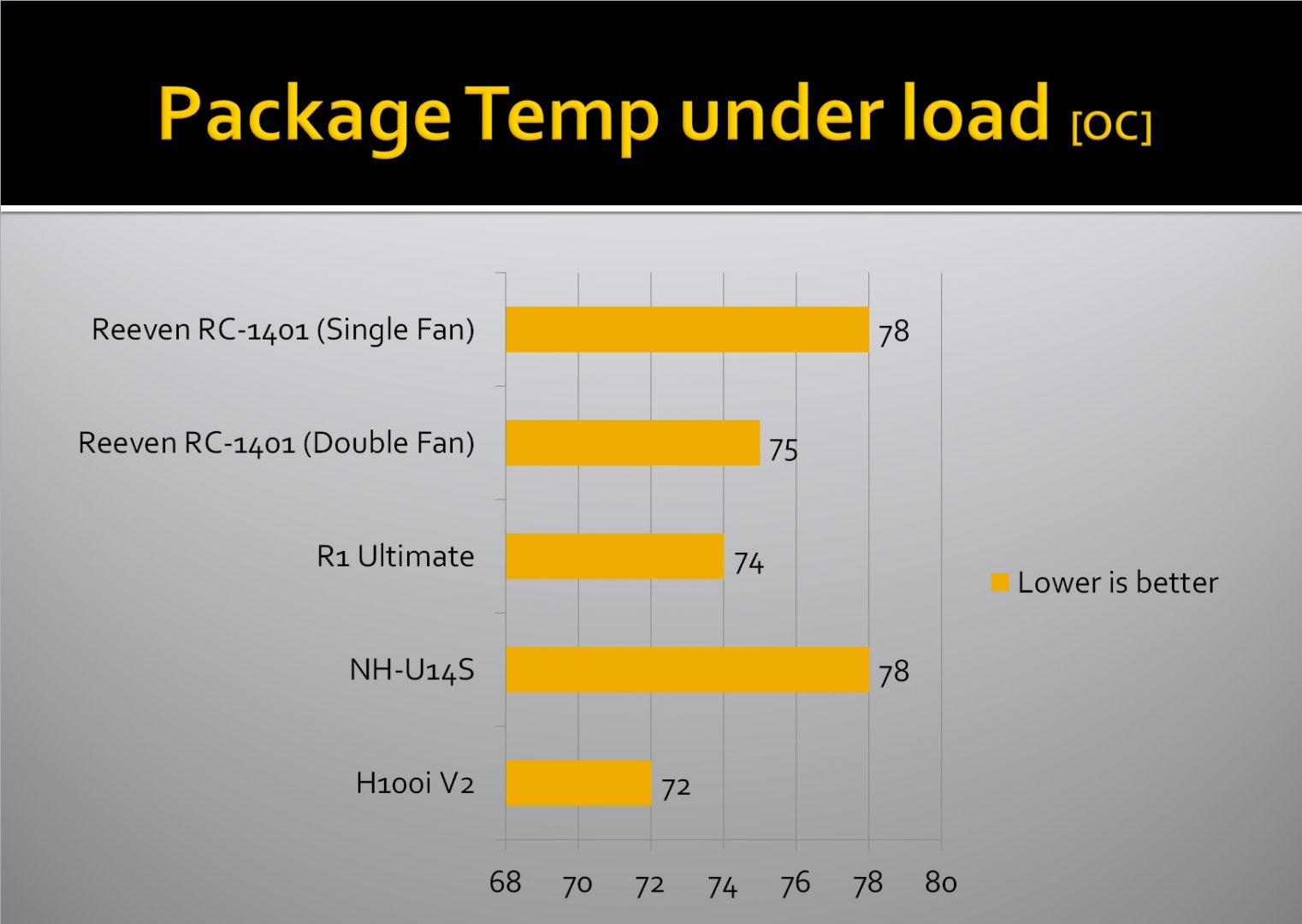 This graph shows the package temps only for all the coolers under stress with overclocked CPU. Both single tower coolers were neck to neck with single fan configuration. In dual fan configuration, Reeven Ouranos RC-1401 did 75C with the delta of 3 degrees.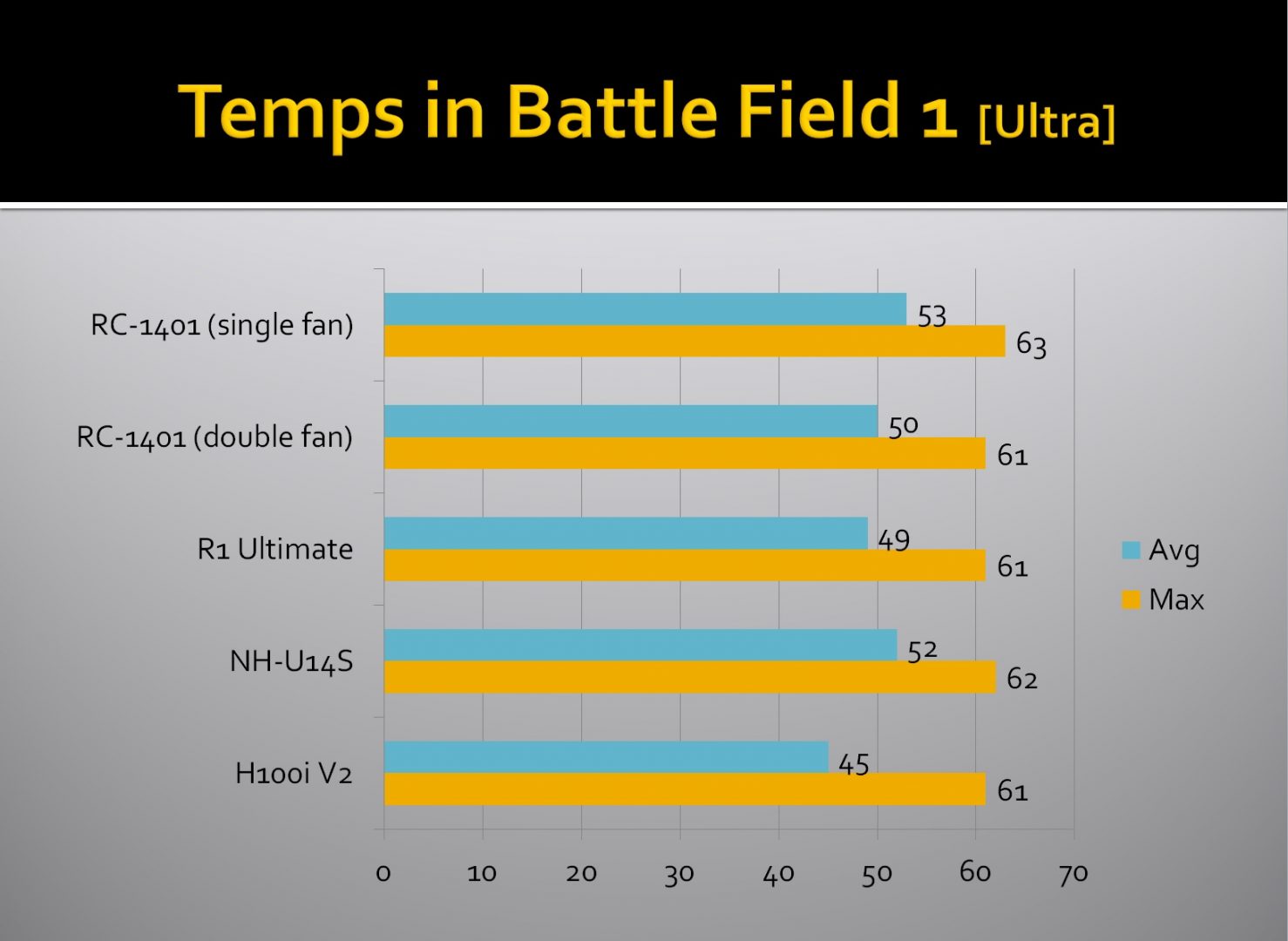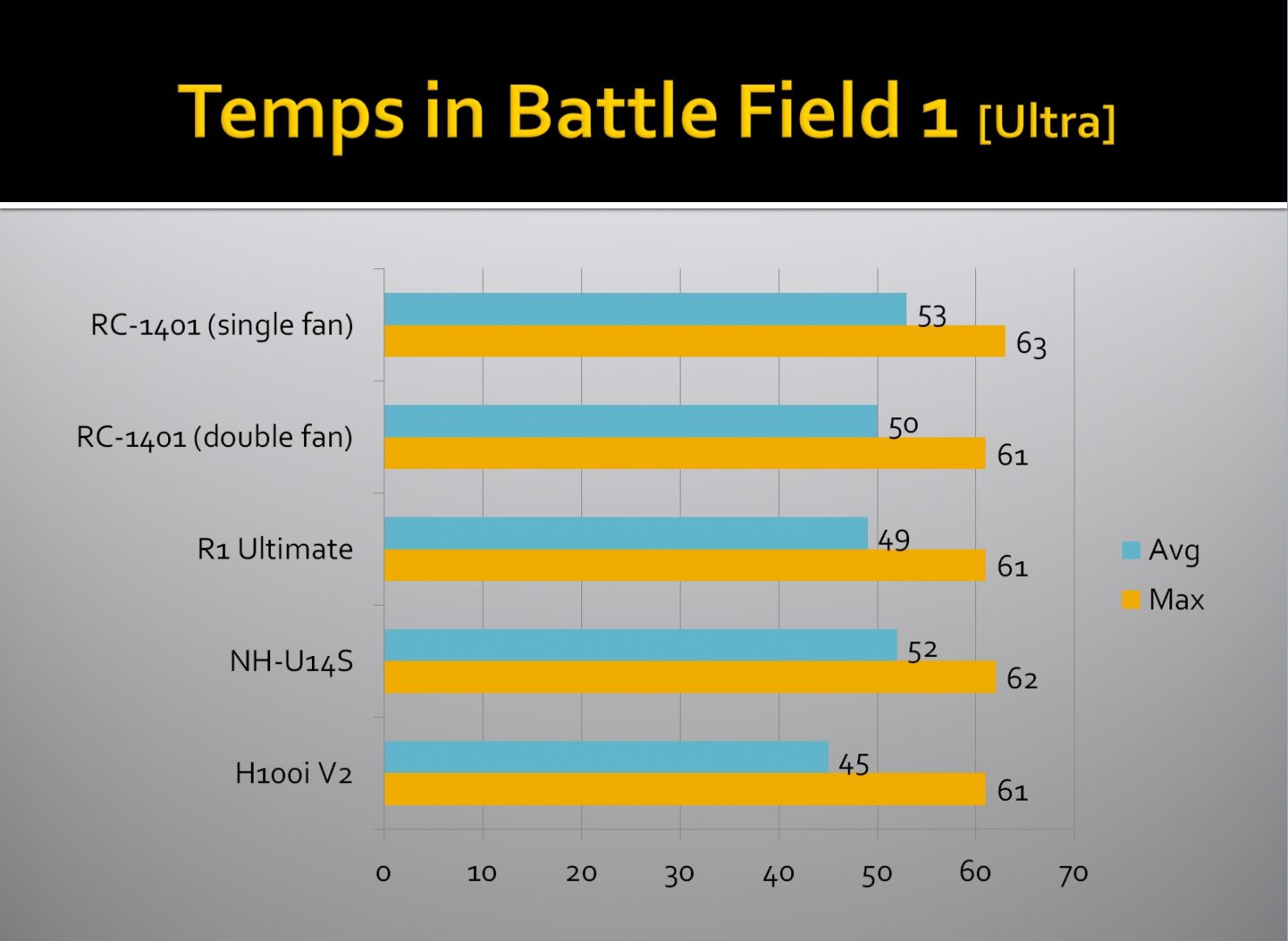 We tested Battlefield 1 with the cooler to monitor the temps for real-time idea of the temperatures. The cooler has performed very well. With the single fan setup, it is just 1 degree above the Noctua's NH-U14S. With the double fans setup, it matches R1 Ultimate from Cryorig. This is too good a performance from a single tower design cooler.
Foneso A40 Digital Sound Meter was used to record the sound level of the REEVEN ColdWing 14 fans on the RC-1401 while at idle and under load. This graph shows only the readings of the REEVEN Ouranos RC-1401 as at the time of reviews of other coolers, sound meter was not available with us.
Reeven Ouranos RC-1401 is a single tower CPU Cooler with one ColdWing 14 fan in the packing. The cooler is compatible with Intel LGA 115x/1366/2011/2011-V3 and all AMD sockets except AM4 for which company is offering a free upgrade AM4 kit. The cooler was put up against market's top notch names. The cooler has performed exceptionally well among the competitors. Not everything is perfect though and we made two observations. First, there is no spring loaded mounting mechanism which makes the task of cooler's installation relatively easier though this is not a big complaint as such. Second, instead of providing thermal grease in a plastic wrapper giving the impression that it would be used for once, the company can provide the standard offering like the competitors. Other than that this cooler has amazed us with its sheer performance.
Value
The price of the Reeven Ouranos RC-1401 at the time of this review is $50. The price of the Reeven ColdWing 14 fan is $15. In just $65 price tag, one could get a CPU Cooler which is outperforming more expensive Noctua NH-U14S ($70 base price + $20 for additional fan) and almost a degree or so difference with the dual tower from Cryorig priced at $90. Reeven Ouranos is definitely a Price to Performance ratio winner here.
Performance
The Reeven Ouranos RC-1401 was tested on Intel's X99 platform with a 6 core CPU. This chip is rated at 140W TDP. Consumer grade chips are usually rated between 84-91W TDP. The cooler was put to the task of cooling the chip with 1.360V @ 4.4 GHz and its performance was very good even with single fan configuration. With double fan configuration, the cooler was almost challenging the dual tower from Cryorig i.e R1 Ultimate.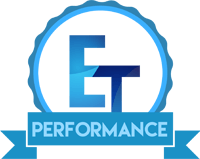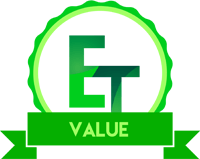 We are thankful to Reeven for giving us the opportunity to review Ouranos RC-1401.