The great thing about having relaunched Enos Tech not too long ago with a fresh new design is I get to brings you guys all kinds of firsts for us. Today, thanks to ASUS, we have our first review for them, which also happens to be our first X99 motherboard review. The X99 is an enthusiast platform, so much in fact that there are only i7 or XEON CPUs that are currently compatible with it. The X99 platform also boasts 8x RAM slots for up to 128GB of DDR4 RAM and while there is definitely a hefty price tag that comes along with the X99 platform, if you are after the most power you can get, well, you have found it!
ASUS' X99 Sabertooth Motherboard comes packed with a plethora of accessories and features. One of the things users will notice instantly when looking at it is its TUF Armor that covers most of the board, front and back. The Sabertooth boards also have their own unique colour scheme to them which to me, looks kind of like camouflage/military style. The Sabertooth X99 also features Dual Port USB 3.1, a hidden M.2 slot, support for up to 3x GPUs, TUF 10K TI Caps, dual LAN ports, extra pins in the CPU socket for maximum overclocking and so much more!
There are a LOAD of accessories that come with the X99 Sabertooth, in fact, I have never seen so many accessories come with a motherboard before.
Accessories
User's manual
Accessory Guide
ASUS Q-Shield
6 x SATA 6Gb/s cable(s)
1 x ASUS 2-Way/3-Way SLI bridge
1 x Supporting DVD
1 x Q-connector(s) (2 in 1)
1 x Assistant Fans(40mm)
1 x TUF Certification card(s)
1 x TUF 5 Year Warranty manual(s) (by region)
1 x TUF Inside sticker(s)(white)
1 x STAY COOL BE TUF sticker(s)(white)
1 x Accessory Package(s):
– 2 x PCIe x16 slot dust cover(s)
– 4 x DRAM slot dust cover(s)
– 1 x PCIe x1 slot dust cover(s)
– 1 x PCIe x4 slot dust cover(s)
– 3 x Thermistor cable(s)
– 1 x connector dust cover collection(onboard USB 3.0, LAN)
– 2 x On board USB 2.0 connector dust cover(s)
– 11 x back I/O USB 2.0 connector dust cover(s)
– 9 x On board SATA connector dust cover(s)
– 1 x SATA Express conector dust cover(s)
– 5 x Audio connector dust cover(s)
Specifications
CPU

Build in Intel® Socket 2011-v3 Core™ i7 Processors

Supports Intel® 22 nm CPU

Supports Intel® Turbo Boost Technology 2.0

* The Intel® Turbo Boost Technology 2.0 support depends on the CPU types.

* Refer to

www.asus.com

for CPU support list

Chipset

Intel® X99

Memory

8 x DIMM, Max. 64GB, DDR4 2400/2133 MHz Non-ECC, Un-buffered Memory

Multi-GPU Support

Supports NVIDIA® Quad-GPU SLI™ Technology
Supports NVIDIA® 3-Way SLI™ Technology
Supports AMD Quad-GPU CrossFireX™ Technology
Supports AMD 3-Way CrossFireX™ Technology

Expansion Slots

40-Lane CPU-
3 x PCIe 3.0/2.0 x16 (x16, x16/x16, x16/x16/x8) *1
28-Lane CPU-
3 x PCIe 3.0/2.0 x16 ( x16, x16/x8, x16/x8/x4) *1
1 x PCIe 2.0 x4 (x2 mode)
1 x PCIe 2.0 x1

Storage

New Intel® Core™ i7 Processors :
1 x M.2 Socket 3, gray with M Key, type 2242/2260/2280/22110 storage devices support (Support PCIE SSD only)
Intel® X99 chipset :
1 x SATA Express port compatible with 2 x SATA 6.0 Gb/s ports
8 x SATA 6Gb/s port(s),
Support Raid 0, 1, 5, 10
Supports Intel® Smart Response Technology, Intel® Rapid Recovery Technology*2

LAN

Intel® I218V, 1 x Gigabit LAN Controller(s)
Realtek® 8111GR, 1 x Gigabit LAN
Gigabit Intel® LAN Connection- 802.3az Energy Efficient Ethernet (EEE) appliance
ASUS Turbo LAN Utility

Audio

Realtek® ALC1150 8-Channel High Definition Audio CODEC
Audio Feature :
– Absolute Pitch 192kHz/ 24-bit True BD Lossless Sound
– Optical S/PDIF out port(s) at back panel
– BD Audio Layer Content Protection
– Audio Shielding: Ensures precision analog/digital separation and greatly reduced multi-lateral interference
– Dedicated audio PCB layers: Separate layers for left and right channels to guard the quality of the sensitive audio signals
– Audio amplifier: Provides the highest-quality sound for headphone and speakers
– Unique de-pop circuit: Reduces start-up popping noise to audio outputs
– Top notch audio sensation delivers according to the audio configuration
– Absolute Pitch 192khz/24bit true BD lossless sound
Separate layer for left and right track, ensuring both sound deliver equal quality

USB Ports

Intel® X99 chipset :
8 x USB 3.0 port(s) (4 at back panel, , 4 at mid-board)
Intel® X99 chipset :
8 x USB 2.0/1.1 port(s) (4 at back panel, , 4 at mid-board)
ASMedia® USB 3.1 controller :
2 x USB 3.1/3.0/2.0 port(s) (2 at back panel, +teal blue)

Special Features

TUF Features:
TUF ENGINE! Power Design :
– 8 +2 Digital Phase Power Design
– TUF Components (Choke, Cap. & MOSFET; certified by military-standard)
– ASUS DIGI+ Power Control Utility
Ultimate COOL! Thermal Solution :
– TUF Thermal Armor
– TUF Thermal Radar 2 with Thermistors
– TUF ICe
Safe & Stable! Guardian Angel :
"We Got Your Back!" Shape Force
– TUF Fortifier
– Dust Defenders with connector covers and back I/O dust filter
– TUF ESD Guards 2

Operating System Support

Windows® 8.1
Windows® 8
Windows® 7

Back I/O Ports

2 x LAN (RJ45) port(s)
2 x USB 3.1 (teal blue)
4 x USB 3.0 (blue)
4 x USB 2.0
1 x Optical S/PDIF out
5 x Audio jack(s)
1 x USB BIOS Flashback Button(s)

Internal I/O

1 x AAFP connector
2 x USB 3.0 connector(s) support(s) additional 4 USB 3.0 port(s) (19-pin)
2 x USB 2.0 connector(s) support(s) additional 4 USB 2.0 port(s)
1 x SATA Express connector: gray, compatible with 2 x SATA 6.0 Gb/s ports
1 x TPM header
1 x COM port(s) connector(s)
1 x CPU Fan connector(s) (1 x 4 -pin)
1 x CPU OPT Fan connector(s) (1 x 4 -pin)
1 x CPU fan with PWM control
4 x Chassis Fan connector(s) (4 x 4 -pin)
5 x Assistant Fan connector(s) (5 x 4 -pin)
1 x S/PDIF out header(s)
1 x Thunderbolt header(s)
1 x 24-pin EATX Power connector(s)
1 x 8-pin ATX 12V Power connector(s)
1 x 4-pin ATX 12V Power connector(s)
1 x System panel(s) (Q-Connector)
1 x Chassis Intrusion connector(s)
1 x MemOK! button(s)
3 x Thermal sensor connector(s)
1 x Clear CMOS jumper(s)

BIOS

128 Mb Flash ROM, UEFI AMI BIOS, PnP, DMI2.7, WfM2.0, SM BIOS 2.7, ACPI 5.0, Multi-language BIOS,
ASUS EZ Flash 2, CrashFree BIOS 3, F11 EZ Tuning Wizard, F6 Qfan Control, F3 My Favorites, Quick Note, Last Modified log,
F12 PrintScreen, F3 Shortcut functions and ASUS DRAM SPD (Serial Presence Detect) memory information.

Manageability

WfM 2.0, DMI 2.7, WOL by PME, PXE

Support Disc

Drivers
Anti-virus software (OEM version)
ASUS/TUF CPU-Z
ASUS Utilities

Form Factor

ATX Form Factor
12 inch x 9.6 inch ( 30.5 cm x 24.4 cm )

Note

1* The PCIe x16_3 shares bandwidth with M.2 x4. When M.2 socket is occupied, the PCIe x16_3 slot will be disabled.
2* Due to chipset behavior, The SATA6G_78, SATA6G_910 ports (black) do not support IRST including RAID configuration.
3* These functions will work depending on the CPU installed.
Getting the X99 Sabertooth out of the box and the first thing you will notice is the weight of it, boy is it heavy as far as motherboards go. Next you will notice the colour scheme and the armor protecting it, which is why it is so heavy. ASUS have gone with a bit of a unique colour scheme with their Sabertooth boards, but it seems to be working out well for them. One thing I liked seeing is the fact that there are hidden features, such as removing the X99 plate in the top left allows you to install a small fan (included) to help cool off the motherboard components. There are also a couple of other things hidden that we will take a look at shortly.
Starting off with the top half of the board and there is a lot going on. Front and center is the OC CPU socket which features extra pins over standard X99 boards to allow for higher overclocks and better voltage control. On either side of that are 4x RAM slots that allow the X99 Sabertooth to hold up to 64GB of RAM, running at 2400MHz as per standard, or you can always overclock your ram to make it faster if need be. This board also features an 8+2 power phase design and also has an extra 4-pin power connector to help regulate voltages and allow for maximum overclocks. Another nice thing you will notice when looking around the board is that there are plenty of fan connectors all around it, so you should have more than an adequate amount to make sure you can keep all those overclocked components cool.
Down to the bottom have of the board we have 3x PCIe 3.0 slots and single PCIe x4 and x1 slots. Depending on the CPU you are using the PCIe x 16 lanes will run at different speeds in multi-GPU setups(please see below). We also have another one of those hidden features here, immediately to the right of the PCIe x1 slot is a little screw, removing this screw actually allows access to the on-board M.2 slot. While many may want to show off their M.2 drive, having it hidden when not in use is a great feature and ultimately help with the aesthetics of the motherboard if nothing else.
40-Lane CPU-
3 x PCIe 3.0/2.0 x16 (x16, x16/x16, x16/x16/x8) *1
28-Lane CPU-
3 x PCIe 3.0/2.0 x16 ( x16, x16/x8, x16/x8/x4) *1
1 x PCIe 2.0 x4 (x2 mode)
1 x PCIe 2.0 x1
There are a number of SATA ports on the right side of the motherboard giving users plenty of options alongside the M.2 slot to hopefully have as much storage as they could need. The SATA ports available are:
1 x SATA Express port compatible with 2 x SATA 6.0 Gb/s ports
8 x SATA 6Gb/s port(s),
Support Raid 0, 1, 5, 10
Supports Intel® Smart Response Technology, Intel® Rapid Recovery Technology*2
As mentioned, there is a bunch of TUF and/or Thermal armor on this motherboard, so much such that it is rather heavy. To me, these all serve multiple purposes. They can offer an aesthetical, thermal, and/or protective aspect. This armor is so heavy that ASUS have gone ahead and added a massive back plate on their X99 Sabertooth board so that it will not warp or great strained over time from having so much weight on it. I'll be honest, this is my first time getting a hands-on experience with a motherboard of this type and I was very pleased with it and the armor is a great addition that not only adds functionality, but it also adds a sense of security and value to the overall package.
The rear I/O consists of:
2 x LAN (RJ45) port(s)
2 x USB 3.1 (teal blue)
4 x USB 3.0 (blue)
4 x USB 2.0
1 x Optical S/PDIF out
5 x Audio jack(s)
1 x USB BIOS Flashback Button(s)
The ASUS TUF UEFI BIOS were easy to navigate and offer plenty of features so users can get their system running to their desired tastes. Users will also me able to make use of all the monitoring and overclocking options so they can get the most out of their systems. One of my favourite features in the Hardware Monitor that is on the right-hand side of the screen that shows you what voltage and speeds your CPU and RAM are running at .
Motherboard: ASUS X99 Sabertooth
Processor: Intel i7 5820K
Ram: 16GB (4x4GB) Crucial Ballistix Sport LT 2400Mhz
SSD: Samsung 840 EVO 250GB
PSU: Cooler Master V650
CPU Cooler: Scythe Fuma 2
Case: Cooltek Skall
Monitor: Ben Q XL2730z
For my OC test, I went a different route than normal. Normally I would just go all out and see what the top OC I can reach on the CPU is with as much voltage as I feel safe using, which would be 4.9 GHz @ 1.4v in this case. However, I wanted to speed on my more standard everyday overclock which was 4.3GHz at 1.296v. The reason I am mentioning this is that the 5820K in use has been my personal one since the day it was released and I know it quite well. If you look back at the BIOS screenshots, you will notice it running at 3.3GHz @ 1.264v which is the standard settings. Now, as you can see below, adding only .03v allows me to add a full extra 1GHz overclock to the CPU which I feel is just amazing and on other motherboards I have tested with this CPU, I normally need around 1.32v to hit 4.3GHz stable. It's also worth noting that I did not use the extra 4-pin power connector for these results as my PSU does not have the extra cable with it. I am really pleased with these results and ran the overclock portion of the benchmarks at the below speeds and voltages.
Benchmarks and Performance
To test the motherboards performance in the following benchmark scenarios, the CPU was run at both stock (3.3GHz) and Overclock (4.3GHz) settings and all graphical benchmarks were run at 1440P where applicable.
AIDA 64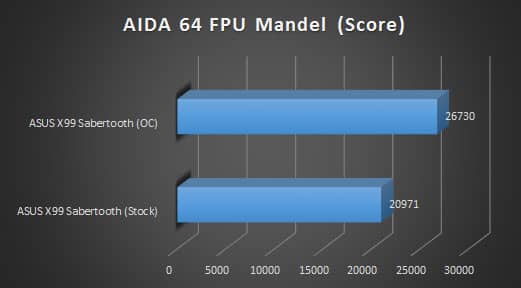 Cinebench 11.5
SiS Sandra
3DMark Firestrike
Unigine Heaven & Valley
x264
Bioshock Infinite
Hitman Absolution
Tomb Raider
Overall, I was thoroughly impressed with the ASUS X99 Sabertooth motherboard and who wouldn't be. It offers great performance and there is just something about the armour that really sets it off for me. Even though I wasn't quite sure on the colour scheme, at first, it grew on my over time and definitely wouldn't be a deal-breaker for me. Let's conclude the review with a recap of my thoughts.
Performance
I was highly impressed with the performance offered by the X99 Sabertooth motherboard and for one main reason. While the overall performance of it was great, the voltage needed to hit my standard 4.3GHz overclock was significantly less than normal and this is great. When most people overclock, they think yeah, more voltage equals hotter temperatures, which is true. However, when running a system 24/7 this can also decrease the longevity of a CPU over time, even if only by minimal margins. I like to run my overclock 24/7 so the least amount of voltage to obtain this is great for me and the ASUS X99 Sabertooth provided this for me. This board really is designed to offer great performance and overclocks thanks to things like the OC CPU socket and the extra 4-pin power connection, user's will be able to get all the power that they should from their system.
Design
This is a bit of a mixed bag here. While some may not care for the colour scheme and/or the thermal armour, some will love it. Personally, I found the armour amazing and the colour quickly grew on me once I saw what the motherboard was capable off. One of the cool features is how ASUS have hidden certain features of the motherboard unless they are being used, such as the space for the included fan to help keep temperatures down and the M.2 slot. ASUS have also used TUF components such as the CAPS, MOSFETS and Chokes which are certified by military standards and offer a great sense of quality to the board. ASUS definitely put some time in at the drawing board when it came to designing their X99 Sabertooth motherboard.
Value
The X99 is designed to be an enthusiast platform and with this comes a bit higher price tag than what normal users are used to or willing to pay. The ASUS X99 Sabertooth is coming in at near £300, which some will feel is a lot for any motherboard, but this one really needs to be seen to be appreciated. As soon as you get it out of the box and feel the weight of it, you will realize this isn't a standard motherboard and is meant to offer the best of the best when it comes to features and performance. The X99 Sabertooth is also designed to offer maximum overclocks for other components and comes with a plethora of accessories to make sure users have what they need to get their system set up just how they want. As I always say, if you want the best of the best you better be prepared to pay for it!
Major thanks to ASUS for sending in their X99 Sabertooth for review.