Today we are taking a look at the Ballistix Sport LT DDR4 2666MHz 2x8GB kit of RAM. The Ballistix range of RAM from Crucial come in many different flavours: Sport, Sport LT, Tactical and Elite to name the ones we have personally reviewed here at Enos Tech. All of the mentioned kits are the DDR4 variants and as Ballistix will tell you, are suited for different users and their individual needs. The Sport and Sport LT models are more for standard users who are just looking for some reliable RAM to run in their systems. The Tactical and Elite are for the more high-end enthusiast users who want the best of the best! Ballistix has been making RAM for many years now and surely know what they are doing.
The Sport LT kit we are looking at today is the refreshed 2666Mhz kit. As the previous 2400Mhz kit is, it is also available in a range of different size sticks and even colours. Users will be able to get the RAM in Gray, Red and White to have the best odds of matching with a colour scheme. The 2666Mhz variant of the Sport LT run at 16-18-18-38 @ 1.2v by default. The Sport LT also feature a much more pleasing heatsink than that of the standard Sport RAM and are surely a kit you will want to show off in your build and be proud of.
The packaging for the RAM is fairly standard these days and as you can see in the below image they just come in a standard blister pack which features a small sticker on the front. Not a long of information on the sticker but it does let us know the size, speed and voltage of the stick inside. As mentioned the RAM comes in a variety of sizes, colours and kits so there is bound to be one for you.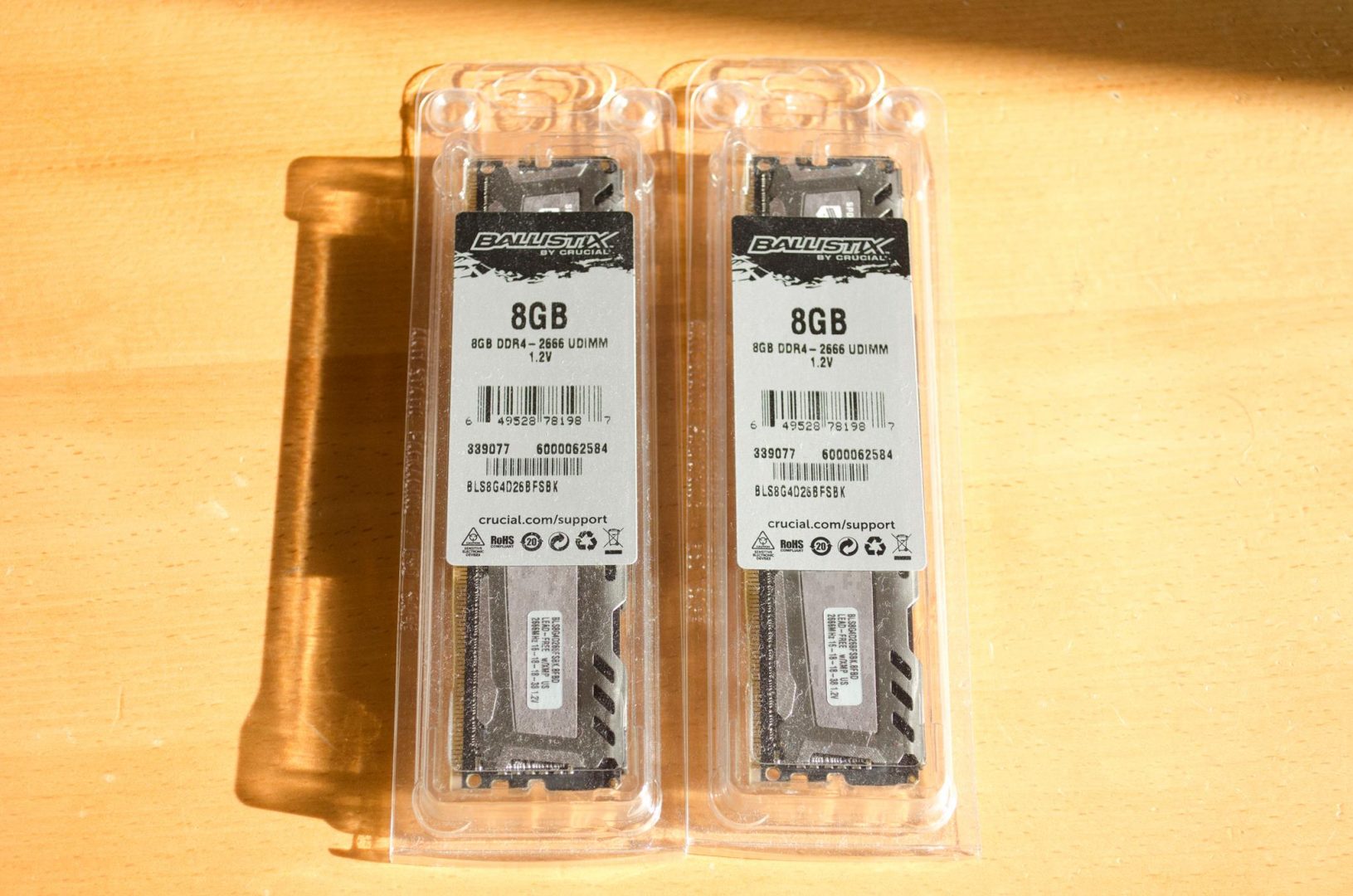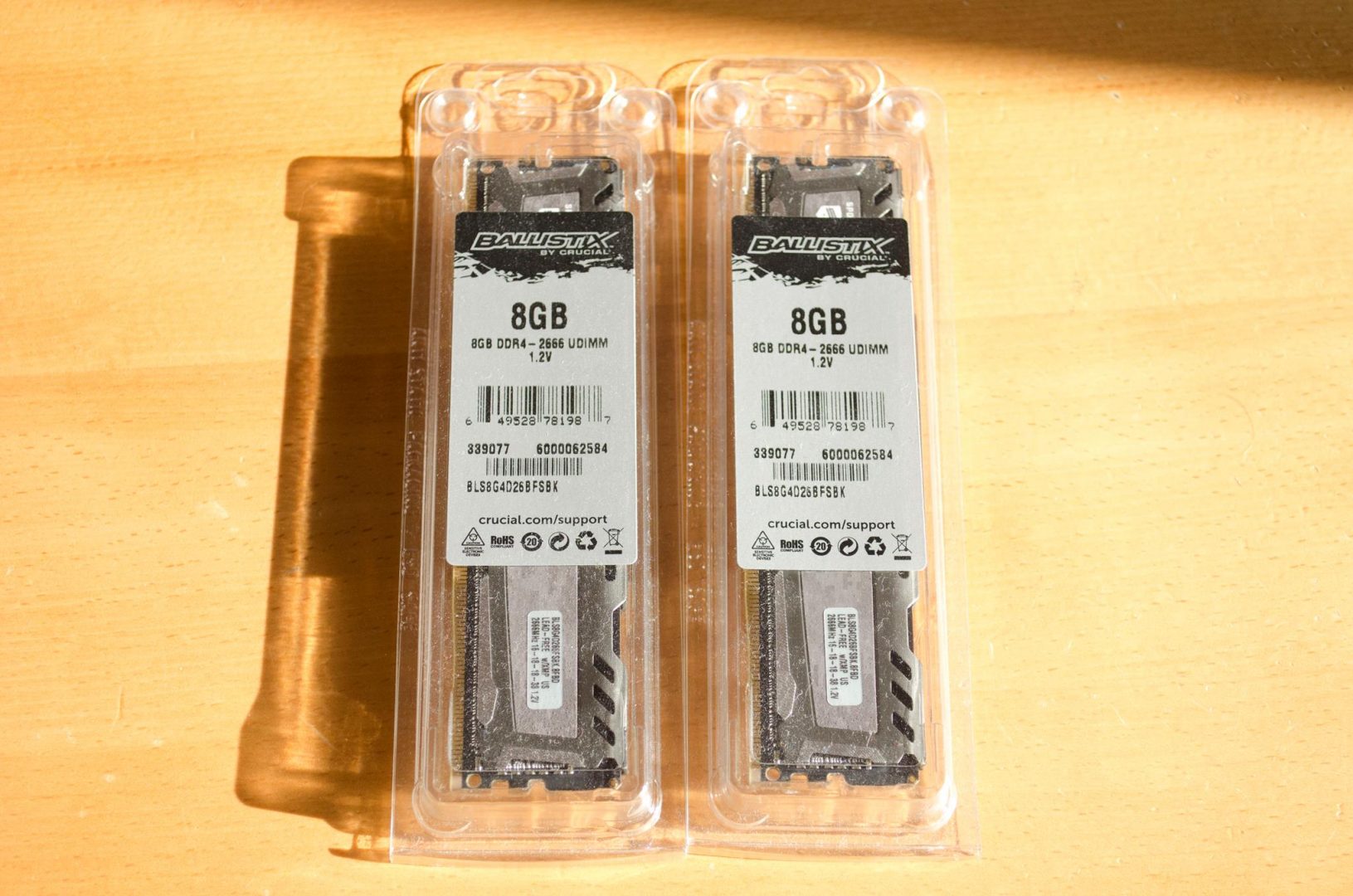 The Ballistix Sport LT is definitely a could set of RAM, especially when you can get it in either Gray, Red or White. In the middle of the heatsink we can see the Ballistix by Micron logo and in the below image, we can get a nice look at the detail on the PCB, which is black in colour.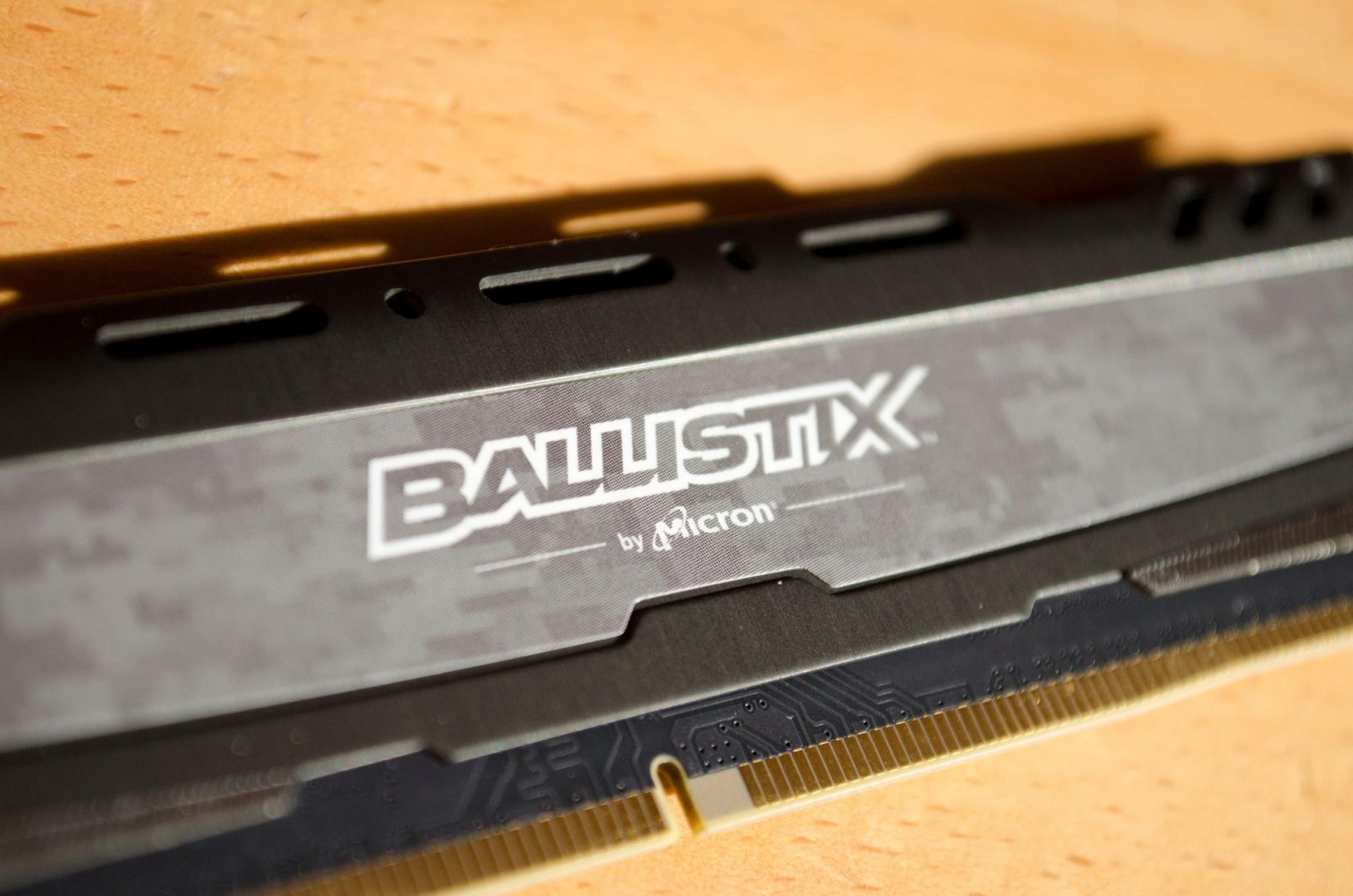 There was once a time when the debate was if heatsinks on RAM was necessary as they don't provide excessive amounts of heat. However, I think we can all agree that they do offer a more aesthetically appealing appearance. While they will still help to keep the RAM a bit cooler and get rid of some of that nasty heat a bit quicker the appealing looks have definitely taken president these days when it comes to RAM heatsinks.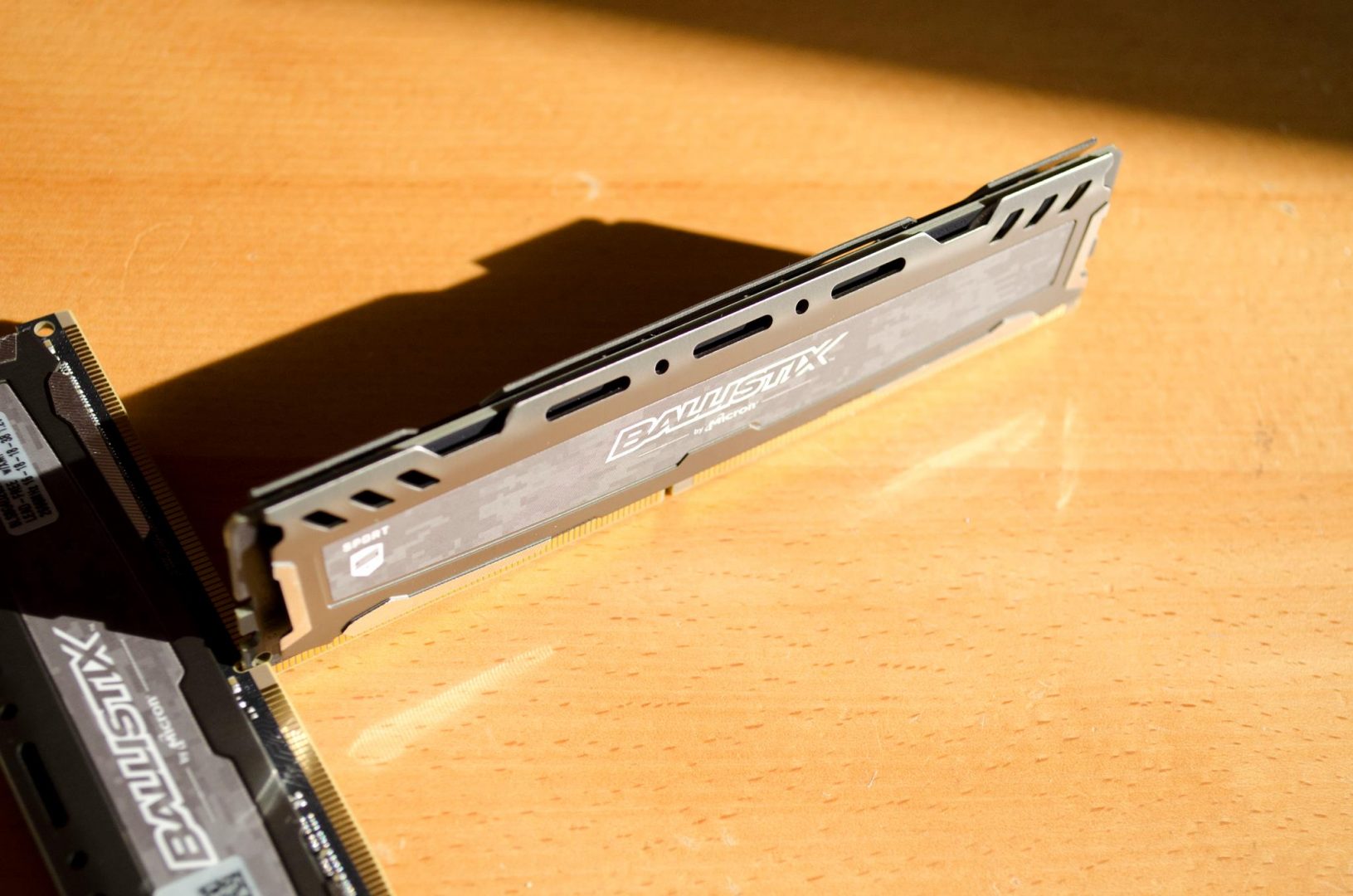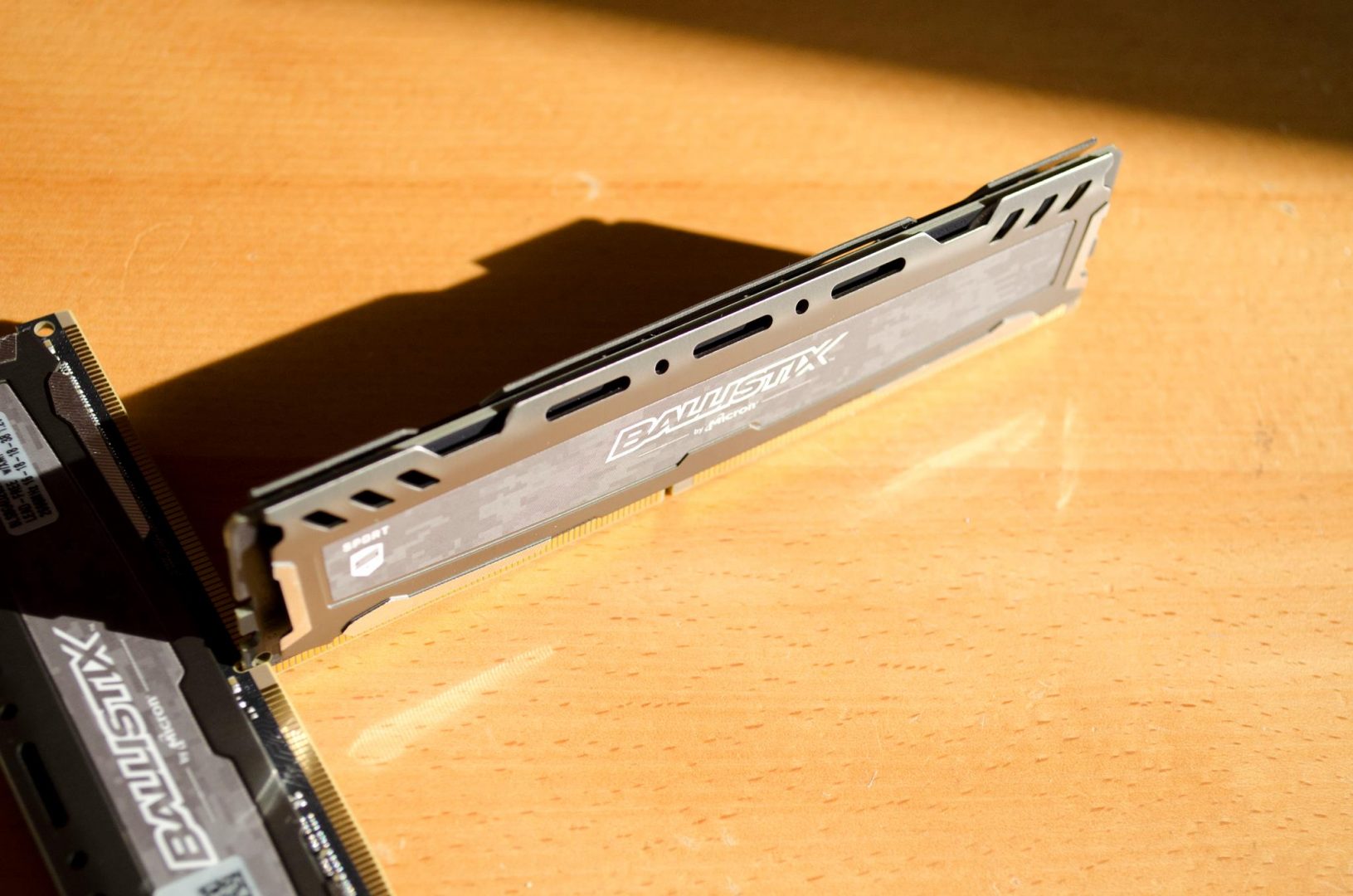 The Ballistix LT is just so photogenic I couldn't help but take a few snaps of it. Notice the cutouts across the top and how they just add a little something extra to the looks.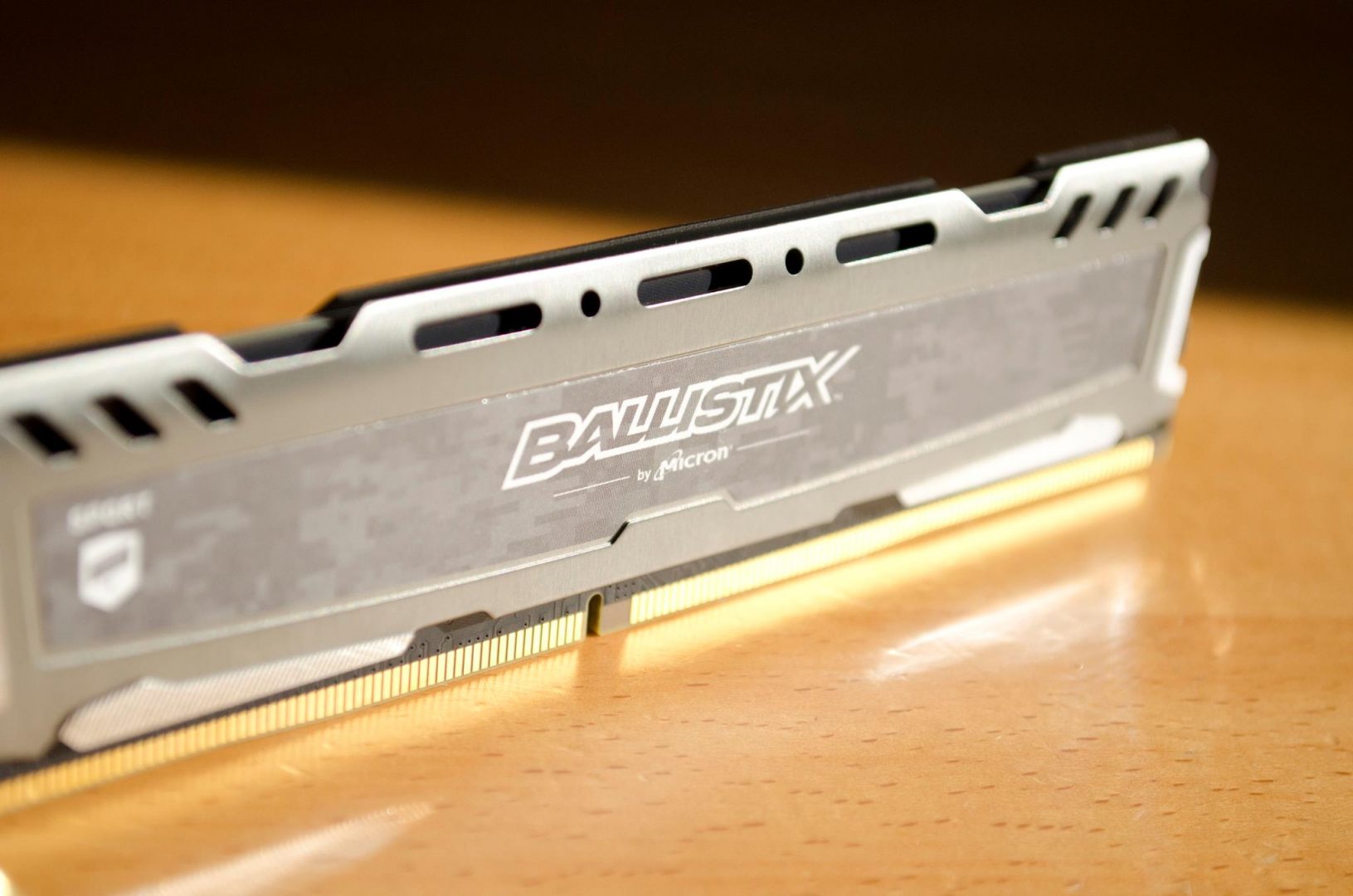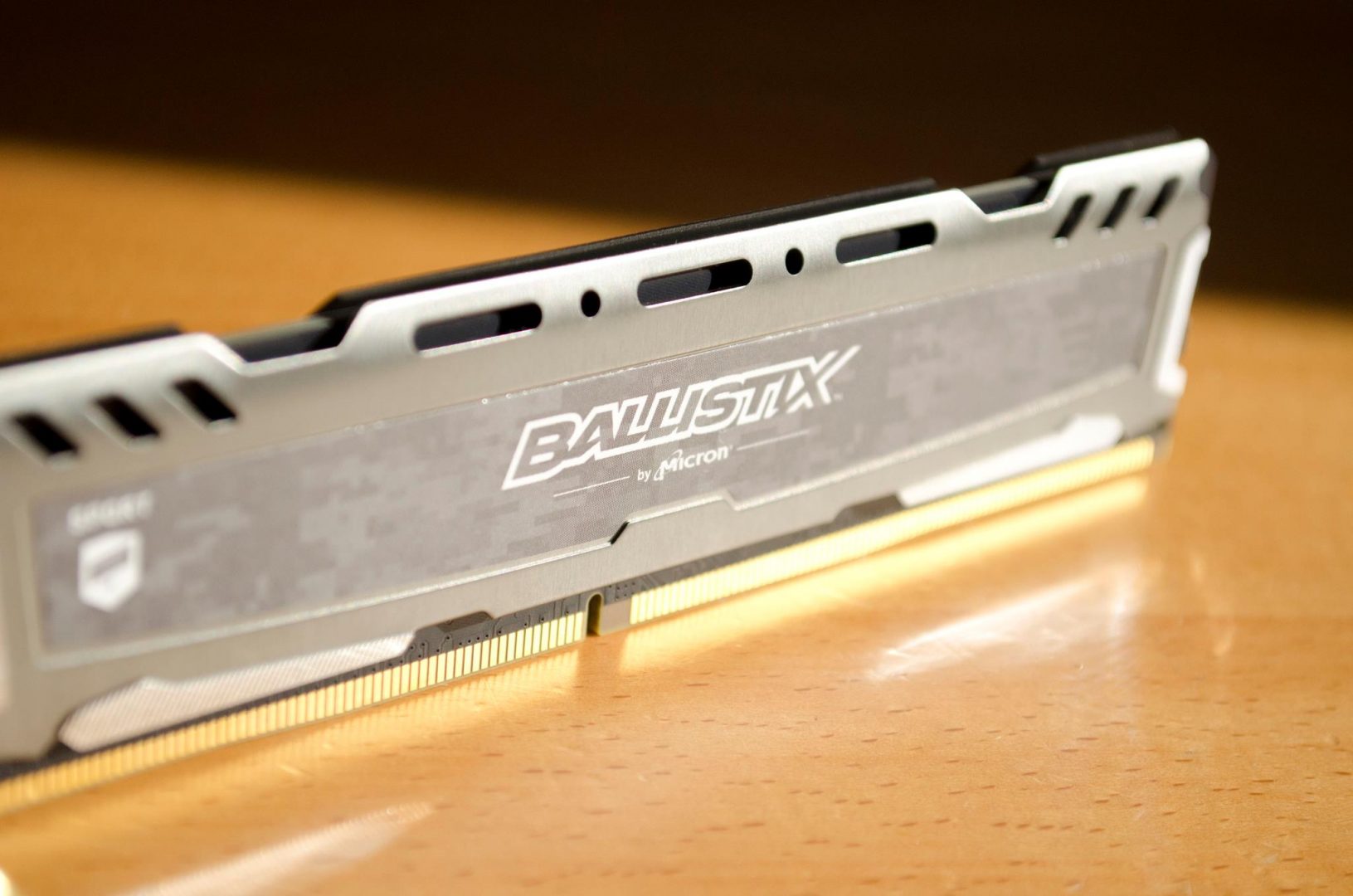 While the kit does look great, in most builds you will only see it from one angle and that is the top. Even from the top the RAM still looks great and will be sure to fit in with most PC builds.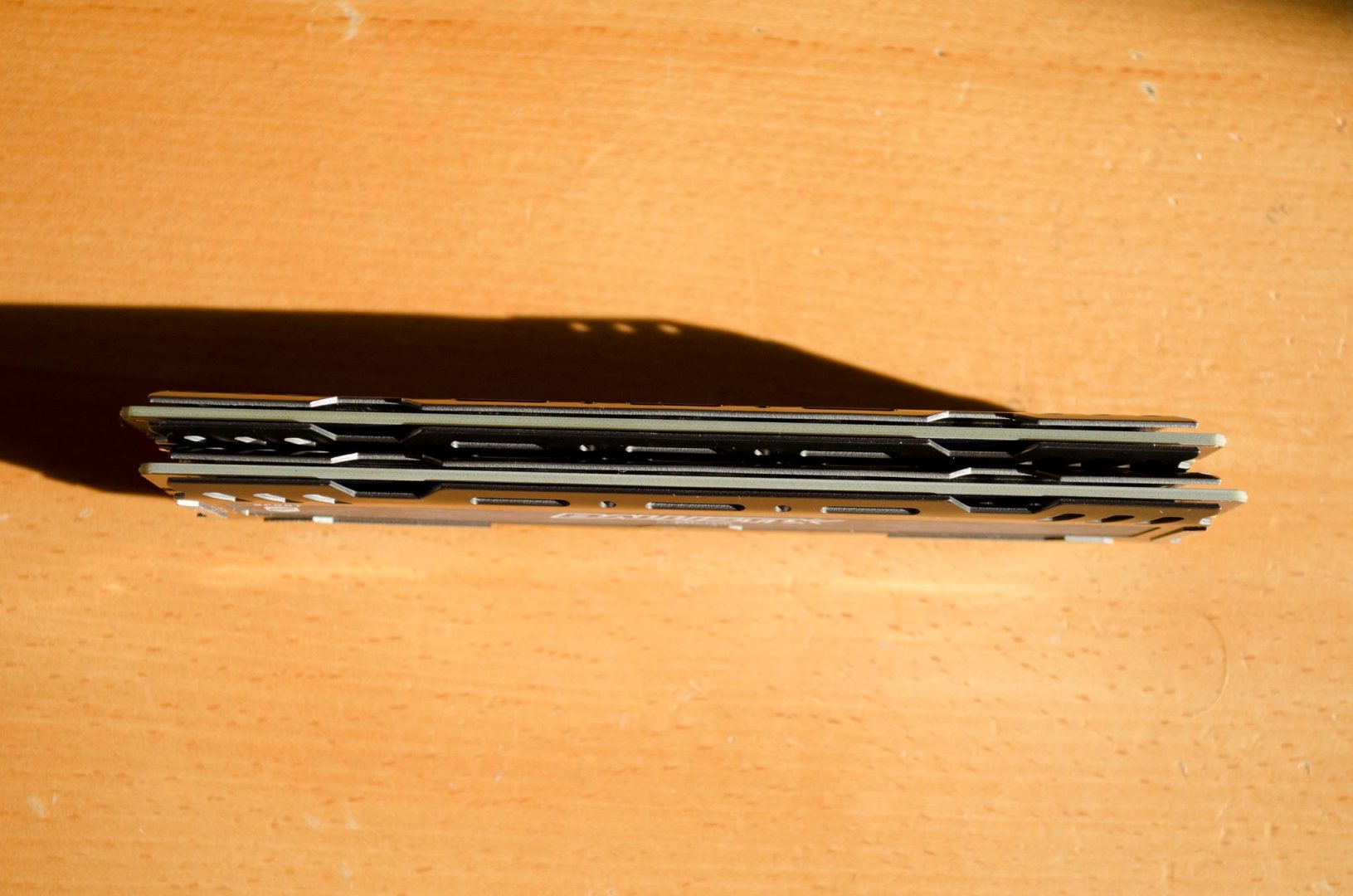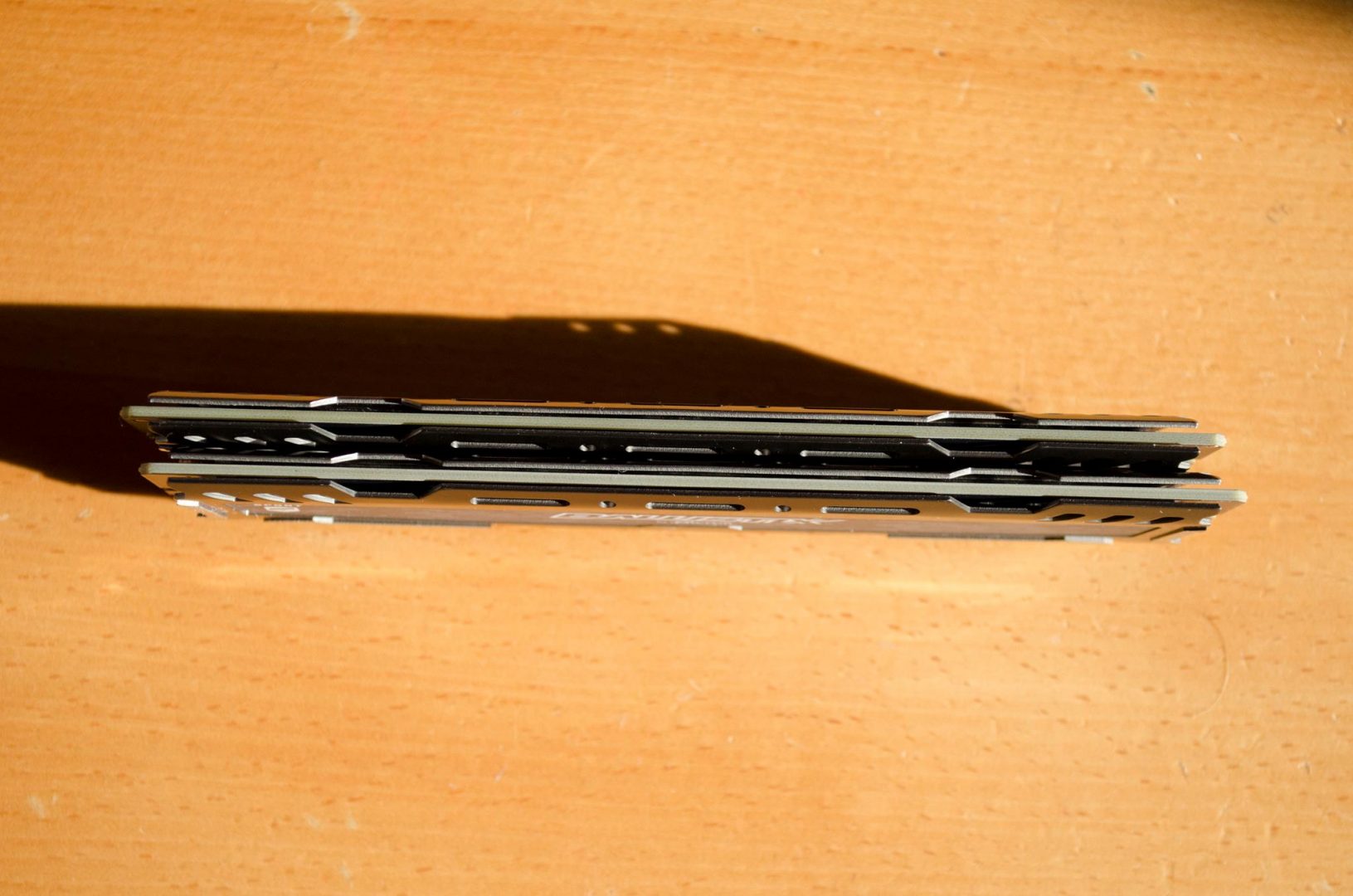 Yes, I know what I just said about only seeing it from the top! So, for this picture, I actually took the front panel off my case and shot the pic through where the 5.25″ drives would be if I had any. This is a great looking set of ram and if I wasn't running an X99 board, or had more than 2 sticks it would be a real competitor to be my daily driver.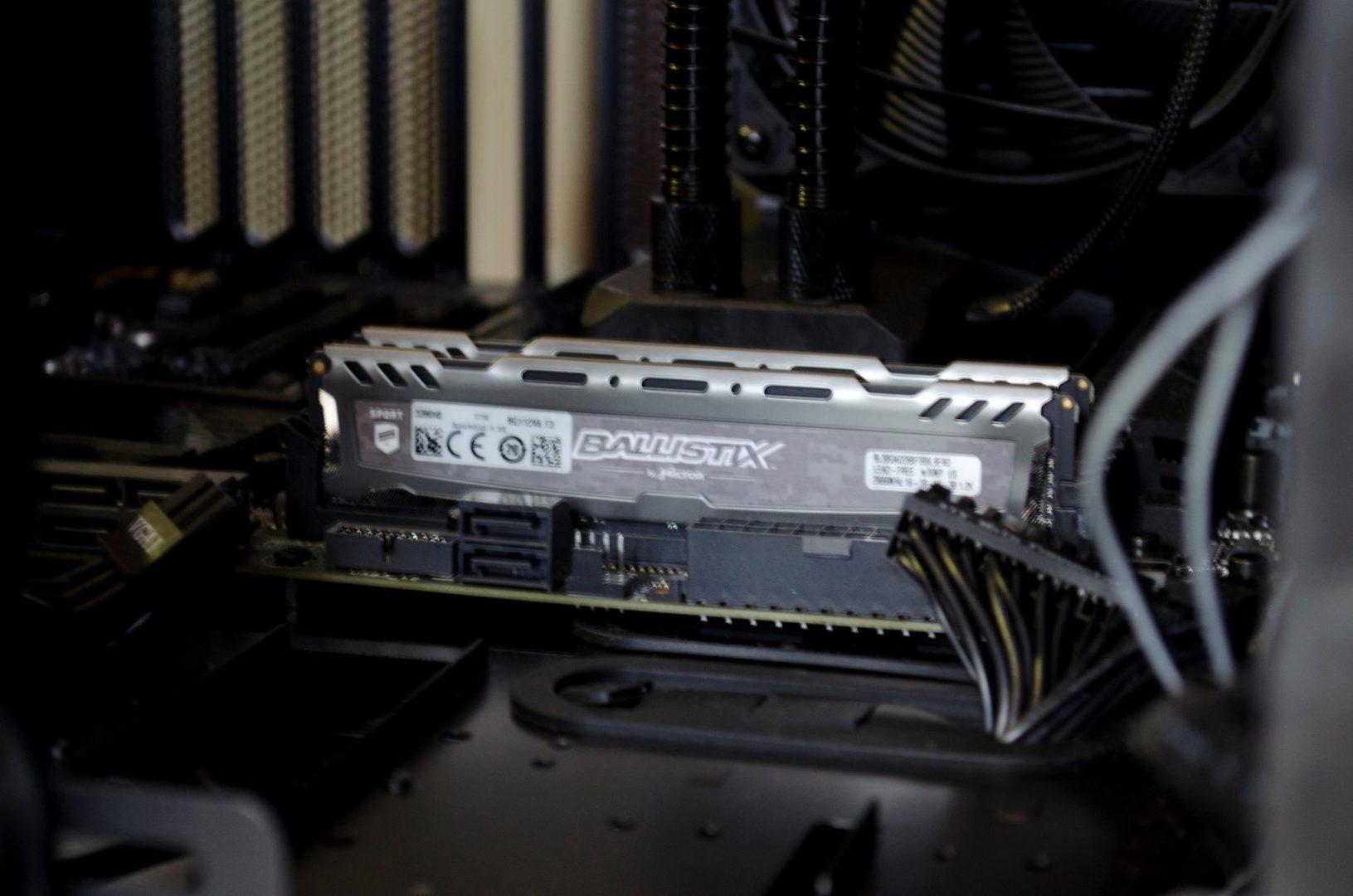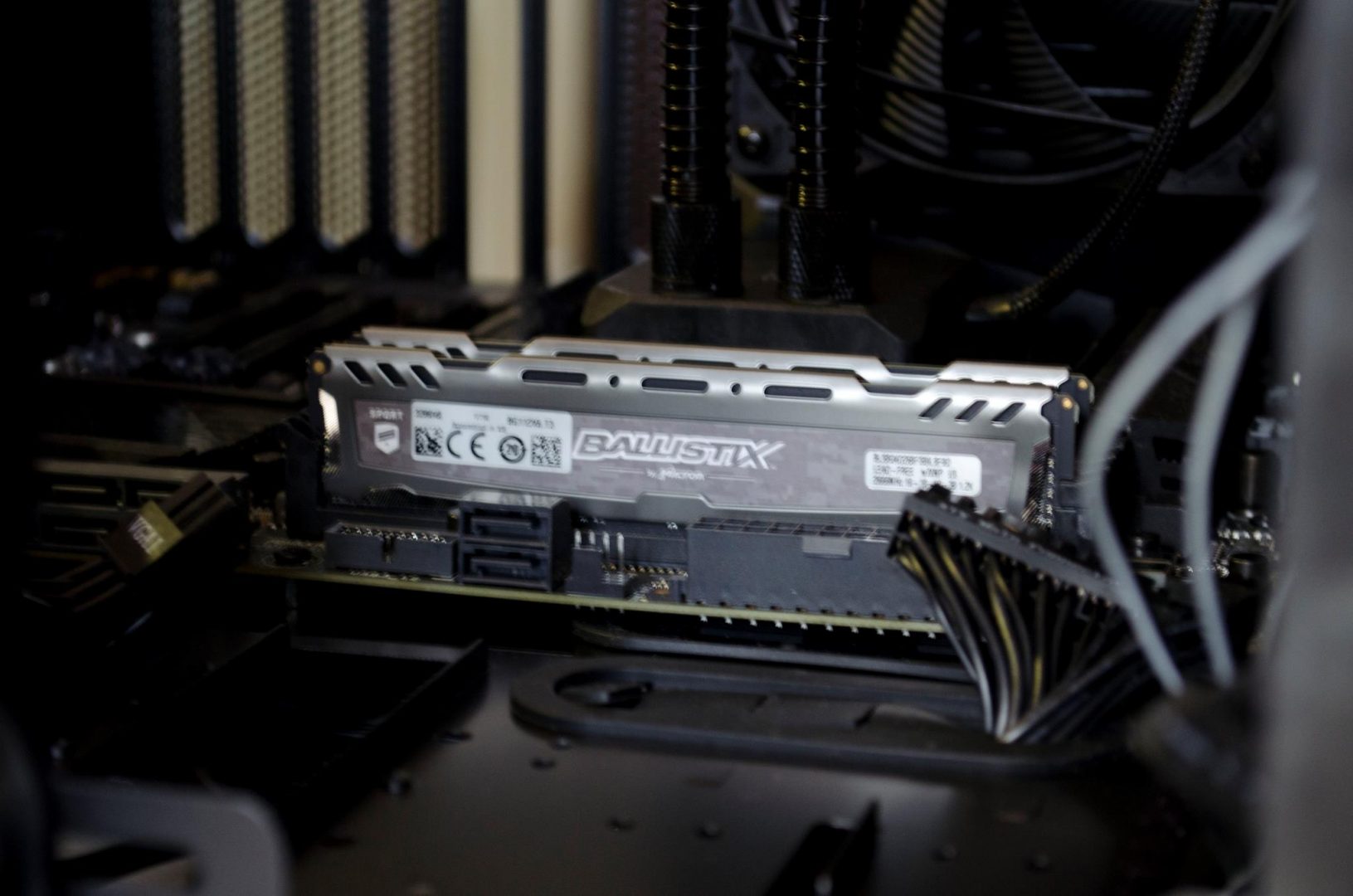 To test out just how good the Ballistix Sport LT was, I ran a few benchmarks in AIDA 64 and SiSoftware Sandra that stress the RAM out and report back. As the below graphs will show, the Sport LT 2666Mhz kit is ample enough for most standard builds needing DDR4. Running at stock settings it falls right between the Standard Sport RAM and the Tactical, which is where it should be. The Overclock ability of the Sport LT 2666Mhz wasn't the best as the below graphs will show but for those who aren't interested in that, it is more than enough to keep you going!
AIDA 64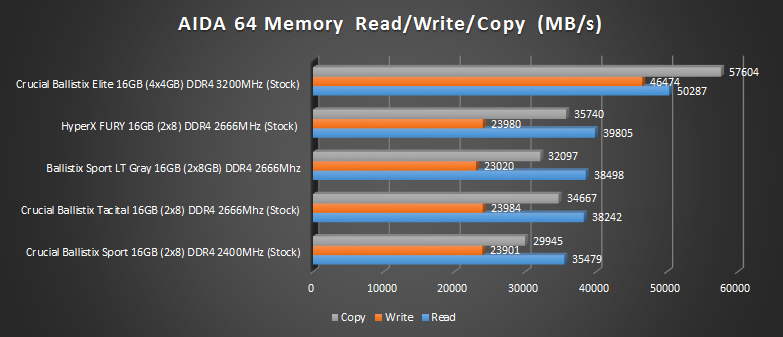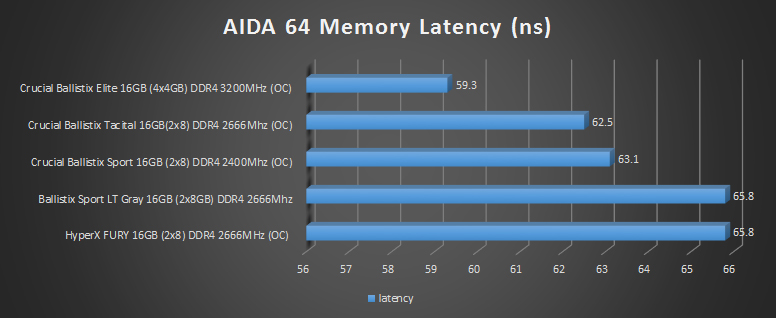 SiSoftware Sandra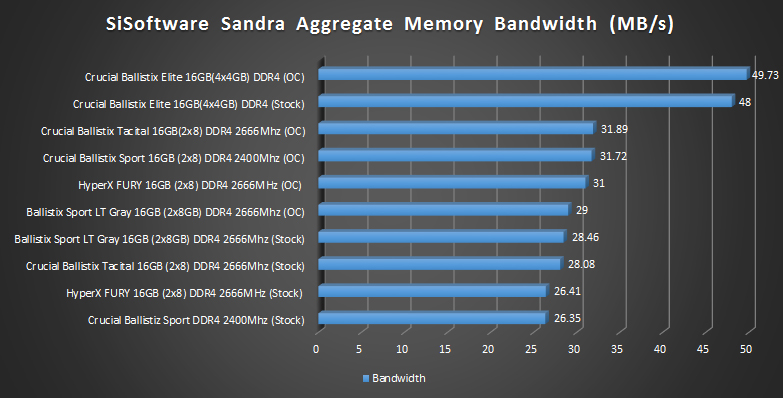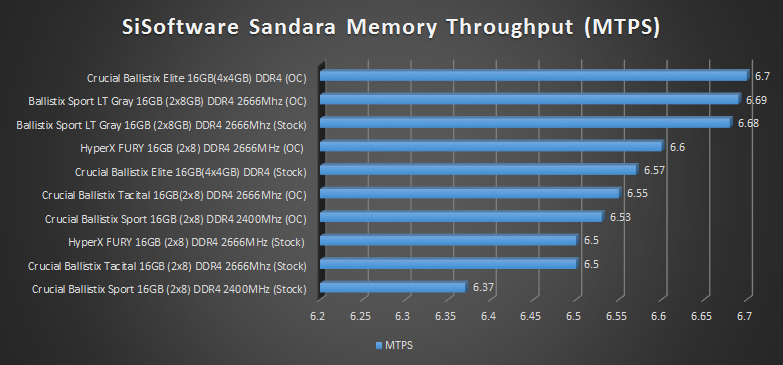 There wasn't much movement at all with this set of RAM in terms of overclocking. In fact, I didn't even actually manage to overclock it though I did manage to tighten the timings a smidge. I was able to drop the timings to 15-17-17-34 from their standard 16-18-18-38 and that was it. Anything lower than this and the computer would just complete black screen on startup and I would have to reset my BIOS and start over. Same thing when trying to raise the Mhz, anything above 2666Mhz and the PC would not start up. I even set the voltage to 1.50 and 1.65 just to see if I could get anything extra out of the Sport LT 266Mhz and unfortunately I was not able to.
Performance
Let's go ahead and get the slight bad issue out of the way with. The Sport LT 2666Mhz RAM didn't offer much overclocking headroom in our testing. While we were able to tighten up the timings a bit, it doesn't offer much performance gains and is probably just not worth it unless you really need that extra tiny bit of performance. Aside from that, when using them at their stock rated speeds and clocks, they perform just as they should. The Ballistix Sport LT now offers speeds of 2666Mhz which is a small jump from what is generally the norm of 2400Mhz. While the performance gains may not be massive, they are still gains and for a similar price as well worth it. Users who are still budget conscious but want to get the most for their money will be happy with the performance of the Sport LT 2666Mhz.

Design
Ballistix is not new to the game and knows what it takes to make an appealing kit of RAM and they have delivered. The Ballistix Sport LT RAM whether it be the 2400Mhz or 2666Mhz kit is pleasing on the eye. Not only is the actual design of the heatsinks accompanied by the black PCB appealing, they also come in Red, White and Gray colours heatsinks. These three colours should allow them to have a set that will fit in with most builds these days and while I would love to see a bright Yellow or Orange kit, I can completely understand why they haven't decided to make one. While RAM isn't generally the main focus point of an enthusiast or gaming build, you'll still be more than happy to show your new RAM should you choose to pick up a set of these.
Value
Given today's current market prices which are currently ridiculous here in the U.K. for one reason or another, the Ballistix Sport LT is decently priced. On any given day, prices can change by a few £££ here and there and is really hard to judge such things at the moment. Having a quick peek at Amazon reveals similar kits on sale for a bit cheaper and some other kits that are a bit more expensive. Either way, the pricing is not ridiculous and is right about where it should be.
" The Ballistix Sport LT 2666Mhz Kit of RAM is great for users who are looking to plug and play and are not concerned with tweaking things. It offers decent performance in an appealing design and is more than enough to get you started on your DDR4 journey."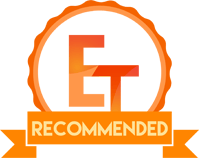 Many thanks to Crucial for sending in a kit of their Ballistix Sport LT 2666Mhz for today's review!