Introduction
It has been a little while since we have seen anything from our friends at be quiet! but that is all about to change! Today, we have their latest AIO which is the Silent Loop 2. be quiet! has been kind enough to send us the 240mm variant for our testing today and we were more than excited to try it out. We reviewed the original Silent Loop a few years back and while it initially performed well, it had some pump errors after a while so it will be interesting to see how the new version stands up to the test of time. be quiet! likes to keep their products sleek and sexy and they sure have done with the Silent Loop 2 but they have also introduced a small bit of RGB on the pump which is nice to see.
In true be quiet! fashion, the box is all black and features a nice image of the product front and centre! We can see those lovely Silent Wings 3 fans and a subtle bit of RGB lighting on the pump! Aside from this, there really isn't a lot going on with the front of the box though we can also see the tagline "Significant quiet and exceptional cooling" in between the model name and sizing.
On to the back of the box and we get a bit more info on things. be quiet! has been nice enough to break down in a bit more detail, the pump, fans, cold plate and have even shown us where the refill port is. There are not many AIOs currently on the market that comes with refill ports and even less that include extra fluid so you can top them up yourself! However, be quiet! are looking to take things to the next level with their Silent Loop 2 AIO coolers.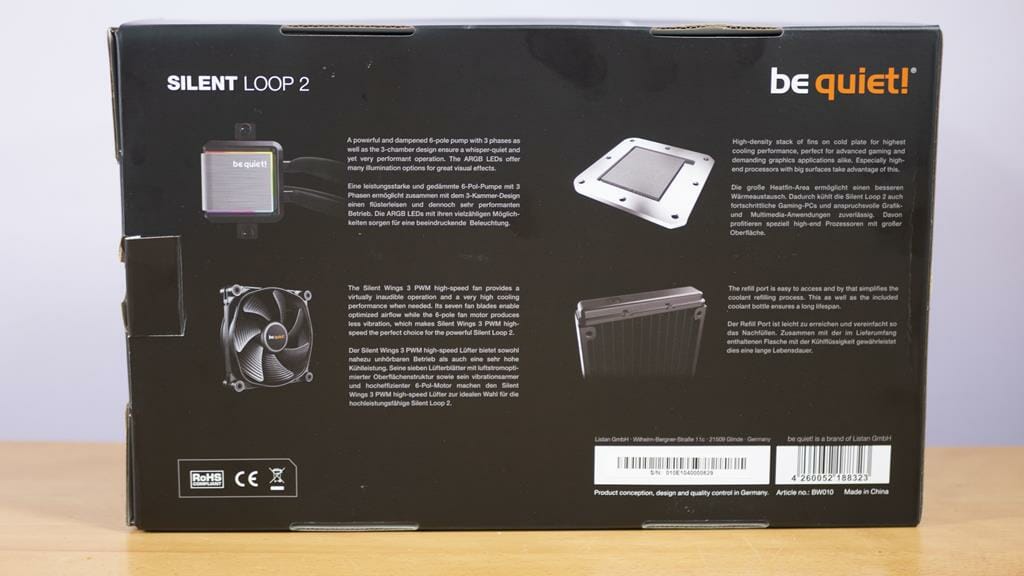 Inside the box, you will find all the mounting hardware to mount this cooler on most AMD and INTEL CPU sockets. Alongside this, you will also get a fan splitter, thermal paste and yes that is extra liquid to top up the cooler if need be! It is great to see be quiet! include some extra liquid for their Silent Loop 2 AIO as unfortunately, over time the liquid inside does start to evaporate.
Closer Look
Taking a quick look at the fans first and these are the tried and tested Silent Wings 3 fans! These fans are renowned for offering amazing performances while remaining quite quiet! The all-black design also sits well with many as they really do look amazing.
The Silent Wings 3 fans come with a fluid-dynamic bearing and a unique airflow-optimized design to offer the best in cooling performance. While we have the 12omm version here with this Silent Loop 2 240mm AIO, they do also come in a 140mm version. On top of this, they also come in PWM and non-PWM versions both of which also come in high-speed versions for both sizes.
As AIOs go, there all kind of look the same! There is nothing wrong with it, just not a lot that can be done. The radiator can come in different sizes, in this case, we have the 240mm version which is connected to the pump/head but a pair of hoses. As said, all fairly standard stuff here but be quiet! have gone with a nice sleeving over their hoses to make sure the Silent Loop 2 looks as good as possible.
Next to the hoses is what appears to be a drain port! I wouldn't recommend using this unless you know what you are doing as this will require a little more than a top-up of fluid should you drain the whole thing. However, those who know a bit more will find this useful as it should allow them to flush and clean the Silent Loop 2 as a preventive maintenance method which should help increase its lifespan if done properly.
There is a rather large barcode on the end with the hoses. This has the serial number for your AIO on it so I would recommend leaving it on just in case you need to RMA it for any reason at all.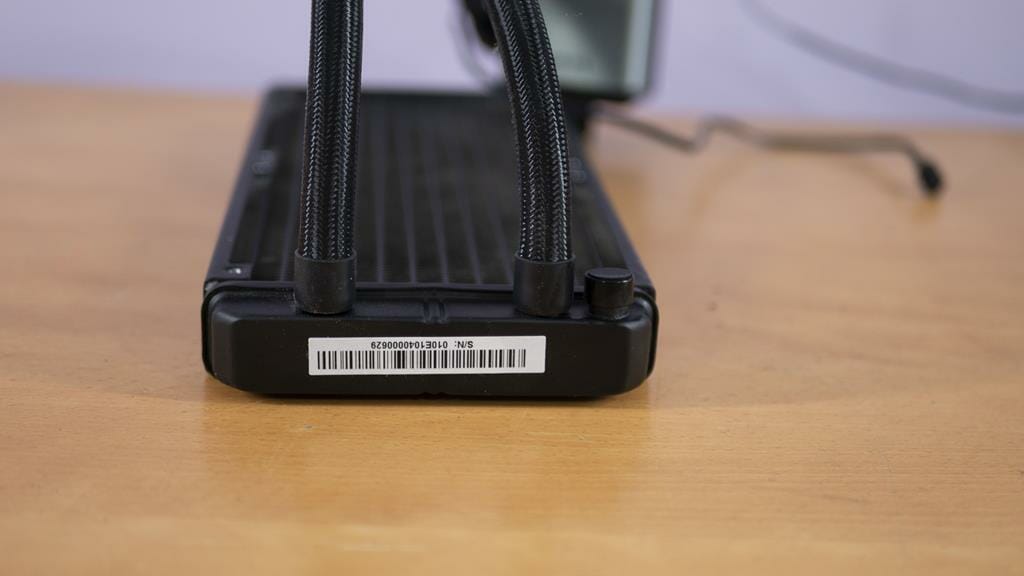 As mentioned there are not many AIOs that come with refill ports. There are even fewer that come with the top-up fluid inside the box so you can do this with ease on your own. Of course, when doing so there are a few precautions you will need to take. The biggest one is going to be making sure the radiator is standing up with the screw at the highest point. This will make sure that hopefully, no fluid will leak out once you loosen it and allow for easy refilling.
The radiator has what I would call the current standard fin density! This is going to be what helps to dissipate the heat from the water travelling through the small pipes. Also, while ours came in good condition, there is no need to worry if a couple of the fins are bent. As long as there is no fluid leaking from the cooler, everything will be fine.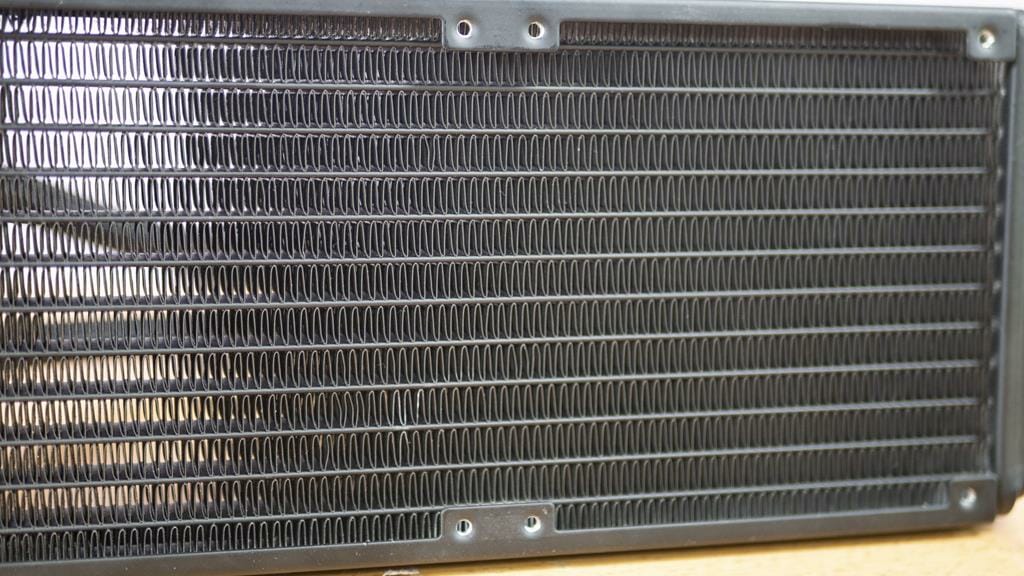 The pump is said to offer whisper-quiet operation and I've got to agree with be quiet! on this one. Once up and running for a few, there is really no noise coming from this at all which is great! In this day and age, noise is one of the main concerns when choosing a new CPU cooler, only second really to the performance they will offer. The pump features a three-chamber design and has a 6-pole three-phase motor which also aids in allowing for a more silent operation, even at higher loads. be quiet! have gone one further and even added noise dampening materials inside the pump to help reduce vibrations and noise. More info on this can be found on the product page – CLICK HERE.
be quiet! have gone with a rather large cold plate for their Silent Loop 2 range of AIO coolers. This is going to allow it to offer the best cooling performance possible, even for the higher-end processors. Users looking to use this cooler on sTRX4 will need to get the mounting hardware separately as it is not included. I would guess this is to keep costs and waste down as Threadripper isn't as widely used as your consumer-based AMD and Intel CPUs. However, having the option to purchase the mounting separately is a great option.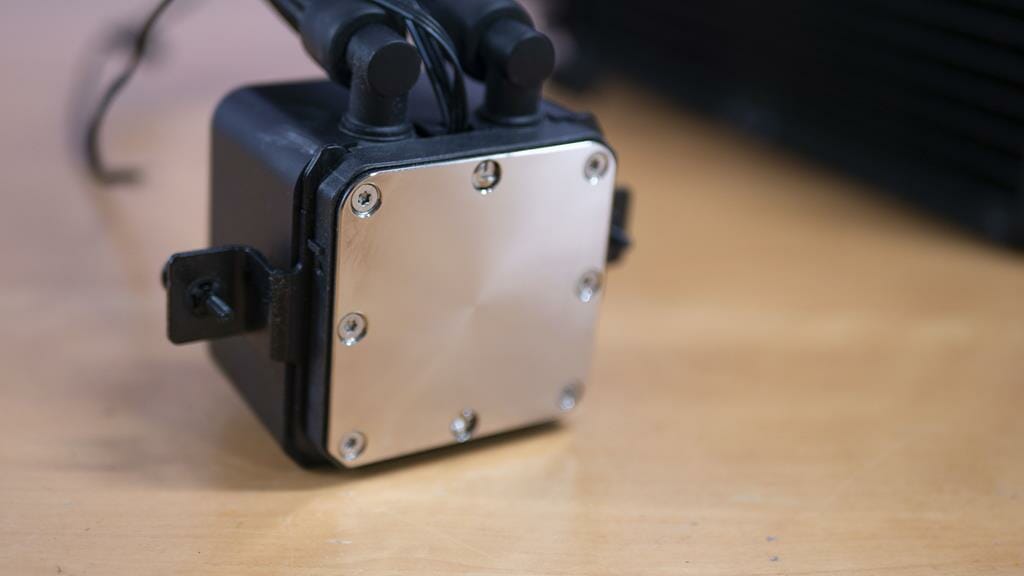 There are a pair of wires coming off of the pump itself. We have the pump power which will connect to a Fan/Pump header on your motherboard and then we have the 5v A-RGB connector. The one problem with RGB lighting of any sort is the additional wires you need to make everything look all nice and pretty! This is no fault of be quiet! and their Silent Loop 2 cooler, just the way it is if you want the lights, you must take the wires!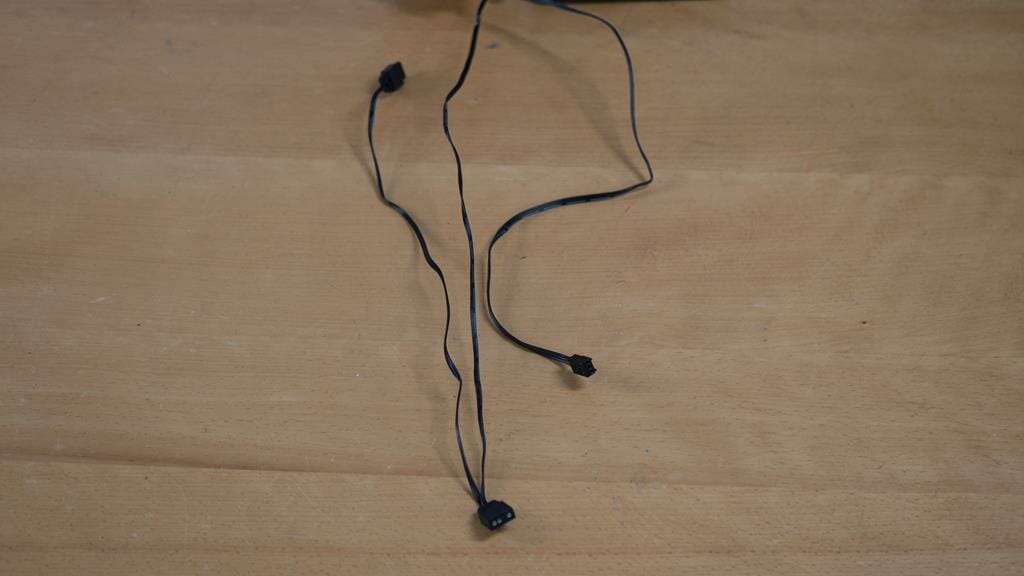 Installation
Installation is quite easy and can be completed in a few steps. We used an X570 board for our testing so this will be the installation method for AM4 CPUs.
First, you will need to take off the standard AM4 retention brackets, but you will need to use the backplate from this.

Once you have the retention brackets off but the backplate is still in place, you can add these black plastic spacers.

Next, you can put the be quiet! AM4 retention brackets on top of the black spacers. Just make sure you get these installed in the right direction or you won't be able to mount the cooler.

Once that is done, you can now apply your thermal paste and mount the cooler. The pump simply screws down to the retention brackets you have just installed with one screw in each. And BAM! That's it, job done.

The radiator is also easily mounted to your case. The only thing I recommend is installing the fans first as this can sometimes let you run the cables through to the back of the motherboard tray which can be a pain depending on your case as there isn't always a lot of 'extra' room once installed. However, this will be down to what case you are using and all of that so just keep it in mind when it comes time to installed it.

RGB Goodness
Now that everything is installed, you can turn it on and enjoy some RGB Goodness from the Silent Loop 2 cooler. I am a big fan of this subtle approach be quiet! have taken in this case. It adds the RGB you want but it is not overdone and really looks nice and can help really make your build stand out.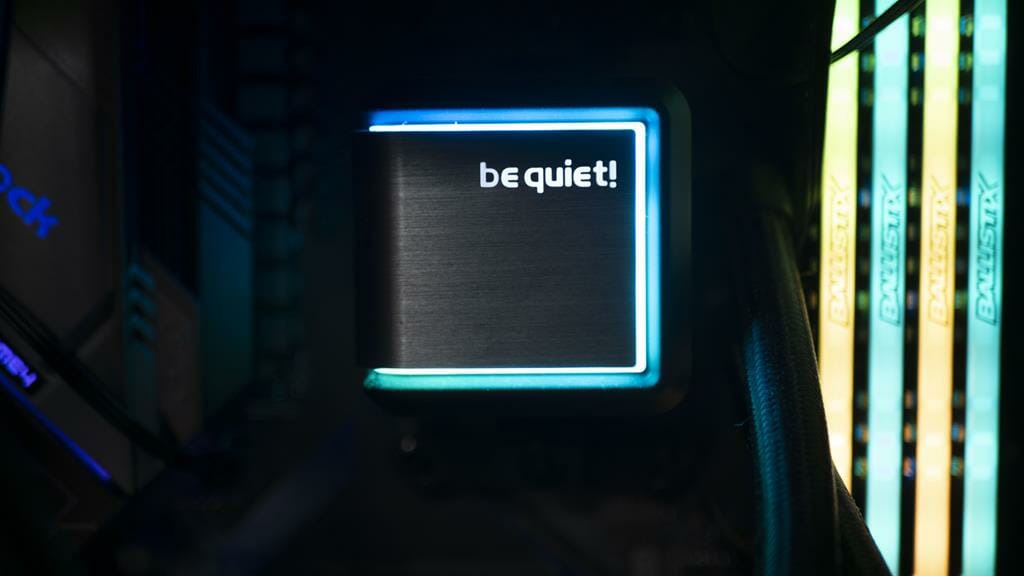 Testing
I am in the process of changing test systems but for this review, we also tested a few different coolers for comparison on the same system!
AMD R9 5950X; Base clock 3.4Ghz – Boost Clock 4.9GHz
ASRock X570 Extreme 4
Crucial Ballistix RGB 32GB (4xc8GB) 3000MHz DDR4 RAM
PowerColor AMD Radeon RX 6800
be quiet! Dark Power 12 750w
Open-air test bench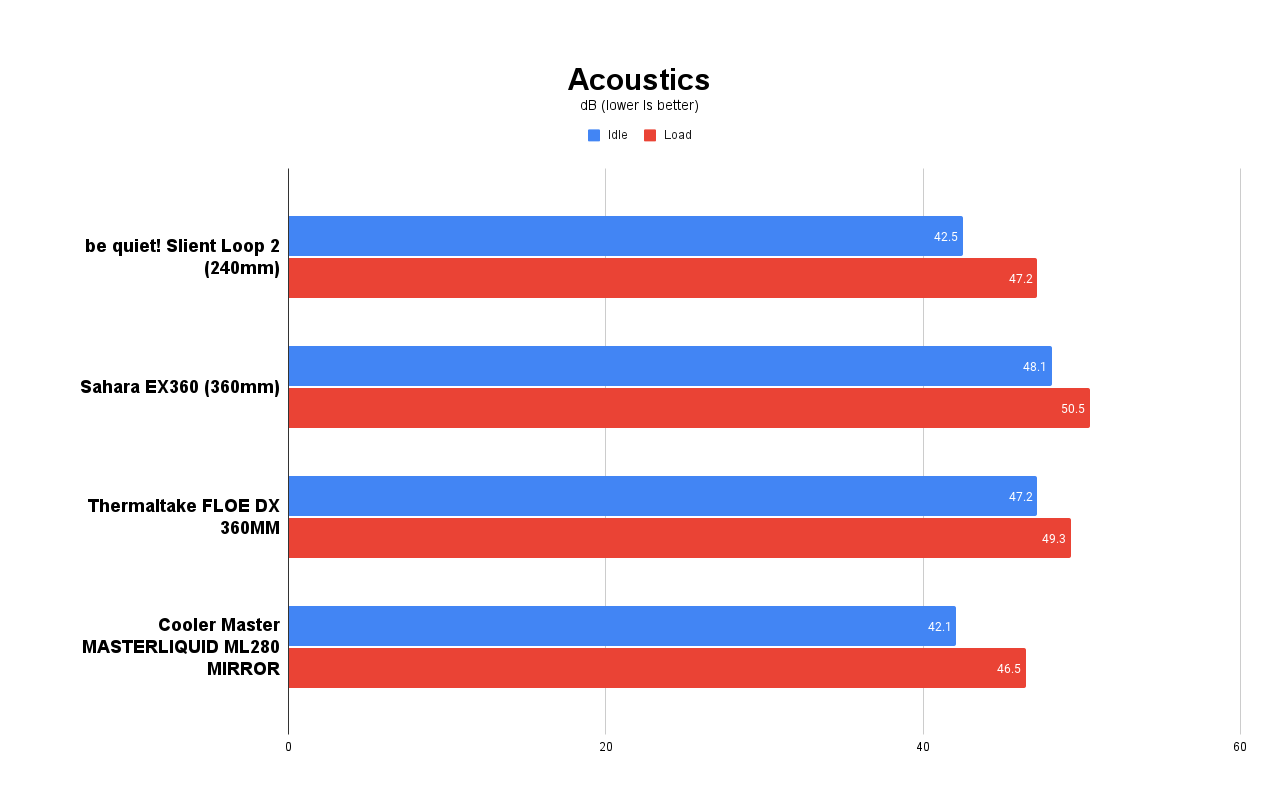 Final Words
The Silent Loop 2 240mm AIO is currently available for £99.98 at the time of this review from SCAN UK(CLICK HERE TO PURCHASE). The current price puts it into the higher end of the price range for 240MM AIOs! This is really where we would expect a cooler of this calibre to sit. The only thing that really lets me down at this price is the warranty. A 3-year warranty use to be quite good but now we are seeing companies offering 5-6 year warranties so maybe this will be something be quiet! can consider for their next range of AIOs.
The design of the Silent Loop 2 is one I am personally a fan of. Its sleek aesthetic with a subtle hint of RGB on the pump really just looks amazing to me. It also fits in very well with the reference RX 6800 GPU we used during testing.  Throw in some Silent Wings 3 fans for good measures and you have an AIO that will look amazing in almost any build. be quiet! always does a great job making sure their products look as good as they perform and the Silent Loop 2 is no exception.
As for the internals, as you would expect be quiet! has gone all out there as well. From the three-champer pump design to the three-phase motor inside, be quiet! has made sure the Silent Loop 2 is going to offer maximum performance at a near-silent operation. I mean, if their name doesn't give away one of their main concerns, I don't know what will! The big coldplate is also going to allow for maximum heat dissipation from the CPU and being able to purchase an sTRX4 mounting kit for it separately really should tell you about the serious cooling power it possesses.
When it is all said and done, be quiet! Silent Loop 2 240mm AIO is a great option to cool your CPU. It offers both amazing performance and a sleek aesthetic making it a great choice should you be in the market for a new cooler. One of the major things that is going to set it apart from others is the refill port and included additional fluid so you can actually fill it up. This is the first AIO we have seen that includes the fluid in the box so you can do this yourself. Normally companies don't want you messing with anything at all on an AIO but be quiet! is looking to break the mould and give users more control over their system!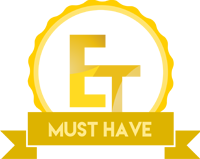 Many thanks to be quiet! for sending in a sample of their Silent Loop 2 AIO cooler for this review.