Surefire Gaming at Computex – Gaming Peripherals, Storage Drives, and Chairs
Surefire Gaming is another one of the brands that may not be the most well-known but they have a lot going for them. My first memory of them was a few years ago they brought out some external "Gaming Storage" drives. At first, I was like yeah, whatever. However, after using them and seeing the potential I soon became a fan of them, and for good reason which I will mention below. Now, Surefire is on track to make itself a much more well-known gaming brand and is off to a good start.
Oh yeah, if I have not mentioned it, they are owned by Verbatim! Yes, the company that was the best in burnable CDs and DVDs back in the 90s! Verbatim is also still in the storage game with some very nice-looking SSDs currently in the market.
Peripherals
On the backside of the Verbatim booth (which we forgot to get pics of, sorry!) is a small section dedicated to Surefire. Surefire is aiming to bring affordable but quality peripherals to the market. They feel that they have a really good balance of performance/quality/pricing and should definitely be considered whenever you are next in the market for some new peripherals.
They had a nice display of their products in their packaging which helps to show what they really are trying to accomplish. Looking at them now, I am also remembering I forgot to see if I could have one of the little mascots they had flying around their booth. I guess I was too interested in talking with them about their products at the time!
They also had some of their peripherals on display so you could get a better look and feel for them.
In the below image, we can see the Skirmish Gaming Headset, Kingpin M1 keyboard, and the Hawk Claw and Martial Claw mice. (Amazon Affiliate links)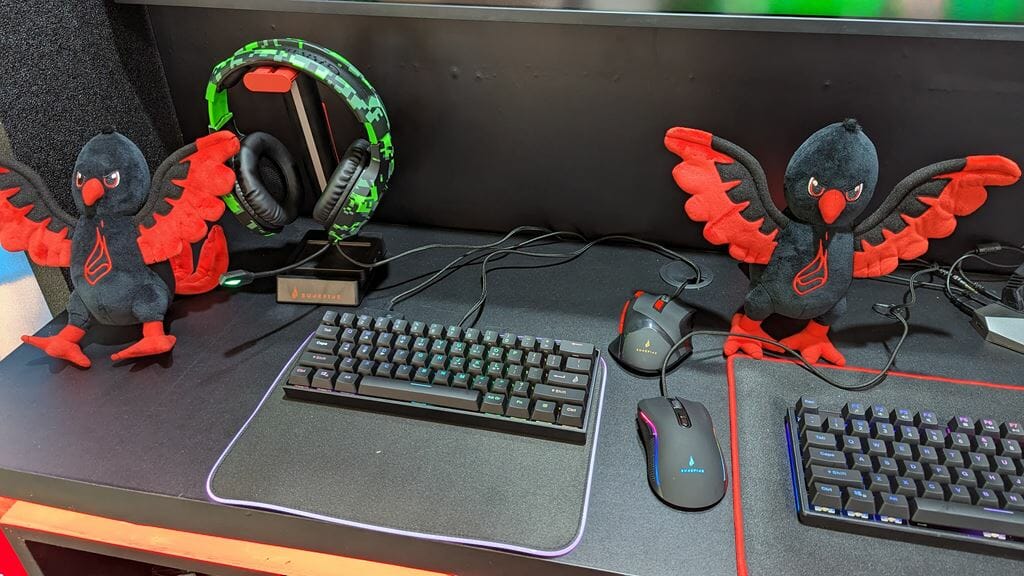 SureFire also had some other peripherals out and ready for users to test and enjoy their RGB effects. While I didn't play any games on them, having a quick touch and trying them out they do feel as if they will offer that quality for the price point that SureFire really wants its products to hit.
SureFire also had one of their upcoming gaming chairs on display. Again, we can imagine that this will be on the cheaper side for gaming chairs but still offer good quality and not just cheap out on materials.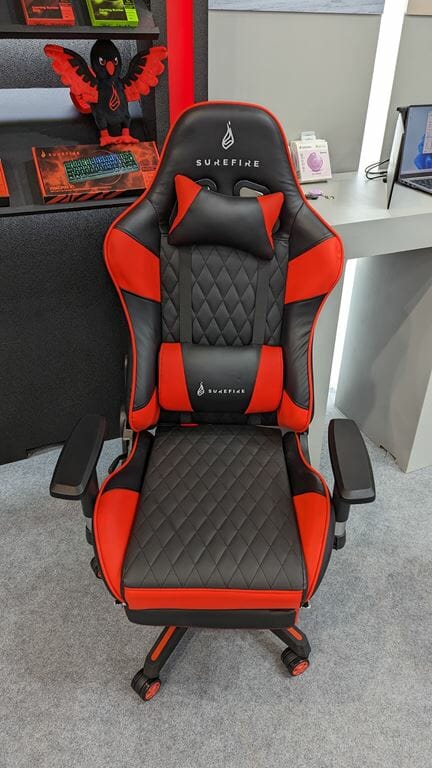 Gaming Storage
Now, this is where things get a bit more fun. As mentioned, at first I was a bit skeptical about these types of drives but after using them, I am a fan. If used properly, you can store your game libraries on them and then access them VIA multiple PCs. This means if you have slow internet or just don't feel like downloading the game twice, you can pop it on one of these drives and use it on multiples PCs and laptops. Of course, these drives can also be used for standard external storage should you need some of that as well.
The drives come in two variants which are the stand HDD version which is the SureFire Bunker Gaming HDD and the faster SSD-based SureFire Bunker Gaming SSD (Amazon affiliate links). The drives both utilize a 2.5″ HDD or SSD at this current time. However, while there was no mention of it, I would not be surprised if they released an NVMe-based Bunker Gaming SSD in the near future!
Being backed by Verbatim, SureFire is off to a good start and now that we are hopefully on the other side of the Pandemic, we can imagine we will be seeing more from them in the near future. Should you come across them in your local area, make sure to give them a look as they do hit that price for performance mark quite nicely.
Please make sure to check for more of our Computex coverage in our EVENT COVERAGE which will be coming in the next couple of days!