As we all know, picking a PC case to house all our components can be quite the challenge in this day and age. Do you want a massive case, or, are you happy with the smallest one you can find to fit all your components in? Do you need any type of flair or special design, or, can you get by with the basics? The list of things to think about goes on and on and while I can't help you decide what you need, I may be able to help you out a bit with today's review. Personally, I like a nice midi-tower with plenty of room inside, which is perfect for today's review.
Manufacturer Website: Cooltek
Product Page: Skall
Purchase: 

€ 74.99 at the time of review from PC-cooling.de
Today, we will be taking a look at the Cooltek Skall PC case which is a midi-tower case. The Skall looks to be designed to offer optimal airflow and as such has plenty of room for fans, including a vented side panel that will allow users who need it to install some more intake fans to help keep things cool. Not only does the Skall offer plenty of places for fans, it also comes with two built-in fan controllers to help you make the best of all the air cooling support. The Skall is a black case that has the option to choose from intake fans that are one of three colours, blue, red or green. Alongside the room for fans, the Skall also has plenty of space for storage drives for which the bays can also be removed to allow more room for water cooling if that is your thing.
Specifications
| | |
| --- | --- |
| Case Type | Midi-Tower |
| Form Factor | ATX, Micro ATX, Mini-ITX |
| 5.25 inch drive bay external | 3 x |
| 2.5 inch/3.5 inch drive bay internal | 8 x |
| Case fan (front) | 2 x 120 mm |
| Case fan (rear) | 1 x 120 mm |
| Case fan (top) | 3 x 120 mm or 2 x 140 mm (optional) |
| Case fan (bottom) | 1 x 120 mm (optional) |
| Case fan (side panel) | 4 x 120 mm (optional) |
| Height | ca. 530 mm |
| Width | ca. 207 mm |
| Depth | ca. 503 mm |
| Weight | ca. 10,5 kg |
| Material | Steek, plastic |
| Maximum VGA Card Length | 430 mm |
| Maximum height of CPU coolers | 165 mm |
Cooltek Skall Review Video
Starting off with the front of the Skall and it has a very special feature. There are two pre-installed front intake fans, each of which has its own dust filter that can be removed simply by pulling it out from the side. The front panel is also easily lifted off the case should you decide you would like to remove the dust filters completely and/or change the fans. The front panel also has three 5.25″ drive bays for all your optical drive and bay reservoir needs.
On the top of the case is where the front IO panel is located. The front IO consist of 2x fan controllers, 2x USB 3.0 and 2x USB 2.0 ports, front audio inputs (mic/headphone) and the power and reset buttons alongside their indicator LEDs.
Also, on the top is a nice meshed panel that is easily removable by pushing down on both sides towards the front IO to unlatch it, then simply pulling it out. This will allow users to not only add their fans and radiators, but will also give them easy access to the panel should they need to clean it.
As mentioned, on the main side panel is a nice vented area that will allow for the installation of up to 4x 120mm or a single 200mm fan for maximum airflow. As we can easily see by now, the Cooltek Skall is all about offering as many air cooling options as possible, but wait, they're not done yet!
The back of the case is fairly standard for a midi-tower though there are 8x PCI expansion bays rather than the standard 7 we see on most cases of this size. We can also see the cutouts for the rear IO of the motherboard and the bottom mounted PSU and we get a glimpse at the thrid pre-installed fan.
On the bottom of the case, we get a look at the nice a big feet Cooltek have added to the Skall to help us get it off the ground and to allow for some great airflow. We will also notice the two fan filters here, one for the PSU and a second one which can be used should users decide they want to install an extra fan on the bottom of the inside of the case. Cooltek have really made sure to cover all the bases when it comes to offering some great airflow in their Skall case.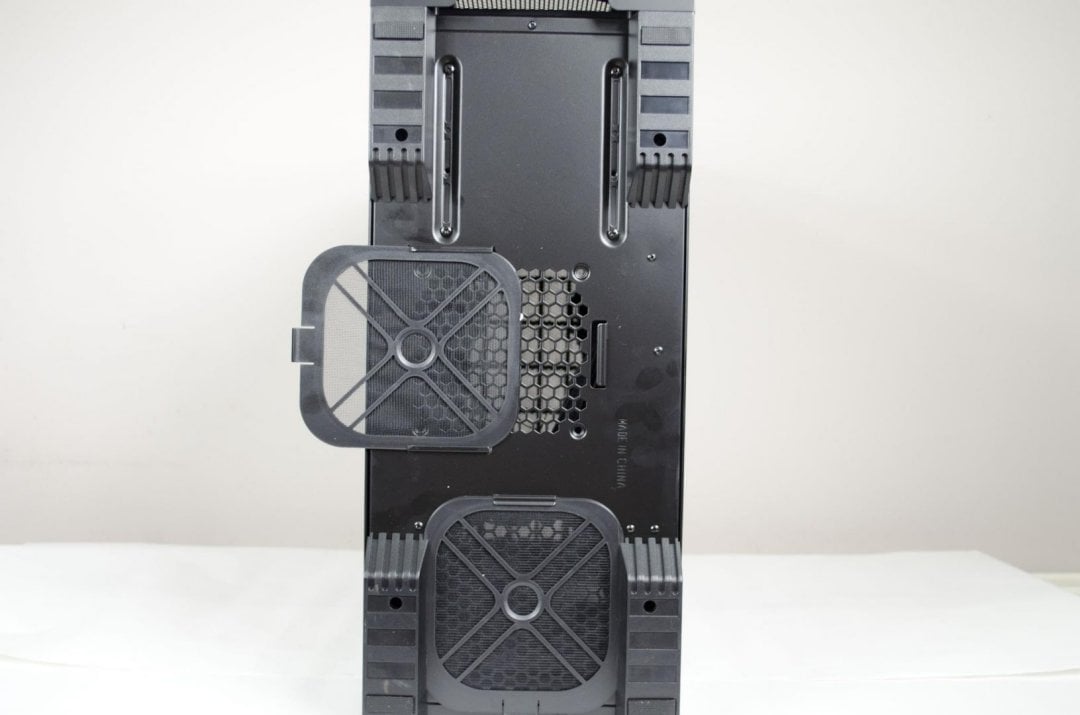 One of the first things that grabbed my attention when looking inside the case was all the room for hard drives. What's even better about the hard drive cages is the fact they are easily removable should you decide you would rather install some water cooling in their place.
One small thing that would have been nice to see in my opinion is to have the rear exhaust fan match the ones on the front. The front fans are LED fans while the rear fan is a standard black fan. While this definitely doesn't disrupt the performance of this case, I am a sucker for LED and would have been nice if all the fans had matched, though having 3x included and pre-installed fans is still  a great feature.
You have undoubtedly noticed by now that the Cooltek Skall is all about airflow. They have even included two extra raised rails that include rubber anti-vibration pads on them to help lift the PSU up and allow for better airflow. Again, we can also see where there is room on the bottom of the case to install an extra fan should you want to help and get more air to anything plugged into the motherboard such as GPUs and add-on cards etc.
As we saw from the outside, the top of the case is easily taken off and allows for users to install up to 3x 120mm fans, 2x 140mm fans or even a 360mm radiator to offer maximum cooling support. With this, we now have room for up to 11x 120mm fans which is absolutely ridiculous and is sure to be able to cool just about any components you put in this case. This type of airflow would make this a great server case as it has plenty of rooms for hard drives and plenty of room for fans to help keep things cool while running 24/7.
On the backside of the motherboard tray we get a look at the nice sized cutout to allow for easy CPU cooler installation and changing. Cooltek has also offered some nice cable management options, included some pre-installed velcro straps to help guide your cables the way you want.
The Cooltek Skall has 15mm of clearance between the backside of the motherboard tray and this inside most part of the side panel. This should allow plenty of room for users to be able to route their cables exactly how they want.
Building inside the Cooltek Skall was a real joy. There were absolutely no issues with room inside this case and everything fit with ease. All the cable pass-through holes are correctly located to offer the easiest building experience possible while also making sure you are left with a very clean looking build. It took me absolutely no time at all to complete this test build and when it was finished, I was very satisfied with the way it looked.
One of the main things that stuck out to me is the room between the top of the motherboard and the top of the case, as well as the room between the bottom of the motherboard and the PSU. A lot of times there isn't much room in these area's but as Cooltek want to make this case as accessible as possible, they have included a bit of extra room which will be great when it comes time to install components or radiators. There is definitely plenty of room for most anything you could want to fit inside this case within reason.
If you want to see more of the overall build, please do watch towards the end of the Review video that is found at the beginning of the closer look section.
I had a great time building in the Cooltek Skall and am sad to have my time with it come to an end. It really is a great case and the cooling support is just ridiculous especially all the room for allocated for the fans. I would have no problem recommending this case to just about anyone, but let's go ahead and recap on a few important areas first.
Performance
The Cooltek Skall offers great cooling support for both air and water though the air support is a bit superior. There is a total of 11 places users can put a 120mm fan on the Skall and 3 these come with pre-installed fans. For users looking to keep things as quiet as can be without losing any airflow (should you chose to install as many fans as you can) they can install a single 200mm fan on the side panel rather than 4x 120mm fans. This will not only offer almost as much airflow, it will be much more quiet as the bigger blades won't need to spin as fast to output the same amount of air. Cooltek has even gone ahead and made most of the dust filters easily removable without having to take the whole case apart so you can clean it without having to do too much.
There is also plenty of hard drive support and what's even better, the hard drive cages in the front of the case can easily be removed allowing more room for water cooling. Removing the hard drive cages not only opens up the front so you can install a 240mm radiator, it will also give you room to install a reservoir though it may need to be a free standing one as there aren't many places to mount one on the wall of the case. Let us also not forget about the top of the case which can, in addition to the front 240mm support, host a 360mm radiator which should give users enough cooling power to cool just about any components they can fit inside the case.
Design
Well, the performance recap spoke on some of the greater design aspects and as you've seen, Cooltek has done a great job at designing this case inside and out.  The outside is all black and it comes with 2x pre-installed front intake fans that can have one of three different LED colours, red, green or blue. There are easily removable fan filters so keeping the dust to a minimum while keeping the best airflow will be a breeze. There is plenty of room for hard drives and internal fans, making this a great case for a gamer, or, even someone looking for a more server type build. Even minor details such as the raised legs under the PSU to help improve airflow are a great improvement over most cases and help to give the Skall the edge over competitors.
Value
Coming in at €75 the Skall will certainly not break the bank but it is definitely not a cheap budget case either. The Cooltek Skall Is a great case with a lot of options that was thoroughly thought out and won't break the bank. Overall, I feel the price of the Skall is very reasonable when you consider everything you are getting. The amount of fans and hard drives you can install inside this is amazing and the fact the Skall would work great as a gaming or server case is equally impressive. I would personally have no problem spending money on this case if I was in the market for a new one.
When it all comes down to it, Cooltek has designed a must have case for gamers and those looking to build a small home server alike. The cooling and storage support alone make this case amazing and the easy to remove fan filters make cleaning a breeze, something which is essential with the amount of airflow you will have going should you install all eleven 120mm fans.
Major thanks to Cooltek for sending in their Skall PC case for review.