Manufacturer Website: Crucial
Product Page: MX300 525GB
Today we will be taking a look at the Crucial MX300 525GB SSD. Previously, we have seen their BX200 series and are really looking forward to seeing the performance of the new series. Not only are SSDs becoming more of the norm for gamers and everyday users, they are also a great way to add a bit of performance to older PCs and laptops. As well as offering better performance, SSDs generally tend to have a longer lifespan than standard HDDs as there are no moving parts inside of them to break.
The MX300 has speeds of up to 530 MB/s read and 510 MB/s write and comes in some unique capacities. While we are looking at the 525GB version, the MX 300 also comes in 275GB, 750GB, 1TB and even a whopping 2TB version for when you need plenty of space and you need it fast! The MX300 is a standard 2.5″ SSD that is 7mm but comes with a 7mm to 9mm adapter. While Crucial has been around for some time, they have still included a 3-year warranty on this range of SSDs which should be more than suitable in most cases. Everything definitely looks good on paper but we know from experience real world testing doesn't always reflect the same results. So with that being said, let's get this review properly underway.
Product Specifications
Brand
Crucial
Form Factor
2.5-inch internal SSD
Total Capacity
525GB
Warranty
Limited 3-year
Specs
525GB 2.5-inch internal SSD • SATA 6.0Gb/s • 530 MB/s Read, 510 MB/s Write
Series
MX300
Product Line
Client SSD
Interface
SATA 6.0Gb/s
Device Type
Internal Solid State Drive
Unit Height
7.0mm
Form Factor
2.5-inch (7mm)
Package Content
Crucial MX300 2.5″ (7mm) SSD, 7mm to 9.5mm spacer, Acronis® True Image™ HD certificate
The MX300 follows Crucial's standard design for an SSD. It has a grey casing with a blueish sticker on the top. While this sticker is a bit darker than previous models, it is still definitely easy to spot as being a Crucial SSD.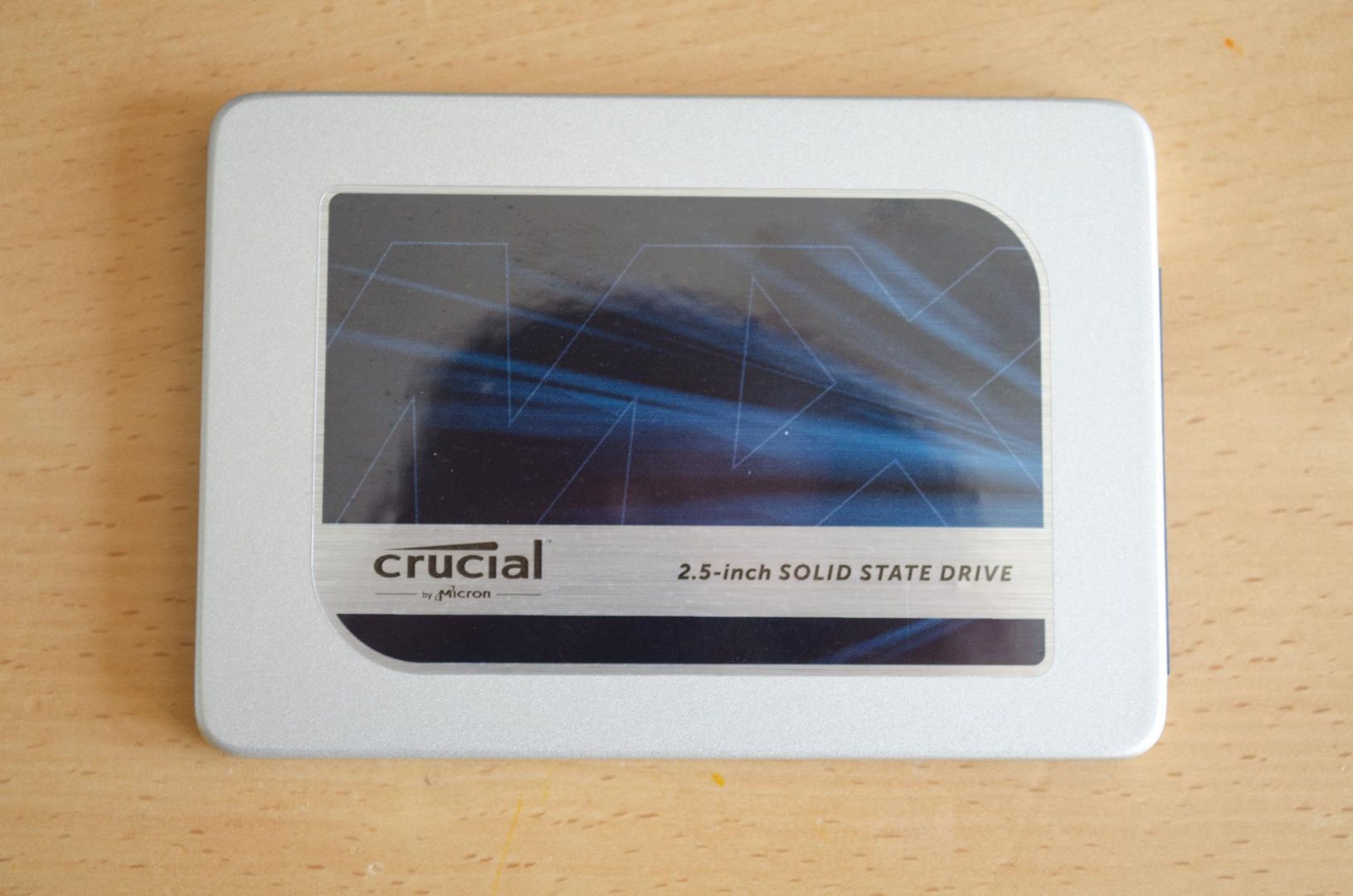 The MX300 is a 2.5″ SSD that features a standard SATA III 6Gbs connection. This connection, when paired with the Marvell 88SS1074 controller, allows for read speeds of up to 530 MB/s and write speeds of up to 510 MB/s.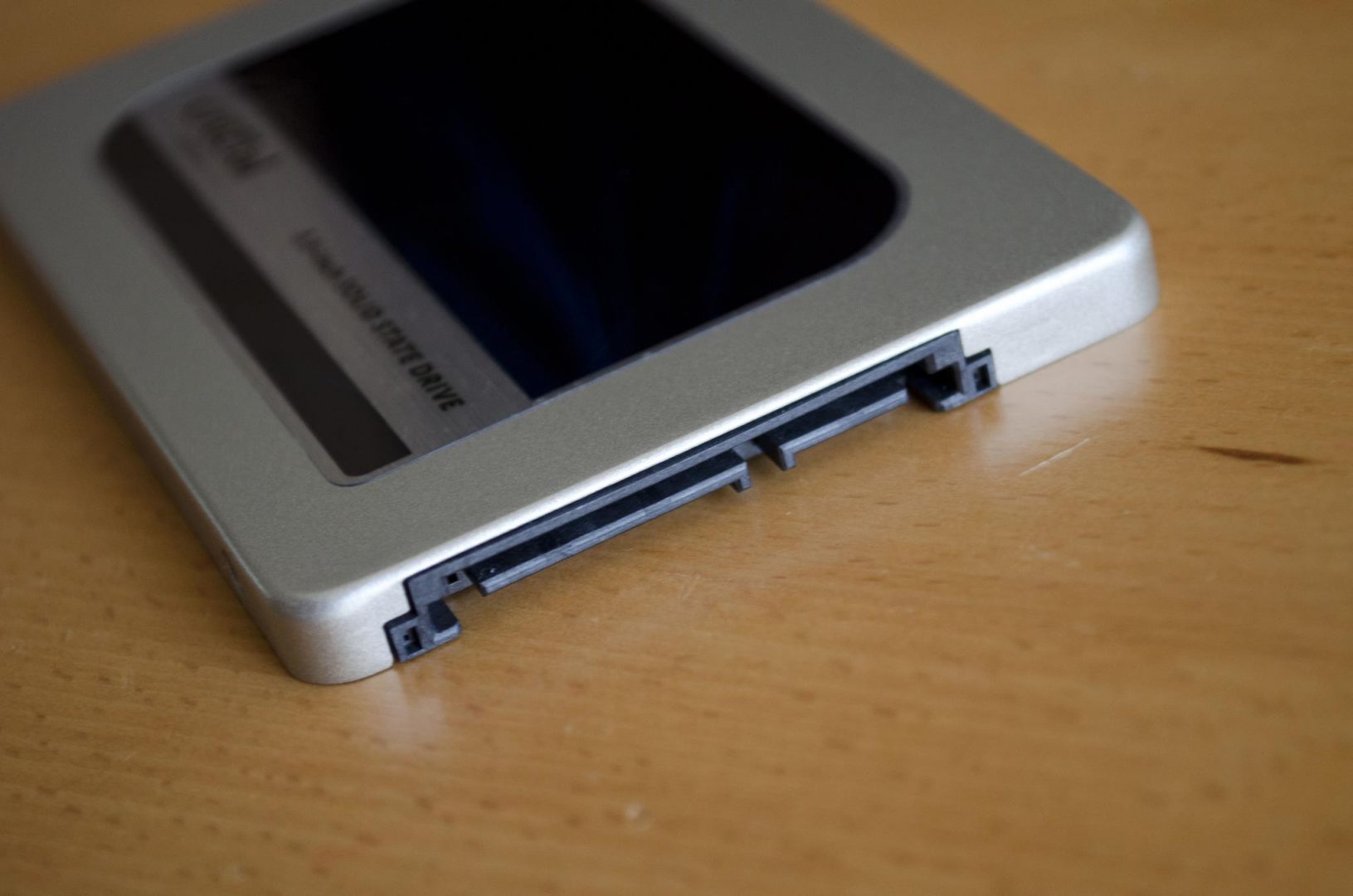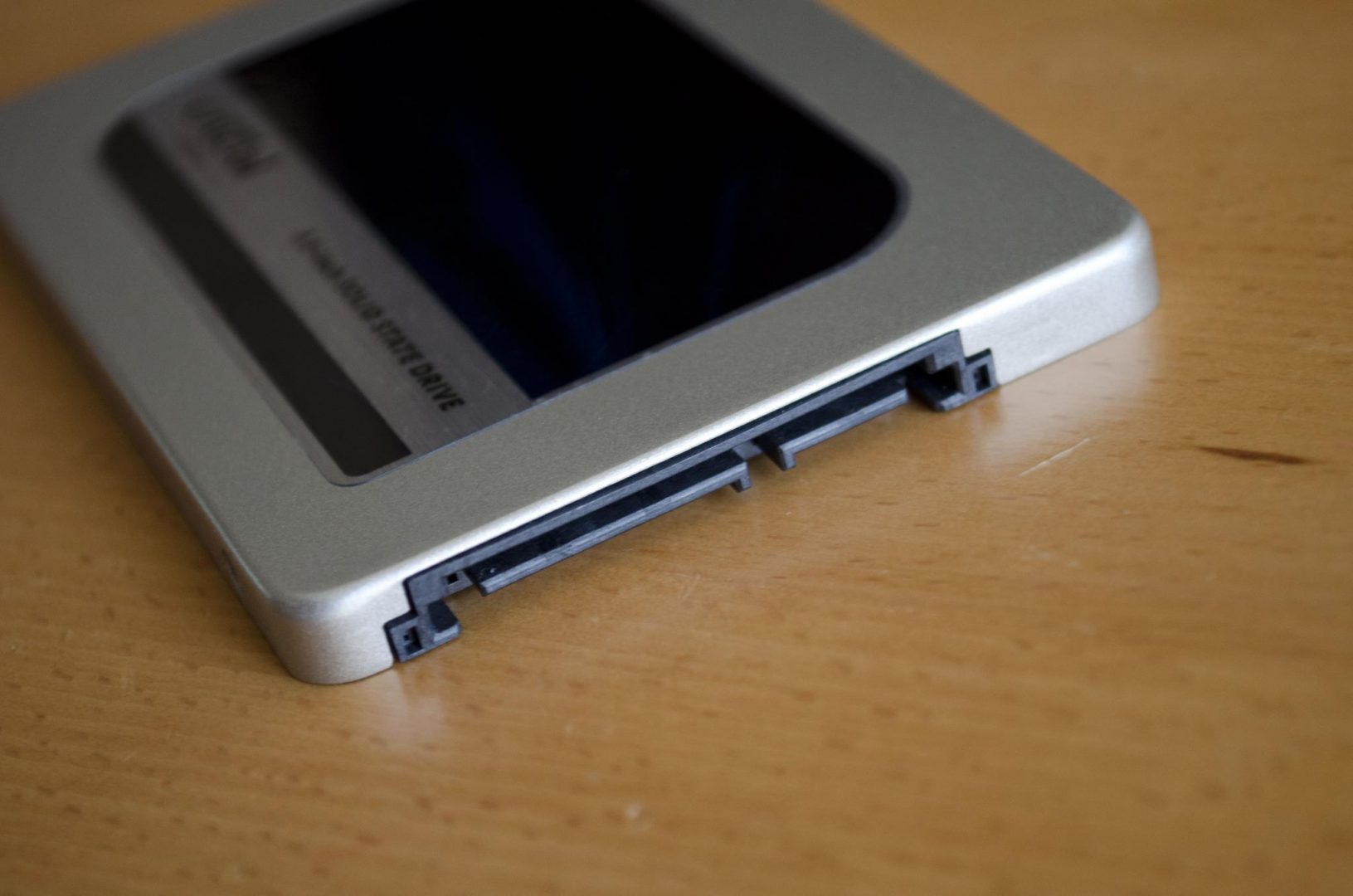 On the bottom of the drive is a 2nd sticker. This one features all the technical information such as the full model name, part and serial numbers as well as some other information to help identify the drive at hand. This will mostly just be used for warranty purposes by most general users, which we hope won't happen much.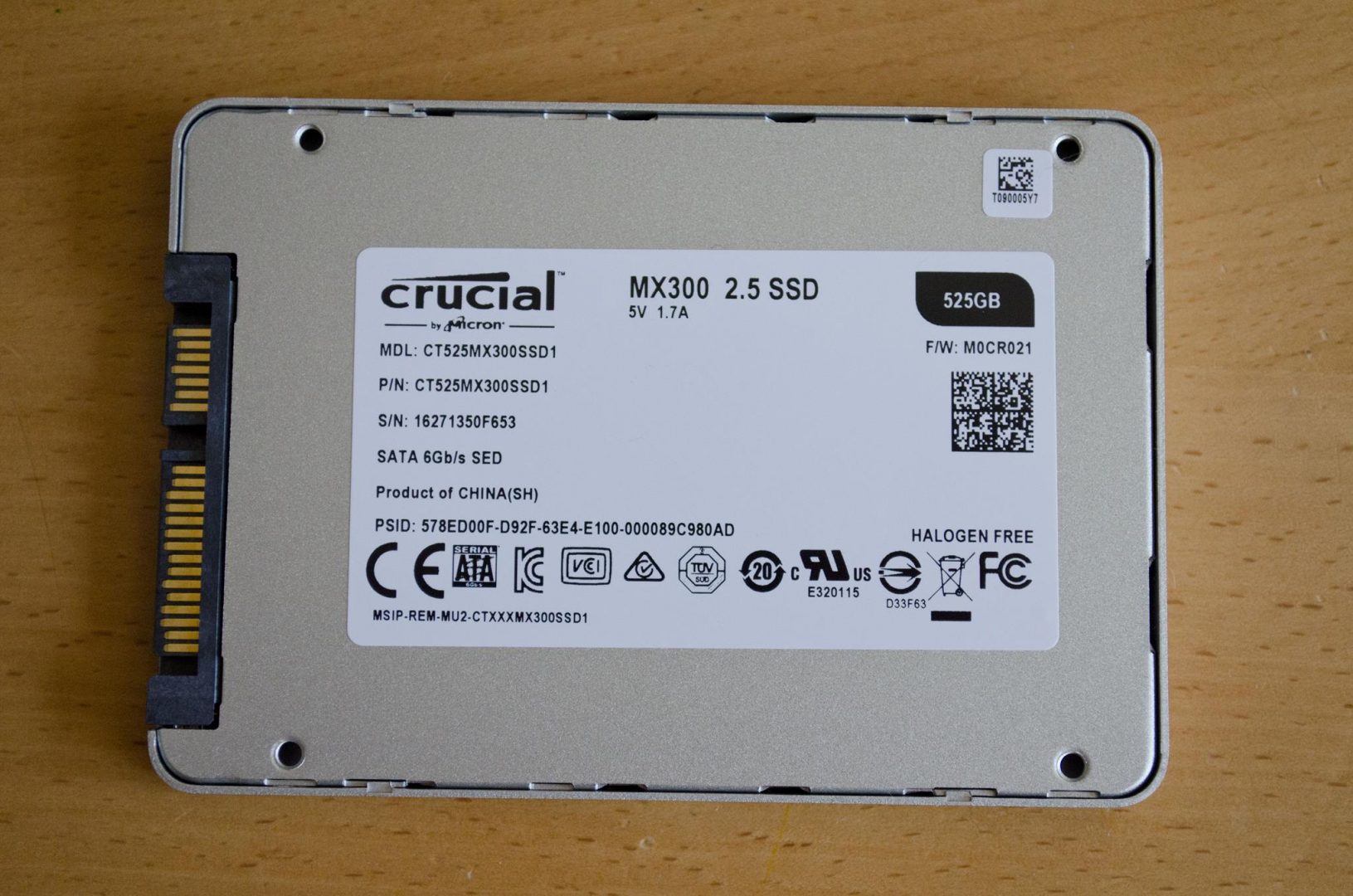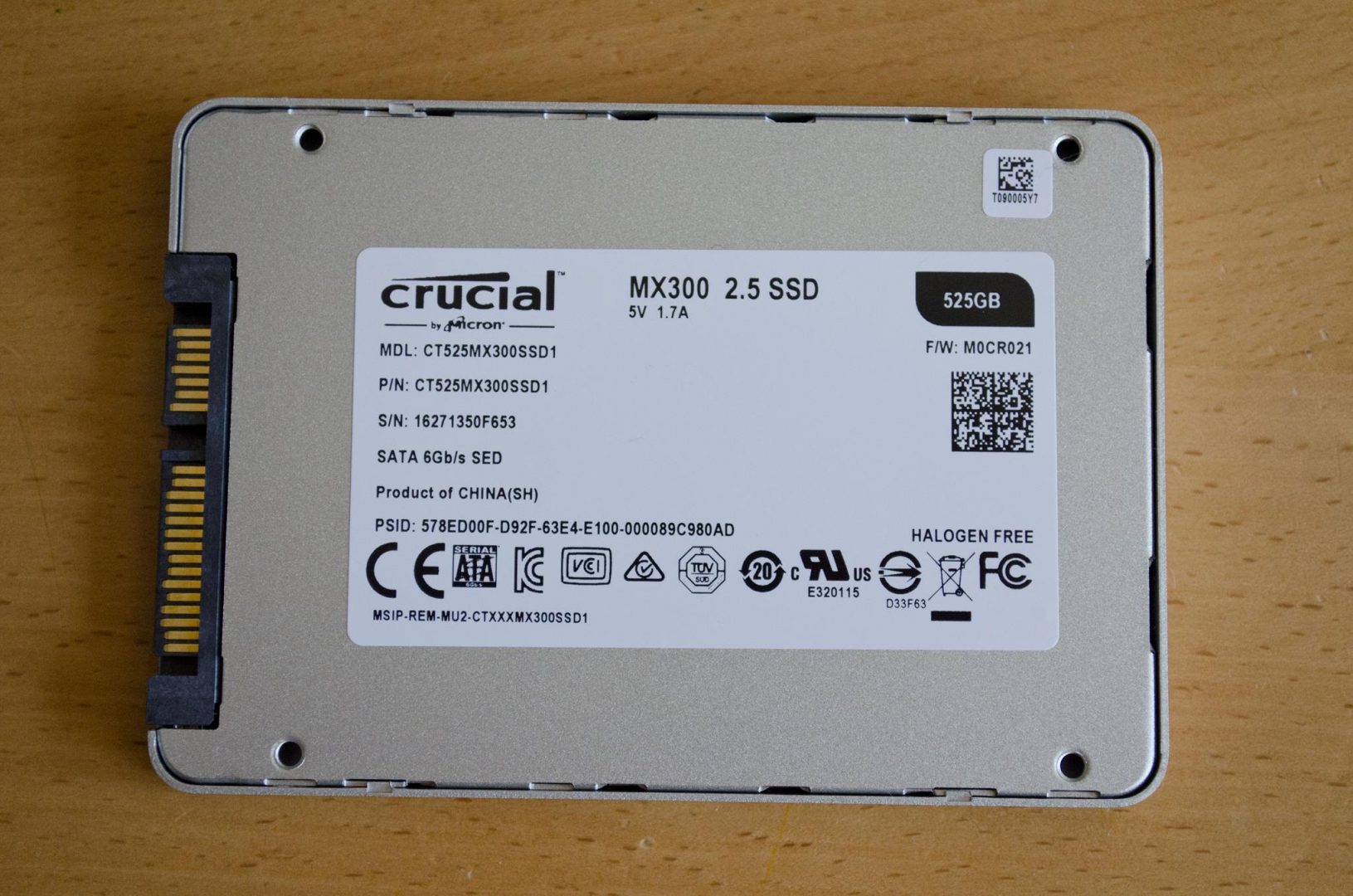 Popping off the casing, which is done both easily and carefully, we can now get a look at the internals of the drive. As you can see, there are a fair amount of capacitors on the PCB. This is to help with the power loss protection which is designed to complete and save your data in the event of a power outage. You will notice this PCB is a bit smaller when compared to larger drives and this is thanks to Crucial stacking the NAND.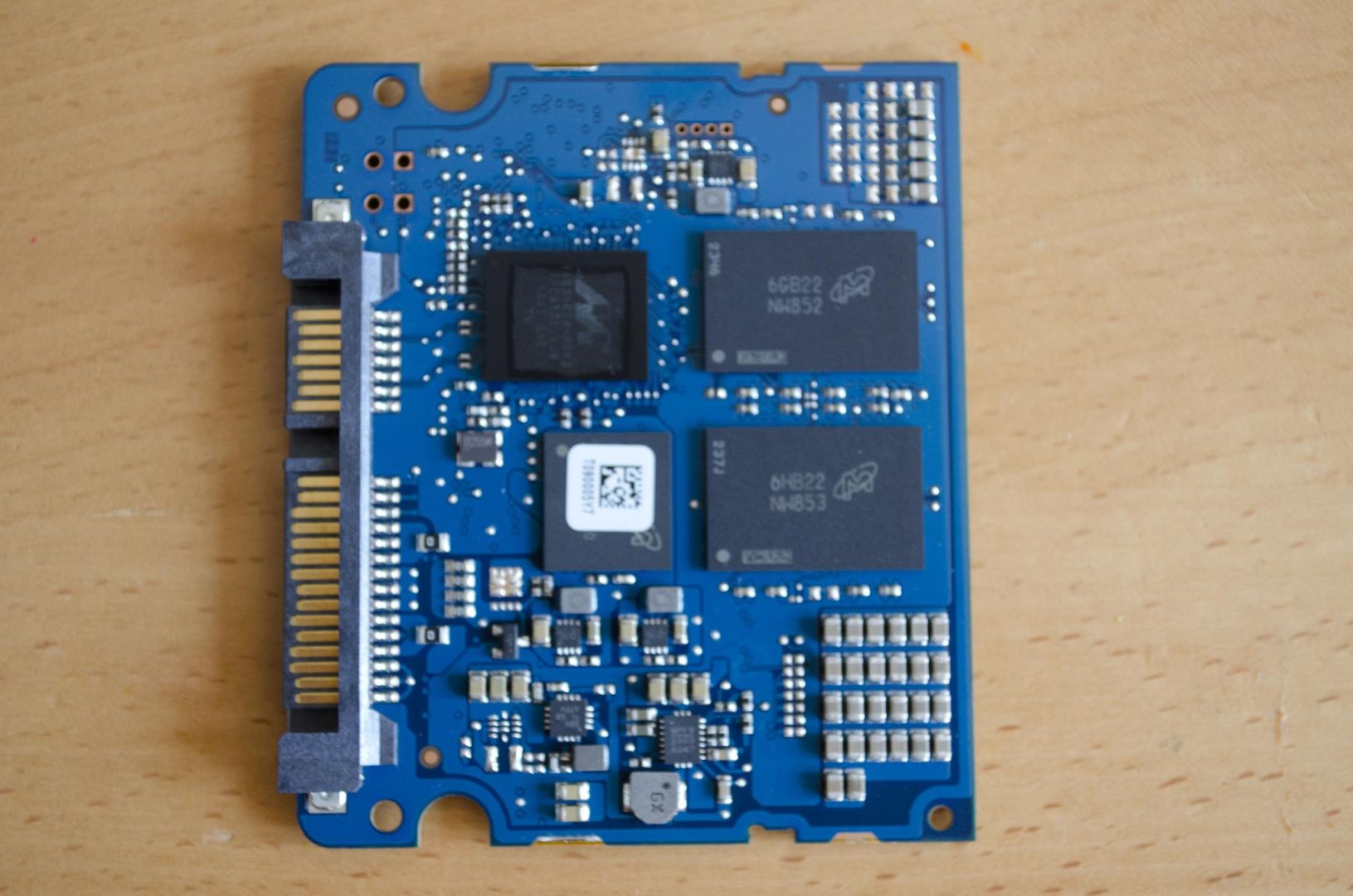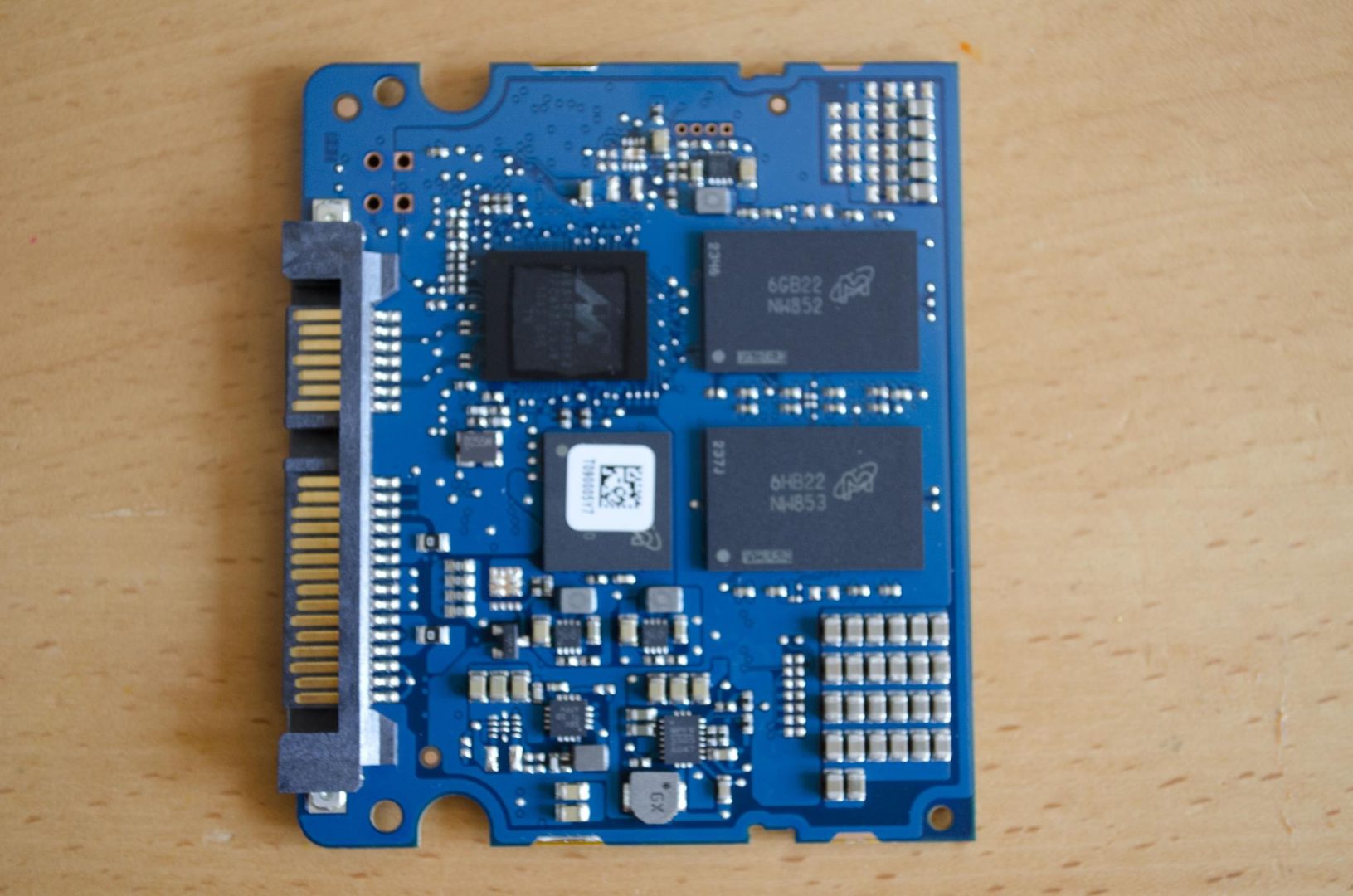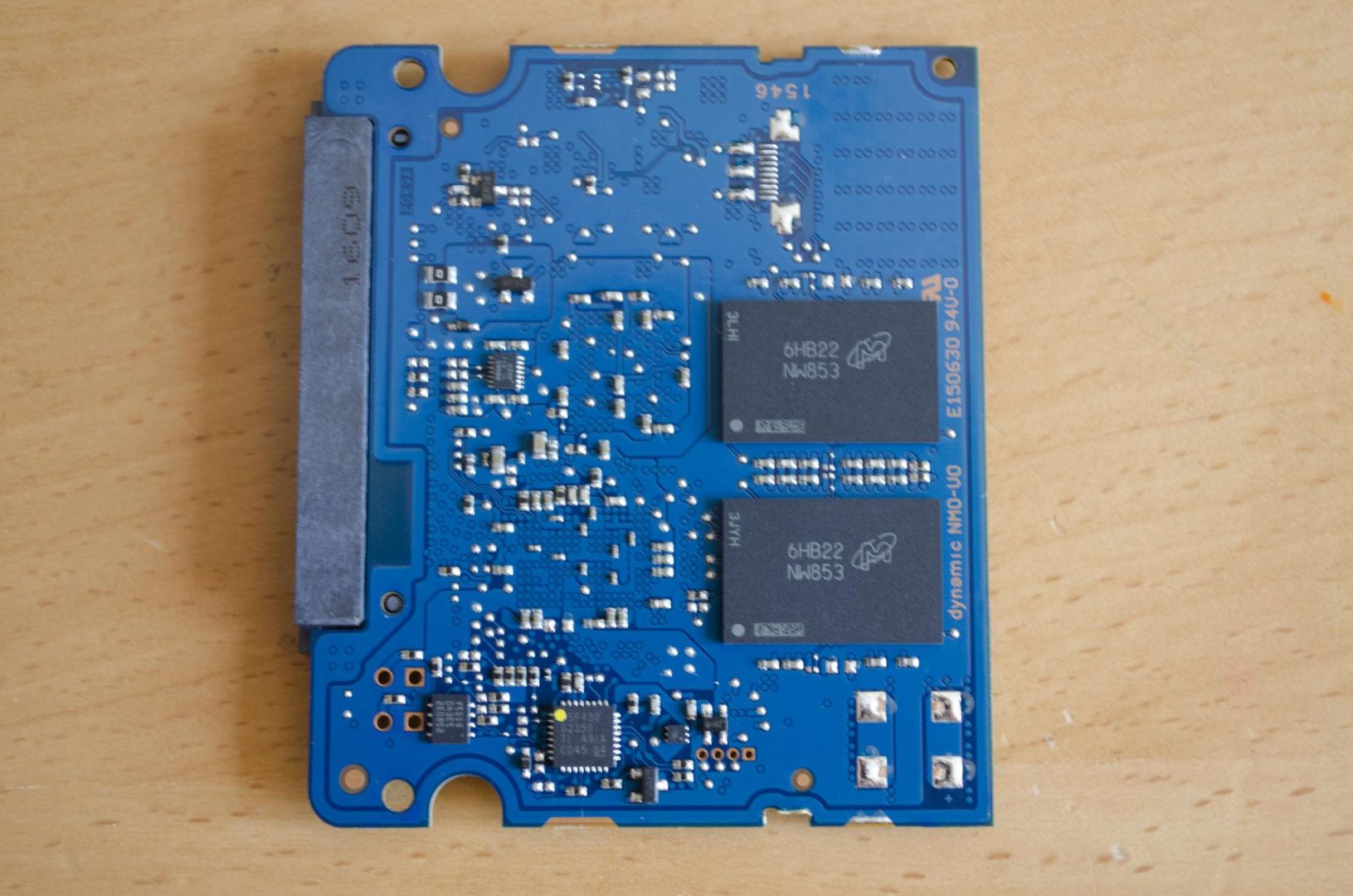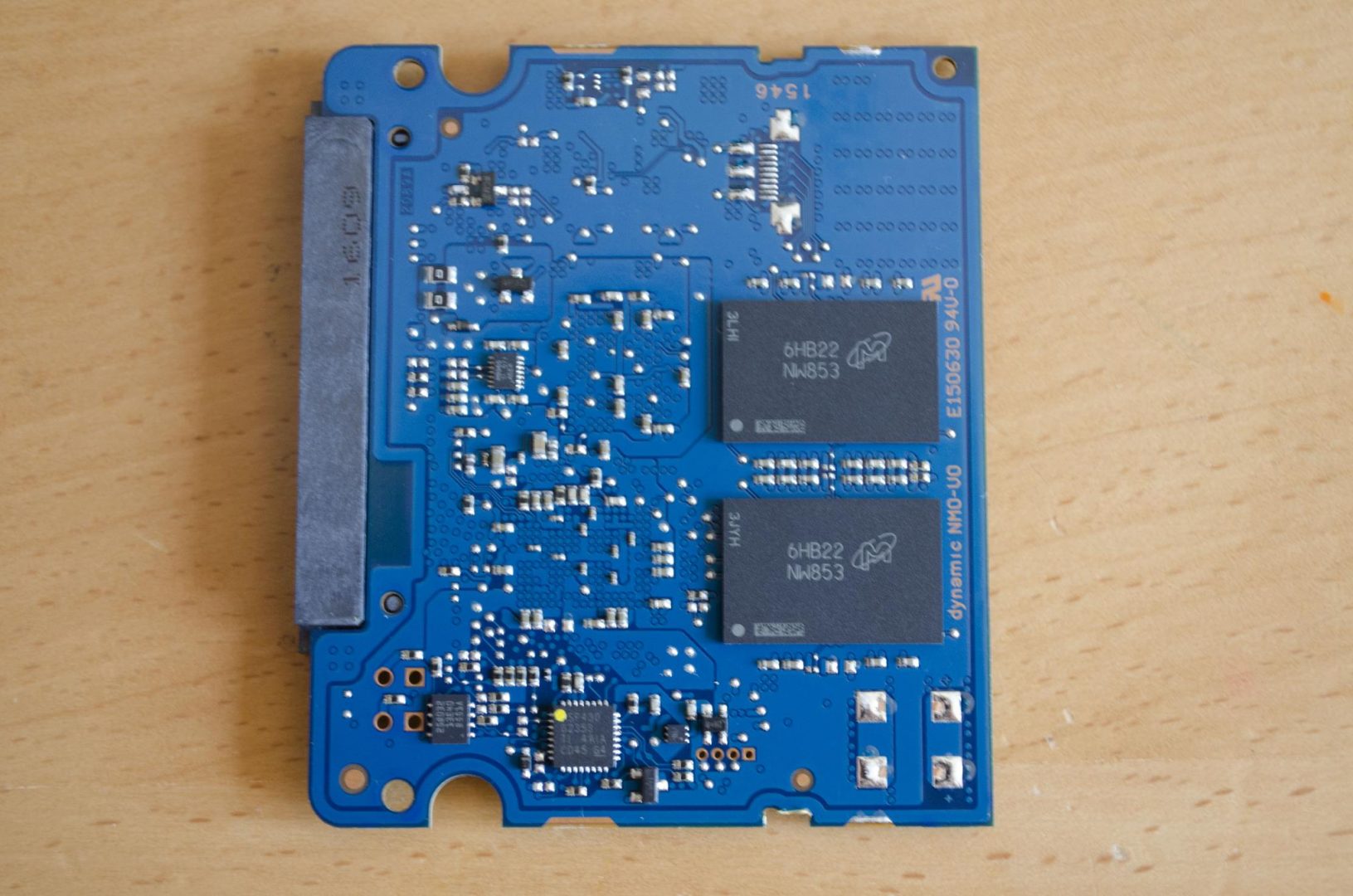 CrystalDiskMark
AS SSD
Anvil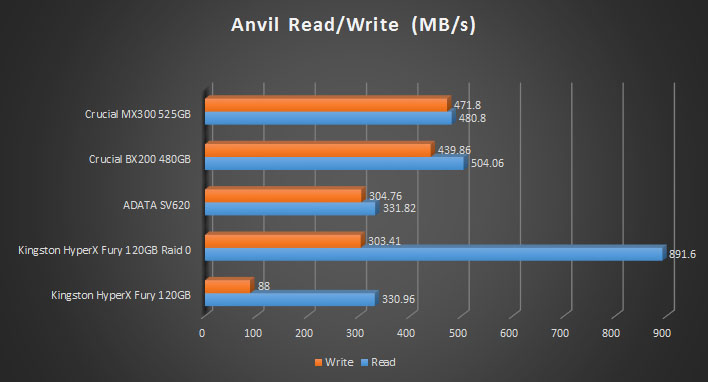 As the review comes to an end, it's time to wrap everything up and give you my final thoughts on the MX300. I feel Crucial have offered us a worthy SSD in their MX300 series and the various capacities available means there is something for everyone. The performance it has to offer is decent and it packs a 3-year warranty for peace of mind.
Performance
While I was personally not able to obtain the stated speeds of the drive, I wasn't too far away. I was around 30 MB/s away from achieving both the advertised read and write speeds. There could be many reasons for this, most of which are down to the different hardware used for testing. Either way, the results aren't bad at all. What I did enjoy seeing was the consistency of the speeds and the closeness of the read and write speeds. As with the advertised speeds, the read speed is normally a bit better than the write speed, but in my testing they were generally fairly close to each other, giving us a well-rounded drive in my opinion.
Design
Crucial have gone with the Marvell 88SS1074 controller for the MX300 which also features error correcting LDPC technology, endurance boot and TLC NAND device support on top of MLC NAND. It is also based on SATA III and features a 4 channel NAND interface with up to 8 devices per channel. The Marvell 88SS1074 also has 256-bit AES Encryption and consumes lower power than other drives, making it an all-around wise choice. We also saw all the capacitors that help save your data in case of power loss which I feel is a crucial feature all storage devices should have. Crucial has definitely designed this drive to  be a great and versatile drive and it shows.
Value
Crucial are known for creating good price to performance ratio SSDs. The MX300 finds itself towards the lower end of the price spectrum and while there are similar drives that can be found cheaper, it isn't much cheaper. On the other side of things, if you want the best performing drives in this capacity, you can expect to pay on average, £30+ more for them at current market prices. When it comes down to it, the MX300 is a solid performing drive at a fair price. When you combine the capacity, features and consistency of the MX300 series, you really can't go wrong, especially at this price. While it would have been nice to see the top-rated speeds hit on our test system, I am not going to hold it against Crucial due to their fair pricing of the MX300.
"The MX300 series of SSD from Crucial offer great and consistent performance, come packed with plenty of features and is quite affordable for the given capacities."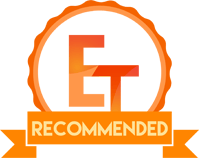 Many thanks to Crucial for sending in a sample of their 525GB MX300 SSD!