Manufacturer: Kolink
Product Page: Core Series 500W
Purchase: £26.99 At the time of review
In 2017, more people are starting to realise how important a good PSU is for their new PC build. Whether gaming or production, a good PSU is essential for any PC build. Now, some companies, such as Kolink are trying to offer consumers trustworthy PSUs at a fair and decent price. The Kolink Core Series 500W PSU which we are looking at today comes in just shy of £27 here in the UK which is amazing for an 80+ rated 500W PSU. Kolink is certainly doing a good job of trying to make a name for themselves with their wide range of products that seem to be aimed at budget-conscious gamers.
The Kolink Core Series come in 5 different wattages, 300/400/500/600/700 all of which carry an 80PLUS rating. For those who don't know, they 80+ rating means the PSU will operate at an 80% efficiency level at full load. This is important as if you buy a cheap PSU it may only operate at 50-60% efficiency and may not be powerful enough to power up your system. It may also have a lot of ripple in the lines and really just not be very good either, which can lead to overpowering and eventually it popping or blowing up. Ask anyone who has ever had a PSU blow on them and they'll tell you to spend the extra money upfront and get something trustworthy as if it blows, it can take other components with it.
While Kolink is certainly trying to keep costs down, even on packaging, the box for the Core Series still features a bit of vital information for the end user. On the front we can see the wattage of the PSU we have, as mentioned we have the 500W version for this review,
Looking at the sides and we can see the included connectors for each model and the voltage ratings.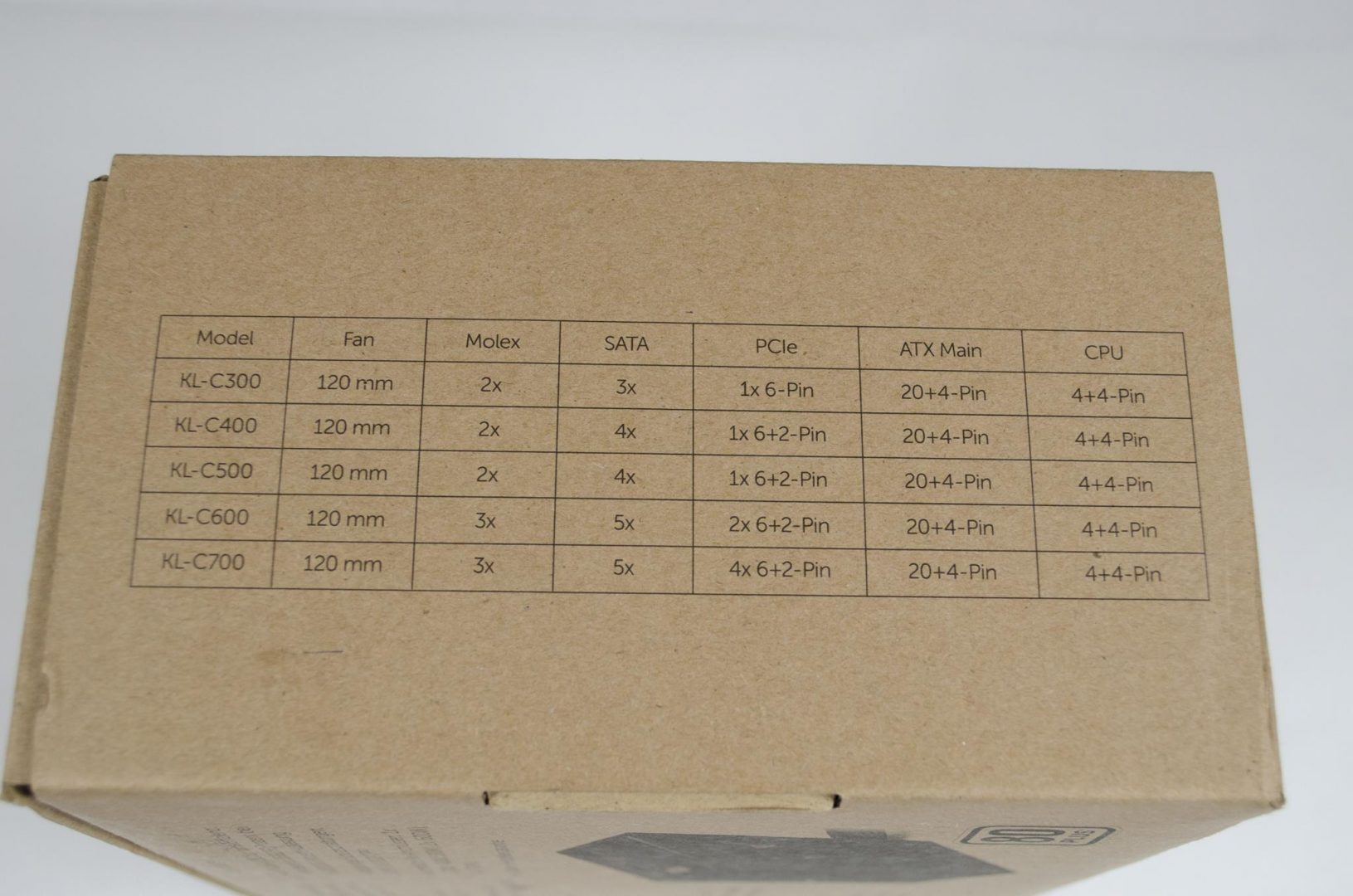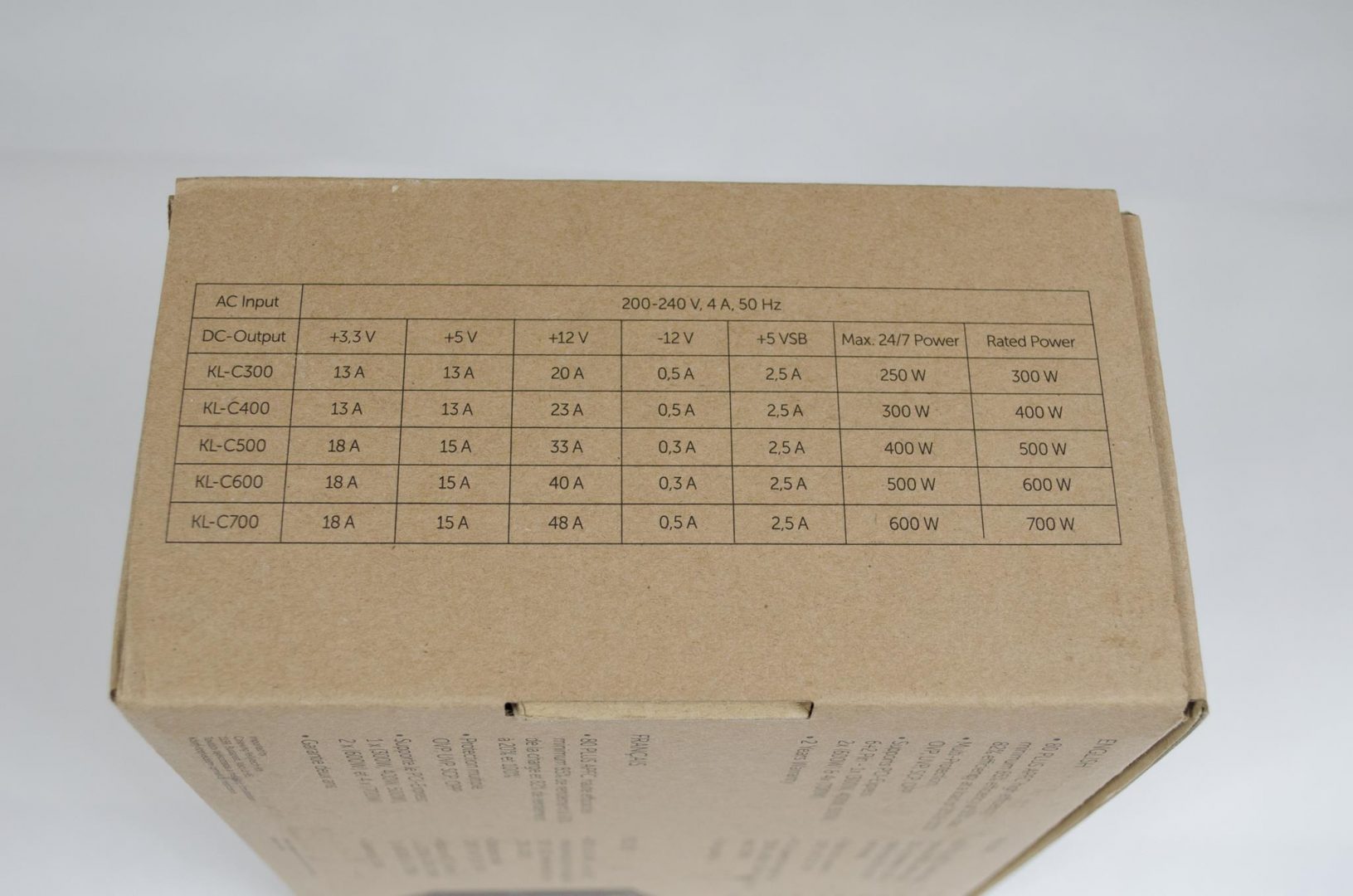 On the back, we can see some of the same information in various languages in a more friendly format so most anyone will be able to understand it.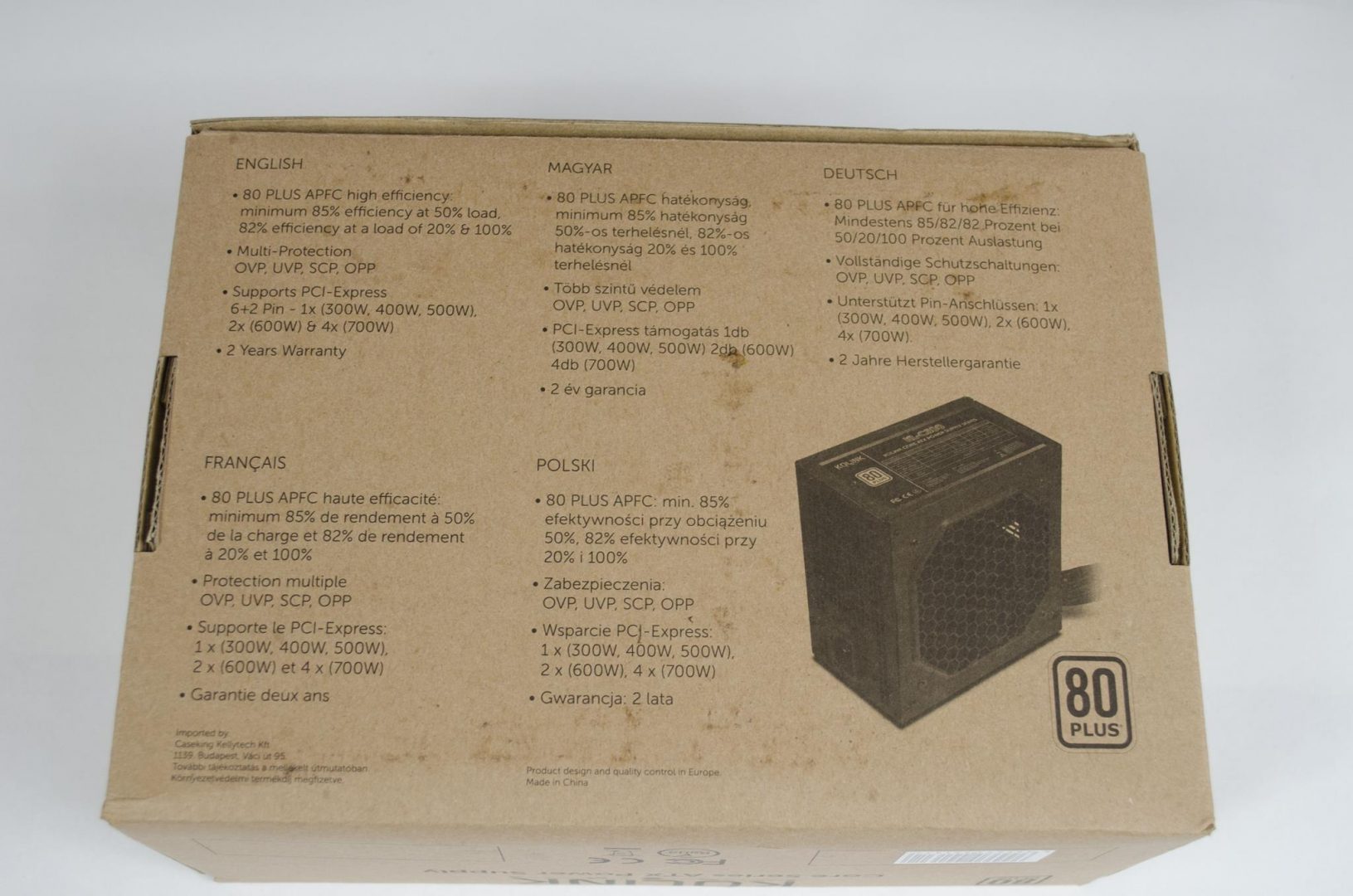 The Kolink Core Series 500W is a basic all black power supply. It is a non-modular power supply so all the cables are attached to the PSU itself at all times.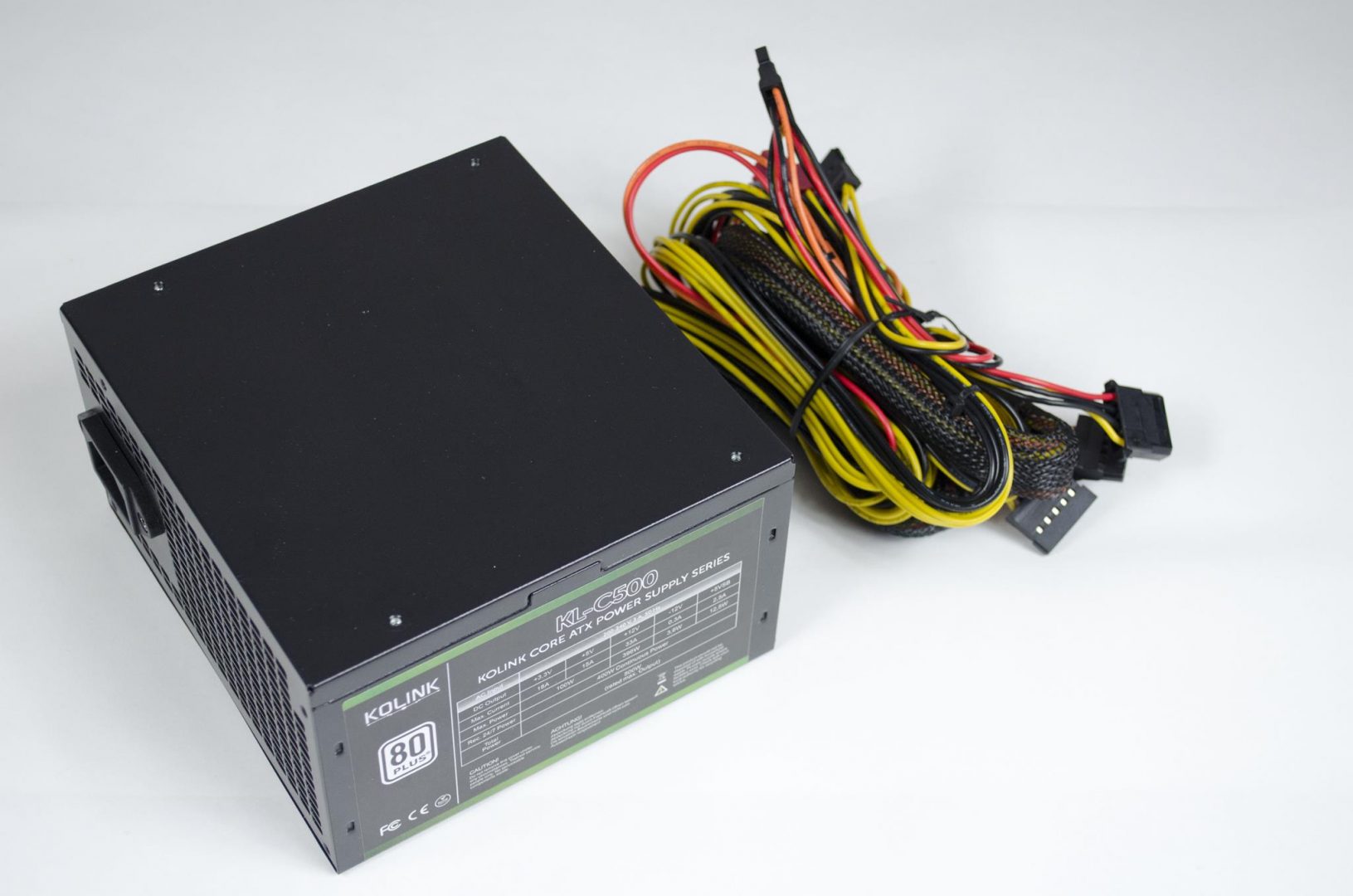 The back of the PSU where you will plug the mains plug is heavily ventilated to help ensure the PSU doesn't overheat during use. While looks are important, functioning properly is even more important and it's nice to see Kolink doing their best to combat heat issues. In this day and age, we have all heard and seen horror stories of what happens when electronics get too hot and it's not good.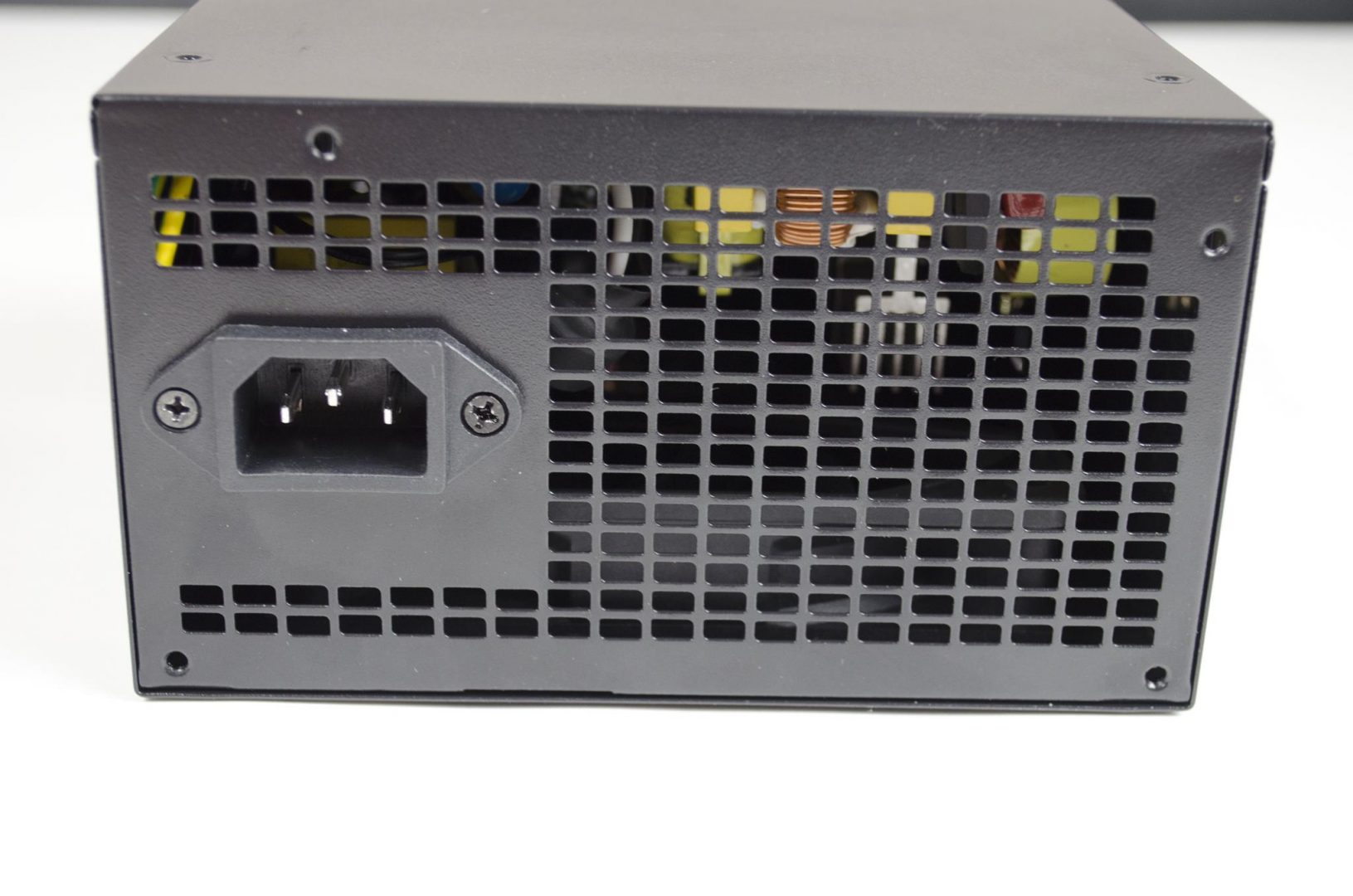 Along with the ventilated back, the bottom or top depending on how you prefer to install your PSU also has a ventilated area with a fan to help pull in cool air. While this is only a 500W PSU, it will still get quite toasty if cooling precautions are not in place. The fan is 120mm and is more than sufficient to pull in enough air to distribute across the internal components to keep it all cool!
Connections (fixed):
1x 20 + 4-pin
1x 4 + 4-pin (CPU / ATX12V / EPS12V)
1x 6 + 2-pin PCIe 4x SATA
2x 4-pin Molex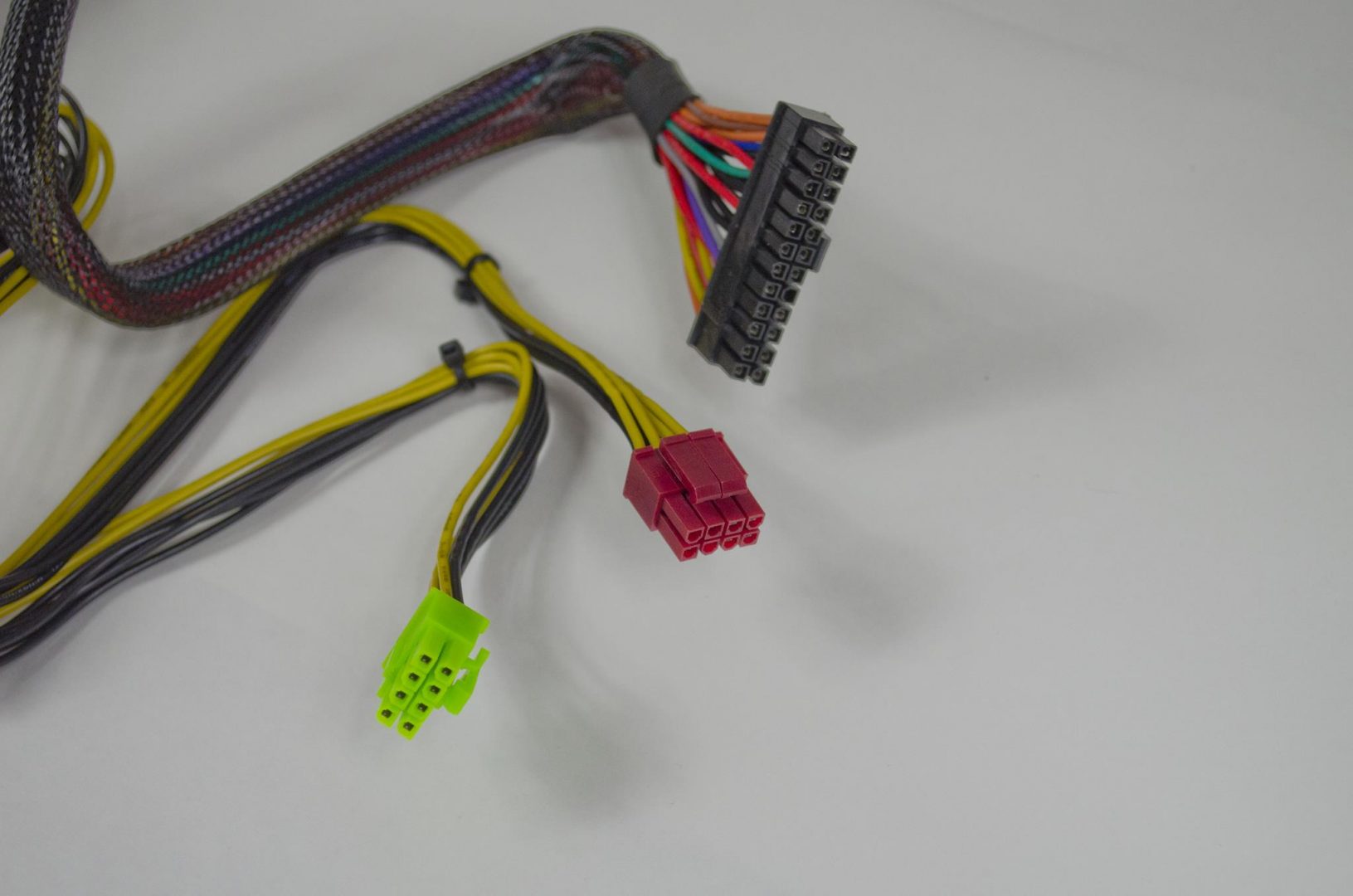 While we don't currently have the proper equipment (Working on getting some) to do a proper full load and ripple test, we still do what we can. One of the tricks I picked up with my time at Play3r was how to test the PSU with a multimeter. Basically, we hook the PSU up as normal, use some programs to stress it and record the readings from the 3.3/5/12V lines. While this isn't as good as if we have an ATE load tester or oscilloscope, it gives us a bit better idea of what the PSU can handle in real world scenarios.
Test System:
MSI X99S SLI Motherboard
Intel I7-5820K
MSI GTX 970 4GB
16GB Crucial Ballistix Elite 3000MHz
Crucial MX300 525GB SSD
PSUs are allowed a 5% fluctuation on the 3.3/5/12V lines which means the below readings are acceptable. To power the PSU to the best of our ability, we used PRIME 95 and HEAVEN Valley benchmarks.
3.3V = 3.135V-3.465V is acceptable
5V = 4.75V-5.25V is acceptable
12V = 11.4V – 12.6V is acceptable
Idle Results
3.3V = 3.3V
5V = 5.1V
12V = 12.3V
Load Results
3.3V = 3.35V
5V = 5.15V
12V = 12.2V
So, as we can see the Kolink Core Series 500W stayed within the given specifications which is great to see on such a budget-friendly PSU.
Performance
While we don't have the proper equipment to test PSUs (yet!) we still did what we can by getting the trusty old multimeter out and getting some readings. While we can't test for ripples in the lines or properly load the PSU, we've tried to do what we can. As we imagined, the PSU was well within the expected readings as it should be for an 80+ rated PSU. The Kolink Core Series 500W was also good enough to power our 5820K and a GTX 970 which for the price, is amazing. While we had to use a molex to PCI-E cable to get the extra PCI-E power point it worked without fault in our testing.
Design
Not a whole lot going on with the design, to be honest. This is a more budget friendly PSU so the design isn't a major factor, at least aesthetically anyways. The internals seem to be comprised from decent components as the PSU works week and the Non-modular design doesn't offer the best looks, but it does the job. The PSU is all black and the wires are still long enough that hopefully, you should be able to route them behind the motherboard tray in most standard sized ATX cases. 
Value
This is what it all comes down to, the £27 price tag. This price is almost silly when you compare it to other power supplies of a similar wattage. For the money, you are getting a more than worthy PSU that offers some solid power for your system. Value is always subjective to the individual user but in this case, it has to be said that this PSU offers exceptional value for the money. Kolink has done a great job at targeting the budget friendly gamer and offering them a product on which they can rely, great job Kolink!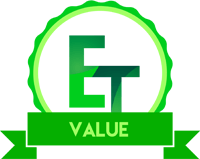 Many thanks to Overclockers UK for sending the Core Series 500W PSU in for review on behalf of Kolink!