For our first ever GPU review here at Enos Tech, we will be taking a look at the MSI GeForce GTX 1070 Gaming 8G Graphics card. When it comes to choosing the graphics for you PC, there is a myriad of options available. You will need to decide on a budget and if you want the best price/performance ratio or if you want the best performance out there. Once you've done that, then you can decide on if you want AMD or NVIDIA and then finally, start working on choosing a brand and a specific card. Most companies also have different models of each series cards, for instance, MSI actually has around 5x different models of GTX 1070 cards available, making sure there is something for everyone.
MSI's GTX 1070 Gaming X 8G features 8GB of GDDR5 which has a 256-bit interface. The standard memory clock is 8108 MHz with a Core Clock of 1771 MHz in Gaming mode. As far as inputs go, there are 3x DisplayPort 1.4, 1x HDMI 2.0 and a Dual Link DVI-D allowing you to plug in a good range of different monitors into this card. The 1070 Gaming X is DirectX 12 and VR ready and features the TWIN FROZR VI cooler to help make sure your GPU doesn't get too hot after all those long gaming sessions. Not only is this 1070 the first GPU I will be reviewing here at Enos Tech, it is also the first Pascal based card I have had the privilege to use, so in saying that, let's get to it!
Specifications
Graphics Processing Unit

NVIDIA GeForce® GTX 1070

Interface

PCI Express x16 3.0

Boost / Base Core Clock

1797 MHz / 1607 MHz (OC Mode)
1771 MHz / 1582 MHz (Gaming Mode)
1683 MHz / 1506 MHz (Silent Mode)

Memory Size (MB)

8192

Memory Type

GDDR5

Memory Interface

256-bit

Memory Clock Speed

8108 MHz (OC Mode)
8010 MHz (Gaming Mode)
8010 MHz (Silent Mode)

Output

DisplayPort x 3 (Version 1.4) / HDMI (Version 2.0) / DL-DVI-D

Digital Maximum Resolution

7680 x 4320

Virtual Reality Ready

Y

Maximum Displays

4

HDCP Support

2.2

DirectX Version Support

12

OpenGL Version Support

4.5

Multi-GPU Technology

SLI, 2-Way

Card Dimension(mm)

279 x 140 x 42 mm

Card Weight (g)

1100

Power consumption (W)

150

Recommended PSU (W)

500

Power Connectors

6-pin x 1, 8-pin x 1
The MSI GTX 1070 Gaming X 8G is based on NVIDIAs Pascal architecture and features a base clock of 1528 MHz in gaming mode with a memory clock of 8010 MHz in gaming mode. Pascal is said to offer 3x the performance of previous generations while also offering a lower power consumption. Pascal is also compatible with both VR and DX12 so you can get totally immersed in to any gaming situation you want. The 8GB of onboard memory on the 1070 will help with both VR and higher resolution screens and is an absolute beast at 1440P .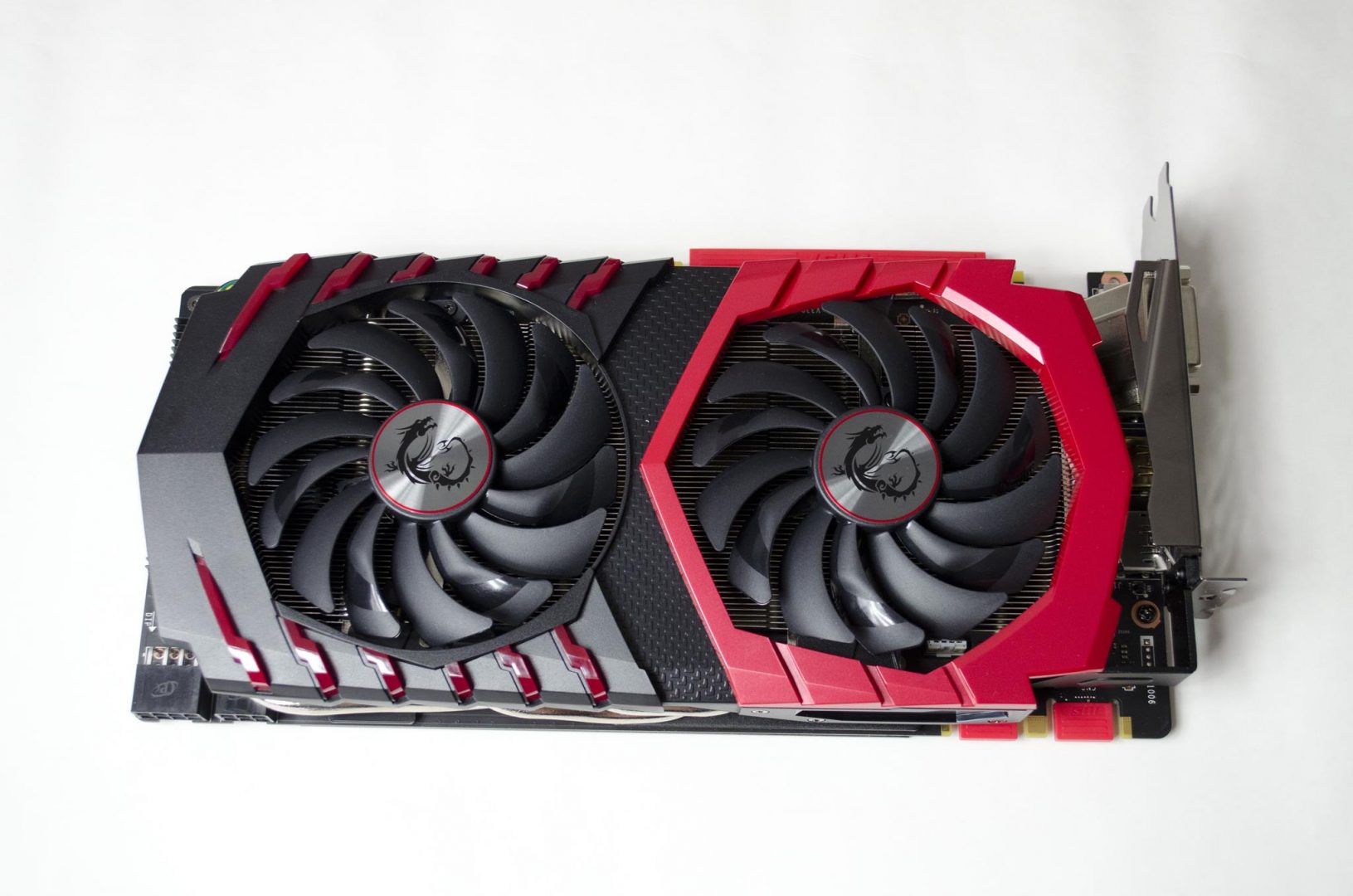 One thing we are starting to see more and more of is GPUs coming with backplates straight from the manufacturer. Not only does this add an appealing aesthetic, it also helps keep the card from sagging a bit on the PCIe slot on your motherboard. MSI have gone with a nicely designed backplate that features their Gaming Dragon logo as well as a bit of ventilation so it doesn't retain too much heat.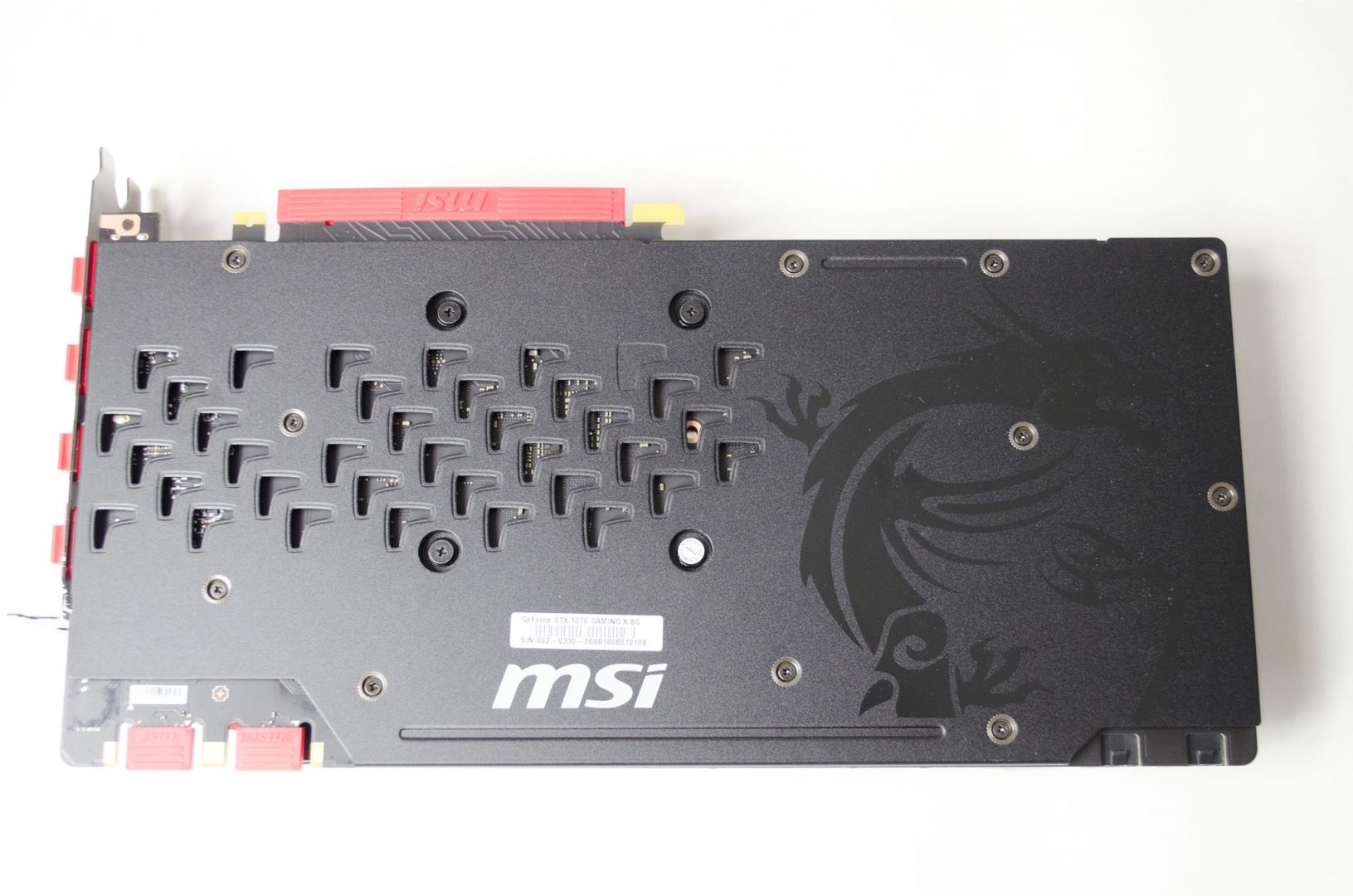 Not only did MSI go with their signature dragon logo, they went with a black on black version which looks amazing!
Powering up the MSI GTX 1080 Gaming X is done with 6 and 8 pin power connectors and it is recommended you have a minimum 500W power supply to run a single card.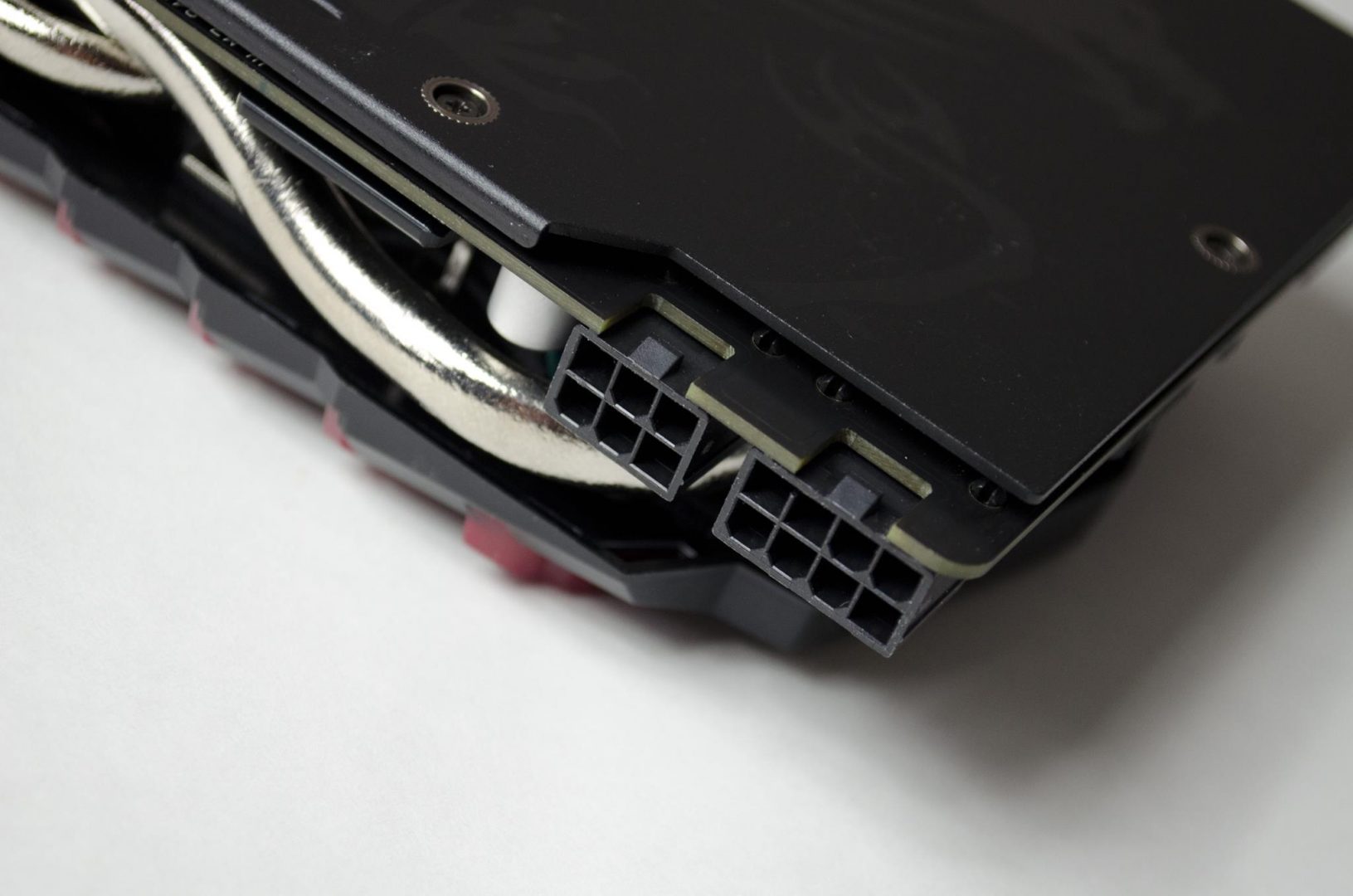 For those looking to double up on their 1070's, the MSI GTX 1070 Gaming X features 2-way SLI for gaming! This will allow users to put two of these beasts in the same PC and get some great performance out of them!
Using the PCI Express x16 3.0 interface the GTX 1070 Gaming X will be able to fully utilize all its power and reach its true potential, especially when gaming. When installing this card in a case, you will need to make sure you have two free PCI expansion bays as thanks to its beasty cooler, it does take up two slots.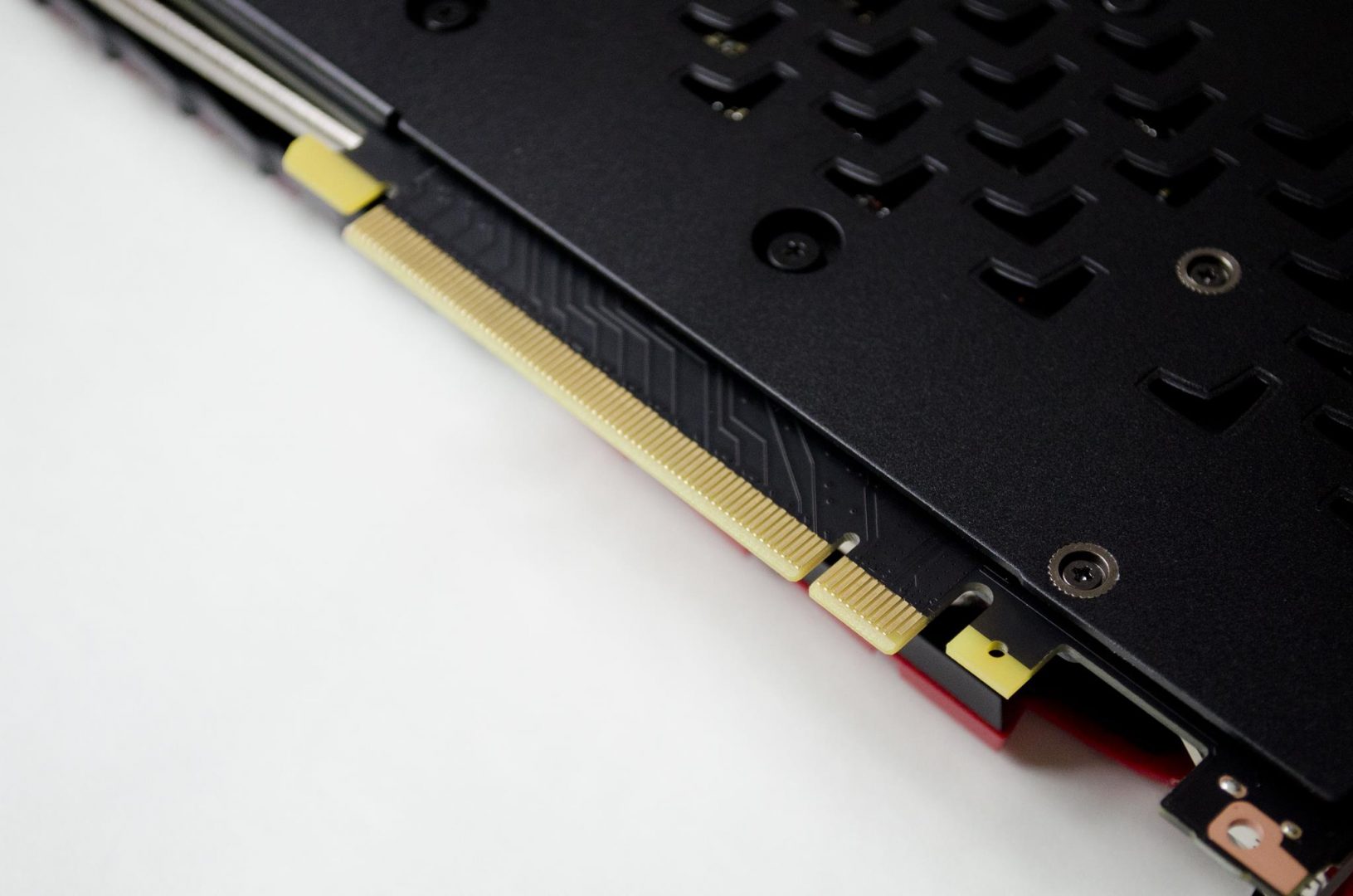 For monitor and output connections there are 3x DisplayPort (Version 1.4), 1x HDMI (Version 2.0) and 1x DL-DVI-D (DualLink DVI-D). This will allow users to connect a wider range of display devices to the card.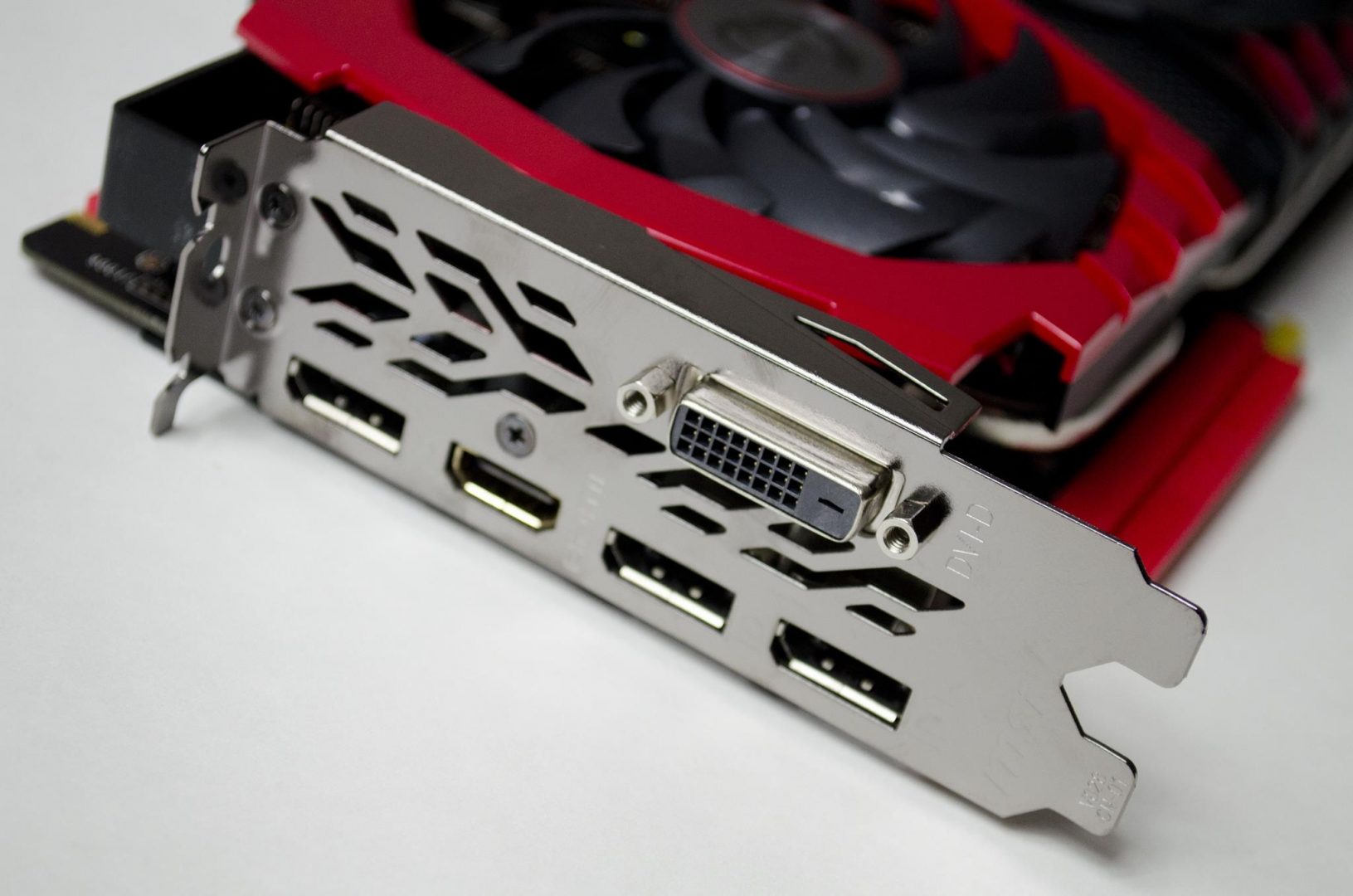 The TWIN FROZR is MSI's signature gaming GPU cooling solution. The dual fans help keep the card as cool as they can by pushing all the heat off of it during those long gaming sessions. This is the 6th (VI) iteration of this cooler and while there may only be minor adjustments over previous versions, it did keep the card well within respectable temperatures when testing.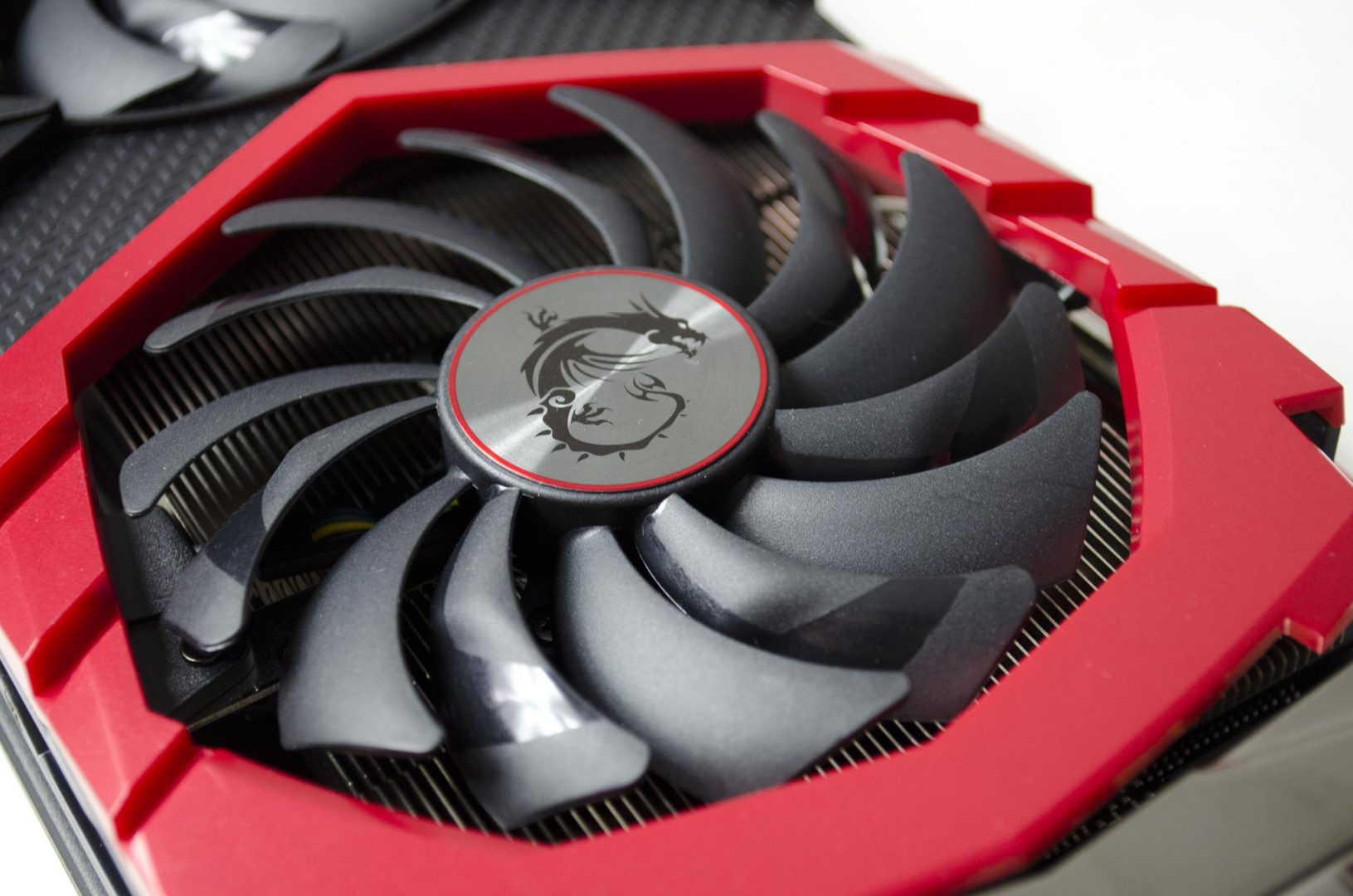 Working in part with the dual fans, there is sort of a dual heatsink thing going on as well. While the main and bigger heatsink is connected to the GPU chip itself, there is a nice black heatsink that almost blends in with the card. This smaller heatsink will help keeps the individual components on the card, such as the VRM cooler and stop those from overheating as well.
Benchmarks and Performance
General Performance
I used this card for a little over a week every day and was very pleased with it. In fact, it is they best GPU I have ever personally used in one of my own systems so I definitely enjoyed my time with it. As far as temperatures are concerned, the TWIN FROZR cooling definitely does a good job. Throwing everything I had at it, the temperature was topping out at 73c which is great as the card was still near silent at this time. The first time I ran a game with the MSI GTX 1070 Gaming X installed, I actually had to take off the side panel and make sure the fans were spinning as it was just that quiet, something I am not normally accustomed too.
Benchmarks
To test the performance of the Graphics Card on review, we run a number of Gaming and other benchmarks. This will also allow us to compare today's sample to other cards down the line and get a better overall feel for the performance. All benchmarks are currently run at various settings at both 1080P and 1440P resolutions. In all of the benchmark results listed below in our graphs, the higher the number means a better score.
3D Mark Fire Strike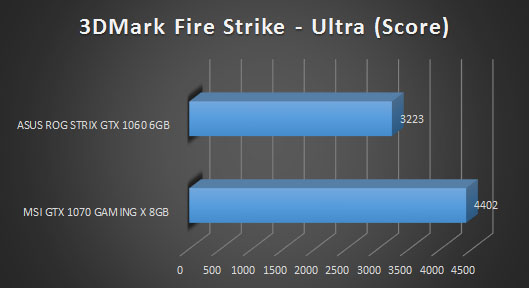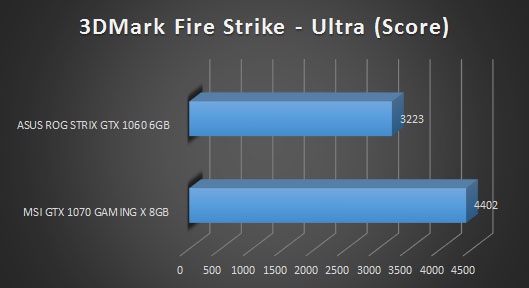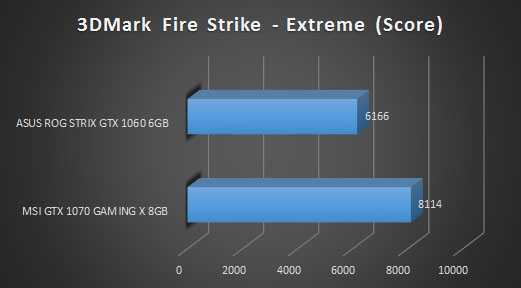 Bioshock Infinite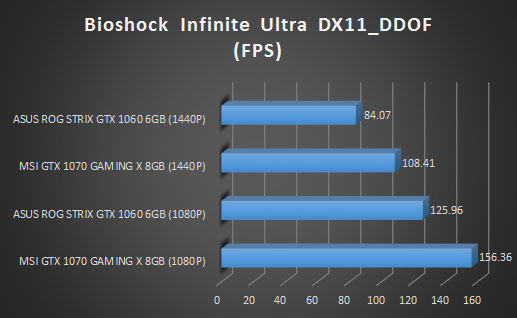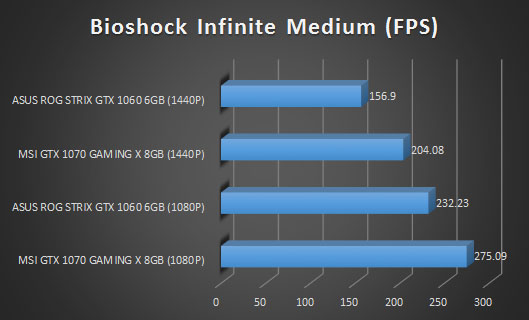 Hitman Absolution
Middle Earth: Shadow of Mordor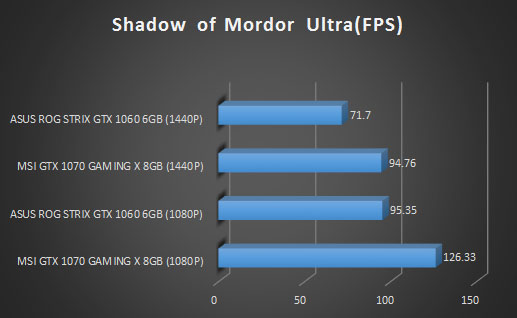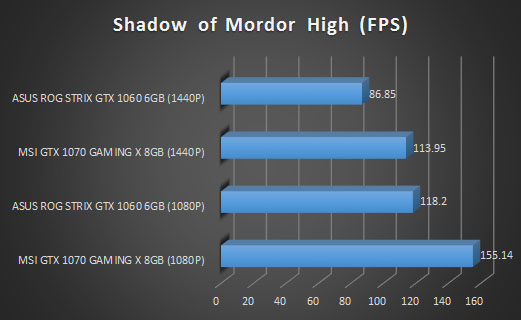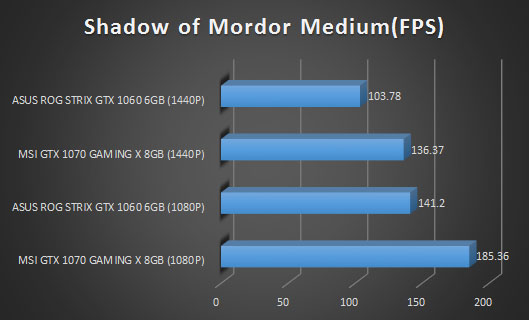 Tomb Raider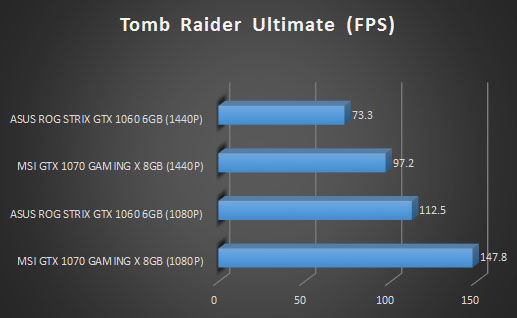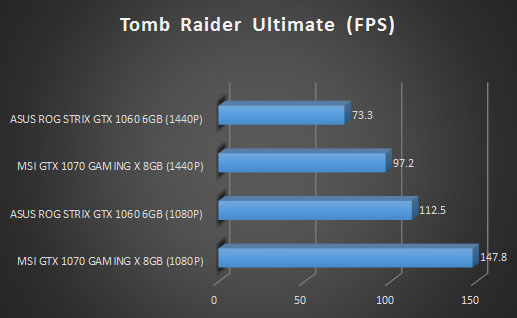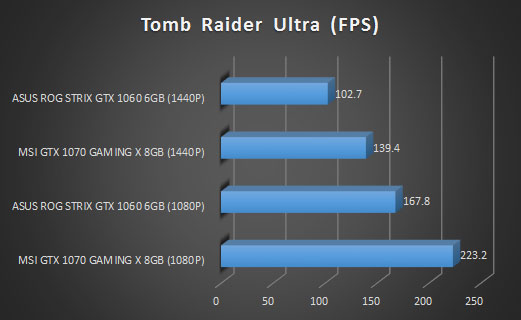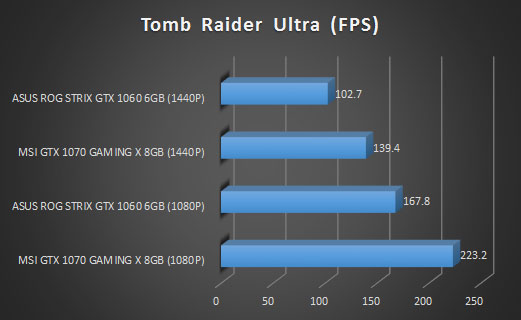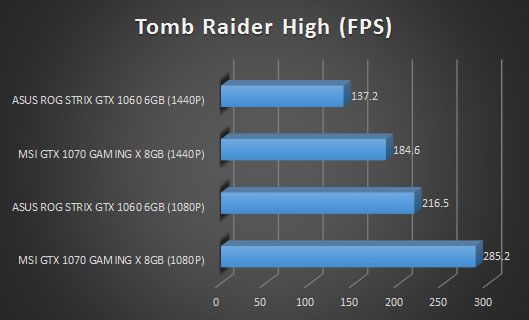 Unigine Heaven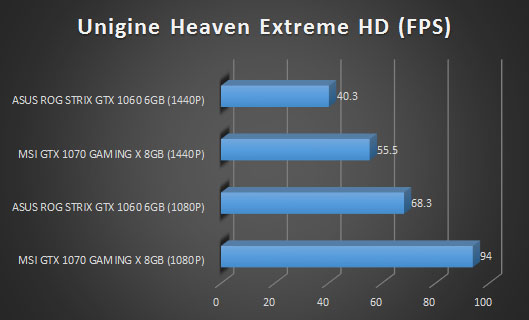 Unigine Valley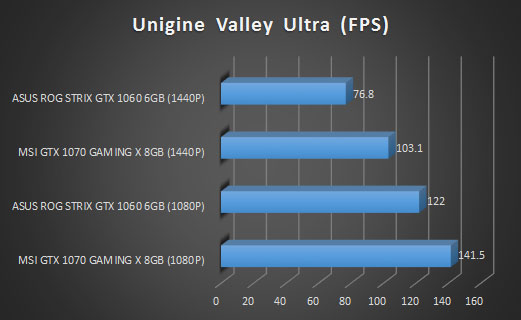 Overclocking and Software
While it has been ages since I've overclocked a GPU, I was able to get a fair bit of extra performance out of the MSI GTX 1070 Gaming X 8G. While I was only able to get a 70 MHz OC on the GPU, I was able to get a pretty significant OC on the memory. Between the two, I definitely did see a noticeable improvement in gaming and some better scores in benchmarks. When it came to gaming, I saw an extra 10FPS with this OC in Middle Earth: Shadow of Mordor with settings set to Ultra at 1440P! When it came to benchmarks, I loaded up FireStrike Extreme and Ultimate, in Extreme I saw an extra 500 points and in Ultra there were an extra 275(ish) points with this OC.
While I did throw the power limit up to 126%, I did not actually touch the voltage at all. This mean user's will be able to safely get these overclocks with a bit of patience and time. For my testing, I simply bumped up the GPU clock by 10 or so until it would error out of testing, then set it back to the last MHz that past then did the same with the memory, but boosting it 50 MHz at a time.
MSI Afterburner
When it came time to manage the overclocks, I used MSI's own Afterburner software that is easily downloaded from their site. This piece of software will help you get the most performance out of most any GPU, not only MSI GPUs and is very easy to use. For most standard users, you will just move the settings bars in the middle (pay no attention to the ones pictured below as was testing some things out). You can even set different profiles here while you are figuring out what your best overclock will be.
Performance
As I already mentioned, this is the best GPU I have every personally tested. While that may not be saying much, when looking back and comparing it to the 1060 from ASUS, we can see a nice boost in performance which is what we would hope for. The MSI GTX 1070 Gaming X 8G is an absolute beast, even at 1440P as it offers well over 60FPS in every single game I tested it on. The only place it dipped under 60FPS was Unigine Valley where it still had, what would have been a very playable 55.5FPS. This card is definitely more than enough to power a single monitor 1440P setup which is all we can really ask from a GPU of this kind. MSI have also outdone themselves when it comes to the TWIN FROZR cooling as it is just amazing. Not only does it keep the GPU cool as to avoid thermal throttling, it also does it at near silent volumes. Having a quiet cooler offer this type of performance is great as no one wants to hear a jet engine every time they load up a game!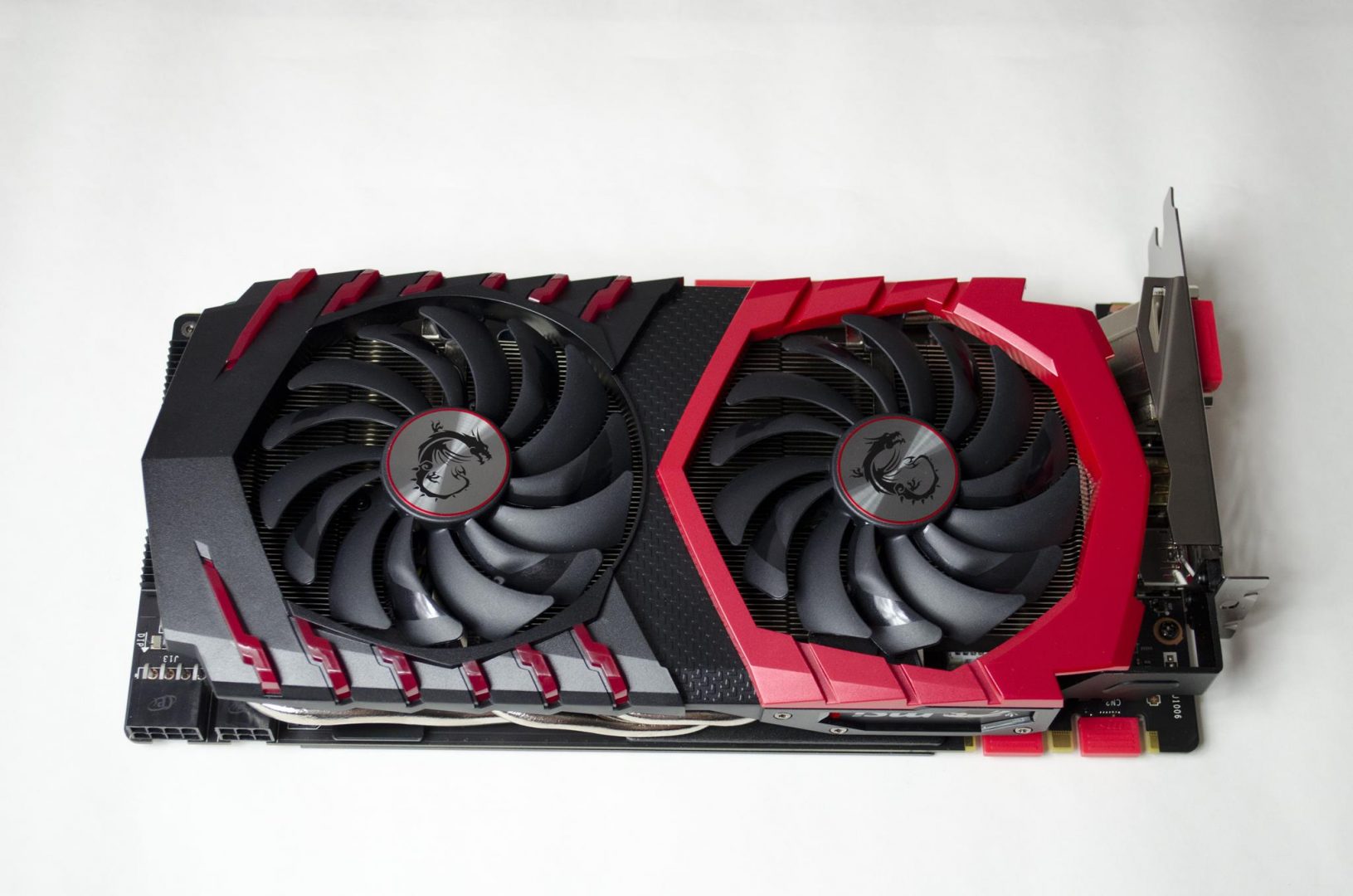 Design
If you are a fan of the red and black PC Gaming theme, then this card is definitely a looker. MSI have done a great job at making sure that even the aesthetics of the GTX 1070 Gaming X are as appealing as they can be. The main shroud features a close to 60% black and 40% red theme while MSI have also added some red accenting into the black space that is illuminated with LEDs. The black PCB and back plate are also very pleasing to the eye as this is the part of the card that will generally be on show in most PCs. Speaking of the backplate, MSI has gone with a fairly simple design, though it does feature their Gaming Dragon in black towards the rear of the card. As we have also seen, the heatsink and fans do a great job at keeping things cool and the fact that the fans don't even kick in until 60c is purely amazing.
Value
When having a look at the competition on Overclockers UK, the MSI GTX 1070 Gaming X 8G is very competitively priced. Coming in at around £430 on OcUK, it is right around the middle of the price range for custom air cooled (non-reference) GTX 1070's. While we can normally expect these custom cooler cards to be a bit more expensive, MSI has done a great job at making the price point on this one very appealing and if you are in the market for a new GTX 1070, you will definitely want to check it out. For the money, you are getting a card that can literally run-threw just about any game you can throw at it at 1440P settings. When you consider the performance and where it falls compared to prices of other similar GTX 1070's, you really can't go wrong.
MSI Have done a great job at offering a GTX 1070 that stays cool and quiet, all while not breaking the bank and offering some astonishing performance.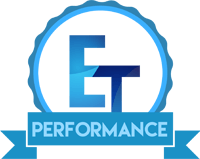 Many thanks to MSI for sending in their GTX 1070 Gaming X 8G for today's review. 
Want to discuss this review further, head on over to the MSI GeForce GTX 1070 thread, in the Enos Tech Reviews Sub-category on the Gaming Exodus forums!