With the release of Pascal architecture, Nvidia has given the gamers and enthusiasts what they were dreaming for, that is, core clocks reaching and crossing the whopping 2000MHz magical figure, yet being more efficient than Maxwell or Kepler architecture. This is definitely a great achievement for the market and industry overall. Not only there is a boost in clocks but underlying architectural changes are well appreciated.
When it comes to PC Components, AsusTek is among one of the best names we have in the market. It was founded in 1989 in Taiwan. Ever since its foundation, Asus has seen a phenomenal growth and diversity in its business line. When it comes to Asus, the first associated name that comes to mind is ROG or Republic of Gamers. ROG brand was introduced in 2006 and it focuses on main stream gamers/enthusiasts with products ranging from Motherboard, Graphics Cards to Peripherals. ROG is now main stream, premium brand from Asus. Strix has been a new addition to ROG lineup and here is what Asus is saying about it: "ROG Strix is the newest recruit into the Republic of Gamers. A series of specialized gaming gear designed for the rebel in all of us, Strix exemplifies ROG's premier performance, innovative technology, and leading quality, but with its own confident and dynamic attitude. Featuring bold designs and bright colors, this exciting new series possesses a spirit of fierce individualism that charges every gaming experience with thrilling energy. ROG Strix equips players with the necessary speed and agility to dominate their game. A new generation of force has arrived. Join the Republic and experience the power of ROG Strix."
Specifications:
Specs of the StrixGTX 1080 are: –
GPU
GeForce GTX 1080
CUDA Cores
2560
VRAM
8GB GDDR5
Bus Interface
256 bit
Core Clock
OC Mode – Boost Clock : 1835 MHz,

Base Clock : 1695 MHz

Gaming Mode – Boost Clock : 1809 MHz,

Base Clock : 1670 MHz

Memory Clock
10010MHz
PCI Express
3.0
Display Outputs
2x Display Port 1.4

2x HDMI 2.0b

1x DVI-D

Multi Display
Quad Display
Power Connectors
8-pin, 6-pin
DirectX
12 API feature level 12_1
OpenGL
4.5
Cooling Solution
Tripple Fan
Slot Size
Dual
SLI
SLI Supported
Dimensions
11.73 " x 5.28 " x 1.57 " Inch (29.8 x 13.4 x4 CM)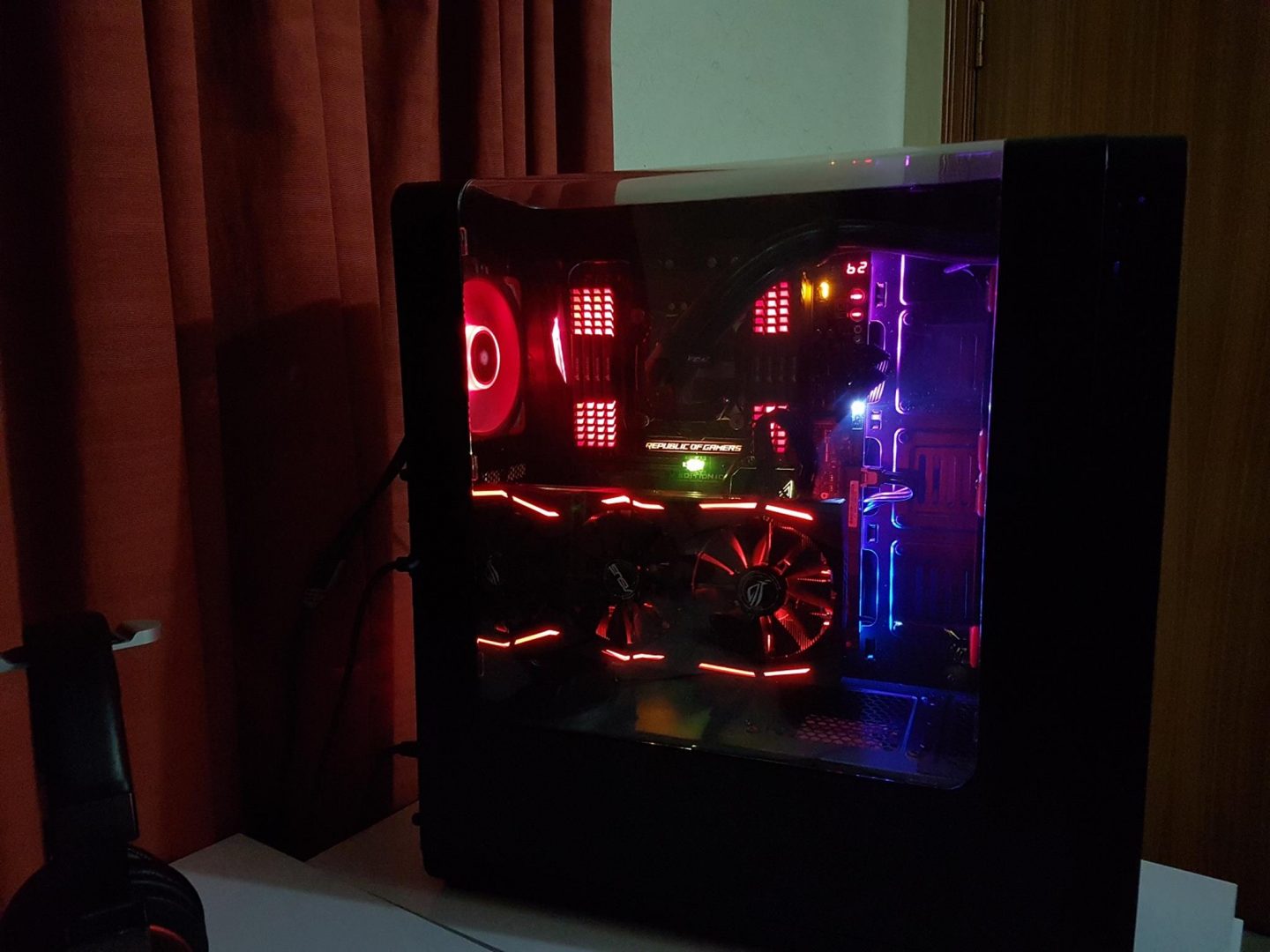 Packaging:
The card comes in traditional Asus Strix scheme. Strix is written in multiple colours to signify the RGB LED lighting on the card. AURA RGB Lighting is printed on the bottom left side. Card's pic is printed on the top side spanning to the centre. Salient features of Pascal architecture like ANSEL, Game Works are printed on the right bottom. The green colour is present to signify the Nvidia's colour.
The backside of the box has all the important features highlighted. We've info on DirectCU-III cooling, Auto-Extreme Technology, AURA RGB Lighting, Asus Fan Connect feature, VR Ready HDMI ports, GPU Tweak-II and warranty info. The card comes with Asus 3 years warranty.
There is another cardboard box inside the main packing box with Strix printed in white colour on it.
The card itself is wrapped in an antistatic sheet and placed inside a foam for protection during shipping. Accessories are included in a nice cardboard box with Asus In Search of Incredible is printed in gold colour.
Accessories include: –
2 ROG Cable ties
Dual 6-pin to 9-pin adapter
Driver Disk
This card has the most unique and stylish cooler shroud than other brands in the market. The cooler shroud is made of plastic. Top and bottom cutouts on the cooler have LEDs on them which can be controlled with AURA Graphics Card software available on Asus website. The Central fan has ASUS brand name printed in white colour on its fan hub whereas the other two fans have ROG Eye printed on the fan hub. With the curves, edges grooves Asus not only has able to maintain the typical Strix looks it is known for but has given the user what could be described as one of the most stunning design. I would love to show this design in my build by mounting the card in a vertical orientation and Thermaltake's View 27 enabled me to do just that. Cooler deserves to be shown off.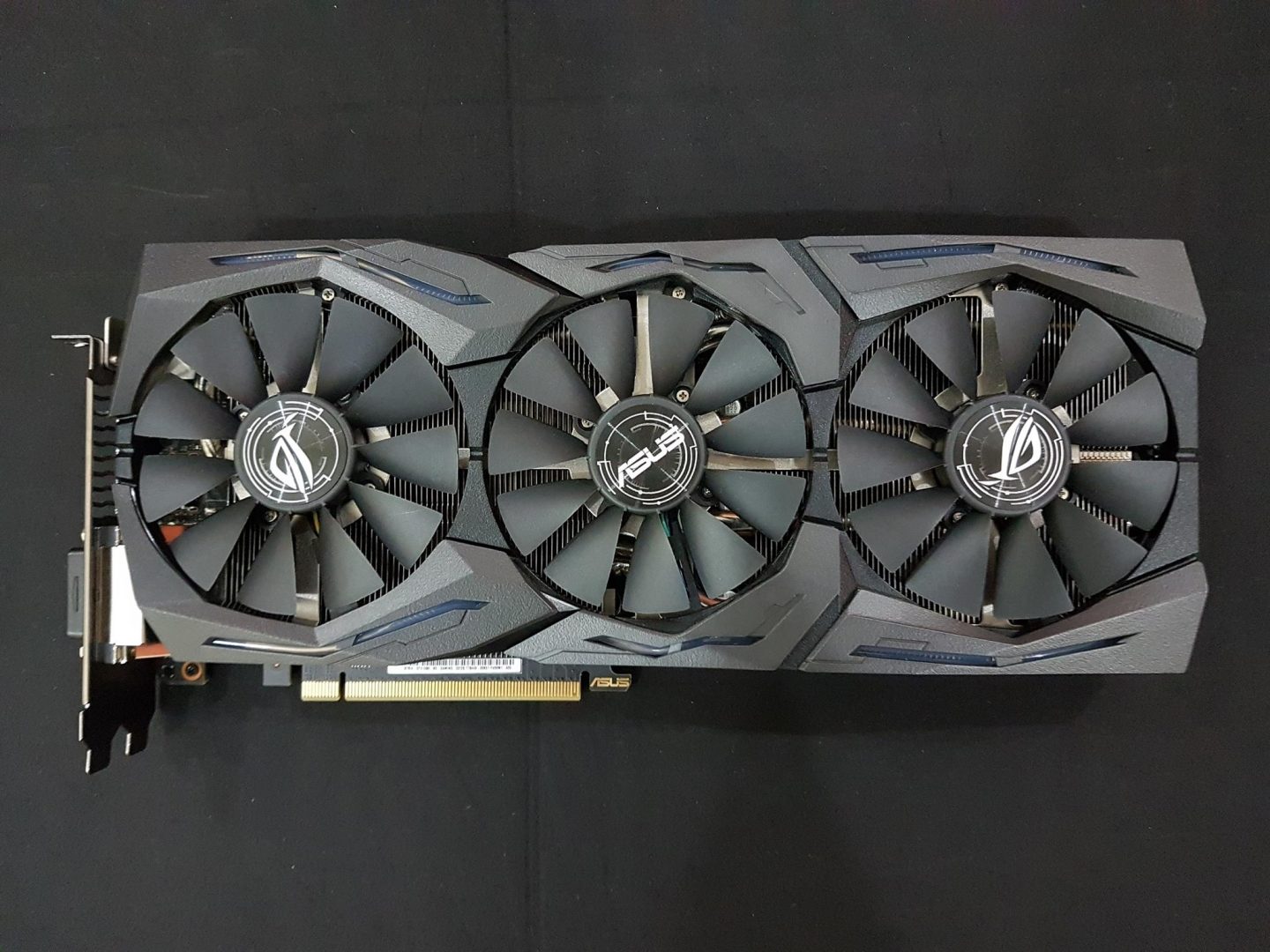 Card features Asus DirectCU-III cooling solution with patented wing-blade design fans. This ensures the maximum air flow with 30% cooler and 3 times quieter performance. DirectCU-III features direct contact between heat pipes and the GPU to ensure effective heat dissipation. The cooler has two fin stacks with 5 heat pipes. The heatsink on the GPU has 5 heat pipes taking the heat away from the GPU. Second heatsink or fin stack is connected with it by 4 heat pipes.
We've three 90mm fans with wing-blade design pouring fresh air on the fin stacks. This design enables to have 105% more static pressure on the edges of the blades hence it can create more pressure on the heat sink while pushing the air through them. Card features 0dB on the fans. They will not turn up unless GPU hit 60C or more.
Cooler shroud and fin stack covers the entire PCB for effective cooling and believes me this has paid off. Check the thermals later in the review.
Looking from the top there is an 8-pin and 6-pin power connectors to power this card. Total power draw of the card is 300W. We've beautiful ROG Eye followed by REPUBLIC OF GAMERS text which illuminates to give cool look while inside the chassis (in horizontal orientation). We can see two fin stacks clearly, the PCB is in black colour, Strix is printed on the left side of the shroud and it does not illuminate and SLI Fingers are present and card supports two-way bridging.
The backside of the card has a stylish backplate on it. It has printed lines in a pattern to signify Strix concept. We've large size ROG Eye in white background. This section is implemented with RGB LED and really adds to the cool looks of the card when in use. We can see 8-pin and 6-pin power connectors. There is what seems to be soldered overclocking tweaking points though not labelled right next to the power connectors. One of the screws on the GPU bracket is covered with a white sticker. Peeling or tearing that would void the warranty.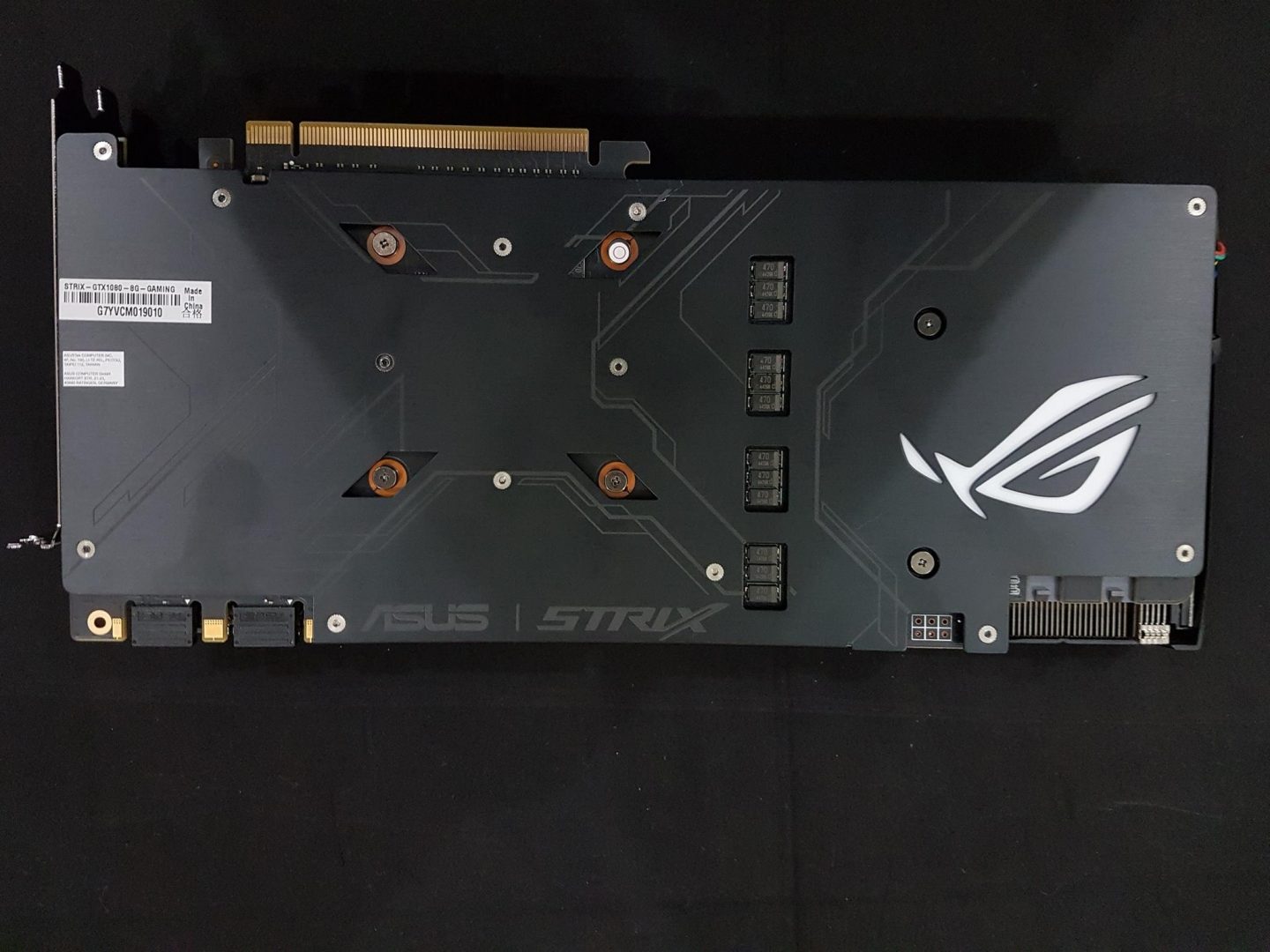 Card features 8+2 Power Phases employing Super Power Alloy II components to ensure efficiency, less power loss, and improved thermal levels as compared to DicrectCU-II cooling. The card comes from their fully automated production line which Asus refers to as Auto-Extreme Technology. Asus is the world's first company to fully automate their production/assembly lines hence eliminating the human error should there be any yet not compromising on the quality aspect and still maintains and implements stringent quality points. Asus claims this process to be environmentally safe, eliminating harsh chemicals and reducing power consumption by 50%. Now we have a flux-free production with a smooth circuit board. Result speaks for itself. PCB coming off Auto-Extreme Technology gives smoother looks than any other.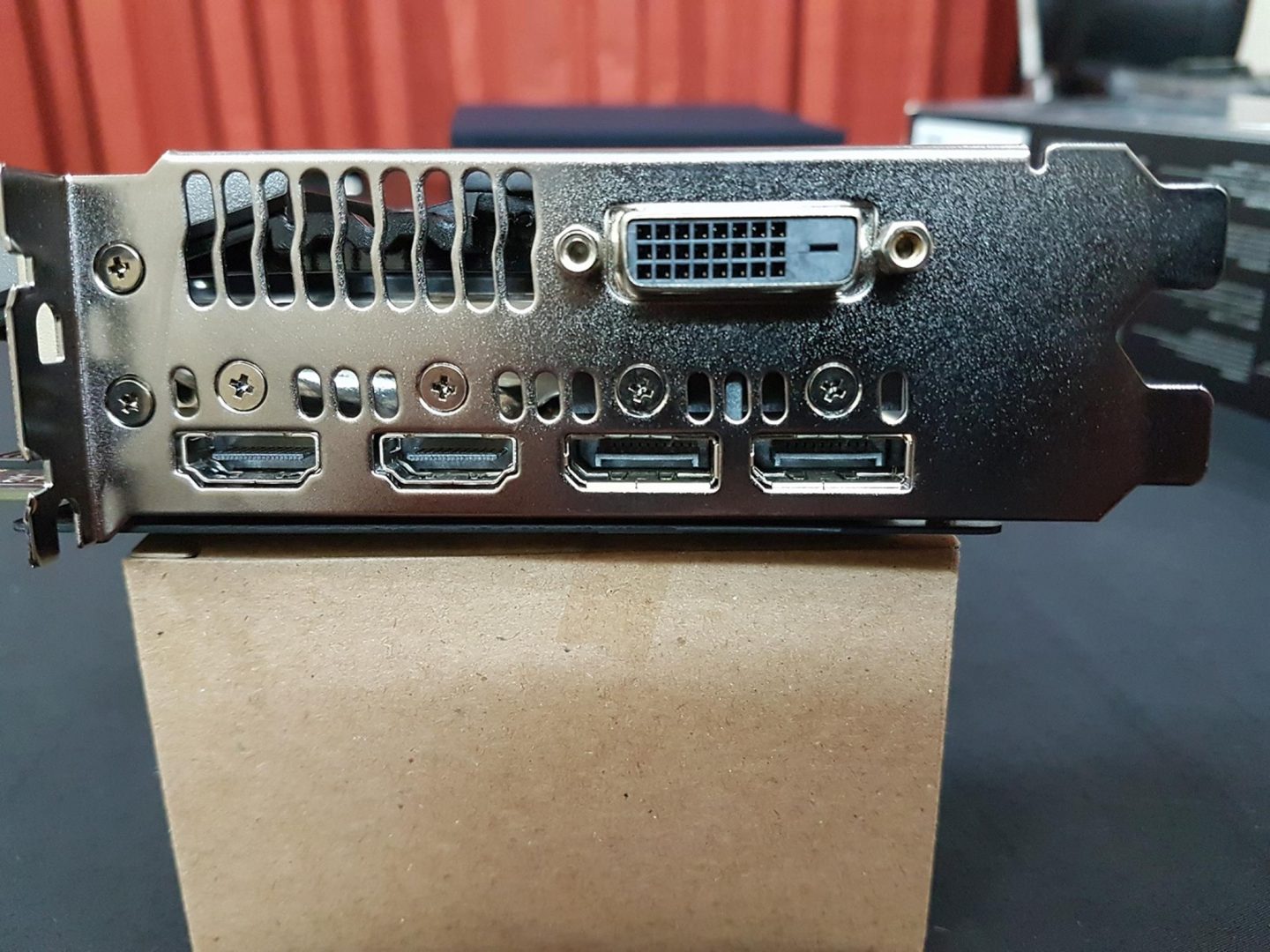 The backside of the card features two HDMI 2.0b ports which are Asus way of implementing the VR Support in their cards. I found this approach to be more user-friendly than implementing the HDMI ports on the front side of the card. We've two DP 1.4 ports and one DVI-D port. The card has support for up to four displays. It supports HDCP as well.
The front side of the cooler has something that is yet to be seen on other designs. We've two 4-pin fan headers on the front side. The idea is simple. Connect the fans closer to the cards and control them based on the GPU temperature. Asus has named it Asus FanConnect. On the left side of the headers, we've LED and Fan power headers. The cooler shroud has vents from the front side to ensure the effective heat dissipation.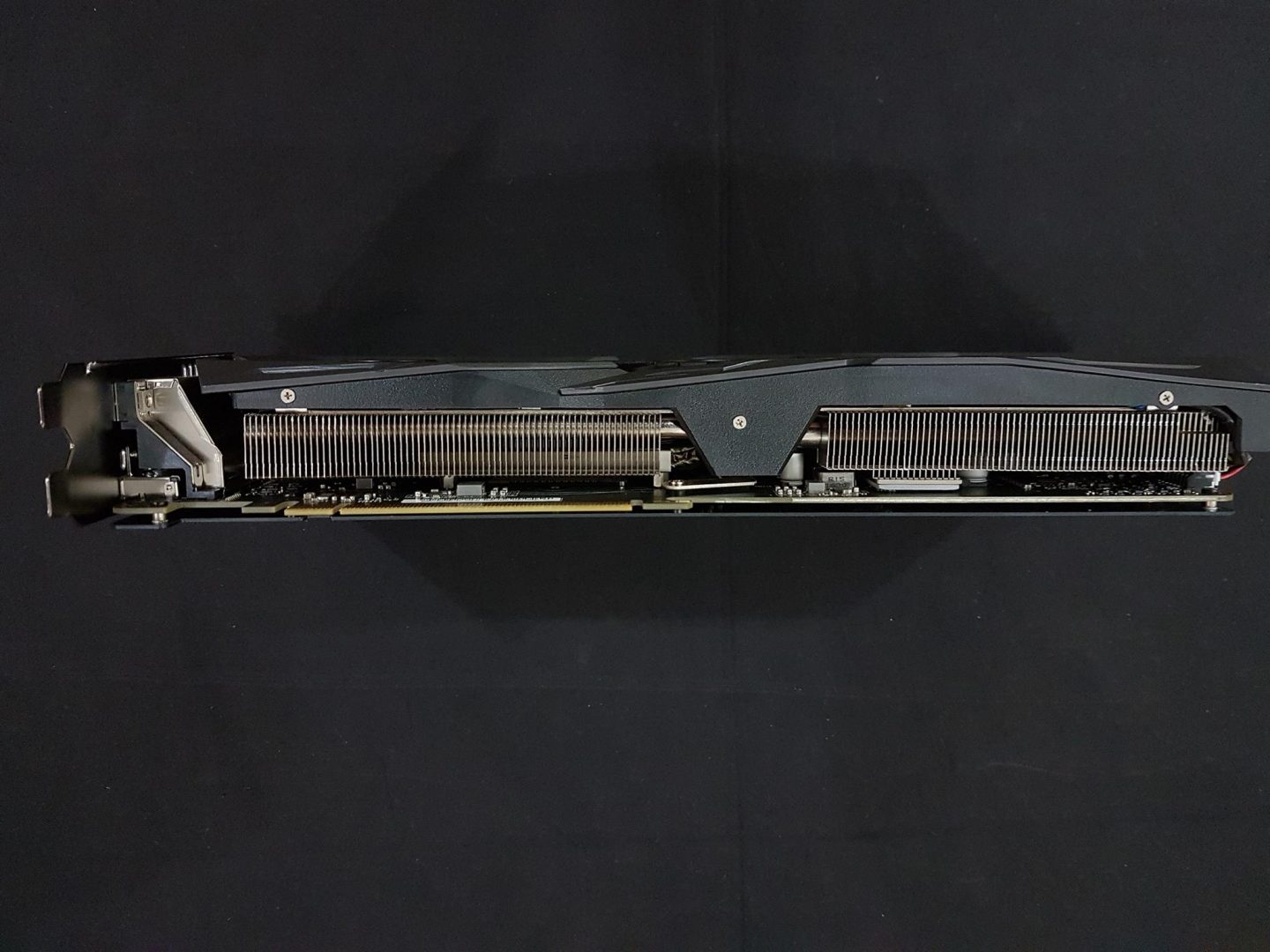 The bottom side of the card clearly shows the two fin stacks on the cooler. Grey colour thermal pads have been used on the possible point of contacts between PCB and the cooler.
AURA RGB Lighting
One of the unique features on this card is the RGB Lighting. Asus calls it AURA RGB Lighting. Recent motherboards from Asus are featuring RGB header and giving the users complete solution to mix and match the lighting in their chassis coming from the motherboards. AURA software has been designed to give comprehensive range of options for lighting control.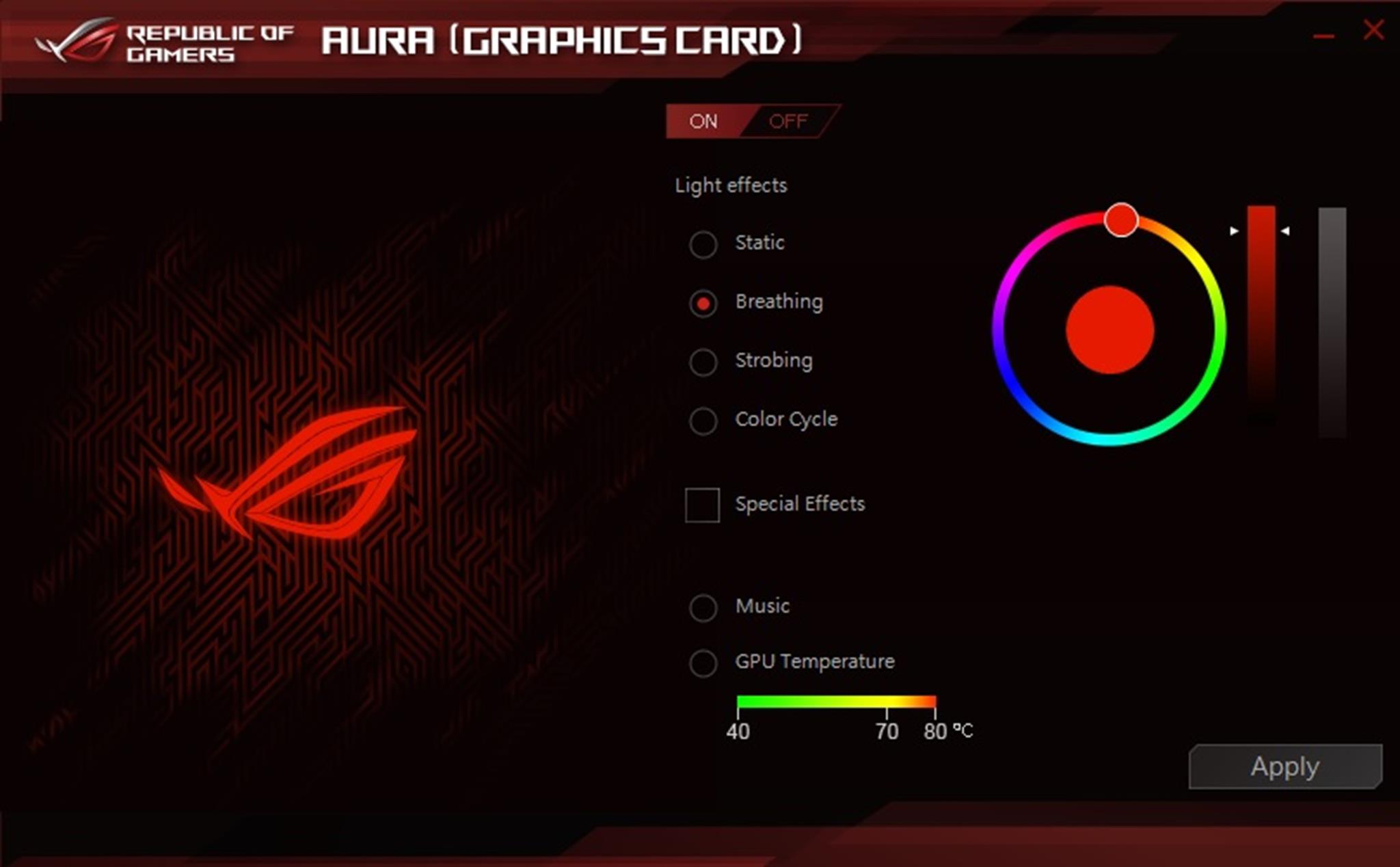 This card also features the AURA RGB Lighting. We've effective three RGB zones on this card. One on the backplate, other on the top side of the ROG Eye followed by the text REPUBLIC OF THE GAMERS and on the front side of the cooler's shroud. LEDs can be controlled using AURA Graphics Card software. Once can have following colour effects:
Static [Always on]
Breathing
Strobing
Color Cycle
Music Effect
GPU Temperature
AURA Graphics Software was separate from AURA Software for the motherboards. Asus has recently released an updated version enabling the user to control the LED on the motherboards and graphics cards from a single interface.
Test System and Methodology
Test System
Following test system was used to measure the performance of the card.
Asus Rampage V Edition 10
Intel i7 6850k [Stock]
Corsair Vengeance 64 gigs @ 2666MHz
Samsung 840 EVO 250GB [for OS] /1TB SSD [For Steam Games]
WD Black 6TB [For Origin and Uplay games]
Thermaltake Tough Power DPS-G RGB 750W PSU
Windows 10 x64 Professional Edition
Graphics Drivers used are 375.50
Methodology
Cards' performance was first tested at stock using benchmark software and games. Following stress tests were conducted:
3dMark Time Spy 1.0
3dMark Fire Strike 1.1
3dMark Fire Strike Extreme 1.1
3dMark Fire Strike Ultra 1.1
Following games were tested:
Battlefield 1
Battlefield 4
Metro Last Light Redux
Grand Theft Auto V
Call of Duty: Black Ops 3
Far Cry 4
Assassin's Creed Syndicate
Doom
Rise of the Tomb Raider
The Witcher 3
Far Cry Primal
Games were tested on 1080p and 1440p on Ultra settings. Asus GPUTweak-II was used to overclock and monitor the clocks and temps. Let's get started with bench scores.
Performance and Benchmarks
3d Mark
These are graphics scores, not overall scores as graphics scores should be focused while checking the performance of the graphics card. Overall score is impacted by the Physics score by CPU.
Doom
Battlefield 1
Battlefield 1 was tested in DX11 and DX12 modes. Result in DX11 is as under:

DX12 result is as under:
 Battlefield 4
Grand Theft Auto – V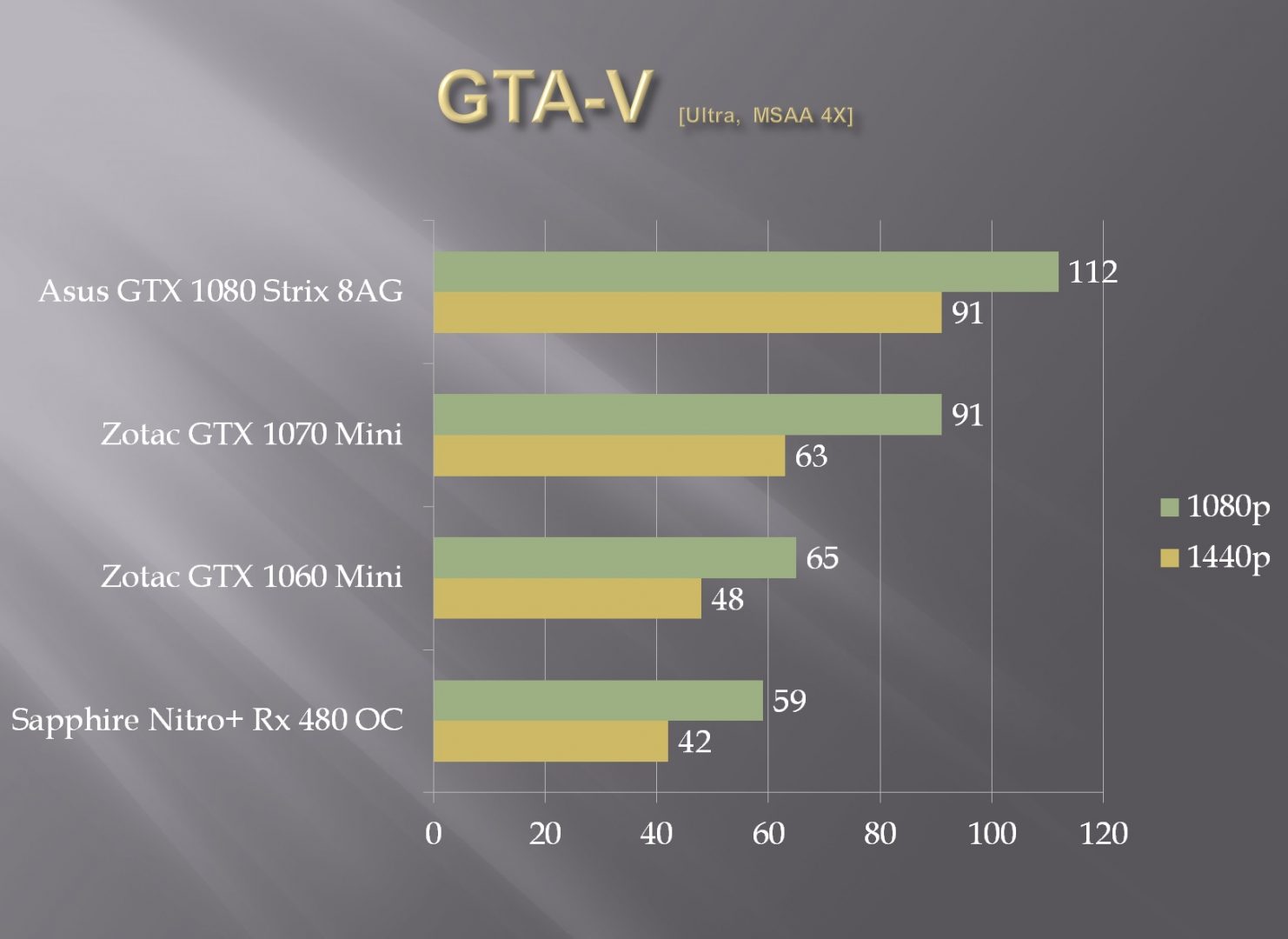 Far Cry 4
 Call of Duty: Black Ops 3
 Metro Last Light Redux
 Assassin's Creed Syndicate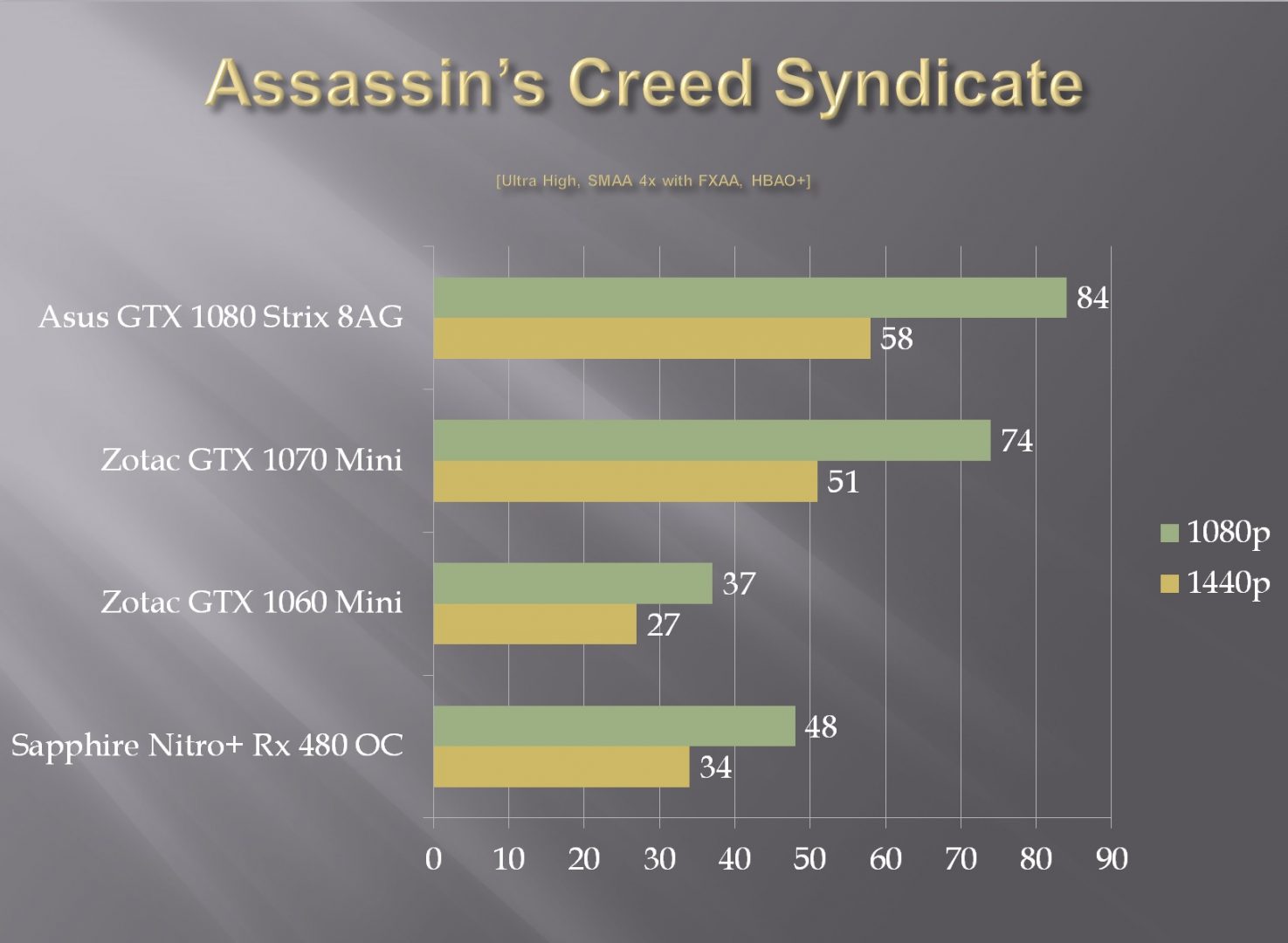 The Witcher 3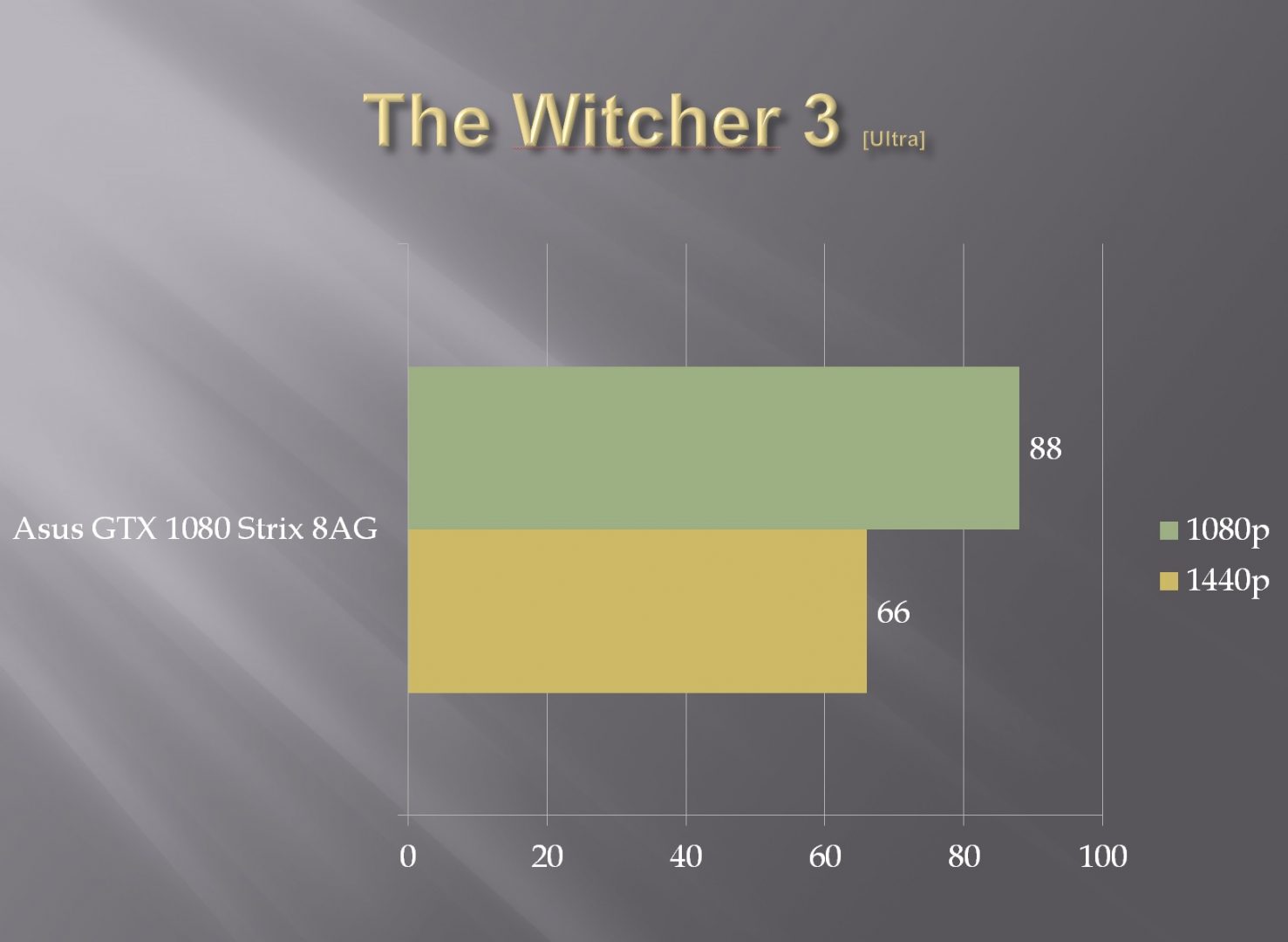 Far Cry Primal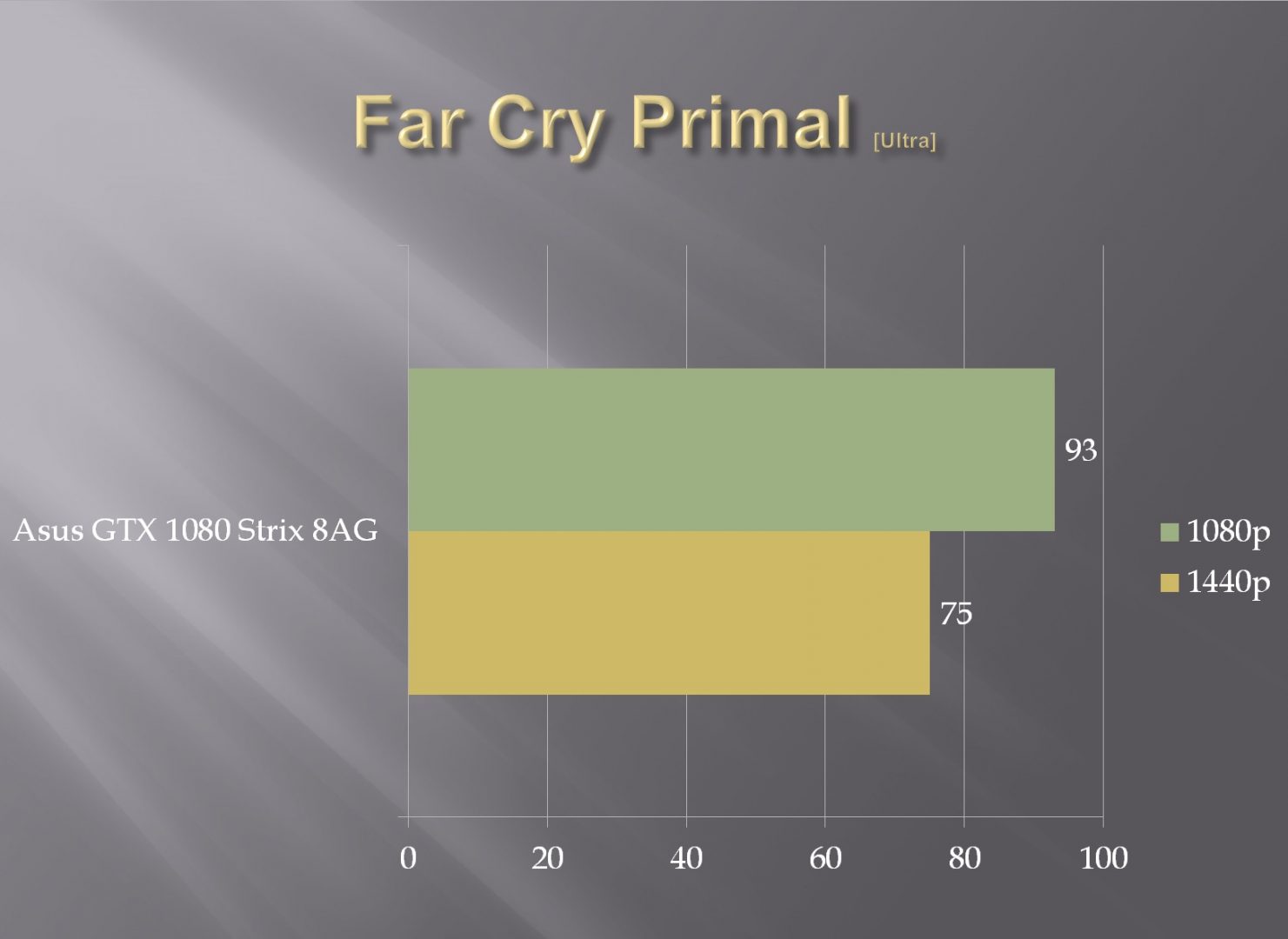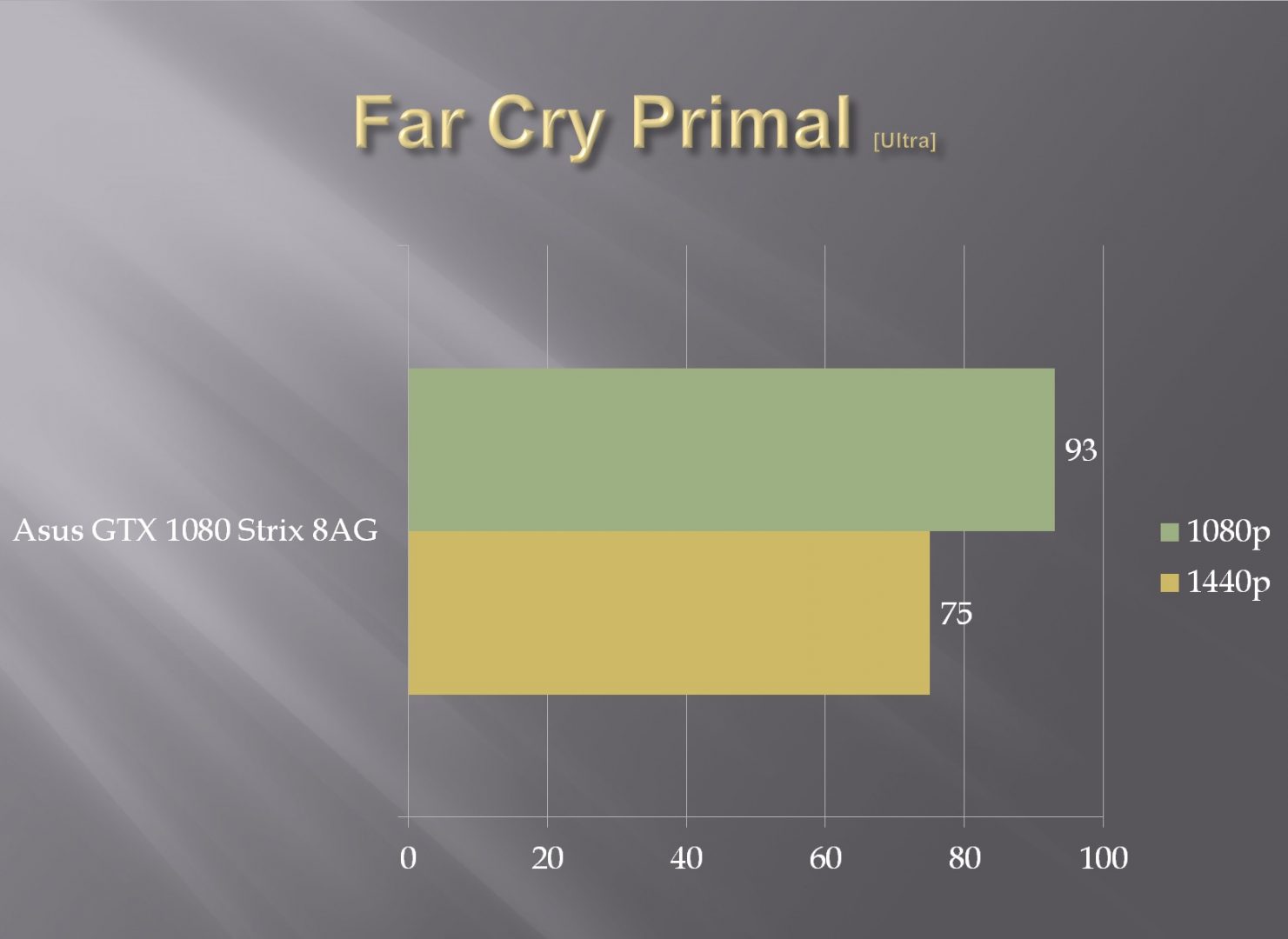 Rise of the Tomb Raider
This game was tested in DX11 and DX12 modes. Result in DX11 is as under: –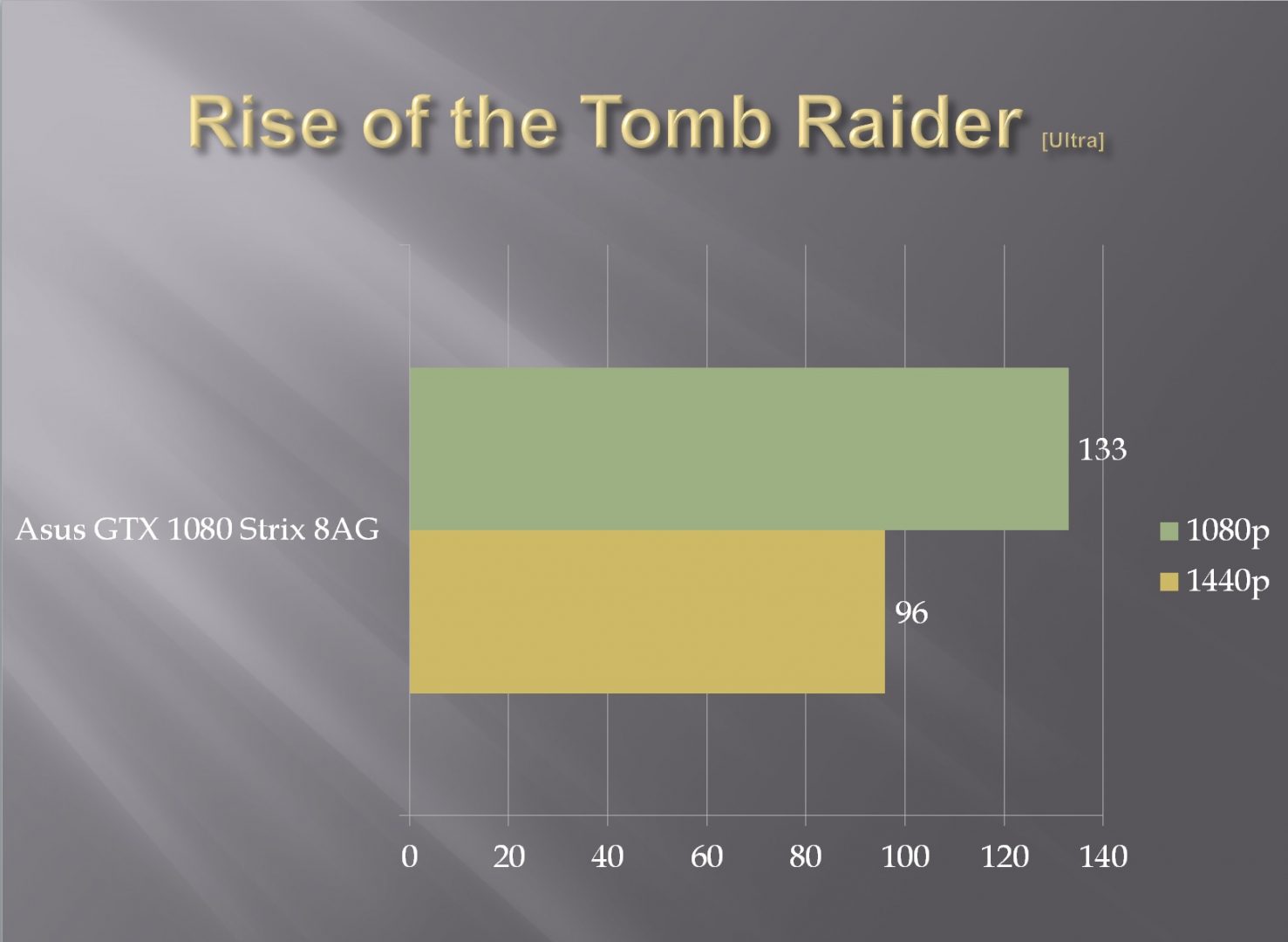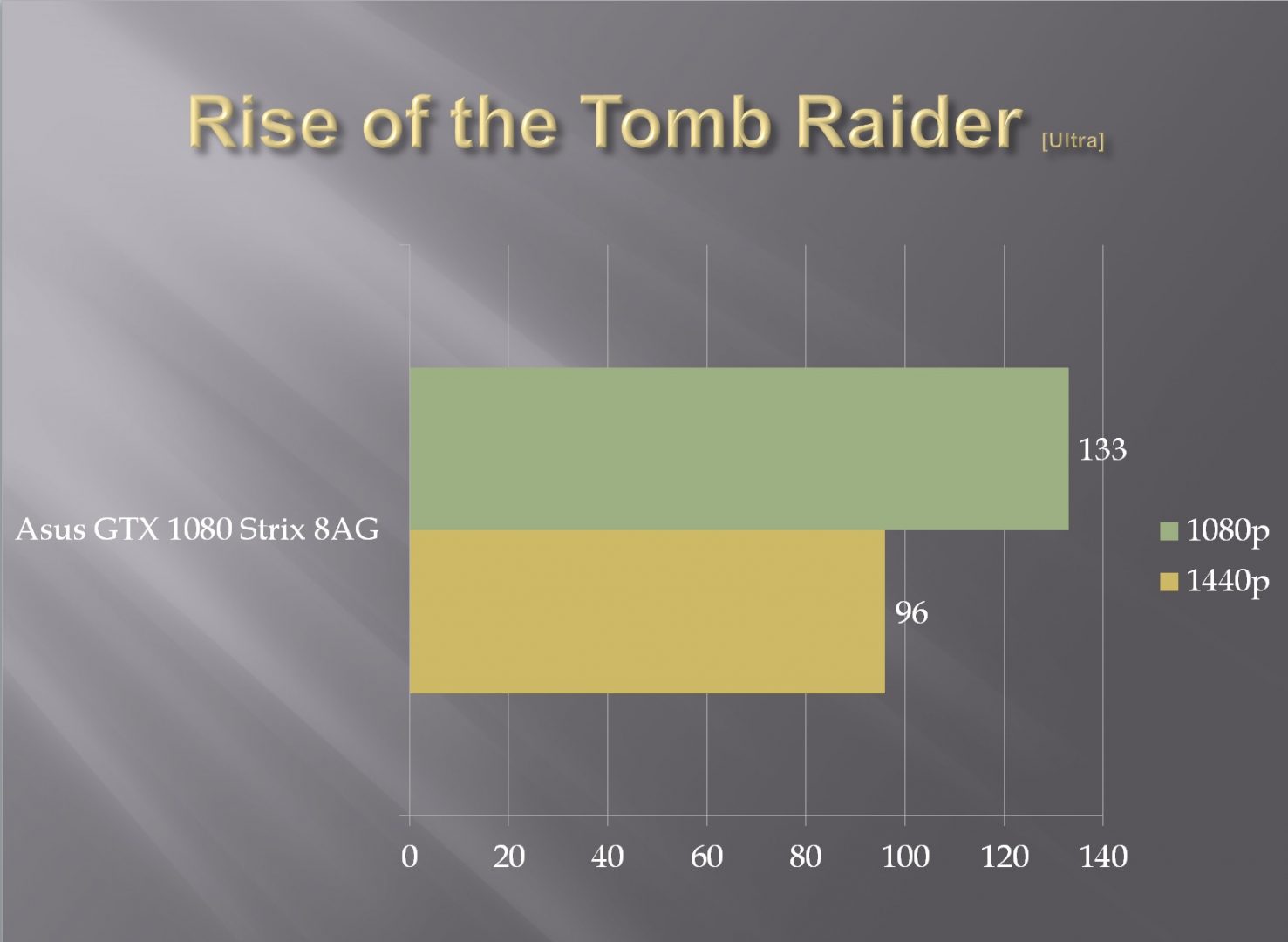 DX12 result is as under:
Overclocking, Thermals and Power
GPU Tweak-II is comprehensive software to monitor and control the graphics card. It was used to overclock the card.
| | |
| --- | --- |
| Boost clock on Stock | 1848MHz |
| Temperature on Idle | 32C |
| Temperature on Load | 68C |
Card was OCed to +200MHz on Core clock and +250MHz on Memory clock with 50% voltage boost. Max boost clock was 2063MHz.
| | |
| --- | --- |
| Boost clock with OC | 2063 MHz |
| Temperature on Idle | 41C |
| Temperature on Load | 71C |
Thermals
During my complete testing, fans were run on default settings. I did not change the fan curve to bring the temps down as temps above are still very good for this card.UNI-T UT350 Series Sound Level Meter was used to check the dB and 39 dB was the reading with card under load on default fan curve. Damn impressive number. Asus has definitely deliver with their DicrectCU-III cooling solution.
Power Draw
On stock, maximum power drawn under load was 410W as recorded by AX1200i software. With overclock, maximum power draw was 430W.
Overclocking Results
To check the performance gains following bench software and game were used:
Fire Strike 1.1
Time Spy 1.0
Battle Field 4
3d Mark
There is a 4.78% gain in graphics score for Fire Strike 1.0 and 8.06% gain in graphics score for Time Spy 1.0 which is quite good as the overclock was stable.
Battle Field 4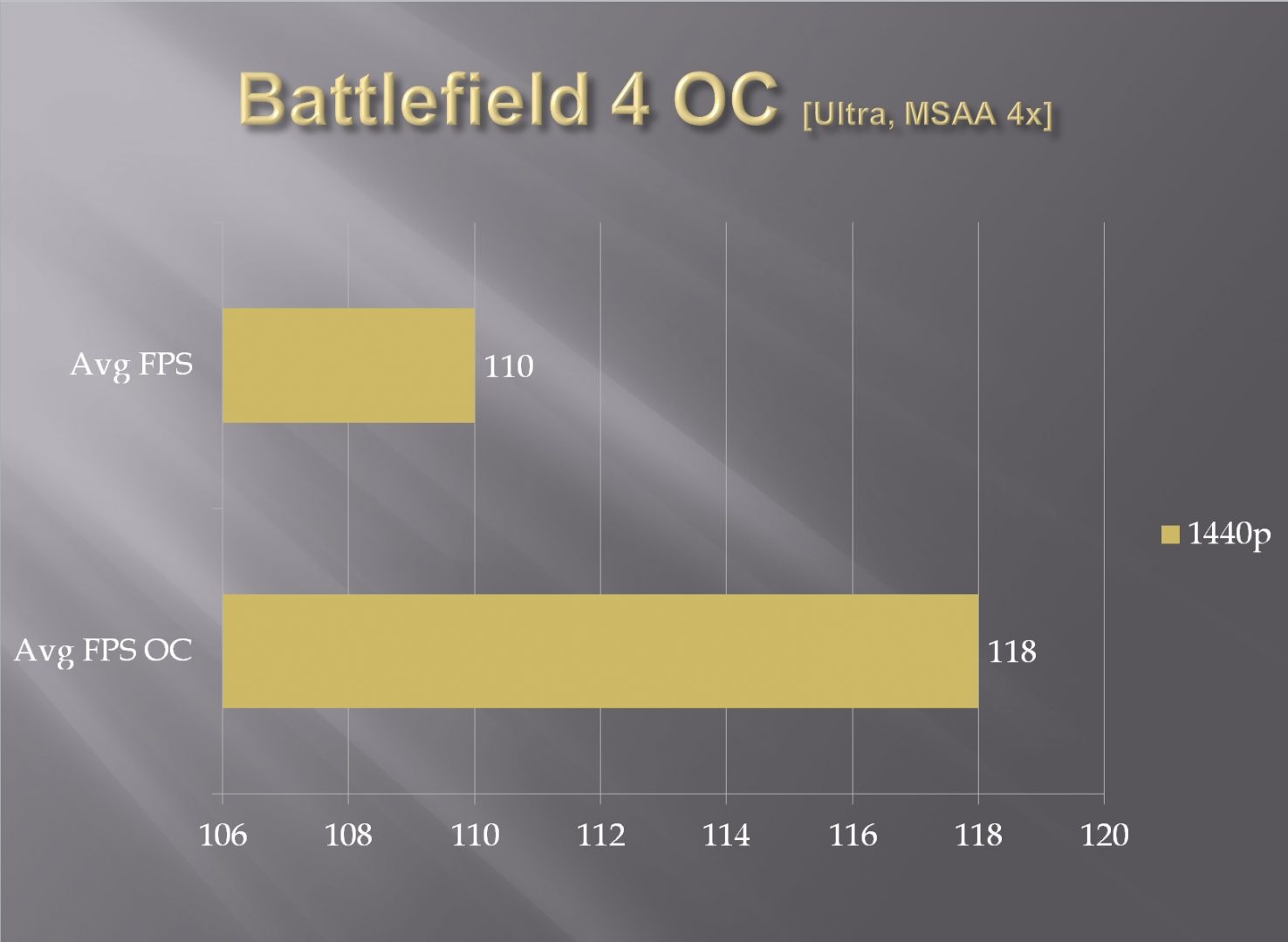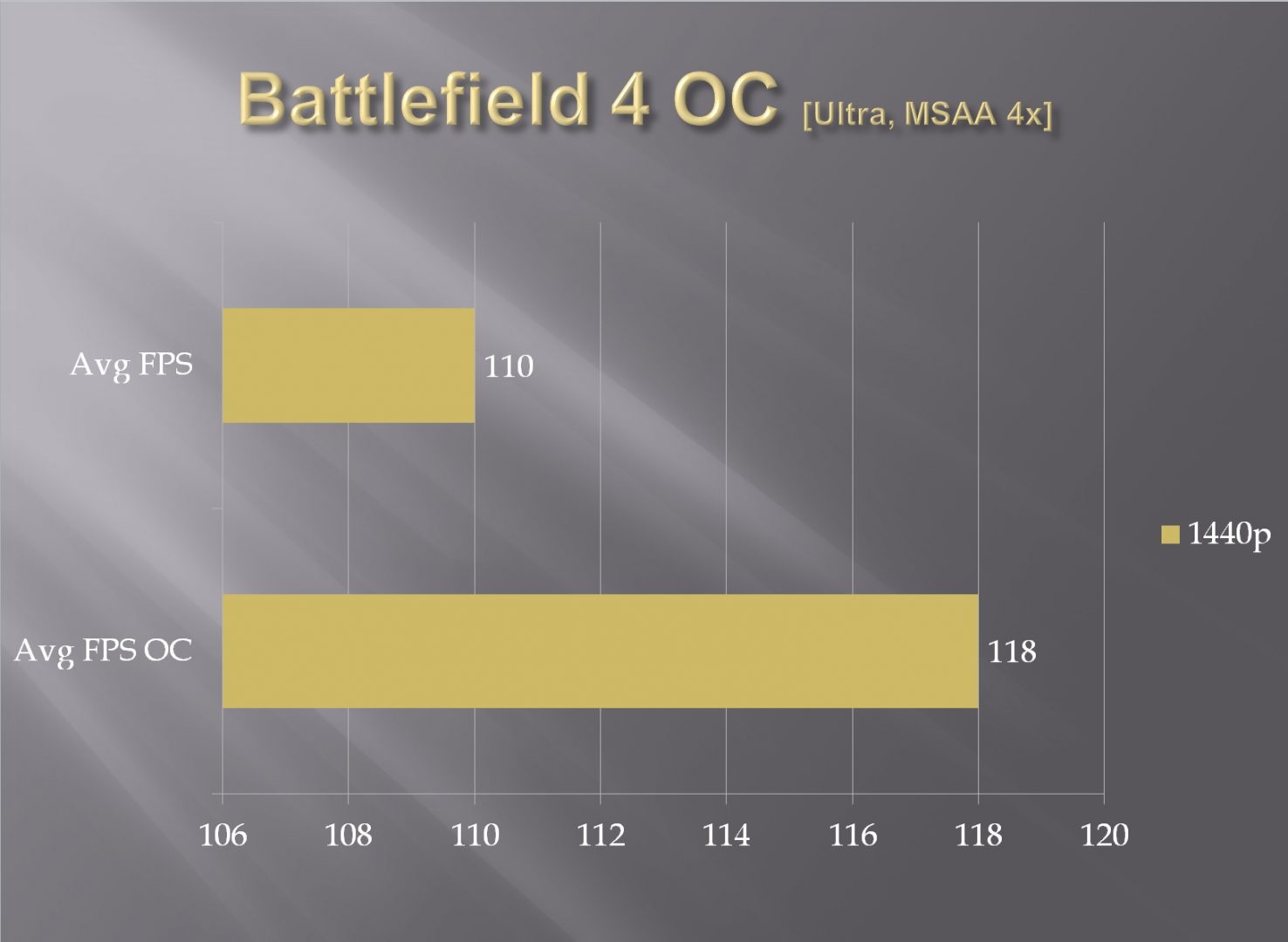 Gain of 8 FPS with overclocking was achieved which represents approx. 7.27% performance gain.
GPU-TweakII
Asus has designed comprehensive software to control and monitor their graphics cards. This software is known as GPU-Tweak-II. It has typical red and black color theme on it which represents ROG traditional colors. Though in recent times, ROG has taken a deviation from the Red/Black combo and is setting yet another tradition when it comes to colors on the brand.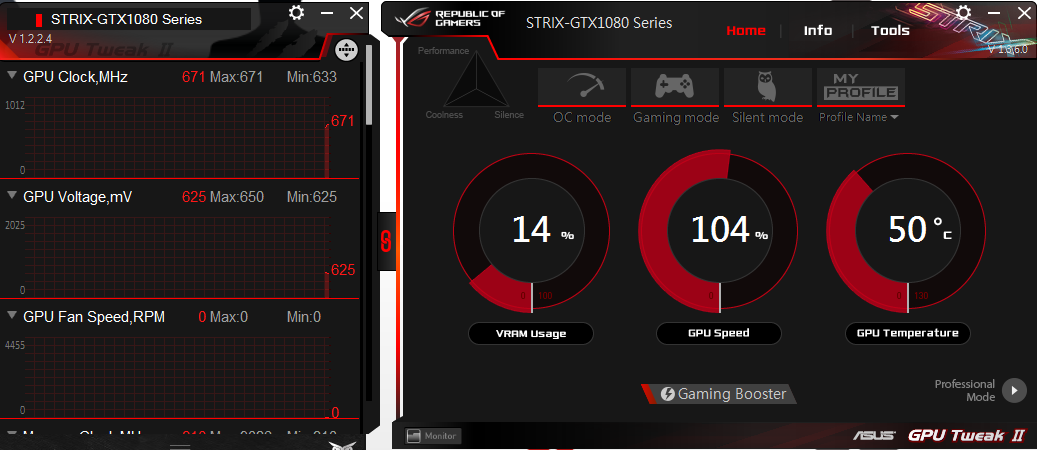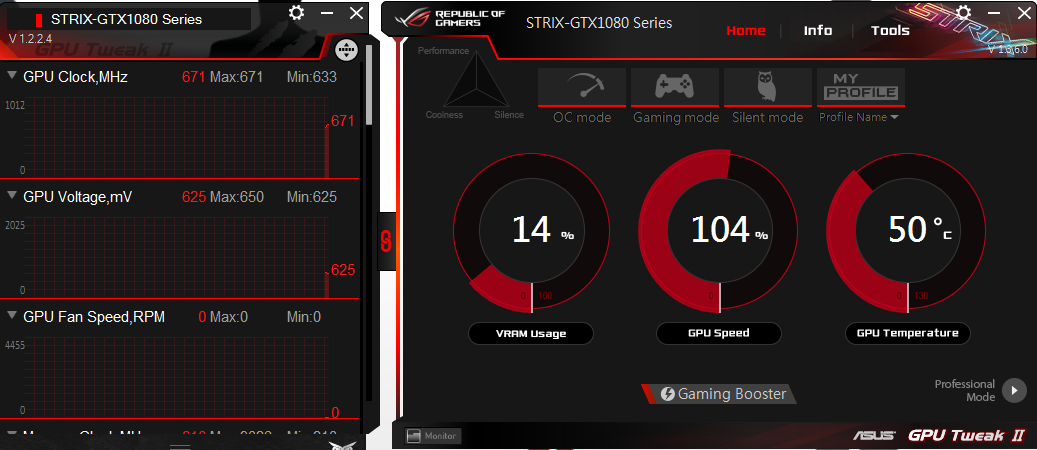 Main window of the software shows three main indicators which are: –
VRAM Usage
GPU Speed
Temperature
Red bar on these circles show the corresponding value of the indicator. On top we have model no of the graphics card on the left side with three buttons to its right, Home, Info and Tools.
Home button is default and can be clicked at any time to bring the main window back on the screen. Info button will show the Graphics Cards specs with built-in GPU-Z implementation. Tools button has Game XSplit Game Caster and AURA Graphics Card buttons to launch the corresponding app.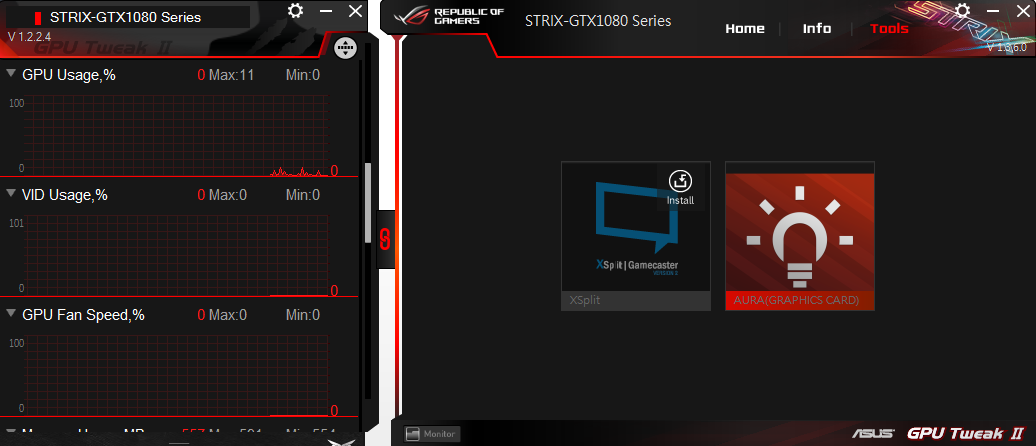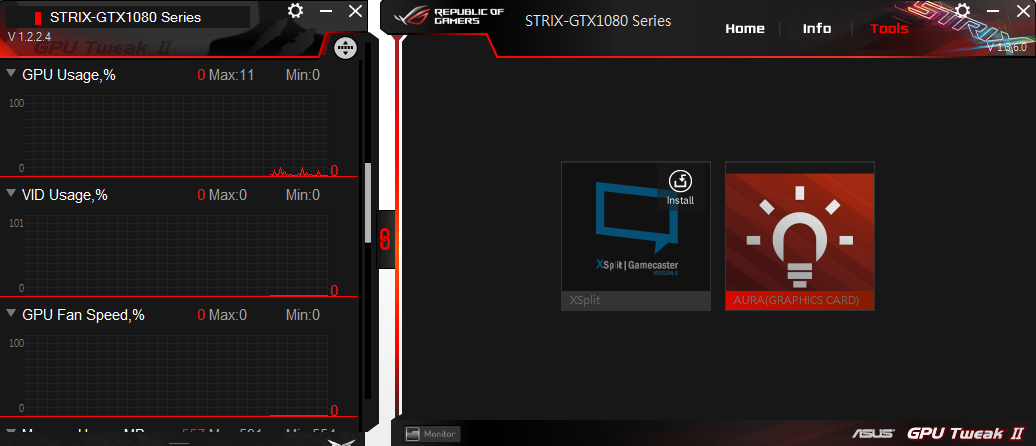 Below the model no, we've a triangle featuring the blend of most important factors that end user would want. They are Performance, Coolness, and Silence. A perfect combination of these three is what Strix is all about. One can have utmost performance with exceptional cooling yet silent operations. Our card has boosted to 2063MHz at just 40dB sound on the fans with 67C temps clearly indicating what Asus has achieved here. Red color span within triangle would vary with each profile showing how the card would manage all three with respective profile.
Next we have 4 profiles which are OC Mode, Gaming Mode, Silent Mode and My Profile. Gaming is a default mode with base clock of 1670Mhz and boost clock of 1809MHz. OC Mode will increase the Power factor of the card and it has base clock of 1695MHz and boost clock of 1835MHz. My Profile will allow the user to create custom profile based on user's own settings. This can be done in Professional Mode where all the settings like Voltage Control, Power Level, Base Clock, Memory Clock, Fan Speed can be configured. Fan can be set on Auto or Custom fan curve.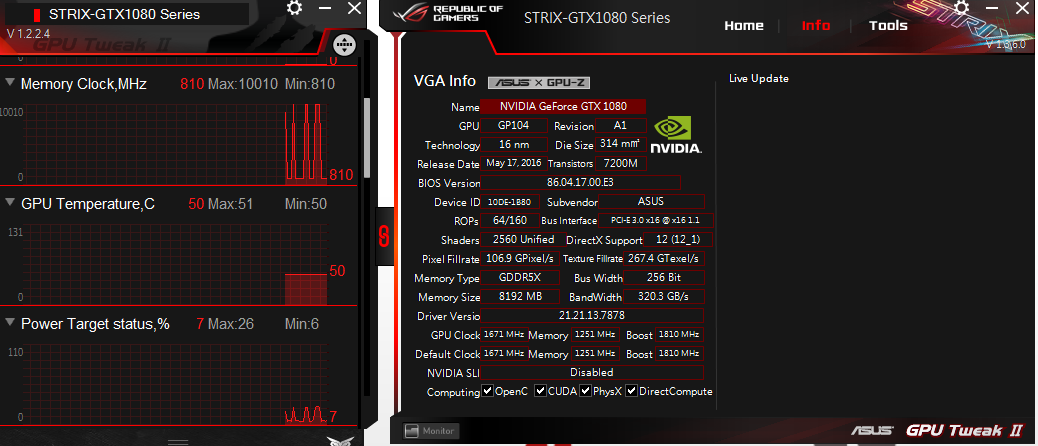 Monitoring window can be activated by clicking on the Monitoring button at the bottom left side of the main window. Monitoring window shows all the critical variables for monitoring. Values are mentioned in Min, Max and Current value is shown on the graph. User has the option to monitor only the desired variables. Monitoring window can be disconnected from main window by clicking once on the chain button between both windows.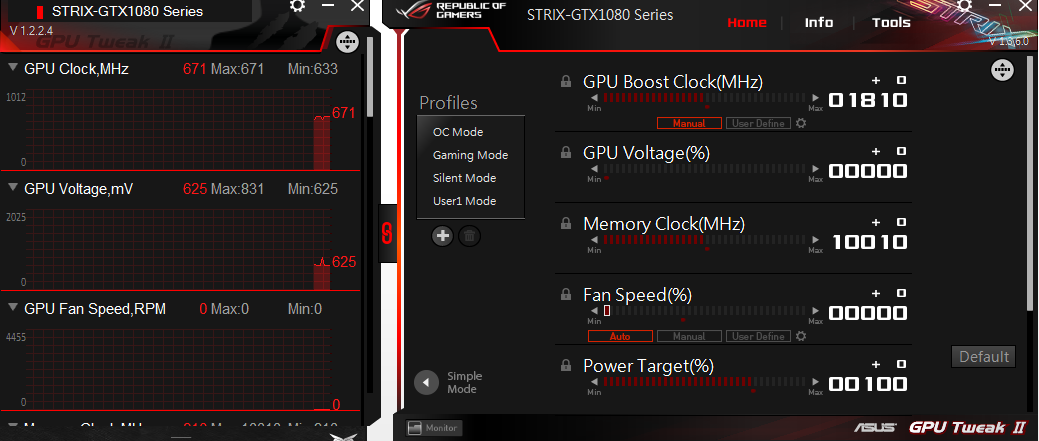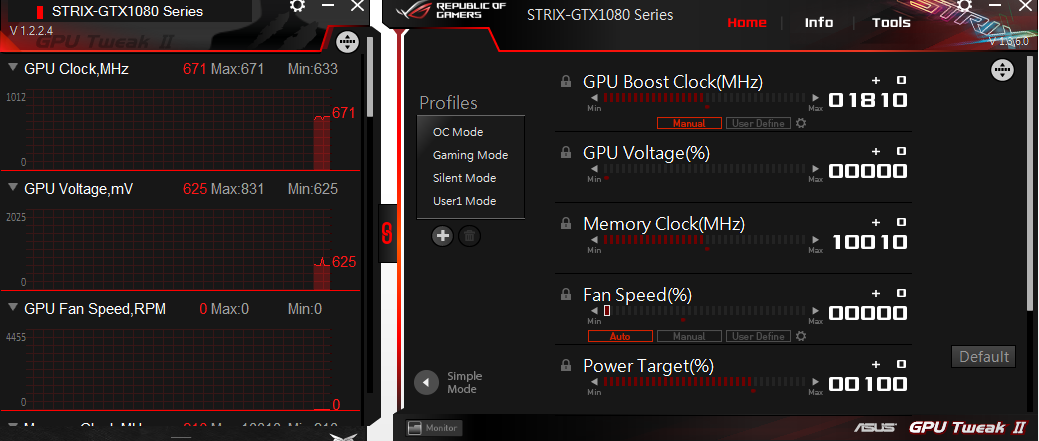 Gaming Booster option is at the bottom of the main window. Clicking this would open a new window. Here we've three options. Visual Effects, System Services, System Memory Defragmentation. Visual effects reduces the windows visual flares like animations, animated themes to reduce the performance hit these settings could have on the performance. System Services would allow to stop the not needed services to boost the performance. System memory defragmentation would help restore the wasted memory space and would boost the application handling.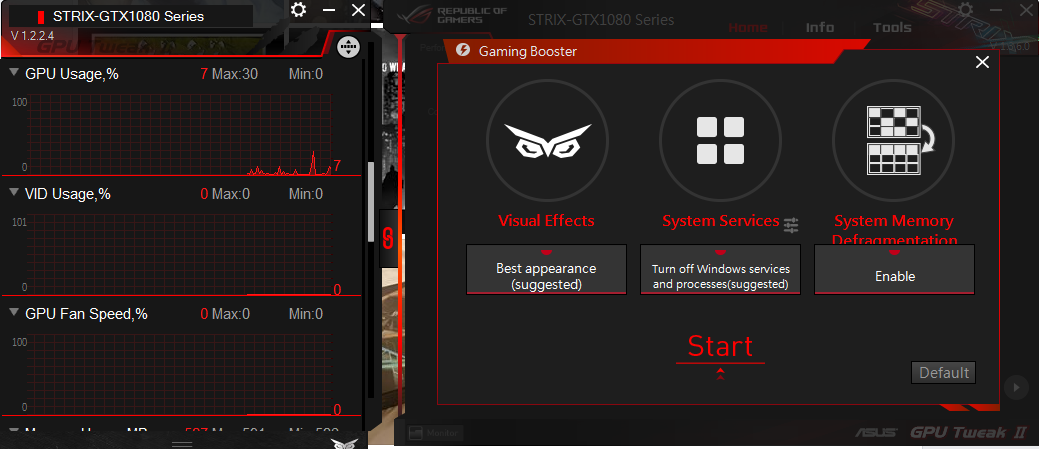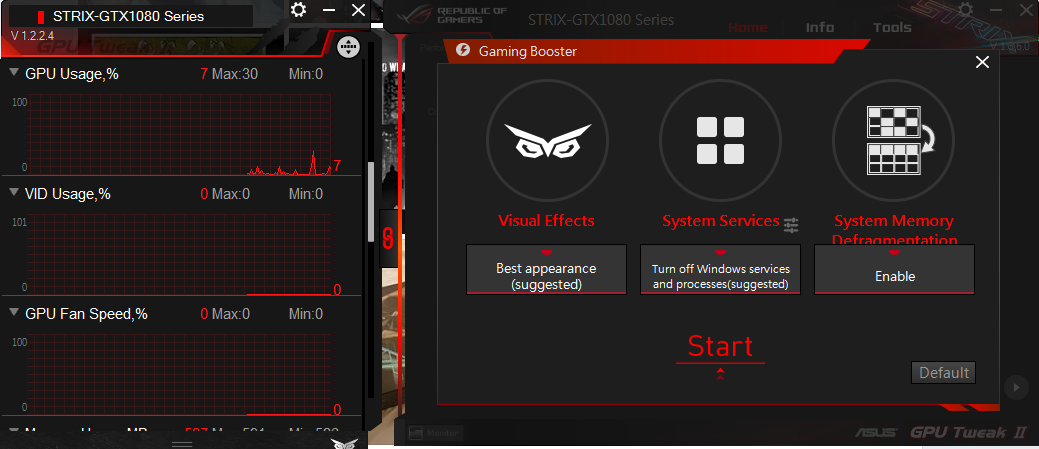 In crux, this software has everything, user would have dreamt of to monitor and control their graphics cards. Plus, interface is easy to understand and once, you have launched it, it will get you going.
Asus is known for manufacturing high-tech electronic components for mainstream gaming enthusiasts. Incorporating Strix in ROG lineup is a welcome addition. Take the design of their Strix cards, performance, cooling, everything speaks for itself. Asus ROG Strix lineup is an all in one solution for any gamer who is looking for performance packed graphics card for a daily driver.
Performance:
Performance wise, this card has delivered an excellent gaming experience. I've absolutely no complaint with it. Anything and everything which I've thrown at it, it has chewed it very well. I cranked up all the possible graphics settings to max and tested the card on 1080p and 1440p resolutions.  In just two games, it dipped below 60 FPS but adjusting the graphics settings a bit would help gain solid 60 FPS gameplay. With the good potential of overclocking, this card can bring up to 7% performance gain which is really handy if one wishes to play with totally maxed out settings on higher resolutions. Provision of two 4-pin fan headers and implementation of two HDMI ports on the IO is a real plus. Finally, users can control the speed of the fans based on the GPU temperatures independent of the CPU sensors, which is a plus.
Design:
The design of this card is something to speak of. The cooler shroud is stylish, well balanced, and has maintained a look which has been a tradition of Strix cards in the past. But, Asus has taken the design to a new level of innovation by incorporating the RGB LED lighting solution on the shroud and on the back plate. Lit up ROG Eye on the back plate is something very cool that we do not often see. Fan blades design blends nicely with shroud giving a uniform look. With such an aggressive and bold design of the cooler, the card is still 2 slot design which is really appreciable.
Value:
With $584.99, one would get a gaming card packed with performance punch needed for ultimate gaming experience for as high a resolution as 4k. For what it offers in this price range is too good for the gamer.
This card has everything in it what a gamer would need and ask for and there is no surprise if it has won our Performance award.