INTRODUCTION
Solidigm may not be a name you have heard of, but don't let that put you off. They seem to have hit the ground running with their lineup of SSDs and today, we are taking a look at the P44 Pro. Solidigm has been kind enough to send in a 1TB sample for today's review and we can't wait to see just how well this performs.
While Solidigm may not be as well known as other drives to consumers, they have done a great job making sure their drives are easily purchased from various retailers here in the UK. In due time, I would expect this company to be more well known at least here in the UK.
As SSD and Storage prices in general continue to fall, Solidigm seems to be aiming for the lower end of the pricing scale which is great to see. For pricing and availability, please check some of the links below.
Purchase the P44 Pro
Amazon UK – 1TB £67.99 / 2TB £109.98
SCAN UK – 1TB £69.98
 CLOSER LOOK
Solidigm has decided to not include a heatsink with their P44 Pro drive. This isn't really a big issue as most motherboards have their own heatsinks for M.2 drives now and if not, you can purchase an M.2 heatsink fairly cheaply these days.
On the side they are hoping will be in view is a sticker covering most of the drive. This is placed on top of all the chips on this drive. However, we will soon remove it and take a look at just what we have underneath.
The other side of the drive, as mentioned, has no chips on it. Here we can see the info on the drive, confirming it is a P44 Pro 1TB model.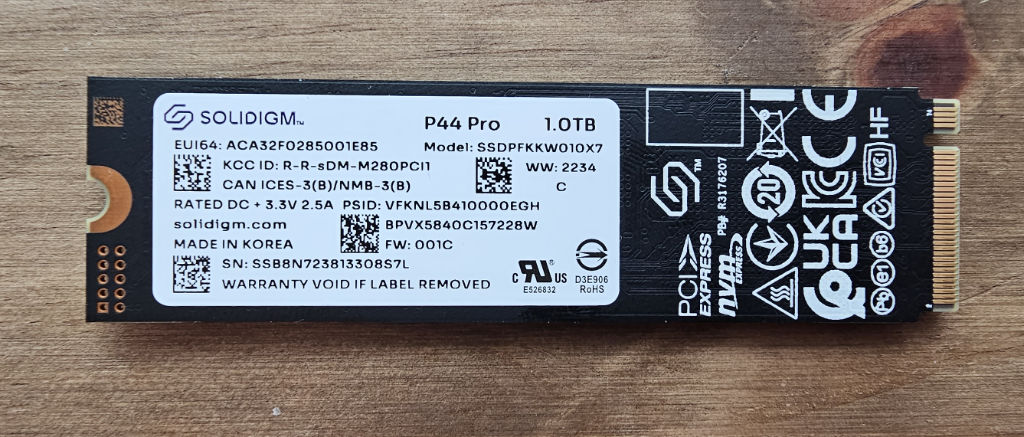 Solidigm has gone for the SK hynix triple on this drive. Yes, the controller, DRAM, and storage chips are all made by SK hynix.
The 1TB model is rated for read speeds of up to 7000 MB/s and write speeds of up to 6500 MB/s.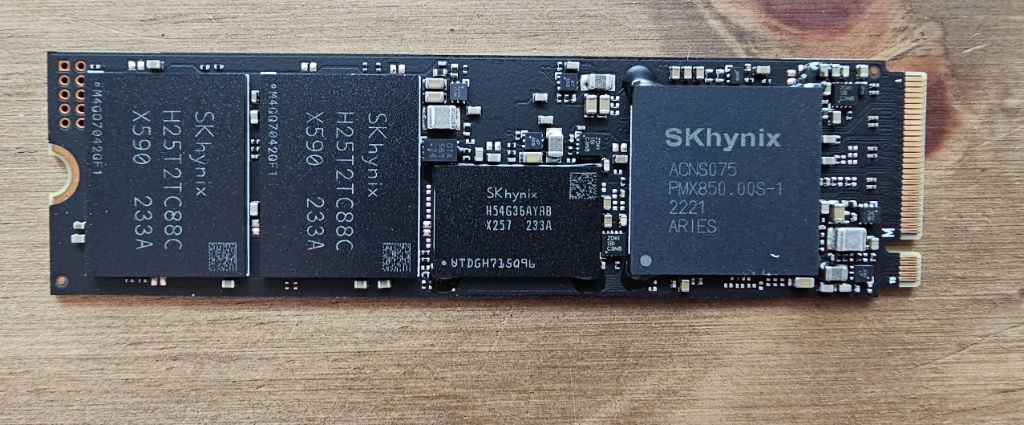 The controller is a SK hynix ACNS075 which is codenamed Aries. It is an 8-channel controller where each channel has a maximum transfer rate of 1600 MT/s. It is manufactured on a 12nm process and uses a quad-core Cortex-R5 architecture and also allows support for AES 226-bit encryption.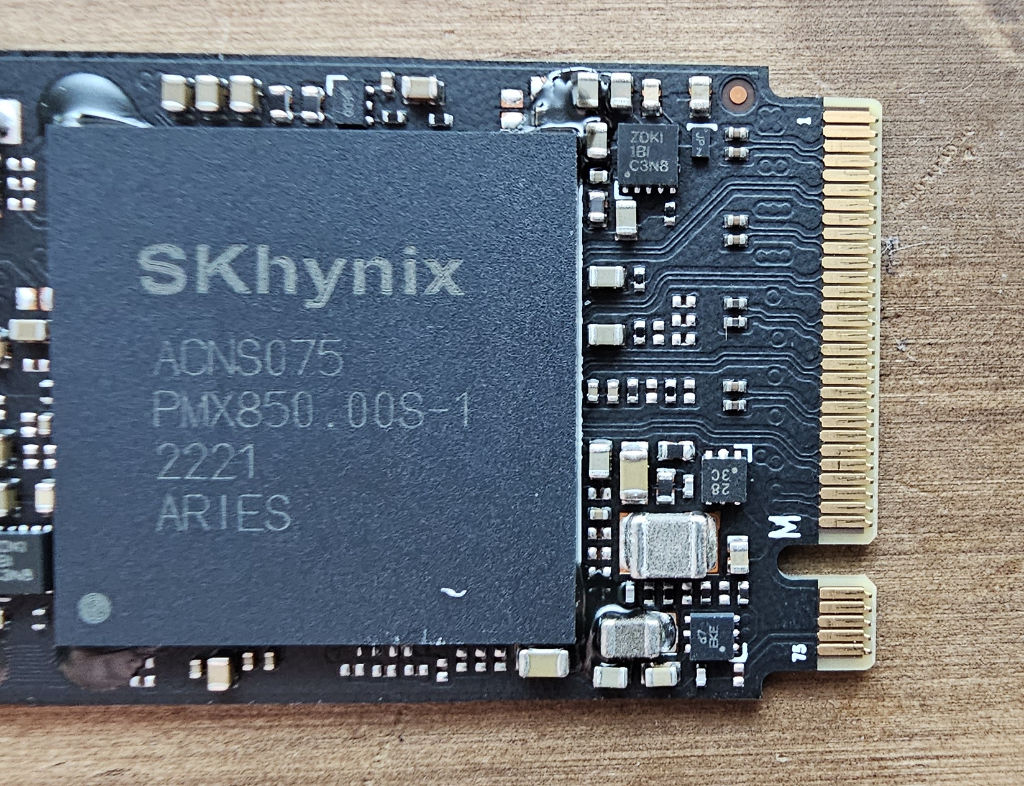 The DRAM is a 1GB LPDDR4-4266MHz chip which will allow for faster file transfers.
Solidigm has gone with 2x 512GB SK hynix H25T2TC88C 3D 176-layer chips. On the 2TB P44 Pro, you will notice there are 2x 1GB chips instead of 4x 512GB. This allows Solidigm to keep everything on one side of the PCB.
TEST SYSTEM AND PERFORMANCE
TEST SYSTEM
Motherboard – ASUS ROX Strix Z69-E Gaming WiFi
CPU – Intel 12600K
RAM – OCPC PISTA DDR5 5600Mhz 16GB (2x8GB)
SSD – Solidigm P44 Pro
Graphics – Zotac 3060
Power Supply – be quiet! Dark Power 12 750W
BENCHMARKS
To test the performance, I ran a few of the more standard benchmark programs used for testing storage devices.
AS SSD – Test the sequential or random read/write 

performance

 without using the cache. AS SSD Benchmark reads/writes a 1 GByte file as well as randomly chosen 4K blocks. Additionally, it performs the tests using 1 or 64 threads and determines the SSD's access time.
Anvil – Anvil's Storage Utilities is a powerful tool that was designed to provide you with a simple means of assessing the read and writer performance of your Solid State Drive or Hard Disk Drive. The benchmark tool helps you monitor and check the response time of your unit as well as view the system information collected using Windows Management Instrumentation (WMI).
ATTO – As the industry's leading provider of high-performance storage & network connectivity products, ATTO has created a widely-accepted Disk Benchmark freeware utility to help measure storage system performance. As one of the top tools utilized in the industry, Disk Benchmark identifies performance in hard drives, solid-state drives, RAID arrays as well as the host connection to attached storage. Top drive manufacturers, like Hitachi, build and test every drive using the ATTO Disk Benchmark.
CrystalDiskMark – Another benchmark program designed to measure the read and write speeds of storage drives.
AS SSD
ANVIL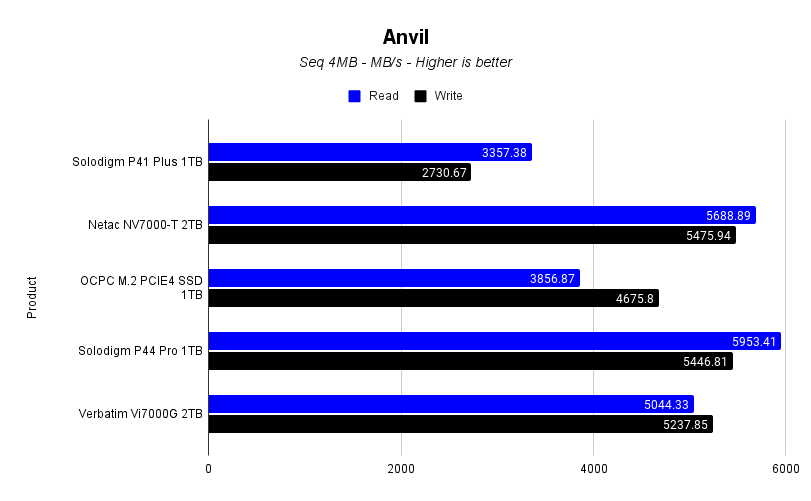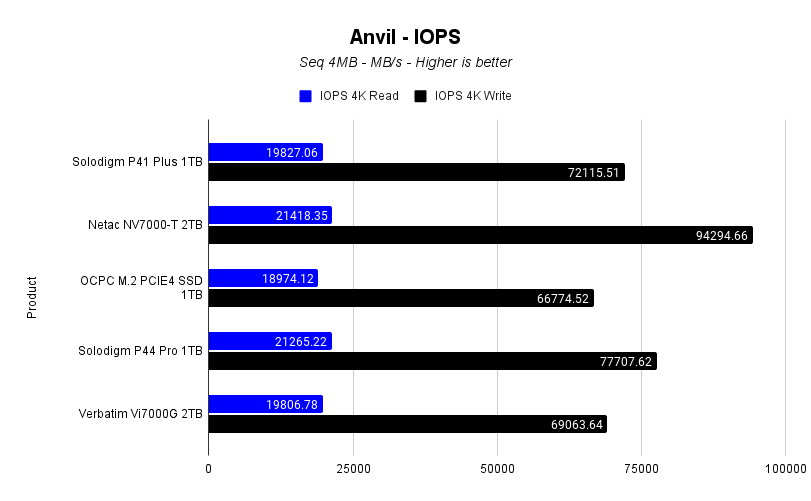 ATTO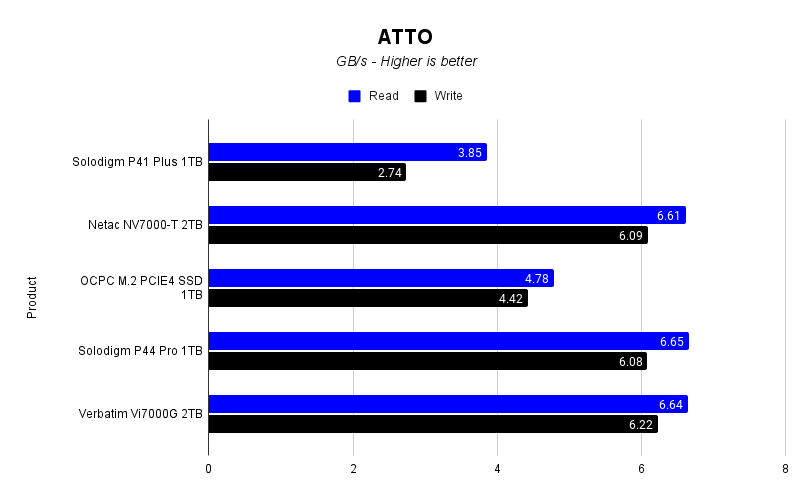 CRYSTALDISKMARK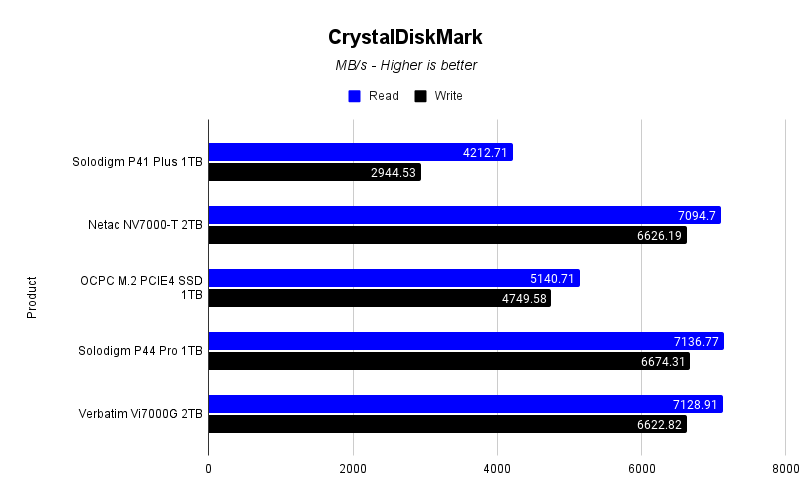 FINAL WORDS
VALUE
Solidigm has hit it out of the park with the first offering that we have seen. Coming in just shy of £70 at the time of review, the P44 Pro offers some of the best performance we have seen so far this year!
While I may have only tested 5 drives so far on our Z690 test bench, this one is the top drive and is just a smidge faster than the ever so slightly higher-priced Verbatim Vi7000G. If Solidigm can keep this type of pricing up, it will soon be a very big competitor in the NVMe SSD market.
It does raise the question though if they purposely left out the heatsink so they could be just that little bit more cheap than their competitors. Either way, well played Solidigm.
PERFORMANCE
We have already let the cat out of the bag that this is the fastest overall drive we have reviewed so far this year. Is it due to the fact they have used all SK hynix chips? Or, is Solidigm really just that clued up and knows what they are doing?
Whatever the case may be, there is no denying the sheer performance that the P44 Pro drive has to offer. Generally, the bigger the drive the faster it is, and with this being said, it would be great to see just how well the 2TB version performs.
The performance here is truly special and we look forward to seeing what else Solidigm has in store for us in the near future. They seem to be on the right track so let's hope they can keep up the good work!
The P44 Pro drive is going to be a perfect match for everyday users, enthusiasts, and PC Gamers alike!