Taipei, Taiwan-May 10th 2021-Thermaltake, the leading PC DIY premium brand for Cooling, Gaming Gear, and Enthusiast Memory solutions, is pleased to announce a new series of coolers —TOUGHLIQUID 240/280/360 ARGB Sync All-In-One Liquid Coolers are now available for purchase.
This series of all-in-one liquid coolers are equipped with TOUGHFAN fans, a superior fan with speeds of up to 2000RPM and only 22.3dba and 33.2dba for TOUGHFAN 12 and TOUGHFAN 14 respectively; there are different sizes of fans corresponding to the different dimensions of radiators, users can choose from 240mm, 280mm, and 360mm ​to achieve the finest cooling results in a quiet way. Besides that, there is a high-performance waterblock featuring a copper base plate, which expedites heat effectively. Plus, a high quality pump distributes a steady flow of water, keeping the copper plate continuously cool. With the low evaporation tube, the loss of coolant can be minimized; hence no refill is needed. Additionally, an exclusive built-in controller is settled on the side of the waterblock, which saves space by integrating with the waterblock and, at the same time, eliminates the cumbersomeness of routing cables.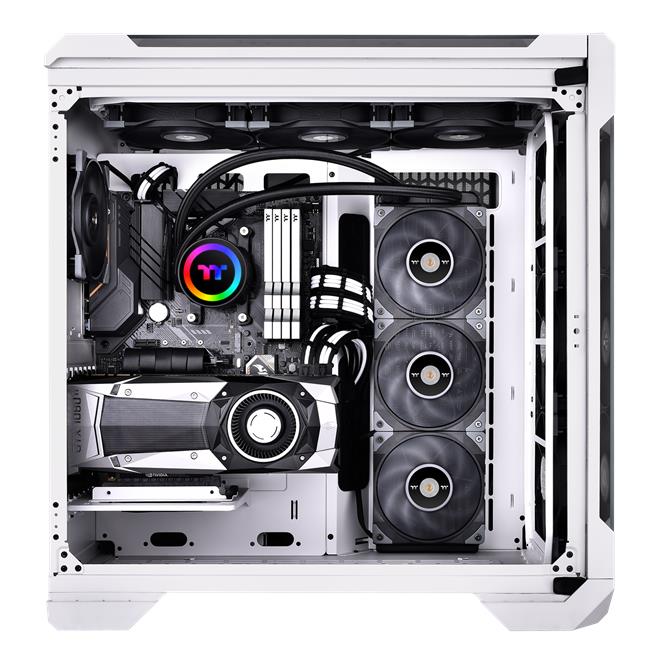 Thanks to its well-executed layout, users can switch seven lighting modes, eight different colors, and four speeds without the need for an external controller. At the front of the waterblock, a 360° rotational cap with 6 LEDs is designed to bring both practicality and convenience; users can rotate the cap easily and make the TT logo face in the right direction even after installation. Its mirror-finish design levels up the aesthetics; the light would look softer under its sputtering surface. What's more, this ARGB Sync series supports 5V RGB compatible motherboards, allowing users to switch lighting effects with the motherboard's software as well. Overall, this water block supports Intel and AMD universal brackets; different CPU users can still enjoy splendid lighting effects with a quick installation. If you are considering a cooler that is both functional and good-looking, the TOUGHLIQUID ARGB Sync All-In-One Liquid Cooler Series is your best option!
Availability, Warranty, and Pricing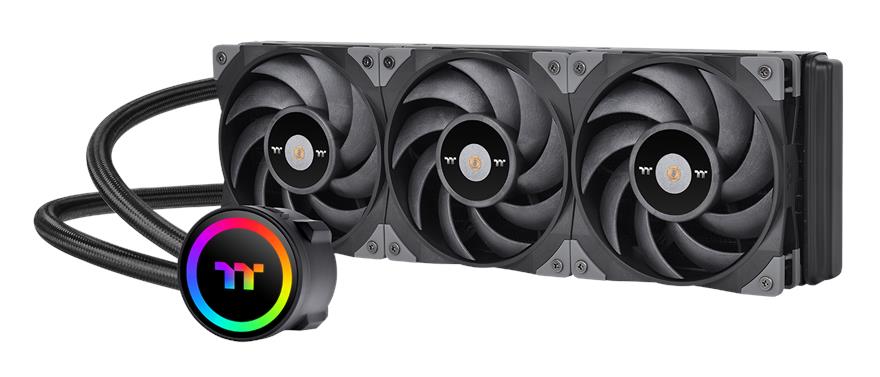 TOUGHLIQUID 240/280/360 ARGB Sync All-In-One Liquid Coolers are now available for purchase via the Thermaltake worldwide network of authorized retailers and distributors.
Thermaltake Liquid Cooling System products are backed by a two-year warranty supported by the Thermaltake worldwide customer service and technical support network. Please refer to the Thermaltake website or contact your local Thermaltake sales or PR representative for up-to-date pricing of the Thermaltake liquid cooling system products.
  For more details on Thermaltake TOUGHLIQUID 240/280/360 ARGB Sync All-In-One Liquid Coolers, please visit:
240mm – https://www.thermaltake.com/toughliquid-240-argb-sync-all-in-one-liquid-cooler.html
280mm – https://www.thermaltake.com/toughliquid-280-argb-sync-all-in-one-liquid-cooler.html
360mm – https://www.thermaltake.com/toughliquid-360-argb-sync-all-in-one-liquid-cooler.html