Introduction
Thermaltake has been keeping us well and truly busy the last couple of weeks with no stop in sight! Today, we are taking a look at their brand new S500 TG case. The S500 is very similar to the A500 except for one major difference. The A500 is made from aluminium and the S500 is made for steel. Why you may ask? Well, the answer is easy, to help keep costs down. So many people liked the A500 but it was a bit expensive for most coming in at around £250. For £99, the S500 TG is a great offer for those not wanting to spend quite as much money.
Closer Look
The first thing I noticed about this case was the weight of it. It has to be one of, if not the heaviest case I have personally laid hands on! If that's not impressive enough, It remains to look elegant regardless of its size and weight. The whole case is designed in steel so that means even the front panel is one nice and heavy piece of steel. As we see most of the time, the front can be removed to allow for better access to install your cooling components.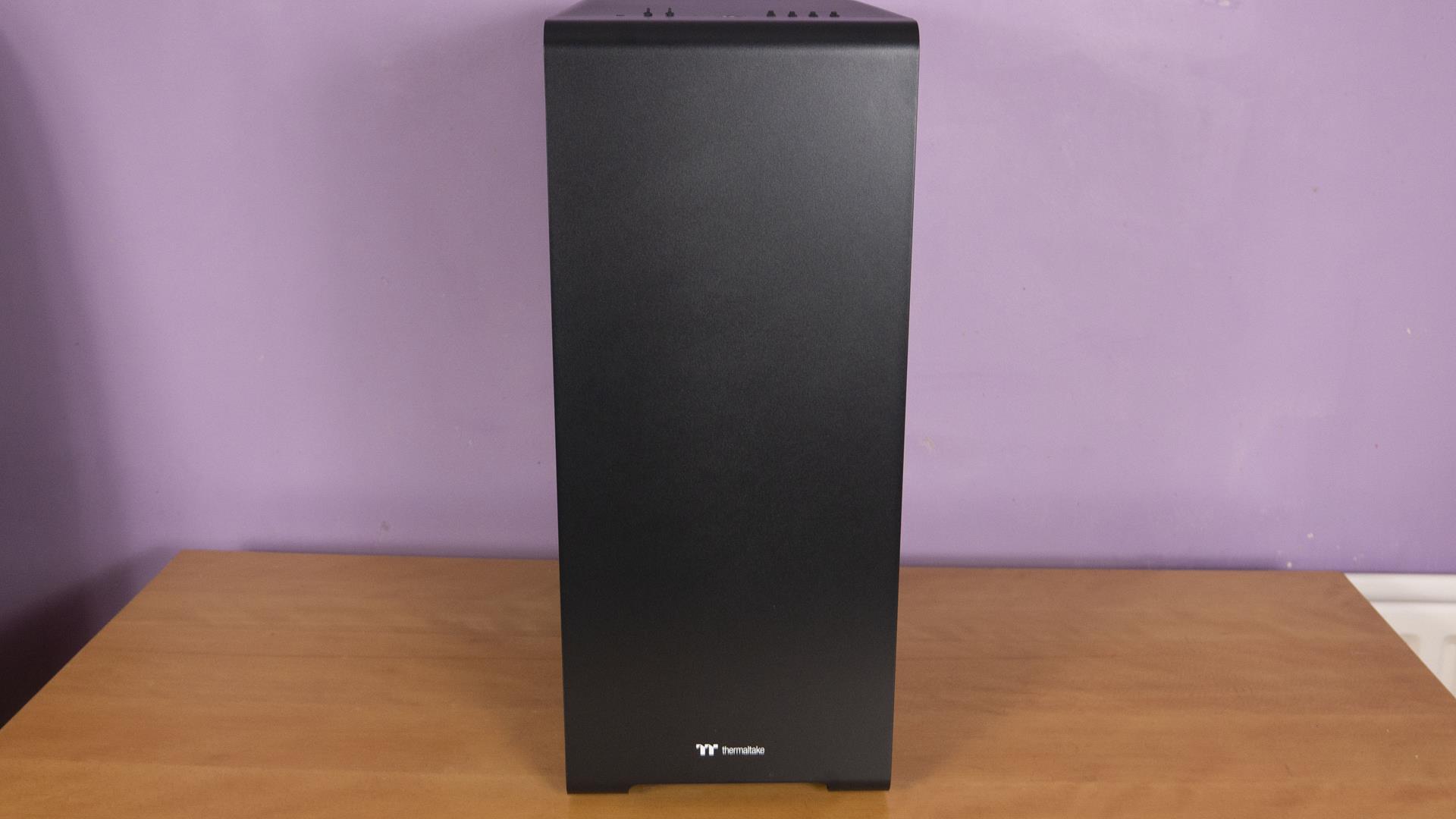 We can't remember the last time we saw a case without a full tempered glass side panel, can you? Well, the S500 TG has one as the name would suggest and we approve. One of the main things we like is the fact that it has the thumbscrews at the back and not on the glass itself. It doesn't make much of a difference where they are, I just prefer them at the back. You will also notice that around the outer edges of 75% of the case, there is a bit of extra ventilation to help allow your fans to pull air in or push it out to help keep things inside cool.
There is a bit of fun going around on the backside of the case for once. The rear exhaust fan can be moved up and down to help better position it to your needs. We also see 8x PCI expansion bays on the S500 TG instead of the standard 7 that we see in most cases. One more unique thing about this is the fact you can rotate the whole 8x PCI expansion bay sideways to allow for vertical GPU mounting. The bottom-mounted PSU will mount onto a small brack that will then mount onto the S500.
Around to the second side panel and there is not much going on here. However, we do still see the extra bit on ventilation that we noticed on the other side. While it may not look like much, this will be sufficient to help get airflow through the case.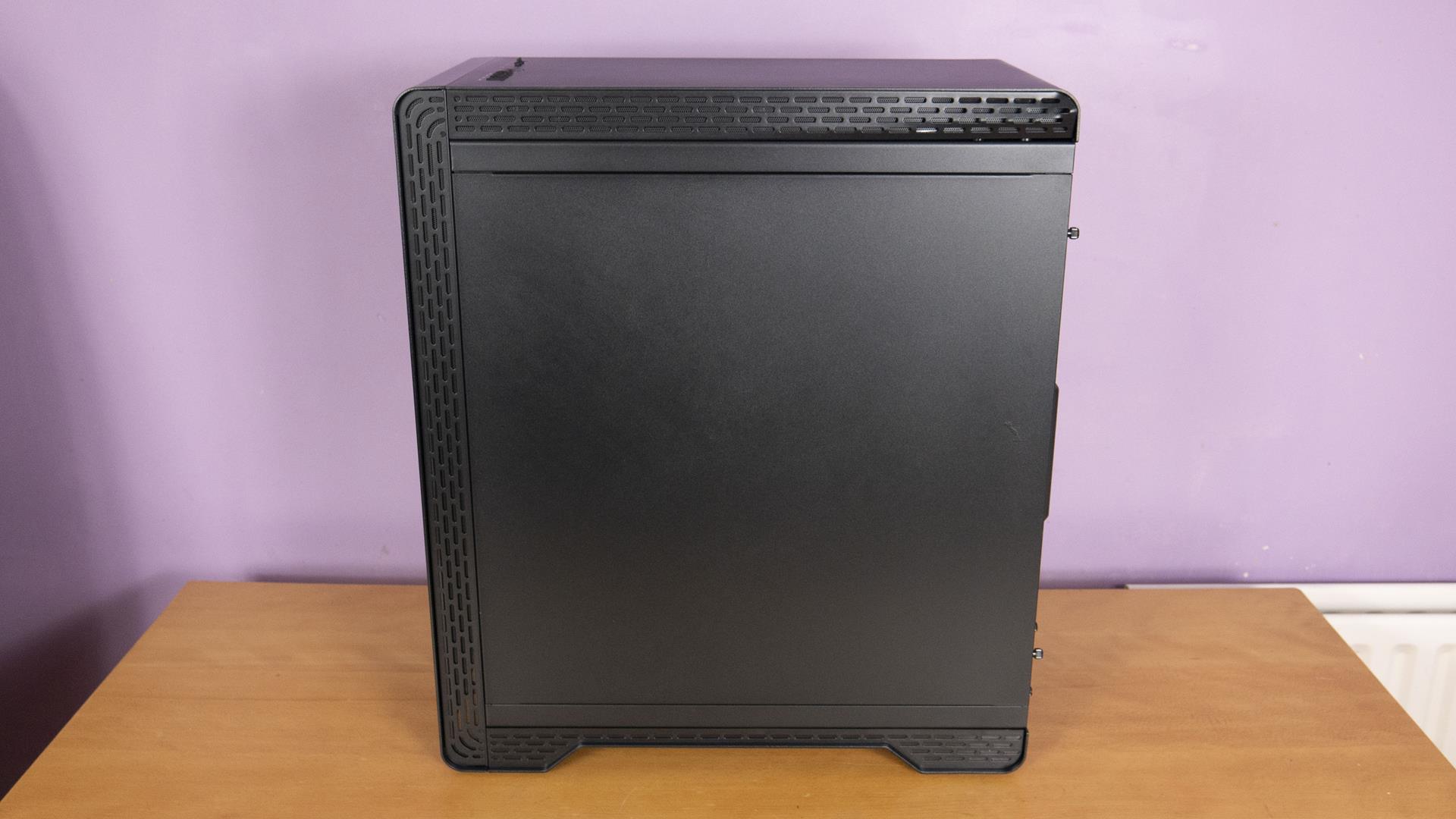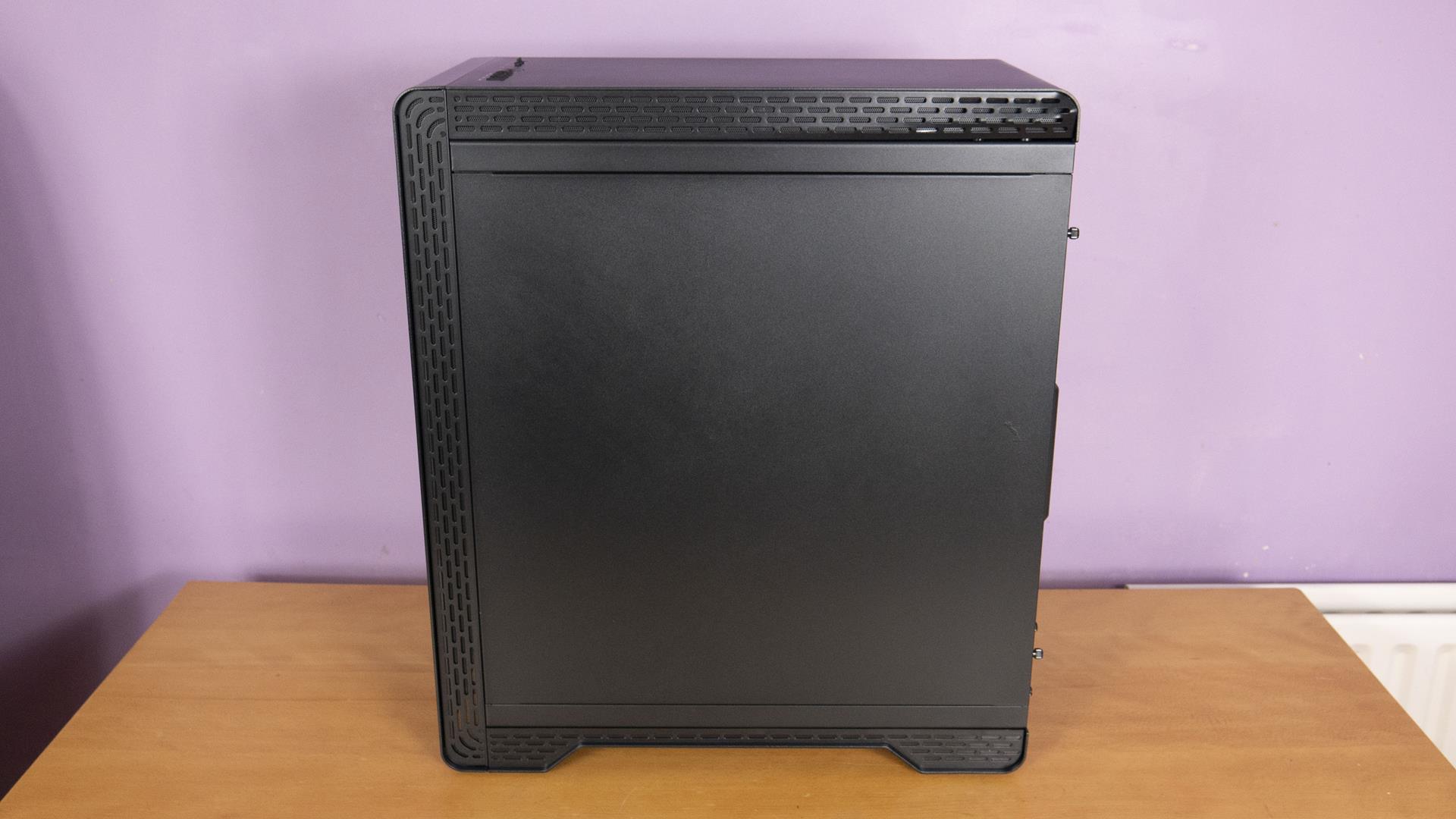 As mentioned, removing the front panel will allow you access to install some cooling equipment. The S500 TG comes with one fan as standard but can accommodate up to 3x 140mm or 2x 200mm fans. You can also install radiators of up to 420mm in length if you are after some proper water cooling performance.
The front IO is on the top of the case and features your standard power/reset buttons, audio inputs, 2x USB 2.0 and 2x USB 3.0 ports. Thermaltake have gone ahead and added in some rubber inserts to help make sure the ports don't get damaged or filled with dust when not being used.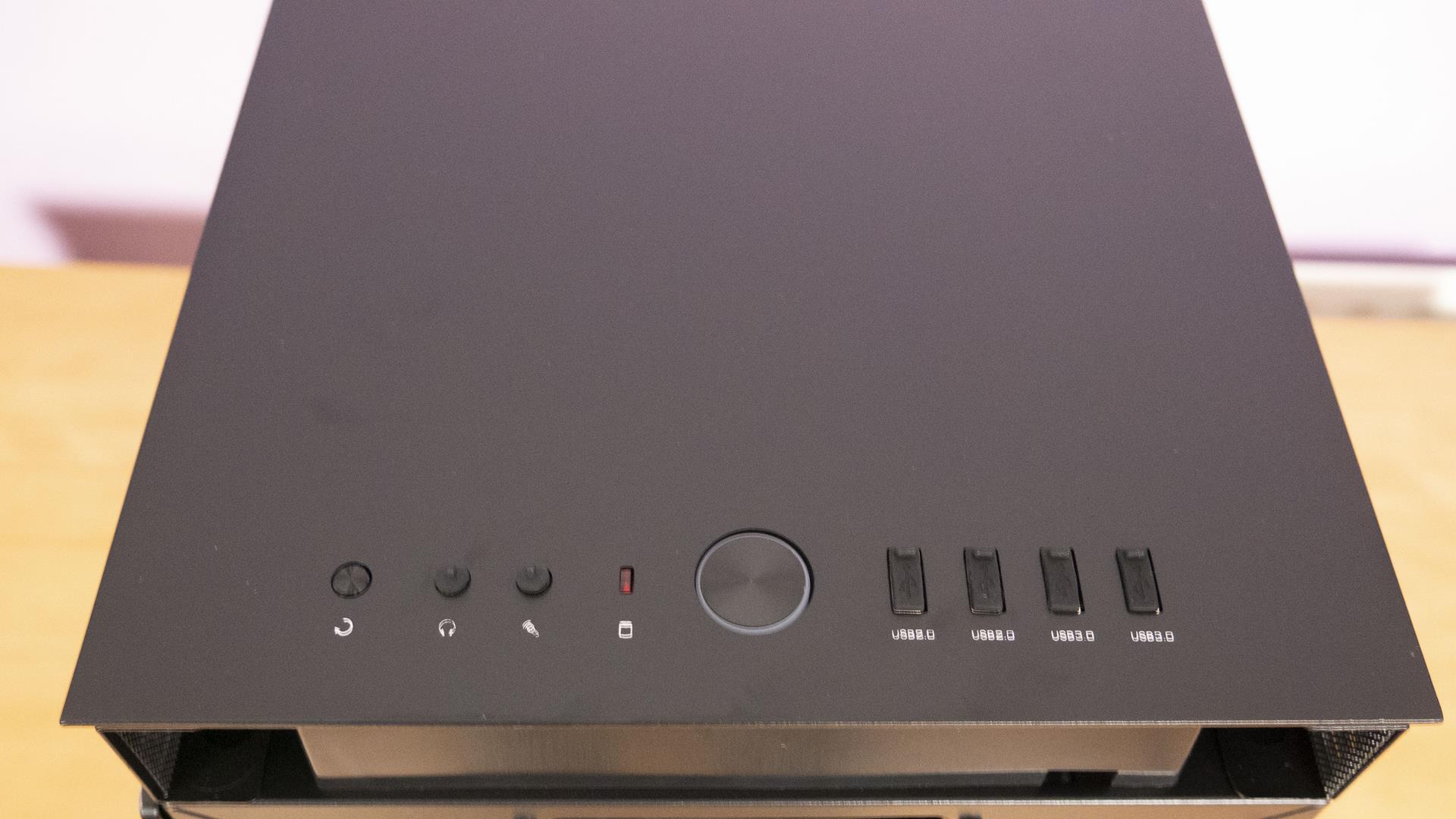 The top of the S500 TG is also easily removed and allows for the installation of more cooling goodness! It's not quite as big as the front but you can still mount 2x 200mm fans here although you can only fit 2x 140mm fans as well. If you are looking to put 3x fans here, they will need to be 120mm fans. With that being said, the maximum supported radiator size is 360mm which when combined with front, should be more than enough to cool anything you can fit inside.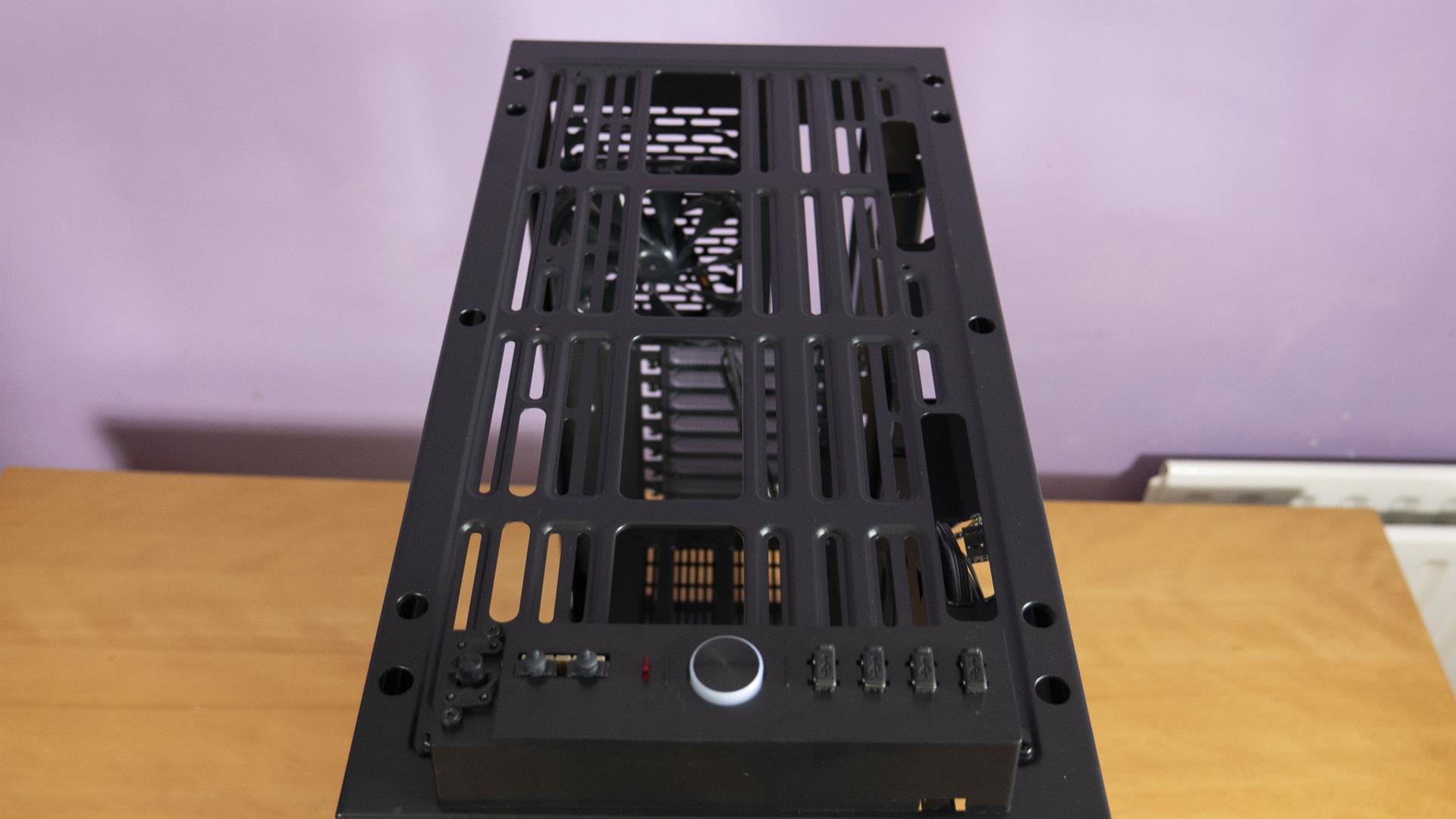 Inside one of the hard drive bays, you will find a small white box. In this box, you will find some screws and zip ties to help make your time building in the S500 TG as easy as possible.
Working our way to the inside and just look at all that room! We can see the 2x pre-installed fans which will be enough to get us up and running in most cases though I am sure most people using this case will want to max out the cooling component capacity. There is so much going on in here it should allow for some pretty impressive and unique builds. There is 2x main hole to pass cables through that have rubber grommets in them. Lately, a lot of companies have been getting slack on the rubber grommets so is nice to see them again.
There are 2x SSD mounts and 2x 3.5″ mounts that you can also mount SSDs in. All of the storage mounts can be easily removed to allow for even more room inside the case should you chose to go down the custom water cooling loop route.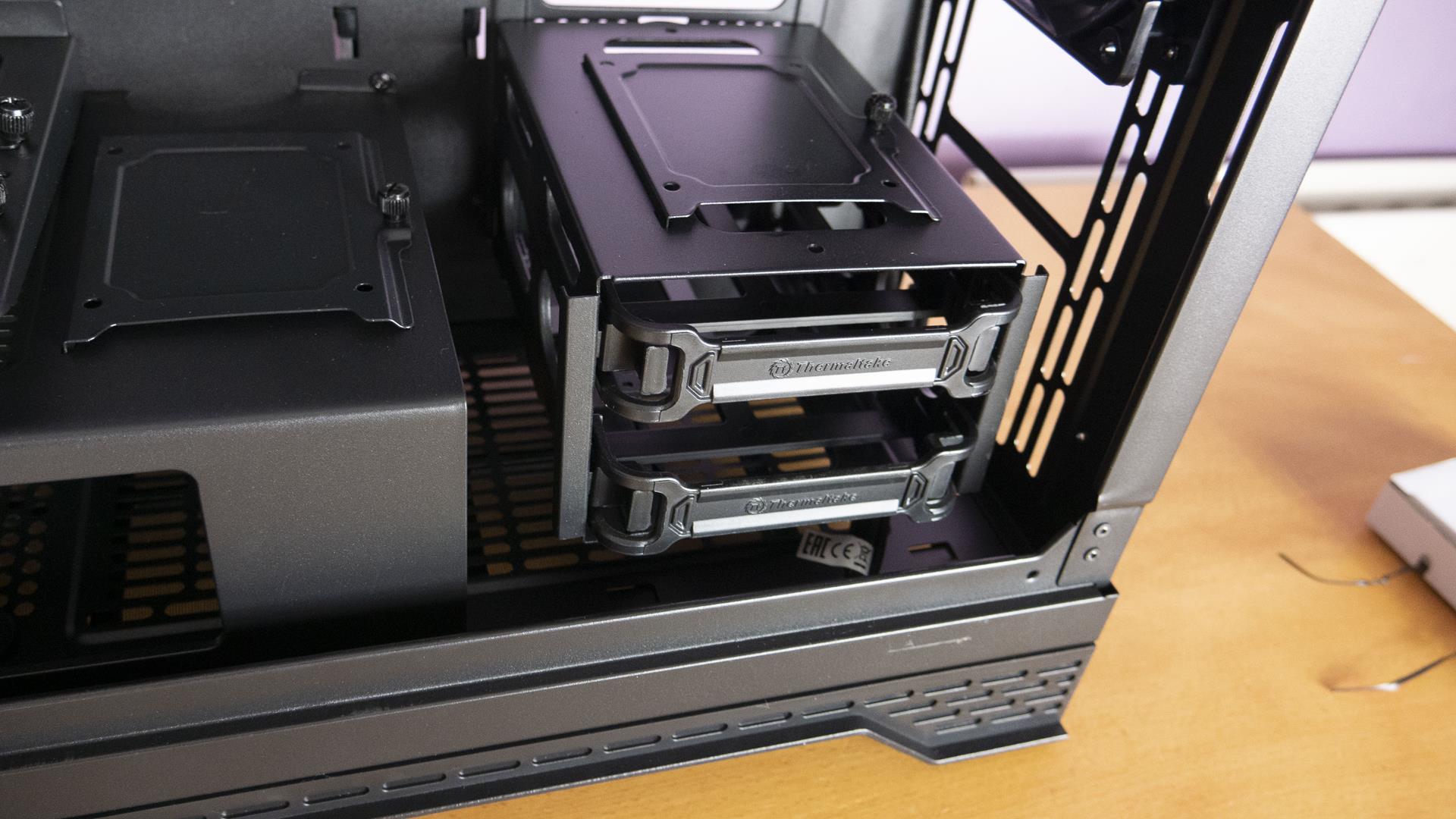 The rear exhaust fan on the S500 TG can easily be moved up or down depending on where you need it. Simply loosen the screws a turn then slide it to the desired position and tighten the screws back up. Alongside this, we can see a nice sized cutout in the motherboard tray that will allow for easy installation and changing of CPU coolers. The riser holes in the motherboard are also labelled so you will know which one you need to install a riser in depending on what form factor motherboard you will be installing.
On top of the PSU, cover is a built-in GPU riser bracket. After you turn the PCI expansion bays blank plates sideways, you can then use the GPU riser to install your GPU vertically. With more and more people wanting a vertical GPU in their build, it's nice to see cases incorporating as standard and giving users as many options as possible to customize their build. Not only can this be used for aesthetic reasons, but it also helps to reduce the weigh on the PCIe bay of your motherboard and will eradicate GPU sag!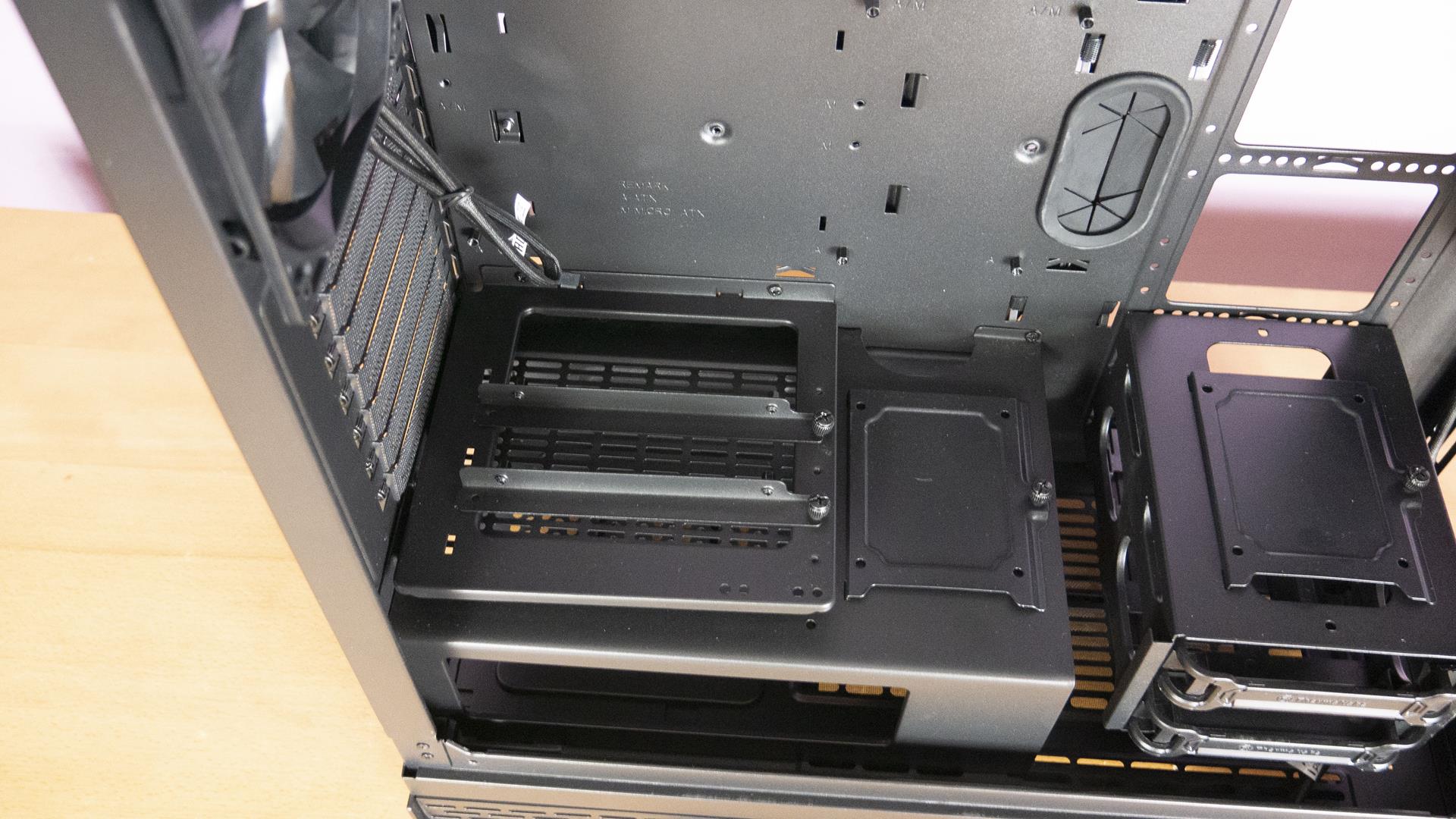 The PSU shroud is now pretty standard in most cases these days. They can allow you to show off a bit of your PSU but ultimately they help you hide those horrible cables that no one wants to see.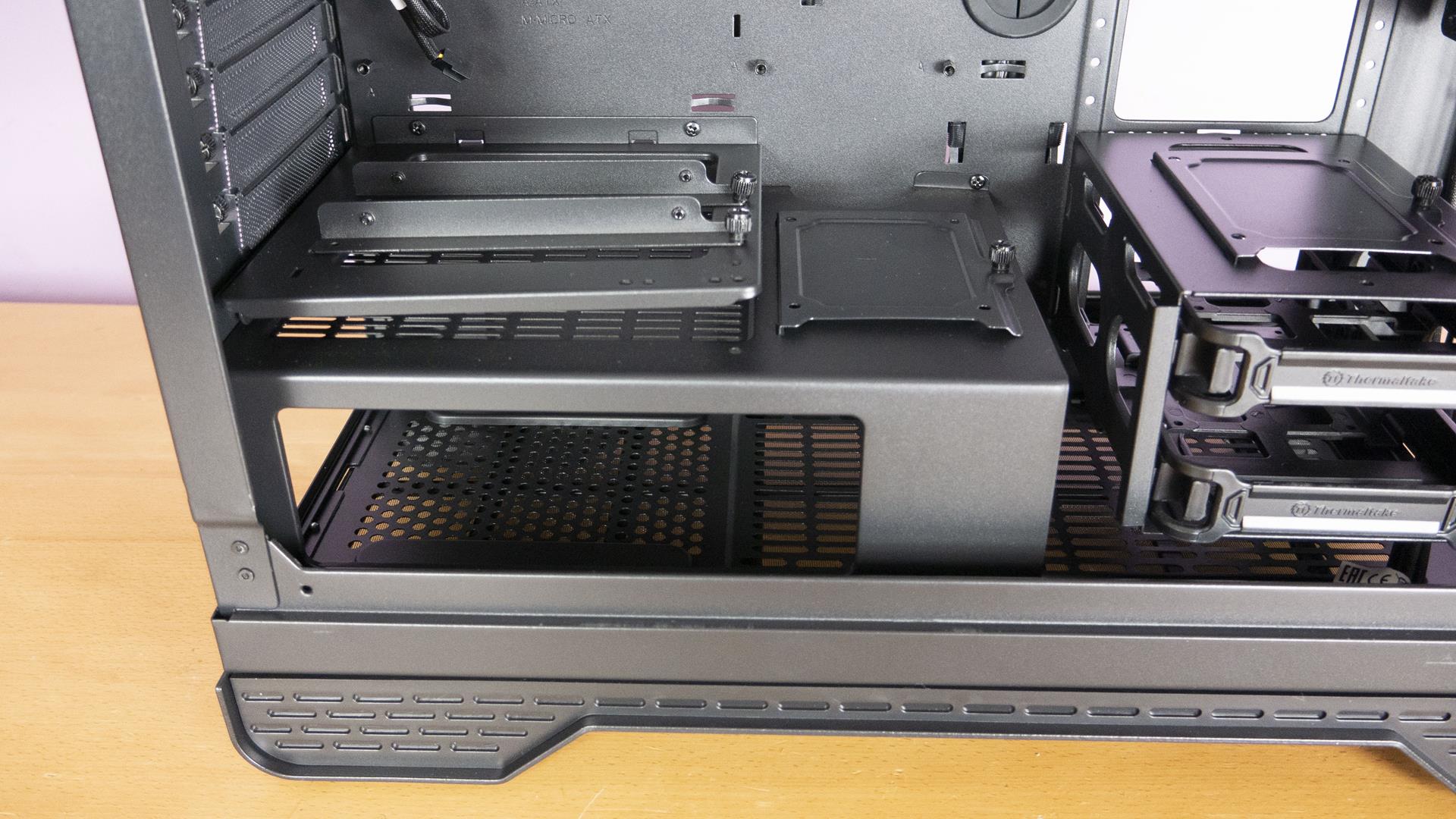 The backside of the motherboard tray has a few tricks up its sleeve as well. Not only is there more room between the motherboard tray and side panel than normal, but there is also some extra mounting and cable management options here. The bracket here will allow you to install 1x 3.5″ HDD or 2x 2.5″ SSDs on the backside of the motherboard tray. This means, you could have 6x SSDs in your build or you can remove the bays in the front and just have a pair of SSDs in the back here hiding out of the way. The cables are already managed a bit and come with some nice velcro ties in place to help you get your cable management needs starting right out of the g7ate.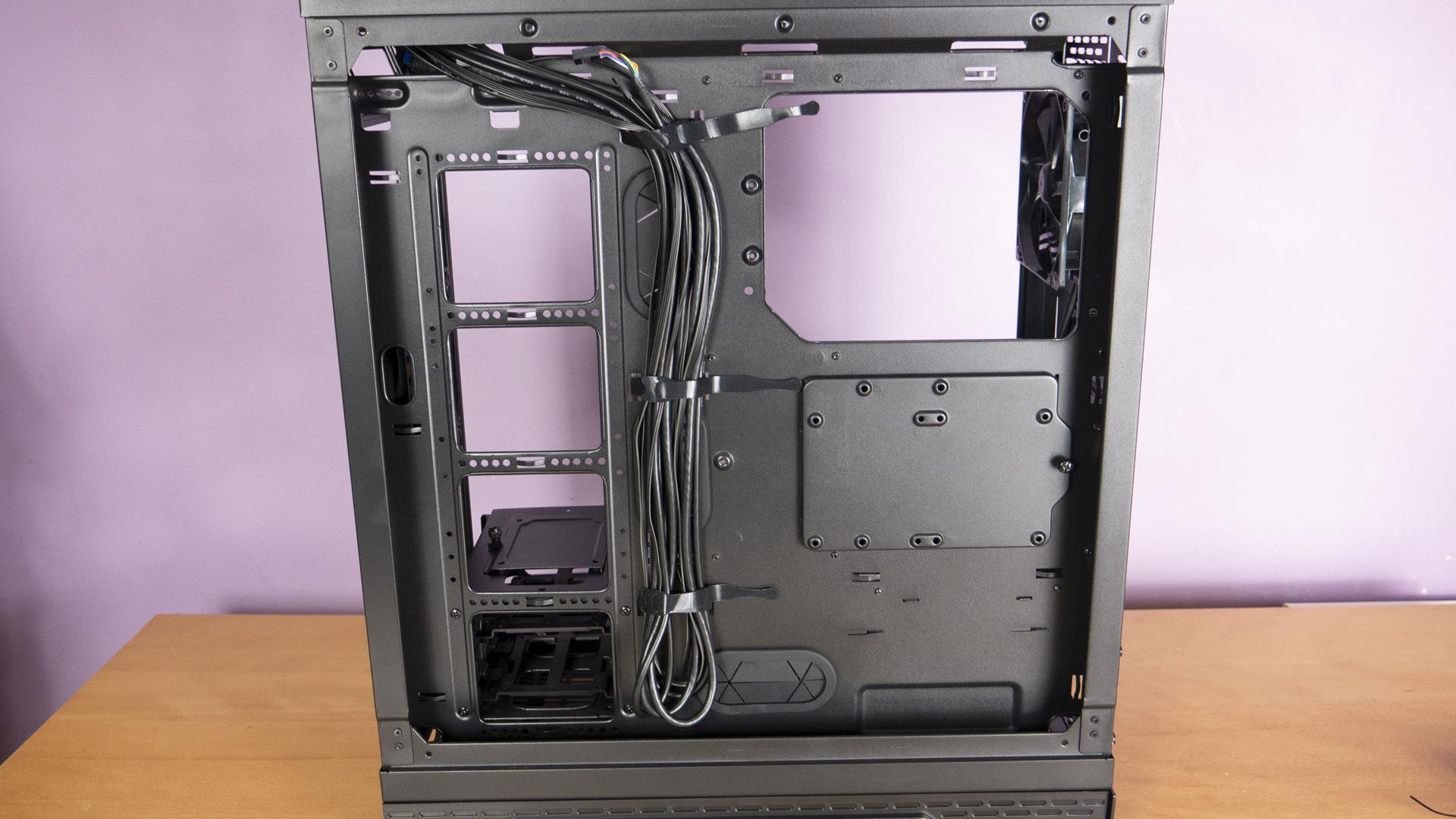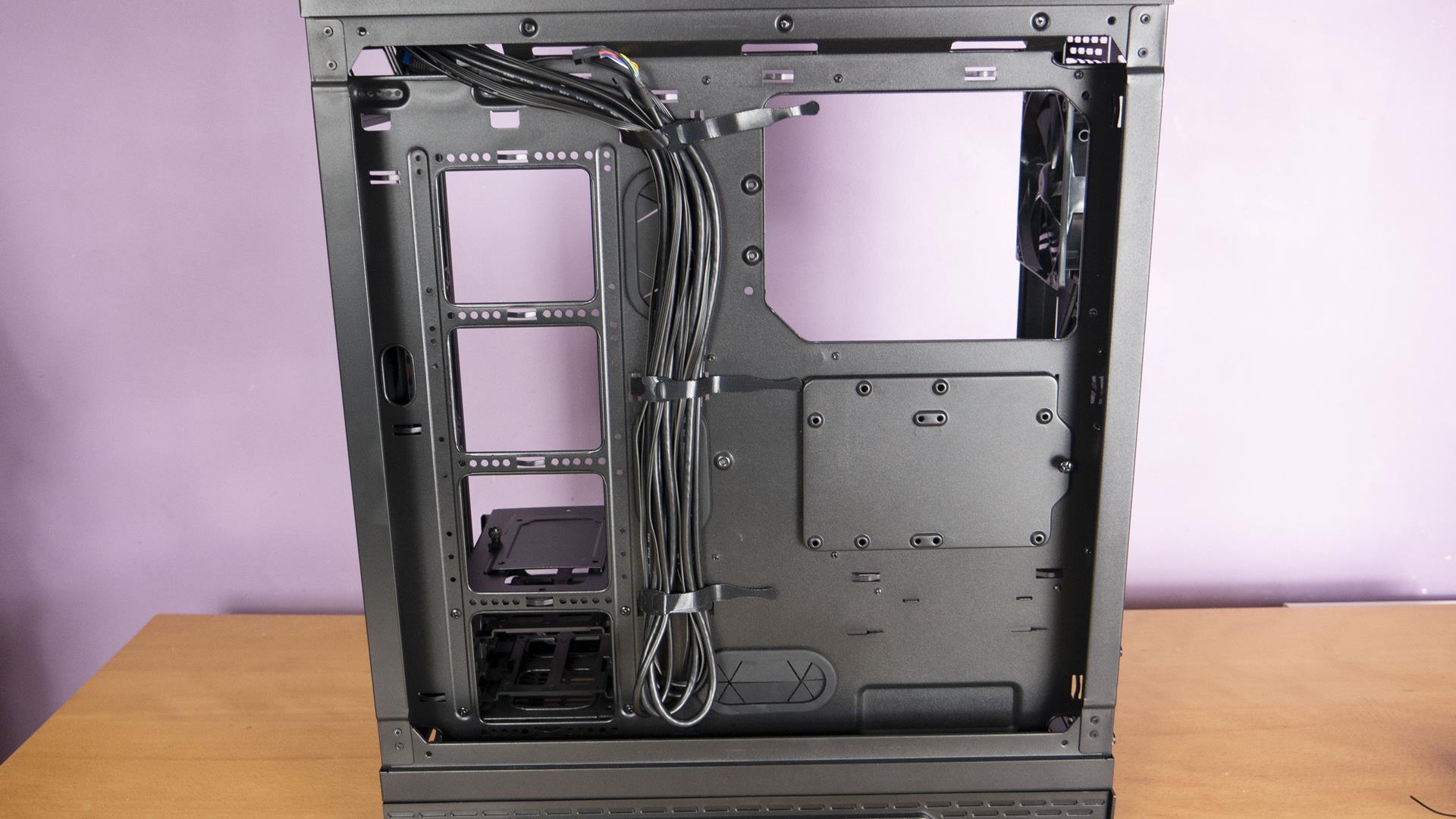 Last but not least! The bottom of the case features a nicely-ventilated area across most of the case. It also comes with a full-size dust cover that can easily be pulled out from the rear of the case and cleaned.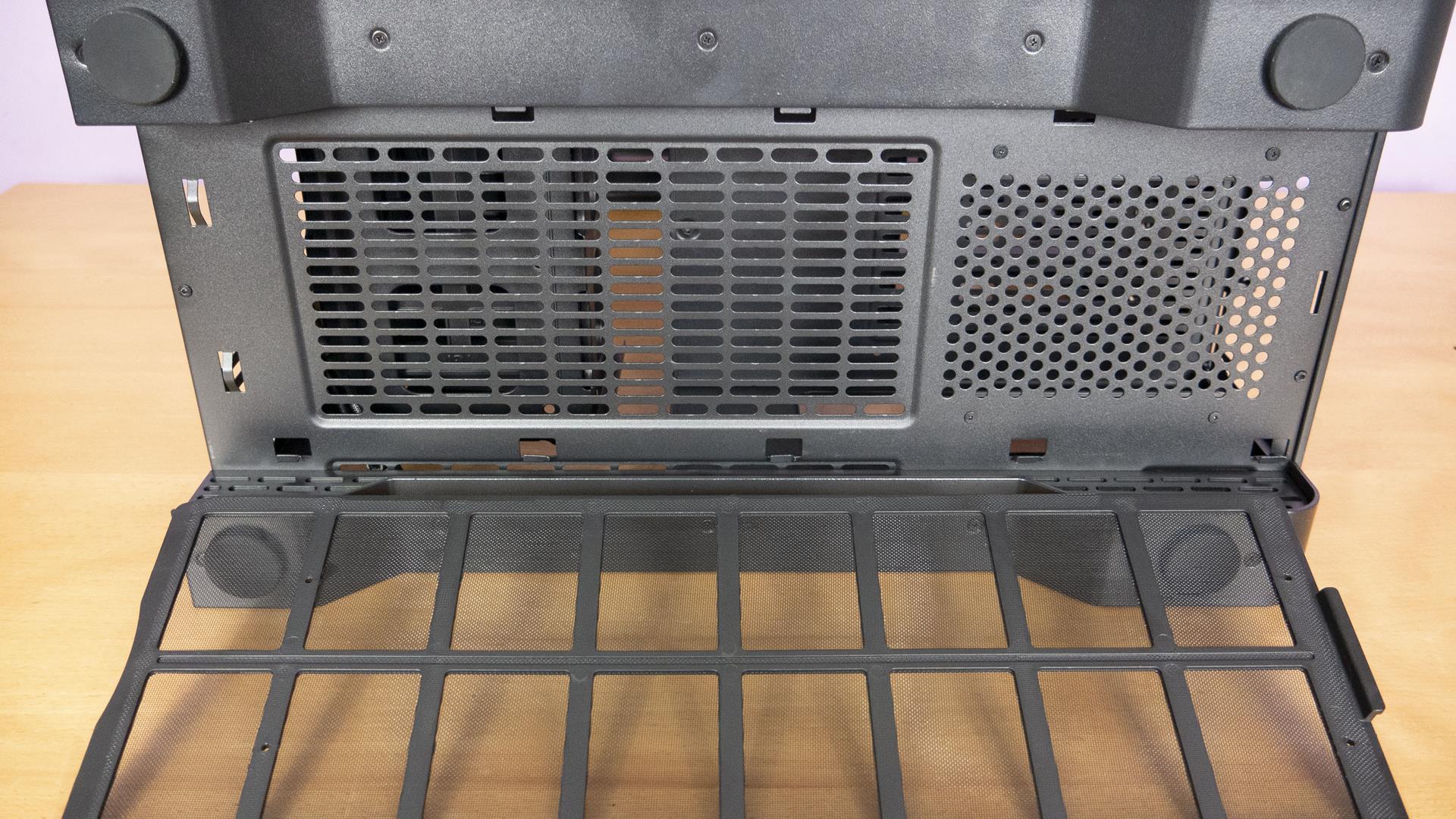 Final Build
As you can imagine, due to the sheer size of the beast building in it was a breeze. One thing I will mention was the installation of the PSU cables. If you remember back to the pic of the backside of the motherboard tray, the bottom was closed off and there was only a small grommet for the cables to pass through. This is fine, but it is worth noting that you may want to pass the cables on their own through the grommet and then connect them to the PSU if you are using a modular PSU, then mount the PSU to the S500 TG. If using a non-modular PSU, you will still want to pass the cables through the grommet first.
The whole build was a piece of cake, especially as we didn't utilize all the cooling space, unfortunately. I decided to leave all the drive bays and GPU mount in as standard so we could get a feel for how it was to install all our components with these still in. They did cause any issues at all and didn't add any hardships into the build. All in all, it was a very straight forward build that I enjoyed doing.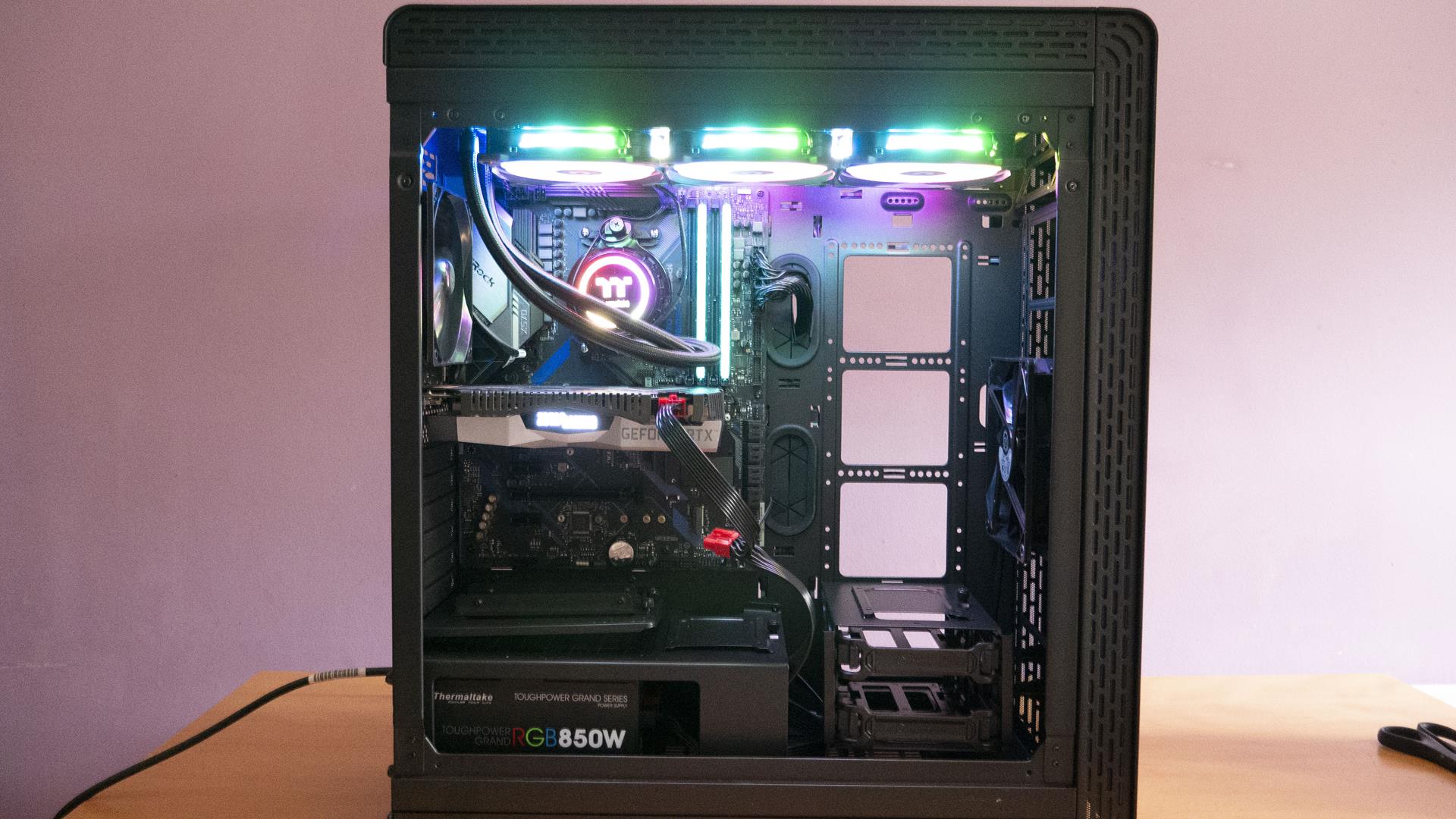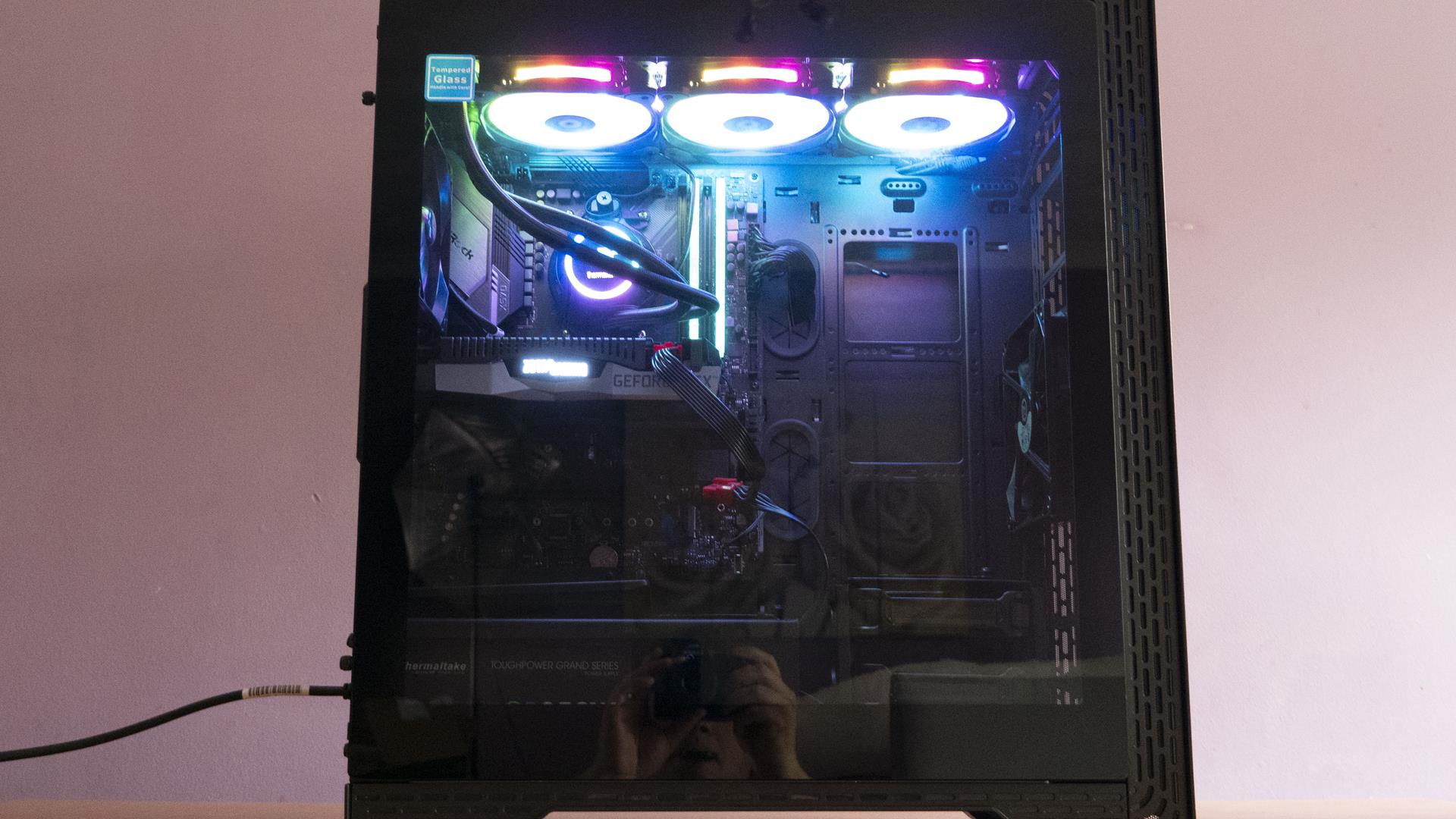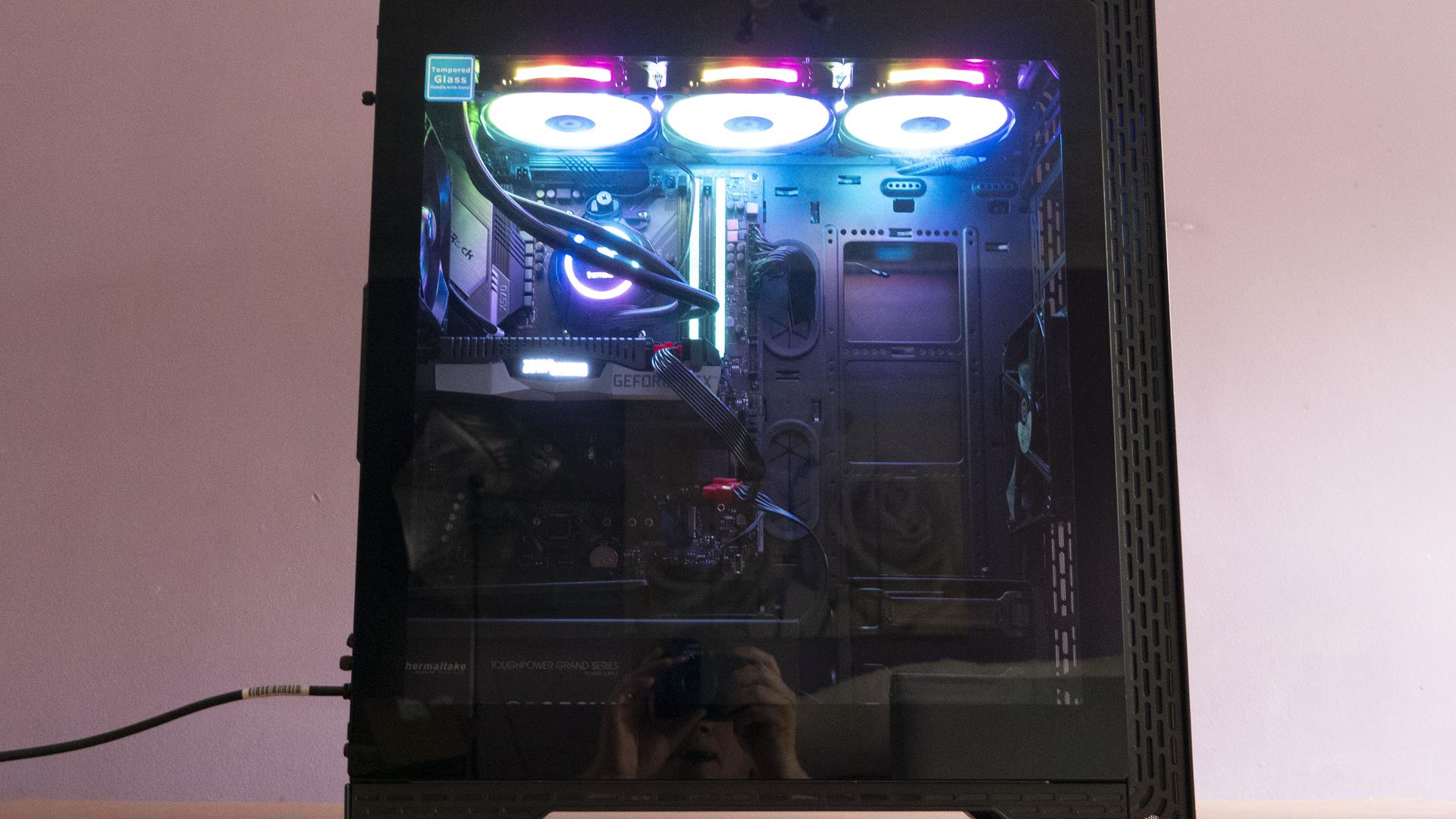 Conclusion
Performance and Design
What is there to say aside from the fact that the S500 TG is massive, heavy and remains sleek and elegant at the same time. In no way does the S500 TG look overly bulky or too spacious. Thermaltake have also done a brilliant job at making sure the S500 TG is just as functional as it is heavy. From extra ventilation to vertical GPU mounting and removable hard drive bays, Thermaltake has made sure you can easily customize this case to your own needs. Users looking to go with a full custom water cooling loop will have no issues as there is more than enough room for radiators, fans and a reservoir or two! Users looking for a more conventional build will find all the space quite appealing and should also be left with an amazing looking build. While most will want to pick up a couple more fans to make the most out of all the room, Thermaltake has still gone ahead and installed an intake and exhaust fan to get you up and running. One thing you will also notice is that this case has NO RGB! The only RGB is added on by the user which should go over great as I know first hand that a lot of people are getting sick of RGB, even if I love it myself! The black steel is going to leave users with plenty of options to have an amazing looking build and with the current ranges of hardware out there, I can't wait to see what people will come up with!
Value
For £99 you are getting a whole lot of case here, literally. Not only is it steel, but it's nice and big and has plenty of room for almost anything you could want to put in it. When considering the A500 was around £250, the S500 TG offers a much more affordable offering in a similar design. For £99 the S500 TG has some many functions and features it's quite amazing. Again, Vertical GPU mounting with GPU bracket, PSU shroud, plenty of room and cooling support, easily removable hard drive bays and more! For this price, it's hard to say anything negative about this case and we surely can't! If you are one that likes your money to stretch as far as possible, this case is just what you are looking for!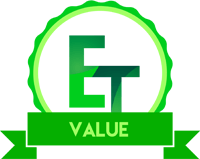 Many thanks to Thermaltake for sending in their S500 TG for today's review!