Vodafone Smart Speed 6 Introduction
Today we will be taking a look at the Vodafone Smart Speed 6. Following on from our Smart First 6 Review, it will be interested to see how the Speed 6 holds up. Comparing the two on paper and the Speed 6 has a more updated specification which also comes with a higher price tag. The Speed 6 is going to cost you £75 on Pay as you go, a more than fair price once you realize all the phone you're getting for your money. I must say, it is nice to see Vodafone offering their own range of phones with various specifications!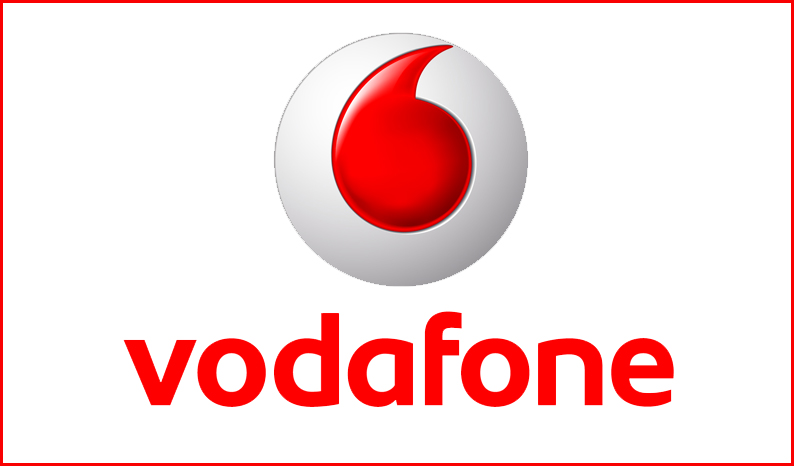 As mentioned, the Smart Speed 6 comes in at £75 on Pay as you go. For the money, the phones specifications are very good and consist of a quad-core processor, 5-inch IPs touch screen, 8MP camera and 8GB of internal storage that can be expanded by a microSD card up to 64GB.
Inside the box, users will find the Smart Speed 6 phone, a wall charger with included USB cable and a pair of earphones that can also be used to make and receive calls. These are all the basic essentials to make sure you can start using the phone as you wish right away!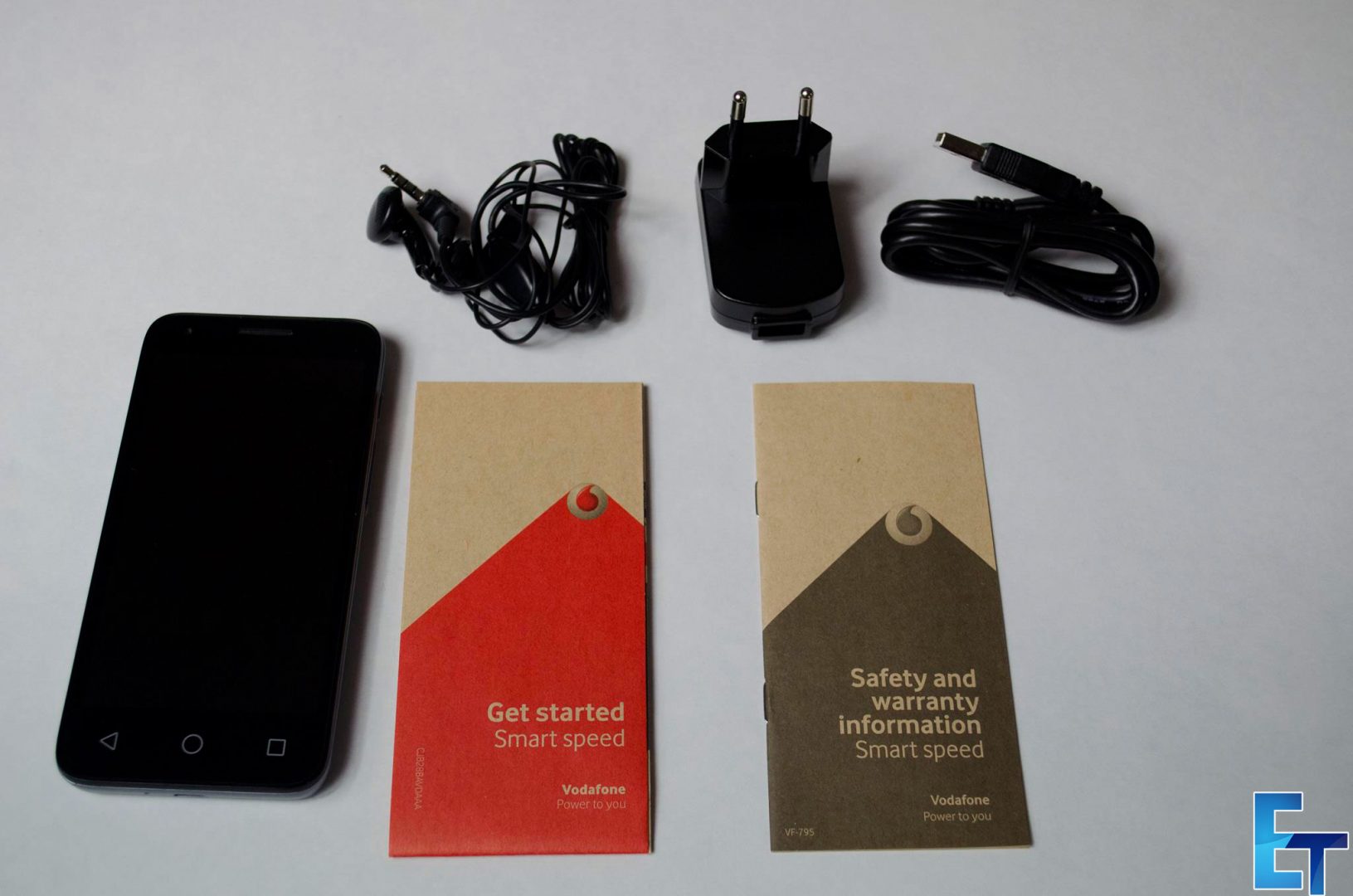 Specification

| | |
| --- | --- |
| 3G standby time (hours) | 915 |
| 3G talk time (hours) | 18 |
| Processor | Quad core 1.2 GHz |
| SIM type | MicroSim |
| Internal memory | 8GB |
| USB mass storage | yes |
| Memory card type | microSD up to 64GB |
| Keypad | Virtual QWERTY |
Connectivity

| | |
| --- | --- |
| Network region | Quad-band |
| Bluetooth | v4.0 |
| Wi-Fi connection | 802.11 b/g/n |
| Wireless tethering | yes |
| GPS | yes |
| SatNav | Google Maps Navigation |
Entertainment

| | |
| --- | --- |
| Web browser | Google proprietary |
| Video recording | 1080p@30fps |
| Music player | yes |
| Games | via Google Play |
| App store | Google Play |
| FM radio | yes |
| Vodafone Content Control | yes |
Tools

| | |
| --- | --- |
| Alarm clock | yes |
| Calculator | yes |
| Calendar | yes |
| Stopwatch/Timer | yes |
Calling & Messaging

| | |
| --- | --- |
| Built-in email | yes |
| Call divert/transfer | yes |
| Call waiting/hold | yes |
| Conference calling | yes |
| Instant messaging | yes |
| Picture/video messaging | yes |
| Speed dialling | yes |
| Voice-activated dialling | yes |
What's in the box

| | |
| --- | --- |
| Phone, battery and charger | yes |
| USB Cable | yes |
| Handsfree headset | yes |
| Quick start guide | yes |
The Smart Speed 6 is designed around Android 5.0 and has a very basic menu when using the phone. All of the apps are stored in alphabetical order and the design of it makes sure everything is easy to see.
The phone itself features a 5″ screen with black glass surrounding it. There are the 3 touch buttons on the bottom of the screen that we have come to know from Vodafone's own phones which seem to work well for them. There is also a front facing camera and a nice sized cutout for the earpiece.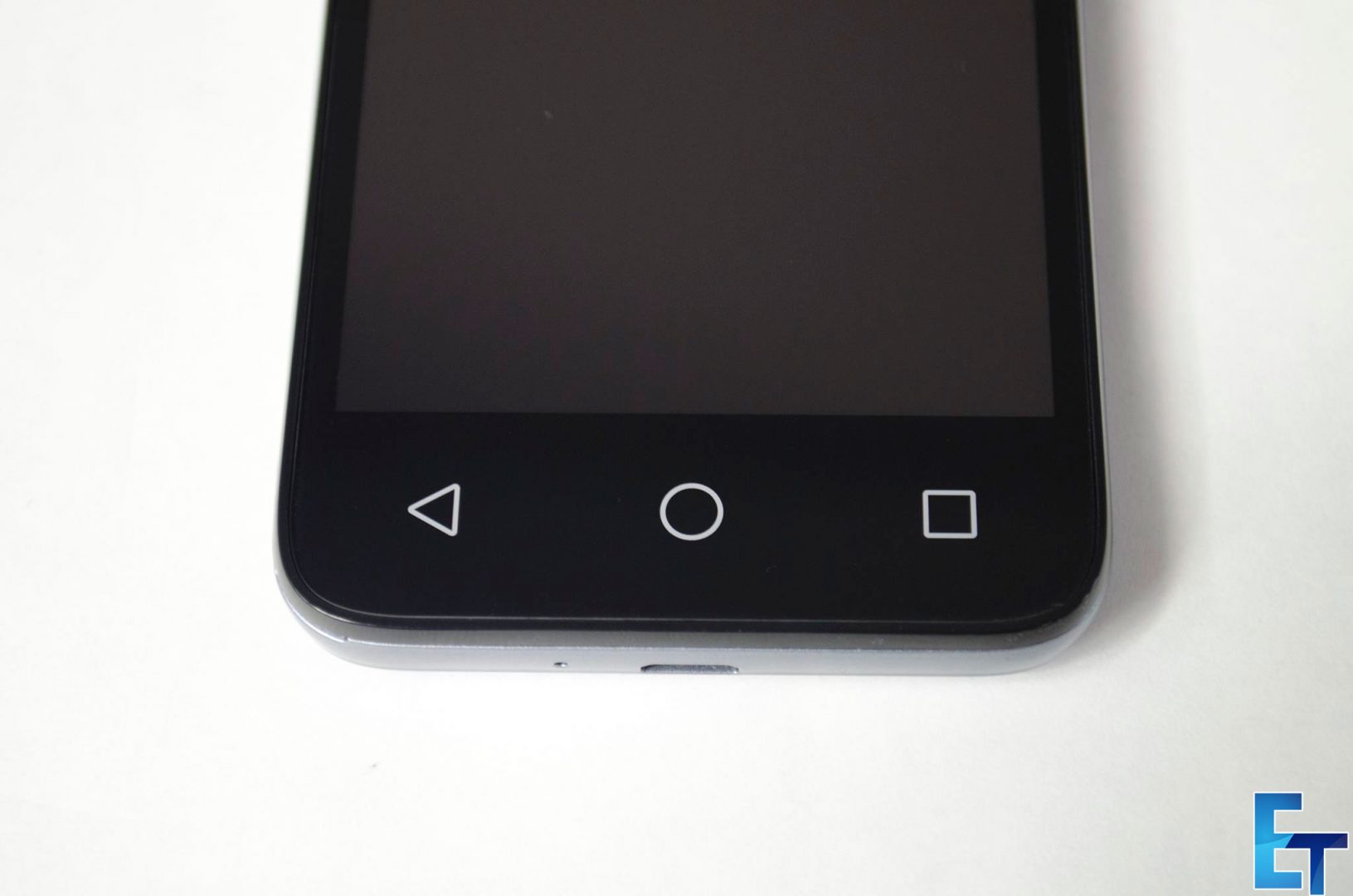 On the bottoms is where the microphone and USB connections are found.
Moving up one side and this is where the volume switches and lock/power button.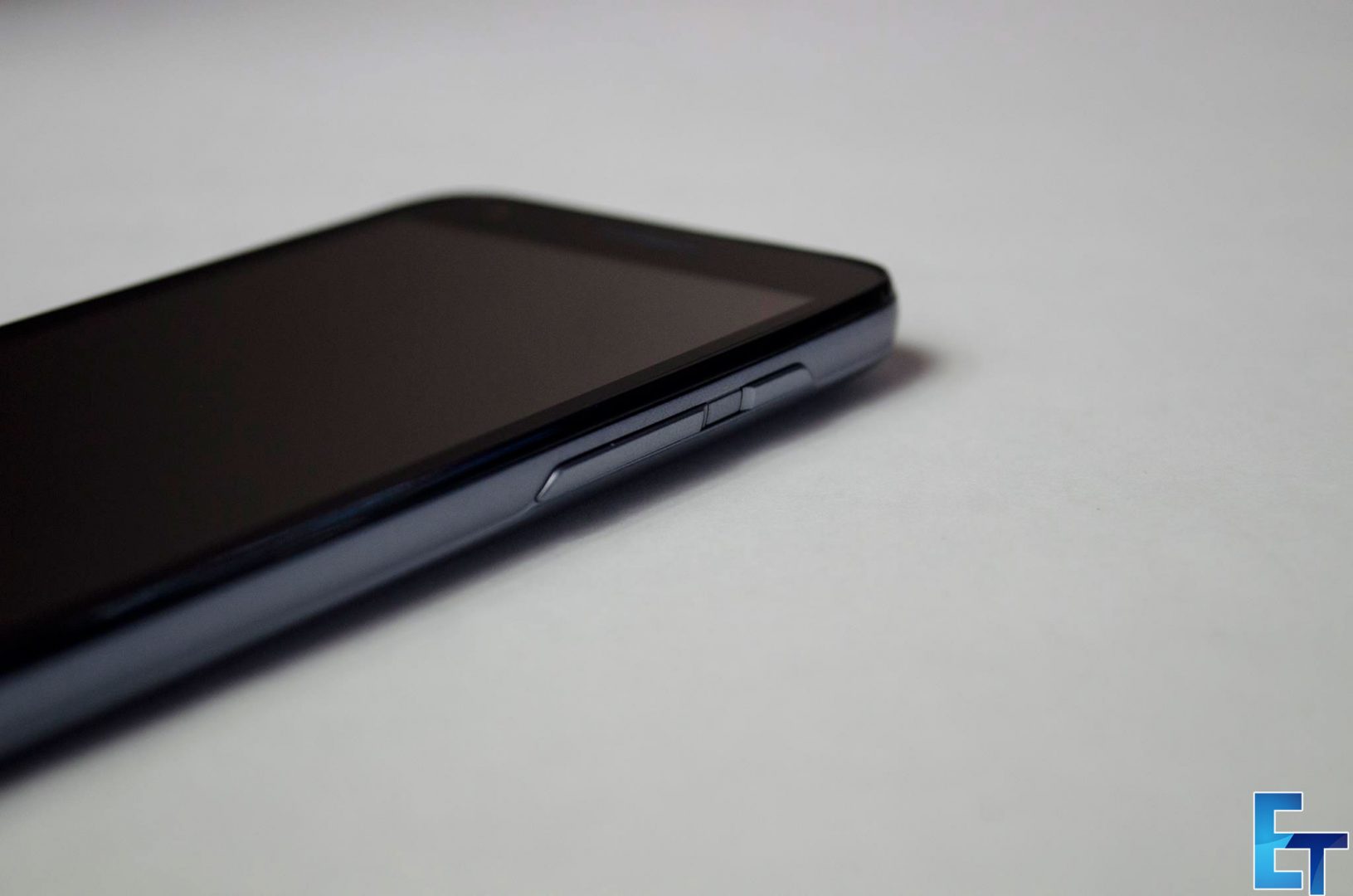 Over to the top of the phone is where the 3.5mm audio jack is so you can use the included earphones, or, you can use any standard set of earphones or headphones that feature the 3.5mm audio jack.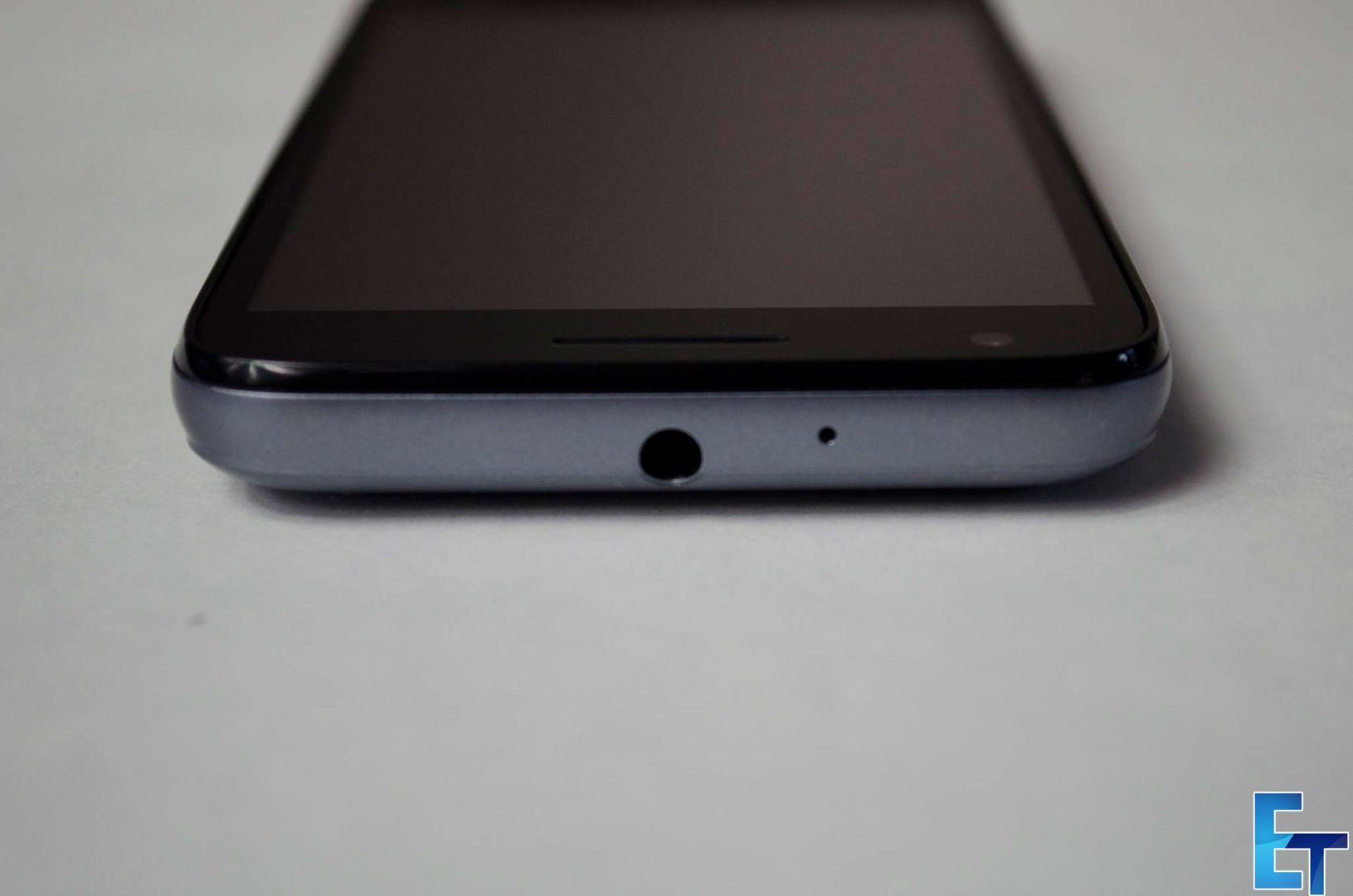 On the back of the phone are the rear facing camera and flash. One thing I have to say, is, I am a bit dissappointed the Smart Speed 6 only comes with one rear cover whereas the cheaper Smart First 6 came with two! Now, this isn't a deal breaker by any means but did leave me a bit curious as to why Vodafone didn't include them.
As always, had to give the rear facing camera a bit of a try! The Smart Speed 6 comes with an 8MP camera and as you can see, it's not to bad. This image is uploaded directly from the phone and no compression or editing of any sort have been done to it. 
Next up, we can see the specifications of the phone and some benchmark results. As always, I was set out to find the amount of RAM and actual storage space available to use. It was nice to see that there is almost 1GB of RAM in the Smart Speed 6 though we are still let down by the small amount of storage available. For this review, I only install the bare minimum programs required to run the benchmark tests you see below. The Smart Speed 6 is said to have 8GB of internal storage though as a lot of us know, this is never the case. The Android operating system takes up a fair bit of this and as you can see below, from the moment you turn the phone on you're only left with 4.68GB of internal storage.
The thing to look at here are the internet speeds, both the 4G connection and WiFi. For this testing, I put the phone directly on top of my Virgin Super Hub2 and run the tests so they can be compared directly to the previous phones we have reviewed. As we can see, the WiFi speed is very similar to the Smart First 6. However, the upgrade to 4G has given us a much faster data connection which is great to see.
The below results are from the Antutu benchmark and while they may not mean much on their own, if you compare them to other phones you will be able to judge the differences. One thing I can say is the Smart Speed 6 definitely scored better than the previously reviewed Smart First 6.
When it all comes down to it, what can you really expect from a Smart Phone in the sub £100 price range. Well, first off you can expect a quad-core CPU and 4G speeds for blazing fast internet browsing and app loading. You can also expect some pretty decent all-around performance thanks to the 1GB of RAM though you won't want to leave to many apps open at the same time. Leaving multiple apps open can use up RAM quickly and will slow the phone down over time so is normally best to close out of most apps when you are done using them.
There are a few minor let downs that can be pretty easily looked over when you consider the price. First, I was hoping to see multiple back covers included such as Vodafone did with the Smart First 6. Also, the 8GB of internal storage is not a lot, especially when you consider you're only left with around 4.5GB of actual space to use. This is, of course, upgradeable by using microSD cards, but some APPS will not allow you to install them on external media so you will need to be careful as to how you manage the space.
The Smart Speed 6 comes with a price tag of just £75 and for the money, you are getting a good phone. This is what I would consider an entry level 4G phone which also consists of a quad-core CPU that adds some nice performance. If this phone is in your budget range then it is definitely worth checking out.
Thanks to Vodafone for sending in their Smart Speed 6 for review.