Introduction
2019, can't believe it's here and we're already almost done with the first month. Anyways, a new year means new phones and cheaper phones from 2018. Today we'll be taking a look at Xiaomi's Mi 8 from the middle of last year, though in the UK the phone was officially released later by Xiaomi for sale via their site and other retailers in the UK. Price wise, for the 64GB model you can pick the Mi 8 up for around £399 which does look like a bargain, but is it?
Specifications
Closer Look
The Mi 8 arrives in a highly understated and professional looking box. The front is mostly plain apart from a subtle touch of Mi branding, and a large 8 in the centre and that is all.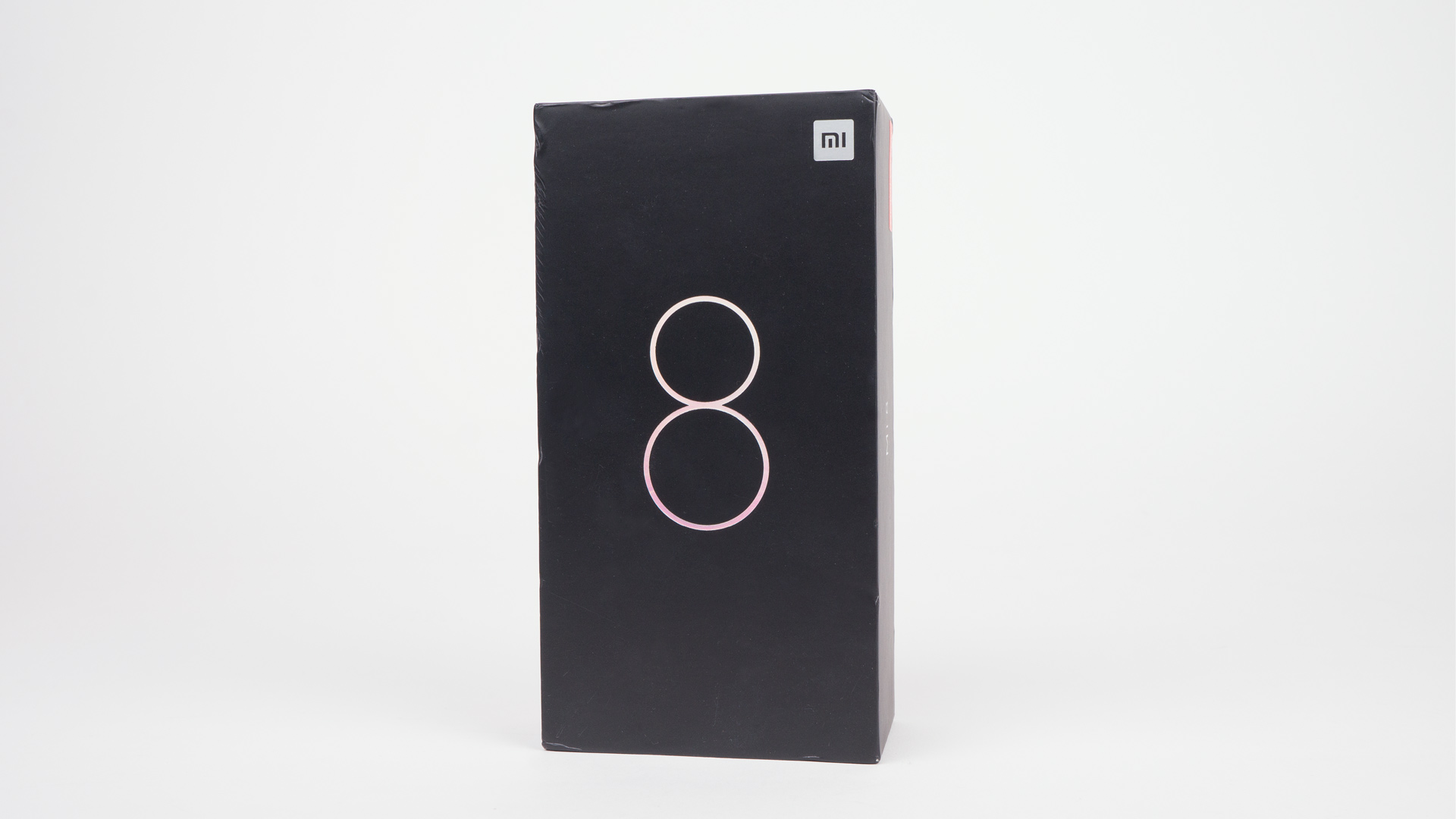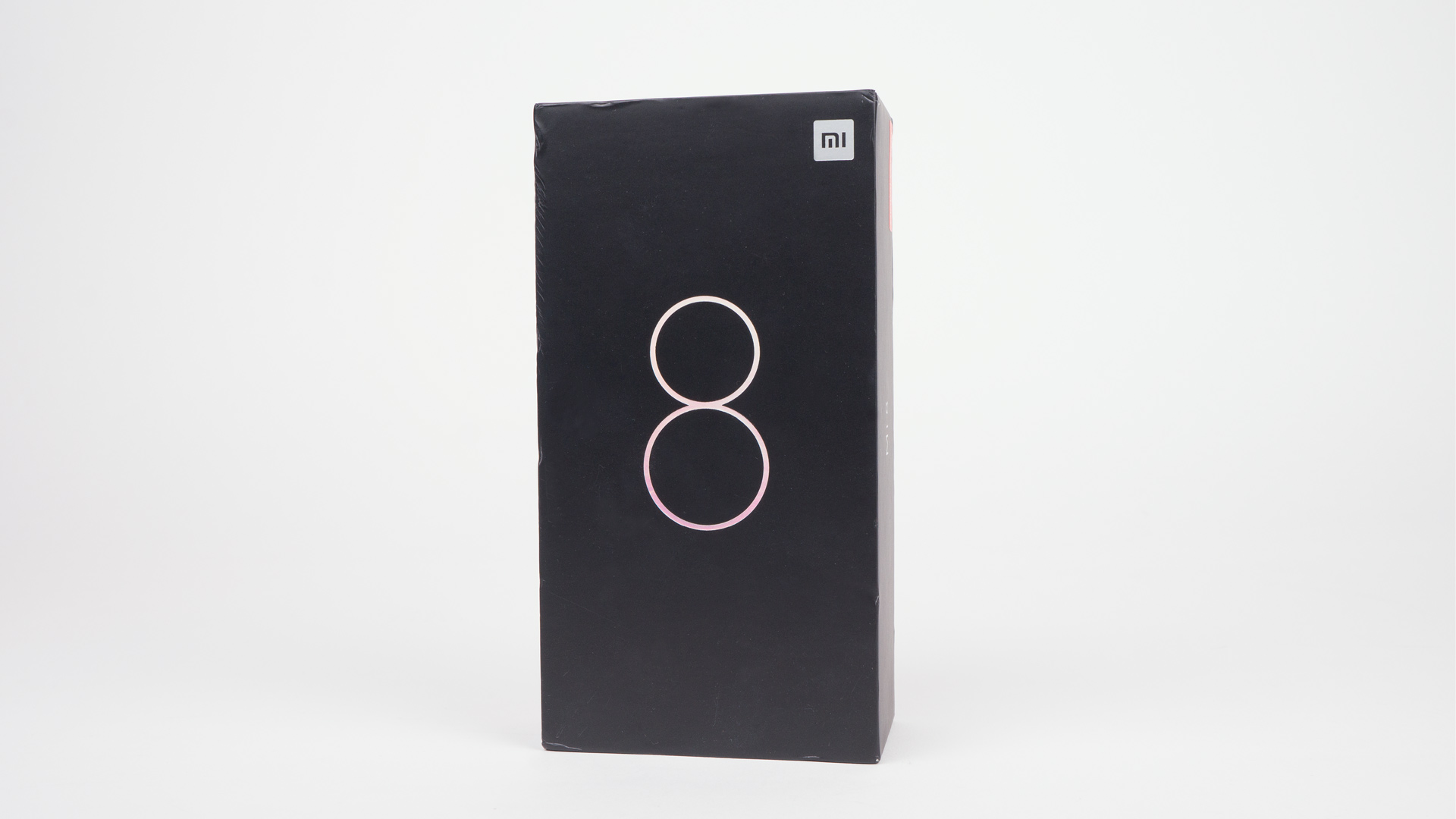 The rear of the box again is subdued and features a brief look at some of the key specs of the phone.
Within the box, you get a protective case, the power adapter, SIM tool, a Type-C cable, a Type-C to 3.5mm adapter and the usual documentation.
The front is edge-to-edge Gorilla glass 5 with a minimal bottom chin and side bezels. The top features the ever so divisive notch which does take up a fair amount of real-estate.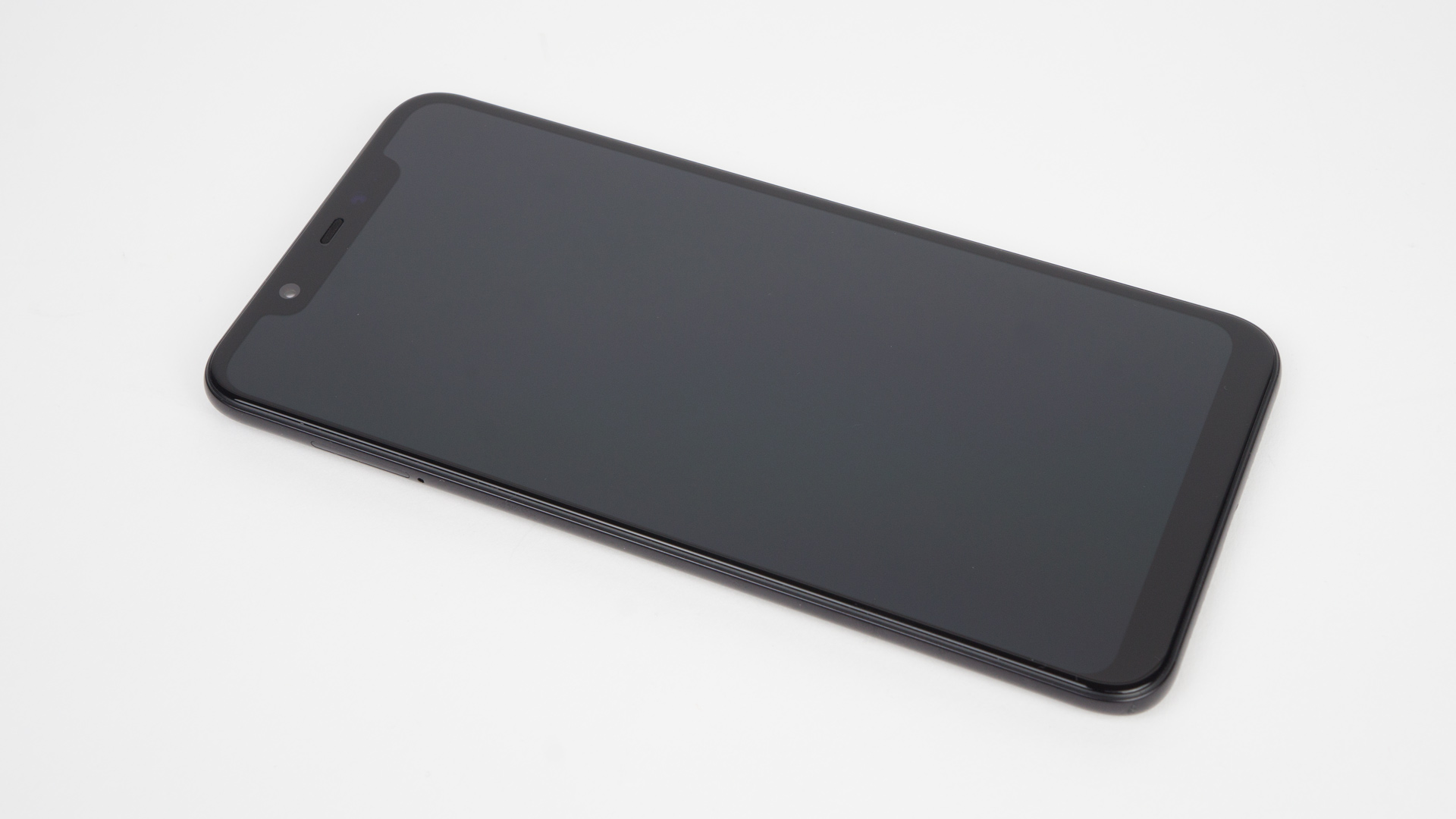 Housed in the notch you get an earpiece, the sensors and a 12MP portrait lens with an aperture of f/2.4. The front camera also allows you to unlock your phone with your face and it does work well apart from in the dark where it was a bit hit-or-miss.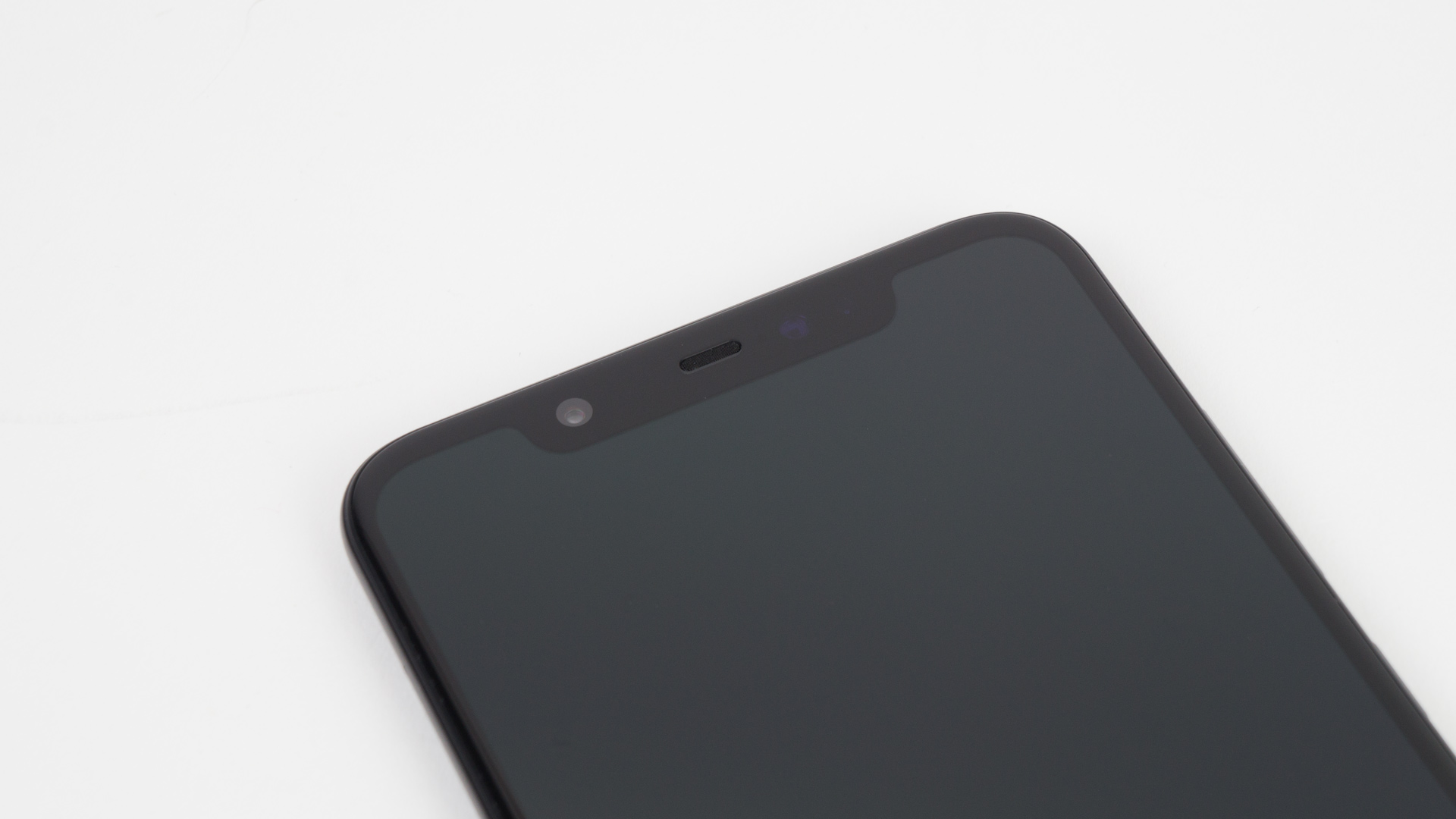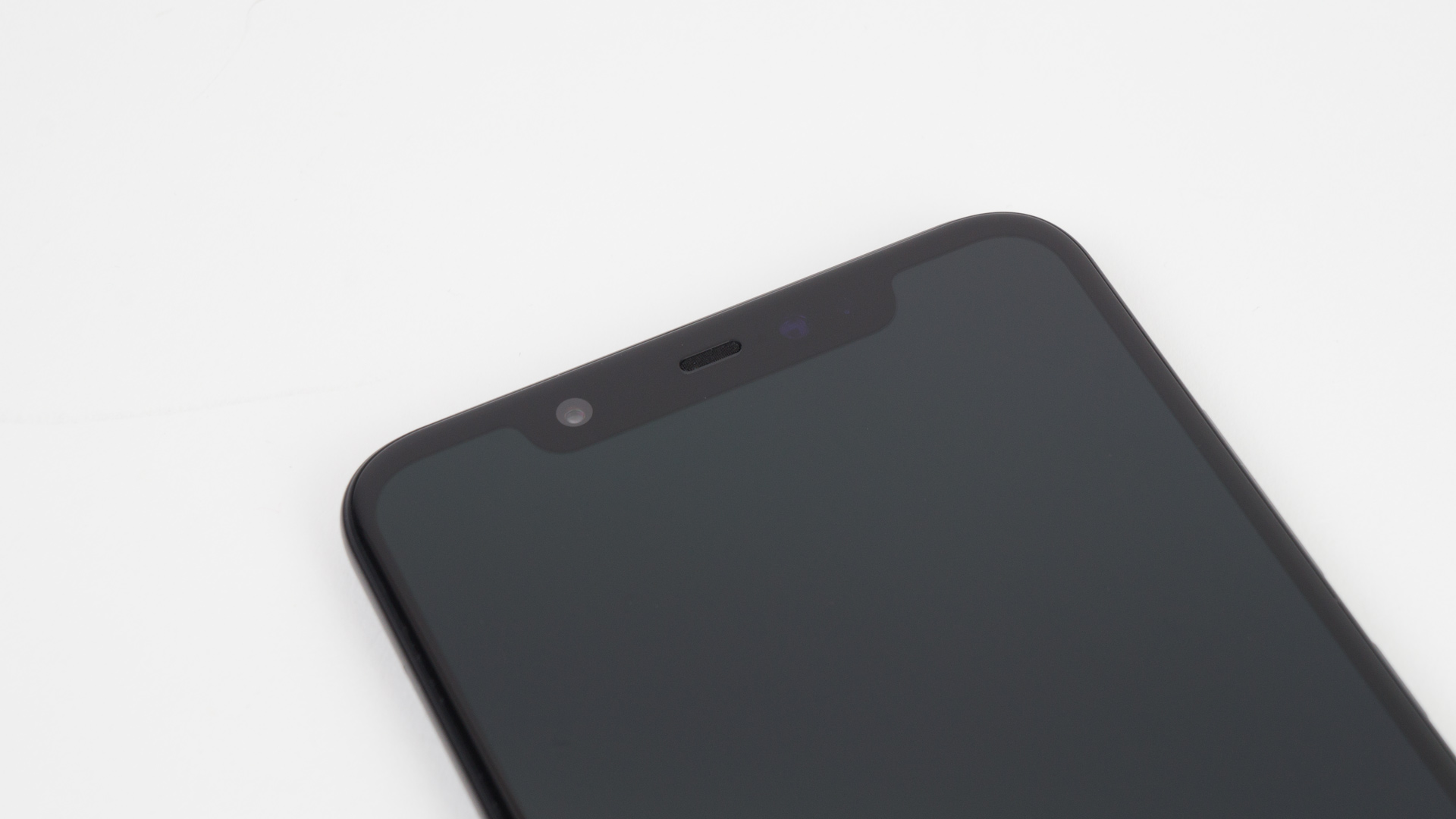 The rear is again glass and has the CE mark and some branding. We have the black model on hand, but the Mi 8 does come in blue, gold, white and the special explorer edition which does have a few performance and cosmetic changes over the standard Mi 8.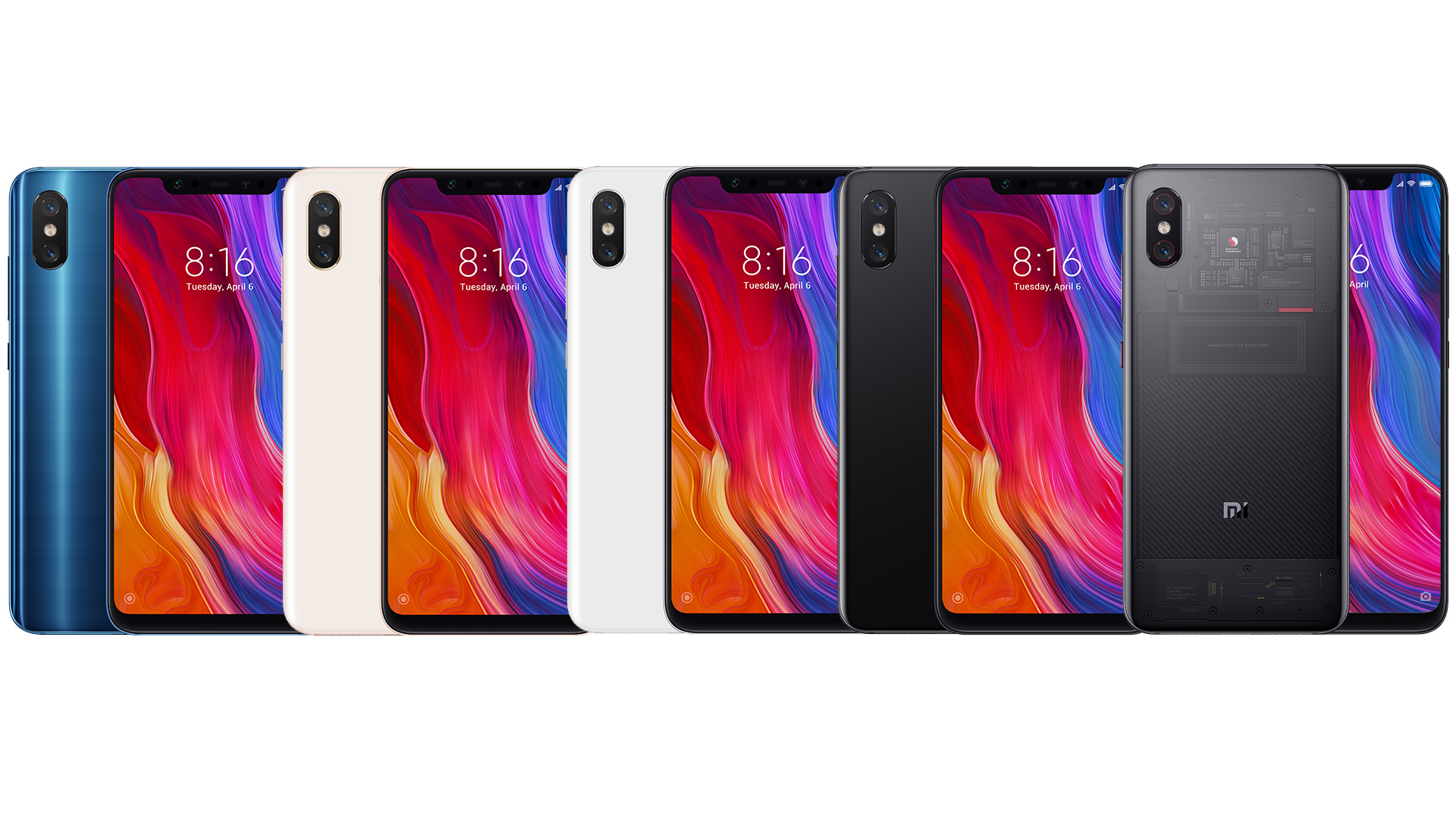 The back also houses the cameras and a fingerprint scanner. The fingerprint scanner is very accurate and really quick unlocking your phone almost instantly. On a few occasions, it didn't unlock the first time, but it was mostly a seamless and hassle-free experience.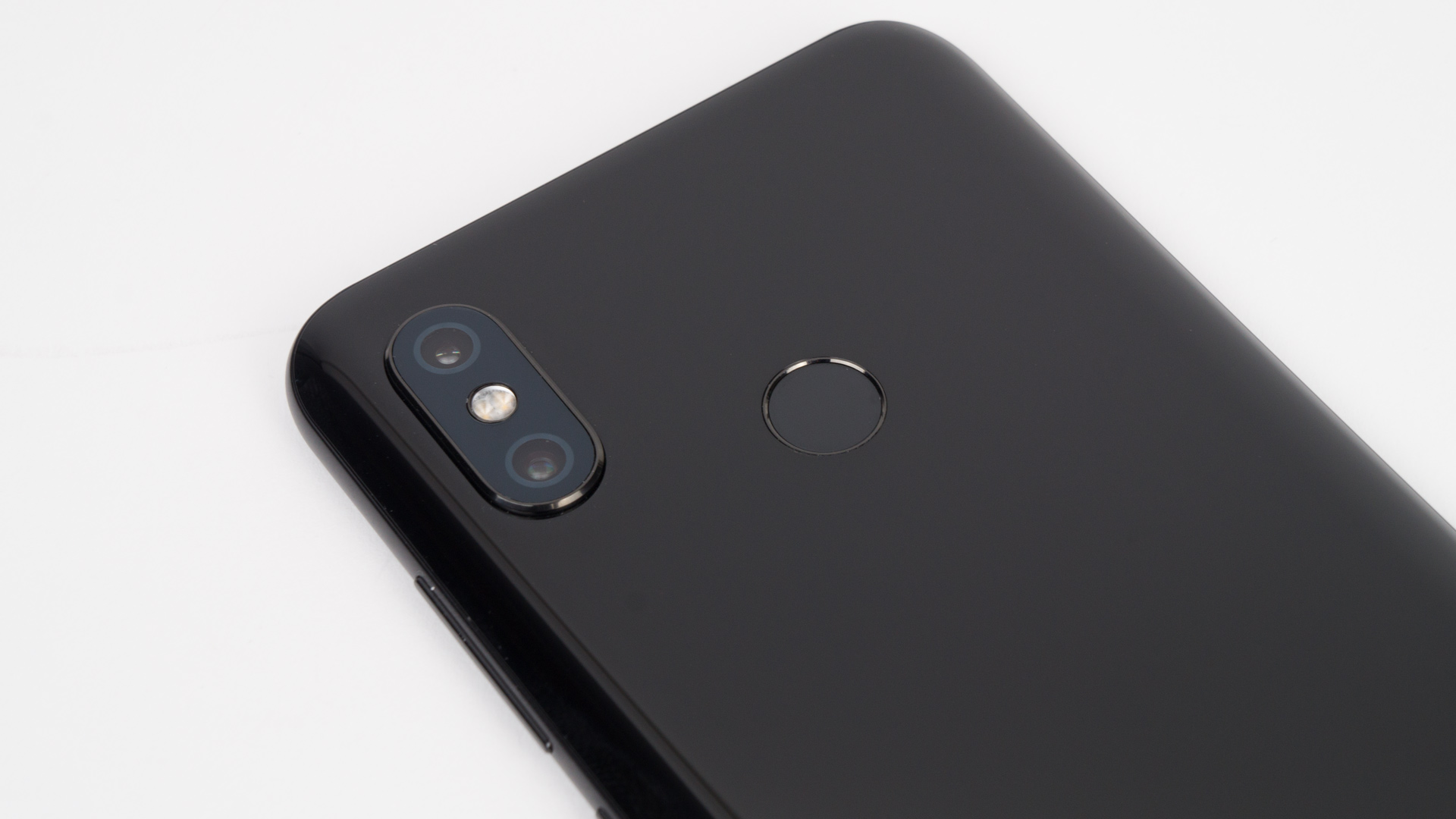 The top is metal (7000 series Aluminium) and features the antenna lines and a single microphone. The antenna lines are quite well hidden and blend nicely with the finish. We can't be certain how well the other colours hide these as we only have the black variant on hand. Also, there is no headphone port present.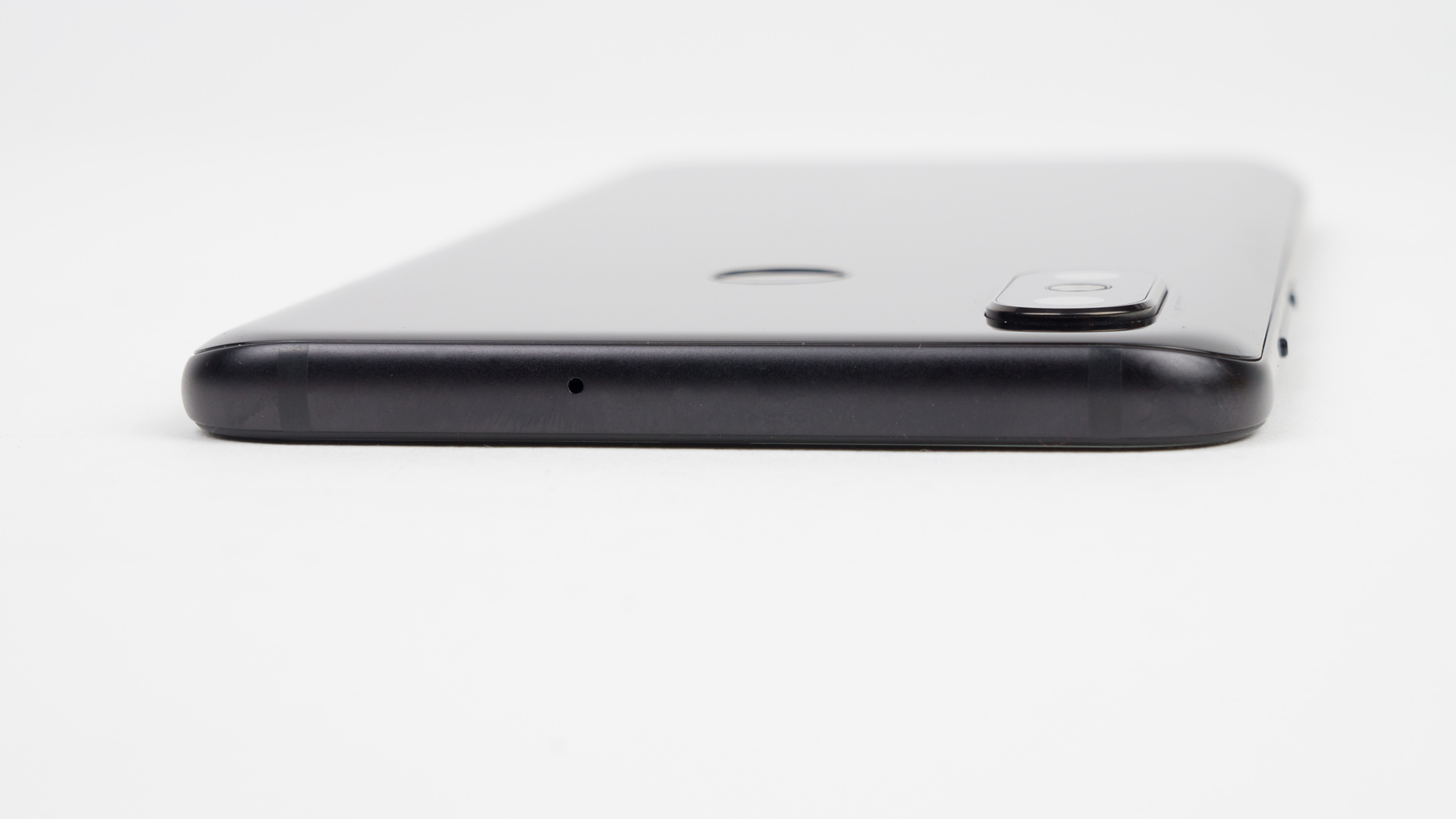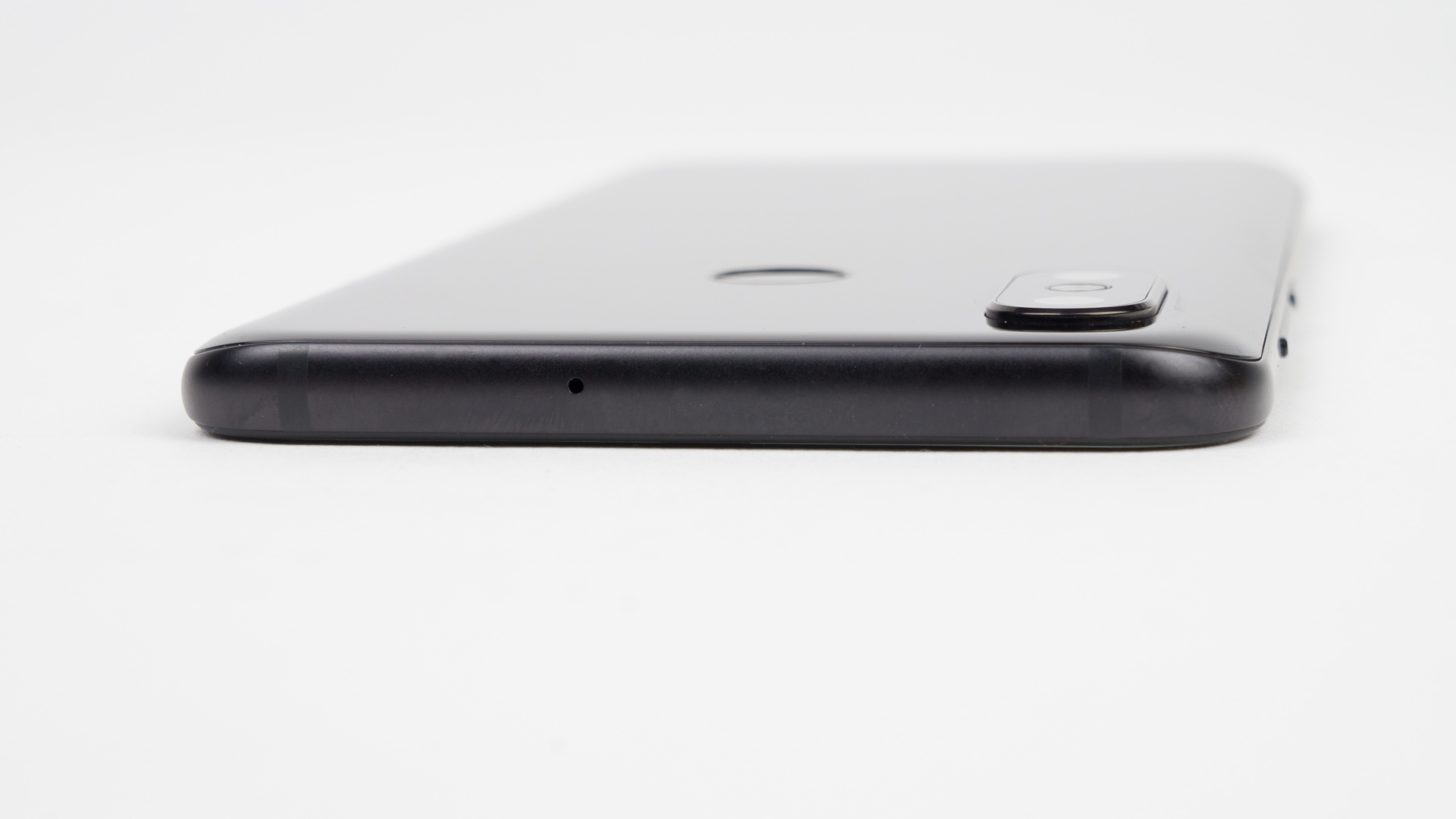 The left side is again metal (the same as the rest of the frame) and has the SIM slot. The right side houses the volume rocker and power button which as far as I can tell are metal.
At the bottom, there is a microphone, a mono speaker and the Type-C port, so, unfortunately, no 3.5mm headphone jack here either.  We also like that Xiaomi has made the mic and speaker symmetrical as it looks much nicer.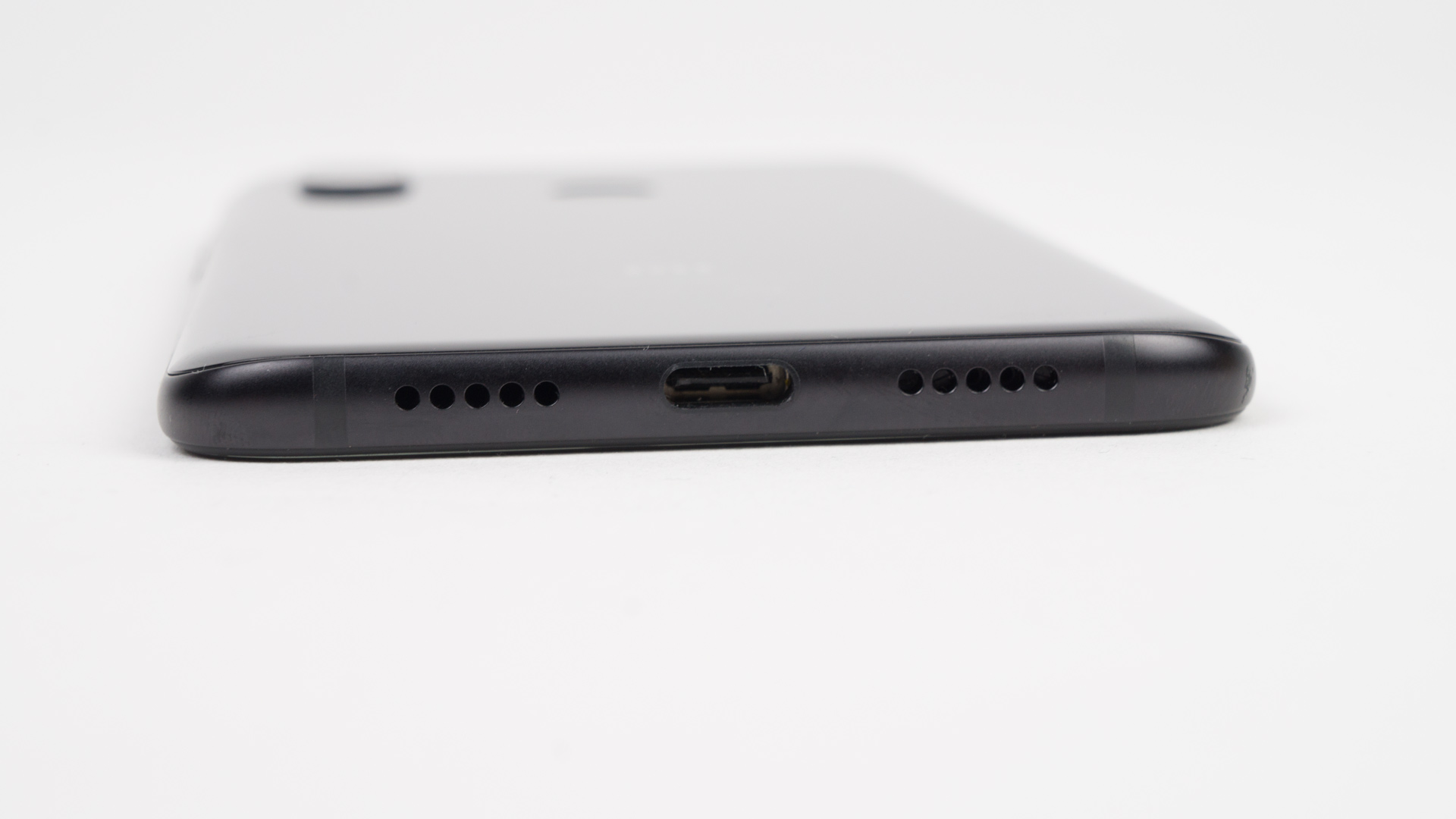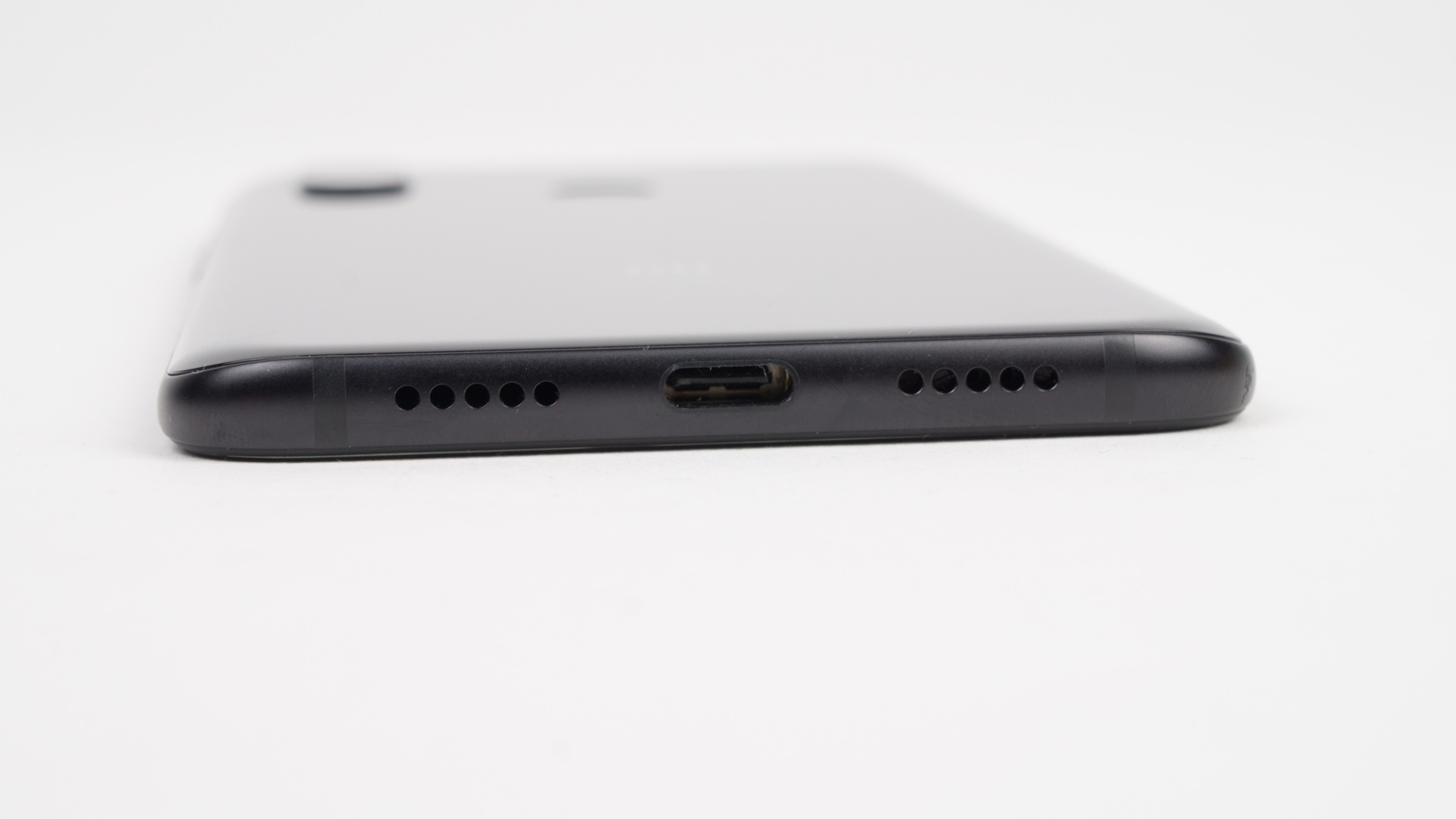 In the hand the Mi 8 is very slippery as it's all glass, luckily it does come with a case which does provide a small amount of drop protection and buffer from scratches. We would, however, advise looking at a third party option if you're a touch clumsy as the included case isn't the most robust, it's still a nice touch though. Size wise it's not the largest phone out there (H 154.9 x W 74.8 x T 7.6mm), but small it is not, so if you've got smaller hands then this will likely require some hand shuffling or two-handed use. In terms of bulk, the Mi 8 weighs 175g which isn't unbearable by any means and in fact gives the phone a more robust feel – unlike Xiaomis of old.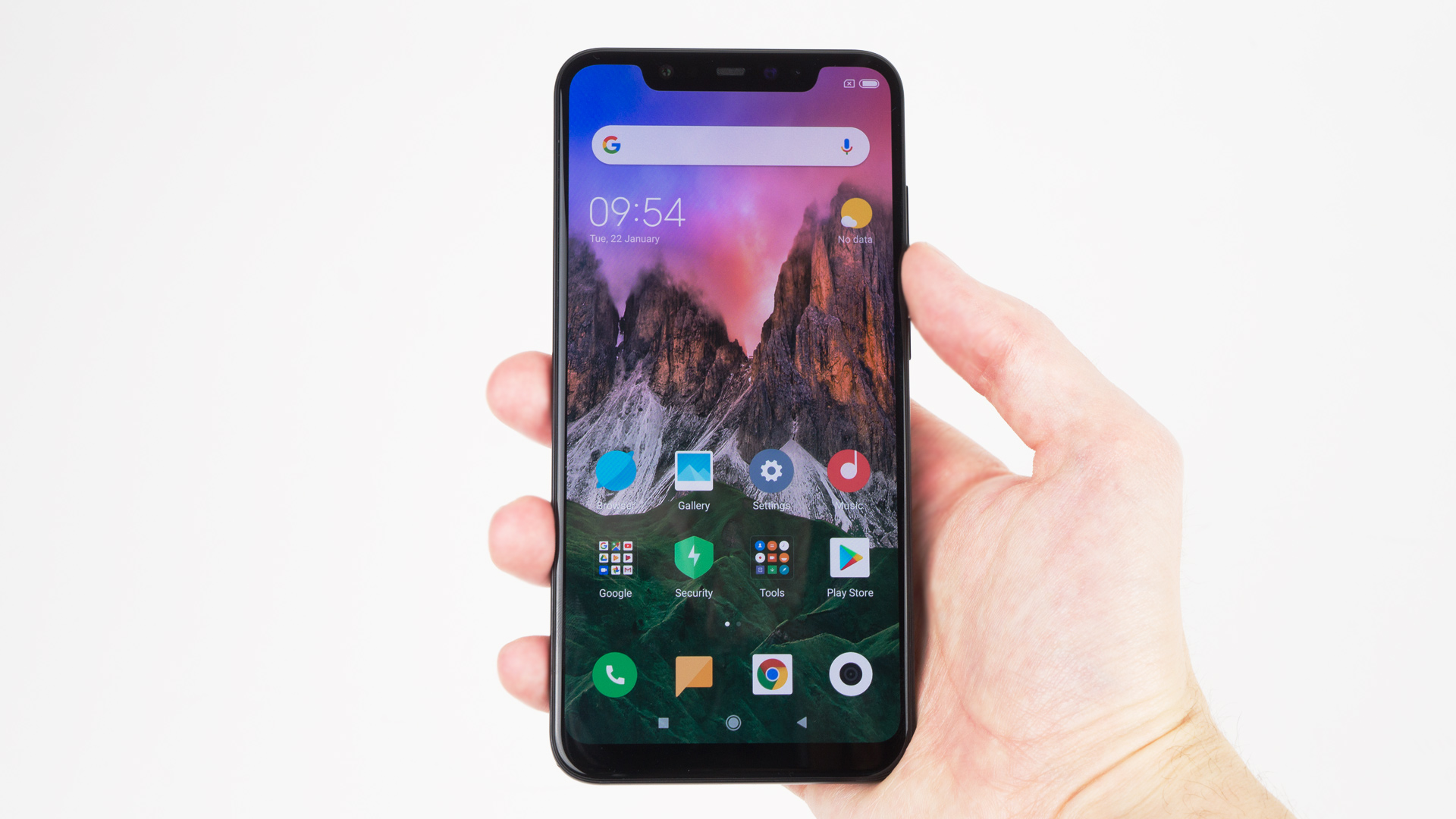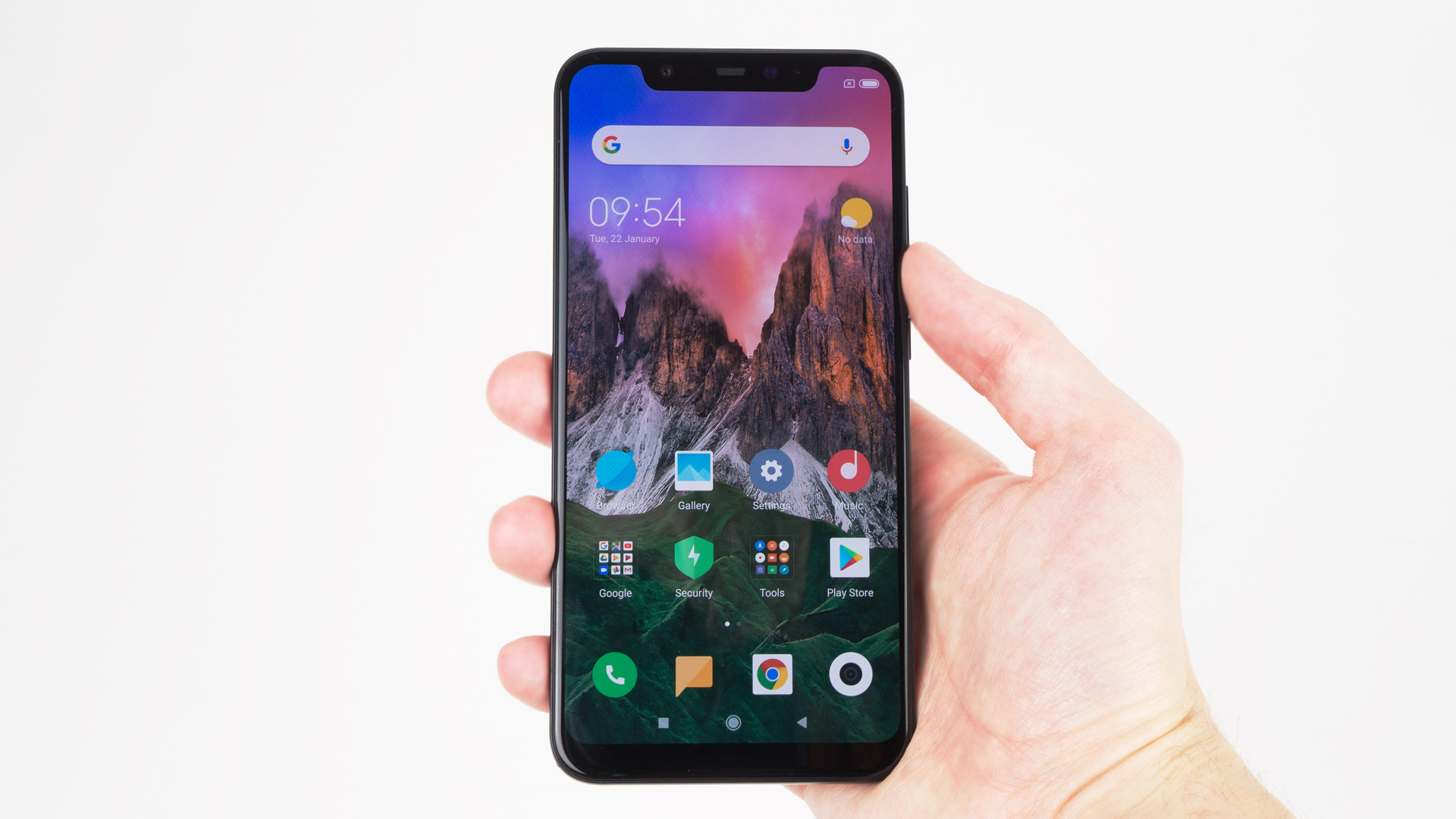 Performance and Usage
Benchmarks – These results probably don't mean a deal to you and won't matter in the grand scheme of things, but if you like comparing numbers, then the below are results taken from the Mi 8. Of course, numbers and results like these only reveal part of the story and can't fully capture what the phone is like on a day-to-day basis.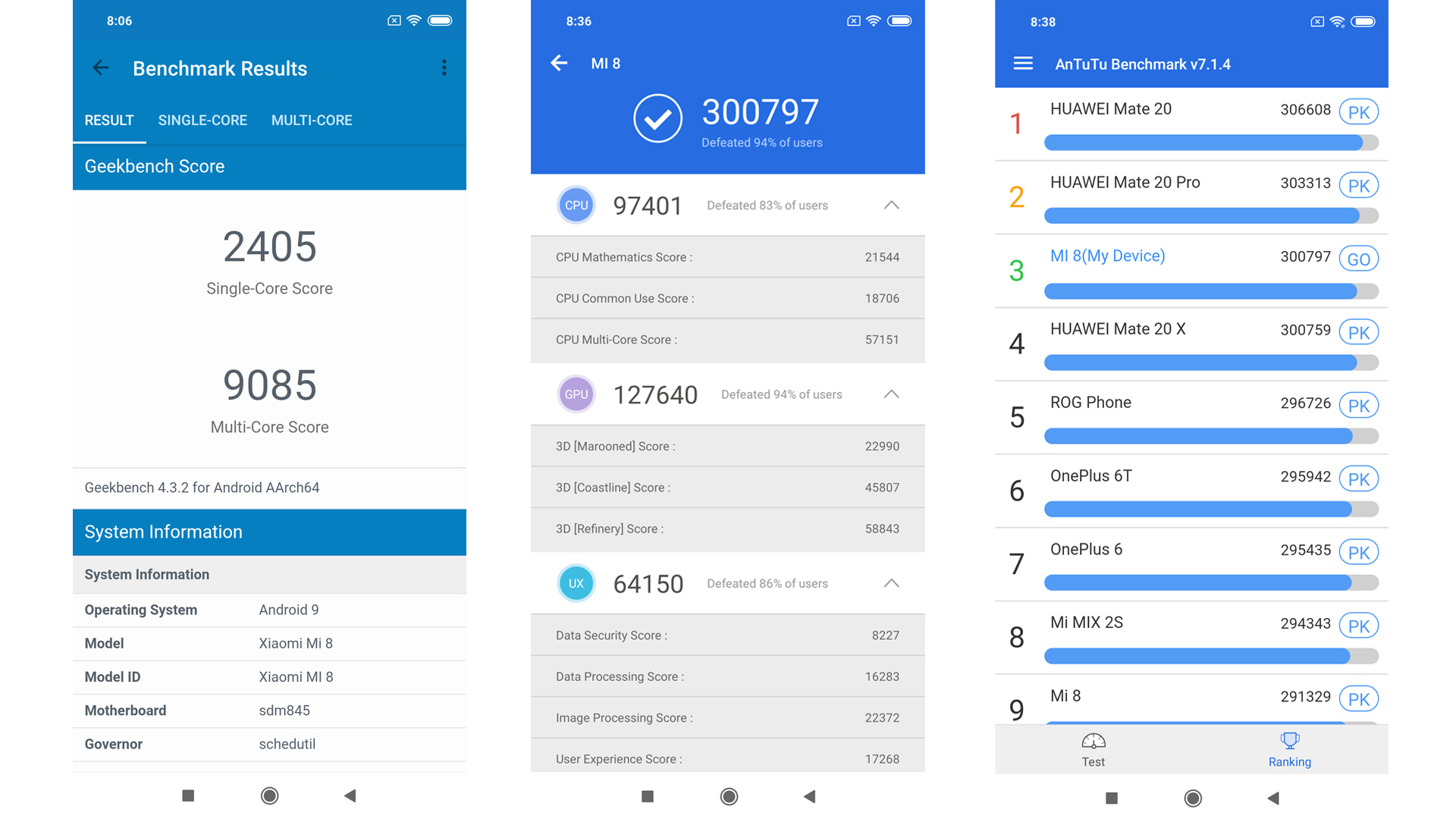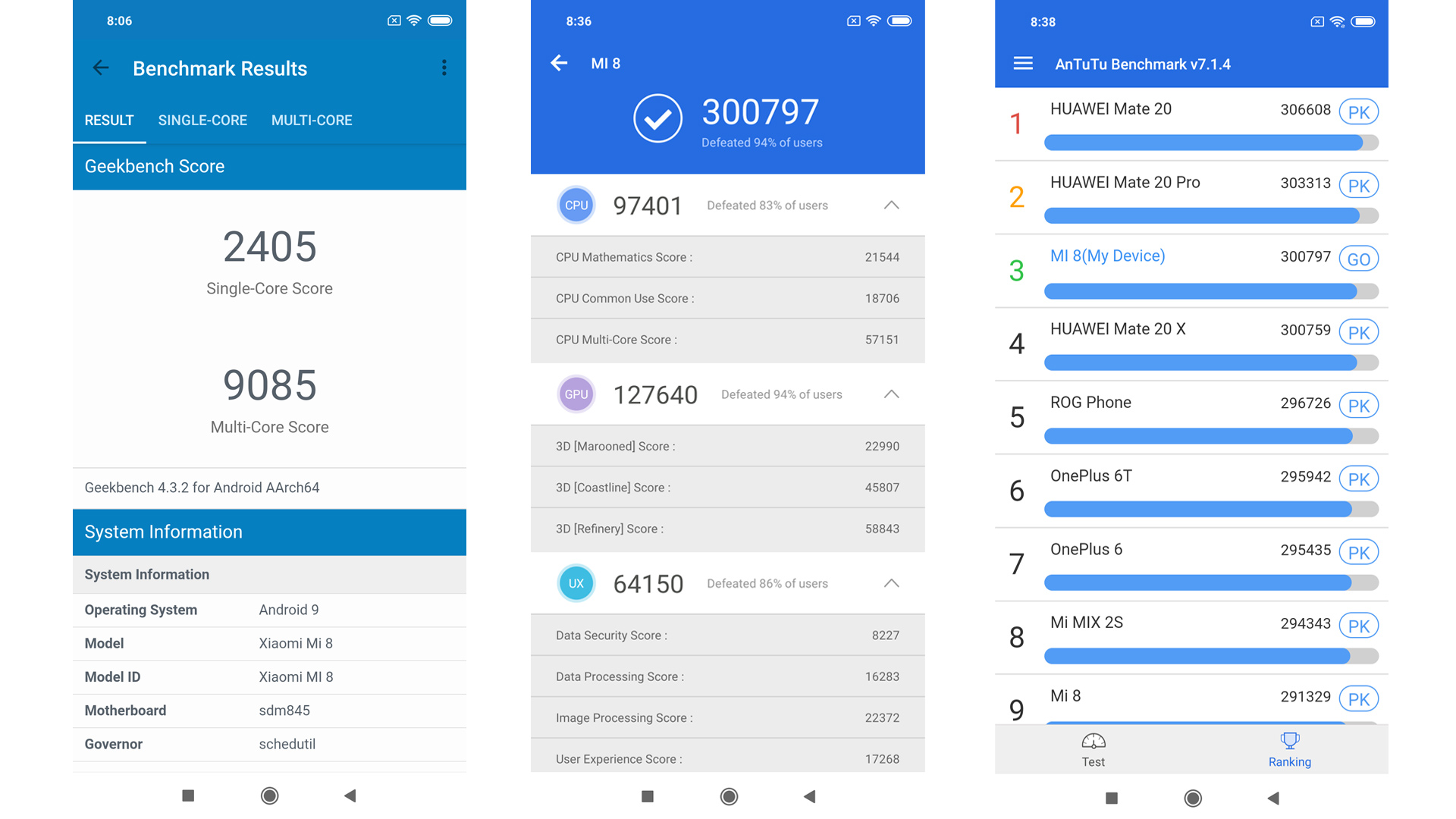 Everyday –  Out of the box our unit was running Android 9.0 Pie with Xiaomi's MIUI 10.1 on top and the everyday use experience was really impressive. The first thing to note is how much they've cleaned up the UI. The last time I used a Xiaomi phone was a Mi 5, and the UI was not the most pleasant, but Xiaomi has listened and made the aesthetic much cleaner and more modern, it's still a way off the stock Android experience, but it is a vast improvement over the previous generations. One thing that will take some adjusting to is the notch, love it or loathe the Mi 8 has one, and honestly, I fall in the latter, but after a few weeks using the Mi 8, I have almost forgotten it was even there as most apps do a good job of accommodating it. Of course, there are a few that don't, but Xiaomi has added a feature where you can hide the notch. Now, this solution isn't perfect as the notch doesn't fully disappear though it is a lot less visible.
Bloatware wise, Xiaomi has cut back, though you still get a few apps that you'll more than likely not use or already use but from an alternate source. Some of the preinstalled apps can be removed, and some are unfortunately more permanent, luckily the Mi 8 is available with 64GB as a base model or 128GB for the higher tier variant. We have the standard 64GB, and you get roughly 52.4GB to play with after a few updates.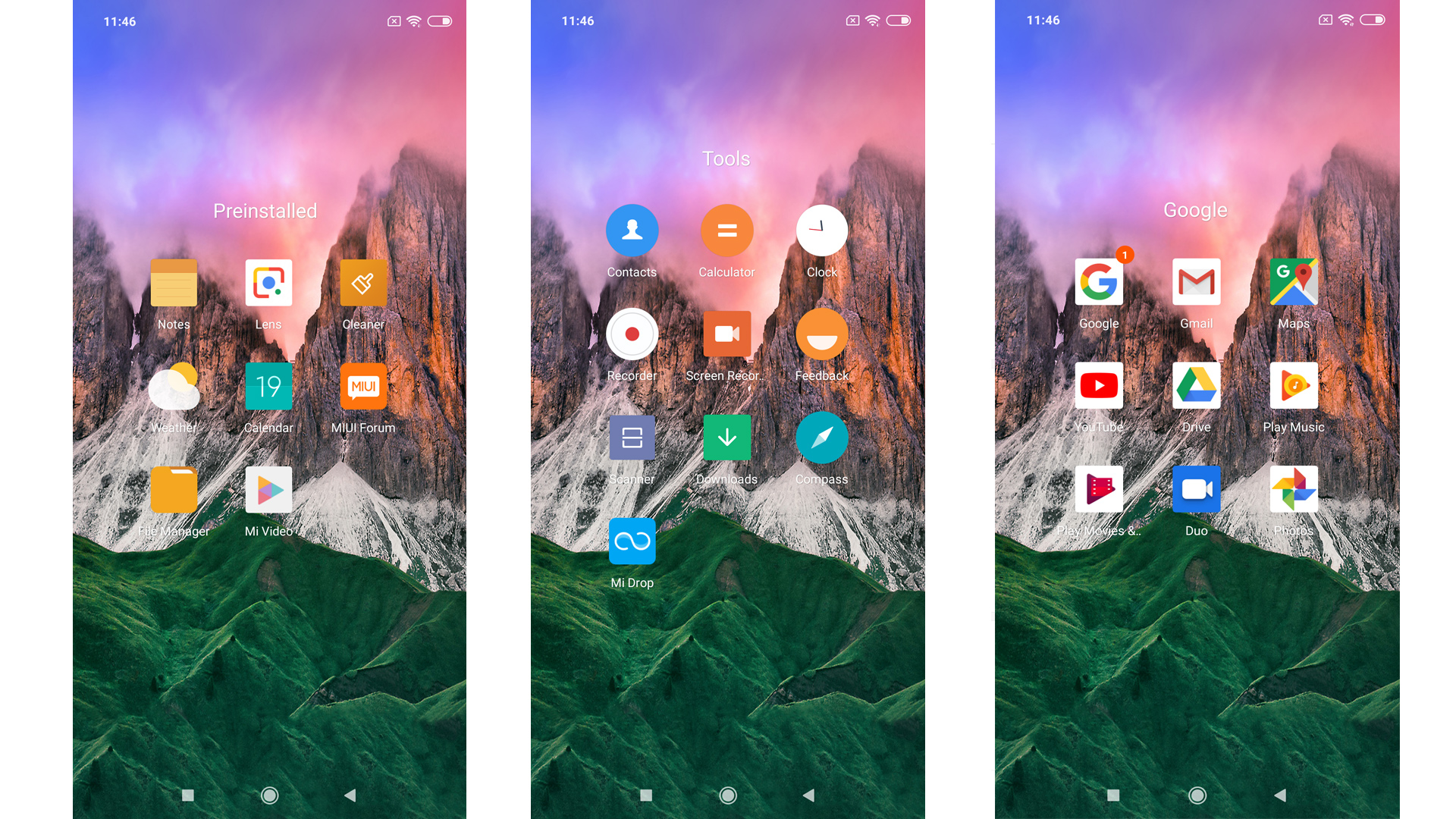 In terms of performance, the Mi 8 ran without fault; every aspect of the phone is fast and easily handles everything you throw at it. Multitasking is also dealt with easily thanks to the 6GB LPDDR4X RAM. Memory management is solid too, and the Mi 8 can keep quite a few apps running with no signs of slow down at all, this means you can jump between apps without having to wait for them to reload. Of course, it's not perfect, and occasionally an app will get dismissed, but this doesn't happen all that often.
Battery –  The battery in the Mi 8 is 3400mAh and has quick charge 4+. Typical use of the Mi 8 saw around 6 hours plus (approaching 7) screen on time and just about a full day of use. More intense use saw the SOT drop to around 5 hours 40 minutes which is still very impressive. It's also worth noting that on more than one occasion the battery lasted a full day and few hours the next day with moderate use, plus if you make use of Xiaomi's battery saving features, you can easily squeeze a few more hours out if you're not near a socket to top up. Charging the Mi 8 took around 1 hour 28 minutes from 15% to 100% and 1 hour 35 minutes from 10% to 100%. These times were achieved using an Anker PowerPort 5 using the quick charge port (version 3), so charging times will likely be quicker if you use a charger that uses has the newer 4+ standard. Also, your mains output power will factor into this and times will vary.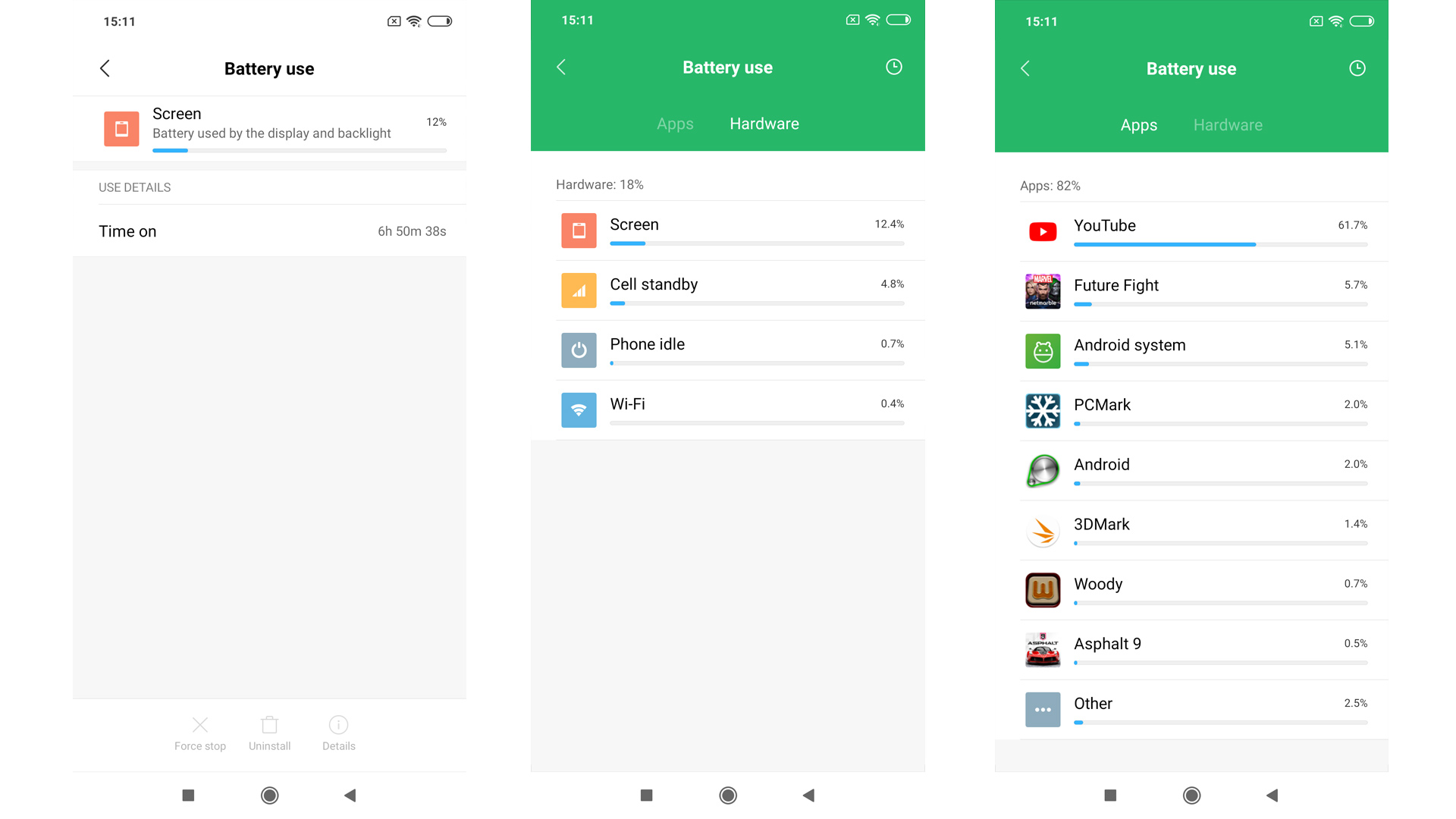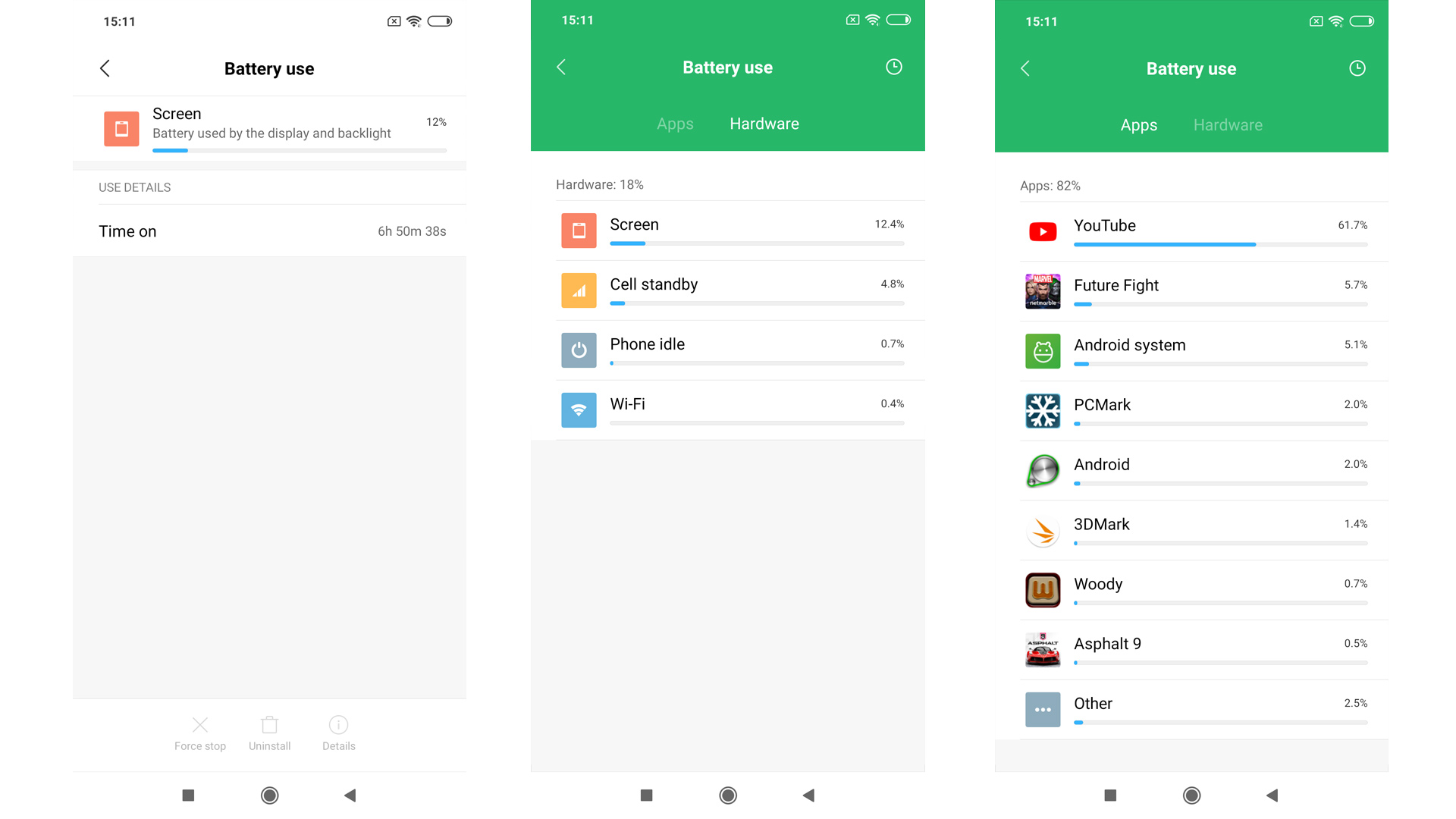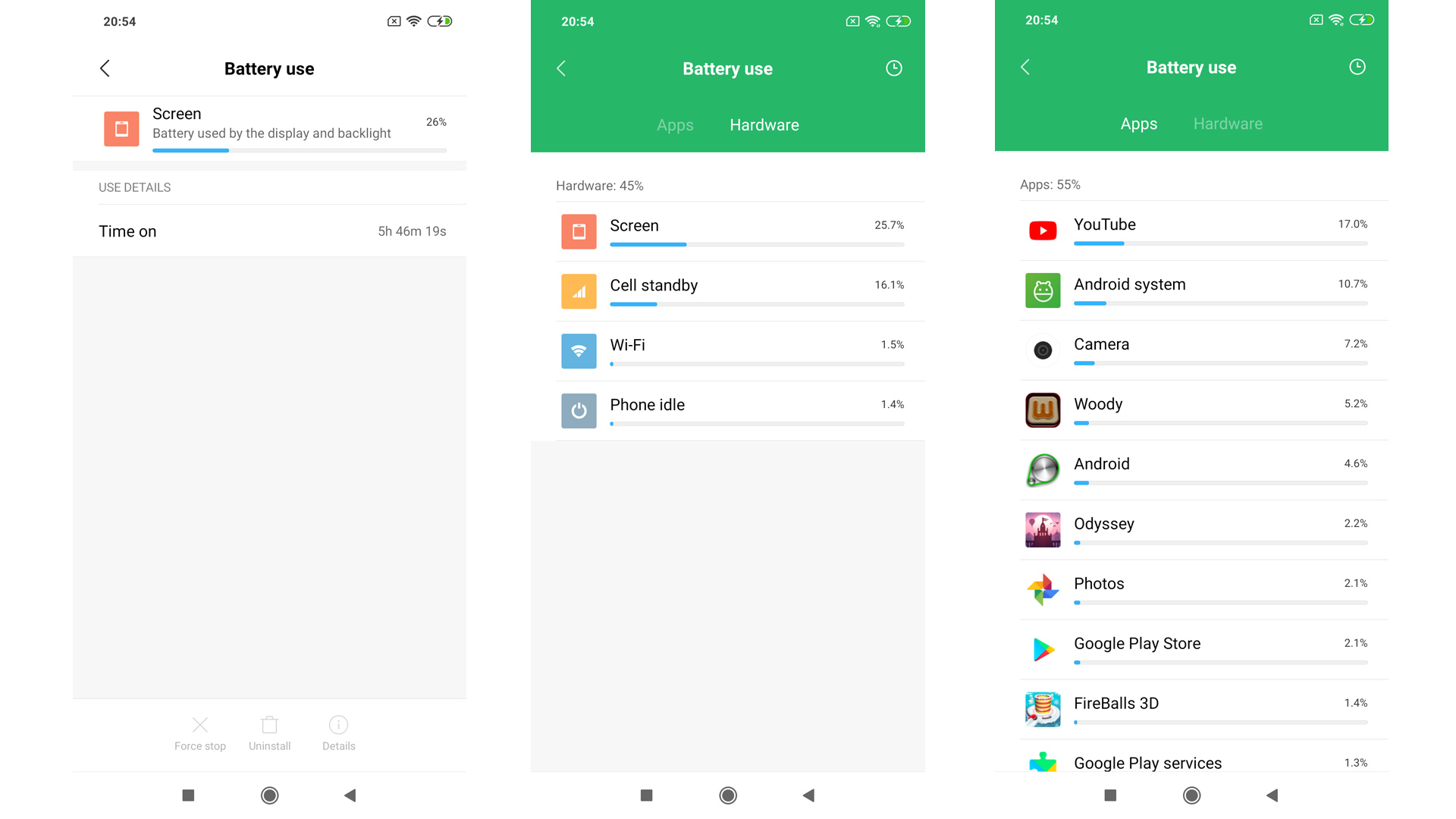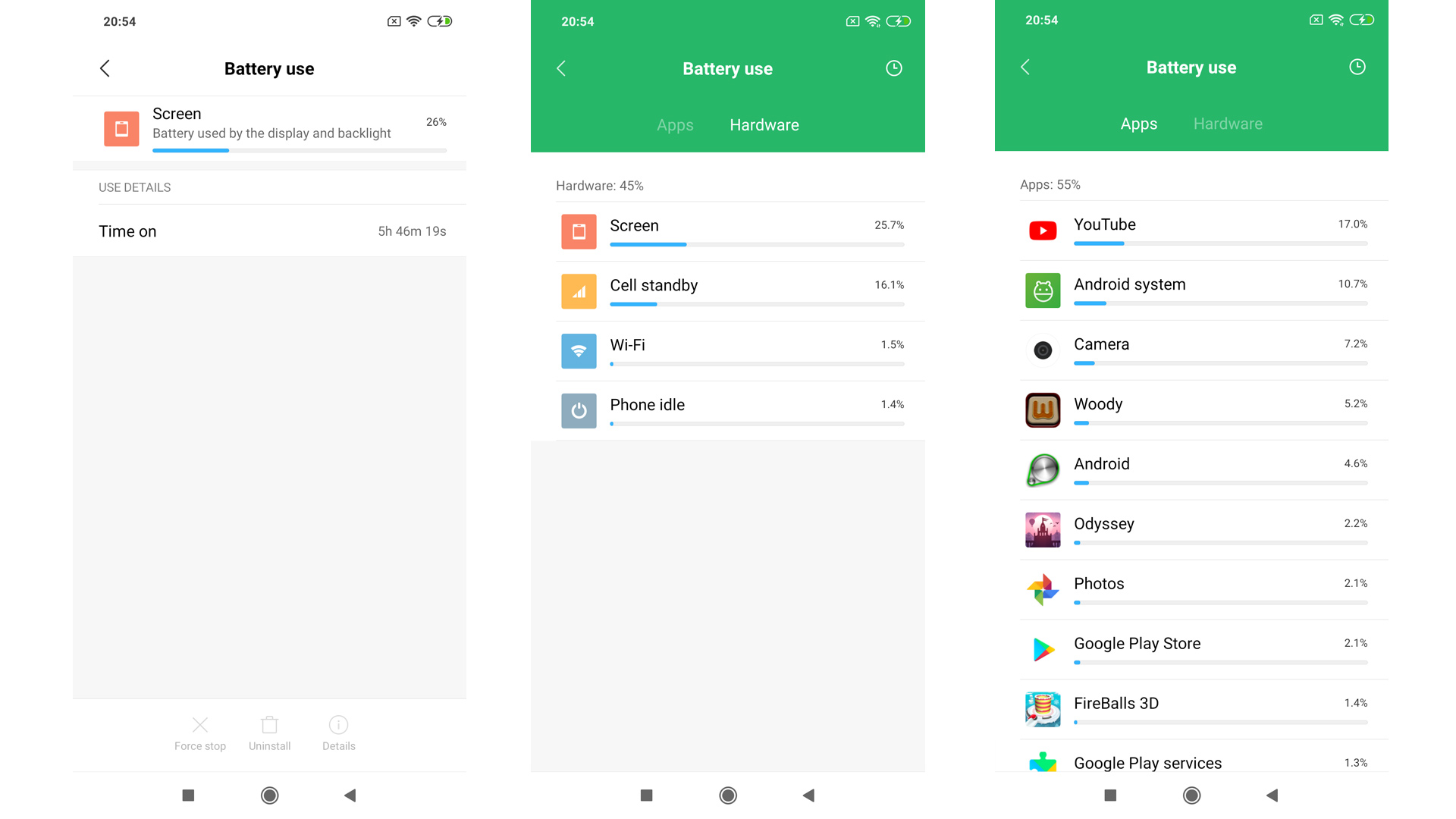 Gaming – For our gaming tests we downloaded an installed a variation of different titles, these included racing games, shooters, fighting games and more basic puzzle games and the Mi 8 handled everything we threw at it. Starting with the puzzle games and those didn't phase the phone at all, even running multiple puzzle games at the same time did nothing to the phone at all and it remained fast and fluid. We then stepped things up to the fighting games and tried to tax the phone more, but again the phone handled the games with ease and delivered a highly enjoyable and smooth experience. We didn't note any lag or frame drops and all was well. This is hardly surprising though as the Mi 8 features a Snapdragon 845 paired with an Adreno 630. The last test was a racing game and again the Mi 8 impressed with a buttery smooth experience, the only drawback to the gaming experience was the notch as some landscape games don't accommodate it and thus you're left with a notch in the image. After time you do become accustomed to it, but it's not as nice an experience as with a phone with no notch at all.
Screen – The Mi 8 uses a 6.21″ AMOLED screen with a typical brightness of 430nits and a resolution of FHD+ which equates to 2248 x 1080, this gives the Mi 8 a PPI of 402. The contrast ratio is also impressive at 60000:1 and it also conforms to the DCI P3 colour space. But, specs aside the display is lovely, the colours are punchy and vivid, the blacks are not the deepest I've ever seen, yet they are much better than you'd get from an IPS screen. Colour accuracy is solid though it is a touch contrasty and has higher saturation levels than a more traditional IPS screen. This can't be helped as AMOLEDs are just more vibrant and punchy by nature, luckily if you aren't a fan of the strong colours then Xiaomi has included an option in the settings that allows you to dial down the contrast to give the screen a more subdued look, honestly though colour accuracy is not a top priority for me personally, though this is a great inclusion if it is.
Viewing angles on the display are good, I can remember when AMOLEDs used to have terrible colour shift and poor off centre viewing angles, but the newer generations don't suffer anywhere near as much. Again the viewing angles can't match an IPS panel, and there is still some slight colour shifting, it's nowhere near as off-putting as it used to be. The displays sharpness is solid as text look really clear and is very easy to read. Speaking of reading, if you're into your ebooks or just like reading in general, the Mi 8 has a built-in reading mode which filters out some the blue light that can fatigue. In terms of brightness the Mi 8's screen gets very bright at peak brightness and is highly visible outdoors, indoors I found myself only needing the screen on around 20 to 30% depending on the amount of ambient light.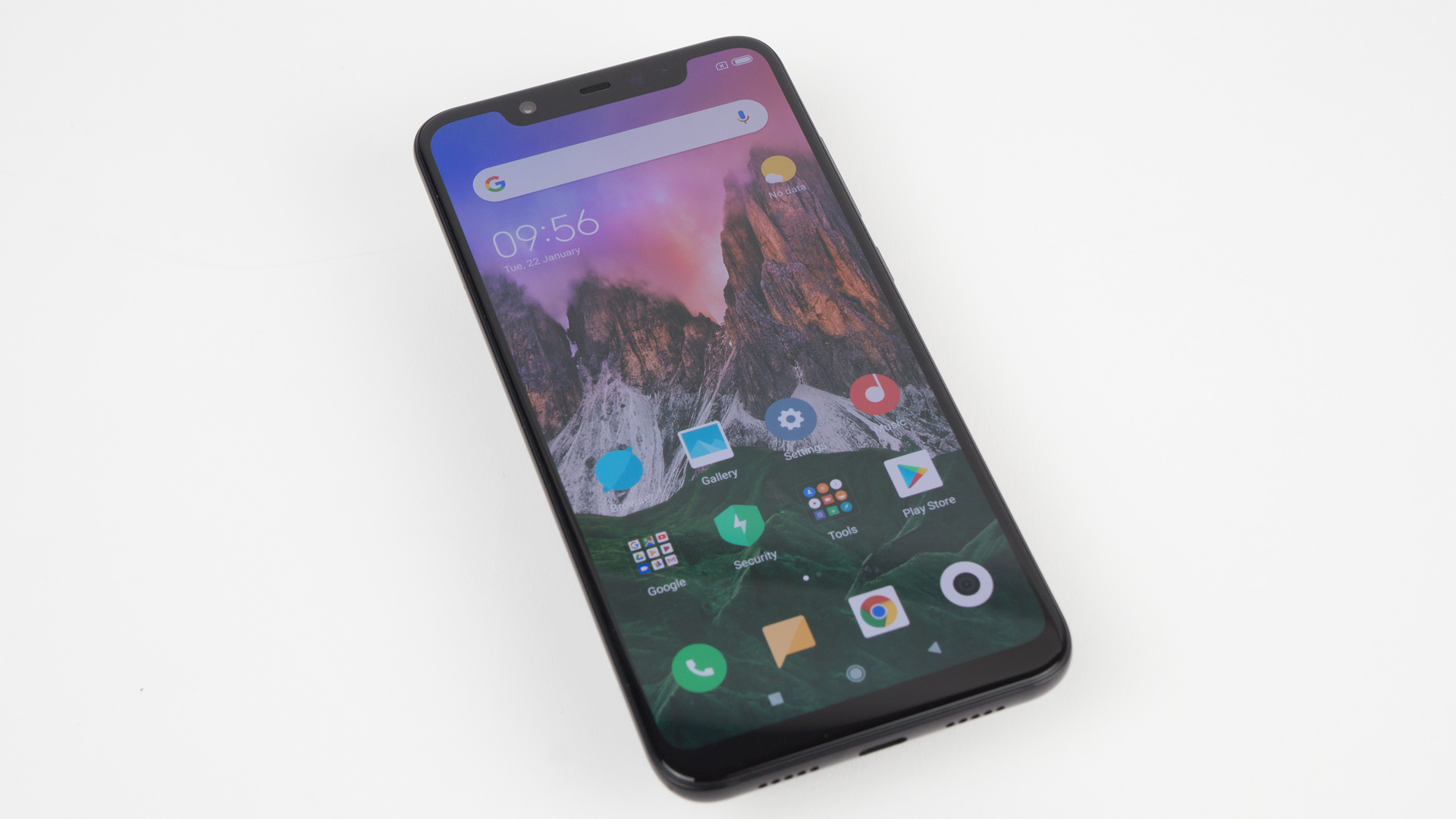 Media – The whole media experience provided by the Mi 8 is a real mixed bag, as we've already mentioned the screen is great and a real treat to watch Netflix or YouTube on. The notch does somewhat ruin things if you're watching a video with a wider aspect ratio, but you do get used to it eventually. As for audio, the mono speaker is loud and clear though lacking in body, and depth, this is surprising as the Mi 5 had a more punchy speaker (for a phone at least). Another slight dampener is the lack of a proper audio jack which means you have to make do either using Bluetooth or the supplied dongle. Bluetooth is fine as it uses the latest protocols, but the Type-C audio leaves a lot to be desired. The audio gets loud, but the quality is too clinical for my personal taste. It's workable and usable, though we and I still miss the good old 3.5mm jack.
Camera – The Mi 8 has a dual camera set up at the rear that consists of one 12MP wide-angle lens f/1.8 and a secondary telephoto/portrait lens f/2.4. It also has a whole host of other features that would honestly take too long to list. Some of the stand out features include the Night mode, portrait mode and AI scene detection. First up is Night mode and this essentially lifts the highlights and shadows in low light shots to make the image brighter. In the Mi 8's case, the results are mixed, and you can see from the samples below that it does some aspects well, though it's not quite as polished as on some other devices. Portrait mode again is promising as the edge detection is good, though the main subject can often be left looking a touch out-of-focus. The AI scene detection does what it says on the tin and uses AI to enhance your experience. In our use case, this experience was good and did help adjust the camera to the environment we were in and also the subject we were taking a photo of. For example, it's really good at identifying animals and people, but it does struggle with household objects like fruit or other food items.
Outdoor
Indoor
Final Thoughts
Performance – Currently we don't have anything on-hand to directly compare the Mi 8 to, but it does perform better than my daily LG G6 in pretty much every aspect. Compared to the competition it looks great, but without testing them we can't provide a definitive comparison. What we can do though is focus on the phone based on its own merits, and it is really good, it offers flagship levels of specs for half the price and performs fantastically. Having used a Xiaomi in the past, it's clear they vastly improved on every aspect of their devices. Using the phone has been highly enjoyable and issue free, the only area where we were left wanting more was with the camera as some of the modes weren't quite up-to-par, but other than that the shots produced were good. Performance for general use and gaming were great and we couldn't really ask for more given the price. Other impressive attributes include the great battery life and very nice display which does really sweeten the deal.
Design – I was and am a big fan of the styling as it's subdued, classy and modern, it does borrow a few elements from other devices, but it blends them in a way that is really attractive. We would advise the use of a case though as the phone is a bit of handful and is quite slippery. Then we get to the notch, and it does dampen some experiences such as watching an 18:9 or 21:9 video or gaming in landscape mode. Of course, you can hide the notch, but it's not the perfect fix as sometimes it's still visible.
Value – Given the Mi 8 costs £399 SIM-free in the UK it's a touch tricky to give it our MUST HAVE award as although the phone is fantastic, it faces tough competition at the price point, plus the Mi 8 is missing a few features that more and more phones are adopting. The main missing features are a Quad-HD screen (not a massive issue), waterproofing and wireless charging. These additions are important to quite a few people, and their omission does somewhat count against it, but taking everything account we can still easily recommend it as the price-to-performance ratio is really good. We would, however, still advise shopping around before just buying one. If you do end up copping one, then the Mi 8 is highly impressive, and you'll likely not be disappointed with it.