PC Cases, Coolers, Power Supplies, and Gaming Chairs
Cougar had a big presence at Computex and was more than happy to show us some of their products. We have been working with Cougar for a number of years now – dating back to 2015 when we covered their 550M Gaming Mouse. Hopefully, we will continue our relationship and get
PC Cases
Up first we have the Panzer 800 which is the updated big brother of the original Panzer Max Full Tower Case we reviewed way back in 2016!
The Panzer 800 has support for E-ATX motherboards, up to a 460mm Graphics Card, and up to 12 fans making sure your build has all the airflow it needs.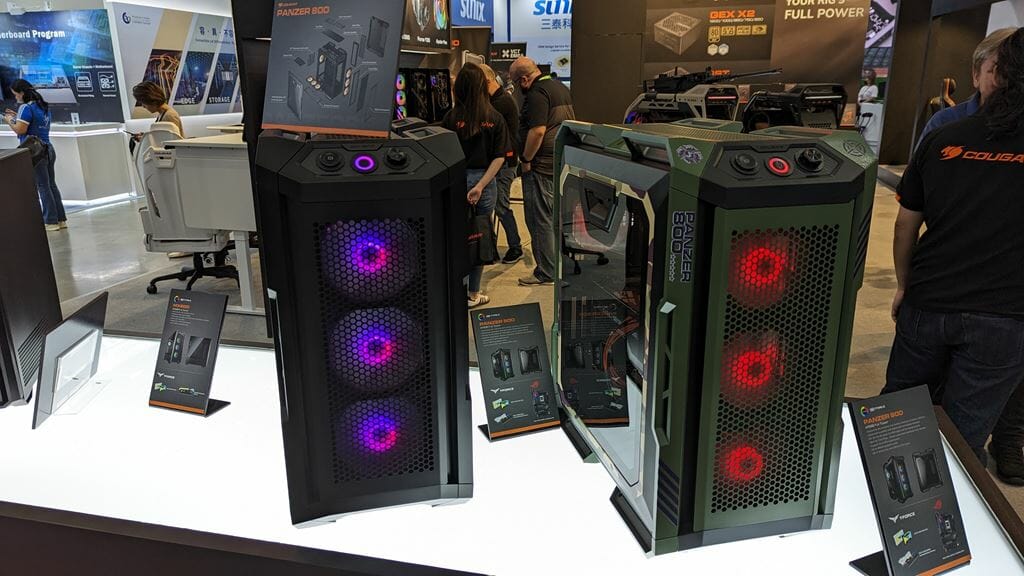 Up next we have the CRATUS which is a 3d constructed ARGB Tube Open Frame case. This case has support again for E-ATX motherboards, GPUs up to 460mm, and plenty of room for radiators and water-cooling components.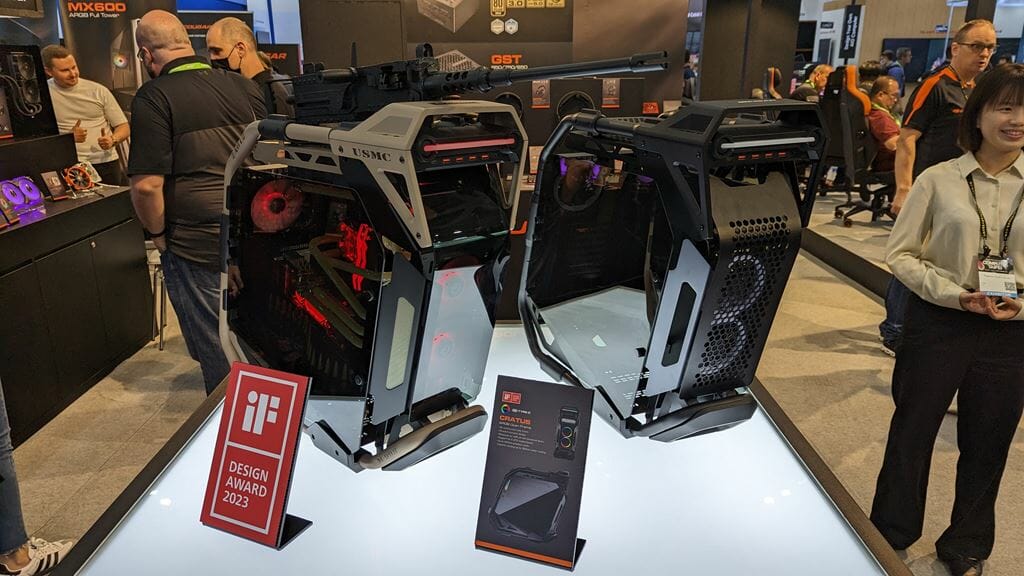 The MX600 comes with a mesh front panel and 4x preinstalled ARGB fans to allow for some massive airflow. Again, we are seeing support for up to E-ATX motherboards which also generally means there should be plenty enough room for bigger GPUs and most any component you would want in a personal build.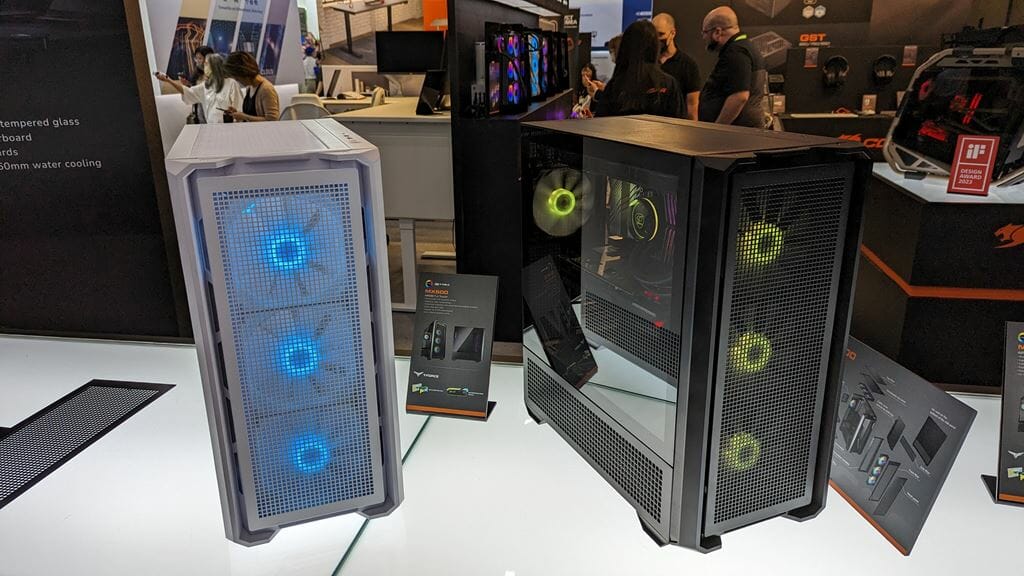 Coolers and Fans
COUGAR is releasing their POSEIKDON Coolers in three different variants. On the left is their Performance ARGB model, the middle is the SILENCE ARGB, and on the right, we have the ELITE ARGB.
As you can see, each cooler has its own unique look and COUGAR have done a great job at making sure they all over something different.
Hopefully, we will be able to feature at least one of these in our upcoming 360MM AIO Roundup we are currently working on.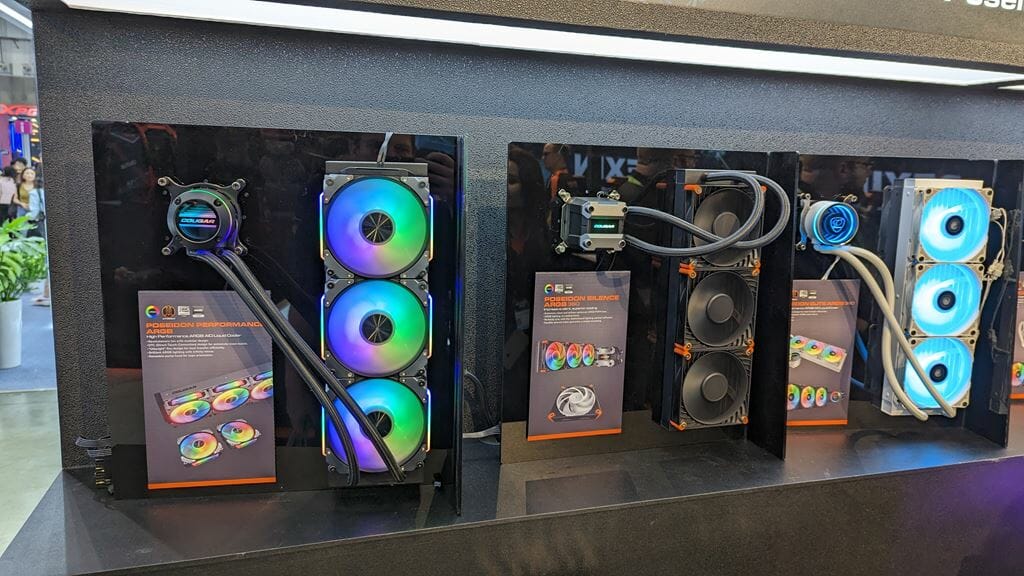 For those of you who prefer air coolers, COUGAR is also releasing a few different models to their FORZA lineup.
We can see a dual tower, a single thicker tower, and a smaller single tower cooler here. These will offer varying levels of performance but will also have different price tags so you can get what you need without breaking the bank.
COUGAR also had their APOLAR 120mm modular fans on display! Lots of companies are jumping on this bandwagon as you can imagine and I am all for it. These are some amazing-looking fans and the fewer wires we have to contend with in our builds the better!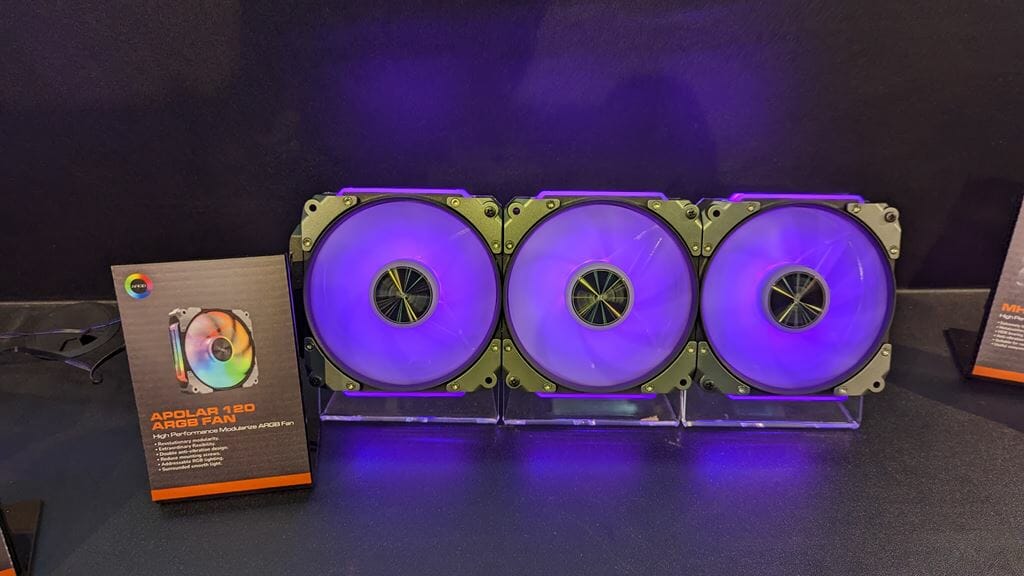 Chairs
Of course, COUGAR also had some comfortable gaming chairs on display, and thank goodness they did, was lovely to sit down in a proper chair for a few minutes.
One of their chairs had an RGB Fan in it. Yes, there is a fan in the backrest to help try and keep you cool during those long gaming sessions.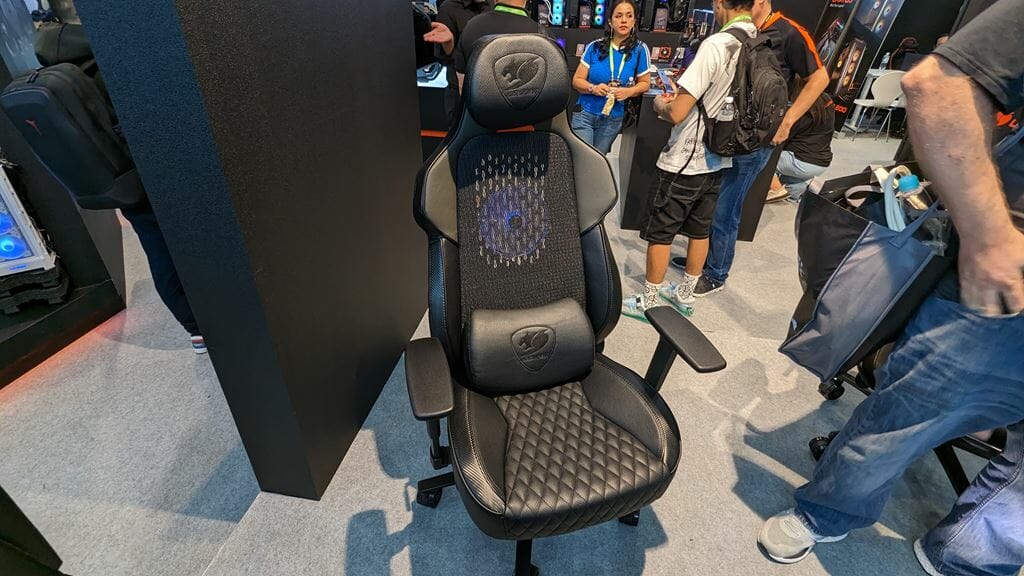 Conveniently, the fan is powered by a rechargeable battery pack that is hidden at the back of the chair. I forgot to ask how long it lasted but I would imagine it should last for a good amount of time as it is only powering a single fan.
The star of the Gaming Chair show was the COUGAR TERMINATOR Gaming Chair This chair is designed for maximum comfort and to give users a second spine so to speak. Instead of being a straight back, it is meant to mimic the curvature of a spine, offering more comfort than standard chairs.
As I am sure you can imagine, it has a lot of customization options so you can get just about everything on the chair in the exact position you need to make sure you are getting the most out of it.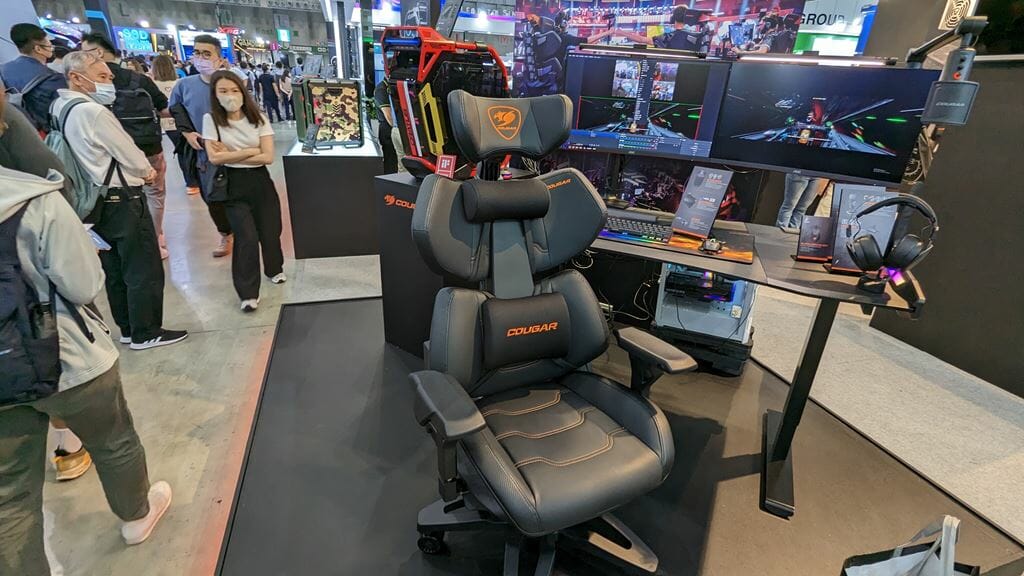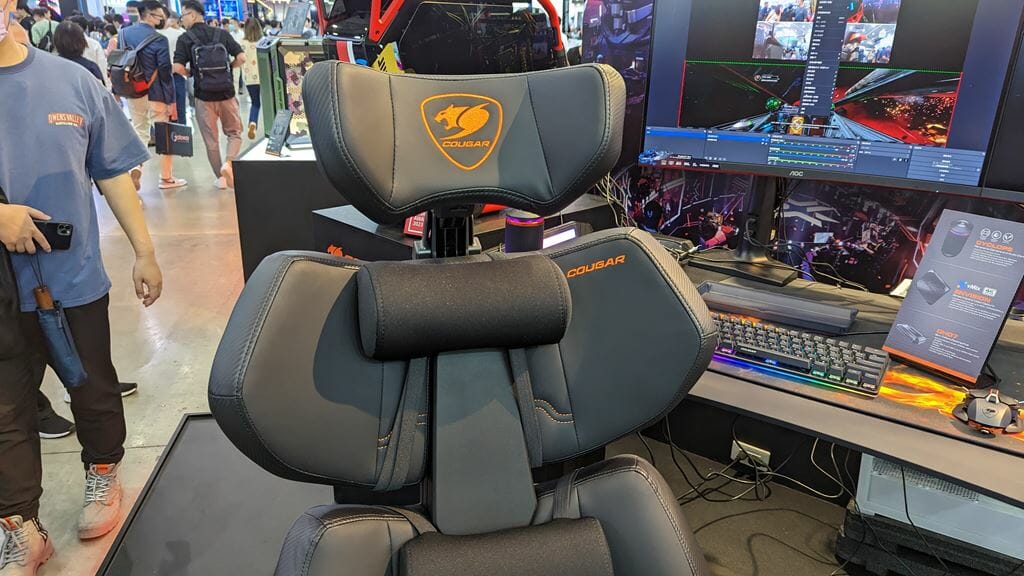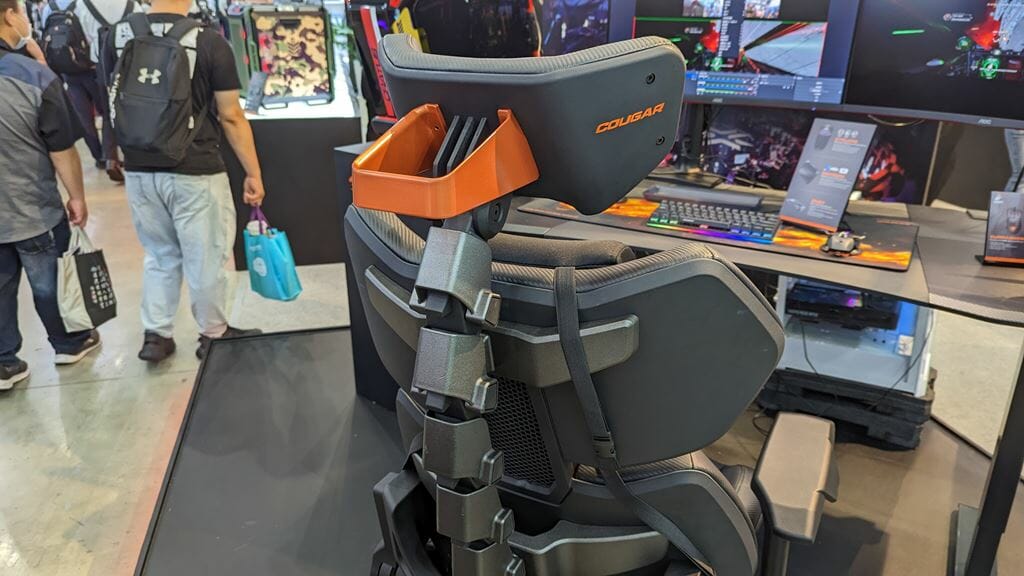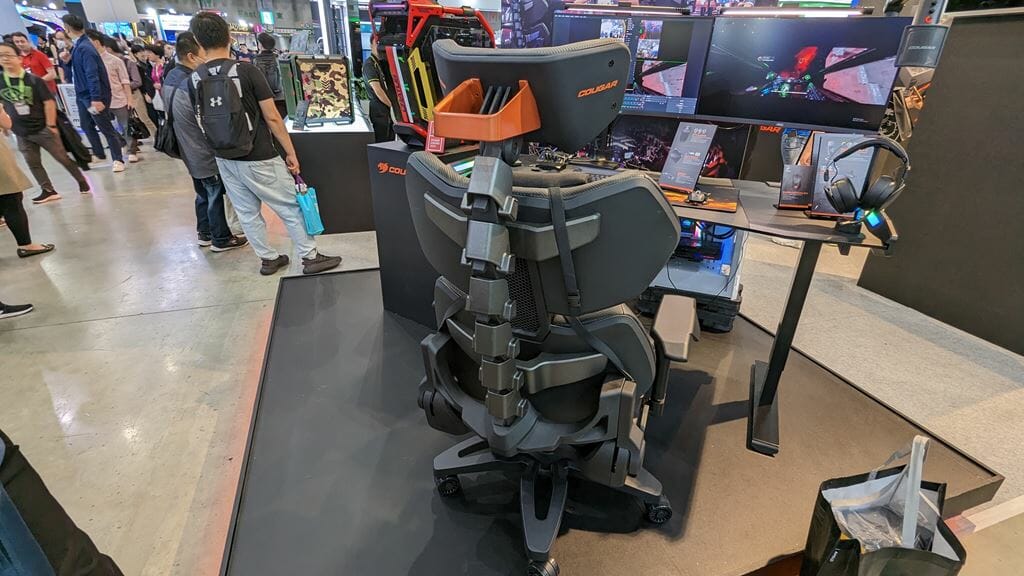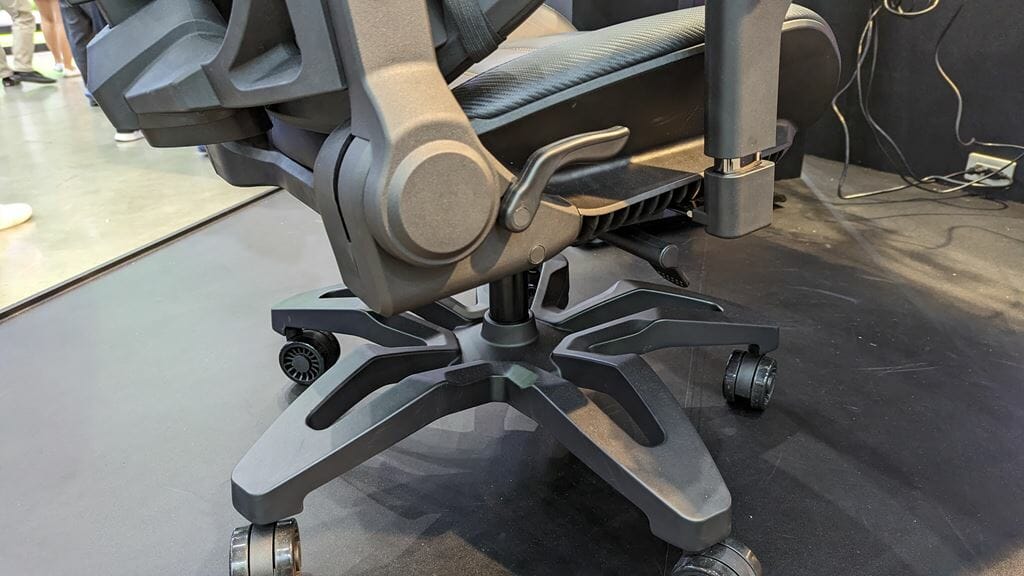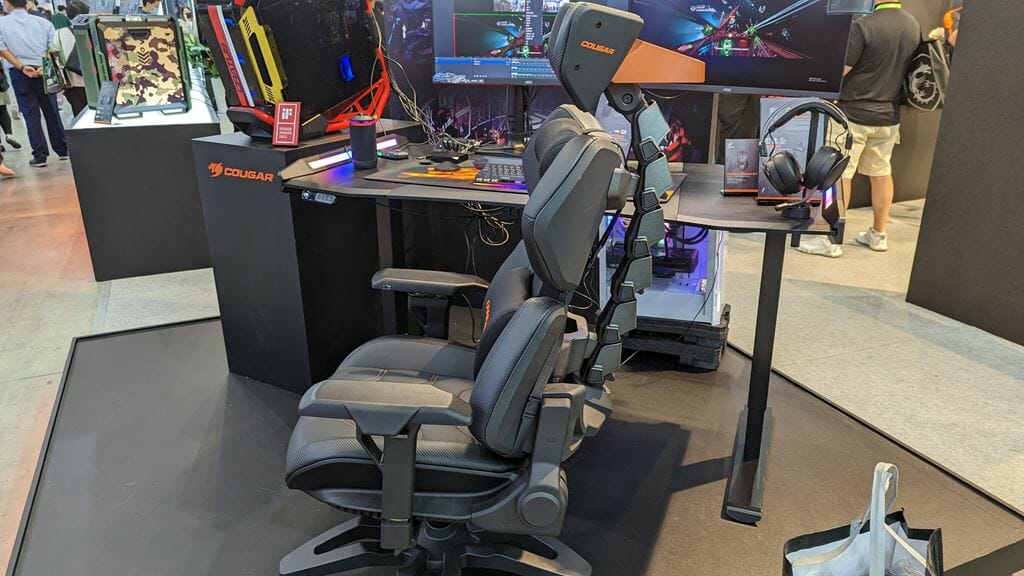 COUGAR also had some more standard gaming chairs on display for those who don't feel the need to go over the top and are just looking for a little something extra over their dining room chair.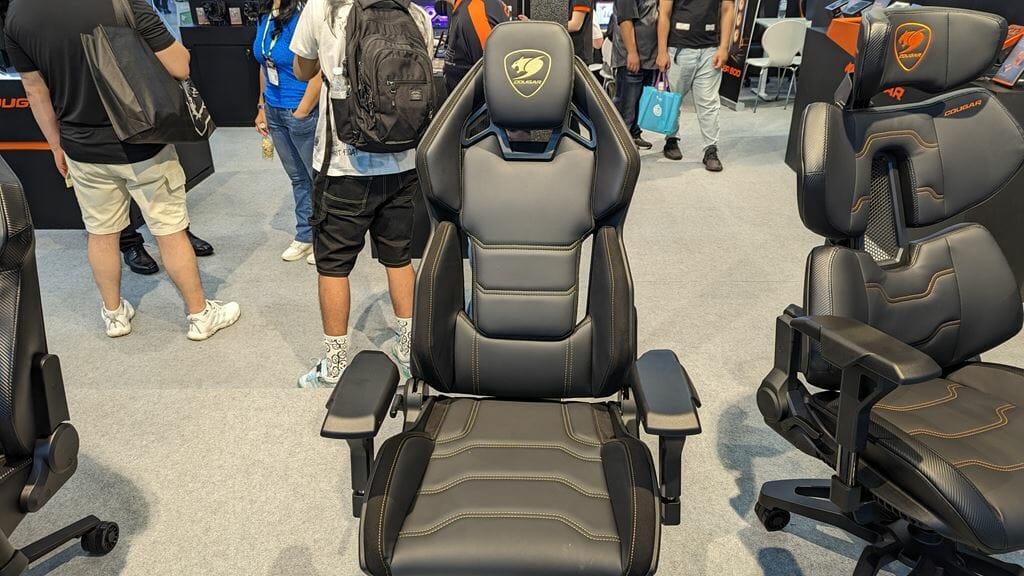 Power Supplies
COUGAR also has a good range of power supplies offering something for everyone. Below, you will notice they have different colors, ratings,s and designs available.
Long gone are the days when a company would focus on one product. Now it seems most "PC Gaming" are trying to create their own ecosystem.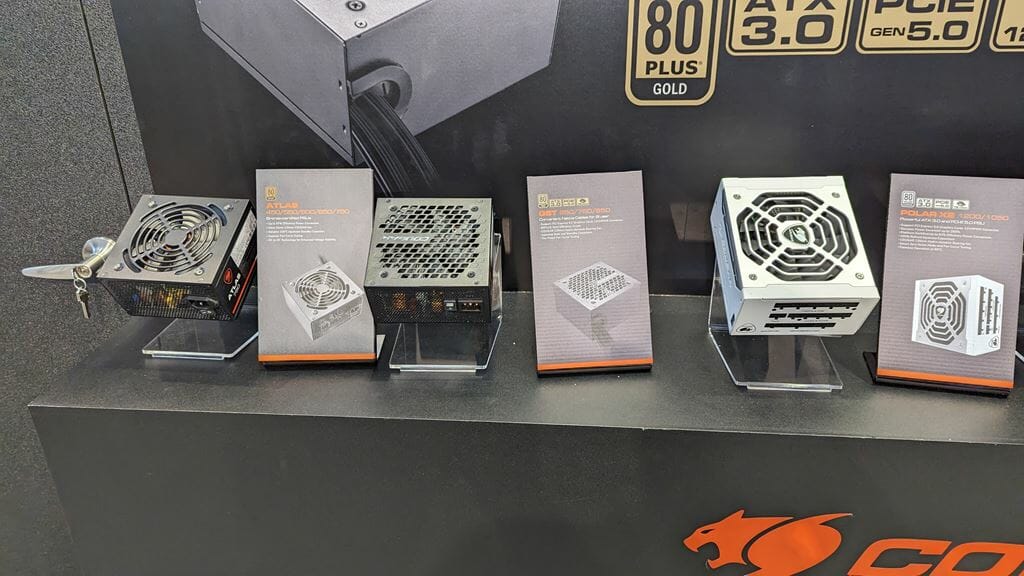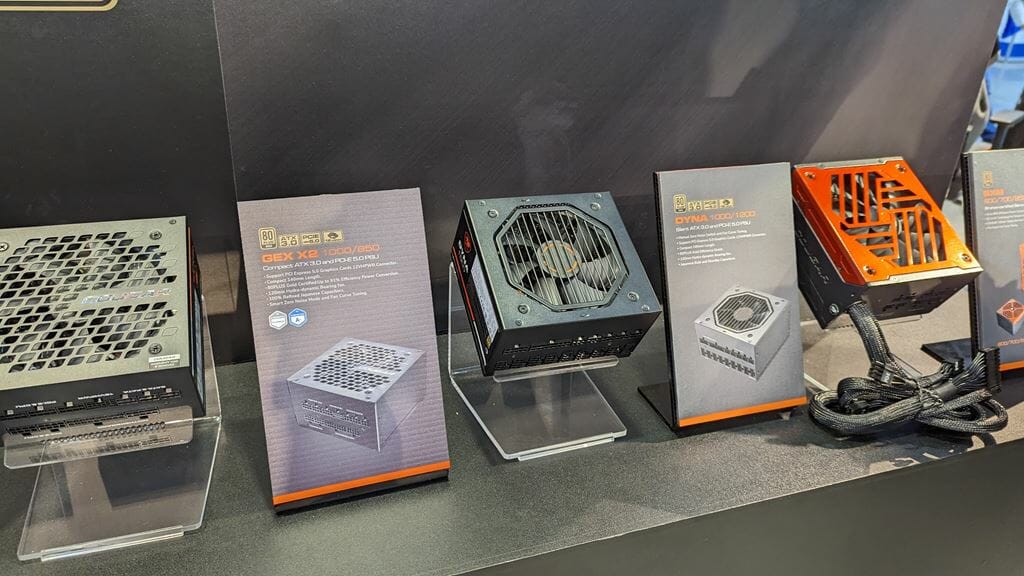 Please make sure to check for more of our Computex coverage in our EVENT COVERAGE which will be coming in the next couple of days!