Introduction
Today sees our first product in for review from the guys over at GameMax UK. We reached out to them a little while ago and they said they would be in touch when the time was right and boy, the time is right! They were nice enough to send us in a couple of products to check out and we are rather impressed with them and can't wait to share our thoughts with you. GameMax has a nice little variety of products from peripherals to cases and power supplies and even some fans and coolers. As we all know, a lot of PC builders like to try and use as many of the same branded products as possible when it comes to PC builds so offering users more and different products are always good!
Today, we will be taking a look at the Starlight RGB Tempered Glass Gaming Case. As you can tell from the name, this case has a tempered glass side panel and features some RGB lighting. Designed for ATX motherboard, this case as plenty of room for dual GPU setups and even water cooling loops. The Starlight is more aimed at the budget orientated gamer who still wants something good for their money. Will GameMax deliver with their new Starlight PC case? Well, there's only one way to find out! Let's take a closer look.
Specifications
Form Factor:
Full Tower, Micro ATX, Midi Tower, Mini ITX
Motherboard Support:
ATX, Micro ATX, Mini ITX
PSU Support:
Standard ATX
PSU Location:
Bottom
Gaming Case:
Yes
Water Cooling:
Water Cooling Ready!
Supported Radiator Size: 280mm
Supported Radiator Positions: Front, Top
Body Material:
0.6mm SPCC
Front Bezel Material:
ABS
Side Panel:
Tempered Glass
Internal Cable Management Depth:
28mm
External Bays:
Internal Bays:
2 x 3.5" Internal
2 x 2.5" Internal
Drive Bay Notes:
Expansion Slots:
7 x Full Size
Cooling Front:
Space For 3 x 120mm or 2 x 140mm Fans
Cooling Top:
Space For 2 x 120mm or 2 x 140mm Fans
Cooling Rear:
Space For 1 x 120mm or 1 x 140mm Fan (1 x 120mm Halo Single-Ring Rainbow RGB Fan inc.)
Cooling Side:
None
Cooling Bottom:
None
Fan Controllers:
0 Fan Controllers
IO Ports:
2 x USB 3.0
2 x USB 2.0
1 x HD Audio
1 x Microphone
GPU Max Length:
370mm
CPU Cooler Maximum Height:
179mm
Front Bezel Colour:
Black
Body Colour:
Black
System Cabinet Features:
PSU Included:
No
Closer Look
When you first get the Starlight out of the box, you will likely notice the hard angles on the front of the case. You will also notice the LED bard which looks like it's going to add an amazing aesthetic to the case when fully built in and lit up.  One thing I found a bit different but ending up liking, in the long run, was the placement of the power button, as you can see it's on the front all by itself. The rest of the front IO is located on the top of the case. Having the power button by itself just means it'll be easier to hit without looking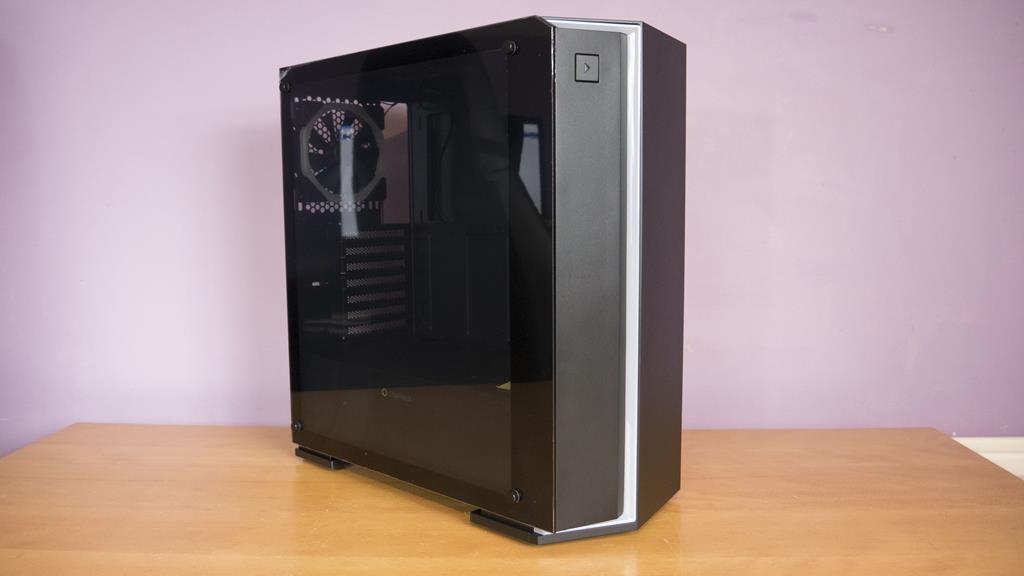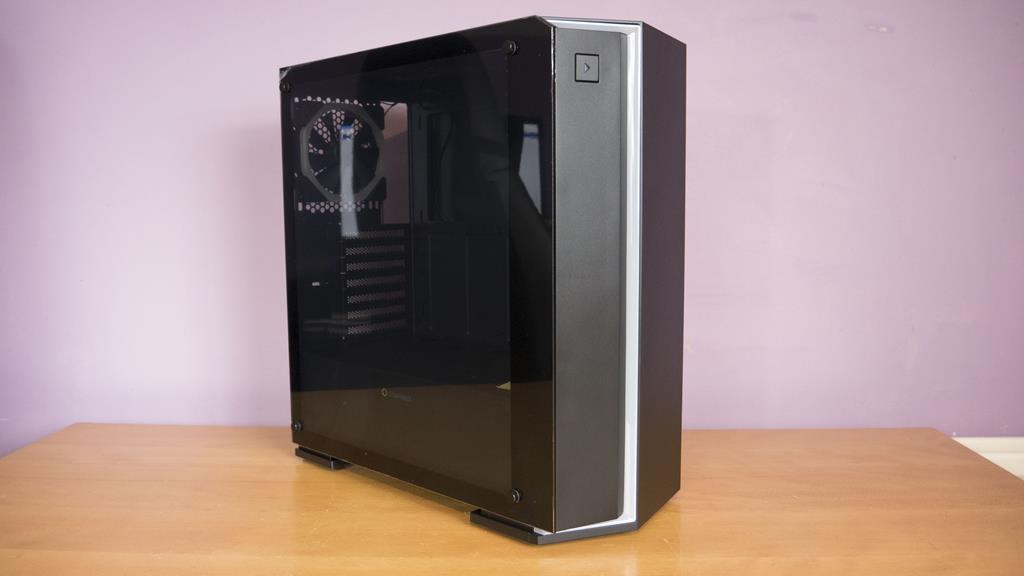 The tempered glass side panel gives us a full view of what's inside the case which is currently nothing at this point. However, once the build is in we will be able to see it in all its glory. The tempered glass is definitely a major step up from the old acrylic side panel windows we used to get just a few years back.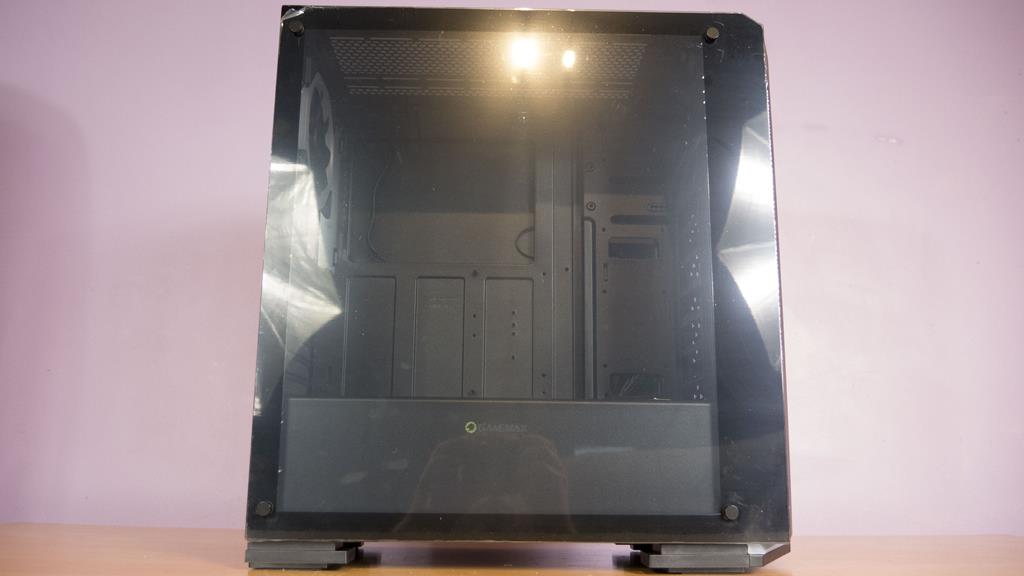 Nothing major happening around the backside of the case. we have the motherboard and bottom mounted PSU cutouts, alongside a height-adjustable 120mm RGB fan and 7x PCI expansion slots. While the fan that comes preinstalled is 120mm, as you can see in the below image it can easily be swapped out for a 140mm fan if you'd prefer, both of which have height adjustable mounting.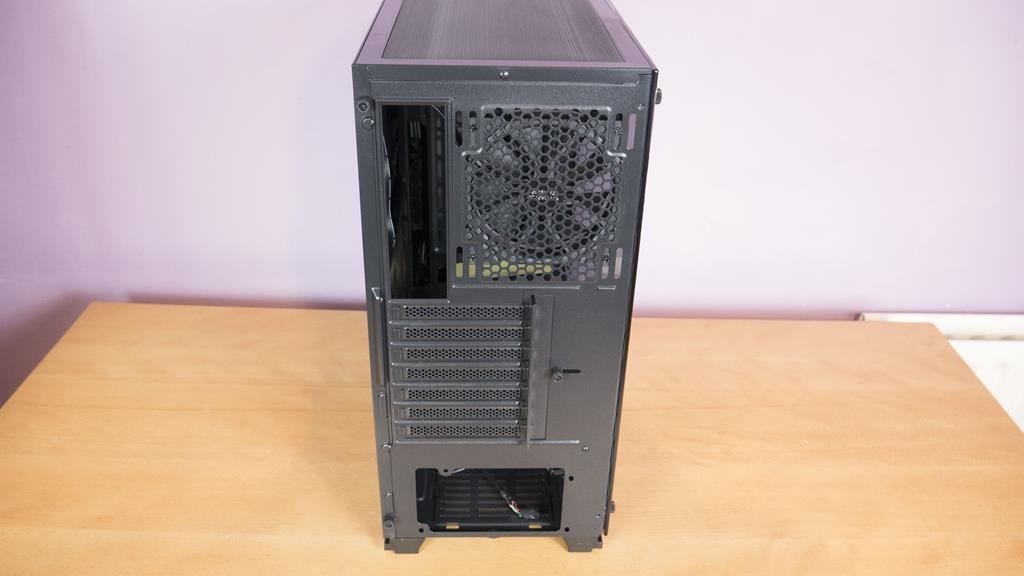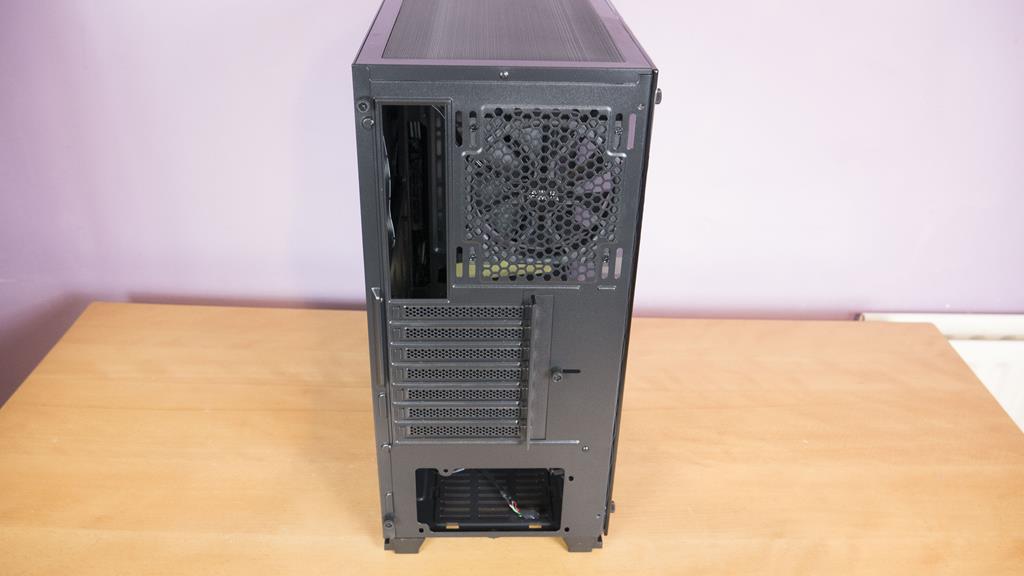 Turning around to the other side and there's not much to see here. However, there is some extra ventilation on the side of the front panel to help allow the Starlight to pull in more air to keep your components cool and running at maximum performance.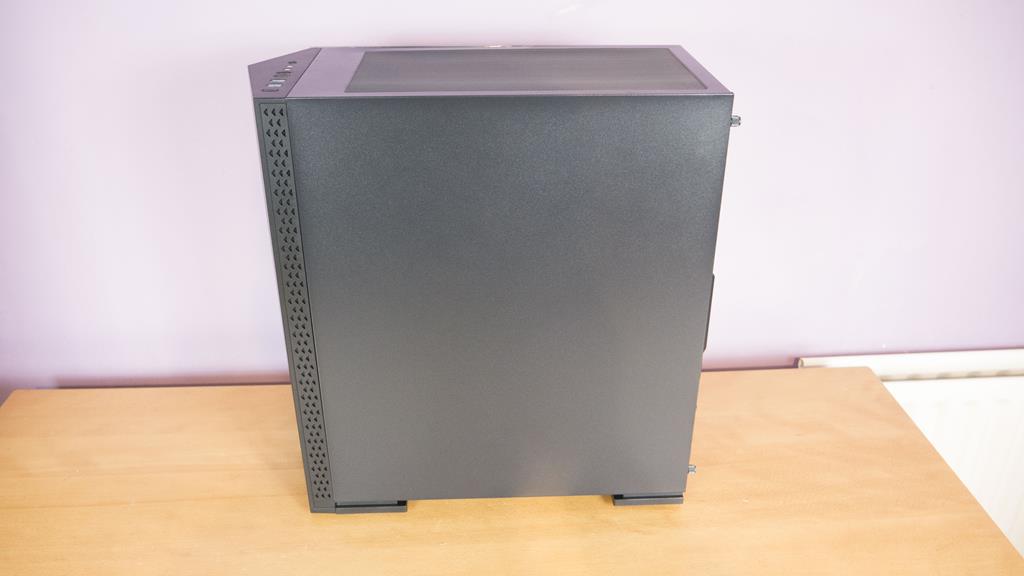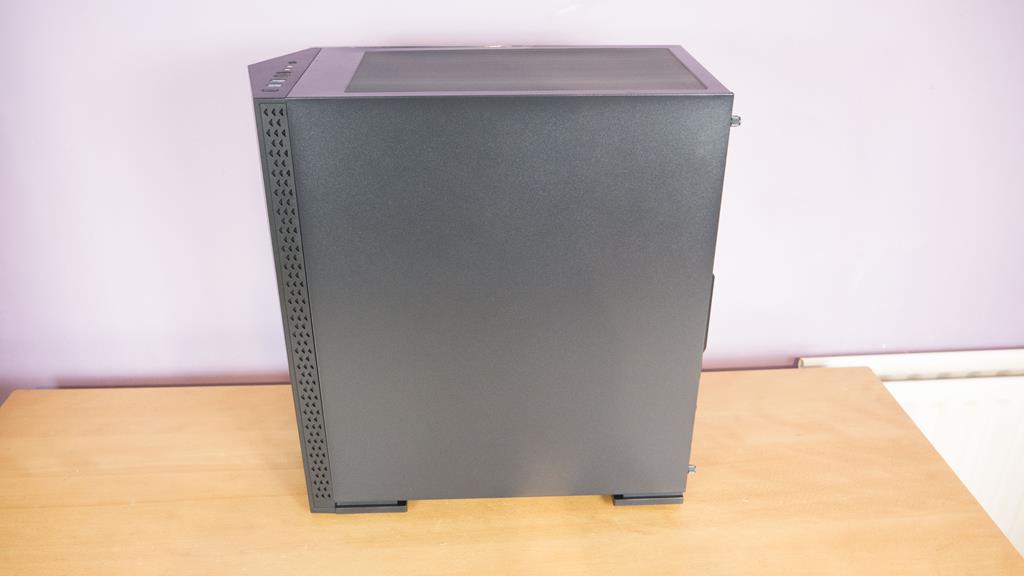 As we saw, the power button is on the front of the case but the rest of the front IO is on the top. On the top, you will find a reset button, audio inputs, 2x USB 2.0 and 2x USB 3.0 and to the far right is the RGB button. While there are numerous ways to control the RGB of the Starlight case, this is likely to be the easiest way as all you have to do is keep hitting the button to cycle through the colours and effects. The top dust guard is magnetized for easy removal and cleaning, another well thought out feature from GameMax.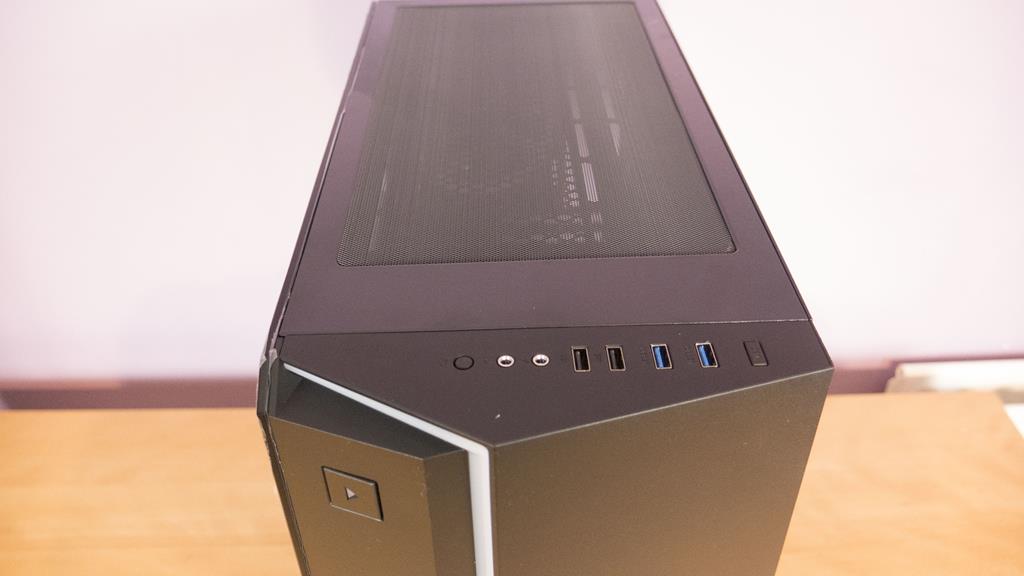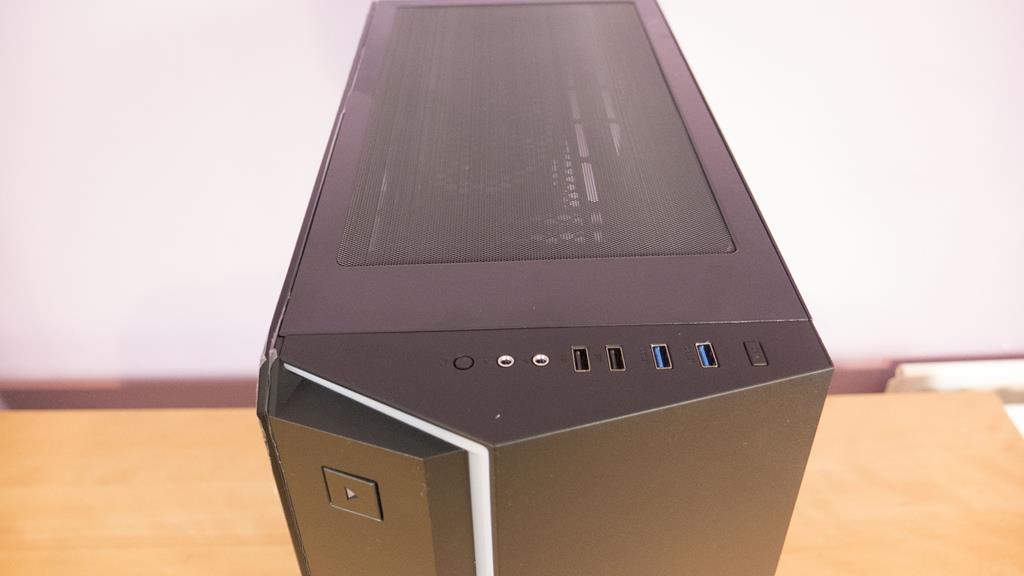 The bottom of the case features 4x raised feet to keep the case off the ground and bringing in airflow to the PSU. There is also another easily removable dust filter to help protect the PSU.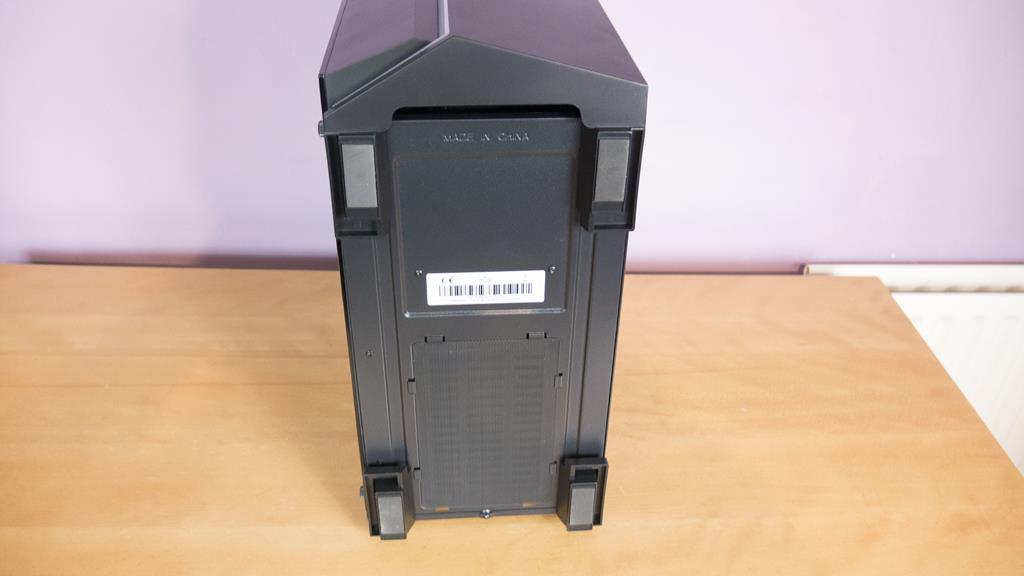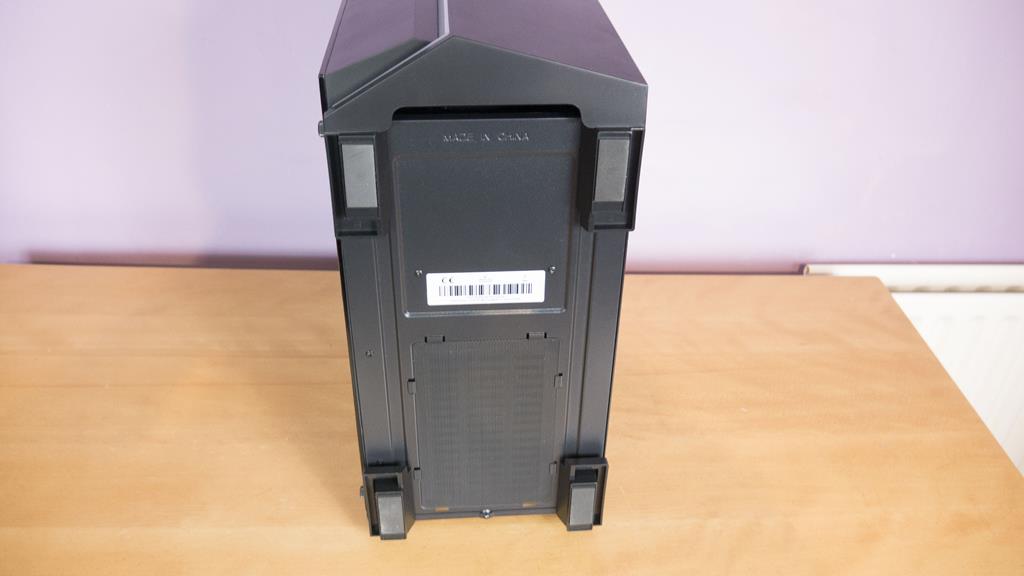 Let's make our way to the inside of the case starting with removing the front panel. The front panel is easily removed from the bottom, simply pull on it slowly but firmly and it will pop off quite easily. There is from for up to 3x 120mm or 2x 140mm fans. However, this has to be the only slight issue I have with the case is that no front intake fans come pre-installed. While I can appreciate the price tag in this equation, I would gladly pay a bit extra for the inclusion on a front intake fan. In my opinion, cases should either come with no fans or come with at least one front intake and one rear exhaust.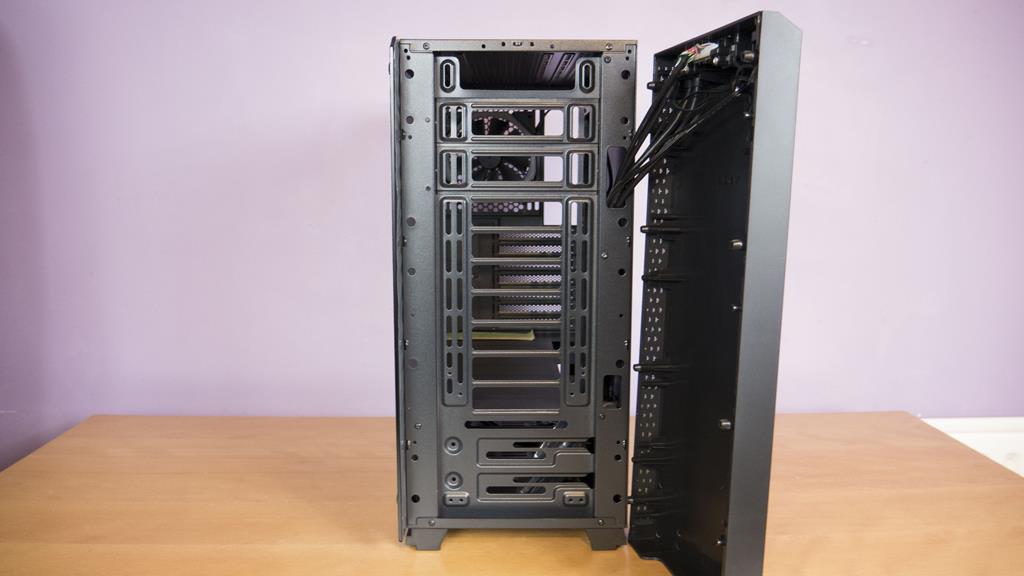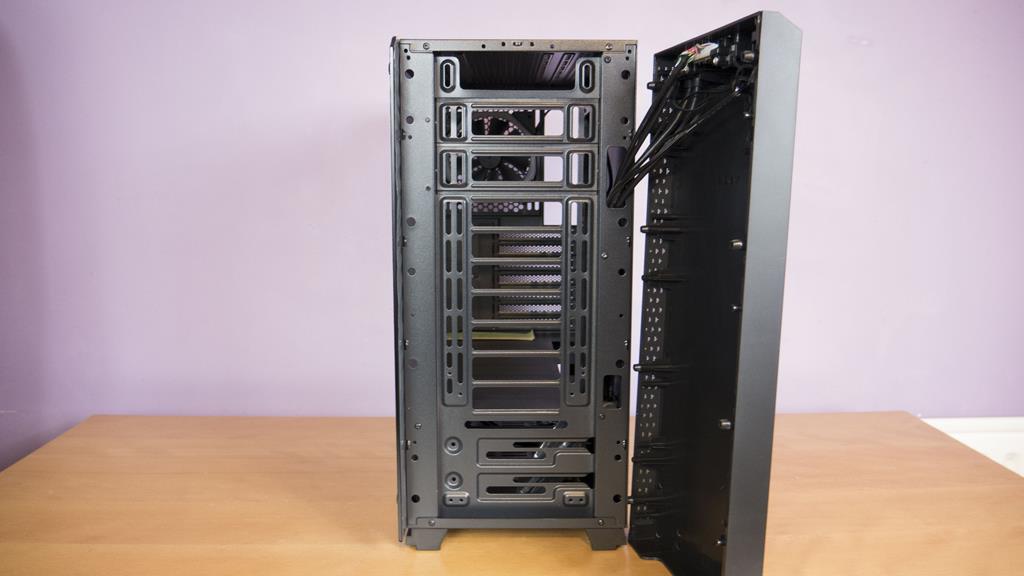 From a missing front intake fan to a full-length PSU shroud, the Starlight isn't all bad! This PSU shroud also has plenty of passthrough holes for your cables and cable management will be a breeze thanks to this. There is absolutely no reason for anyone to have a messy build inside this case as GameMax has done a great job at making sure cable management is quite easy.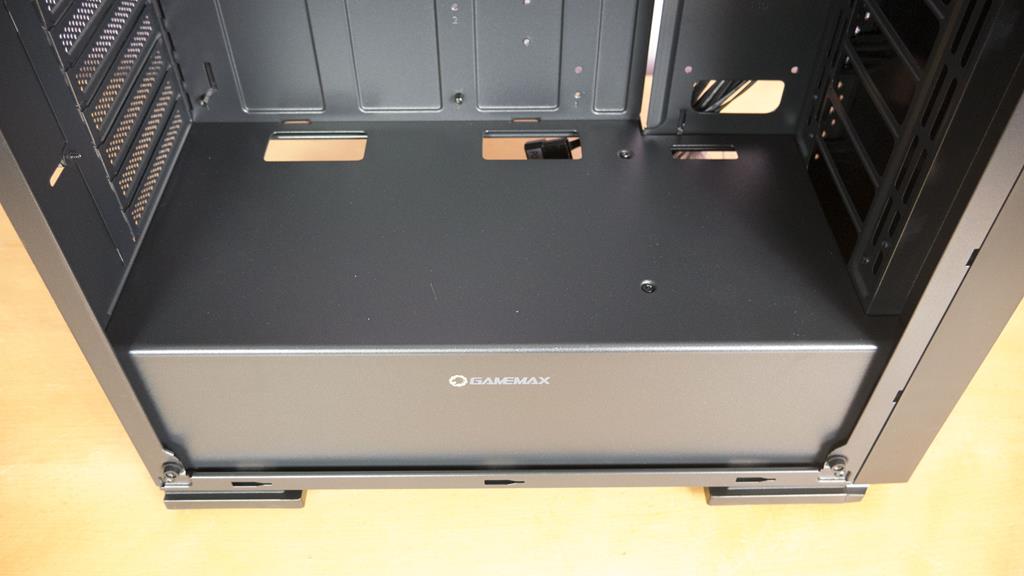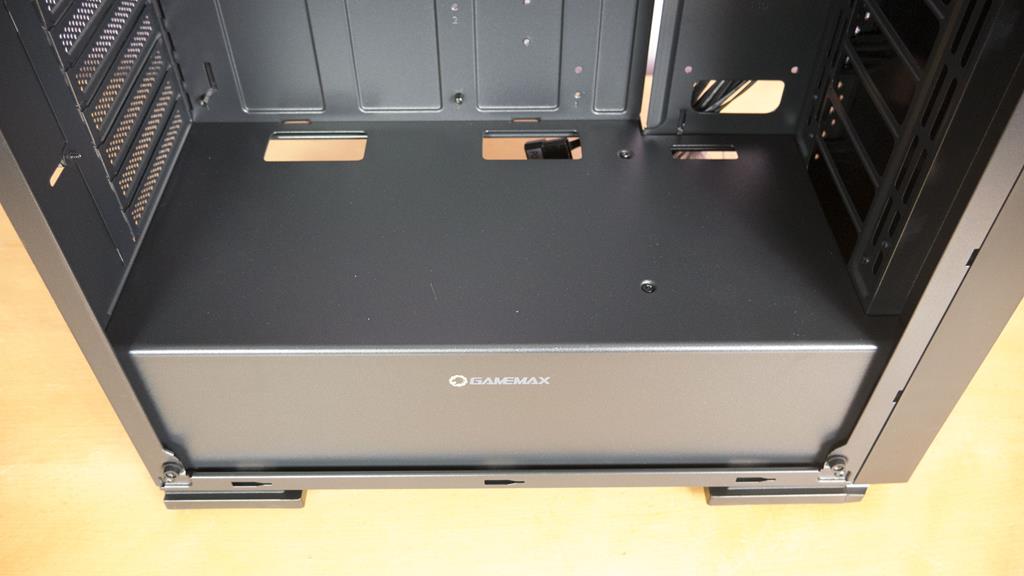 Along with easy cable management, CPU installation and changing should also be quite easy with the motherboard being installed in the case. This massive cutout should provide ample room to the backside of the motherboard to install/change coolers at your leisure. Just above this, we can also see two more cutouts for passing cables through from the back to continue that easy cable management flow.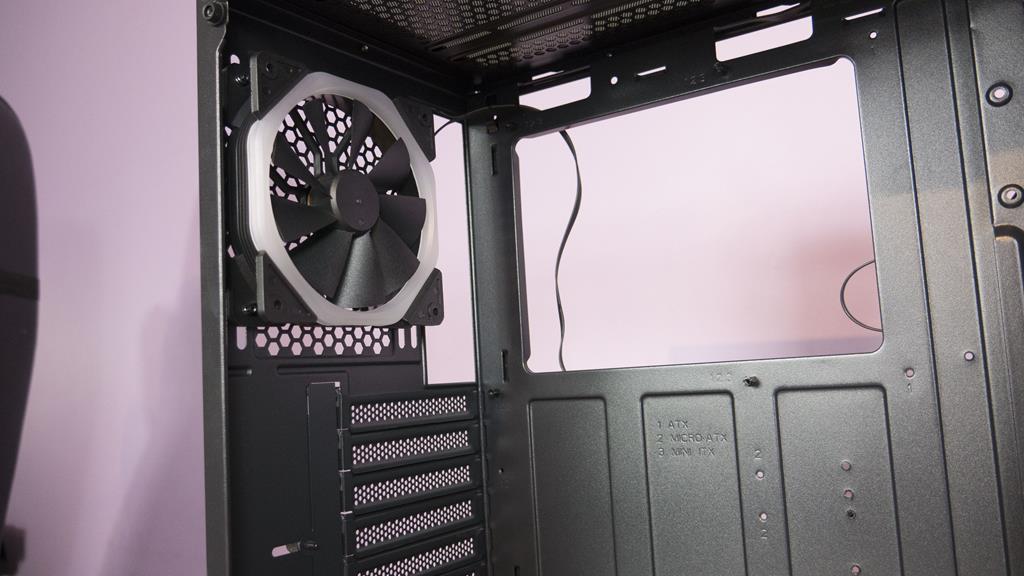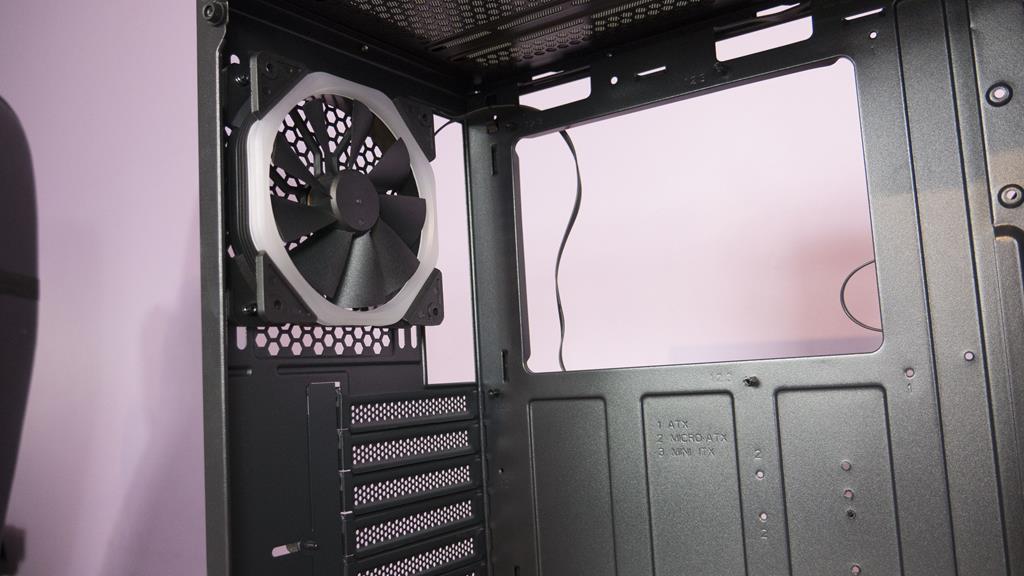 Looking towards the front of the case and we can see a few more places to pass cables through as well as a pair of SSD mounts. We can also get a look at the fan mounting for the front panel.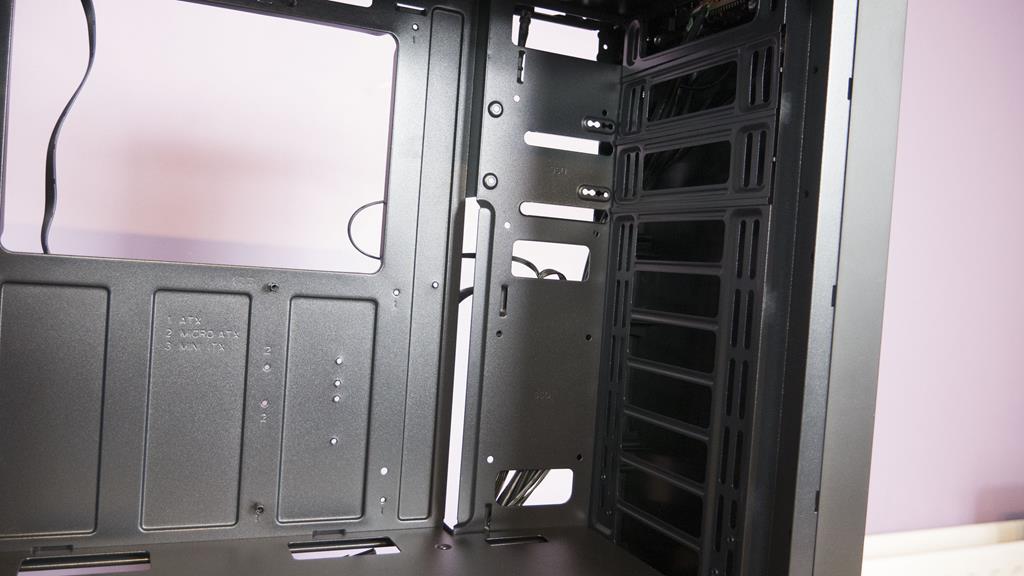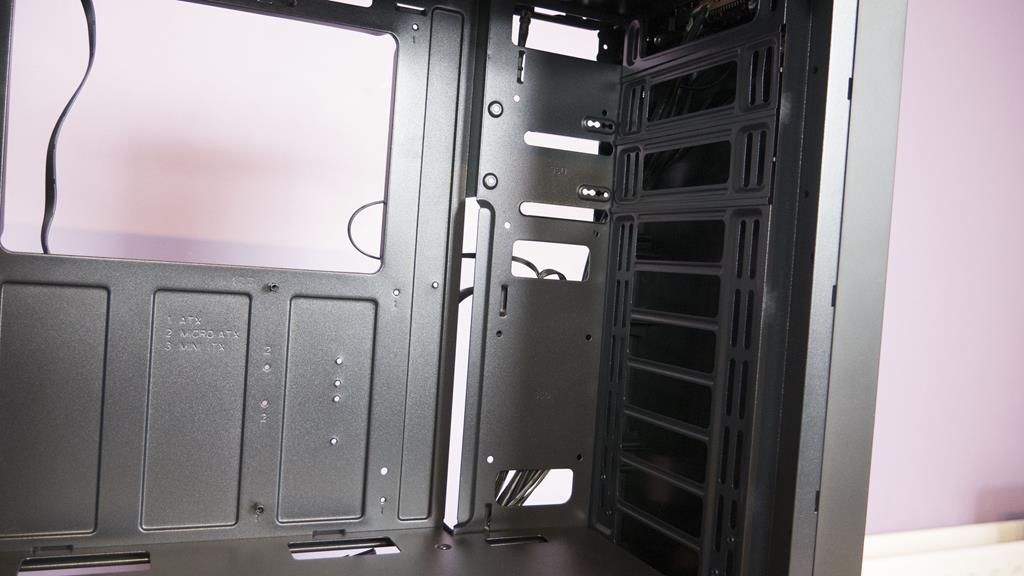 Overall, the main chamber of the Starlight was very well thought out and while I personally would've liked to have seen at least one intake fan, I won't hold it against GameMax too much. Cable management should be a fairly easy ordeal in this case, even for beginners to PC building.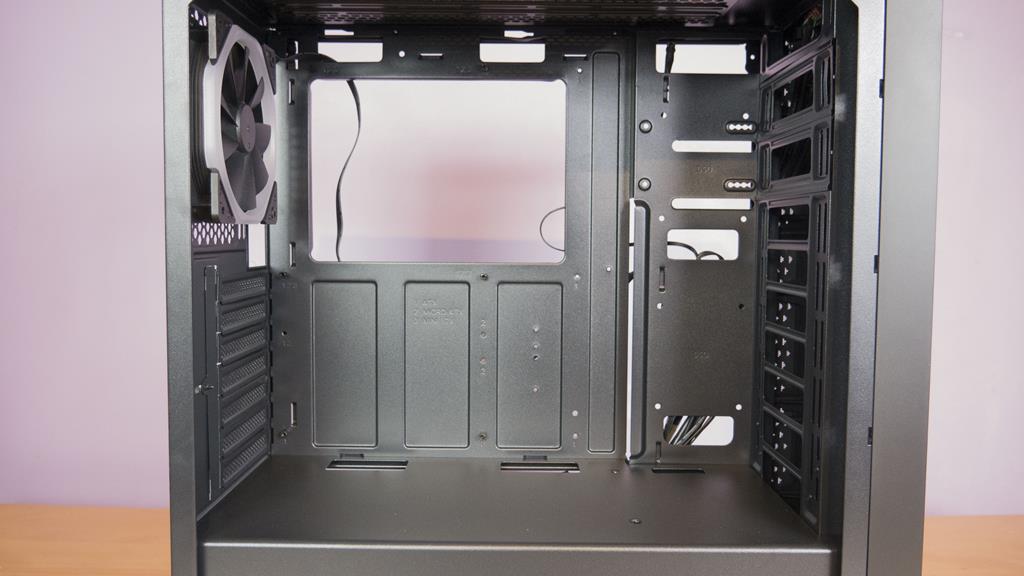 Aside from the fan controller, which we get a bit closer look at in just a second, there's not much going on around the backside of the motherboard tray. There is room for the mounting of 2x 3.5″ hard drives to the front of the case which still leaves plenty of room under the PSU shroud for hiding all those ugly cables!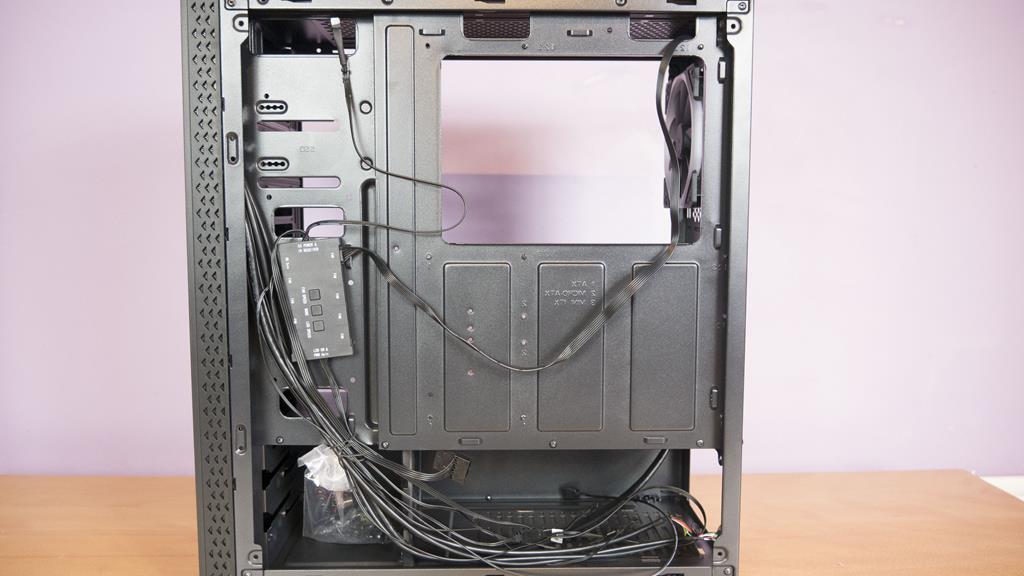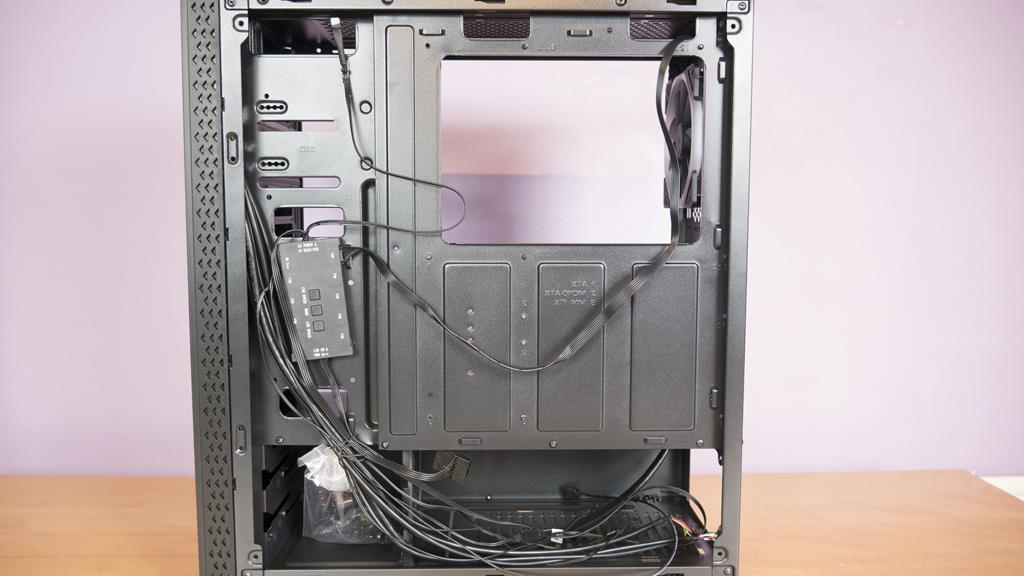 While there is only one Halo Single-Ring Rainbow RGB Fan included, the controller can handle quite a few more. The fan controller also comes with a remote and IR receiver so you can easily change the settings and for those who like a more hands-on approach, there are control buttons on the fan hub itself. That gives users 3x ways to change the RGB settings so far and if you can't the motherboard RGB sync header, that gives users 4 different ways to change the RGB settings. This should hopefully mean that GameMax has catered to most everyone's personal preferences in how they chose to control their RGB lighting.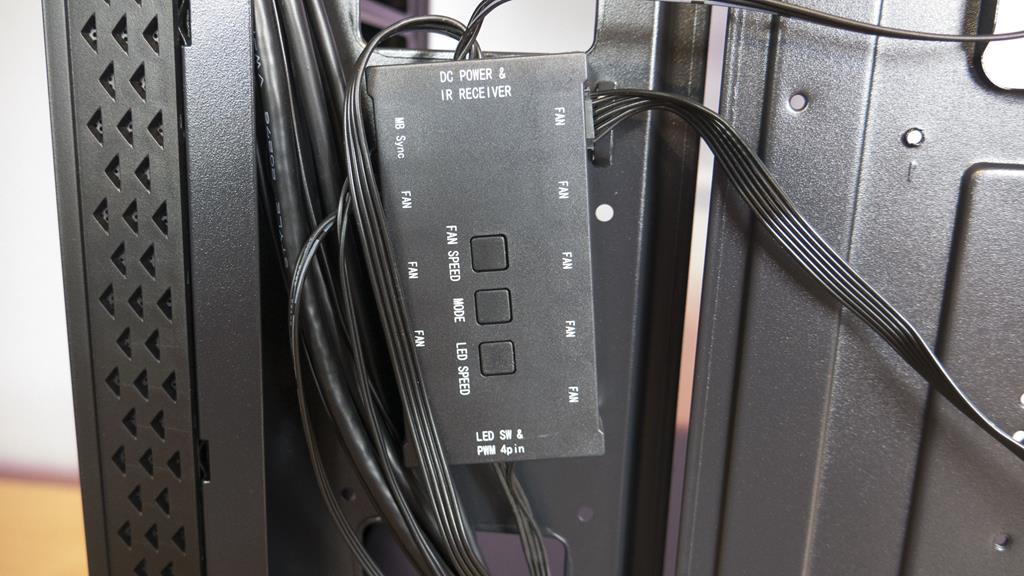 Final Build
If you've read the rest of the review up to this point, you'll know not only is this case designed to be budget friendly, it's also designed to be user-friendly. Building in the GameMax Starlight was a pure joy and some simple most anyone should be able to be left with a clean build after using it. As we've seen there is plenty of cable management options, including the full-length PSU shroud to hide all the extra bit of cables that have nowhere else to go. For this build, I went with me Strix Z270 mobo with a GeForce GTX 1060 and as you can see, there is plenty more room in this case for either some proper water cooling gear, a second GPU or whatever you may feel like throwing in there.
 
I didn't run into any issues when doing this build but one small thing I wouldn't mind seeing is another small cutout for the GPU power cable. While I won't hold this against GameMax, it could be an idea in the future to add an extra cutout with rubber grommet a bit closer to the side panel so you don't have to run the power cable quite so far. Again, this isn't an issue at all and rather a small personal opinion/recommendation.

This is what it all comes down to. Once the build is complete and you boot it all up, you will be amazed at how well it all looks! The RGB effects are amazing and look brilliant!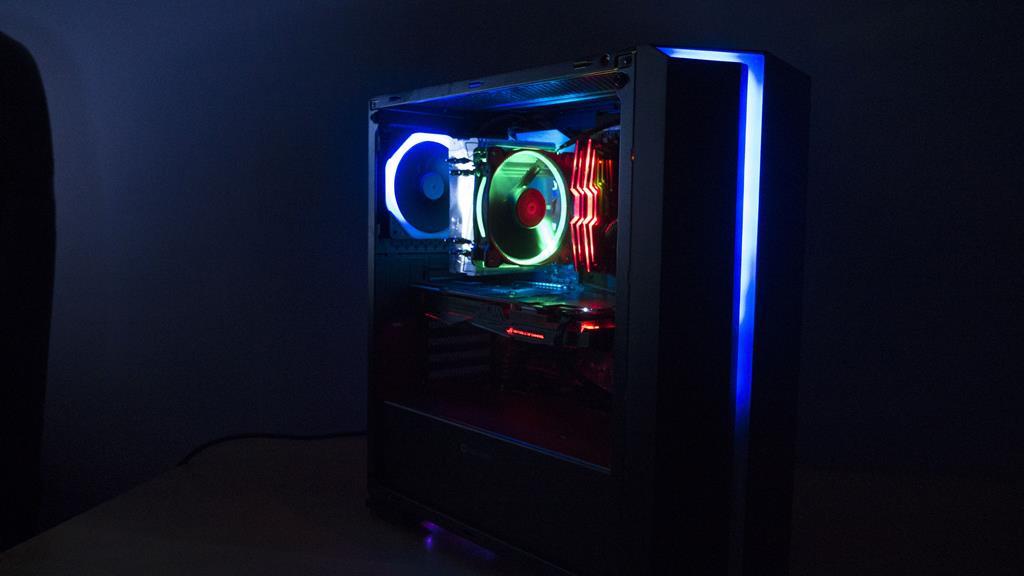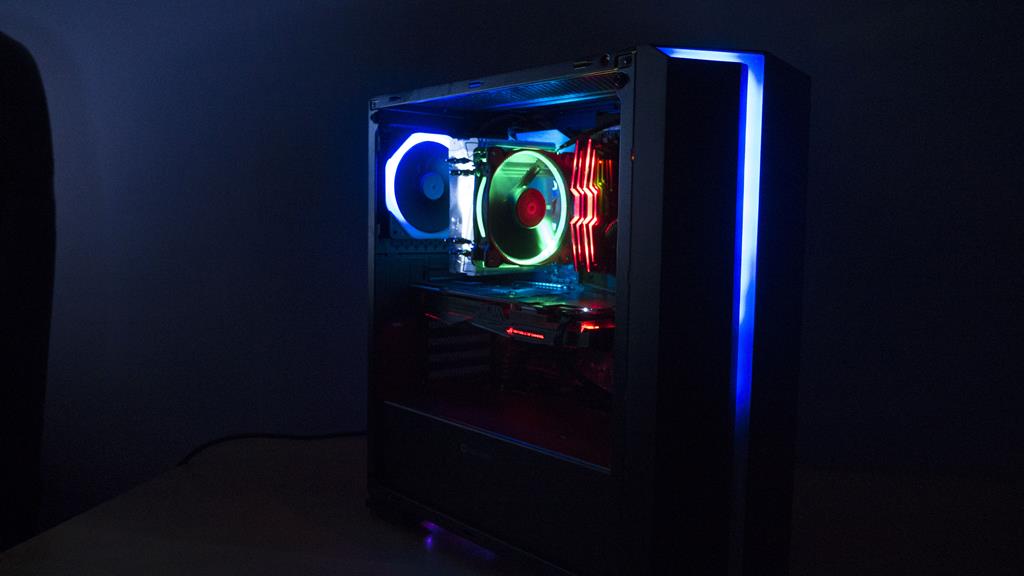 Conclusion
Performance and Design
Let's go ahead and get my one bad point out of the way with. I really wish the Starlight case would have come with a front intake fan of some sort, just something to get the air moving. While I know this isn't a massive downside and won't really cause any issues, it's just something I really look for in cases and have been for years. Aside from this, the case has a lot to offer, especially for the price. From the RGB lighting to the PSU shroud all the way to the plethora of cable management options, GameMax has done a great job with their Starlight PC case. The full-length PSU shroud is also a nice touch and maybe in the future, GameMax could think about adding some sort of RGB logo to help light things up even more. The case offers plenty of room for components and cooling and has enough ventilation to help and make sure everything stays cools so it can operate as it should. Even the fan controller being able to control more fans if purchase separately helps to show that GameMax really did intend for this case to be as user-friendly as it can be. Users who like to keep their rig clean will be happy to see the inclusion of two easily removable and washable dust filters as not only will it help keep dust out, they can be thrown in the sink and rinsed off as and when needed with ease.
Value
This is where GameMax brings it home with the Starlight. Coming in just shy of £60 you are getting a lot of case for your money here. Not only does it look amazing it offers real-world functionality and is easy to build in. If you are a novice PC builder and not quite sure you want to splash out too much money on a case, this would be a great place for you to start your next build. For £60 this could very well be one of the best budget cases at this price point. Even the more experienced builders will appreciate all this case has to offer for £60, from dual GPUs to full-on custom water cooling loops, the Starlight from GameMax is designed to handle it all!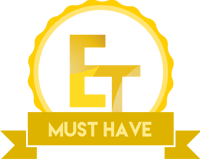 Many thanks to GameMax UK for sending in today's review sample of their Starlight RGB Tempered Glass Gaming Case Review.