Manufacturer: NZXT
Product Page: S340 Elite (Red+Black)
Purchase (Overclockers UK): £74.99 At the time of review
The NZXT S340 Elite is the latest version of their amazing S340 case. One of the main features of the new Elite version is the tempered glass side panel which looks absolutely amazing. The S340 was already a great case for its size and price range but for those who want something a bit more, NZXT has kindly obliged with their Elite version. The S340 is the little brother of the H440 which to this day, is still regarded as one of the nicest cases in its price range. NZXT have a way with making great cases that aren't the norm at the time which help to advance the industry as a whole. The S340 Elite features a PSU shroud that spans the length of the case and has 3x SSD mounts on it, making sure you have plenty of storage. Alongside the tempered glass side panel, NZXT also has a unique cable management system. Inside the case, there is a long bar that is designed to simply hide the cables behind it. This system is used in replacement of the standard 3 cutouts with rubber grommets in them we see in most cases on the right side of the motherboard. To finish it all off, the outside of the case is done in a matte black finish which looks really nice, especially once the complete PC is built inside it. The S340 Elite seems to be loaded up with features, but will it surpass the standard S340? Let's find out!
Specifications
| | |
| --- | --- |
| Dimensions | W: 203mm H: 474mm D: 432mm |
| Material(s) | Tempered glass side panel, Steel, ABS plastic |
| Weight | 8.13kg |
| Motherboard Support | mini-ITX, MicroATX, ATX |
| I/O Ports | 1x Audio/Mic 2x USB 3.0 2x USB 2.0 HDMI with VR Support |
| Expansion Slots | 7 |
| Filters | Front (Included) Bottom Rear(Included) |
| Drive Bays | Internal 3.5″: 2+1 Internal 2.5″: 3+1 |
| Fan Support | Front: 2x 140/2x120mm Top: 1x 140/120mm (1 x 120mm FN V2 Fans Included) Rear: 1x 120mm (1 x 120mm FN V2 Fan Included) |
| Clearance | GPU Clearance With Radiator: 334mm GPU Clearance Without Radiator: 364mm CPU Cooler: 161mm Cable Management: Lowest Point – 17mm; Highest Point 168mm |
| Radiator Support | Front 2 x 140 or 2 x 120mm Rear 1 x 120mm |
| Warranty | 2 years |
Starting off with the tempered glass side panel and boy, is it beautiful! As you can see, it is held on by 4 thumbscrews and covers the whole side of the case. While it looks like there is a black border around the glass, there isn't, that is the chassis itself. This S340 Elite is definitely an amazing way to show off your build if you're proud of it. Tempered glass cases are becoming ever more popular and as such, the price tag they used to include is dropping a bit. The S340 Elite retails for around £80 and with a fully tempered glass side panel, this is one great looking case so let's get a better look at the rest of it.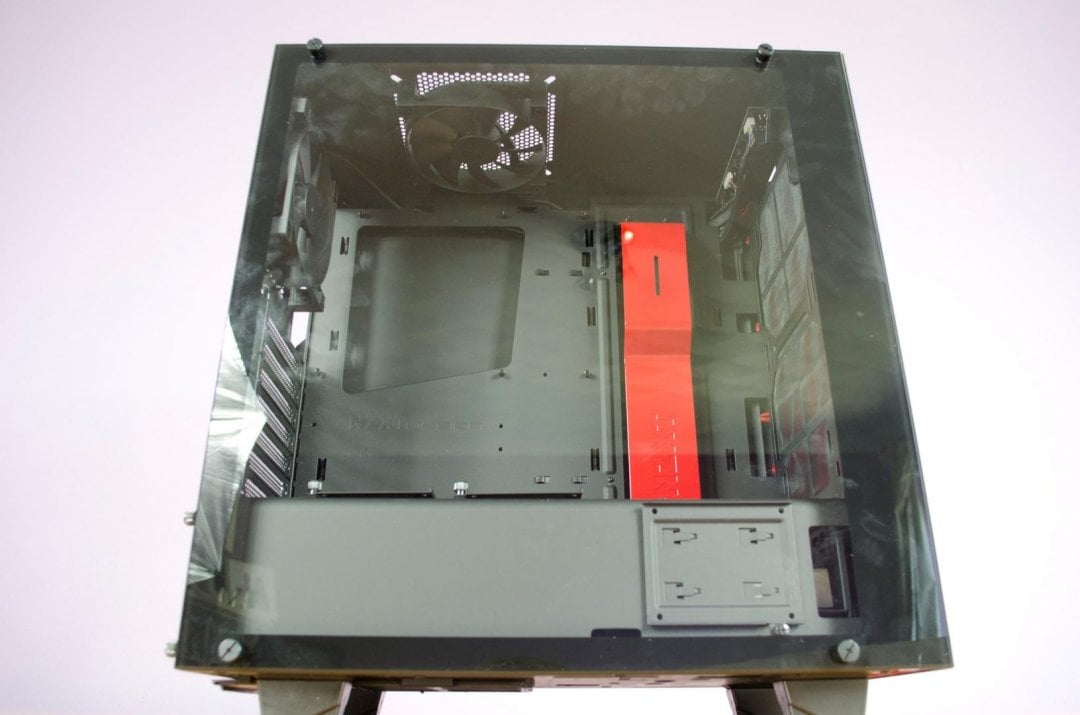 While it would have been lovely to see some more tempered glass on the front, I can understand this probably wasn't feasible. The front is completely matte black except for a small NZXT logo at the bottom.
The other side panel is completely matte black itself. The Matte black look works really well with this case as it's not too big to look overdone. To me, it adds a bit of elegance while remaining something that gamers will like at the same time, best of both worlds really!
Around the back, we have the motherboard and PSU cutouts along with 7x PCI expansion bays. We also have a pre-installed fan here to help get some of that heat from your beasty system out of the case.
On the top, there is another exhaust fan. The front IO also consists of 2x USB 2.0, Audio jacks (mic/input) and the VR ready USB 3.0 ports as well as an HDMI port! This has to be one of the only cases I have personally seen that features an HDMI port on the front IO panel, well played NZXT!
The bottom of the case has quite a bit going on. Mainly we can see the feet and dust filter to raise the case up off the floor for better airflow and then to protect it from dust. We can also see a couple of holes and plenty of places to tie up cables inside the case to help with that cable management that will all desire and deserve.
Working our way to the inside of the case and if we take off the front panel, we can see a nicely sized dust protector. The front of the case can house up to a 280mm AIO cooler or 2x 140mm fans if need be. This should be more than enough to provide ample cooling for any hardware that will fit inside and the dust filter will help and make sure things stay as clean as possible.
There is a lot going on inside the case. We have the red bar which is designed to allow for easy cable management while still offering a clean looking build. We have a fairly big cutout for easy CPU cooler installation so we hopefully won't need to take out the motherboard to swap coolers in the future should we need to. You'll also notice there are 3x 2.5″ SSD mounts on the PSU shroud, 2 on the top and 1 on the front side.
The included fans should do a good job at dispersing the hot air from the chassis. You will definitely want to add some fans to the front, especially if you don't slot in an AIO CPU cooler to help push air through the chassis. As we have seen, NZXT didn't include any front fans and this is likely as they are hoping users will put an AIO in the space, maybe a nice Kraken X62 or what have you!
Next to the SSD mounts, there is a small ventilation area. This is for the 3.5″ hard drives that can be installed underneath. They may not generate much heat, but what the do will easily escape through here and out of the chassis.
Taking a look at the back and under the PSU shroud and there is loads of room here. There is a 3.5″ hard drive cage and more than enough room for all the cables you could want. There are also a couple of cable holders on the backside of the motherboard tray and plenty of places to tie them down with cable ties.
A nice added touch was the inclusion of the NZXT Cable Management Puck. This Puck is designed to help manage cables and can even be used as a headset holder, this will surely come in handy for those who have VR in mind.
As we have seen in the original S340, these cases are very simple to build inside. Even if this is your first time building a PC, you should be left with a clean and good looking build. Alongside the PSU shroud and cable management bar, there are plenty of other holes and pass-throughs to make sure your cables get to where they need to be. You'll also notice the amount of room in this case. For reference that is an RX 480 STRIX GPU and as you can see, there is plenty enough room for a longer card to be fit in its spot. There is also plenty fo room near the pre-installed rear and top fans so they should not interfere with most hardware There were no special measures taken when building in this case and everything was pretty much just thrown in where it fits and this is the end result. We are seeing more companies make it easier for users to have great looking builds and for that, we applaud you. NZXT always like to be on the next level and the inclusion of the cable management bar over the standard holes is a massive step forward!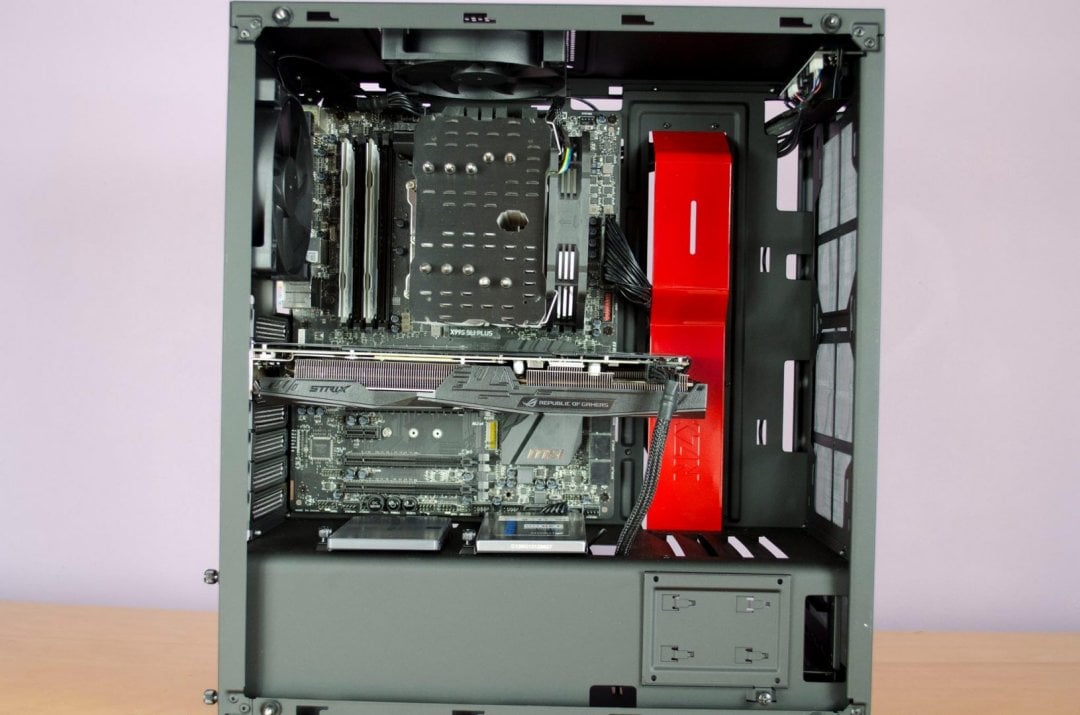 Performance
The S340 Elite has a lot going for it, there's no denying that. The PSU shroud on the bottom of the case is going to make cable management ridiculously easy, even for beginners. The coloured bar is going to help further hide the cables and make everything as easy as it can be. Making sure your components don't get too hot, NZXT has added ample room to allows users to make use of many different cooling configurations. The S340 Elite can accommodate AIO coolers up to 280MM in size which should be more than adequate to cool most any CPU. Those looking to make a PC to use with VR sets will be happy to know there are HDMI and audio ports on the front IO and NZXT has even included their PUCK cable management/headset holder to aid further in making sure you VR experience goes as smooth as possible.
Design
While a lot of the design elements have added to the performance of the S340 Elite, there are still a few more for us to talk about here. The matte black outer finish coupled with the tempered glass side panel definitely make this case look great. Another feature a lot of people may like is the fact you can show off up to 3x 2.5 SSDs thanks to the mounting bays that are sat atop the PSU shroud. Another thing worth mentioning is the fact that while there is plenty of room in this case for components and cooling, it's not overly big and should be a good size for anyone looking to use a standard ATX sized motherboard. For those who aren't a fan of the red bar, please note this case is available in a few other colours so is still worth looking into.
Value
Currently selling on Amazon for around £80, the S340 Elite has a lot going on for it. Thanks in part to its design, it is also able to offer some great performance. For your money, you are getting a case that looks great and has some pretty impressive features, especially for those looking to build a VR ready PC. NZXT have gone ahead and added an HDMI port to the front IO and included their PUCK cable management/headset holder as well, making this a great case for those with VR in mind. Even those not concerned with VR should find this case more than suitable for its size and price range, well done with the updated Elite version of the S340 NZXT!
Many thanks to NZXT for sending in the S340 Elite in for this review.