Raijintek has been making some big moves with their chassis' lately, but to get things kicked off with our coverage of their products, we bring you their Ereboss Cored Edition CPU Cooler. From their Metis PC Case to their Triton AIO CPU Cooler that featured colour changeable liquid, Raijintek offers amazing products both aesthetically and performance wise. One of their recent chassis releases, the PAEAN is a dual chamber open frame/bench table that comes with two pieces of tempered glass and looks absolutely amazing. I for one wouldn't mind getting my hands on one as you can never have too many bench tables!
Now, back to the product at hand, the Ereboss Core edition. As this is the core edition, it features an all-black design and doesn't come with any fans, though the retention brackets for fans are included. The Ereboss core features a nickel plated base and six 6mm heat pipes that protrude up through the fin array to allow maximum heat dissipation and cooling.Now for the fun part, let's take a quick look at the specifications and get into the closer look.
Product Name
EREBOSS CORE EDITION
Product Number
0R100015
Dimension [W×D×H]
140×110.5×160 mm
Weight
808 g [Heat Sink Only]
Thermal Resistance
0.11 °C/W
Heat Sink

| | |
| --- | --- |
| Base Material | Nickel Copper Base |
| Fin Material | Aluminum Alloy; Solder-free fins assembly |

Heat-pipe
Intel®
All Socket LGA 775/115x/1366/201x CPU (Core™ i3 / i5 / i7 CPU)
AMD®
All FM2+/FM2/FM1/AM3+/AM3/AM2+/AM2 CPU
Taking a quick look at the packaging and as you can see, there are a few images of the cooler on the outside sides of the box. Looking closely, you'll notice one side has a list of some of the features while another side lists the official specifications of the Ereboss cooler.
Inside the box are all the accessories you will need to mount this cooler on most Intel and AMD socket types, including a nice long screwdriver.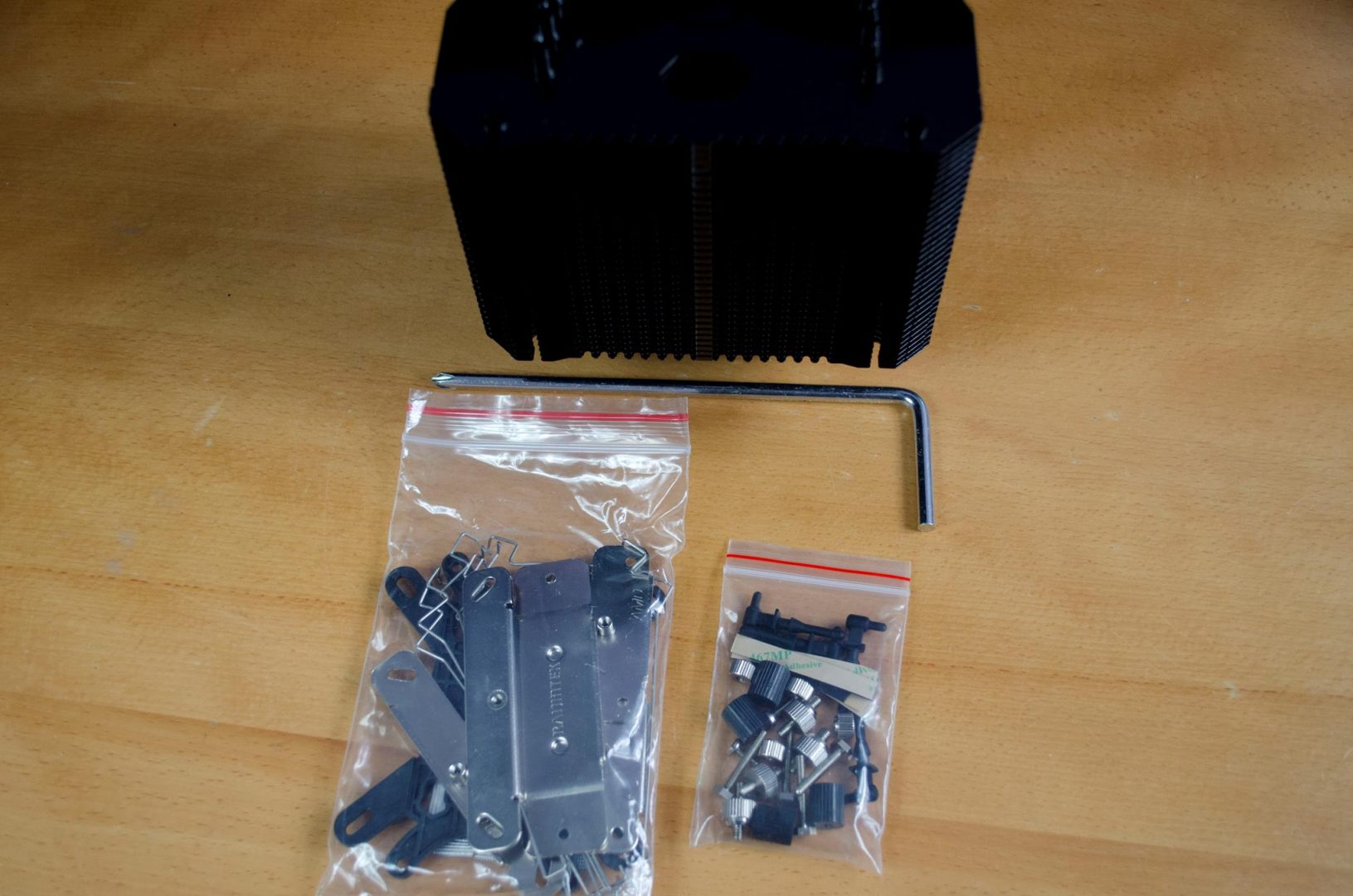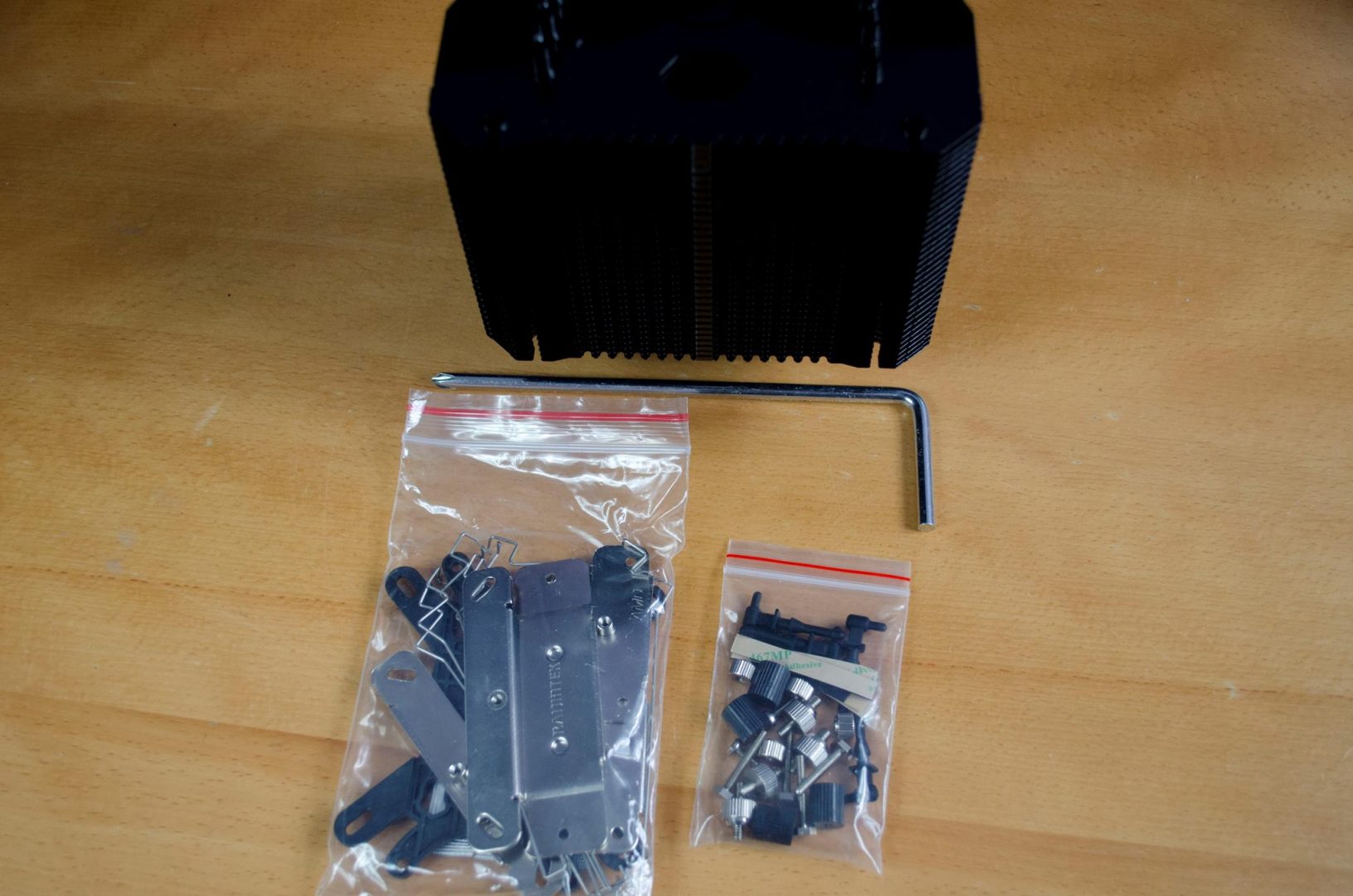 Wasting no time, taking a look at the Ereboss from the top, we can see where the tops of the six 6mm heat pipes. We can also see the Raijintek 'R' logo which has a small hole above it. This hole is to allow you access to the screw on this side of the cooler for when it comes time to tighten it to the retention bracket.
There is no denying the all-black coating on the Ereboss looks amazing. For those who want to keep a darker theme in their build but still want to go with Air CPU Cooling, this is definitely the option for you.
Notice the unique design of how the heat pipes flow to the fin array. As mentioned, these six heat pipes are 6mm and protrude all the way through the top fin of the array.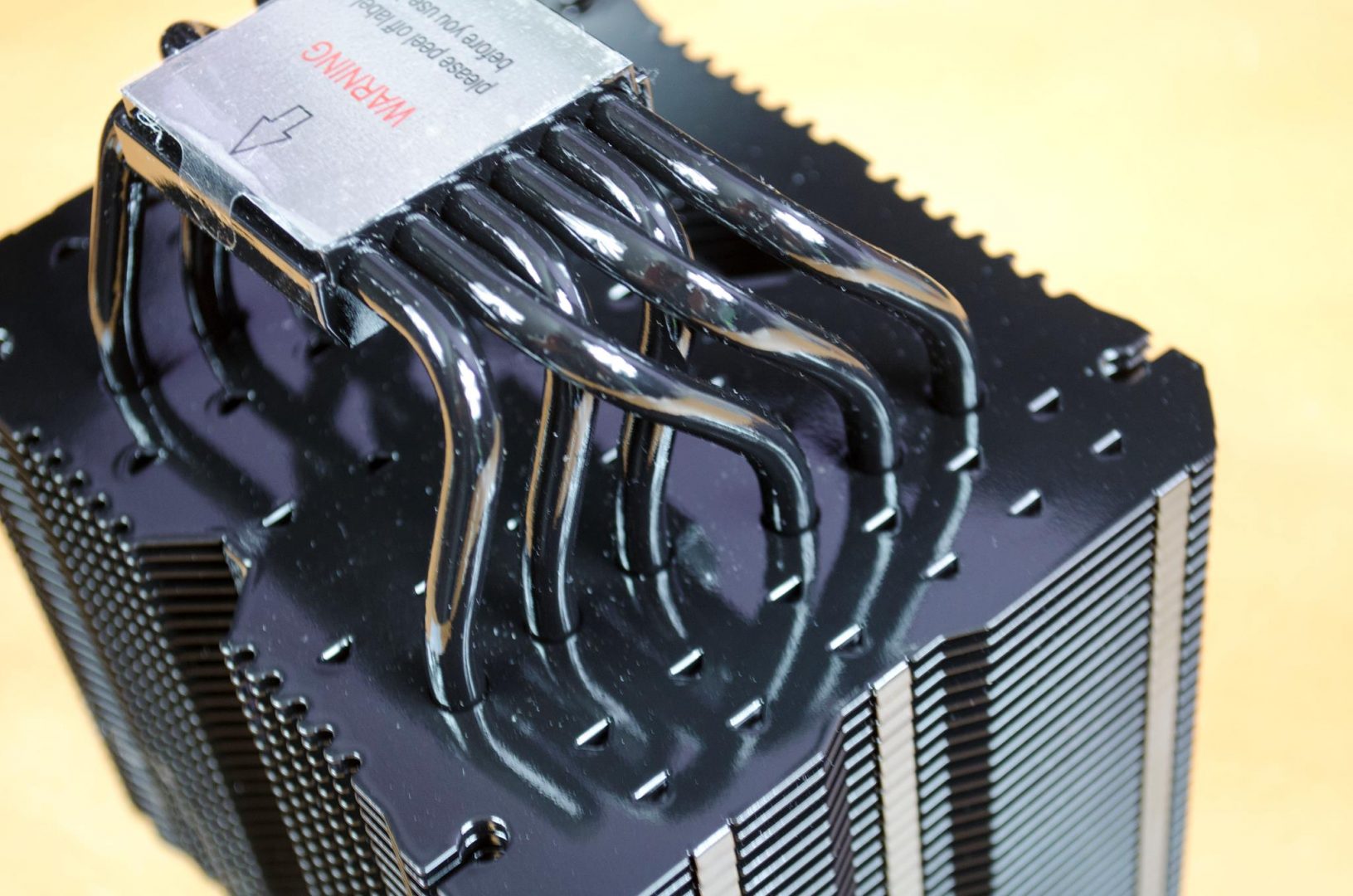 The base of the cooler which will sit on top of your CPU is nickel-plated copper and has been proven time and time again as allowing great cooling performance and heat dissipation.
The bottom fin even has a load of holes in it to allow for better airflow and heat dissipation. While from a cooling standpoint, it would have been great to see this all the way through, from an aesthetical standpoint, it looks much pleasing not having the holes in the top fin.
Installation is very easy and should be completed in just a few short minutes, even by the novice user. First, align the backplate screws with the holes on the backside of the motherboard and insert the back plate.
To keep the backplate in position, use the black plastic thumb screws.
Lastly, set the retention brackets on top of the screws on either side of the CPU socket. watch how you install these as they do have to go on a certain. You will want to have the holes the Ereboss will screw into on the outside of each bracket. After this is done, you can add your thermal paste and screw the Ereboss to the brackets and that it's, you're up and running.
When installed properly, even on an M-ITX board, the heatsink doesn't cover the RAM slots on its own. However, if you have a fan installed it may cause an issue should your RAM have big heatsinks so this is something to keep in mind. You can always just raise the fan a bit to combat this but then you also loose cooling performance.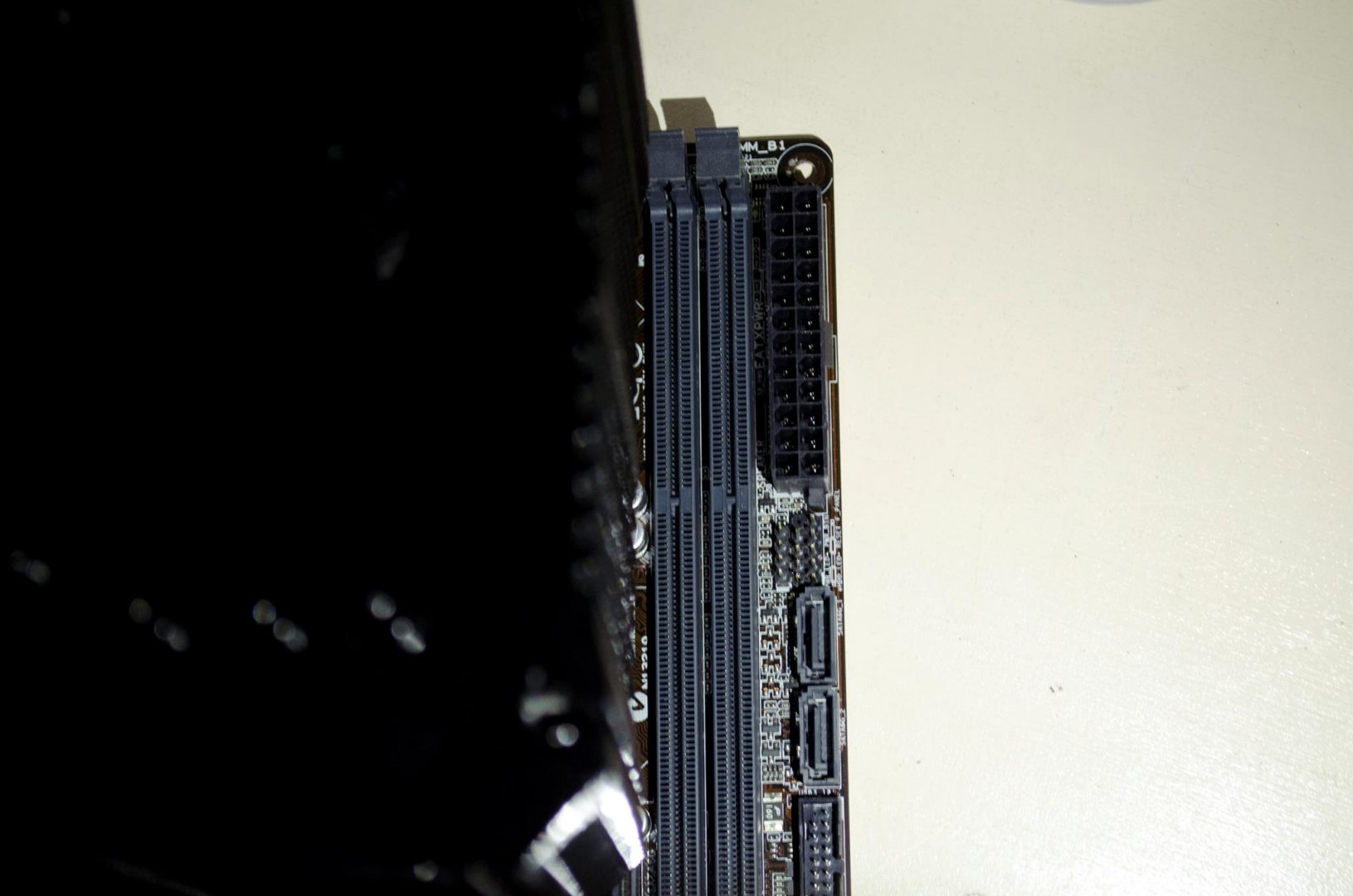 Test System and Methodology
Test System
Test System
Windows 10 with all the latest updates
Intel i7 6700K CPU Stock / 4.5GHz @1.400V OC
Gigabyte Gaming K3 Z170 Motherboard
16GB Crucial Ballistix Sport Elite 3000MHz DDR4 4x4GB
2x HyperX Fury 120GB SSD
Coolermaster V650 PSU
Methodology
For our testing, we use the Prime 95 stress testing program to make all the cores on our CPU run at 100% for 10minutes then we monitor them with CoreTemp and CPU-Z. We then take all the individual core temperature readings and add them up, then we divide that total by the number of cores and finally, we subtract the ambient room temperature to achieve our final result.
To have the best chance of having like for like results, all testing is done in a Cooler Master Master Case Pro 5 with both side panels off.
Programs
As per our standard testing, I loaded up the Skylake system with 6700K and tried my best to put a hurting on this cooler as I do them all. As suspected, when trying to cool an overclocked 6700K the cooler failed. Why do you ask? Well, as per standard, it doesn't come with any included fans. However, should you want to add a pair yourselves it does include the retention brackets to do so. Also, it's well worth mentioning that should you add at least 1 fan, you will see a drastic reduce in temperatures. For fun, I put one fan on at the end of the OC LOAD test and managed to get the temperature down to 63-64C which is spot on for the shape and size of the cooler.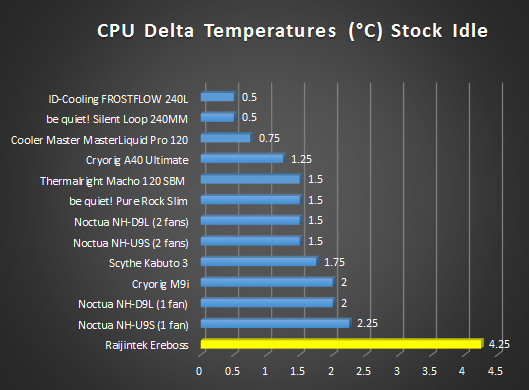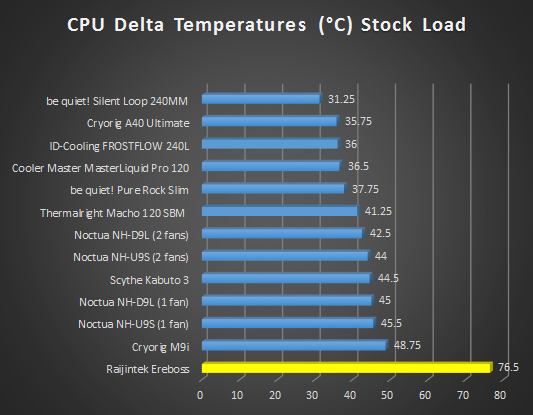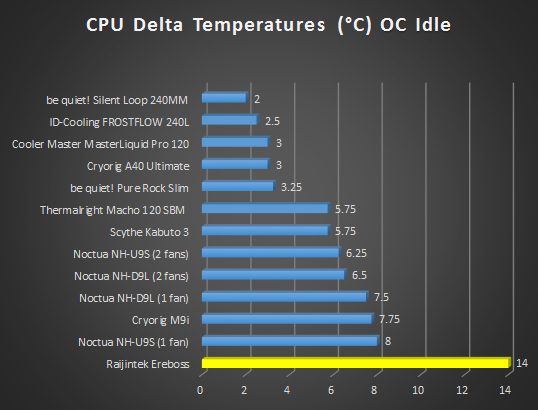 Performance
Jumping right into it and this cooler is not the best for cooling overclocked CPUs straight out of the box. However, when adding some fans to it, you get much better and more acceptable temperatures. When adding a single fan in a push configuration, the Ereboss was able to hold its own and fell into the charts right where we would expect for a cooler of its shape and size. IF you are looking to build a silent HTPC with a low-powered CPU running at stock clocks the Ereboss will certainly get the job done. While it ran a bit hot, it passed our testing for cooling a 6700K running stock clock at full load.
Design
This is going to be the major selling point of the Ereboss. The all black heatsink is very appealing to the eye. Adding some all black fans to this beautiful cooler will allow you to have an amazing blacked out theme for your PC build. Appealing looks aside, it is also designed to offer some good performance, especially when a fan or two is added to the mix. The six 6mm heat pipes do a good job at moving the heat from the CPU up and through the fin array and allowing it to dissipate fastly and evenly. Raijintek has even added some extra holes to the bottom of the fin array to help allow for better cooling.
Value
Coming in just shy of £34, the Ereboss is a well-priced cooler. For the money, it offers good performance and not coming with cheaper included fans has allowed Raijintek to keep prices down. Users who are looking for the added performance of having a couple of fans will be happy to pick their own fans. The Ereboss is no doubt an amazing looking cooler and the performance it has to offer is on par as we have said for a cooler of its type.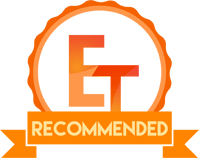 Many thanks to Raijintek for sending in their Erebos cooler for the review!