Today we will be taking a look at a CPU cooler from the good folks over at Scythe, by way of the Ninja 4. CPU cooling is often one of those things that can go overlooked in a build but is very important. While the stock coolers from Intel and AMD are designed to cool the CPUs they come with and can do the job, they are not the best and can often leave your CPU running at higher temperatures than needed. That is where the aftermarket coolers come in, most of these are specially designed to offer the best cooling performance available and will also cater to your preferred form factor.
Today we will be putting the Scythe Ninja 4 through its paces to see just how well it holds up compared to the competition. As you will see in the photo above, it comes with plenty of mounting accessories to make it compatible with most AMD and Intel CPU sockets. One of the features I found interesting is that a fan can be mounted on any of the four sides on the Ninja 4, something that will surely come in handy. The Ninja 4 features a nickel-plated copper baseplate and has six, 6mm heat pipes to offer efficient heat dissipation. Another thing I was happy to see was the included screwdriver and thermal paste which will allow users to install the Ninja 4 as soon as the receive it.
Specifications
Model name:
Ninja 4 CPU Cooler
Model number:
SCNJ-4000
Compatibility:
Intel®:
Socket LGA775
Socket LGA1150
Socket LGA1151
Socket LGA1155
Socket LGA1156
Socket LGA1366
Socket LGA2011 / 2011-v3 (Square ILM)
AMD®:
Socket AM2
Socket AM2+
Socket AM3
Socket AM3+
Socket FM1
Socket FM2
Socket FM2+
Please note that an original backplate with screw mounting is needed for installation on mainboards with AMD sockets. Please check before buying if the backplate is fixed by screws (example)! If the backplate uses plastic-pins, mounting of this cooler is not possible.
Overall dimensions:
130 x 153 x 155 (including fan – more dimensions)
Weight:
780 g / 900 g inklusive Lüfter
Heatpipe numbers / -diameter:
6 / 6mm
Accessories:
Installation material for Intel® and AMD® Socket, thermal grease,  second pair of fan clips, installation manual.

Base plate material:
nickel-plated copper (additional information)
The Scythe Ninja 4 is a large square designed tower cooler that comes with one GlideStream 120mm PWM fan. The tower itself is has a shiny aluminium/chrome look to it and features a 4-pointed Ninja star on the top of the cooler, which one could only guess is in reference to the name of the coolers. The GlideStream fan has a black frame with grey fan blades which should allow it to fit in well with a lot of different colour schemes.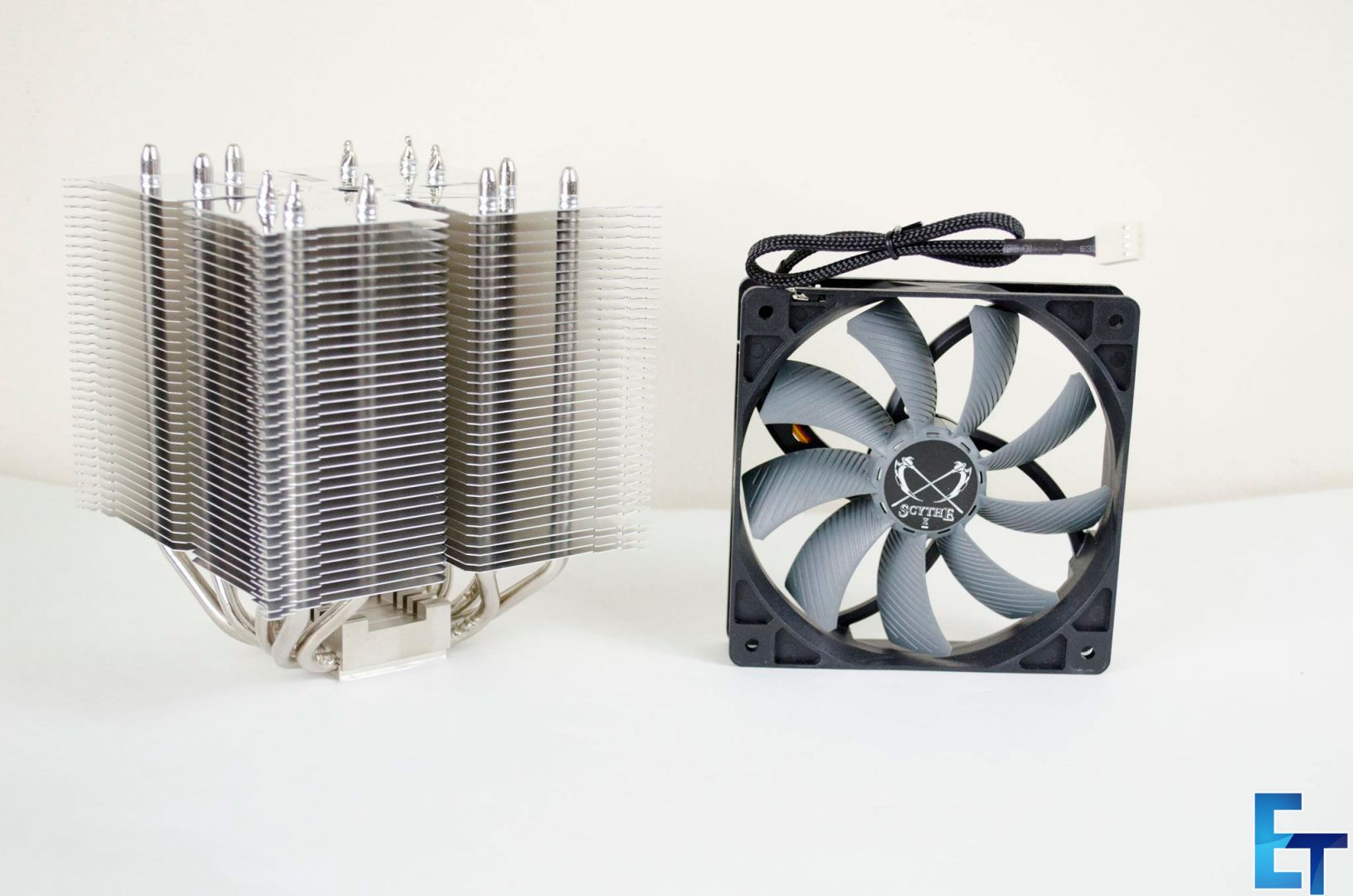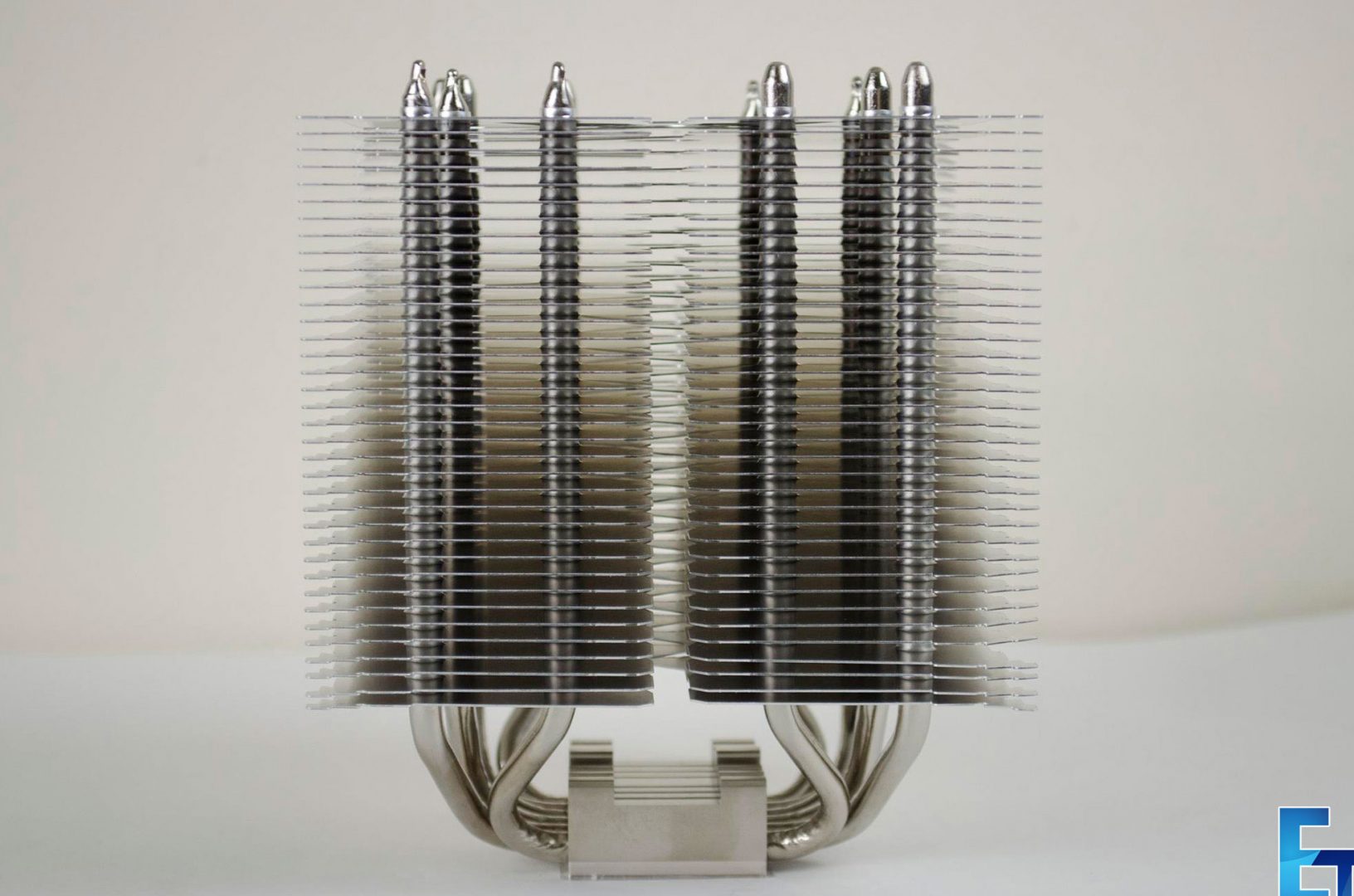 Looking from the top, not only can we see the caps of the heat pipes, but we can also get a glimpse at the unique design that would essentially allow you to install a fan on any side of the cooler. While the cooler is only designed to take two fans, this means you won't have to worry which way you install it as you will still be able to mount your fans in your preferred direction.
As mentioned, the Ninja 4 comes with six 6mm heat pipes and features a nickel-plated copper base which will offer efficient heat dissipation.
As with all our CPU cooler reviews, we installed the Ninja 4 on our X99 test bench. To get things started off, we needed to find the socket 2011 screws and screw one into all 4 corners of the CPU socket on the motherboard.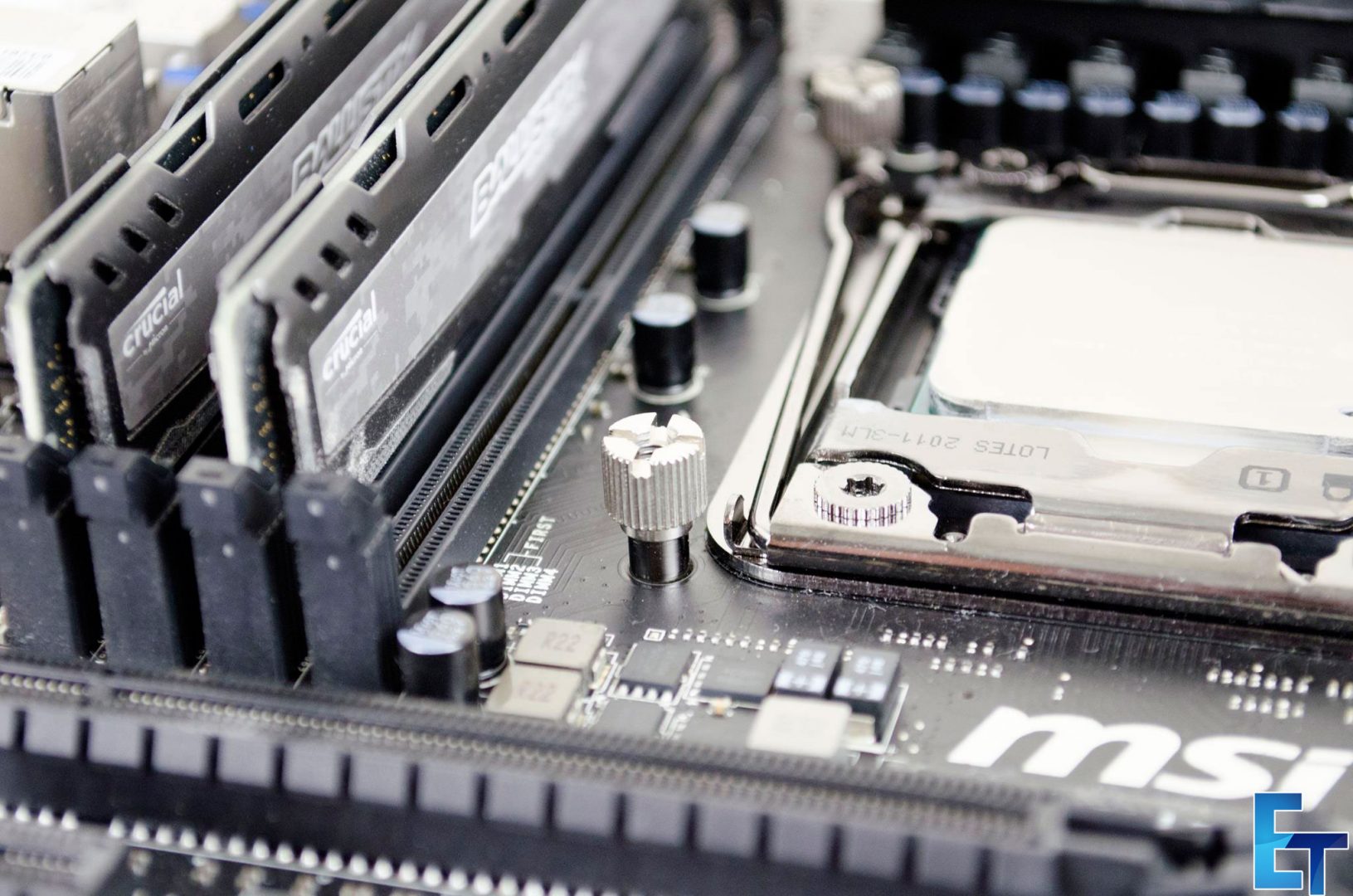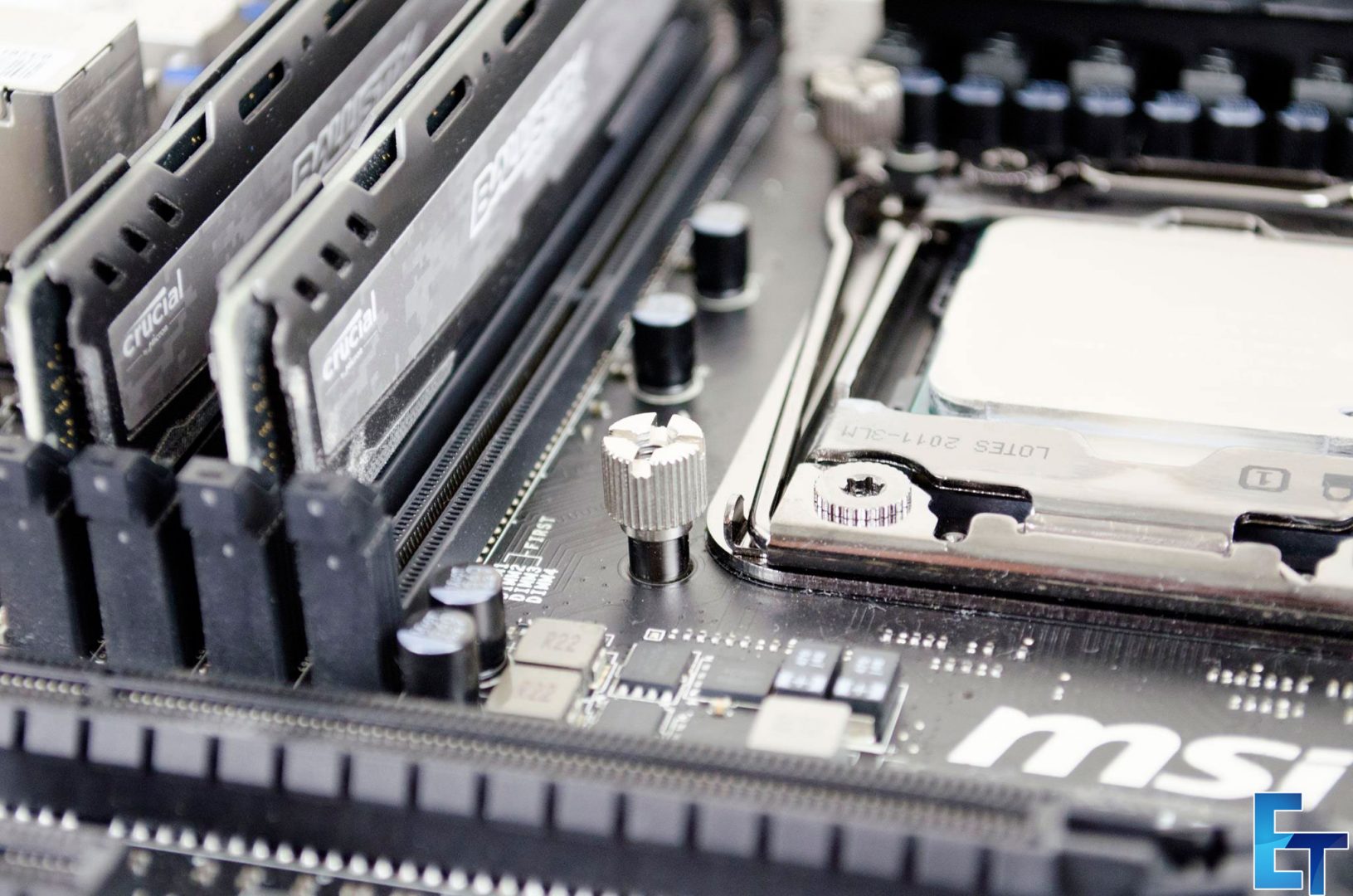 Next, we placed the CPU cooler retention brackets on top of the screws(one bracket per two screws) normally I would say pay attention to the direction you place the brackets as it will affect the way the cooler and fans are place, but with the Ninja 4 it doesn't matter, thanks to its amazing design.
Once the brackets are on top of the socket 2011 screws, you can secure them into place using the designated screws. Once that is done, you can apply the thermal paste and attach the cooler to the retention brackets.
One thing to watch out for is the RAM clearance on the Ninja 4. While this cooler can essentially have fans installed on any side, some will want to install the fans over their RAM and as such, will need to take note of clearance issues. For reference, the images below use the Crucial Ballistix Sport LT DDR4 RAM and while they have heatsinks, they are not tall. If the heatsinks were any taller, I wouldn't have been able to install the fan on this side. This would've resulted in me installing the fan in a location that would blow air up to the top of my PC case where there is no ventilation, which is something I wouldn't want to do.
For our testing, we use the Prime 95 stress testing program to make all the cores on our CPU run at 100% then we monitor them with CoreTemp and CPU-Z.
To have the best chance of having like for like results, all testing is done in an open air environment.
Test System
Programs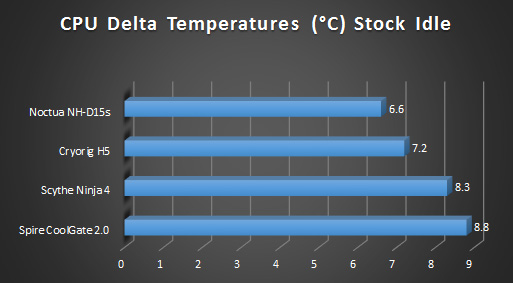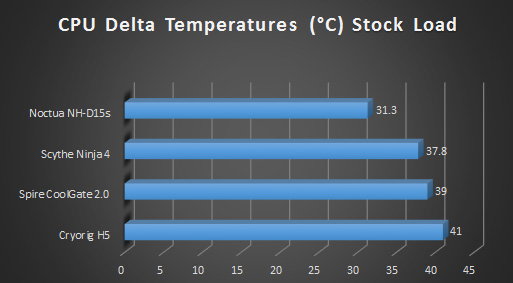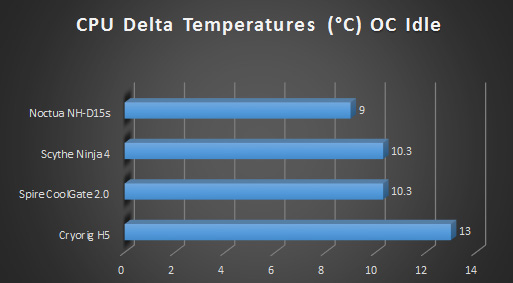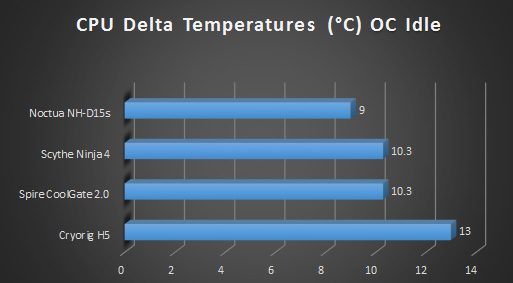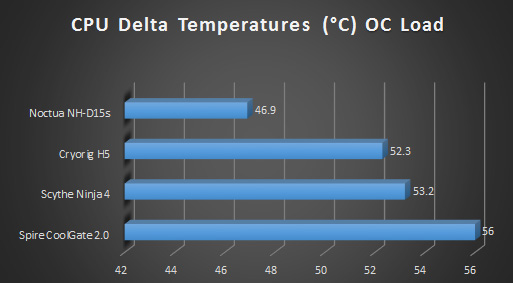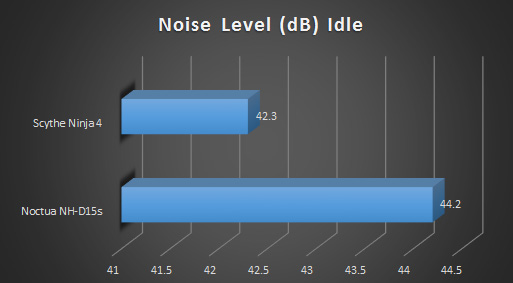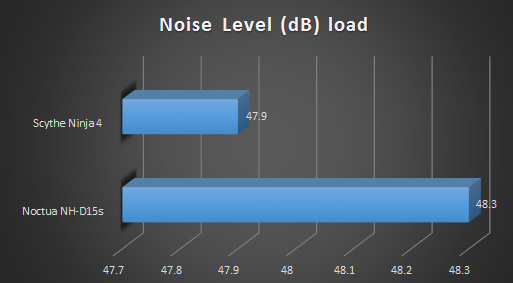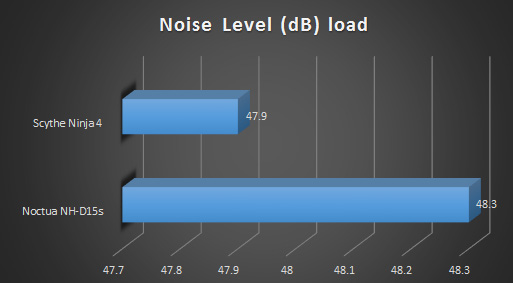 All and all, I have to say I quite like the design of the Scythe Ninja 4 and the performance it offers is good, but let's recap and see what I really think about it.
Performance
Thanks in part to its unique design, the Scythe Ninja 4 offers good cooling performance. While we haven't tested too many coolers here at Enos Tech just yet, the Scythe Ninja 4 does fall to the bottom of the list, though the temperatures are not at all bad. Being able to keep a 5820K to a delta temperature of 56 with an overclock running at 1.30V is nothing to bat an eye at in my opinion, this was with only the one included fan as well. If better performance is needed, there is also room for a second fan to be installed which would be sure to drop the temp a couple of degrees more.  Also, the noise of the GlideStream fan wasn't over excessive and while it was easily audible, it wasn't so much as to be annoying.
Design
The design of the Ninja 4 was probably my favourite aspect of the cooler. Looking at it from the top down and it is designed to look like a 4-pointed ninja star which is where I would guess the Ninja 4 name comes from. This unique design also allows for a fan to be installed on any of the 4-sides of the Ninja 4 which is rather handy as you won't have to worry too much during installation to get it to face the right direction.
Value
Coming in at just over £35 here in the UK on Amazon, the Scythe Ninja 4 offers great value. Its design not only allows for the cooler to be aesthetically pleasing, it allows for great heat dissipation at a price that won't break the bank. If you're looking to spend your hard earned money on new CPU Cooler and the Ninja 4 is in your price range, it is well worth considering as it is a worthy purchase.
I would like to thank Scythe for sending in their Ninja 4 CPU cooler for review.