Introduction
SilverStone recently released their next generation, high-performance edition fans named Shark Force (SF). These are available in 120mm and 140mm sizes. We have earlier tested SF120 fans. This time we are taking a look at Shark Force SF140 fans. SilverStone has joined our coming-up comparative performance of 140mm fans on ALPHACOOL SuperNova 1260mm radiator and sent us 20x SF140 fans for this purpose. This is a dedicated review of these fans. These are performance enhanced 140mm PWM fans having a maximum airflow rating of 140CFM and air pressure rating of 4mmH₂O. These fans feature a daisy-chain cabling system which simplifies cable management.
Product:               SST SF-140
Price:                    USD 27.36 [AMAZON Price at the time of this writing]
Specifications
Dimension
Packaging
Fans are shipped inside a brown color cardboard box. Printing is done right over this cardboard packing box. Shark Force 140 is printed over here showing the model of this unit.
Salient specifications are listed over here. The maximum rated speed on these fans is 2200 RPM generating a massive airflow of 120 CFM using 4mmH₂O static pressure.
Contents
SilverStone has provided the following in the box:
1x 140mm Fan
1x Warranty Paper
4x Self-Tapping Screws
2x Cables
SilverStone is offering a 1-year limited warranty in the North American region. The warranty period varies from region to region.
There are 4x self-tapping screws provided with these fans.
Closer Look
Let's take a closer look at the fan starting with the salient features:
Distinctive "Shark Force" fan blade design for lower noise and higher performance
Wide 0~2,200 RPM speed range via PWM control
Unique three phases, six-pole design which allows for smoother, quieter operation compared to most single-phase, four-pole design. Energy efficiency also improves greatly.
Modular cable design simplifies connection and management of cables
Extensive of applications
Reliable and durable fluid dynamic bearing
This fan has 7 blades, unlike the 120mm version which has 9 blades. However, basic geometry and design are the same in both sizes. These blades are made of Polycarbonate material. We can see that a complete assembly is in a black color. However, there is a distinctive design element over the blades. We will cover that shortly. There is a SilverStone branding in the center. The frame has a square-looking design. All 4 borders in the center of frame have a thin line style layout compared to the mounting arms.
The above picture is showing a close-up view of the fan blades. Here is what SilverStone is saying about this design element, "Inspired by the hydrodynamic properties of shark skin which acts as drag-reducing mechanism to improve their aerodynamic motion. When similar pattern is applied on fan blades, results in passively altered flow to favorably affect the pressure gradient along the fan blades which improves the overall airflow performance and noise level."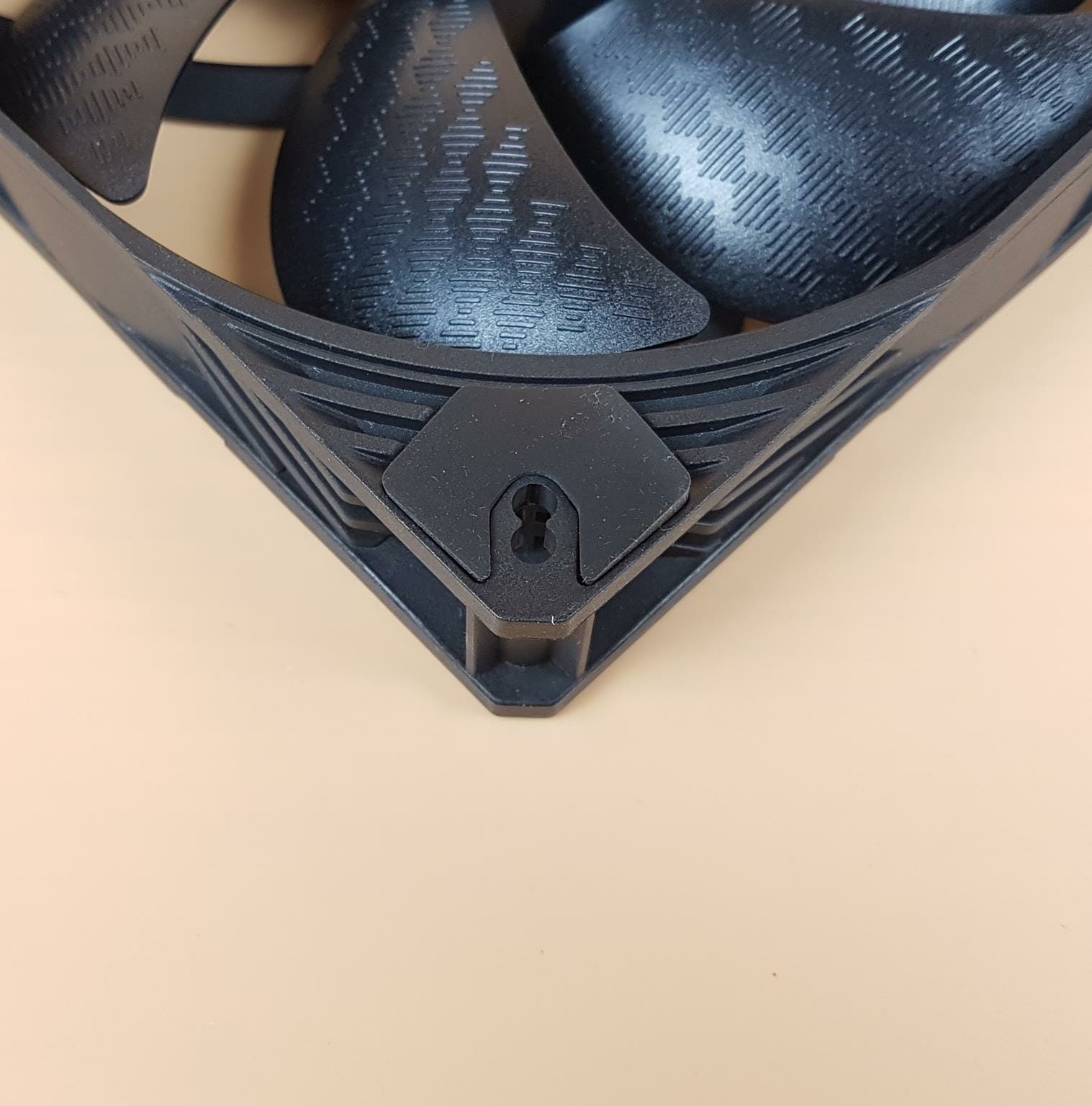 There are cut-to-size anti-vibration pads on all mounting corners.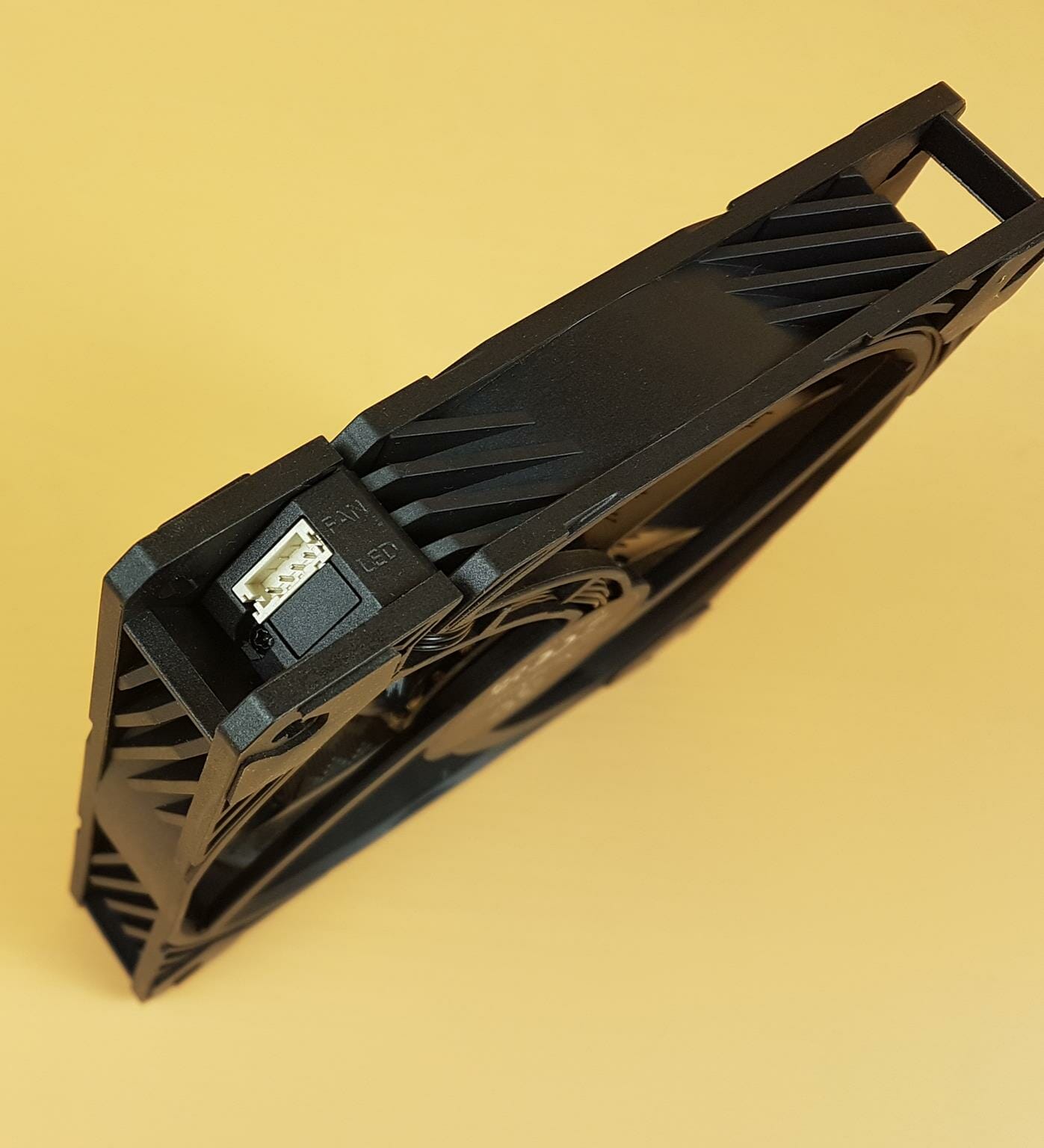 The frame is quite sturdy and has line patterns all around. The frame is made of PBT material.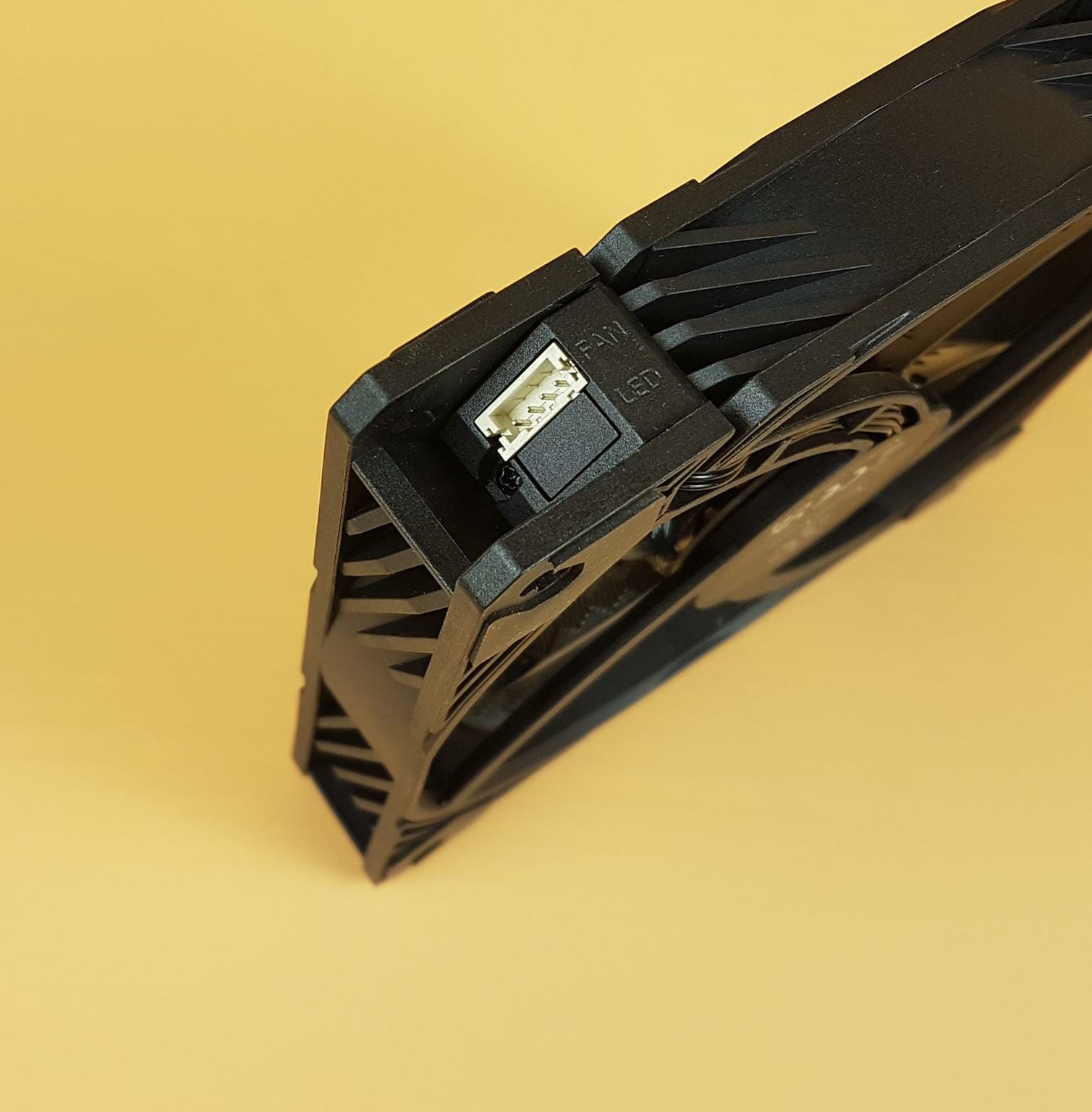 The above picture shows one corner of this fan in particular. These fans are using a modular design to simplify cable management but use a proprietary design. There are two headers built right into the frame of the fan. The top header is the 4-pin port labeled FAN. There is a covered port with a LED label. It is clear that SilverStone is using same frame for the A-RGB version of these fans. No cable is attached to the fan port out of the box.
The above picture shows the 4-pin PWM connector and a 4-pin proprietary connector. The proprietary connector is connected to a 4-pin port on the fan. This is a simple connectivity and actually does not represent any modularity in its true form.
The above picture shows a Y cable. This cable is using 4-pin proprietary connectors. 2x of these are connectors whereas one is a socket to daisy chain. Using this cable, we can connect two fans.
The above picture shows a simple 4-pin cable attached to the fan.
The above picture shows a Y cable connected to one fan on its 4-pin fan port.
We can see two SF140 fans connected using both cables. The Y cable connects both fans and the 43-pin PWM cable is connected to a socket connector of the Y cable. As simple as it can get.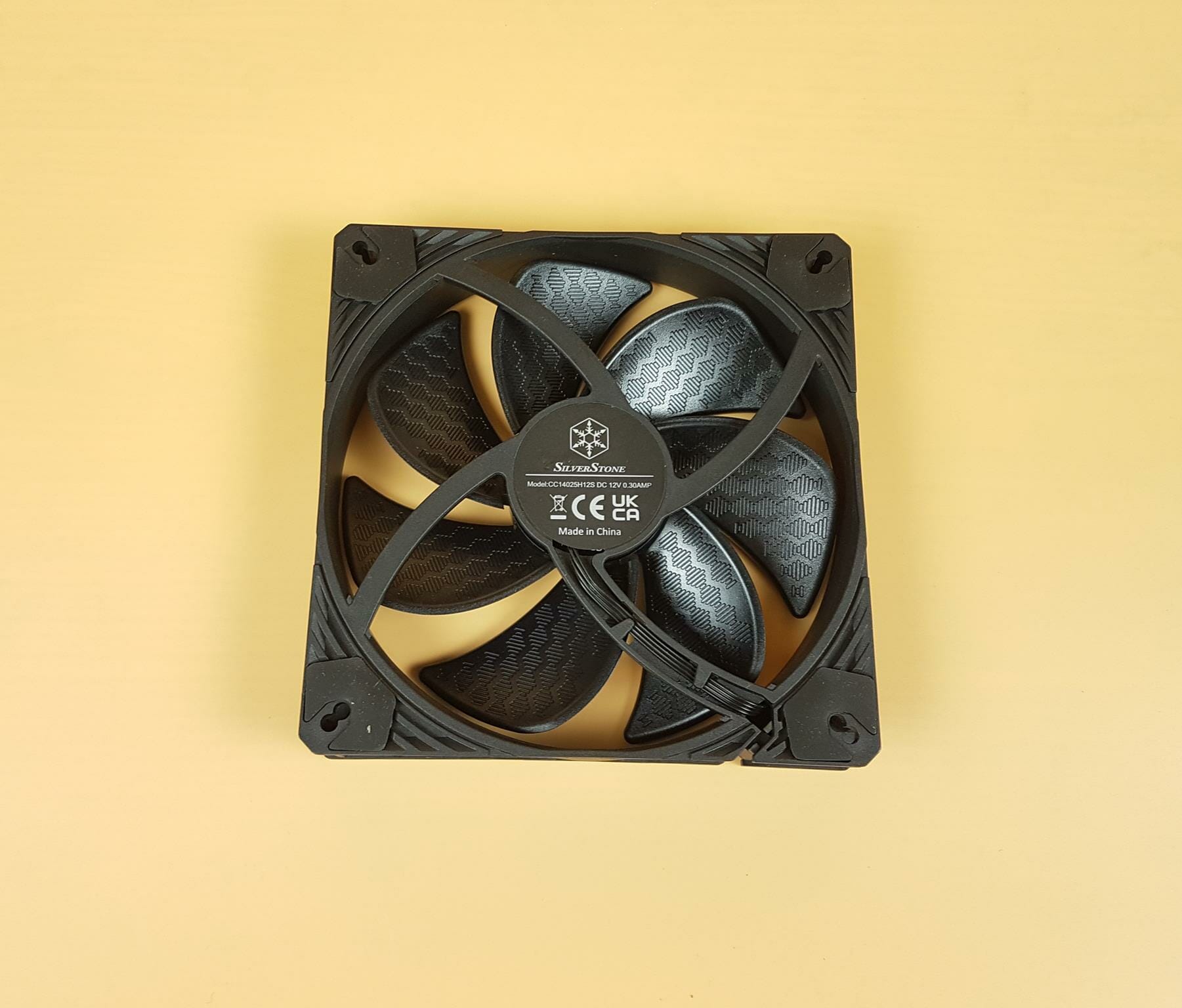 There is a 4-arms assembly on the back of these fans. One of the arms is wider and has an inset with a catcher. The wires are routed from the center towards the corner of this fan over it. There is a SilverStone branded sticker in the center showing the power rating of the fan.
SilverStone has used a 3-phase, 6-pole powerful motor in these fans for smooth and quieter operations. This is further augmented by using the Fluid Dynamic Bearing to increase the life span of the fans. This is particularly important given the high specifications of these fans. The fans feature an advanced PWM controller for smooth ramp-up of the fan's speed under load which also provides quieter operations at a lower speed.
These fans feature a fan stop function which is another plus to the design. However, the UEFI/BIOS must support the fan stop feature otherwise fans would not come to halt. Please refer to your motherboard's manual to check if the motherboard supports Fan Stop function.
Here is the specification table:
| | |
| --- | --- |
| Dimension | 140x140x25 mm |
| Speed | 0 ~ 2200 RPM |
| Air Flow | 0 ~ 100 CFM |
| Sound Level | 0 ~ 38.3 dBA |
| Air Pressure | 0 ~ 4 mmH₂O |
| Rated Voltage | 12 VDC |
| Starting Voltage | 7 VDC |
| Fan Rated Current | 0.3A |
| Fan Rated Power | 3.6W |
| Bearing | Fluid Dynamic |
Thermal Testing
We have used a below-mentioned configuration for this testing:
Intel i7 13700k
GIGABYTE Z790 AORUS ELITE AX
DIY Setup
Sabrent Rocket DDR5 2x16GB @ 4800MHz CL40 kit
Colorful GeForce GTX 1050Ti 4G [For Display]
Sabrent Rocket 4 Plus 2TB NVMe SSD
be quiet! Straight Power 11 850W Platinum PSU
Thermaltake Core P6 TG Snow Edition converted into an open-frame layout
Following DIY setup is used:
ALPHACOOL Eisblock XPX PRO AURORA Digital RGB – Full Brass Black
ALPHACOOL Core 100 AURORA Acetal/Acrylic with D5/VPP Pump
ALPHACOOL HF Clear Tube 16/10mm
ALPHACOOL NexXxos HPE-30 280mm Full Copper Radiator
ALPHACOOL 90° Rotary 16/10mm Fittings
ALPHACOOL Quick-Release Fittings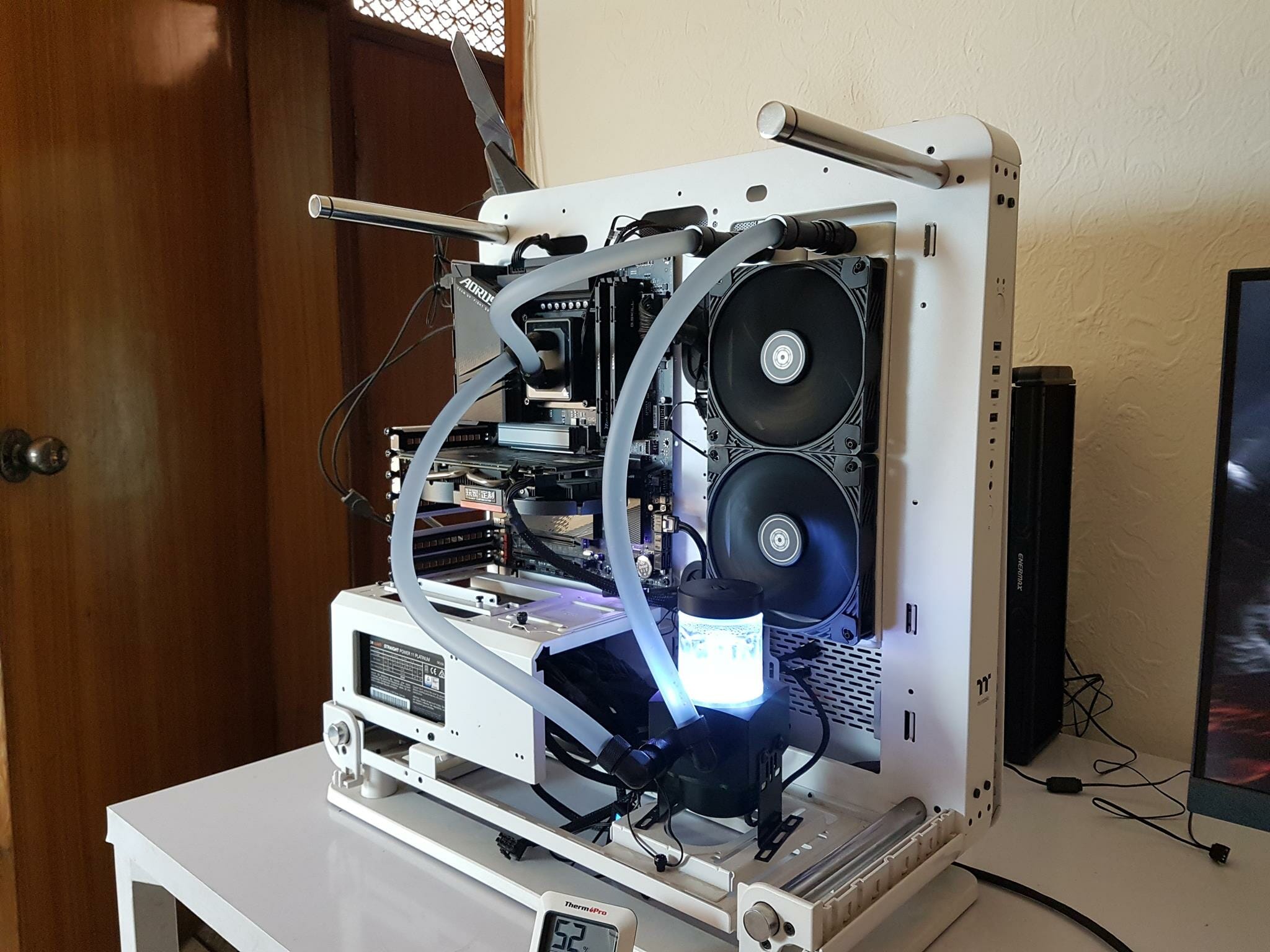 Here is the settings table for testing:
| | |
| --- | --- |
| P-Cores Clock (MHz) | 5300 All Cores |
| E-Cores Clock (MHz) | 4200 All Cores |
| Voltage (V) | 1.260 |
| Turbo Boost | Disabled |
| C-States | Disabled |
| Speed Step | Disabled |
| Thermal Paste | ALPHACOOL Sub-Zero |
| Thermal Paste Application | Dot Method in the center. |
| Test Run Time | 30 minutes |
| Idle Time | 10 minutes |
| Fan Speed | 100% PWM Duty Cycle |
| Pump Speed | Full speed |
| Header | CPU_Fan/Pump headers |
| Stress Software | CINEBENCH R23.2 |
| Monitoring Software | HWInfo64 |
Before we move on to the results, let me write a few lines on the new platforms from both camps. We have seen AMD AM5 and Intel Raptor Lake S CPUs taking more power and this time both sides have aimed at reaching the maximum clocks regardless of thermal limit. In fact they run into thermal limit right away depending on the cooling solution and the clocks being used. This has made testing of CPU coolers challenging because viewers/readers are not used to a new nomenclature which is what clocks are sustained under given load using particular cooler. That is if the cooler is capable of providing enough cooling head to sustain the high frequencies. Traditionally we are used to go the other way around which is which cooler is better in terms of thermal capacity. Despite this, we are using temperatures as a base of measuring this unit.
The testing is done on an open-air bench system. Once inside the chassis, the temperatures are expected to rise and would largely depend upon the optimal airflow inside the chassis. Let's take a look at the results. This test was done using Intel's default settings with power limits imposed. The CPU was drawing roughly 225W power so this is a 220W domain result.
For comparison, we have ALPHACOOL Core 140mm PWM 3200RPM Fan in the graph. Below is a specifications comparison:
| | | |
| --- | --- | --- |
| | Shark Force 140 | Core 140mm PWM 3200RPM |
| Dimension | 140x140x25 mm | 140x140x25 |
| Speed | 0 ~ 2200 RPM | 0 ~ 3200 RPM ±10% |
| Air Flow | 0 ~ 100 CFM | 153.9 CFM |
| Sound Level | 0 ~ 38.3 dBA | 51 (Max 53) dBA |
| Air Pressure | 0 ~ 4 mmH₂O | 6.99 mmH₂O |
| Rated Voltage | 12 VDC | 12 VDC |
| Starting Voltage | 7 VDC | 7 VDC |
| Fan Rated Current | 0.3A | 0.66 (Max 0.75) A |
| Fan Rated Power | 3.6W | 7.92 (Max 9.0) W |
| Bearing | Fluid Dynamic | Two Ball |
Result
This is actually a very good performance from SilverStone fans as they have generally have a lower ratings compared to ALPHACOOL fans yet they have given a comparative performance while at lower noise output compared to ALPHACOOL fans.
Noise
The Shark Force 140mm fans were making 57 dB(A) noise output at an ambient of 32~33 dB(A) sound level.
Conclusion
We have tested SilverStone Shark Force 140 fans. These fans bear the same design as we saw on SF120 fans when we tested those earlier. We have tested non-RGB versions in both 120mm and 140mm sizes. The key feature of these fans is Shark Skin Design over the blades which SilverStone has mentioned mimicking the hydrodynamic properties of shark skin which acts as a drag-reducing mechanism to improve their aerodynamic motion. Another salient feature of these fans is the simplified cable management for which the SilverStone has provided two ports on a mounting corner. One port is to power the fan's motor whereas the other header is for RGB lighting. SilverStone is using the same PBT frame for both types of fans (RGB and non-RGB). This is evident by a covered port having a label LED on our sample.
These fans pack brilliant features like 3-phase, 6-pole powerful motor and Fluid Dynamic Bearings. We saw the same design approach from ARCTIC on their P14/P12 series fans. The PWM controller of these fans is also quite good as these fans have a wide range of PWM control starting from 0 and going as high as 2200 RPM. These fans also feature an Auto Stop function but for that, your motherboard should support this feature. These fans are rated for a maximum speed of 2200 RPM and can generate a maximum airflow of 120CFM at 4.0mmH₂O air pressure. These are quite powerful numbers. The noise rating is 38.3 dBA which is high.
The Shark Force 140 is listed on AMAZON at USD 27.36 at the time of this writing. These fans were put up against the like of ALPHACOOL Core 140mm PWM 3200RPM Fans on a DIY setup to cool Intel i7 13700k using a 280mm radiator. These fans have put up a straight damn good fight against the ALPHACOL fans while operating a lower noise output and for that, they have our praise. One can always set a custom fan curve to lower the noise as fans will ramp up only under a certain load as per the user's selected graph. SilverStone should consider increasing the warranty period from 1 year to a minimum 3-year in my opinion. These fans come recommended by us.
We are thankful to SilverStone for the provision of test units.